Sonu, what was the state of luxury travel when you first opened your first Soneva resort in the Maldives?
In 1995, it was very much a mass-market destination back then, dominated by the Italians and Germans. In the 1970s, Sri Lanka was a very popular destination and had more tourists than Thailand and certainly more than Dubai. It was very popular among European tour operators, and they wanted to create an extension to the experience they were offering, and they'd heard about these beautiful islands where the diving was amazing. I was just on holiday there and went to speak to the government, wearing my shorts, and the director of tourism gave me some bidding documents to lease an island.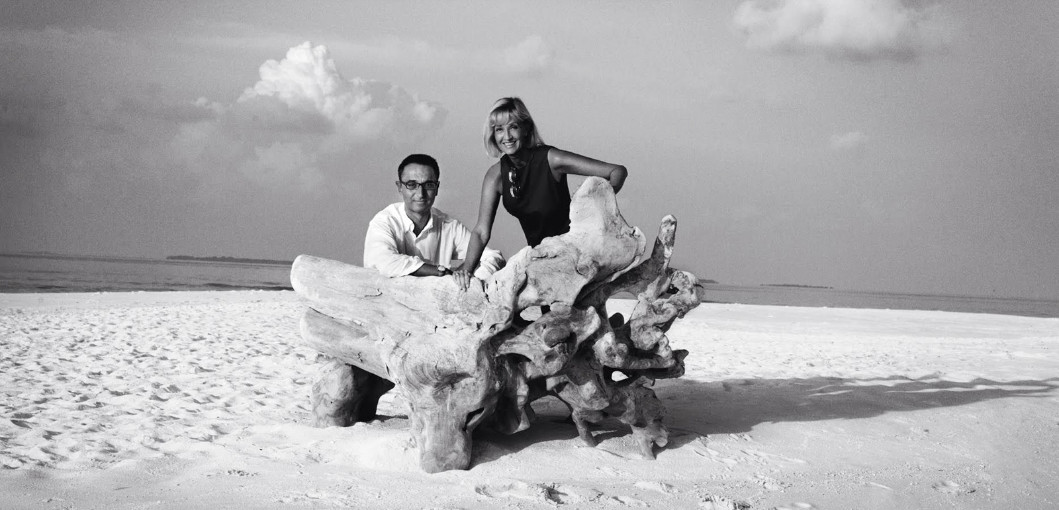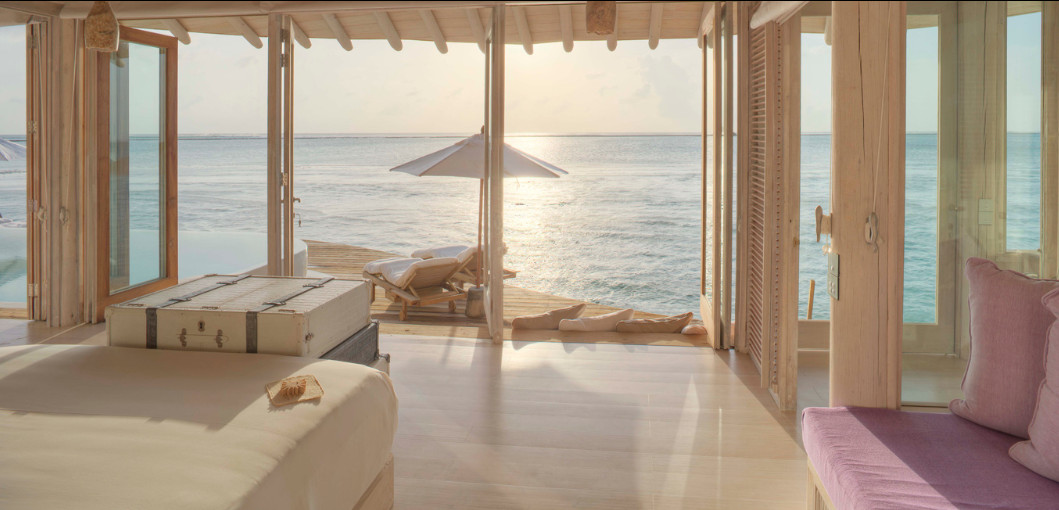 It was a case of approaching local farmers and asking them to build 10 or 20 huts – white plastic chairs, neon lights, white tiles, etc. Everything came in a tin, that was your Maldives experience. It wasn't at all sustainable and they were using coral from the reef to build the huts. [Years later] we didn't just introduce luxury tourism to the Maldives, we also introduced outer atoll tourism – tourism beyond the Male atoll. The island was Kunfunadhoo and that went on to become Soneva Fushi.
---
Two decades later, how has tourism evolved in the Maldives?
At Soneva Fushi, 52 per cent of business is repeat and 90 per cent is long haul, and we can only achieve that by continuously evolving. Resorts need to be living things that adapt, so over the years we've changed, which brings me to the three principles of Soneva and what we're about. The first is that business success comes when you can happily merge opposites. People think that luxury can't be sustainable but at Soneva they go hand in hand. The second is that businesses need to have a purpose beyond enriching shareholders and paying salaries – that's essential in the 21st century when a billion people don't have access to clean water.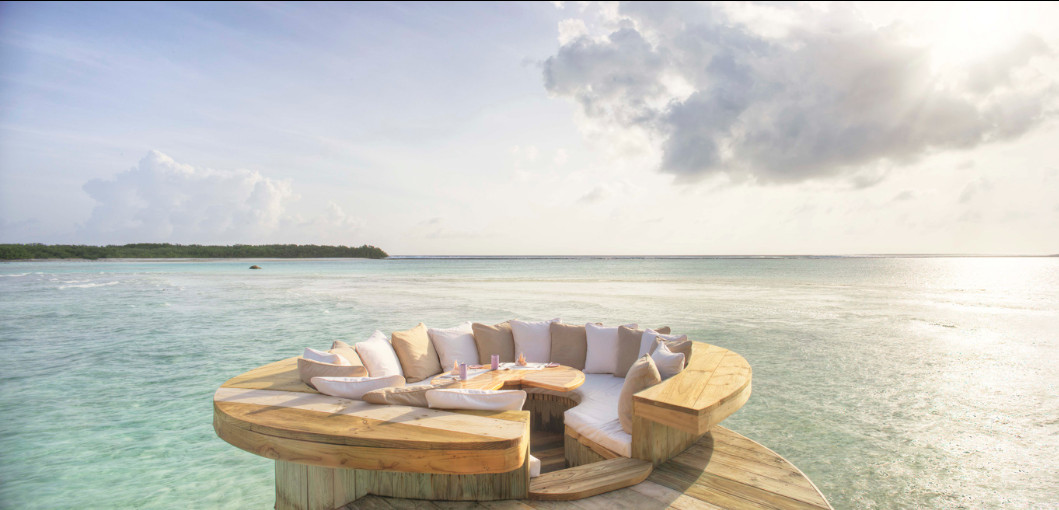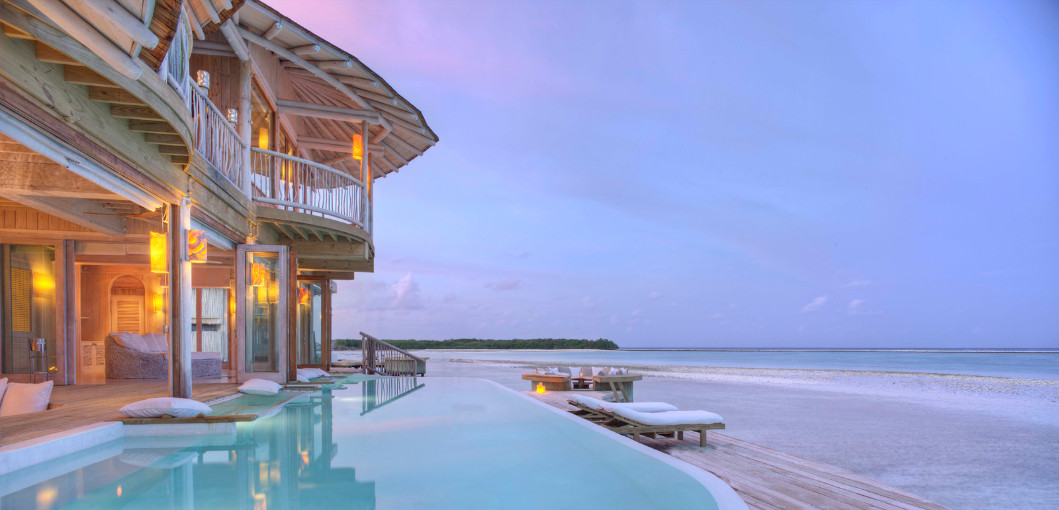 We have huge societal and human challenges and if we're going to have a society with peace and stability then we need to address the inequality of wealth. Our third belief is that we need to make changes to our business that do not affect profitability, but allow us to raise money for good causes. Hence the Soneva Foundation. We've offset our carbon emissions with a mandatory levy of two per cent on our room rate, and since 2008, we've raised around $6 million and that has planted 500,000 trees in the north of Thailand, giving the local community jobs, as well as a 1.5 megawatt windmill in India giving subsidised energy to the surrounding community.
---
What can you tell us about Soneva Jani?
In a way, Soneva Fushi is the jungle. It was historically the largest tourism island and it has incredible vegetation spread over 100 acres. If you're a Maldives junkie and you've been to a few islands, you'll arrive at Soneva Fushi and be blown away because the islands are usually so small. The opposite is Soneva Jani, which is not an island, it's a lagoon. It's six kilometres from one end to the other. You look out and you see nothing. We made the water villas wider and deeper to increase the views and people are blown away by the distance from one villa to another, because the dream is about being out on the ocean on your own, without anyone else there – but suddenly you find that if your neighbour has an upset stomach you know all about it!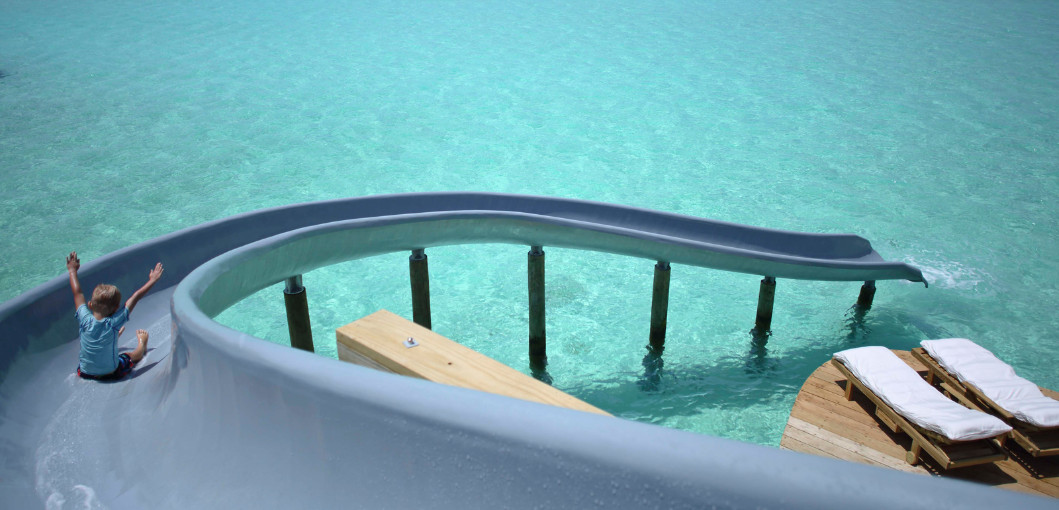 So we created distance. We've also curved things – the buildings and the jetties – so visually everything is softened and it feels more comfortable. We've also designed the roof so it can slide back at the push of a button. There are also 13 villas that have water slides going into the sea, and we also found that some people find a minibar too limited and a kitchen too elaborate, so we've created the walk-in minibar. It has a popcorn machine, a machine to preserve wine and a much greater selection of spirits. We also arguably have the first permanent overwater cinema. The setting is just idyllic.