Wearing a brown leather hat and an apron, Giuseppi Rives is standing at the doorway of his higgledy-piggledy workshop, beckoning at us to come inside. With ceilings so low we have to stoop to enter, every spare surface is filled with carved children's toys, cuckoo clocks and yellow-eyed owls fashioned from logs. For a moment, I genuinely feel as though I've stepped into a fairy-tale. Perhaps I'm meeting the real-life Mister Geppetto, ready to whittle a little boy named Pinnochio from wood. Surrounded by thickly forested mountains, the small community of Longiarù in the Dolomites where the artisan carpenter keeps his isolated workshop truly does seem plucked from the pages of a storybook.

Home to only a few hundred people, it may just be one of the most peaceful places on earth. A place of crisp mountain air, where wooden crucifixes cling to trees, edelweiss grows in the meadows, and icy streams gush through the valleys. It feels frozen in time – so splendidly isolated that even Ladin, a Latin-derived language brought to the region in 15BC by Roman soldiers, continues to be spoken today. Yet just a few kilometres away is the posh Cortina d'Ampezzo – Italy's glitzy answer to Courchevel or Aspen – where the prevalence of skinny salopettes and fur hood-wearing fashionistas earned it the nickname salotto­ dei famosi – the sitting room of celebrities. Such is the beautiful, improbable nature of Italy's rugged mountains.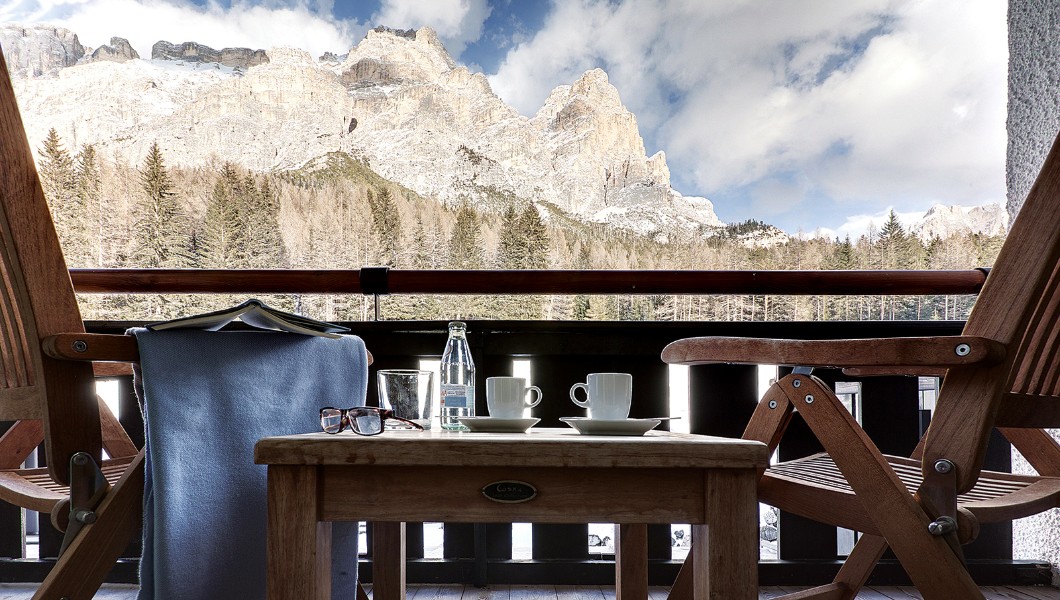 The rag trade A-listers and supercar families may flood to the region each winter, and there are more Michelin-starred restaurants than in any other Italian province, yet somehow, the Dolomites maintain an unpretentious, low-key authenticity. Another breath of fresh Alpine air is the prevalence of family-run hotels, such as Ciasa Salares, the charismatic lodgings run by the close-knit Wieser family. Built in the 1960s with wooden Tyrolean-inflected décor, Ciasa Salares is both charming and warm, and oozes Italian conviviality. Stepping inside feels more like arriving to the Wieser family house, with wood-panelled cosy nooks, mounted antlers and dimly lit lamps. There's a "Smorting" room behind the bar – for smoking and flirting – while in the first-floor restaurant, there's even a corner table, permanently reserved for la famiglia Wieser, complete with a photowall of vintage, black- and-white family portraits.

The three generations of the Wieser family play an active role in the running of Ciasa Salares. Stefan Wieser, with his grey wool Tyrolean-style jacket, is not only the patriarch, he's an expert sommelier and like all great hoteliers, is a gracious, bend-over-backwards host.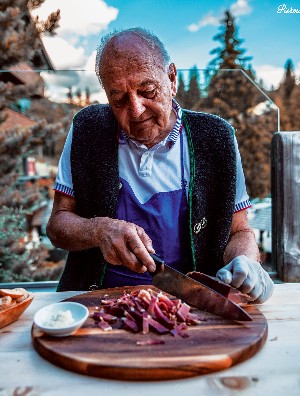 Vives Spa downstairs is the domain of Stefan's cheerful wife, Wilma, while the sprightly frame of his grey-haired and immaculately dressed mother, Nonna Hilda, is a fixture at breakfast. Despite his age, Grandfather Paoli keeps himself busy making the succulent, lightly-smoked speck served throughout Ciasa Salares' restaurants, such as Wine Cellar Siriola, where Stefan and Wilma's prodigious son Jan Clemens is tutoring us on the marvels of biodynamic wine.

"When I open up a bottle of wine, time stops," he says, uncorking a Frappato from Sicilian producer Arianna Occhipinti and pouring it into an Ovarius. The hand-blown glass decanter, popular among wine geeks, apparently helps to "awaken" wine, and there's certainly plenty to rouse in the subterranean wine cellar, where some 24,000 wine bottles line the walls. As we sample Jan Clemens' favourite Italian drops, he entertains us with Ladin myths, legends and folktales. "I don't see myself as a cork puller but a storyteller," he says, and we nod, quaffing wine and munching from a platter of speck, pickles and pücia crisp bread, as though it's popcorn. Later, warmed by woollen blankets, we feast on fondue. The Fontina cheese fondue is topped with egg and white truffle, while the Chinoise beef and chicken fondue is paired with a medley of accompaniments, from Nonna Hilda's cream horseradish and homemade raspberry marmalade sauce and a salsa tartara made from artichokes and pickles, to our host's favourite: a potent bagna càuda fused with anchovies and garlic. "Very dangerous for public relations," he quips.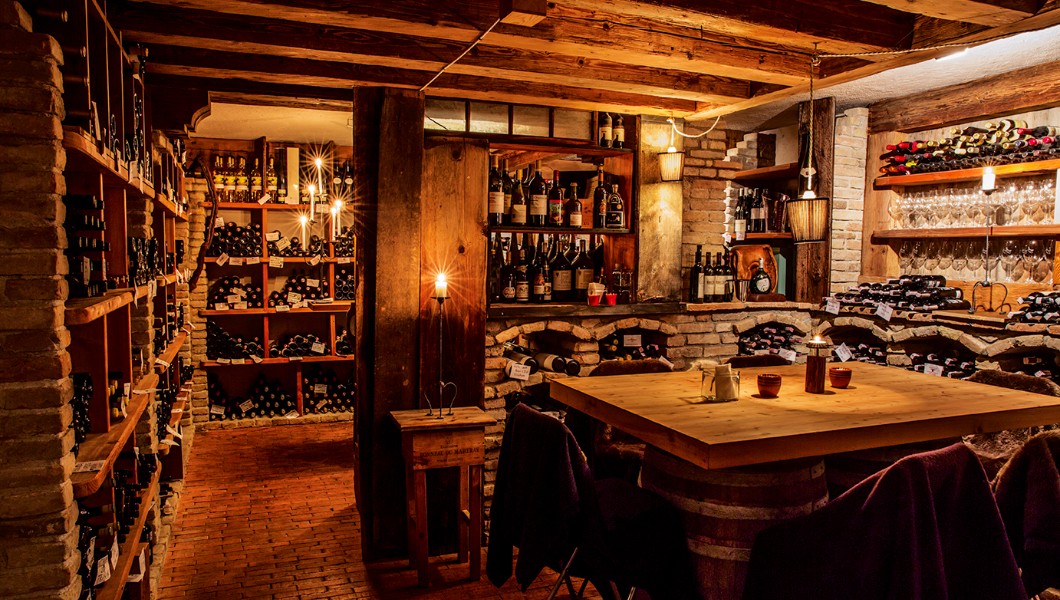 Oenophiles claim that drinking biodynamic wine results in no hangover, and I'm grateful that my head is as clear as the blue skies above the Sella Ronda the following morning. With Jan Clemens – an often kamikaze-style freestyle skiier – as my guide, I don't have to pay attention to navigating the immense Dolomiti Superski, with some 1,200km of pistes and 500 interconnected slopes, and I'm glad for it, as the commanding mountain landscapes become more captivating at every turn. I find myself stopping often, much to Jan Clemens' amusement, to take photographs of the precipitous peaks, which loom like otherworldly, craggy fingers toward the sky. Described by John Ball, in his 1868 Guide to the Eastern Alps as "nature in one of her loveliest and most fascinating aspects," these mountains are especially lovely and fascinating in the late afternoon, when the mineral rock takes on an ethereal, pink-tinged appearance, due to a light phenomenon known as enrosadira.

Despite the wide, groomed pistes and the cossetting, first-rate facilities of moveable walkways and luxurious gondolas and chairlifts, the Dolomites also offers high-octane off-piste adventures, among them, the couloirs – narrow tunnels of untouched powder that course between peaks or cliffs. But it's not just the winter season that's spectacular. In the summertime, Jan Clemens tells me, his eyes bright, when the tourists leave and the wildflowers bloom, it's possible to go hiking and not see another soul for hours. It's during summer when he stays, often for up to a week, in the Wieser family's mountain hut, known as a baita – a simple abode built on the mountainside – for blissful, cloud-level isolation.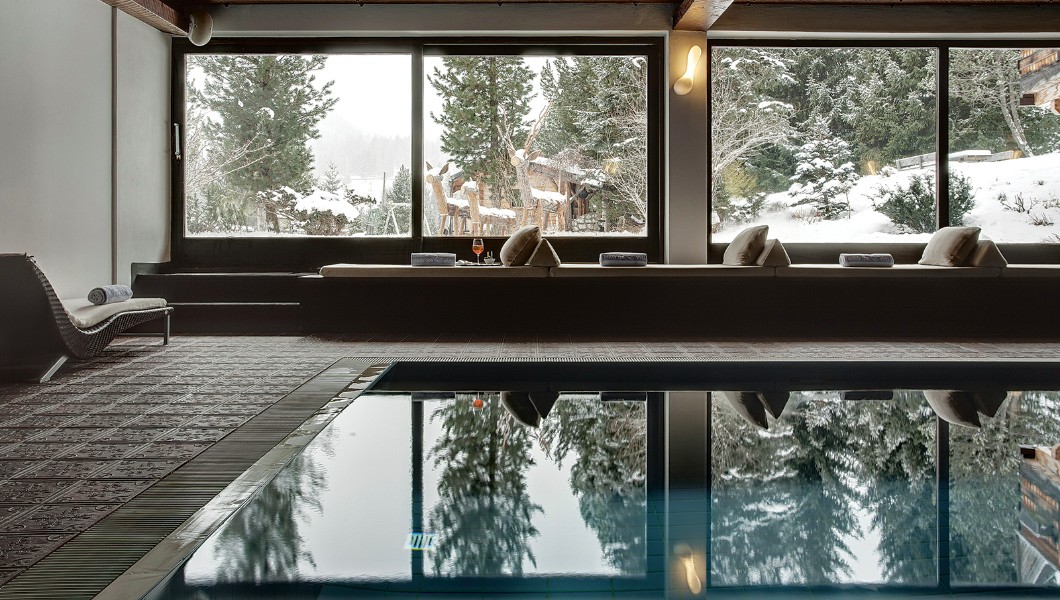 After skiing for a few hours more, it's time to eat again – the gluttony never ends – and there are few better among the mountaintop rifugios than Punta Trieste, set on the Pralongiá plateau with fabulous views over the rosy peaks of Marmolada. After a hearty lunch of lamb cutlets from Cecchini, a legendary Tuscan butcher/restaurant, it would be all to easy to remain on this terrace for hours, drinking a Hugo – a Tyrolean cocktail made from prosecco, elderflower liqueur and mint, or, should the sunshine fade, a hot Bombardino – a brandy-spiked eggnog drink with whipped cream. But after a day's skiing, I'm happy to head back to Ciasa Salares – particularly to hit up the hay bath at Spa Vives. This curious, yet strangely effective Alpine treatment takes place within a macromolecular steam bath created by Vitalis Dr. Joseph, a South Tyrolean wellness company, and uses Alpine herbs in treatments. The scent of the South Tyrolean hay, said to have healing properties, is so intoxicating, it makes me doze off; when paired with a massage, my ski-fatigued muscles have no chance.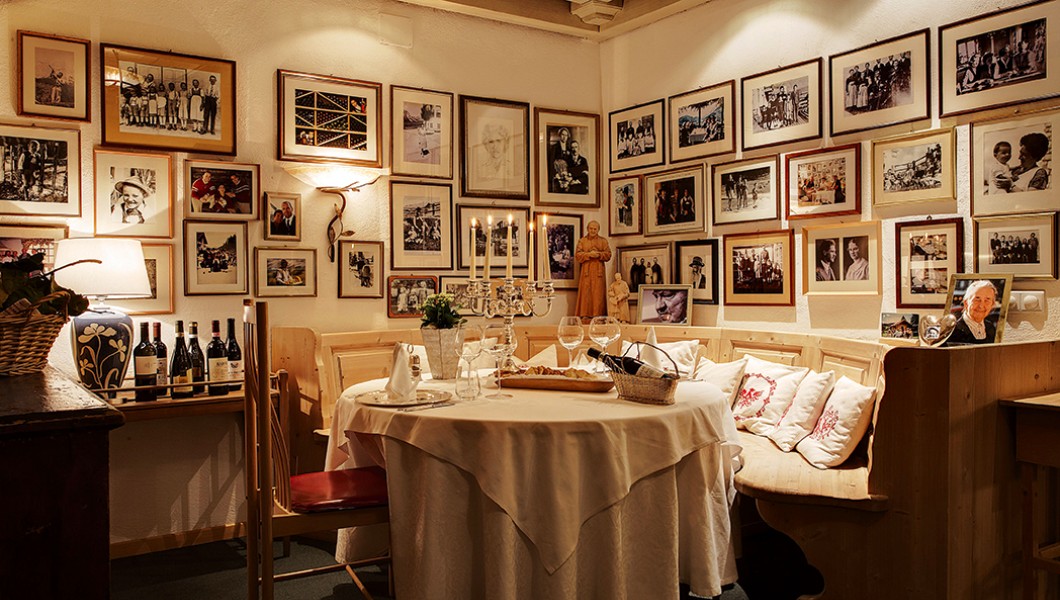 That night, I float downstairs to La Siriola. With only nine tables, the intimate Michelin-starred restaurant sits on the ground floor of Ciasa Salares, and is headed up by Matteo Metullio, an earnest young chef I met at breakfast earlier that day. Metullio garnered a lot of attention when he became the youngest chef in Italy to receive a Michelin star (the date, November 5, 2013, is even tattooed on his left wrist), and I was curious to sample his unique philosophy of kilometre vero (truth), which rather cleverly and controversially, challenges the trend of "zero kilometre" cuisine. Rather than sourcing produce locally, Metullio believes that diners should be served only the highest-quality produce to honour specialities that are true to their territory of origin. For example, lemons from Naples, or seafood from Sardinia, Puglia or Genoa, which is delivered to La Siriola five days a week. Metullio's menu might have the sort of food miles to give an environmentalist nightmares, but for a gourmand, it's a very pleasant dream indeed.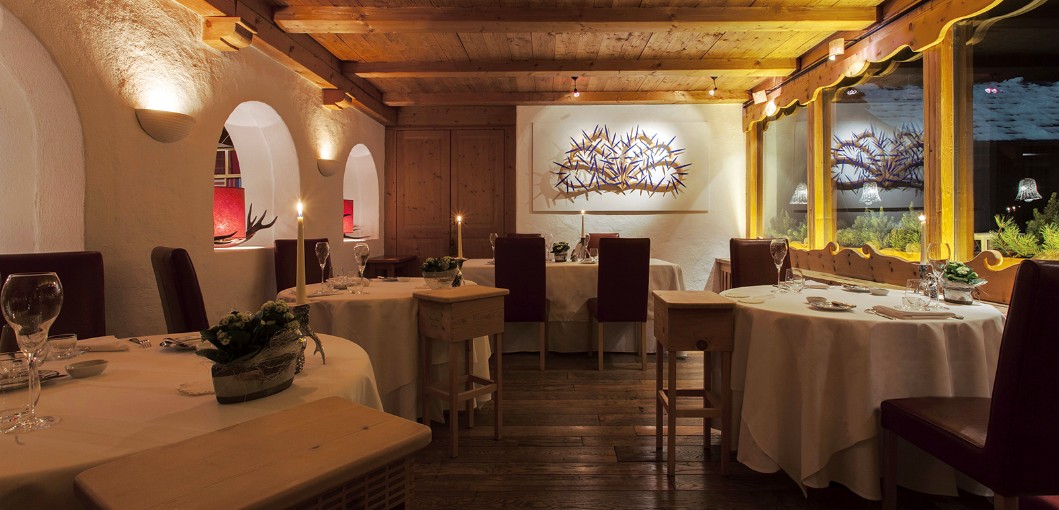 The experience begins with a cocktail trolley being wheeled into the dining room. I order the house Americano, made with chestnut smoked before our eyes and a delicious mix of Italian vermourth, Campari, absinthe and ginger beer. With house-made bread and olive oil from Lake Garda on the table, the carbohydrate Gods are against me from the start, but I do my best to wait for Metullio's signature dish: gli spaghettini. The cold pasta with raw prawns is tossed in an "invisible" sauce made from tomato water with pine-smoked oil and a vibrant basil mayonnaise. It's served boldly in a clear glass bowl, perhaps so the accompanying text that calculates the mileage is more visible. Examining the map, I learn that the tomatoes are from San Marzano, the basil is from Soverato, the oil from Imperia, the spaghettini from Gragnano and the prawns are from Porto Santo Spirito. All in all, the ingredients clock up 4,925 kilometres, but the eggs, and the cirmolo pine used to smoke the dish, are from San Cassiano.

The culinary journey continues with soft piece of turbot fillet, followed by a beetroot risotto – a crimson-coloured dish cooked with plankton emulsion and caper powder, and topped with spheres of goats cheese and shards of algae. I can scarcely finish the dessert – a tangy yet creamy latte cotto with coconut, lime, grilled pineapple, banana ice cream and tonka beans, and no sooner than the meal is complete, Stefan leads us to a cavernous chocolate room. Akin to a boutique, with alcoves displaying high-cocoa content chocolate creations, I manage to make some room for a Ciasa Salares-style Magnum – a mint ice cream dipped into a fountain flowing with 75 percent Venezuelan chocolate. It's close to midnight by the time I head upstairs to sleep the disturbed slumber of the overfed.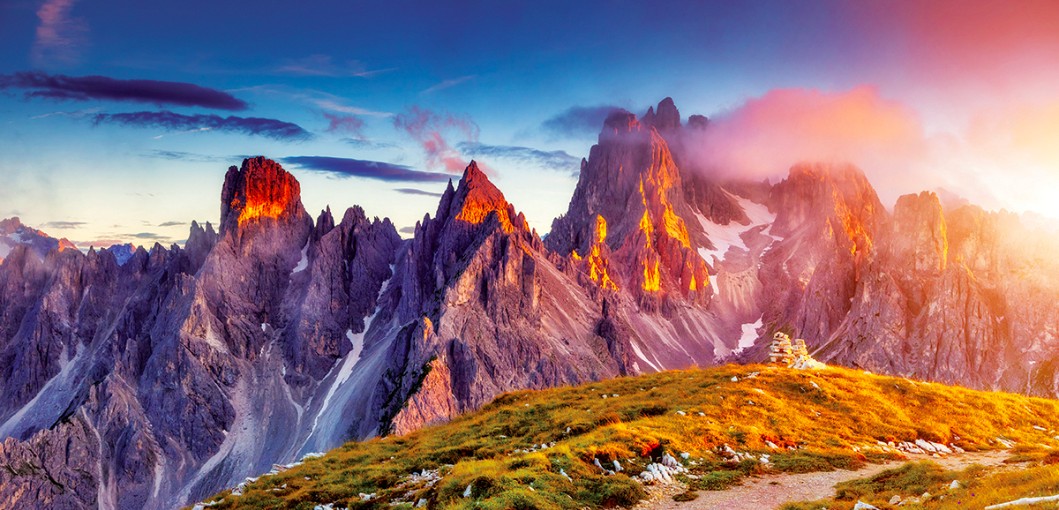 The following day, there's more eating scheduled – it's Italy, after all – though the Wiesers are eager to introduce us to Ladin cuisine. As we drive through San Cassiano and further into the mountains, the roads twisting along cliff-hugging hairpin bends, Stefan points out vertiginous slopes that are home to some of the region's most remote Ladin communities. After visiting Longiarù and meeting the fairy-tale Giuseppi, we stop at the village of Misci-Seres to walk around some of the ancient Ladin hamlets, known locally as "les viles". Clustered together, the simple huts share a water fountain, a drinking trough and a communal wood-fired oven, which the villagers use to bake bread. There's not a soul in sight, and save for a lone dog barking, which reverberates through the valleys, hardly a sound.

Life is similarly slow-paced in San Martino, the picturesque town where Wilma grew up, where we stop for lunch at Hotel Dasser. The historical guesthouse has a simple stube-style dining room with wood-panelled walls and checkered tablecloths, and it's here where we sit, tucking into ricotta and spinach-stuffed dumplings known as tutres and panicia, a barley soup scattered with smoked ham. We eat, we laugh and we drink, clinking our wine glasses together and exclaiming "Vives!", the Ladin term for "cheers". It's honest, uncomplicated and utterly authentic – the very essence of the Dolomites.