1. Serra Cafema

Surrounded by rushing rapids and shaded by expansive albida trees, Serra Cafema is a luxury desert retreat located in a remote corner of Namibia's isolated Kunene region. On-site accommodation consists of eight elevated riverside villas, each with a private deck, ensuite bathroom and breathtaking views of the towering Cafema mountain range. With the region housing a large population of Nile crocodiles and Hartmann's mountain zebra, nature excursions are a must, as is the obligatory sundowner.
---
Price: from US $694 per person per night.
Tel: +27 11 807 1800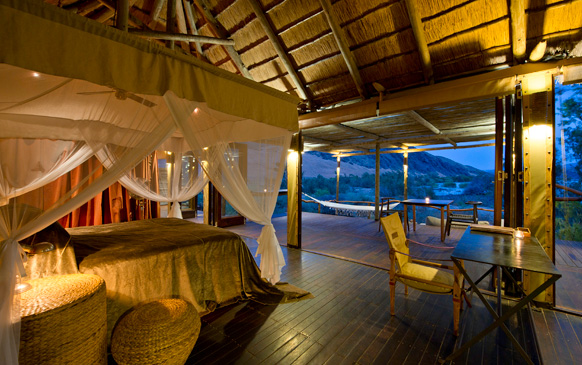 ---
2. Little Kulala
If you fancy a night beneath the stars in the expansive Namib Desert, Little Kulala could be the retreat for you. Situated at the heart of the 37,000-hectare Kulala Wilderness Reserve, a stone's throw from the towering dunes of Sossusvlei, this lodge comprises 11 climate-controlled, thatched 'kulalas', each with a private plunge pool and rooftop 'skybed'/dining area; perfect for a romantic sunset meal or a late night stargaze.
---
Price: from $668 per person per night (includes all meals, local drinks and twice-daily camp activities)
Tel: +27 11 807 1800

www.wilderness-safaris.com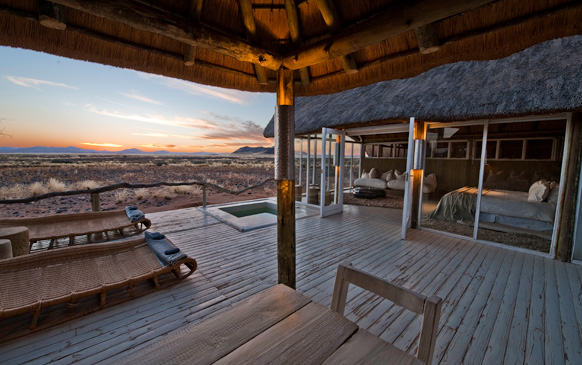 ---
3. Wolwedans Dunes Lodge


The dramatic surroundings of Wolwedans Dunes Lodge makes it an unforgettable place to stay. The lodge's locale atop a dune plateau means panoramic vistas can be enjoyed from every direction. Here, guests have a choice to stay in one of nine spacious chalets. For an unrivalled luxury safari experience, spend a couple of nights in the Mountain View Suite, a 200-square-metre space set a short distance away from the main lodge complete with private lounge and sundeck.
---
Price: from $310 per night. Mountain View Suite from $1,052 per person for two nights.
Tel: +264 61 230 616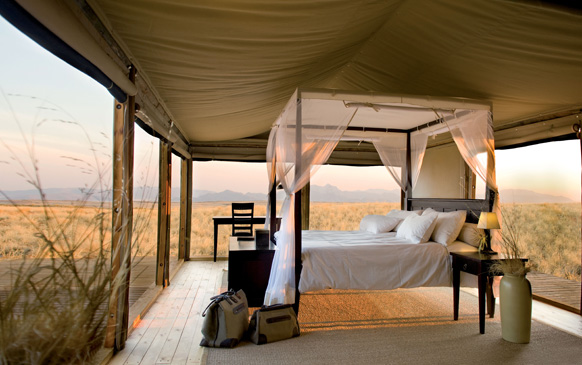 ---
4. &Beyond Sossusvlei Desert Lodge


Cradled by ancient mountains within the 180,000-hectare NamibRand Nature Reserve, there is no better place to enjoy the placid tranquillity of Africa's wilderness than at &Beyond's Sossusvlei Desert Lodge. On arrival, you can choose from one of 10 air-conditioned villas, each boasting a split-level bedroom and occupying its own space on the curve of a sweeping escarpment. As one of the only lodges with a fully equipped observatory, Sossusvlei Desert Lodge will make it hard for stargazers to get an early night's sleep — well worth it, we say.
---
Price: from $464 per person per night.
Tel: +27 11 809 4300

www.andbeyond.com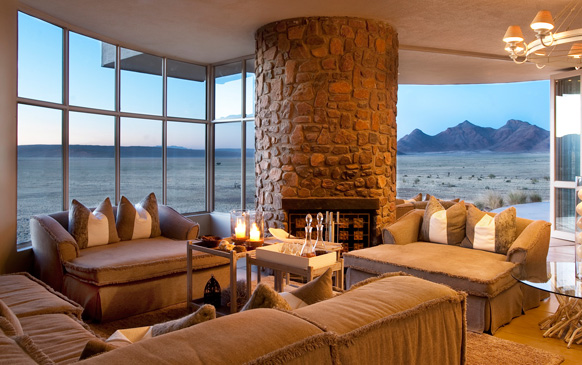 ---
5. Okahirongo Elephant Lodge


Okahirongo Elephant Lodge sits in Namibia's Purros Conservancy just 55 kilometres from the Skeleton Coast, home of desert-dwelling lions, elephants and black rhino. Accessible only by 4x4 or light aircraft, this remote lodge offers the ultimate secluded getaway, complete with turquoise infinity pool, private gazebos and open-air library. With organised activities ranging from night safaris to local Himba village visits, you won't be short of things to do at this isolated gem.
---
Price: from $432 per person per night (all-inclusive). The Presidential Suite starts from $1,736 per night based on two people sharing.
Tel: +264 6568 5018

www.okahirongolodge.com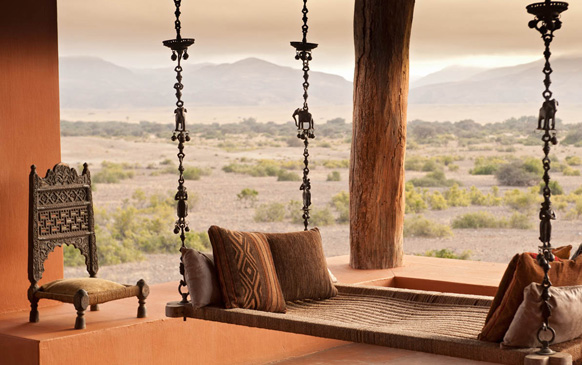 ---
6. Mowani Mountain Camp
Nestled between ancient granite boulders and the historical site of Twyfelfontein, an area decorated with the rare rock engravings of Stone Age hunter-gatherers, sit the thatched roofs of the luxurious Mowani Mountain Camp. Top-of-the-range lodging here is the Mountain Suite, which comes with luxuries including a dedicated on-call butler, satellite television and private dining/bar facilities. For those who want to really embrace nature, the Mountain Suite has its own outdoor bush bath and shower.
---
Price: Mountain Suite starts from $412 per person per night (included dinner and breakfast and a guided nature walk).
Tel: +264 61 232 009