I, for one, am not going to complain about the Peruvian trend that just won't seem to go away. The cuisine is colourful, fresh and varied, so when a new Peruvian restaurant enters the scene, rather than huff about "yet another Peruvian place," I'll gamely give it a go.
In this case, the new Peruvian place is Inka, perched high atop Sofitel Dubai Downtown. Entering the dark space, the first thing you'll likely notice is the showstopping view of Burj Khalifa and Downtown Dubai: floor-to-ceiling windows with unobstructed views overlook the entirety of the district, and if you're lucky to be seated along one of the windows, you can watch the Dubai Fountain dance far below.
The dining room is elegant, dimly lit by cascading lights, and features fewer tables than you'll see in many of Dubai's newest – and often sprawling – restaurants. It's a nice change, and one that cultivates an atmosphere of genuine intimacy amid large potted palms and subtle décor that appears to take cues from both Incan and art deco aesthetics.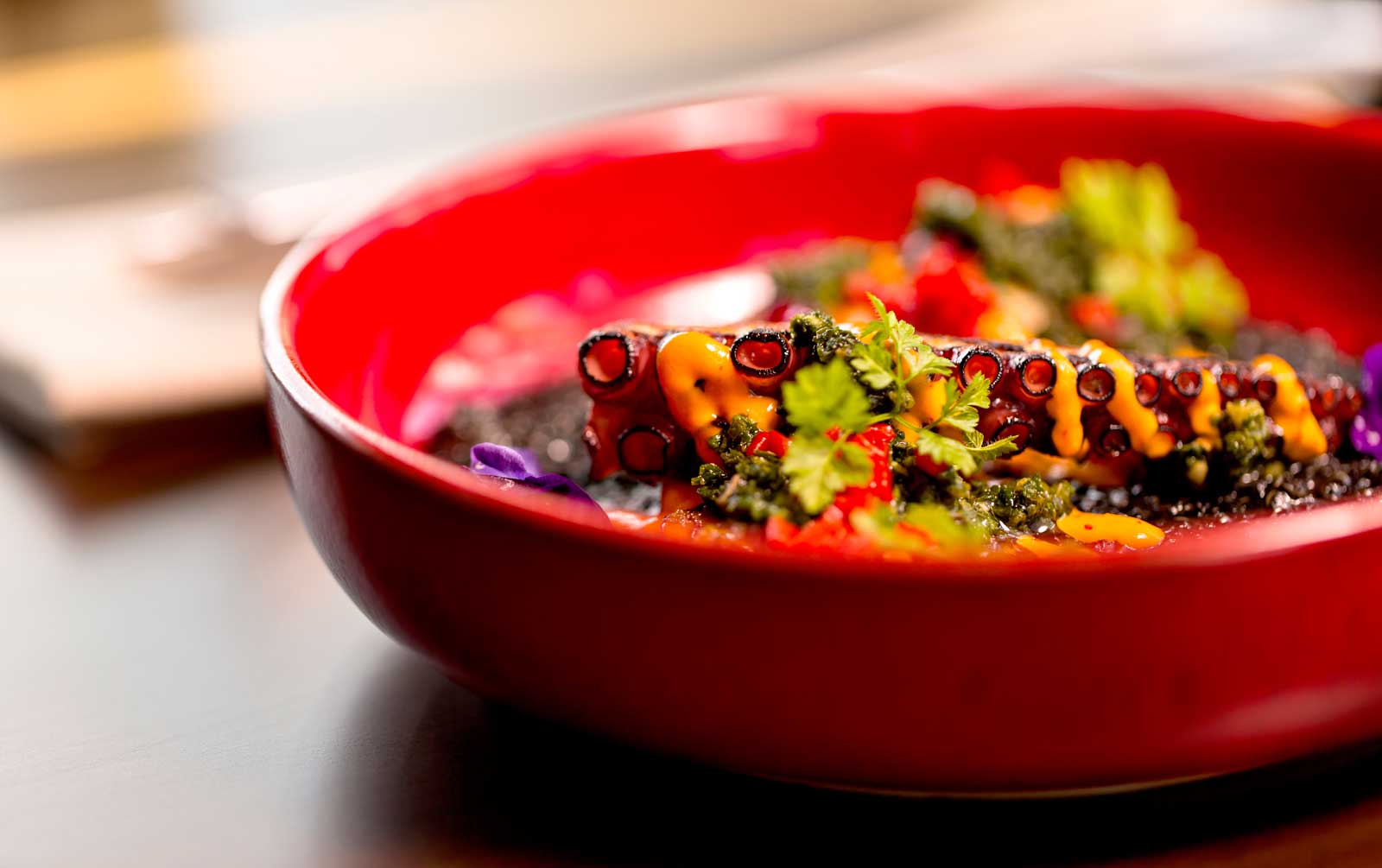 Octopus and Quinotto NeroGrilled – Octopus served over Quinoa Risotto with squid ink and truffle oil
Our server gamely takes us on a tour of the menu, pointing out his favourites and explaining any categories and ingredients that we may be unfamiliar with: tiraditos are Peruvian-style sashimi; anticuchos are skewered meats; and causa, seen throughout the menu, is a Peruvian potato cake.
As no visit to a Peruvian restaurant is, in my opinion, complete without trying the omnipresent ceviche, I opt for Inka's clasico interpretation with large chunks of fresh sea bass and thinly sliced red onions marinating in the dish's ubiquitous tiger's milk. Having spent a lengthy 24 hours marinating, the beef anticucho is terrifically tender and flavourful, seasoned with anticuchera sauce (a mix that includes garlic, vinegar, pepper and chillies), and paired with tacacho, a ball of lightly fried banana similar to a fritter.
Aji Amarillo Ceviche – Fresh Sea Bream and Octopus with Aji Amarillo Tigers milk
I question just how traditional foie gras is in Peru, but grilled and paired with the undeniably traditional causa, I was compelled to give it a try. Here, the rich duck delicacy is well matched to the slightly sweet, bright yellow puréed potato cake and bursts of fruity flavour from blackcurrant pearls. My companion opts for grilled octopus and quinoa risotto, coloured and flavoured by squid ink and white truffle oil. The cephalopod meat is succulent and tender and he deems the dish "monstrously good".
For dessert we relocate to the lounge with inventive cocktails – try the Inka Old Fashioned for a drink smoked with apple wood chips and served with flair. My Peruvian Mess soon arrives with a bounty of ingredients but the taste is anything but shambolic, with fresh berries, a zesty herb granita, light dried meringues and praline ice cream.
The lounge unsurprisingly offers up a livelier and less intimate atmosphere than the dining room. It's a larger space that's ideal for late-night socialising – something that may be best tried on Thursday evenings when live drums accompany Latin music, setting a festive tone.
---
The important bit
31st Floor, Sofitel Dubai Downtown
+971 4 346 9295