A sanctuary of scented gardens, ornamental ponds and royal splendour, Palais Namaskar is the ultimate Marrakech hideaway for those in search of serenity. Tucked within Palmeraie oasis beneath the Atlas Mountains and the Djebilet Hills, this truly one-of-kind retreat offers exquisite seclusion, tranquillity and masterful design inspired by Feng Shui. French-Algerian designer Imaad Rahmouni's architecture blends the best of Oriental and contemporary design with subtle Moorish and Andalusian accents throughout the 41 rooms, suites, villas and palaces.
Only a short drive from the lively Jemaa el-Fnaa, a UNESCO Heritage Site with its labyrinthine souk and chic boutiques, the beauty of the surrounding landscape beckons with the promise of exotic experiences, from exploring the foothills of the Atlas Mountains, trekking by foot or mule to peaceful Berber villages, or taking a camel ride through the deep silence of the Sahara desert for lunch in splendid isolation. The colour, sights and pure fantasy of Morocco is at your fingertips, but Palais Namaskar's own cultural, gastronomic and wellness experiences may entice you linger a little while.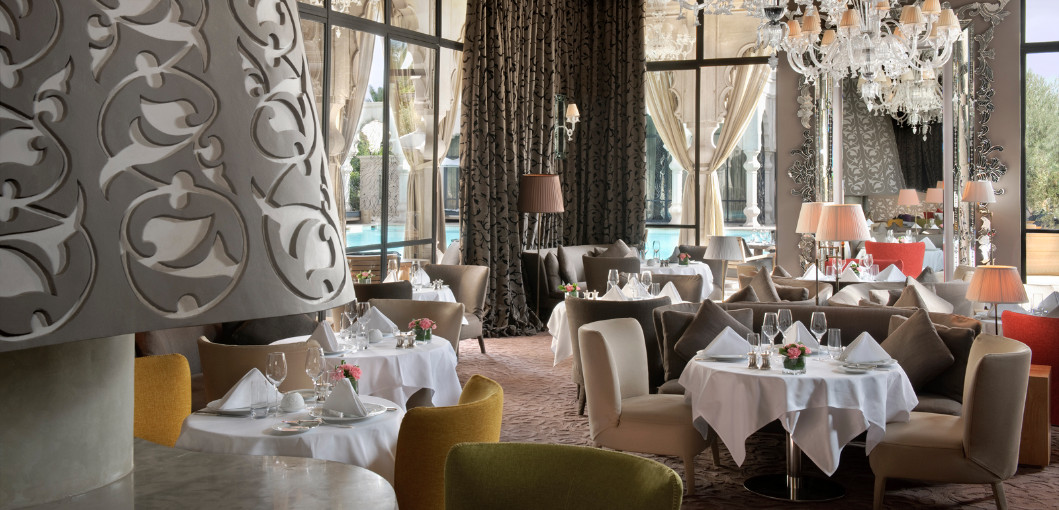 Take an afternoon to disappear into Le Spa Namaskar, where the holistic experience is inspired and influenced by the principles of Feng Shui; purity, energy and balance, channelling natural energies to heal and revitalise from within. Indulge in a treatment using Aromatherapy Associates where expert therapists assure spa-goers a true sensory experience, or opt for the VIP couple suite, where a private hammam, Jacuzzi and a fireplace create an intimate atmosphere. The grounds of Palais Namaskar also offer natural healing, with a one-kilometre jogging path that weaves among the gardens, daily fitness activities, such as yoga and mediation classes, and state-of-the-art equipment at the 200-square-metre gymnasium. Or, you can simply spend leisurely hours cooling off in the pool until the sun sets and a gastronomic adventure beckons.
Dine overlooking a tranquil expanse of fragrant gardens and the soothing waters of the main pool at Le Namaskar where French delicacies combined with subtle Moroccan flavours paired with prestigious wines, spirits and teas promise a spectacular evening in fashionable surrounds. For lovers of Asian cuisine, Le Sawadee's authentic dishes, produce and an inimitable savoir faire create an unforgettable experience for gourmands, or sample salads, tarts and summer vegetables made from seasonal produce grown in the hotel's garden at La Table, set in the heart of the Palmeraie.
Brought to you by Destinations of the World News and Palais Namaskar