Guided home by the Empire State Building, The Langham, New York, Fifth Avenue welcomes you as the comfortably understated neighbour to one of the world's most famous pieces of 20th Century architecture. Situated in the heart of Manhattan, where moments of personal space and quiet are worth as much as the real estate, The Langham offers both prestige and privacy, offering guests a rare taste of peace and serenity in the city that never sleeps.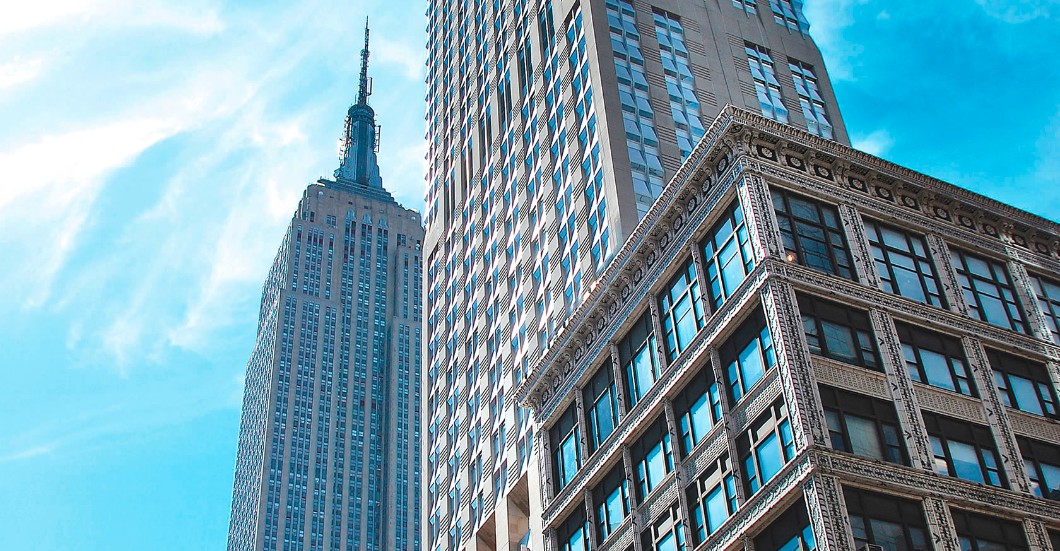 Poking its limestone nose out nimbly (as nimbly as a 60-storey building can do) between two neighbouring towers, a glamorously lit, Broadway-esque entrance is the first and only overt symbol of five-star status one will find at The Langham. Of course, there are plenty of less-overt moments of five-star luxury: the hotel has an abundance, from a museum-worthy art collection and luxurious interiors, to world-class gastronomy and an $11 million view.
Uninterrupted and unrivaled, the Empire State Building fills the windows of The Langham's suites, a view only a priceless art collection — including works BY American superstar Alex Katz — could tempt your attention away from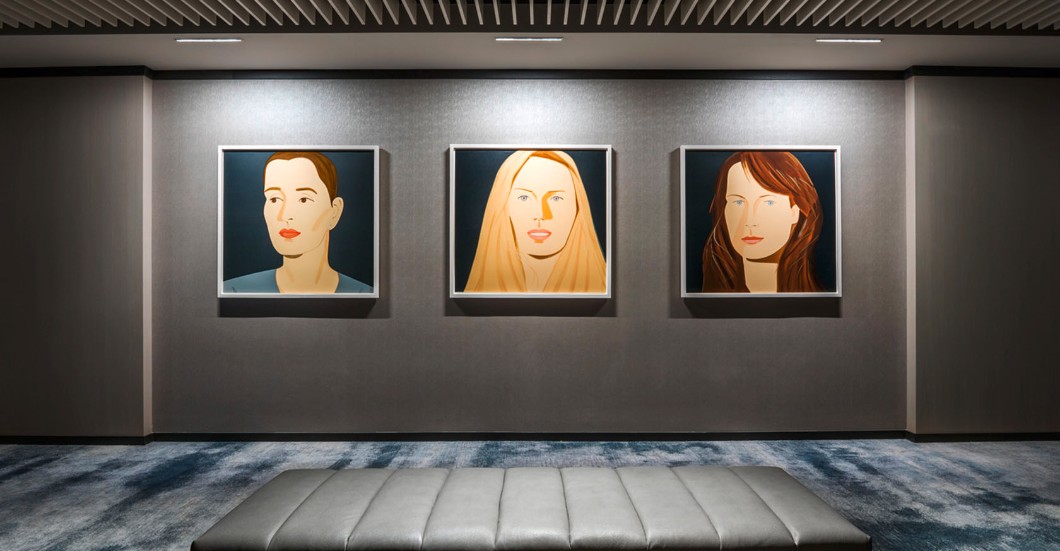 How did I arrive at that figure? During my stay, news broke that residents of a 12-storey apartment building in Chelsea had paid $11 million to stop developers from disrupting their Empire State view by purchasing the air rights to the development, and it struck me just how valuable a sight I was offered here at The Langham. Half a block away, uninterrupted and unrivalled, the Empire State Building fills the windows of the suites, a view only a priceless art collection — including works by American superstar Alex Katz — could tempt your attention away from.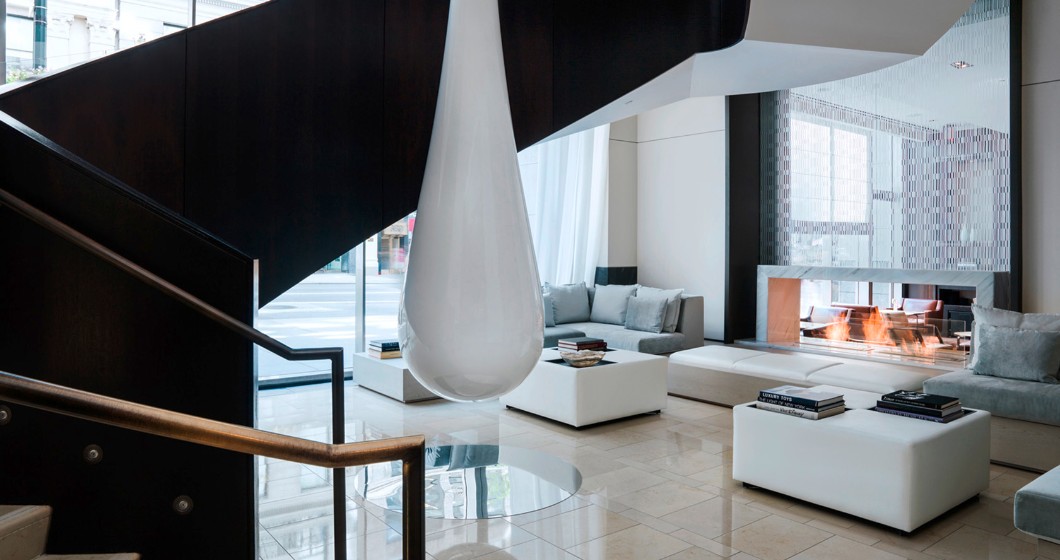 The Suites

The Langham's suites carry themselves with a certain swagger befitting of the neighbourhood. They're not charming in the traditional sense; the hotel has more of a contemporary, business-like vibe, shimmering with sophistication and class. The hotel describes itself as residentially-styled – I don't know exactly what that means, but I could definitely picture myself living there, so I presume we're on the same page.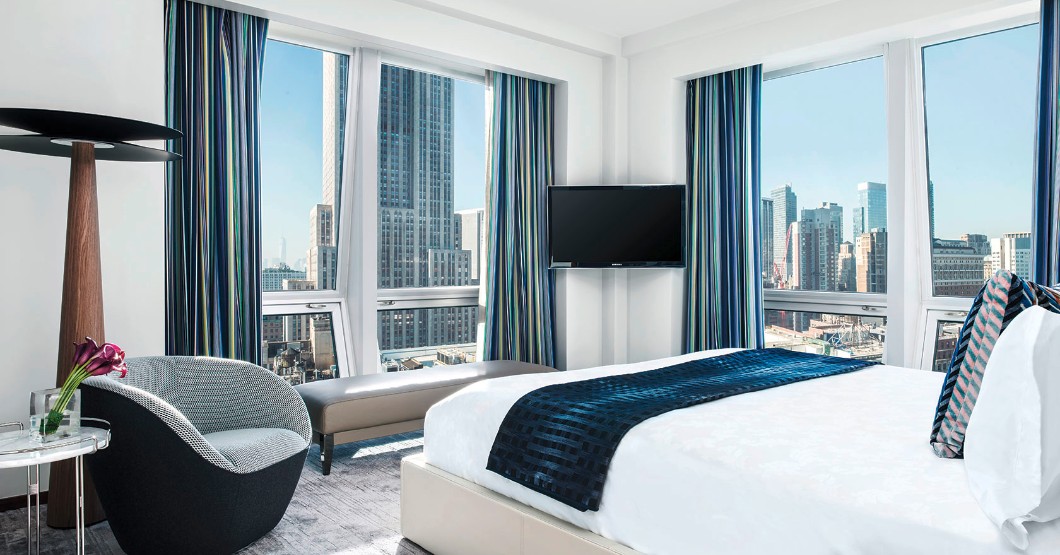 After a conversation with the front desk staff – all locals from the neighbourhood and as lovely as I've found – I was sent up to the 18th floor to a One-Bedroom Empire State View Suite, all of which sit between the 18th and 24th floor, offering towering views of the city below (or above, in certain cases).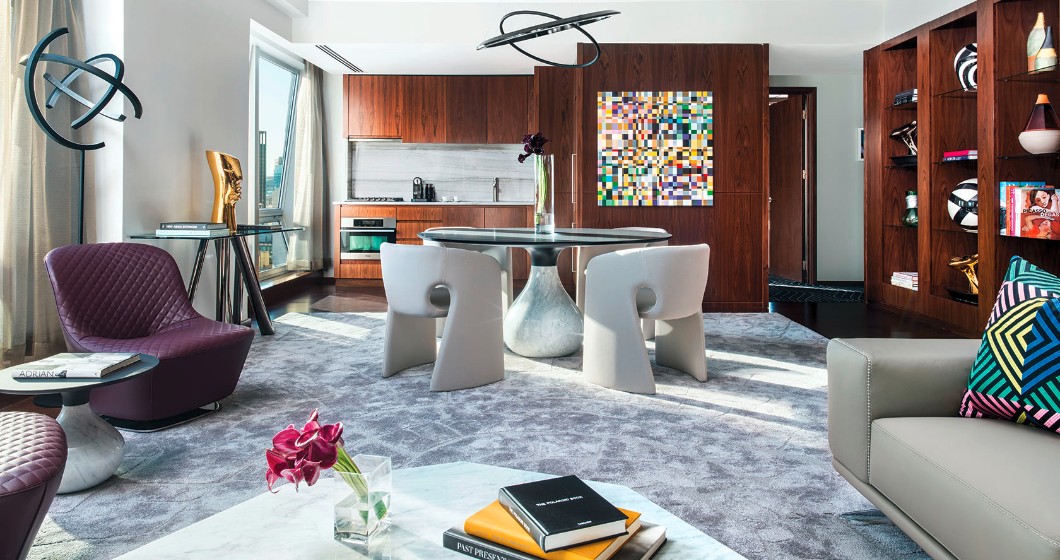 Fittings fall somewhere between a garden- and spiced-walnut colour – if you know your walnuts – and offer guests a dark and brooding experience. It has a fully fitted Miele kitchen, independent from the living space, which is placed next to the bedroom, offering those stunning, floor to ceiling Empire State views across two rooms.
When it comes to dining, Manhattan hotels have to be bold if they're to entice folks away from the New York culinary scene found at ground level, but The Langham has given it a good go. Chef Michael White's Altamarea Group has opened up shop with a Michelin-starred restaurant named Ai Fiori, which sits beside Bar Fiori on the first floor.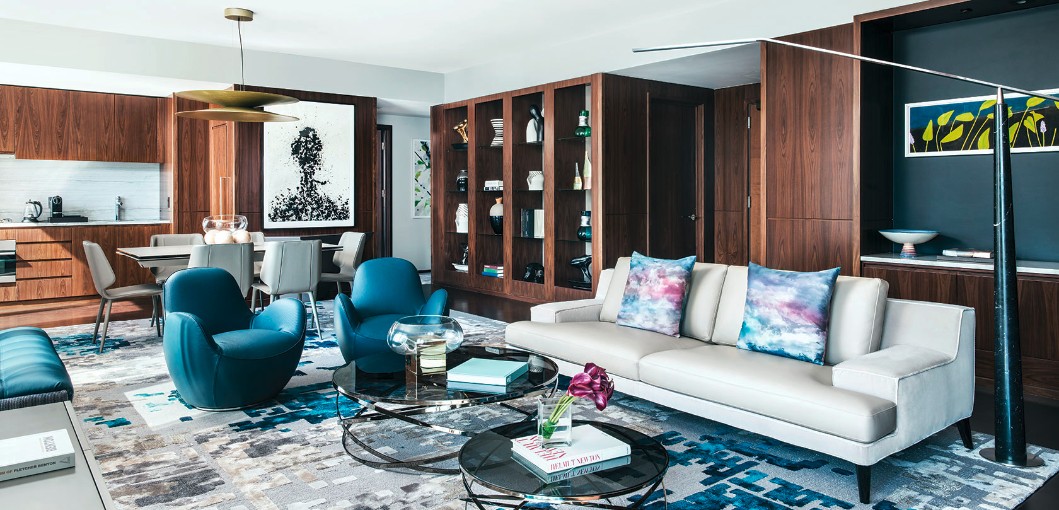 THE HOTEL

Like many Manhattan hotels, The Langham Fifth Avenue goes up more than it goes out, so you'll need to move between the floors to catch a glimpse of its entire offering. There are 234 rooms and suites in the building; some of them, including the brand new Roche Bobois-designed Presidential Suites, are among the largest in the city.
Inside the bedroom, it's difficult to see New York as the city that never sleeps, because a large, low Swedish Duxiana bed, sprawled out in all its majesty, is waiting to devour you for hours on end. And if you're flying in from almost 9,000 miles away like I was, you'll happily oblige. The final surprise worthy of a postcard is the marble bathroom. The only room without the Empire State view, it's perched to the side of the suite, with an irresistible rain shower, and isolated expansive white, squared off bath, and double vanity sink.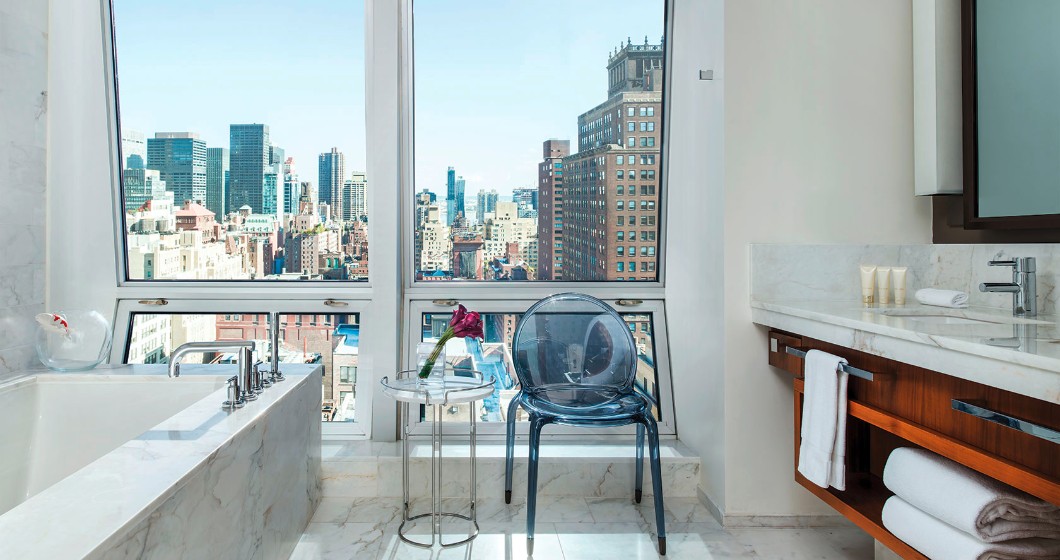 Midtown Manhattan is awash with activity and places of interest for visitors to enjoy. Like much of New York City, it leaves little excuse to be cooped up in a hotel room. I like that The Langham seems to understand this notion, offering a living space that complements a luxurious Manhattan visit, as opposed to trying too hard to steal the show. However, ironically enough, given its class and distinction, it kind of ends up doing just that.
Stay:
WHAT: The Langham, New York, 
Fifth Avenue, USA
SUITE: One-Bedroom Empire 
State View Suite
TEL: +1 212 695 4005