It's an exciting time for the world of high-end hospitality. In the last 10 years, the emergence of the millennial traveller, the spread of the sharing economy, and a shift in the habits of business travellers have caused major disruption to an industry that was fairly set in its ways. The change in travel habits has created a landscape in which independent boutique hotels have flourished, offering individual design, curated experiences and high levels of personalisation for travellers in a way that larger chains could never achieve.
Or could they? Reinventing a brand is never easy, but when the brand name literally means 'rebirth', it seems like destiny foretold. Enter Renaissance Hotels, the erstwhile grandpop of Marriott International, which has emerged from a major brand rethink as a collection of distinctive hotels infused with local flavour, artistic design and a palpable sense of place.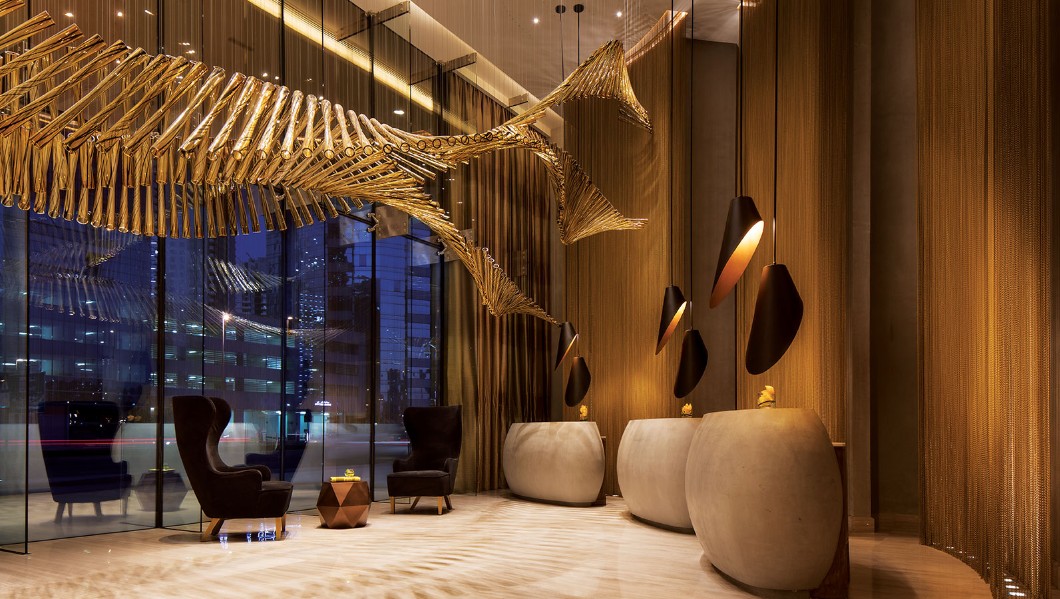 Aimed at the business traveller who likes to play as hard as they work, the new-look Renaissance operates on the philosophy that between the hours of nine and five, business travellers are on the company dollar – attending meetings or conferences for the benefits of their employer. But for the rest of the day, their time is theirs to do with as they please, whether that's exploring the local neighbourhood, dining out with friends, or looking for the best angle for their next Instagram shot.
"We want to own that five to nine portion of the day," explains Richard Zeolla, general manager of Renaissance Downtown Hotel, Dubai; the latest addition to the Renaissance collection and the brand's flagship property for the Middle East and Africa.
And they're certainly making a good job of owning that segment: here, bespoke local experiences are curated by the hotel's team of Navigators; a collection of distinctive restaurants and bars offer multiple dining and sensory experiences; and the unique design and art throughout makes this very much an urban resort that has plenty to offer for the inquisitive, intelligent traveller.
BEVERAGE. AND FOOD...
It's hard to disguise passion. By the end of the third cup of coffee, it's clear that Tatenda Kaseke is a man obsessed with his work. During a caffeine-fuelled meeting, the creative genius and head barista at pared-back coffee house Grounded explains why a latte can sometimes be too heavy, and introduces me to the delights of the cortado and the flat white as an alternative.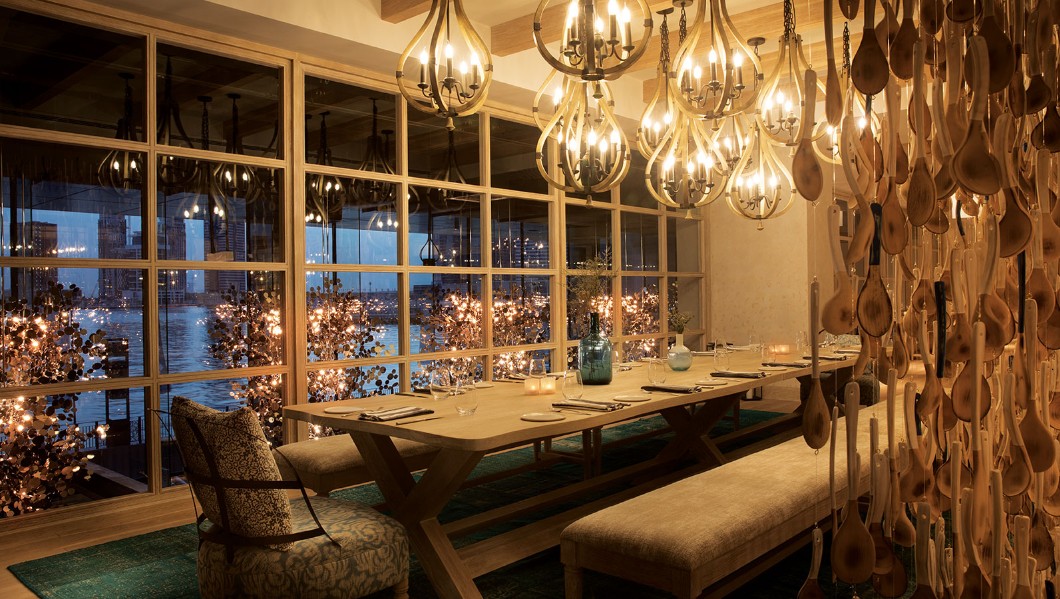 He explains why an espresso can be too harsh and bitter, and demonstrates how to use a Chemex drip-filter carafe to create a smoother and more balanced coffee that's as gentle as a morning cup of tea, but with twice the caffeine kick. His piece de resistance is the Nitro, a cold-brew, drip-filtered coffee poured through a high-pressure nitrogen pump, creating a smooth, creamy shot of coffee that looks more like a glass of stout than a cup of Joe.
With carte blanche to be creative with the beverage menu, Kaseke hasn't stopped short at conventional pours. During the summer months, he experimented with cold beverages, drawing on local flavours to capture a sense of place that's so apparent throughout the hotel. His espresso lemonade is a blend of lemon juice, homemade cardamom syrup and tonic water, topped off with a double espresso shot; a perfect thirst-quencher for a warm afternoon that hits you with the double kick of citrus and caffeine, followed up with the exotic taste of cardamom. Like everything here, it's fun and it's educational, but most importantly, it's executed well.
Super-charged by my morning's coffee education, I spend the rest of the day exploring the heavyweights of the hotel's dining proposition: BASTA! and Bleu Blanc, both created by LA star-chef David Myers.
Headed up by Italian chef de cuisine Nicola Fontolan, Basta! is a pan-Italian restaurant in a very contemporary setting; a bright and airy space looking out over Dubai Water Canal, fitted out with industrial-style décor in bare brick and hard woods, presided over by a giant portrait of Italian actress Sophia Loren: "goddess of pizzas" quips restaurant manager Jeroen Jochems.
Nicola and his team hand-craft artisanal pasta dishes like sweetcorn agnolotti with sage brown butter emulsion, spinach and ricotta tortelloni with cherry tomato puree, and a spaghetti alla carbonara to die for; plus stone-baked pizzas from the wood-fired oven. It's all buonissimo.
Upstairs, Poppy has the sultry charm of a Shanghai speakeasy, with a 500-plus record collection curated by David Myers forming the soundtrack to lazy nights enjoying wow cocktails created by Sam Ross – the genius behind the hotel's beverage offering.
Throwing off the shackles of the old, they don't do "F&B" at Renaissance; here's its B&F, stressing the importance of the beverage selection throughout the hotel, and its predilection for doing things differently.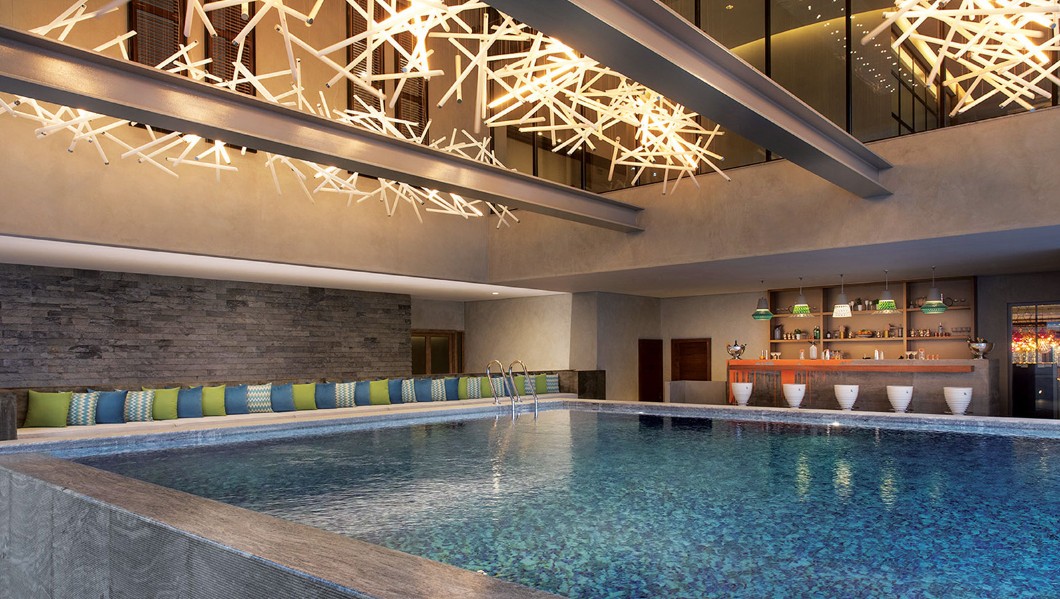 Winner of numerous accolades for his creative concoctions, Ross has brought together award-winning staples and some daring new creations at Renaissance. I sample a few at the bar of Bleu Blanc, Myers' other signature restaurant. Penicillin is one of 11 signature cocktails, an eye-watering blend of Scotch whisky, honey and ginger with a few sprays of Islay whisky to add an extra sensory element. Like the rest of the Bleu Blanc experience, it's out of this world.
Accessed via a striking blue door next to the hotel's main entrance, the restaurant showcases a menu of modern Provençal cuisine set to the backdrop of rustic countryside décor in gentle blue and white hues. Executive chef Alexandre Szkaradkiewicz runs the kitchen, dishing up show-stopper plates such as Maine lobster rolls on charcoal bread with saffron aioli; wagyu steak tartare with lemon and parmesan; and dry-aged bone-in ribeye done to perfection on the wood-fired grill. The oxtail toast is to die for: a bulging portion of tender, slow-cooked meat on sourdough, topped with pickled onions, comté cheese and spicy cucumber.
Completing the culinary tour de force is Morimoto Dubai – the first UAE outpost from Japanese 'Iron Chef' Masaharu Morimoto – and the modern pan-Ottoman restaurant Bhar. At the latter, Turkish, Levantine and Arabian dishes are given a modern twist, creating an exceptional menu under the guidance of chef de cuisine Mohanad Alshamali. Special praise goes to the char-grilled octopus with green chilli zhug and smoked potato, and the spicy grilled lamb cutlets with minted labneh and pickled baby vegetables – two dishes that will no doubt lure me back here again and again.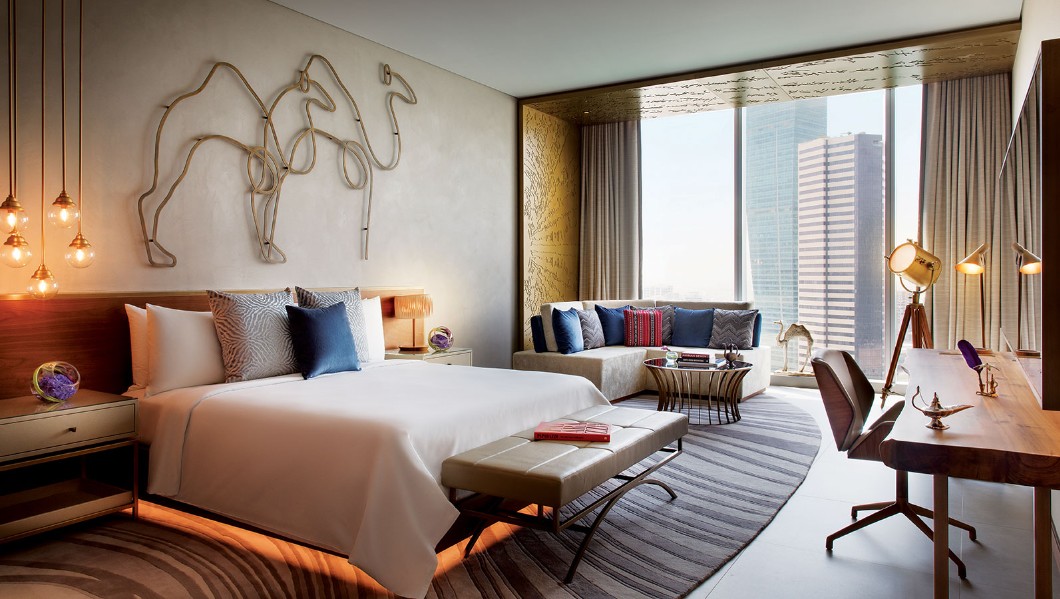 ROOM WITH A VIEW
Appreciation for the hotel's startling design starts as soon as you walk in the lobby. Black lampshades and strings of golden metallic beads evoke the oil and bling for which Dubai is known, and the industrial touches of the raw concrete check-in desks remind you that this is very much a city under construction.
Designed by Dubai-based WA International, the sophisticated guestrooms blend desert-chic with an industrial undercurrent, finished in earthy tones of gold and beige, with a vein of blue and a splash of red for contrast. Waves of brushed-gold sand dunes lead the way from the lifts to the guestrooms, via hallways of parched sand-effect carpet and walls of moulded concrete. The industrial feel continues in the guestrooms, with textured concrete walls and plenty of metal framing the enormous bathroom mirror, and engraved bronze panels carved with Arabesque patterns framing the windows.
Images and icons that capture the sense of the destination are used to great effect; black and white photos of camels by local photographer Nicolas Dumont adorn the walls of each room, and above each bed is a bronze camel sculpture: a clever pastiche of Picasso's camel line-drawing, formed of one continuous line.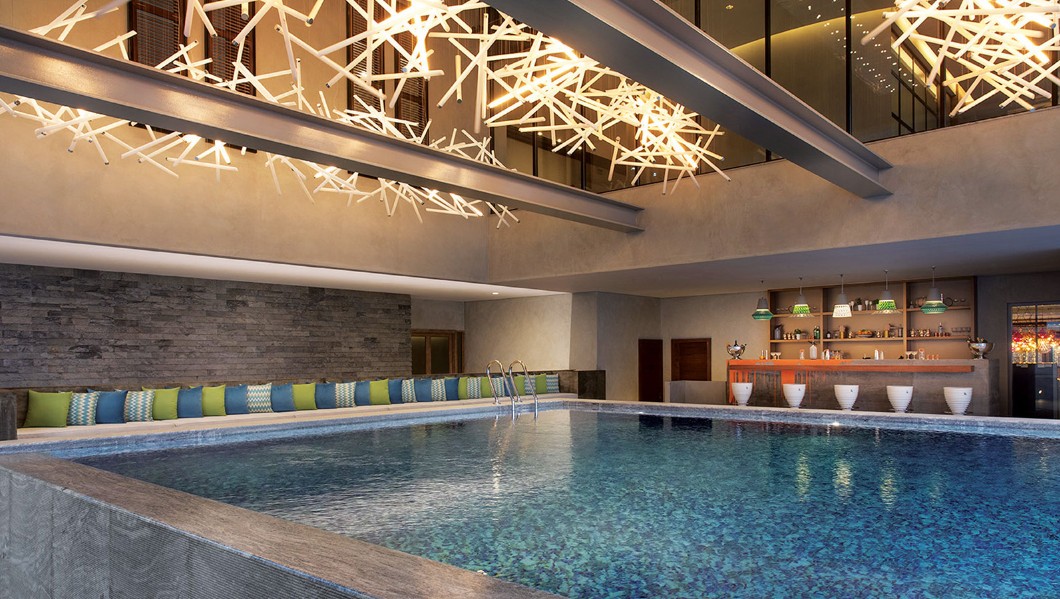 A two-metre desk made from one piece of hewn wood sits along a wall; Scandi touches inform some of the furniture; and a bedside pendant lamp of five bare bulbs gives it a hint of New York loft. The clever use of indirect lighting around the bed and TV frame gives the wooden and golden panels a warm glow at night-time, and by day, the sweeping views of Business Bay give the hotel some context at the forefront of New Dubai.
Unusual? Yes. Original? Yes. Do I like it? Very much so. To me, it feels like the designers have drawn on the design cues from more classically Arabian hotels, with touches of Arabesque here and there, and combined then with a more contemporary and industrial vibe that befits this ever-expanding city; creating an environment that ultimately captures the sense of very modern Arab culture.
And that's perhaps at the heart of the proposition for the new-look Renaissance brand: smart-casual hotels for the itinerate professional that present a sense of place and personality – a high-calibre product that sets the tone of an urban environment while being quintessentially part of that environment. It's fresh and funky, with a strong sense of belonging.