Disney's bi-annual D23 EXPO event just announced some news that should be of great interest to Star Wars fans: the upcoming Star Wars-themed land scheduled to open in Disneyland and Walt Disney World Resorts in 2019 will be called "Star Wars: Galaxy's Edge" – and, completing the totally immersive experience, will feature a Star Wars-themed resort.

The concept for the theme park and hotel "will allow guests to visit a remote trading port on the edge of wild space", going so far as to put visitors in the midst of battle between the First Order and the Resistance. Two immersive attractions include the hangar of a Star Destroyer – said to be the largest-scale attraction at any Disney Park – and the chance to pilot the Millennium Falcon from its cockpit. Finally, we may be able to verify in just how many parsecs the vessel can complete the Kessel Run, putting one Han Solo debate to bed.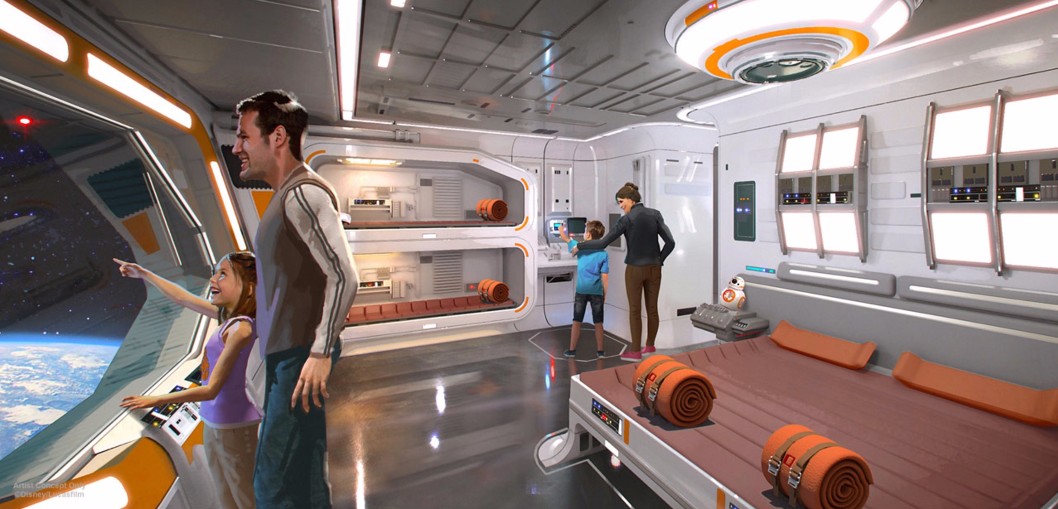 Needless to say, the series' favourite characters will be making appearances as well, and there will even be cantina with a DJ. But perhaps the most interesting new from the expo was the announcement of a Star Wars-themed resort at Walt Disney World in Orlando that completes the immersive experience with aplomb.
Said Bob Chapek, chairman of Walt Disney Parks & Resorts, "It's unlike anything that exists today. From the second you arrive, you will become a part of a Star Wars story. You'll immediately become a citizen of the galaxy and experience all that entails, including dressing up in the proper attire. Once you leave Earth, you will discover a starship alive with characters, stories, and adventures that unfold all around you. It is 100-per cent immersive, and the story will touch every single minute of your day, and it will culminate in a unique journey for every person who visits."
With every window looking out to space (that's right, there will be no real windows in the resort), employees in-costume and in-character at all times, and everything from the lobbies and the lifts to the guest rooms modelled after what one would expect to see a long time ago in a galaxy far, far away, it's positioned to be the destination at the top of every superfan's bucket list.