Often it's the intangible qualities of a destination that move us the most. An inexplicable something that stirs the soul and speaks to our heart. Bali is only one of more than 17,000 islands that make up Indonesia's culturally diverse archipelago, but it packs a punch. The warmth of the people, the palpable energy pulsating through the landscape – I don't just see this island, I can feel it. Home to sacred volcanos, holy springs, sea temples, a 10th-century meditation cave and a culture driven by daily offering rituals, Bali's spirituality seeps from every pore. With its soul laid bare, the Island of Gods, as it's known, has nothing to hide. From the iridescent green of its rice terraces to the roar of the barrelling waves, every sight and sound serves to soothe. As a result, there are few better spots in South East Asia to unwind.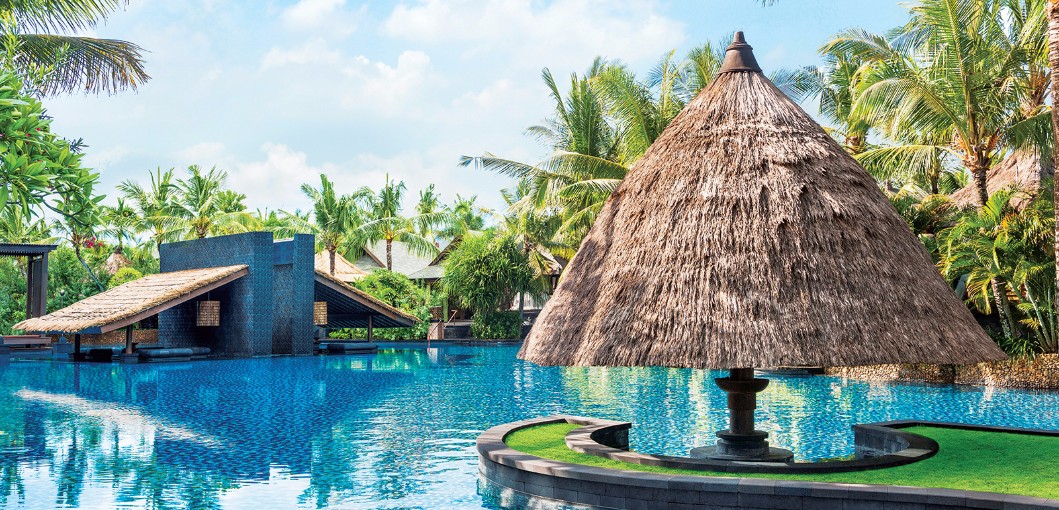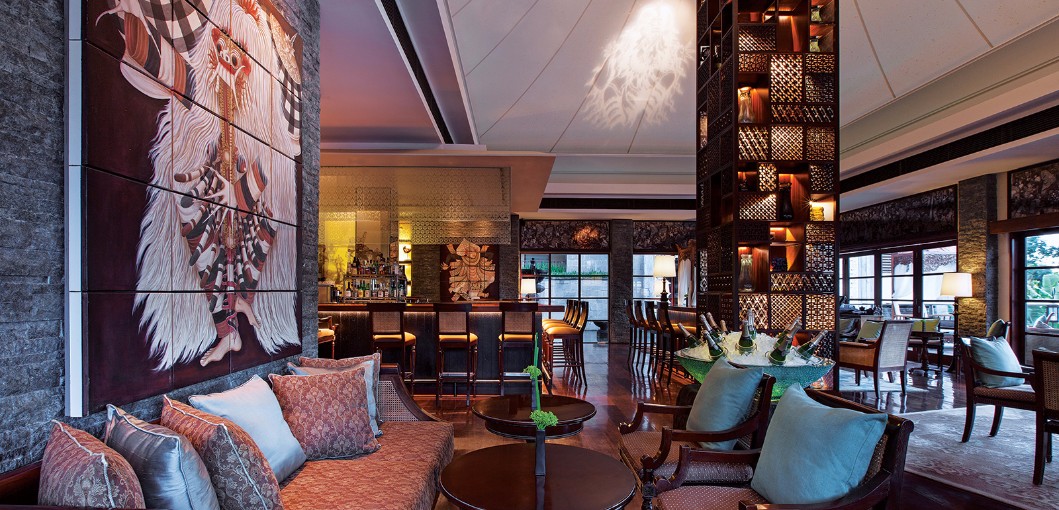 And this afternoon, I'm checking in to check out (metaphorically speaking, of course) at the luxurious The St. Regis Bali Resort in Nusa Dua. Better known as Bali's upscale "hotel row", this calm stretch of beach on the south coast boasts a bevy of five-star beachfront resorts as well as the Bali National Golf Club. Everything is super-sized here, but you wouldn't know to look at it. The sprawling property, like those it rubs shoulders with, is well-hidden among Nusa Dusa's towering trees and manicured gardens. I crane my neck to catch sight of the lush scene rising around me as I'm shuttled along in a chauffeur-driven van, fitted of course, with free Wi-Fi. I'm blissfully unaware of it yet, but the duo of handmade, gift-boxed chocolate truffles en route are just a sign of the feasts to come.
When the car eases to a halt, the door gently swings open and a beaming face hands me a frangipani, fresh and fashioned on a long, wooden stem. The man is dressed in a uniform that denotes authority, but it's the gesture that catches me off guard. Security checkpoints and car searches are a normal part of life in Indonesia, but this pleasant welcome leaves a lasting impression.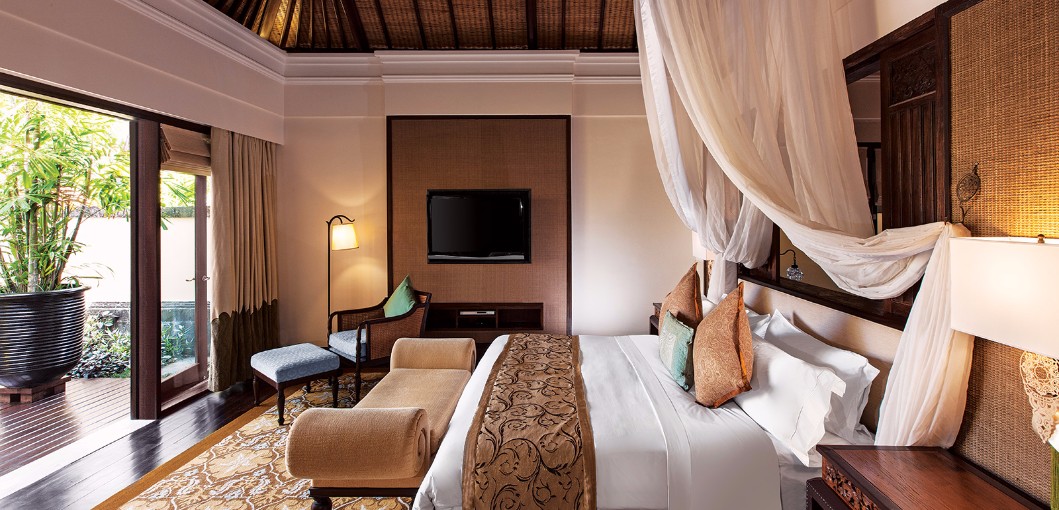 Inspired by the Balinese concept of Nyegara Gunung, which refers to a sacred journey from the mountain to the sea, the hotel's design is anchored in the island's spirituality. The symbolic journey begins at the foyer, the hotel's highest peak, with a black-sand "Fire Garden" bed flowing like a river all the way to the beach. Spread across a whopping nine hectares, with 123 elegantly appointed suites and self-contained villas, The St. Regis Bali is as grand as it is discreet. Though the resort is at full capacity when I arrive, its low-rise design and sprawling spaces, including the expansive saltwater lagoon, often makes it feel as though I have the whole place to myself.
Like a Balinese princess, I spend my days strewn out on one of the Med-style four-poster cabanas, elevated on a terraced pavilion alongside the lagoon and festooned with breezy, white drapes. I can hear the faint chatter of families, many intergenerational, mingling in the pool below me, but I have total command of this spot, one of the prettiest in the resort.
Some of the villas are beachfront, while others offer direct access to the lagoon. Each villa is fitted with its own private pool and butler's sleeping quarters, should you wish to have someone on-call round the clock. Speaking of which, bespoke 24-hour personalised attention is one of the hallmarks of The St. Regis brand, and my butler wastes no time in unpacking my luggage and neatly hanging my clothes. Such expertly honed service becomes a signature throughout my stay, from The New York Times that's thoughtfully placed beside me at breakfast to the staff consistently greeting me by name.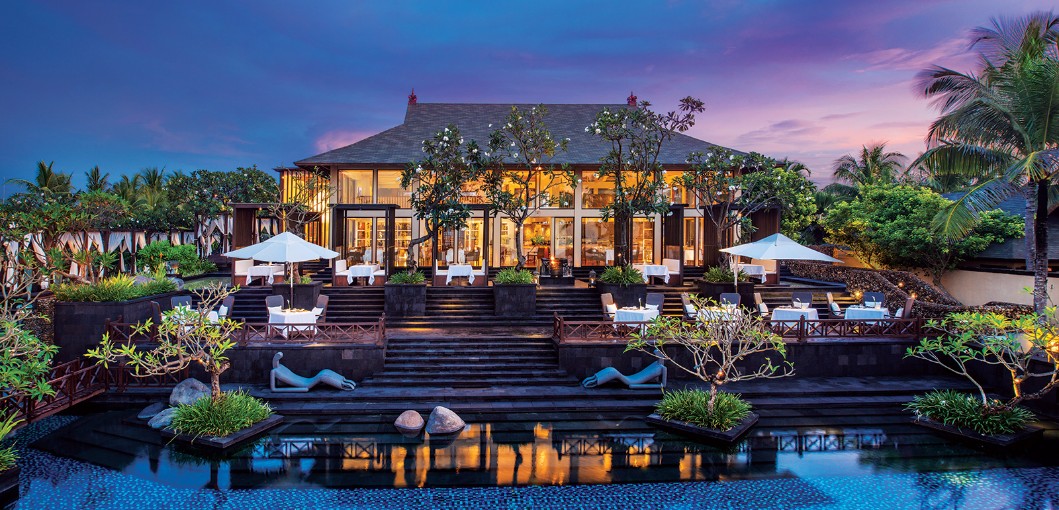 I settle in for lunch at the French bistro-inspired Gourmand Deli, where my butler has reserved a private table, complete with crisp linen, right next to the koi pond. The sophisticated à la carte menu lists five choices of sparkling water and inside, a deli stocked with gourmet sandwiches, sashimi, sushi, gelato, tarts, cakes and cheeses. I waste no time in getting acquainted with the seafood. First up, a trio of French oysters, shucked fresh and served natural on a bed of ice with lemon, rounded off with the Indian Ocean crustacean bisque. In my bowl arrive three perfectly pinched crab and shrimp-filled dumplings. My waiter ceremoniously pours on a rich, buttery lobster broth and they soften as if to sigh. It's one of the best bisques I've tasted and a prelude to the hotel's culinary prowess. From the tasting menu at beachfront Kayuputi to the decadent breakfasts (lobster omelette and fried egg with seared foie gras and brioche), this place gets food.
As polished as it sounds, there's also plenty on hand to entice young families, too. As well as the Children's Learning Center, an education-focused kids' club, which offers arts and crafts, a music room, cultural dancing, cooking lessons and a library, local fire dancers perform every night when the sun goes down. Little faces freeze with astonishment as young Balinese men perform the traditional Kecak dance, breathing flames into the air and spinning balls of fire around their bodies without batting an eyelid.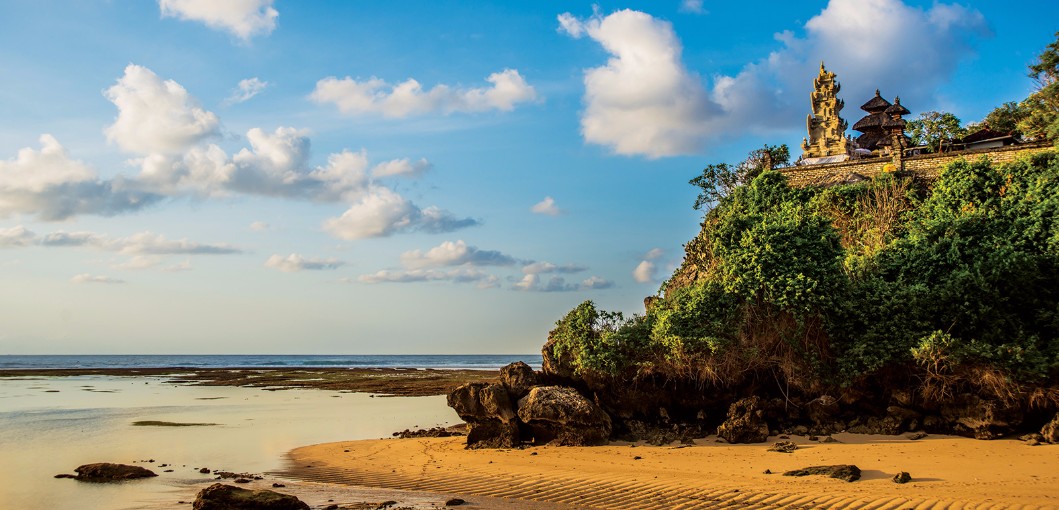 I'm reluctant to leave the resort, but venturing out is a rite of passage for all those who visit the island. Early each morning, Balinese women tend to the small temples scattered throughout the streets, placing floral offerings and burning incense into the stone pagodas. Located at the western edge of Geger beach, a 25-minute walk from the hotel, the Pura Geger temple has a unique seaside setting atop the tip of the peninsula. At low tide, the rock formations underneath the temple are exposed and the erosion makes for some breathtaking photos. While, at the opposite end lies the Nusa Dua Waterblow, a natural blowhole that creates a powerful fizz of water as waves crash into the rugged landscape.
Nusa Dua is awash with sparkly resorts, but that doesn't mean it's devoid of culture. Bali's Museum Pasifika (www.museum-pasifika.com) features more than 200 artists from the Asia Pacific region, both historic and contemporary, with most of the works centred around Balinese life and cultural traditions. Located a 10 minute drive from the hotel, the collection includes a number of indigenous artifacts from the Pacific and vintage photos sharing a relatively rare insight into life in Bali in the 19th century.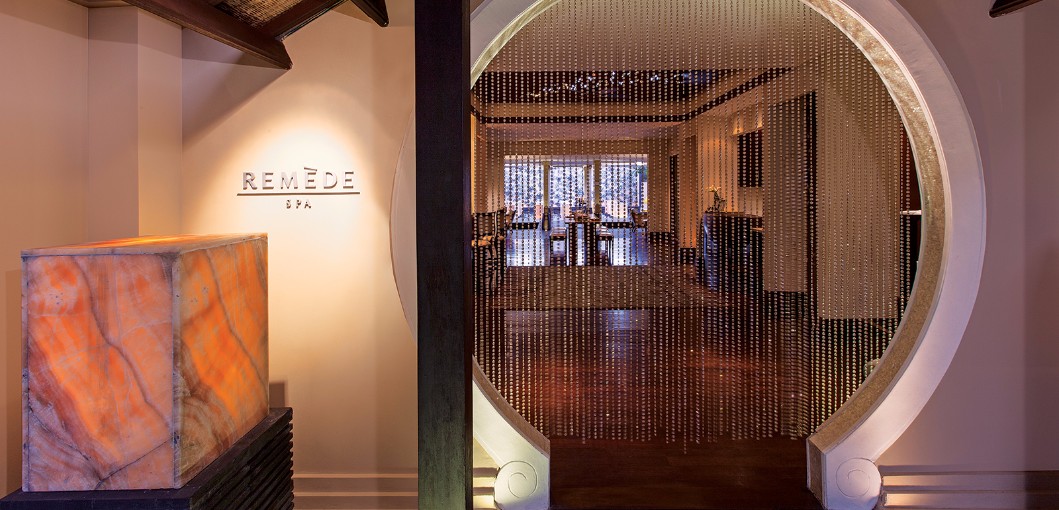 Spirituality is all around in Bali, but the real magic happens in Remède Spa. Themed with butterflies, glowing lights and large stones, the showpiece of the tropical sanctuary is a purpose-built Aqua-Vitale hydrotherapy pool. As recommended, I work my way around the 11 stations, where each jet focuses on a different part of the body, before a final, reluctant immersion in the ice-cold plunge pool. I certainly feel less tense and I have to catch myself from dozing off during my hour-long Balinese massage, which uses long strokes and stretching to exquisite effect. I leave the spa feeling completely refreshed and ready to attack my six-course degustation dinner in a few hours.
With its romantic outdoor beachfront setting and award-winning grape menu, Kayuputi at The St. Regis Bali Resort has mastered the art of fine dining. With Asian-fusion creations, such as oxtail soup and a risotto-like prawn with black rice and coconut foam complete with matched beverage pairings, it's a challenge to keep up, but I manage to save room for dessert – and I'm glad I did. On the plate before me, a life-size lemon, moulded from white chocolate, softly whispers, "Instagram me". Cracking it open reveals a velvety lemon curd and tart sorbet, and I scoop it up with the crumble beneath. My face lights up. Bali will have that effect on you.
Stay:
The St. Regis Bali Resort
+62 361 847 8111