The Dubai Desert Conservation Reserve forms the biggest piece of land dedicated to 
a single project in the emirate. As the first conservation eco-resort in the Gulf, it was built to protect the area's last unspoiled desert and unique ecosystem from the intrusion of urban development. The Bedu have travelled its 225 square kilometres of undulating golden dunes for over 5,000 years, and it is home to the once-almost extinct Arabian Oryx, Gordons Wildcat, Arabian Gazelle, eagle 
and osprey, as well as a secret hideaway, Al Maha, known only to those with conservation or calmness on their mind.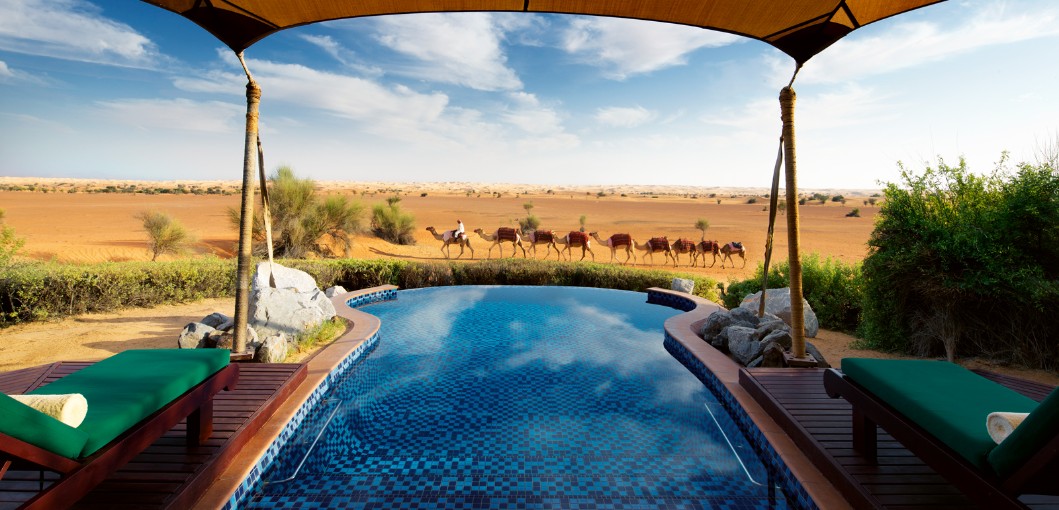 Forty five minutes outside of Dubai, a sentry guard welcomes you to the Dubai Desert Conservation Reserve, waving you across the boundary lines, 
with strict instructions to stick to 
a 40 kilometre per hour speed limit to protect the roaming wildlife. 
A meandering 10-minute drive then takes you from gate to guesthouse through topography that feels akin to Mars' wild, rugged, russet landscape as Ghaf trees, peeking out of the sandy hills, lead you to Al Maha's tented retreat huddled atop the dunes.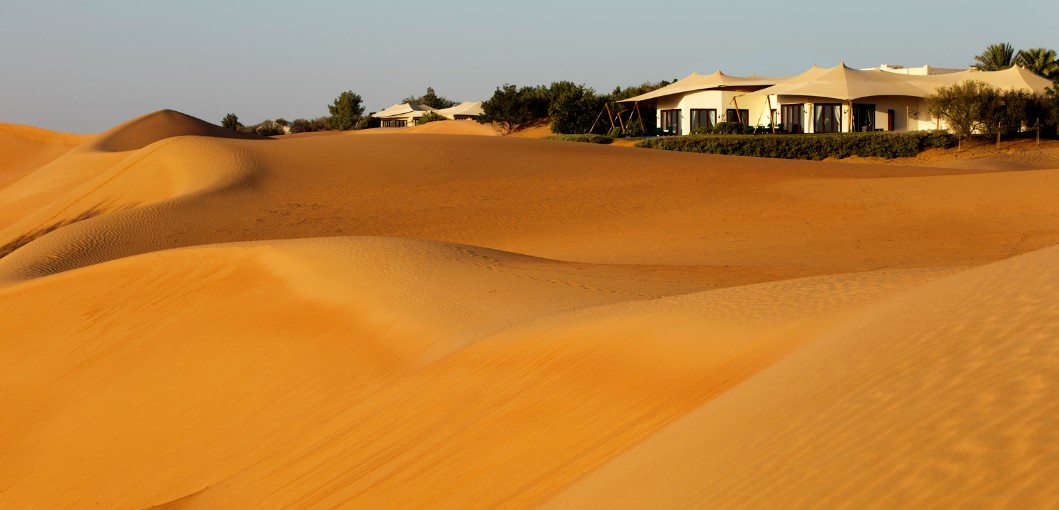 A welcome contradiction to Dubai's showiness, Al Maha, 
a Luxury Collection Desert Resort & Spa, adopts an entirely polar approach. The hotel's discreet refinement heralds true Arabian authenticity, with nuances throughout celebrating local antiques and artefacts. All earthy tones, solid Omani wood doors and furniture, artisanal crafts, and beautifully weaved Arabian carpets, the lobby sets the tone for what lies beyond. Over a soy milk and mango welcome drink to quench my thirst, my eyes are drawn to the vast expanse of desertscape unfolding beyond the balcony doors. It is genuinely quite other-worldly.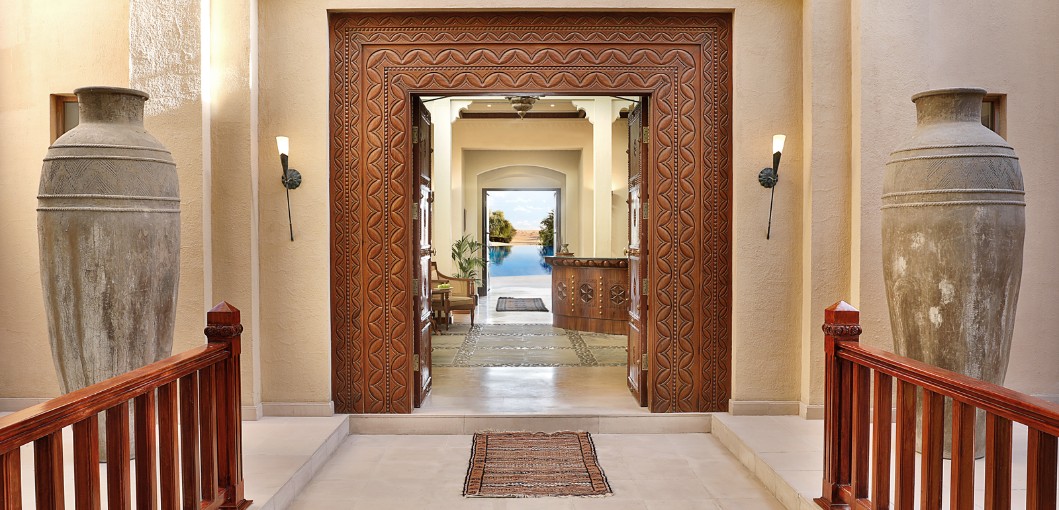 The resort's 42 suites are scattered across the surrounding dunes, staggered above one another allowing for uninterrupted views of nature's playground. So at one with its desert surrounds, Arabian Oryx and gazelles wander freely throughout the property – the hotel unhampering their freedom – and as I arrive at my suite, three gazelle eye me half-heartedly, before returning to graze on 
my garden's grass.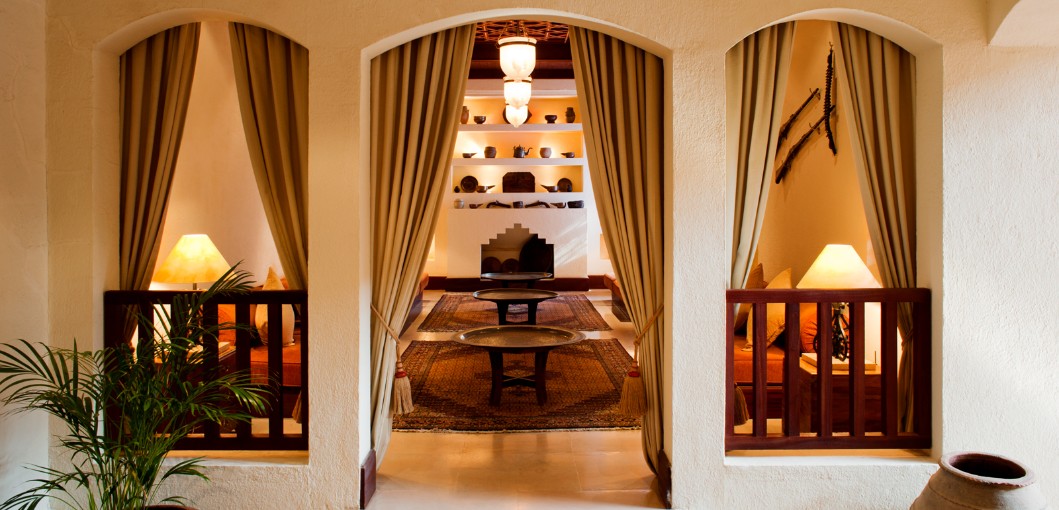 An old-school wrought iron key unlocks a solid oak door, which opens into my tented Bedouin suite, where hand-crafted furnishings, Arabian antiques, and private pool parade under a canvas roof. It's like being in your very own Arabian 'big top' and I love how stripped back this luxury feels – there's no technology in view 
(the TV is hidden away, and there are no iPads to grapple with for lights, curtains or A/C), 
no gaudiness to distract from the setting, simply an overwhelming feeling of purity and tranquillity.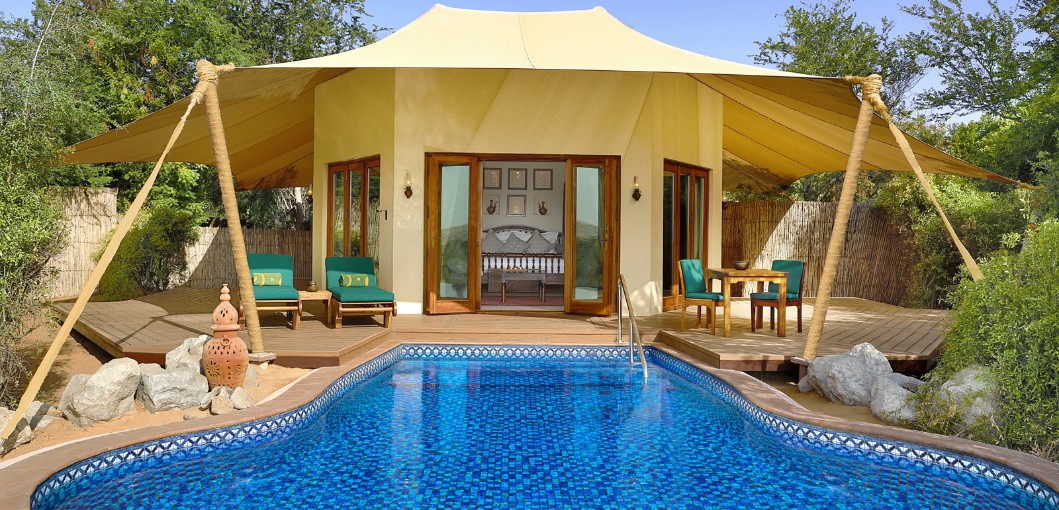 A resort for those who want to disconnect from the world's commercialised and tech-driven complexities, Al Maha invites you to unplug and shift your attention. Binoculars in the room offer nature lovers the opportunity to reconnect with their environment, while a writing desk, easel and art materials welcome a different kind of distraction. Plus, with so much space between you and your neighbour, there's no-one near to judge your artistic expertise, or lack thereof. My private pool comes with added entertainment, with Arabian gazelles nonchalantly wandering past, grazing, sniffing, relaxing, while busybody birds socialise in the canopied treetops above.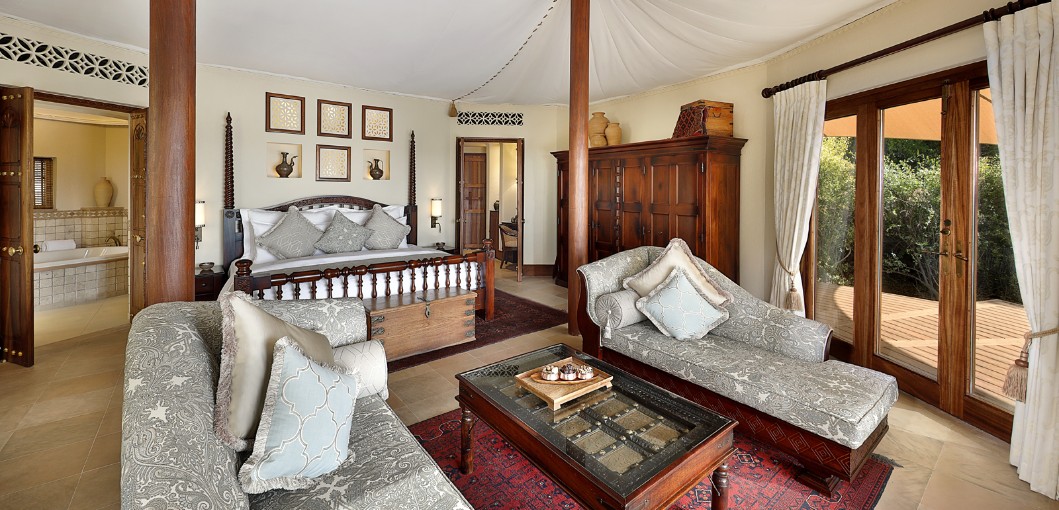 Morning and afternoons can be as leisurely as you want, but my tip is to let the on-site field guides take you on an adventure – bet it on camel-back, on-foot or on safari. Two activities are included in one's overnight stay, such as sunset camel treks, a guided walk to a nearby watering hole, or a falconry lesson. Or, for a little extra, you can throw caution to the wind and opt for 
a four-wheel desert drive or horse-back safari. One essential part of Al Maha life is sunset drinks on the terrace, where guests gather to trade adventures and stories over Gin & Tonics.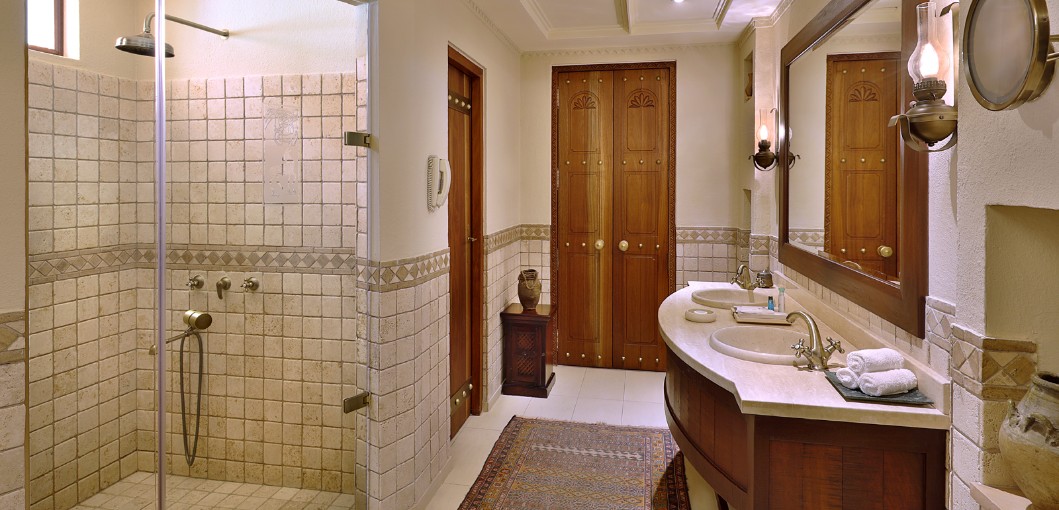 Dinner at Al Diwaan, the hotel's only restaurant, is served dune-side (weather permitting), where the reserve's distant watering hole uplit on the horizon draws attention from both two- and four-legged guests. Pan-fried halibut, lamb rack, beef brisket and lobster ravioli vie for attention alongside 
a vegetarian menu, where its porcini mushroom tartare and pumpkin and green bean tagine steal hero status. There's little to do post-dinner, bar amble (cautiously) back to your villa and sit on your terrace stargazing under a sky peppered with diamonds. Being so far out into the desert bestows upon you quite the astrological masterpiece.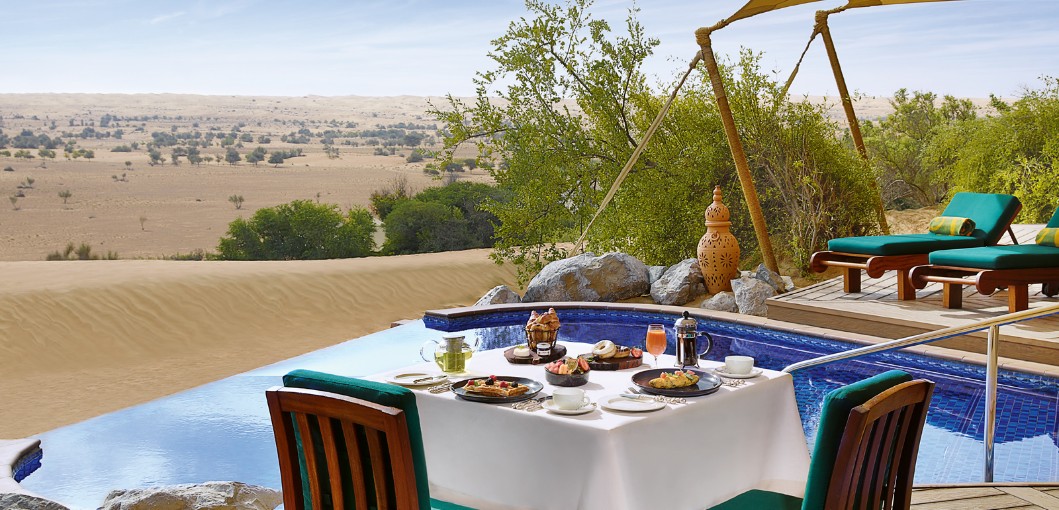 Breakfast on the terrace is once again served with an audience, 
as brazen gazelles eye up my fresh fruit platter, creeping closer as my back is turned, only to act all coy when I glance towards them. 
It's moments like this that make me grateful for the preservative efforts employed at Al Maha and the wider Dubai Desert Conservation Reserve, because nowhere in Dubai offers an unspoiled, agrarian experience quite like this.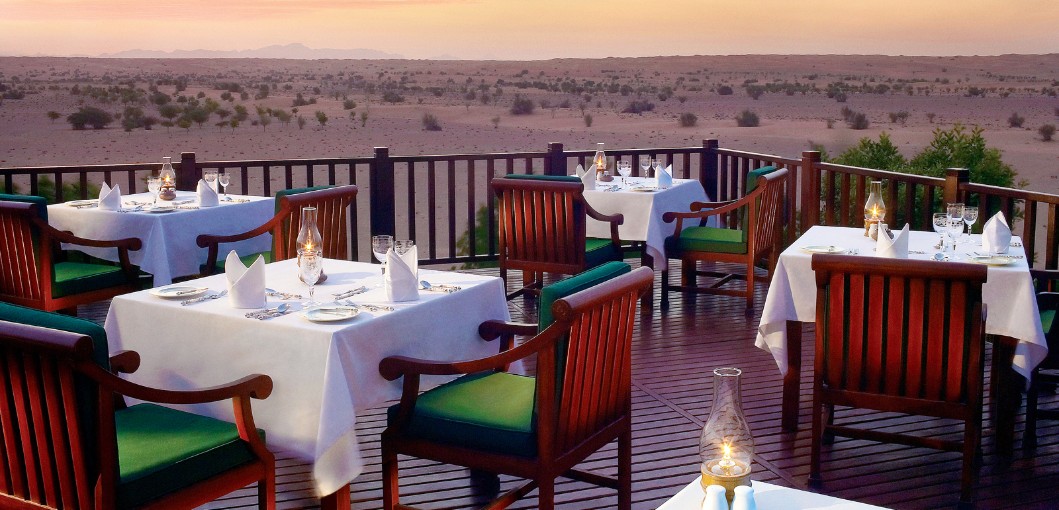 While I only stay for one night, 
I wish it were more, and as 
I meander my way from Al Maha through the Mars-esque landscape back to the sentry post beyond on my way home, I think how fortunate we are to have this secluded, magical hideaway on our doorstep. Less than hour from the hustle and bustle of Dubai and some of the region's greatest wilderness moments are waiting to play out right before your eyes. Safe in the knowledge that 
a stay at Al Maha is supporting conservationist efforts to secure the future of the once almost-extinct Arabian Oryx, you can rest easy knowing that you're truly part of history in the making.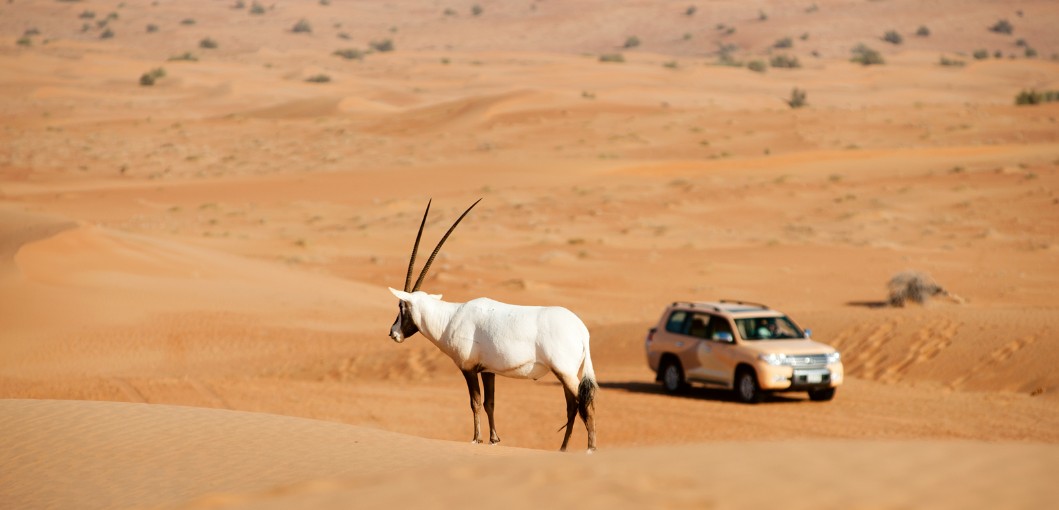 Stay:
What: Bedouin Suite
Where: Al Maha, a Luxury Collection Desert Resort & Spa
Tel: +971 4 832 9900