Picture this... Your eyes slowly open to the sight of white chiffon curtains billowing in the breeze, golden sunshine streams in and bounces off your room's crisp white tiles, while the cerulean Andaman Sea unfurls before you. There's a knock at the door; 
a waiter arrives with a breakfast tray filled with exotic fruits so colourful they look like they've been kissed by 
a rainbow. You retire to your terrace, claim your sun-lounger and watch as yachts stitch trails across the UNESCO-protected Phang Nga Bay below you. And breathe...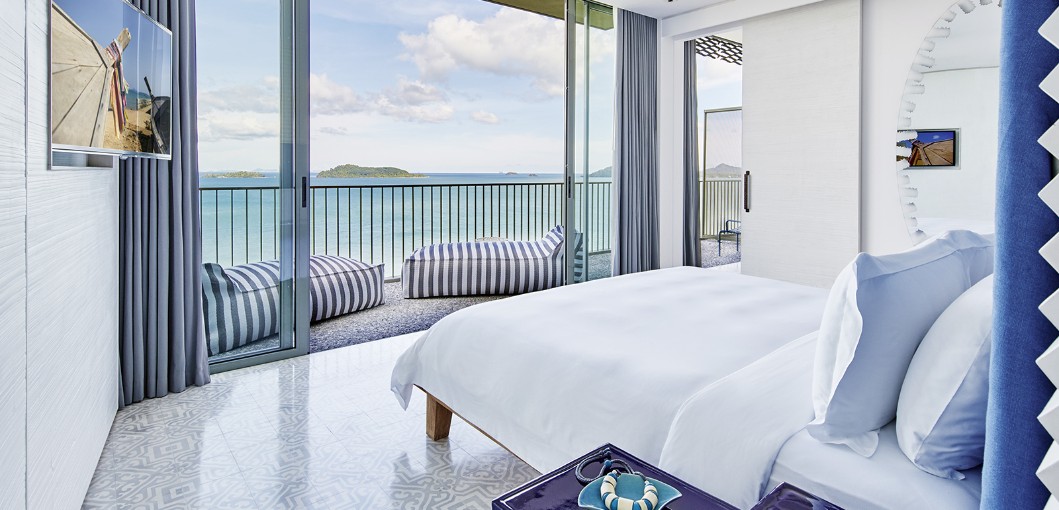 Every day starts this way at COMO Point Yamu, the beautiful contemporary hilltop retreat on the private peninsula of Cape Yamu, Phuket. The vision of Jean-Michel Gathy, with interiors by renowned Italian designer Paola Navone, COMO Point Yamu deftly marries the worlds of Thai culture and modern design with refined luxury, and casts a striking silhouette on its bucolic hilltop. COMO's signature clean lines and pared-back elegance sit alongside a chromatic spectrum of aquamarine and burnt orange, and by using local materials and artisanal Thai techniques in the build, it feels authentic to Thailand's beautiful landscape and culture.
My home for three days is a Bay Suite, 100sqm of light-filled space, with each room flowing seamlessly into one another, only separated by sliding doors. The colour scheme is reminiscent of Mykonos or Santorini Ω all blinding whites and brilliant blues Ω and immediately evokes a sense of calm.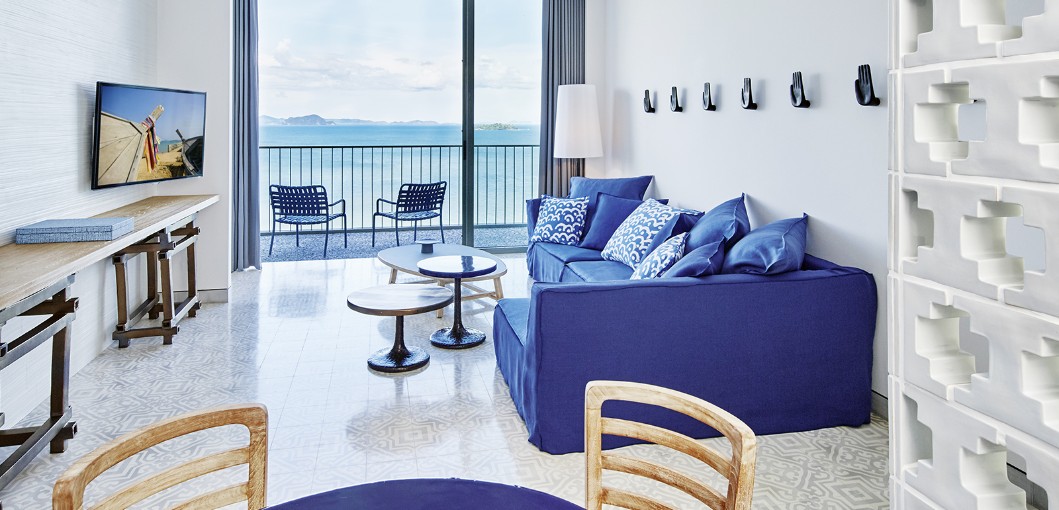 The suite has everything you need and nothing more Ω it's minimalist with no tech distractions save for a TV and music system. A fridge is fully stocked with drinks, nuts and nibbles, all replenished daily, with a dining table the perfect size for in-room dining à deux. A single-bed is neatly set up in the corner for our daughter, and a welcome pack from Play - COMO's world-renowned kids' club Ω waiting, with a water bottle, crayons, colouring book and beach bag. It's a sweet touch. There's plenty of room for three Ω the sofa in the living room is huge, and the free-standing round bathtub could fit a family. The bathroom is really something else: with walls lined floor-to-ceiling with royal blue tiles, it gives a sensation of being cocooned by the sea. 
The bathtub sits in the middle of the room, flanked by Jack 'n' Jill sinks and separate loo and rain shower cubicles. Beauty lights around the mirror, wooden ladders to hold your towels and a light-fixture that hangs half-way to the floor like illuminated jellyfish tentacles create a relaxed ambience. As for the bedroom… There's little more than a king-size bed, two bed-side tables and a huge mirror. Yet it feels anything but empty. Instead, it feels like it's been masterly designed to let the outside in and the view take centre-stage.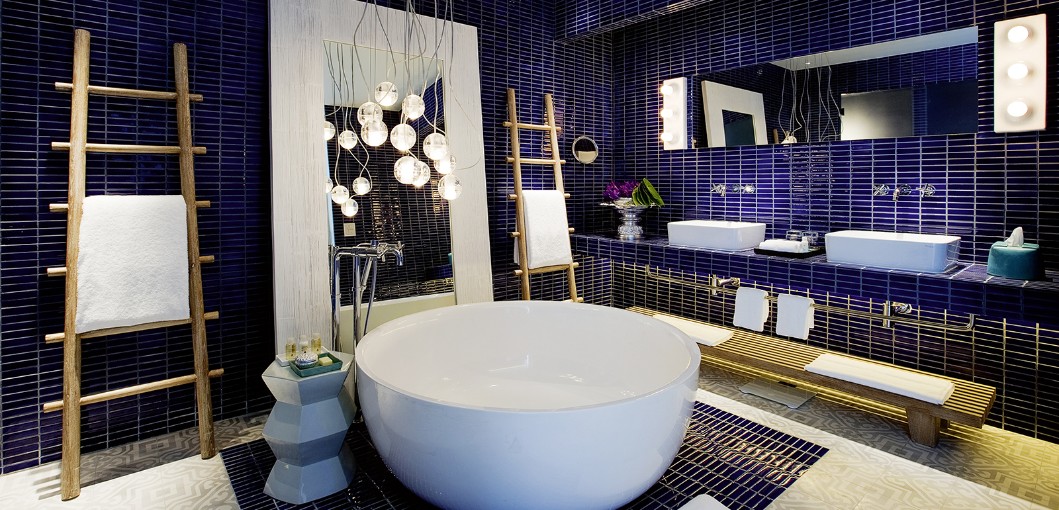 Beyond the suite the sense of zen continues. The landscaping is elegant, with reclaimed wood everywhere you look, and the walls are artworks in themselves. For sun-seekers, the sun-deck with 100-metre pool stretches for what feels like miles. Divided into three by stepping stones, and each section varying in length, it is perfect for kids dipping in or adults chilling out. Pick a bed on the hotel side to know that your views of Phang Nga Bay are some of the best in Phuket, and recline with a lemongrass ice lolly in hand.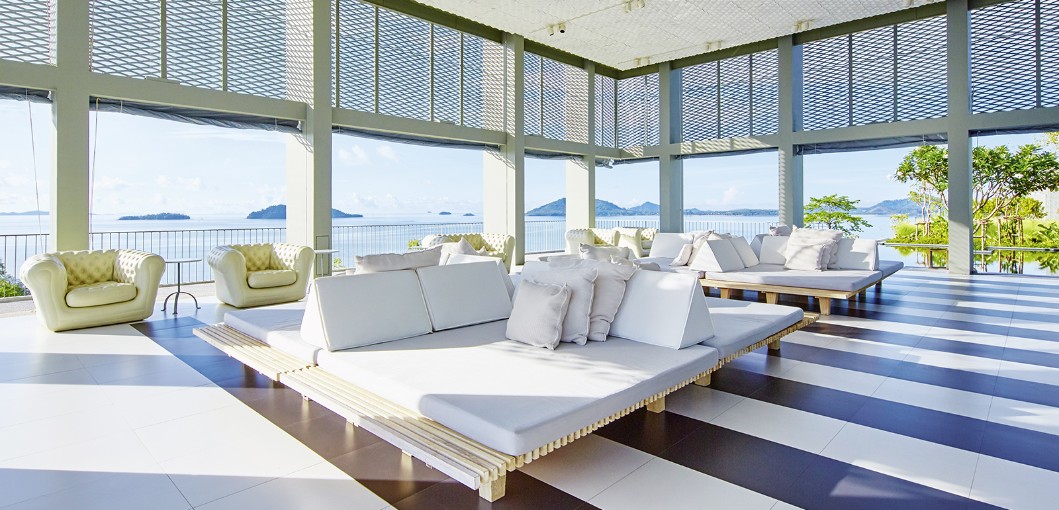 The hotel doesn't have immediate access to a beach, but it does have it's own Beach Club that is just a 10 minute boat ride away. It's a rustic desert-island discovery with a salt-water pool, thatched restaurant, 
spa treatment salas and on-the-house watersports.
If you have kids, make the most of Play; the kids' club has ample space with tonnes of toys, a games room, and a truly excellent team who my daughter still talks about today.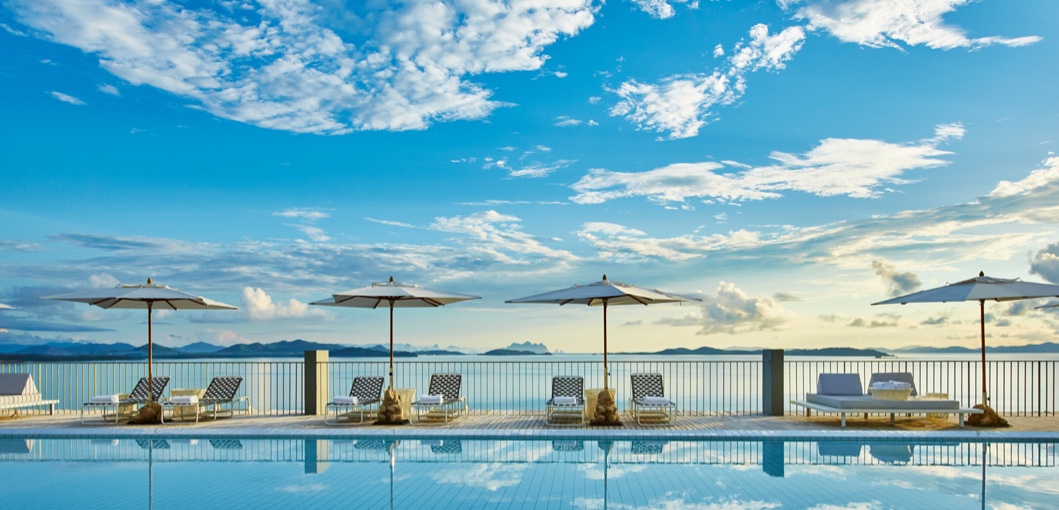 Steal some time by yourself in the eternally tranquil COMO Shambhala spa, with Thai-inspired treatments, yoga and Pilates all played out against the bay as a backdrop. Then refuel at La Sirena, the hotel's Italian restaurant. Breakfast here is super fresh and healthy, and there's also wood-fired toast and a honeycomb station. For lunch or dinner, think Italian fare with a twist. Then by night, Nahmyaa's noodle soup, river prawns and grilled whole fish will immerse you in something more typical of southern Thai cuisine.
Then simply retreat to your suite, close your eyes, and get ready to do it all over again. And breathe...
Stay:
WHAT: Bay Suite
WHERE: COMO Point Yamu, Phuket
TEL: +66 (0) 76 360100