There are a great many reasons why a Dubai staycation is a good idea – and one of them happens to be the global pandemic that's driven us all to the brink of isolated frustration in our own homes… I don't want to make light of something that has affected people so gravely, but l had personally reached the point where my cat was socially distancing by more than two metres because she could no longer stand my enduring presence.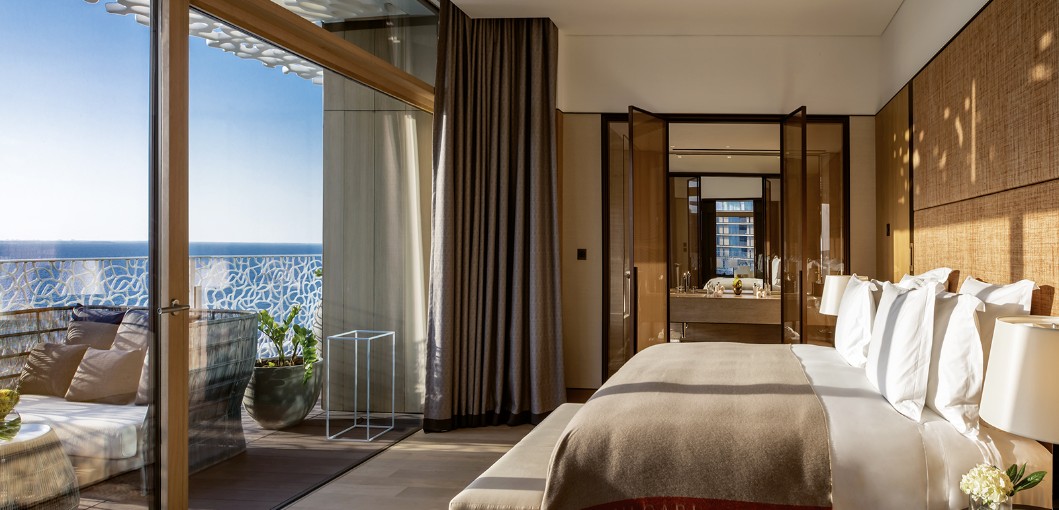 Luckily for me, I live in one of the most coveted holiday destinations in the world. Beaches, boujee hotels and perma-sunshine on my doorstep, all taken slightly for granted 'til I was told to shelter in place from a hidden enemy. So now, in this post-lockdown twilight, while the world recalibrates for a 'new normal' in travel, Bvlgari Resort Dubai was the obvious choice for a sunny escape. The ink was still drying on the proverbial news about the resort's new summer staycation series and I was already packing an overnight bag.
No more than 15 minutes from Downtown Dubai or the Marina area and you're setting foot on 
a seahorse-shaped island, lined with mega-yachts, penthouse condos and the ultra-luxury Bvlgari hotel. Glide over the arching road-bridge from the coastal mainland road and take a left at the oversize Australian baobab trees, then you'll see it. Tucked away so discreetly, the Italian escape offers the utmost in peace and privacy for their VIP guests, or those (like me) who simply want to play the role of one.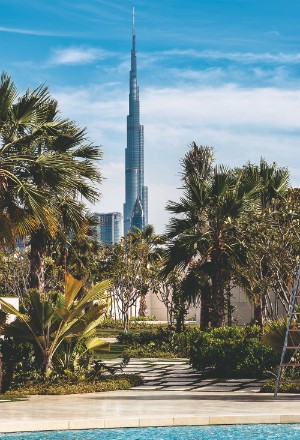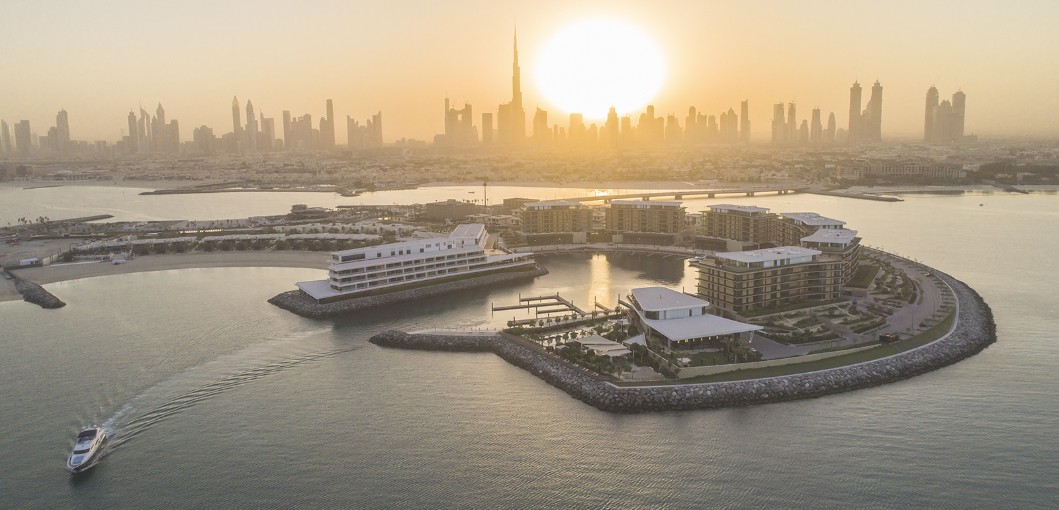 Coral motifs mingle with 
a marbled façade as mask-wearing valets handle your arrival and luggage. You'll enter your temporary retreat amid a slew of supercars out front, with the calm bustle of a hotel that is perfectly balancing healthy distancing with its unquestionable summer popularity. Its buzzing atmosphere is reminiscent of PC times (pre-Coronavirus). The resort has deftly launched four staycation options for the summer: B.Beautiful (spa treatments et al), B.Family (a villa stay with private pool), B.Active (get yourself back in shape and B.Private (which wonderfully revolves around food).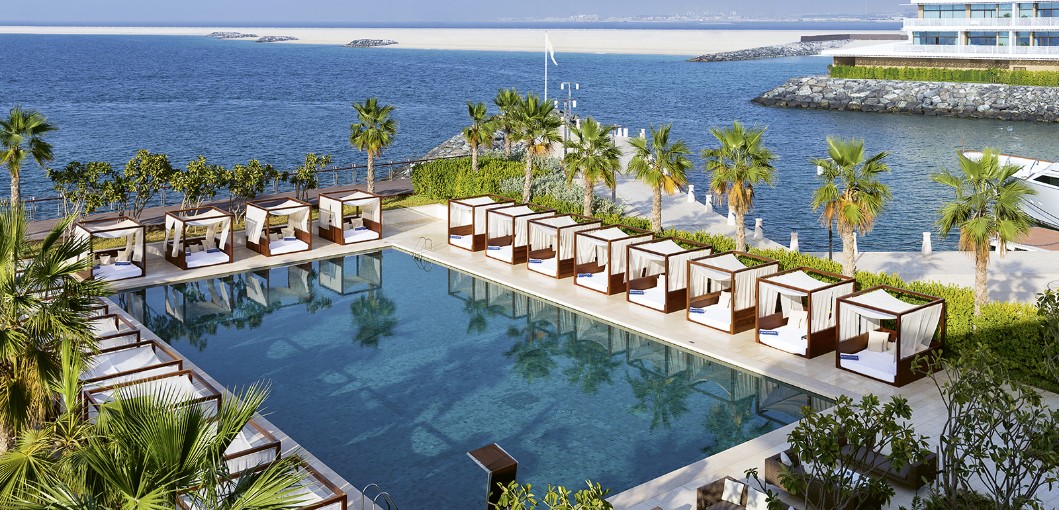 Opting for the latter experience, it really could be branded 'B.Indulgent'. Guests are invited to check-in from 11am and linger until 4pm the following day, transforming an overnight stay into a bona fide two-day getaway to melt away any quarantine-induced angst. This leaves plenty of room for dining experiences, which can begin as soon as you collect your keycards and turn off your work emails.
We tried a taste of real Italian pizza at Il Café, where you can pair award-winning Roman slices with a glass of crisp dry white. Chef Pier Daniele Seu's signature pies are available for lunch, but you can opt for dinner if you prefer to book a Friday brunch experience over at the adjacent Yacht Club. The pizzas are far from your ordinary staples. Truffle and purple potato, anyone? Or if you prefer something more familiar, the Diavola offers rich sausage slices with a tangy sizzle of chili heat.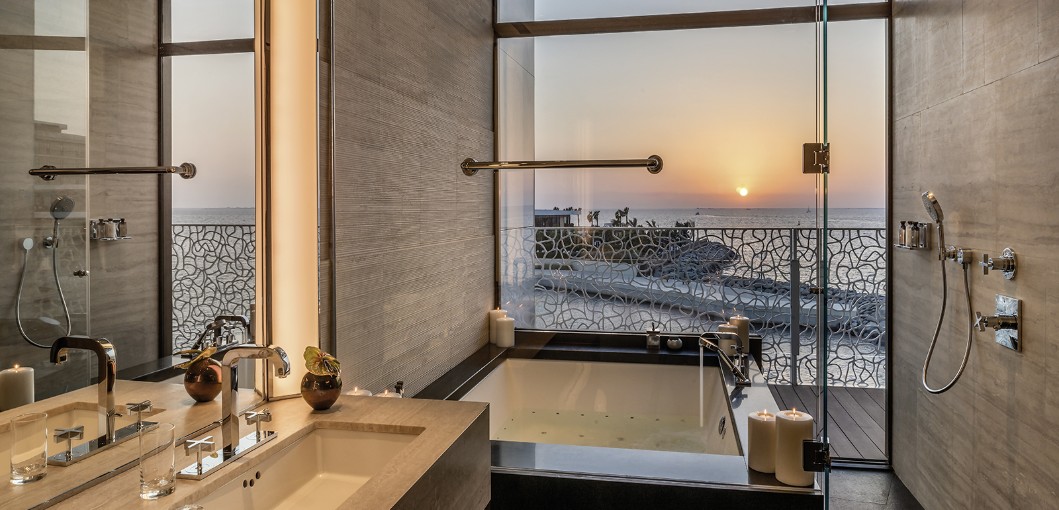 The stress of a staycation boils down to filling time between rounds of food, so between meals, why not make the most of the chilled circular pool and spacious beachfront? The two can be enjoyed in tandem since the swimming pool (adorned with mosaics of classic Bvlgari jewels, 
of course) is just steps away from 
the sand. The crisp, cooled waters of the pool are a healing experience when paired with the socially-distanced cabanas, lined with plump towels and shading fabrics billowing from the frames.
My lazy hours spent by the water brought about a relaxation so deep that I began to wonder if my muscles would atrophy if I extended my stay. This was all before I had even begun to explore the cavernous suite. Retreating to the third floor, I felt 
a bit like a cosmonaut looking for sure footing after floating in orbit for several weeks. So many questions running through my mind: How many coconuts are too many? Have I ever been this relaxed? Can I stay here forever?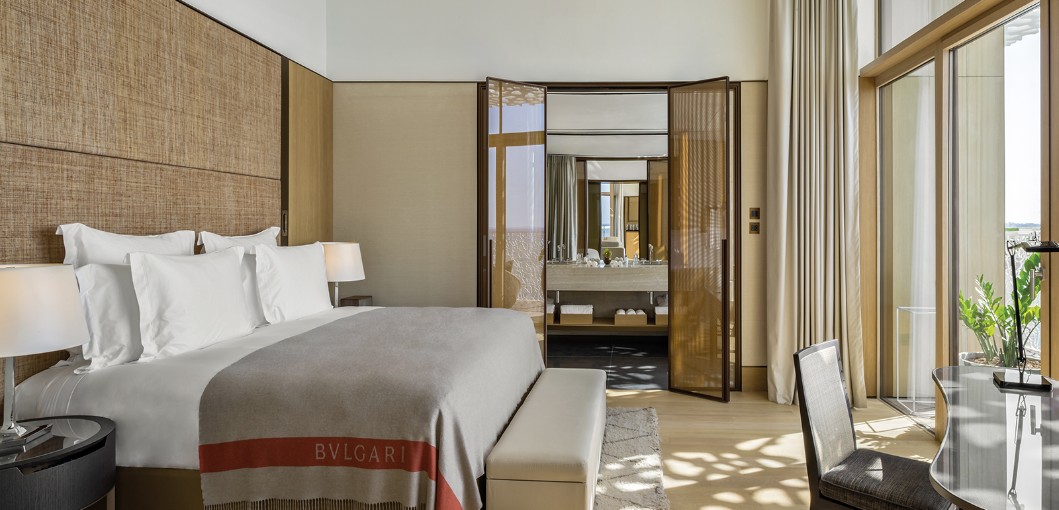 The last question is the easy one to answer. If I could, I would. The Italian luxury specialist has flexed its design muscle with The Bvlgari Suite. One of a handful of ultra-lavish, multi-room abodes at the property, the corner suite opens up through a heavy, wooden door to reveal a living space that is the physical epitome of la dolce vita. From the endless banqueting table to the well-stocked library, bar area and cosy horseshoe sofa area, 
the more-than-ample lounge area takes a big bite out of your 120sqm haute habitat.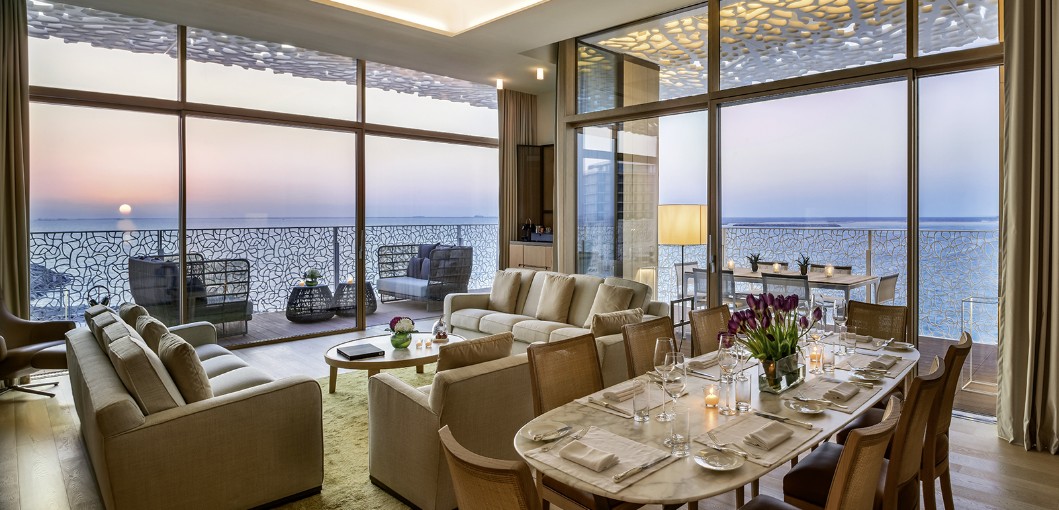 Through the doors, a king-size marshmallow of a bed faces floor-to-ceiling windows with 
a beach view over your very own wraparound terrace. And peek through the sliding curtain to access a bathroom that offers something 
far beyond a bath. You've got your very own Jacuzzi and wet-room shower ensemble, with the same coastal vista on offer, with 
a sprawling his-and-hers sink unit decked out with Bvlgari's own abundant amenity kits.
For dinner, Niko Romito's 
Il Ristorante promises a fine feast with a hearty degustation menu or à la carte options that will transport you to rural Italy with an astonishing zucchini ricotta with anchovies, al dente cuttlefish morsels and a perky beef carpaccio with hints of raspberry. You'll roll back to your suite like a conquering Roman emperor, ready to repeat the decadent routine the very next day – with an in-room breakfast on offer for a lazier start to your sojourn.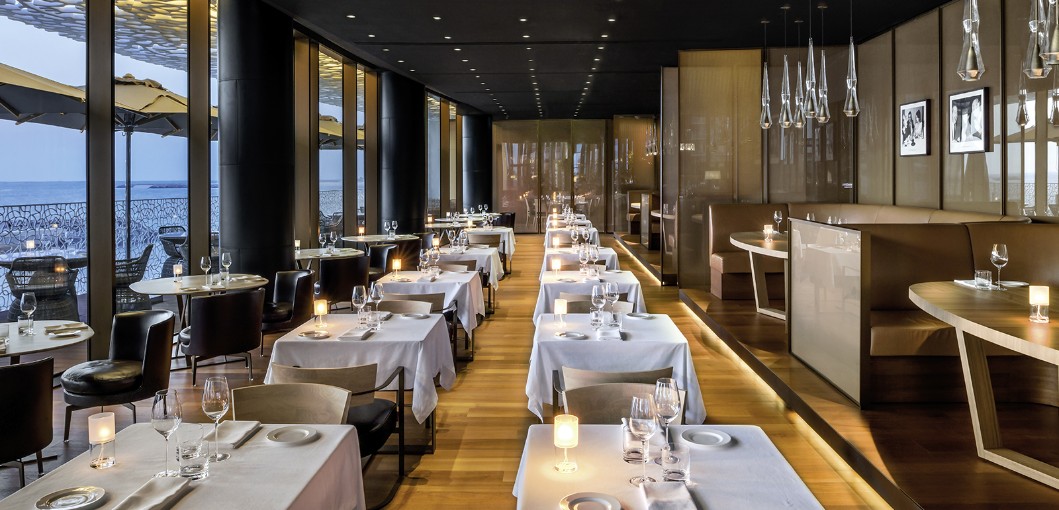 The American poet Maya Angelou once said: "I've learned that people will forget what you said, people will forget what you did, but people will never forget how you made them feel." That – in a nutshell – epitomises a staycation experience at Bvlgari Resort Dubai. With the retrospective blur of blissful weekend, it may be challenging to account for each individual hour of your time, or put into words how the hotel makes you feel, but you will certainly summon an instant sense of nostalgia for an experience that induced all that you wanted and everything you needed.
Stay:
What: The Bvlgari Suite
Where: Bvlgari Resort & Residence Dubai
TEL: +971 4 777 5555