On the balcony, a pair of sun loungers invite you to bask for a while, and make the most of the elegant vantage point.
INSPIRED BY ITALIA
There's an entire Wikipedia page dedicated to cities with the nickname "Venice of the East". From Basra to Bangkok, a total of 41 cities have garnered the comparison, no doubt via some kind of aquatic affiliation. Coastal cities are often intrinsically defined by their relationship with their watery surrounds and Abu Dhabi is no different, boasting a total of 215 islands off the UAE coastline, with a handful composing the bulk of the UAE capital itself. If there were to be a "Venice of the Gulf", there would be no contender.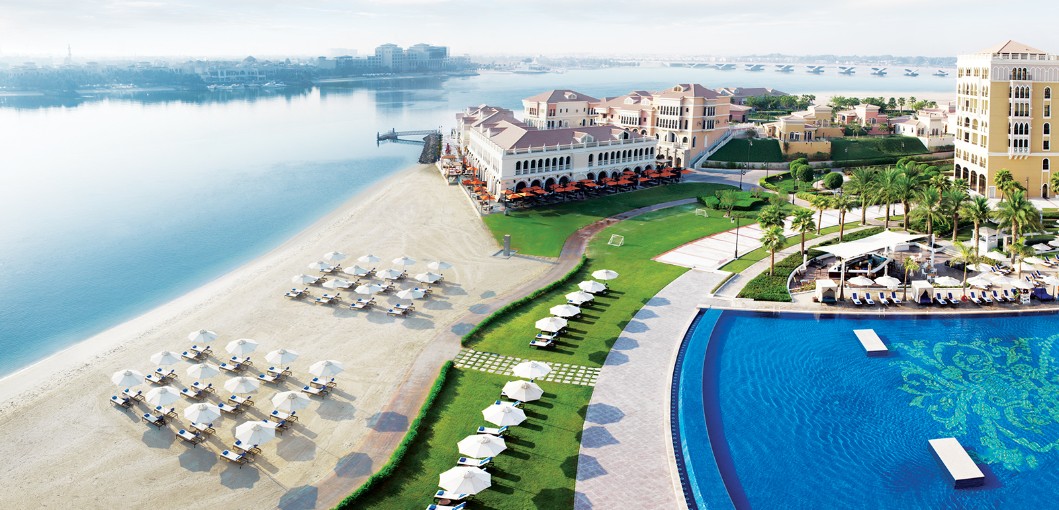 It was fitting, then, that five years ago we welcomed the opening of The Ritz-Carlton Abu Dhabi, Grand Canal, a luxury behemoth that lives up to its name – a truly grand hotel on the aquatic divide between the largest of Abu Dhabi's islands and the mainland. Designed with Venice in mind (yes, the original Italian one), the main architectural elements of the 447-key hotel form a crescent that faces the water, surrounded by lush, manicured grounds, which are home to some of the most lavish accommodation options; four plunge pool villas, 28 garden houses and 53 garden suites. The range curved row of towers vary in size and dimensions, connected along the second storey, but boasting Italian floral flourishes throughout.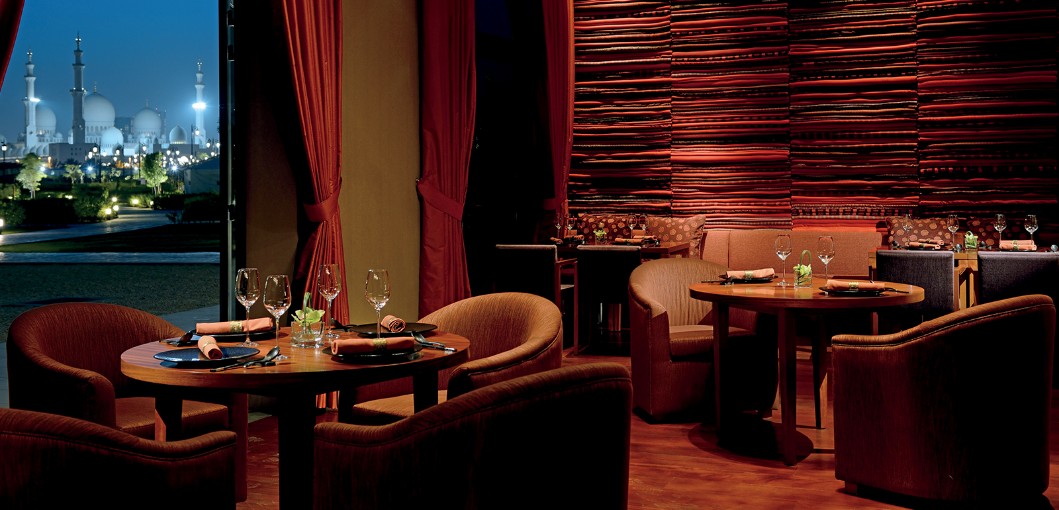 ROOMS with a view
Our recent stay was in a Deluxe Room, with a spacious balcony peering across the central garden area, immense pool and soft sand beach. Perched on the eight floor of the central lobby portion of the hotel, the guest room opens up into a modest hallway leading to a pristine marble bathroom with a double sink, separate rain shower and soaking tub, and further ahead into the living area, connected to the bathroom via some shutters, which allow you simultaneously enjoy a bubble bath while gazing through the balcony across the room.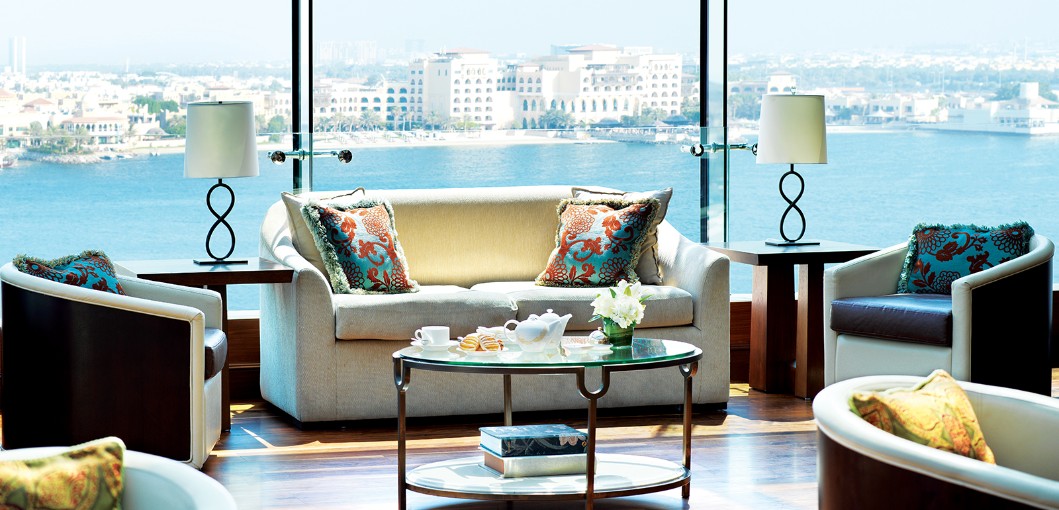 The 42sqm abode is ideally sized for two adults, with ample wardrobe space in the corridor, centrally positioned king size bed and facing cabinet decked out with a storage safe, 42"-inch TV, iPhone dock and coffee making facilities. There's a desk, for those conducting business, and a lavish chair, with leg support for anyone who needs to kick back in the comfort of the room, with its soft hues and wooden furnishings. On the balcony, a pair of sun loungers invite you to bask for a while, and make the most of the elegant vantage point.
A multitude of menus
One of the areas clearly visible from the room is Venetian Village (www.venetianvillage.ae), a unique dining destination with an eclectic range of outlets, linked by a Renaissance-inspired central plaza, with winding cobblestone streets for a vintage charm. The variety on offer is truly varied, spanning global cuisines at Punjab Grill and La Brasserie, the vibrant Barfly by Buddha-Bar, and Al-Fanar, the one of the UAE's few authentic traditional Emirati dining experiences. The Wi-Fi friendly micro village obviously has a seasonal ebb and flow, and is poised to flourish once again during winter, as locals and tourists alike flock to outdoor venues for dinner, drinks and revelry.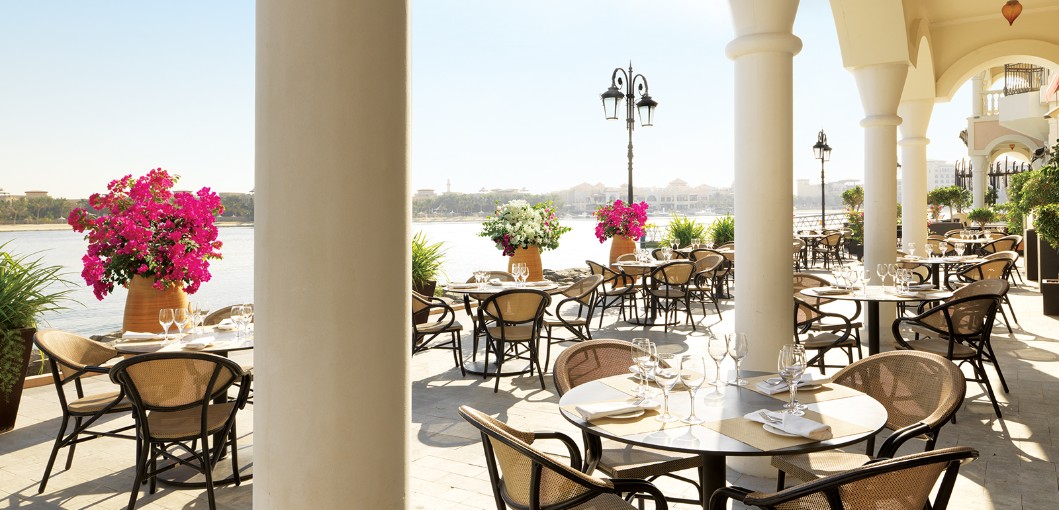 While Venetian Village shares the same real estate as The Ritz-Carlton, the Adriatic inspired foodie heaven is not operated by the hotel, which vaunts its own spectacular fine dining options, with a total of eight sumptuous outlets that will propel your palette halfway around the globe. None are arguably as enticing as Li Jiang, a signature Southeast Asian restaurant with an open kitchen where diners can watch chefs prep a range of dishes, from dim sum, to noodle soups and rich Thai curries. Meaning "beautiful river", Li Jiang features a bounty of favourites from across the region, with an outdoor terrace tucked away in the olive grove affords spectacular views of the Sheikh Zayed Grand Mosque, the largest place of worship in the country.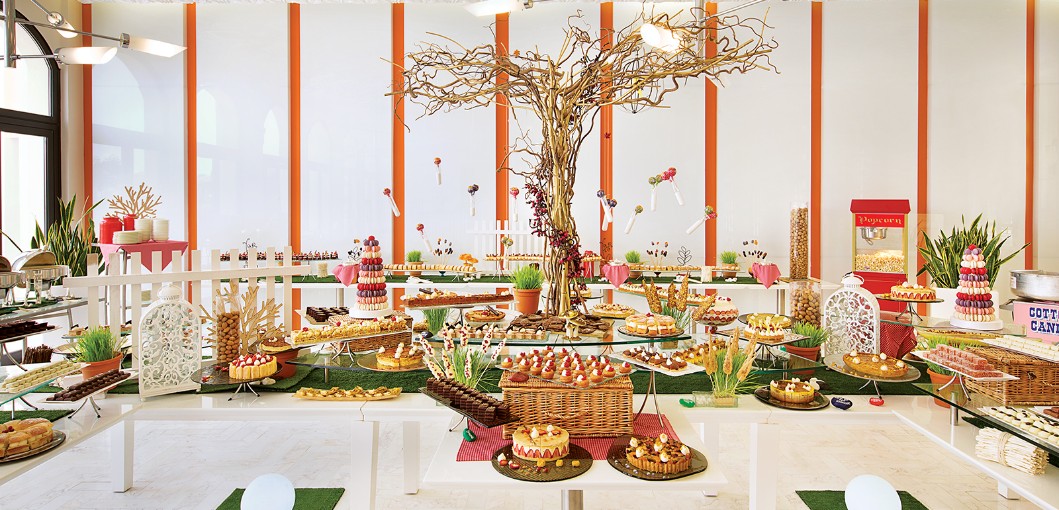 The inimitable building broke ground at the same time as the hotel, we're told, although the latter has only been open for five years, serving as one of the UAE capital's foremost gourmet hot spots. Anyone staying at the hotel will surely encounter Giornotte, as the hotel's all-day venue is the breakfast menu of choice, serving up a morning buffet and light Mediterranean fare throughout the day. It's also an uber-popular Friday brunch venue, with an outside patio overlooking the hotel's gardens. Other culinary gems include Dolce, styled on an Italian gelato joint, with sweet treats, homemade ice creams and pastries – not to mention the smorgasbord of toppings and sauces, including cotton candy and chestnut paste.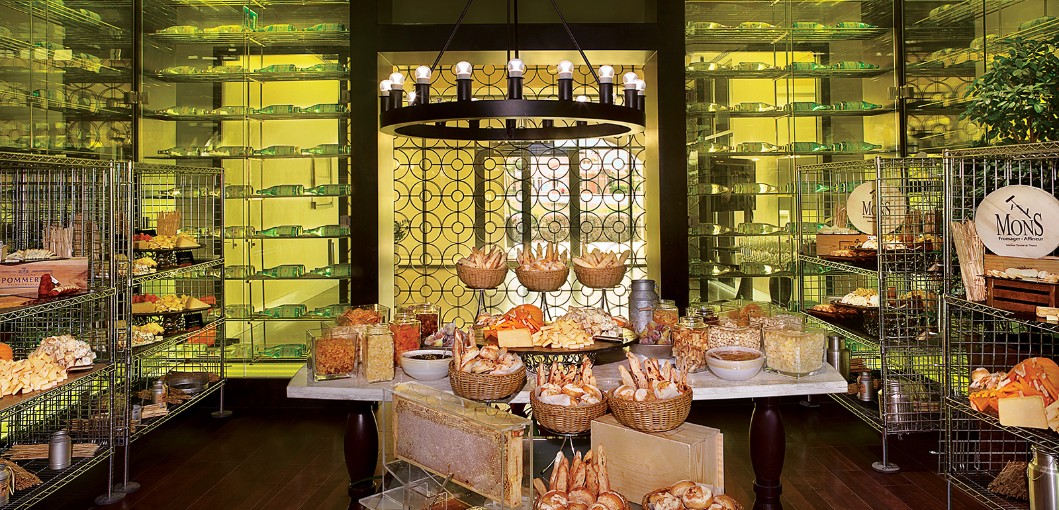 Spa from the crowds
Indulgence comes in many forms, and while many of us are more than content with dining on East Asian favourites and fully loaded ice cream desserts, there are more sensual alternatives (beyond your taste buds, that is). The hotel's ESPA-branded spa facility is located on the outer edge of Venetian Village, offering relaxation and rejuvenation with a distinctly local touch. The 21,500 sq ft beachfront retreat houses 16 treatment rooms and separate relaxation areas for ladies and gents, complete with plunge pools, waterfalls and lush greenery in an outdoor relaxation area. The spa menu includes variations on time-honoured classics, including a four-handed massage, express treatments and an incredibly decorate hammam for an authentic Middle Eastern experience.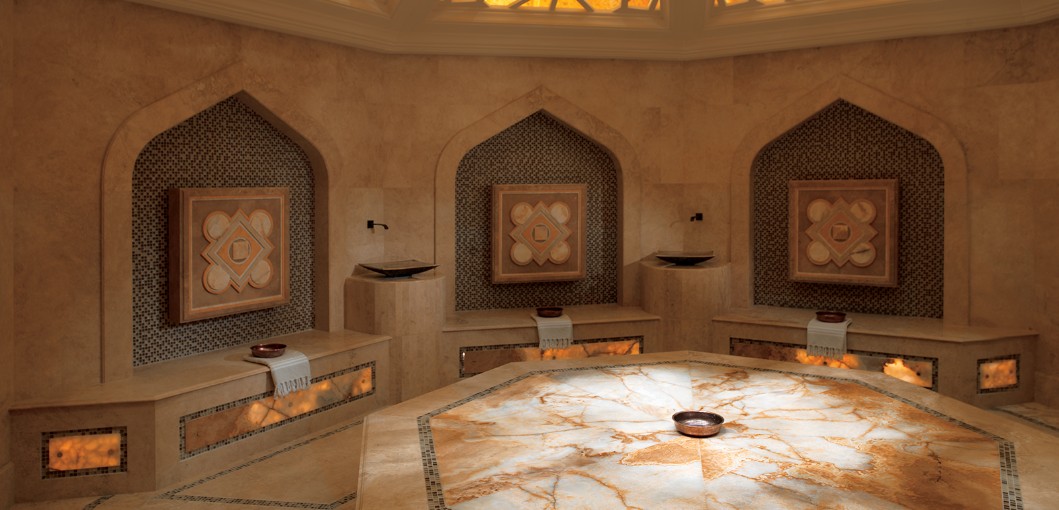 The signature hammam ritual is a full body cleanse, with body and face exfoliation, hair cleanse and stretching, with a bath, body and face nourishing session and scalp massage. Lasting 90 minutes, the total body experience is designed to nourish the skin, revitalise your body and calm your mind. The ritual begins with a vigorous cleanse using a traditional kessa glove and Moroccan eucalyptus scented black soap.
Further deeply purifying and hydrating your body and face with exfoliating body balm and exfoliating facial cream, your personal therapist will soothe away the stress with a refreshing hair cleanse and a stretching ritual bath. Your renewed skin is then nourished with a body balm and facial cream that are rich in Argan oil and the whole experience culminates with a scalp massage for a complete relaxation.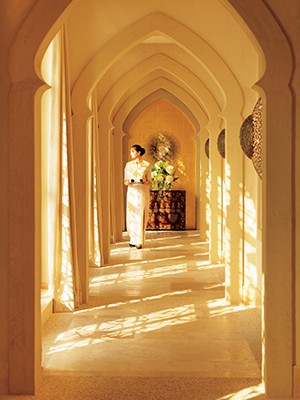 If you're really on a health kick, the gym, or "Health Club" s open round the clock, with natural light flooding through the floor-to ceiling windows overlooking the hotel's lush olive gardens and up-to-date TechnoGym equipment, including dio machines, spin bikes, resistance and strength training machines, pull-up/back/abdominal assisted machines, concept II rowers, smith machine, bench press, seated arm curl machine and much, much more. Cardio-vascular machines equipped with a range of TV and radio channels, video and audio instruction, games, iPod docking station, heart rate sensor, and 11 exercise programs, including military tests and triathlon targets, and personal trainers are on hand for private or group classes to really put you through your paces before you sweat it out in the steam room and sauna.
Li Jiang features a bounty of favourites from across the region, with an outdoor terrace tucked away in the olive grove affords spectacular views of the Sheikh Zayed Grand Mosque.
Keep cool & drop off your kids
No matter how many times you return to the spa for some pampering and TLC, you're sure to end up spending more time lounging by the water. The capacious outdoor pool is ultimately the place where you'll unwind, accessible daily from 7am till 7pm, with pool and beach day passes for non-guests, and special activations, such as ladies' days on Mondays and Wednesdays and offers for couples. Visitors who opt for a luxury cabana will enjoy special welcome amenities with their day pass, with a fruit basket, complimentary water, towels and face & body moisturiser, for up to four guests at a time.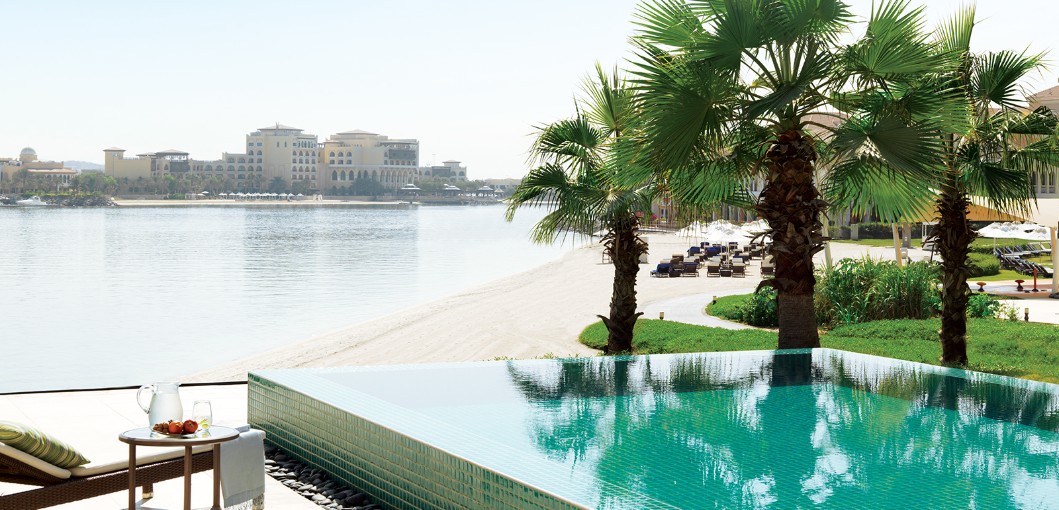 And if you'd rather kick back without the kids, you're in luck. Ritz Kids is a fun and immersive experience that builds upon the adventures of travel your child will always treasure. Designed for little ones aged four to 12, Ritz Kids a partnership between the hotel and Jean-Michel Cousteau's Ocean Futures Society (www.oceanfutures.org), adopting his unique environmental expertise to create experiences that will instill a love of discovery. The dynamic kids club is based on four key pillars; water, to emphasis the importance of sea life and health; land, to encourage exploration and discovery; culture, to expose young minds to art, music, history and cuisine; and environmental responsibility, to promote our role in the health of the planet. Parents will no doubt watch with a smile as their young ones engage with Ritz Kids and embark on a journey of enlightenment – with plenty of fun along the way.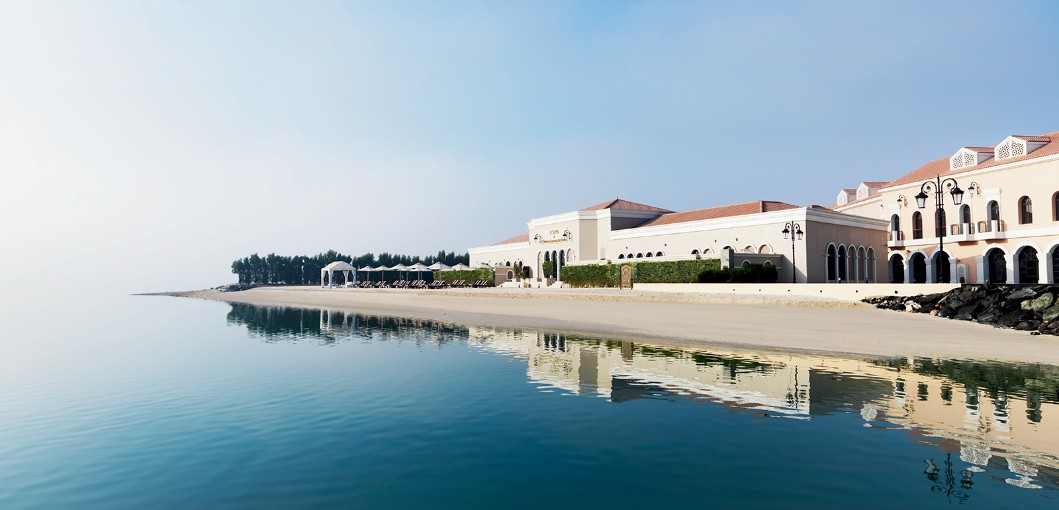 Lounging with style
For those who looking for a more executive experience, whether or not you're travelling with the family, the 4,070 square-foot Club Lounge provides a haven with panoramic views of the Maqta'a Creek through its huge, floor-to-ceiling glass walls. In addition to the continuous culinary delights on offer at the lounge throughout the day, guests can now enjoy special Arabic Coffee Tasting with The Lobby Ambassador, bringing to life a traditional Arabian welcome. Guests will even be able to learn time-preserved secrets to making exquisite Arabic coffee, infused with cardamom and clove and served with naturally sweetened dates.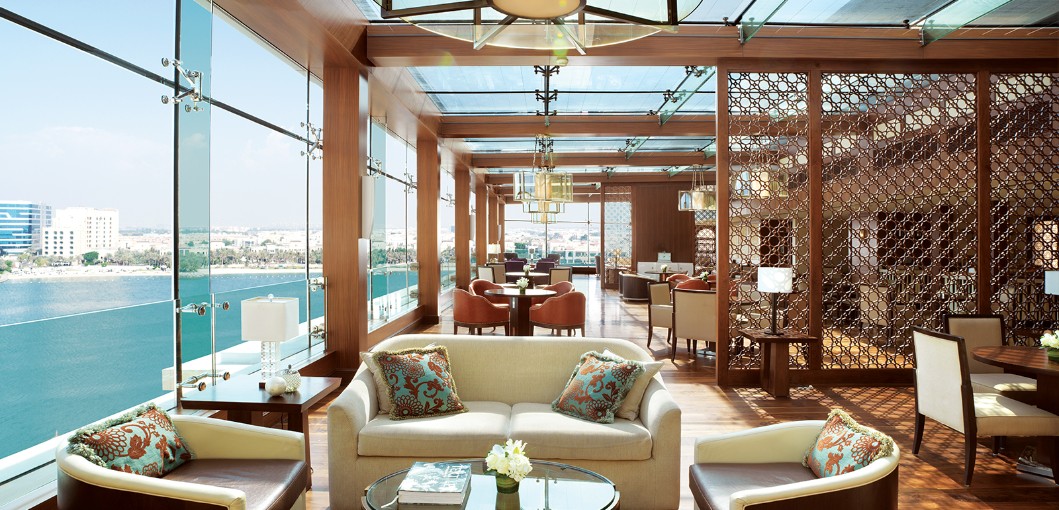 Allowing guests to further connect with a key element of the local culture and heritage, the lounge also hosts Emirati Date Tasting sessions, featuring some of the country's most delectable dates, including Medjool Dates, Sajee Dates, and the Khalas Dates – as well as flavourful treats that are also prepared with the ripe fruit. Guests can sample the traditional non-alcoholic sparkling date juice, a popular choice for local celebrations or as mixers for creative cocktails. This will be complemented by the Maamoul, a traditional Arabic date desert, shaped in balls, domed or flattened.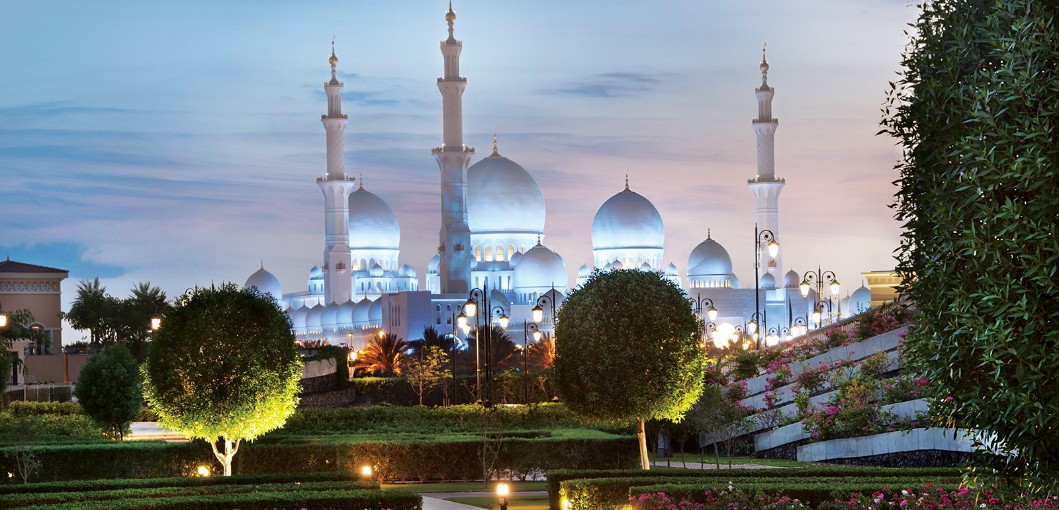 The "canal" area is seemingly a hotbed for luxury hotels, with a quartet of five-star properties a stone's throw from the shore, although none are quite as magnificent as the "Ritz". As you exit the property, with the exquisite Grand Mosque standing proud beyond the forecourt, you're sure to leave revived – but ready to book your return.
For those who looking for a more executive experience, the 4,070 square-foot Club Lounge provides a haven with panoramic views of the Maqta'a Creek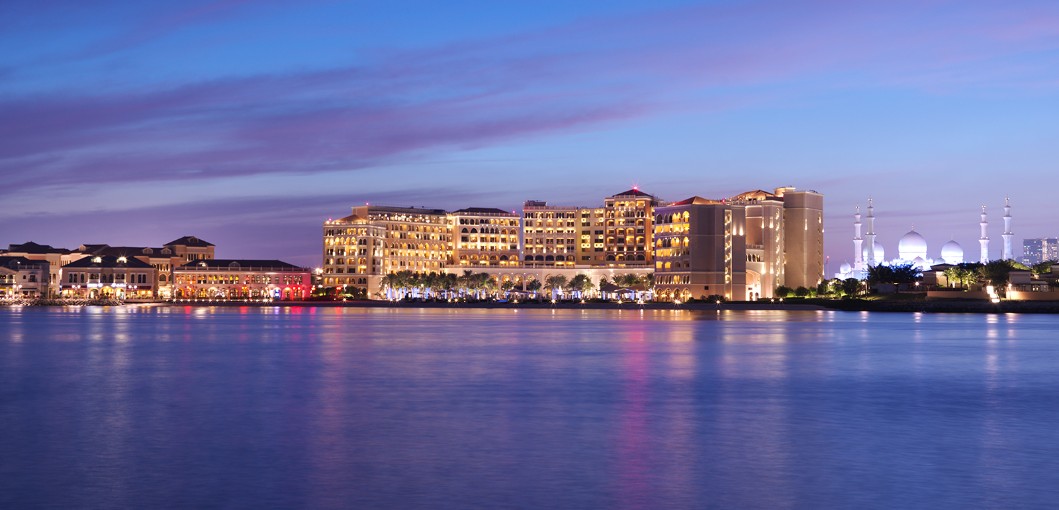 Stay:
The Ritz-Carlton Abu Dhabi, Grand Canal
Abu Dhabi, UAE
+971 2 818-8888