You don't have to be a French oil baron to spend a week at this French estate – although that's the job title of its former owner. Domaine des Etangs, a turreted castle on an 850-acre expanse in south-western France, was the former home of the late Didier Primat, which has since been turned into a luxury hotel.
The boutique property is technically a stone castle, located in the Charente countryside, just a 2.6 km drive from the Aventure Parc outdoor amusement park and an 18 km drive from the Golf International de la Prèze course.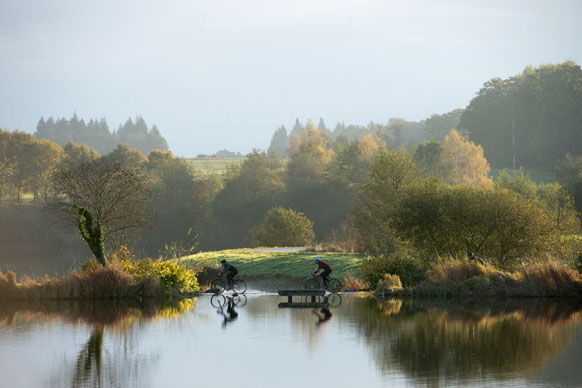 The hotel retains original features throughout, including its open fireplaces, and wooden beams, as well as its pristine grounds. Small Luxury Hotels of the World describes the estate as a storybook landscape of waterways and woodland. Wildlife spotters should be able to list herons, otters, deer and Limousin cows.
Indoors, property boasts a collection of guestrooms dress in a rustic luxury aesthetic. Rooms are dotted around the grounds in a series of individual buildings dotted around the grounds, featuring period furniture and fixtures – the original wooden beams and old stone walls are complemented by modern glass partitions.
Suites in the château cost from EUR 500 to EUR 3,000 per night; the smallest cottage, sleeping two, costs from EUR 600 per night, the largest, sleeping 10, costs from EUR 1,500. Additional amenities include free breakfast, as well as a gourmet restaurant using produce from the gardens. There are thermal baths, a heated outdoor pool and a fitness centre, plus tennis courts and a playground.