I was 18 when I first ventured to Cape Town. I left the safe but cold confines of London and flew into the unknown with a backpack stuffed with dreams and a heart filled with adventure. I had travelled many times before but never this far and not on my own. This trip was a 'round-the-world-before-uni-starts' seven-month holiday, kick-started in Cape Town, followed by Australia, New Zealand... You know the drill. Anyhow, it was everything 
I wanted it to be and so much more.
The city was hot, urban, unrefined, up-and-coming and achingly cool all wrapped up as one deliciously undiscovered gift. Twenty-or-so years ago, Cape Town wasn't what it is today. There was tourism, 
of course, but not in the same way as there is now. The vineyards, 
the coastlines, the outdoor mother nature trails and safaris all appeal to a much wider demographic than before. It's accessible, affordable and it's firmly planted itself front and centre on the map for those seeking winter sun, culture and 
a destination with intrigue.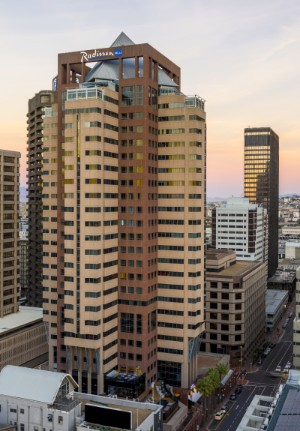 I can still vividly recall the bustling Greenstreet market that sold everything from sandals and bikinis to biltong, the bars where we met every kind of local under the sun, the bold and beautiful penguins at Boulders Bay, the stark reality of Robben Island, home to Nelson Mandela for 27 years, and the tattoo parlour where I indelibly inked the city on me one night. 
It honestly feels like yesterday, such is the power of the memories I have for the beautiful South African city. Two decades on, and the city is thriving. Still the eclectic mix of urban cool-meets-contemporary expressionism that was just beginning to bloom way back when I visited, but the city has grown into its own skin. It feels more settled into what it always knew it wanted to become.
There is so much to see and do here, that the list is exhaustive. But before you break away to explore you need to put your bags down. There are myriad hotels to choose from in Cape Town, but one that feels centred around what I look for when travelling is Radisson Blu Hotel & Residence. It's the perfect mix of form and function and its location in Cape Town's business district affords you a quartet of stellar views: city skyline, harbour, Table Mountain and Atlantic Ocean. Not too shabby an offering, hey. Whilst many opt for beachside villas and hotels, Radisson Blu grants you easy access to a multitude of attractions, such as Artscape Theatre, Clifton Beaches, Camps Bay, Cape Town Castle of Good Hope, Bo-Kaap's kaleidoscopic houses, Kirstenbosch Gardens and Bree Street, arguably the city's hippest hangout.
The hotel stays true to its Art Deco style, combining elements of the original building, Safmarine House, with Cape Town accents of riotous shades of dark and light blues, the delicate ombré of the Cape mist and the nautical interior of ocean liners. It certainly has 
a New York City kinda feel to it – all urban chic and cool – while its 'escape from frenetic city life below' vibes allow for just the right amount of retreat.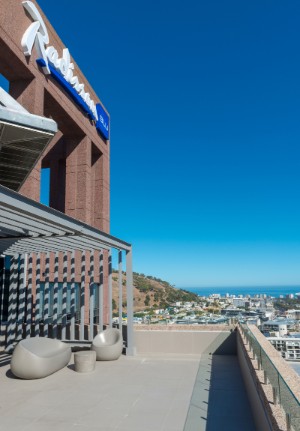 Staying in a Business Class Room automatically elevates your arrival, as it gives you early check-in, a meet-and-greet with the GM, and personalised in-room gifting of a cheese board and 
a bottle of something beautiful from one of the city's surrounding vineyards. Each of the hotel's 214 rooms features a fresh, classic Art Nouveau feel juxtaposing elements of the city with green and blue hues of the ocean, creating 
a rather serene ambience.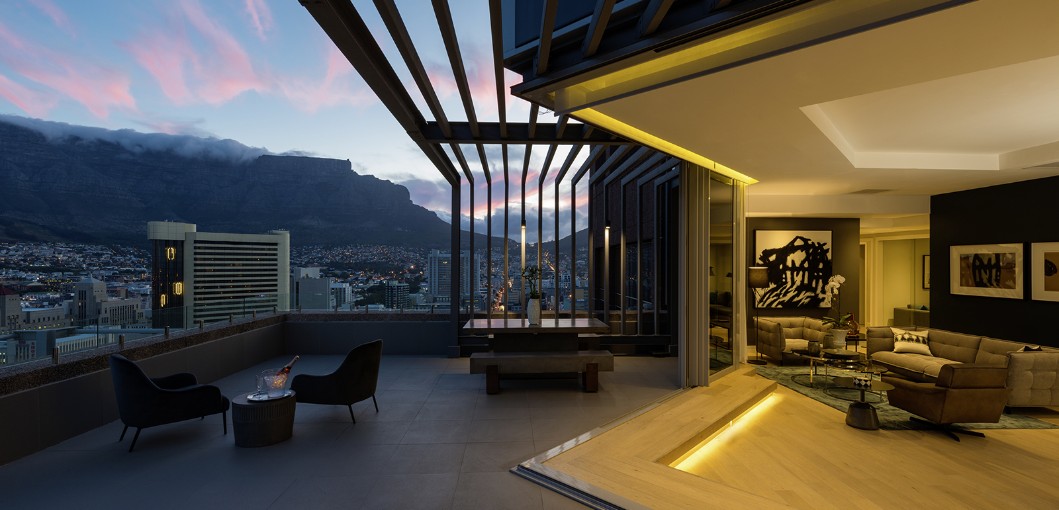 The Business Class rooms are modern and filled with natural light, while the hotel's two 240sqm Presidential Suites are a more independent and private stopping point for families, with two bedrooms, a huge lounge space and 180-degree private terrace each, with sweeping views over the skyline. Little gems throughout are the fully-stocked non-alcoholic mini bar that can be curated as per your personal thirst-quenching requirements, access to the press reader app that gives access to over 6,000 magazines and newspapers, a butler station with quality pod coffee machines, self-catering kitchen and access to the Business Class Lounge, 
for a more secluded and exclusive way to enjoy your sundowners.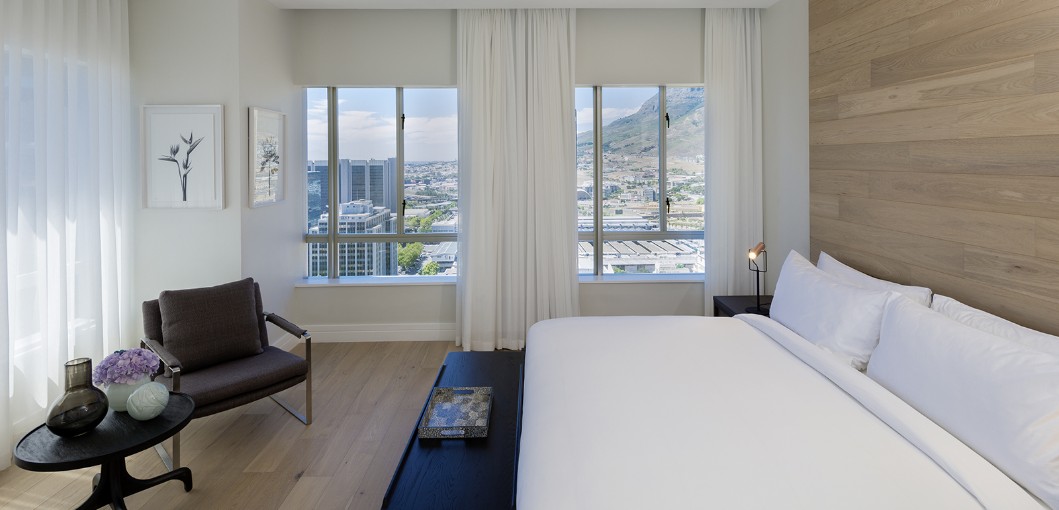 The other thing worth noting, is that both bedrooms in the Presidential Suites tick-off magnificent views of the city, 
so no need for fraught bedtime tiffs over bedroom choices. Something that won't go unnoticed is the art peppered throughout, with pieces and sculptures made by South African artisans proudly displayed. It's something small that will anchor your stay as it immediately immerses you into Cape Town's energetic arts and culture scene.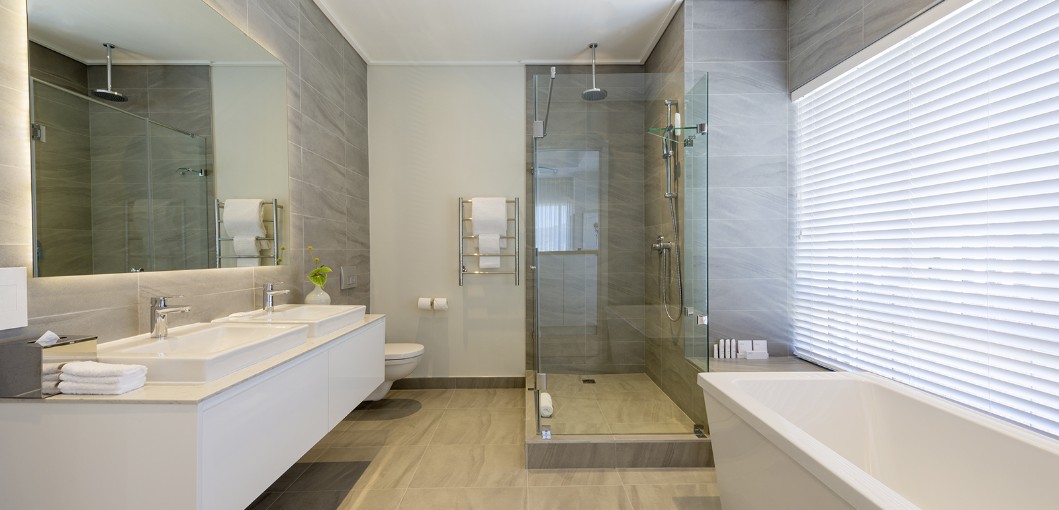 There's an app that makes life here really rather seamless too, allowing you to hire a car, request a shuttle bus, check-in/out or order room service literally with the touch of a button, and we all know how important speed and ease-of-access is these days.
Time spent in the hotel will be time well-spent, as its indoor swimming pool serves as an urban retreat, while eating at The Stratus Room, with its contemporary reinterpretation of international cuisine, or soaking up cocktails as the sun goes down at The Ghibli Bar & Pool Terrace, will let 
you experience Cape Town's 
world-renowned culinary scene 
first hand.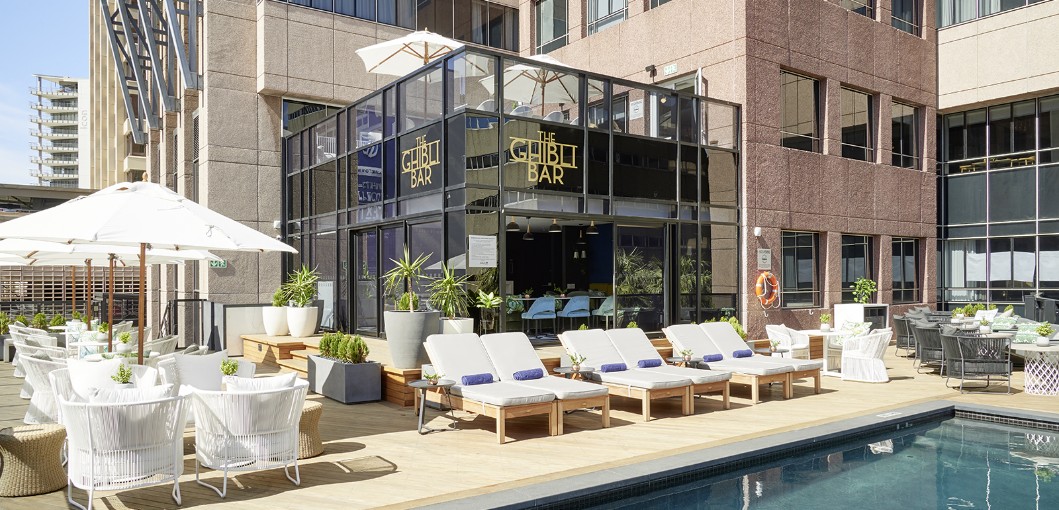 Of course, one must leave the hotel, and when you do, 
my suggestion is to go big or go home. There is no point in doing Cape Town by halves. You'll regret it. Walk up Lion's Head or take a cable car to the top of Table Mountain for truly rewarding 
views over this thriving city. 
The V&A Waterfront has come 
a long way since I was there, and is now the throbbing heart of the city – a district renowned for socialising, shopping and general 'to see and be seen' vibes. It's sophisticated 
yet cool and a fantastic place for kids, too, with the Cape Wheel ride and its award-winning Two Oceans Aquarium.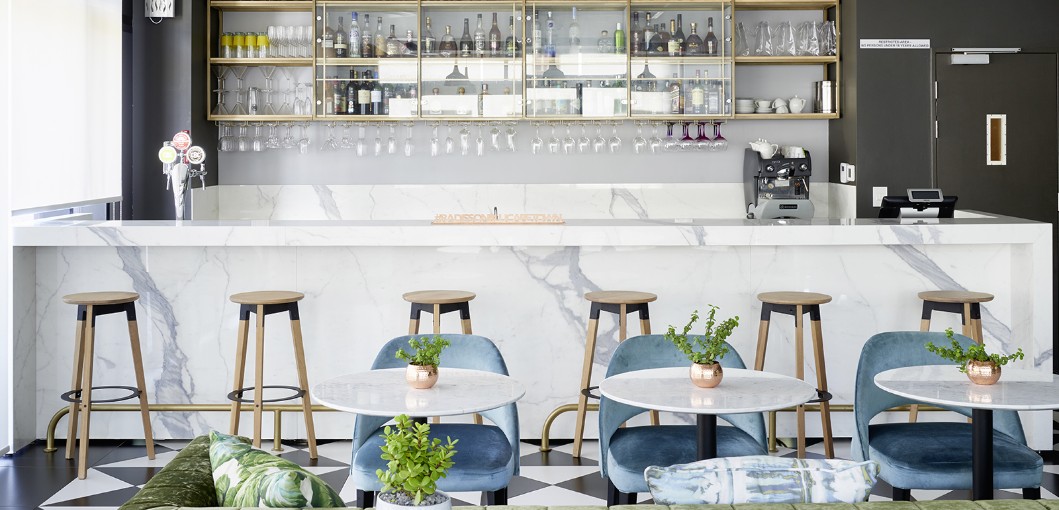 Boulders Beach, between Simon's Town and Cape Point, is well worth making the effort. It forms part of the Table Mountain National Park Marine Protected Area and is home to a colony of African penguins who wander freely amongst beach-goers in their black and white tuxedos, providing quite a marvellous interaction with nature. Then, there's Robben Island, now a World Heritage Site and museum. Take a ferry from the Nelson Mandela Gateway at the V&A Waterfront for a guided tour of the prison island by a former political prisoner giving incomparable insights into the island's history and, of course, the story of Nelson Mandela's incarceration. Culture buffs can sate appetites with an abundance of museums and galleries. From the Castle of Good Hope's 17th-century site 
to Zeitz Museum of Contemporary Art Africa and Iziko South African National Gallery, Cape Town's culture scene has never been 
more rich and exciting.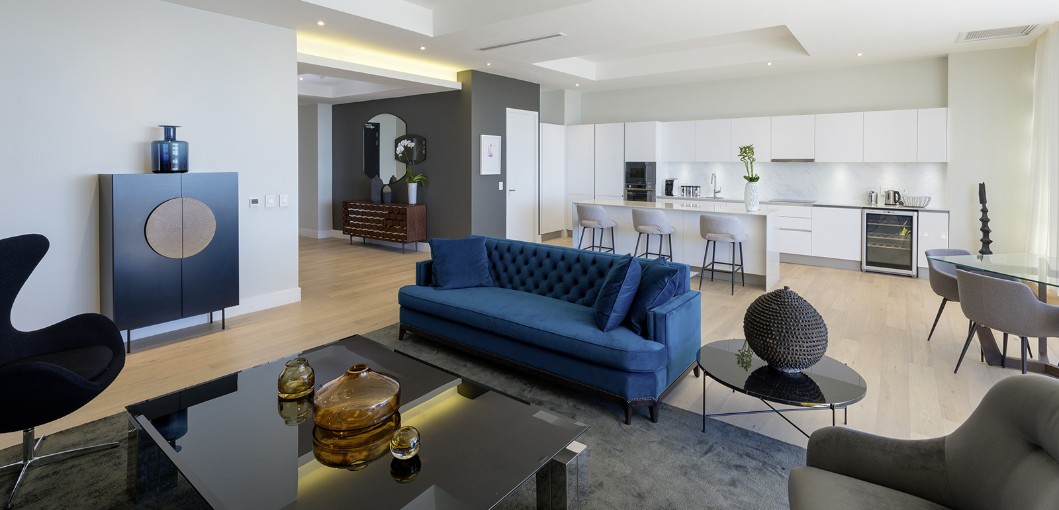 One cannot visit Cape Town without a trip to a vineyard, and luckily for travellers, they are all around. A favourite amongst tourists, sommeliers and bon vivants is Stellenbosch, a town just a 40 minutes in-land drive from Cape Town that is surrounded by the vineyards of the Cape Winelands and the mountainous nature reserves of Jonkershoek and Simonsberg. There's much indulging to be done here, as one can imagine, but between the gourmand extravagance, you'll also find nature at its finest, best soaked up on a hike, cycle ride or 
a drive through Helshoogte Pass in a vintage open-top car.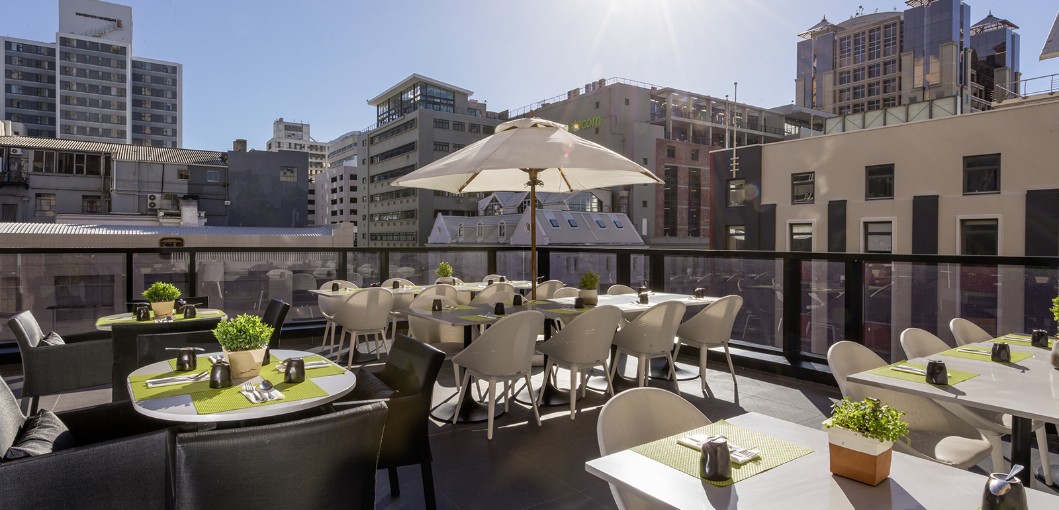 Once back at the hotel, you can put your feet up and contemplate what else you want to explore of Cape Town from the vantage point of your panoramic Penthouse terrace. The possibilities really are endless.
I challenge anyone to visit Cape Town and not walk away with memories that will last 
a lifetime. The vibrancy of the city, its rugged, natural beauty and its cosmopolitan consciousness have a way of weaving its way into your heart and not letting go. 
It's a place for dreamers, adventurers and inquisitive souls seeking an alternative urban escape. Worth putting on your bucket-list, I'd say.
Stay:
WHAT: The Penthouse
WHERE: Radisson Blu Hotel & Residence, Cape Town, South Africa