No mummy, you go on the boat. I'll stay here." These are the words, verbatim, that emerge from my three-year-old son's mouth when I attempt to collect him from the Kuda Koli Kids Klub at Jumeirah Vittaveli. Instead of collecting my son, I collect my jaw from the floor, watching gobsmacked as he totters away, more interested in the prospect of playing with his newfound friends in the colossal children's swimming pool. I hesitate – only momentarily – before leaping onto my bicycle and pedalling back to the villa where my husband and I do a little victory jig before heading out to do exactly as my son instructed: go on a boat. The boat in question cruises out over the the south Malé atoll, where after snorkelling amid myriad shoals of fish and pastel-coloured coral, snacking on slices of tropical fruit and congratulating ourselves on life in general, we return to the kids' club where my son protests yet again.
"Go to the beach," he says. As the mother of otherwise demanding and clingy rug-rat, these words are music – heck, it's a Chopin concerto – to my ears. I'm on an island, with surreally turquoise waters and sand the colour of vanilla ice cream and my toddler is granting me permission to relax. It's miraculous. I truly am in paradise. Most people think of loved-up honeymooners when they think of the Maldives, and they are not wrong. No matter which island you visit, there's bound to be romantic overwater villas, tropical cocktails and newly-wed couples walking around in their finery with tripods at sunset. However, with calm beaches and islands bursting with natural beauty, the Maldives is also every inch a bona fide kids' paradise.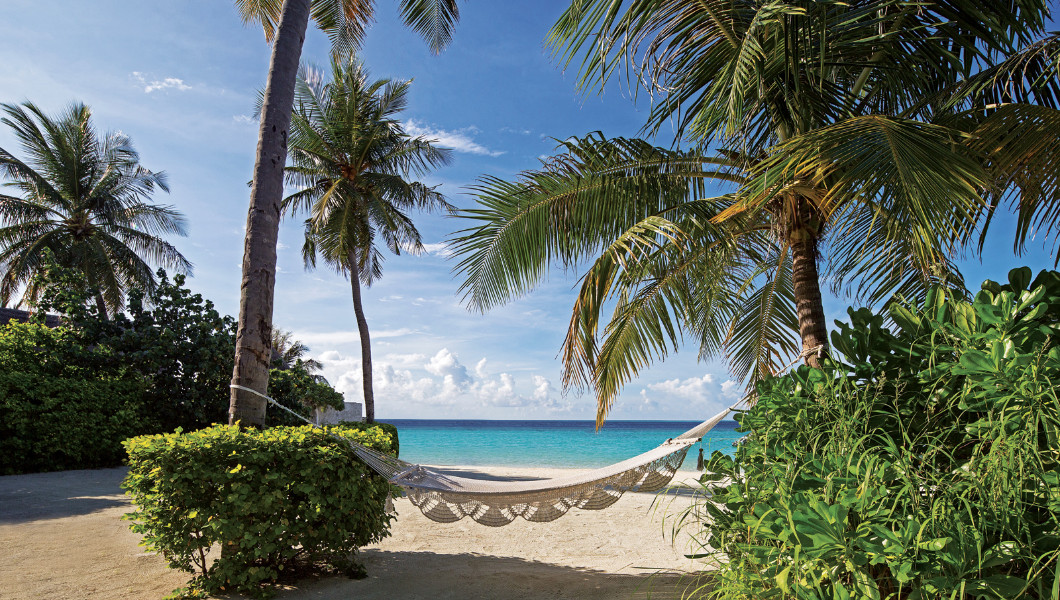 Named for the Boli or cowry shells, the first-known medium of exchange used in the Maldives prior to printed currency, the island of Bolifushi where Jumeirah Vittaveli is situated is a mere 20-minute speed boat ride from Malé, meaning transfers are swift and your toes can be in the sand within two hours of landing. This is particularly important if you're travelling with children, who can turn into prickly little people after a red-eye flight. Though from the moment my son steps foot on the jetty, he's in his element. We're greeted by a display of bodu beru (a traditional Maldivian drumming performance) and are handed the first of a thousand cold towels before being bundled aboard a buggy and delivered to our Beach Villa. Spacious, situated directly on a sandy beach, and shielded from view by thick, tropical vegetation, it's the perfect setting for a toddler who can burn off steam gallivanting on the sands and cool off with a dip in the L-shaped pool.
The pool wraps around the villa and rather ingeniously, connects with the outdoor bathroom to the rear, meaning you can swim directly from the beach to the shower; no dragging of wet towels and sandy feet through the villa. Far from a utilitarian afterthought, the bathroom is delightfully island-chic and gigantic, with an oversized bathtub nestled in the gardens and an outdoor shower frequented by inquisitive geckos. There's ample space for a family of two and a half to settle in, though larger families with teens for example, might find one of the two-storey Beach Villas, with master bedrooms and interconnecting rooms, a better option.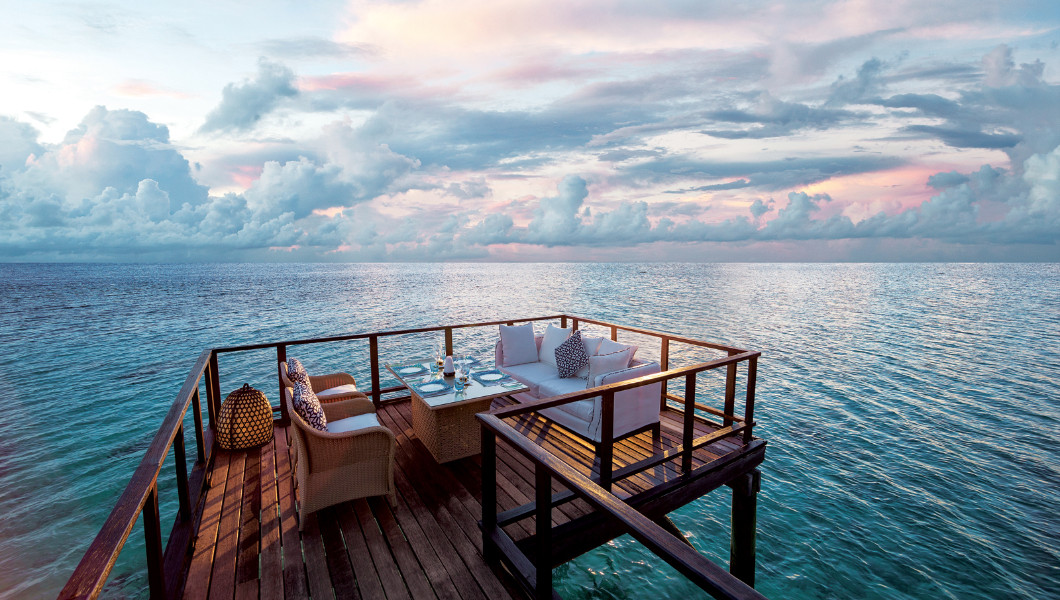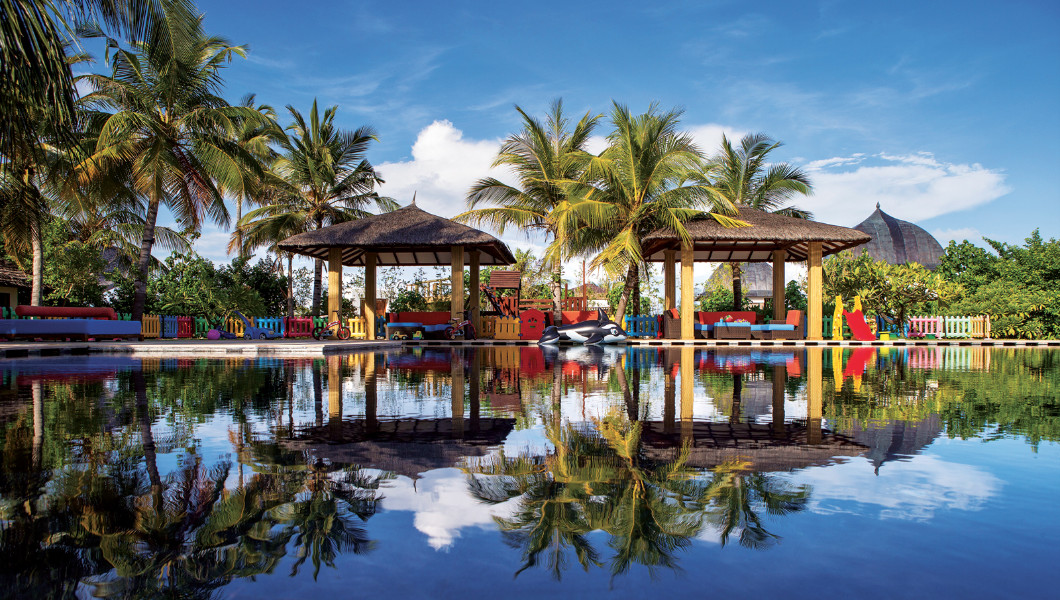 Each villa is appointed with his and hers bicycles – I feel like applauding when I spot a child's seat already attached to one – and it's not long before we are wobbling along the sandy pathways around the island, staff waving as we pedal past. The staff turns out to be one of the highlights of the stay at Jumeirah Vittaveli. While dining on fragrant Maldivian curries and sashimi one evening at Samsara, the resort's main beachfront restaurant, the waitress ruffles my son's hair and plays peek-a-boo; the chef carries my plate as I hoist my toddler up to inspect the buffet, and post-meal, we bump into Larry Bautista, one of the kids' club staff, who promptly entices my little boy to a nearby sofa where he paints a semi-permanent tattoo of a minion on his arm. Larry and his colleague Zamil "Zam" Mijares turn out to be two of my son's best friends on the island – and mine.
On another evening at MU Beach Bar & Grill, as we dine with our feet in the sand on a seafood platter, the grilled lobster, prawns and fish gently spiced, Maldivian style, our son zig-zags through the tables playing "chase" with the staff, who are delighted to show an inquisitive three-year-old items of fascination, such as lanterns strung in the trees. Even our meal at Fenesse, the island's overwater French restaurant, where I could never imagine a tranquil dining experience with a tetchy toddler, turns out to be exemplary, the staff delivering ice cream to my son with as much grace and care as they pour the wine. The sense and respect for families seems ingrained in the island philosophy, and it's surely thanks to general manager Graham Kiy, whose natural fatherly instincts are evident when stoops down to the ground to greet my son.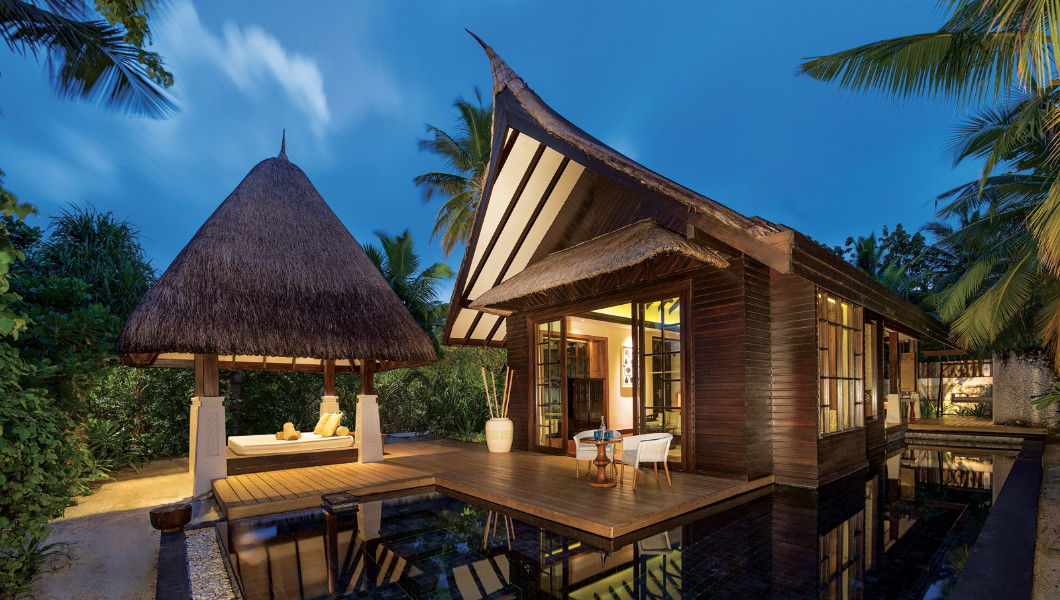 Managing the resort since 2012, he has even donated some of his children's old toys to the kids' club, and though his children may be teenagers now, he hasn't forgotten how to tell a good story. In fact, Kiy is rather well known for dreaming up Grimms brothers' style tales about the island, such as the one about a set of stone dove sculptures adorning a small garden. According to Kiy's tale, the doves were once real birds that were turned into stone by an evil witch. The witch eventually removed her spell – but only at night – allowing the doves to soar into the starry skies for several hours before they would return back to the island and turn to stone before dawn. It's an imaginative fable that has me smiling appreciatively – especially when I'm told by another staff member that each morning, the doves are in a different position. For a moment, I genuinely suspect Kiy is the one sneaking out before dawn to move the stone doves himself – but when I ask him, he chortles. "It's not me," he says, laughing. "It's the gardeners – they have to move the doves every day so the grass doesn't die."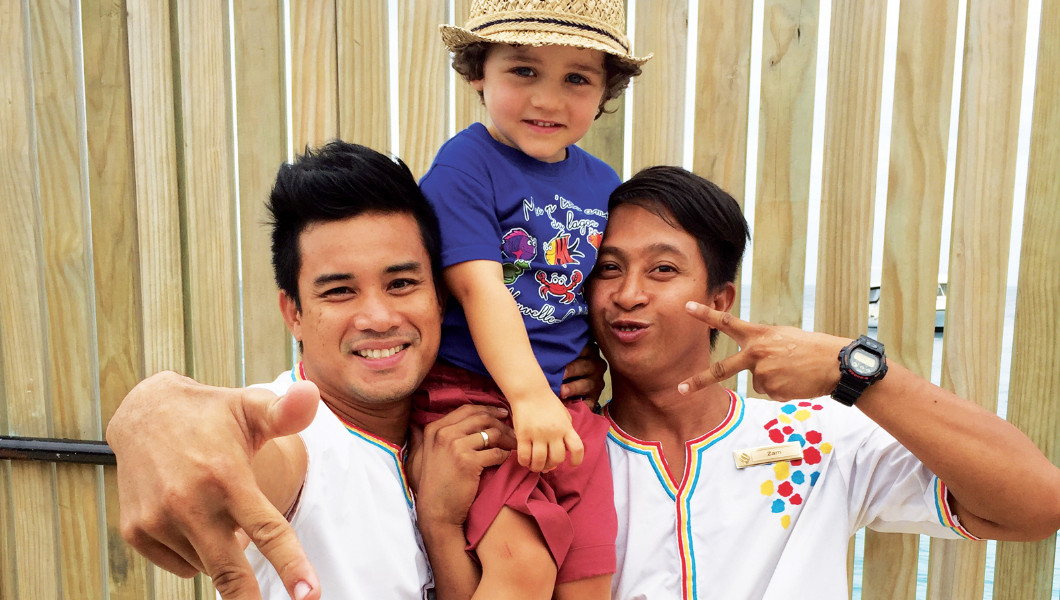 Nevertheless, it's not simply the tangerine sunsets and the endless cerulean water; there is something rather magical about the island. While our son paints t-shirts and bakes cookies at the kids' club, and goes on an organised treasure hunt, fossicking through treasure chests scattered around the island for the next "clue" – a huge hit for any little boy obsessed with Jake and the Neverland Pirates, my husband and I waft around like honeymooners on the beach. We swim, sunbathe, read books on the sala daybed at our villa and even spend an afternoon drifting off into a massage-induced reverie at an overwater villa at Talise spa, the treatment using natural coconut oil, handmade on the island.
Despite being told to "go away" more than once by our son when we attempt to entice him away from the kids' club, we do convince him to spend some quality family time with his parents (he relented in the end). We catapult from bed each morning for family swims, and spend hours messing about in the sand and examining the island's nature, from tiny hermit crabs on the beach to a school of baby reef sharks no bigger than my forearm in the shallows. There's plenty of giggles with a banana-boat ride, organised through the marine centre and just as many family naps with our tired, sun-kissed little boy. When it's finally time to leave, a farewell party including Graham, Larry and Zam is there to bid us goodbye. My son is thrilled for a last chance to carouse with Larry and Zam before the pair hoists him safely onto the boat, waving madly as we motor away. It was a warm welcome to Jumeirah Vittaveli and the farewell was even more heartfelt. Just like family.