The billion-dollar spa and wellness industry is showing no signs of slowing down, with more than 1.7 million travellers tipped to visit the UAE for wellness-related travel. According to the Global Wellness Institute Report, the value of wellness trips taken across the MENA region hit a colossal AED26.8 billion (US$ 7.3 billion) in 2014, with the UAE set to top spa growth in the region, rising to a value of AED 8.3 billion ($2.26 billion) by 2017.
Recognising the growth of the burgeoning sector, Arabian Travel Market has designed a space dedicated to the spa industry at this year's event, which takes place at the Dubai International Convention & Exhibition Centre, on 25-28 April 2016. With seminar sessions focused exclusively on industry topics, the ATM Wellness & Spa Lounge will be set aside for 25 exhibitors representing some of the world's most recognised health and wellness hospitality destinations.
Designed to be a hub for wellness and spa professionals, the lounge will host two full days of pre-scheduled appointments with high calibre Middle Eastern buyers and up to 25 international wellness suppliers. Working in association with Spafinder Wellness 365™, the leading consumer resource for wellness travel and the largest marketing and incentives company for the wellness industry, the lounge will offer suppliers an exclusive and convenient platform to meet new contacts and conduct business.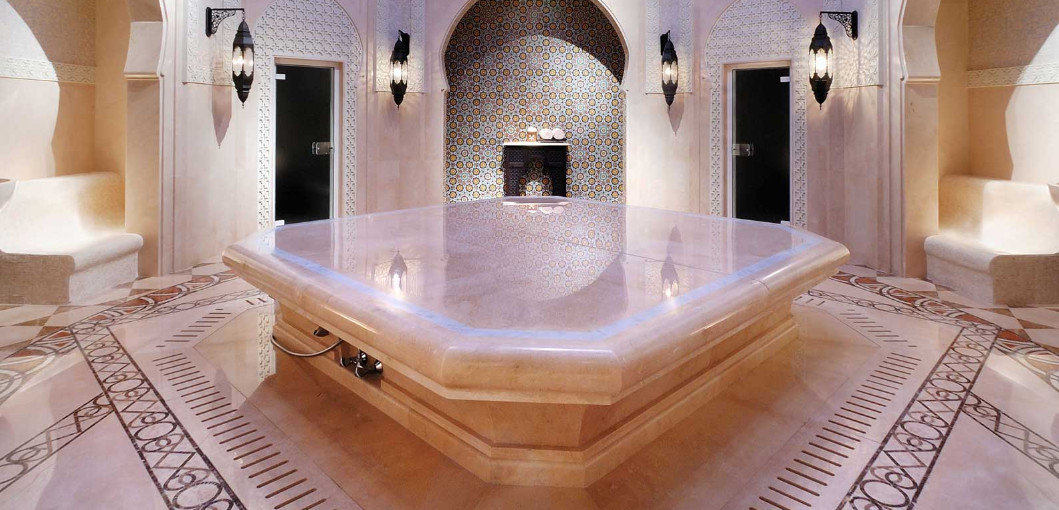 The hammam at Emirates Palace Spa, Abu Dhabi
"In our research we found that across all markets, wellness tourism is exceptionally popular," said Nadege Noblet-Segers, the Exhibition Manager at Arabian Travel Market. "Wellness tourists spend, on average, 130 percent more than the average international traveller, which presents significant opportunity for the MENA hospitality industry to target this high profile, high spend market segment with a wide variety of experiences, facilities and products to grow market share."

One of the wellness seminars taking place in the Showcase Theatre on Wednesday 27 April will address the theme "Wellbeing Hospitality – Competitive Concepts for Hospitality and Leisure Assets". Chaired by Laszlo Puczko, Group Managing Director, Resources for Leisure Assets, the session will analyse the importance of developing a wellness-focused strategy interconnected to wellbeing attractions and services that are vital when creating a holistic and unique hospitality experience.
Regular ATM exhibitor Carlsbad Plaza Spa & Wellness Hotel will be joined by a host of first-time exhibitors including Groupe Lucien Barrière, Casale Panayiotis Traditional Village, Verdura Resort, CCR Hotels & Spa, Swiss Diamond Hotel, Divani Collection Hotels, HL Le Mirador International, Chenot Group, Velaa Private Island Maldives, LifeClass Hotels & Spa, Sianji Wellbeing Resort and Lefay Resort & SPA Lago di Garda.