In Greek mythology, Medusa was a monstrous woman with venomous black snakes in place of her hair, cursed by the jealous goddess Athena so that anyone who looked directly into her eyes was immediately turned to stone. It's a terrifying, albeit mythical, tale – yet one that captivated the late fashion designer Gianni Versace, who made the image of Medusa the emblem of the legendary fashion house. Gracing everything from scarves and belt buckles on catwalks to the pebbled courtyard of the Versace family palazzo on Via Gesù in Milan, the motif became instantly recognisable. Even the infamous gown so memorably worn by Liz Hurley to the premiere of Four Weddings and a Funeral in 1994 (now known as "THAT dress") was held together by gold Medusa-head safety pins.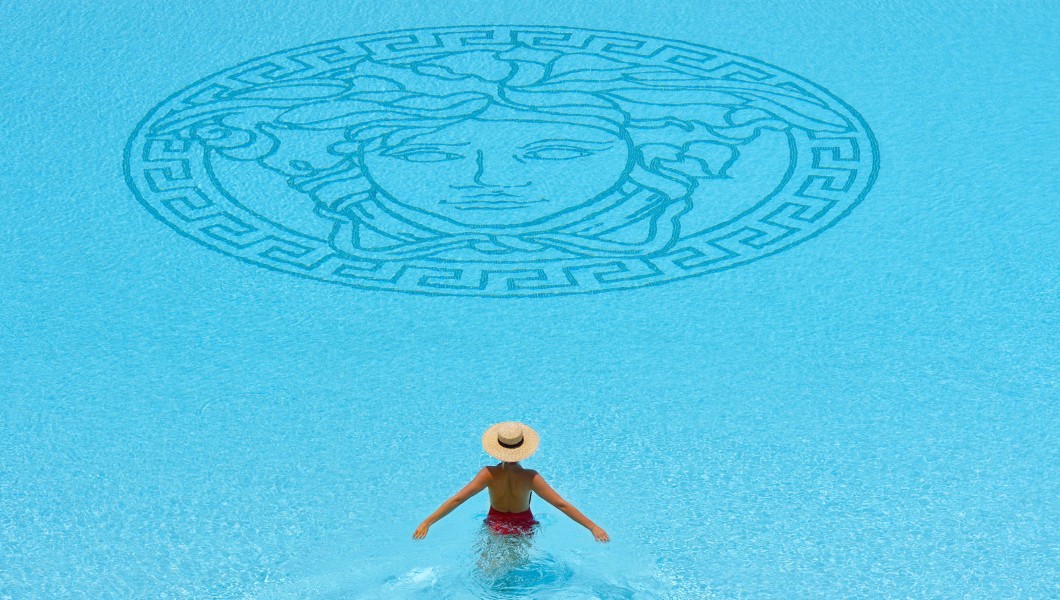 Versace's Medusa, however, is nothing like the terrifying, screaming portrayal immortalised by Caravaggio in his famous artwork – and this is a good thing, as she's everywhere at Palazzo Versace Dubai, her symmetrical face gazing serenely from the mosaics in the grandiose lobby, and from the glass doors, the towels and the gold-topped bottles of luxuriously lathering shampoo and conditioner in my bathroom. She's on the bottom of the Capri pool, as I breaststroke above, and to my amusement, she even makes an appearance at Friday brunch at Giardino, where someone has rather cleverly carved a Medusa face in a watermelon.
"Along with Medusa, there are countless representations of the maison throughout the hotel"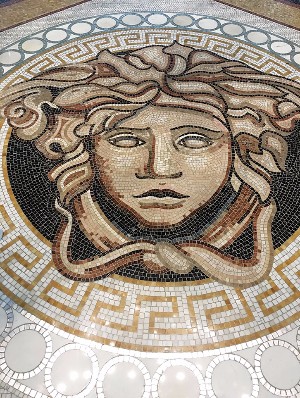 It's not simply the Medusa motif that makes this palatial five-star property a Versace hotel, however. Styled to resemble a 16th-century Italian palace, with as much passion and craftsmanship imbued into its design and décor as a couturier spends on a gown, the hotel is a glamorous tribute to the Milan-based fashion house. Despite Gianni Versace's tragic murder outside Casa Casuarina in South Beach, Miami in 1997, the maison has continued to evolve. Led by his siblings, Santo and Donatella Versace, it has even expanded into hospitality – launching a debut resort on Australia's Gold Coast in 2000, followed by Palazzo Versace Dubai.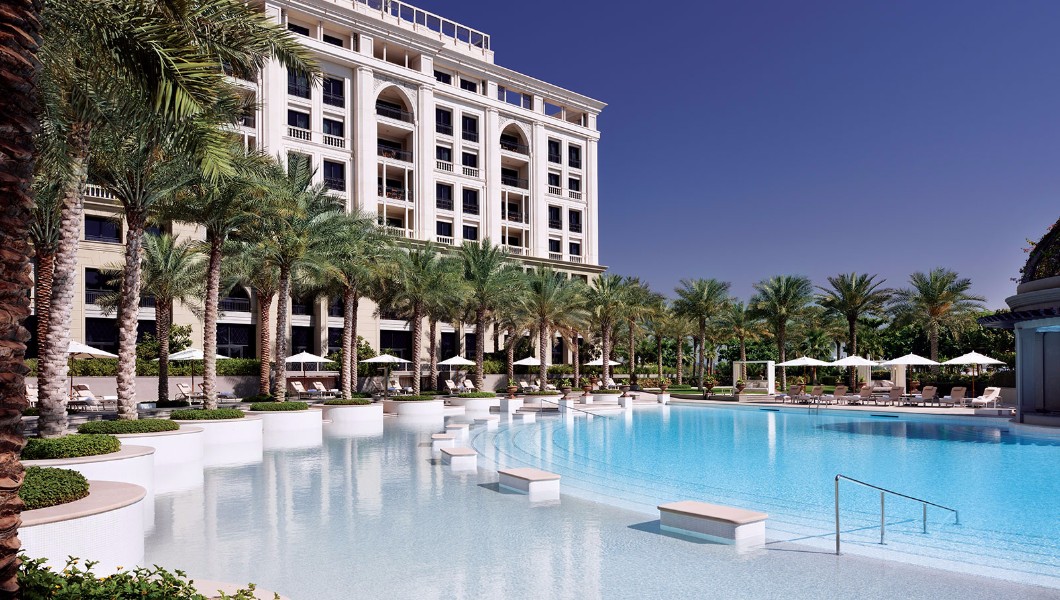 Set in a new district of Dubai known as Culture Village, in Al Jaddaf, northeast of Downtown on the banks of the Creek, guests need to be aware the hotel's neighbourhood is a work in progress. Eventually, it will feature a modern art museum, a marina and kilometres of waterfront walkway. However the hotel too, was a work in progress, opening in stages until its official launch in November last year. Donatella's lavish soirée drew a star-studded guest list with supermodels jetting in for the occasion, among them Alessandra Ambrosio, Helena Christensen and Natasha Poly – but celeb and supermodel spotting is quite the norm at Palazzo Versace Dubai. Even during my stay, there's a buzz in the lobby, where this weekend's guests, Shah Rukh Khan and Anushka Sharma, are making a special appearance to meet fans.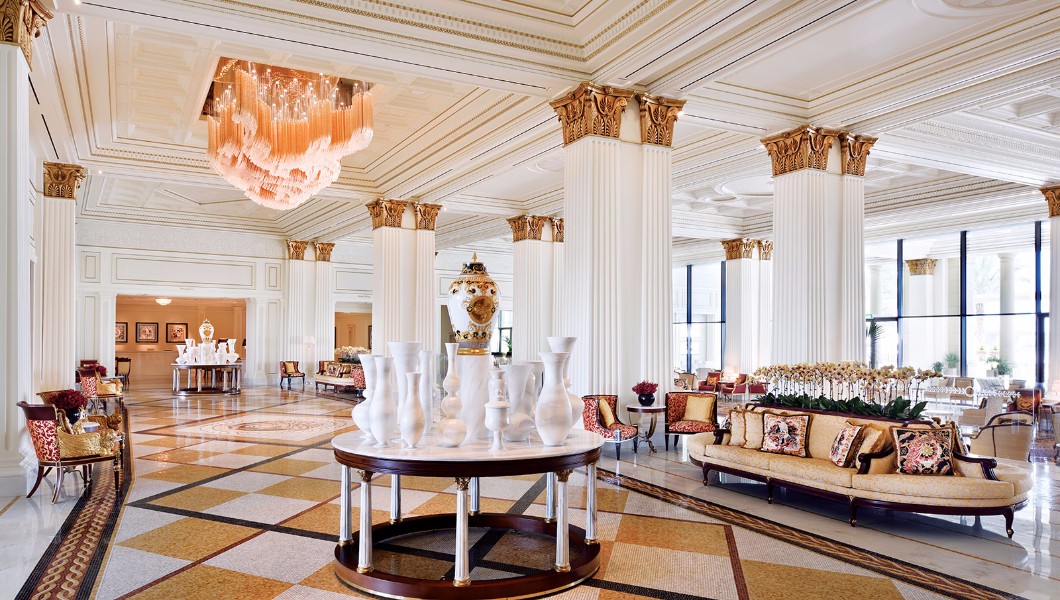 The lobby makes a sartorial setting for a celebrity appearance, and it's where the full grandeur of the Versace manifesto takes form. While her brother Gianni may have championed the bold and the brash, Donatella's mood board throughout the hotel – and this may be the so-called woman's touch – is a slightly more toned-down maximalist. Even those who would never dream of wearing the clothes (which can take a certain swagger to pull off) will appreciate the sheer level of quality, whether it's the ceilings hand-detailed in gold, the three-tonne, hand-blown Bohemian glass chandelier (inspired by a classic Versace floral pattern) or the intricate marble mosaic floors, which took Fantini Mosaici, a fourth-generation Italian firm, an astonishing two years to complete.
If you are a Versace lover, the immersion will delight you. Along with Medusa, there are countless representations of the maison throughout the hotel, from the striking geometry of the Greek key – another Versace signature – to Versace-prints encasing cushions atop neoclassical chairs. Many were created exclusively for the hotel, featuring icons of the region, such as the falcon, the peacock, and the Arabian horse. Down the hallways, off either side of the lobby, the walls are lined with sketches of Donatella's and Gianni's Atelier Versace gowns, and scarves framed like the pieces of art they are.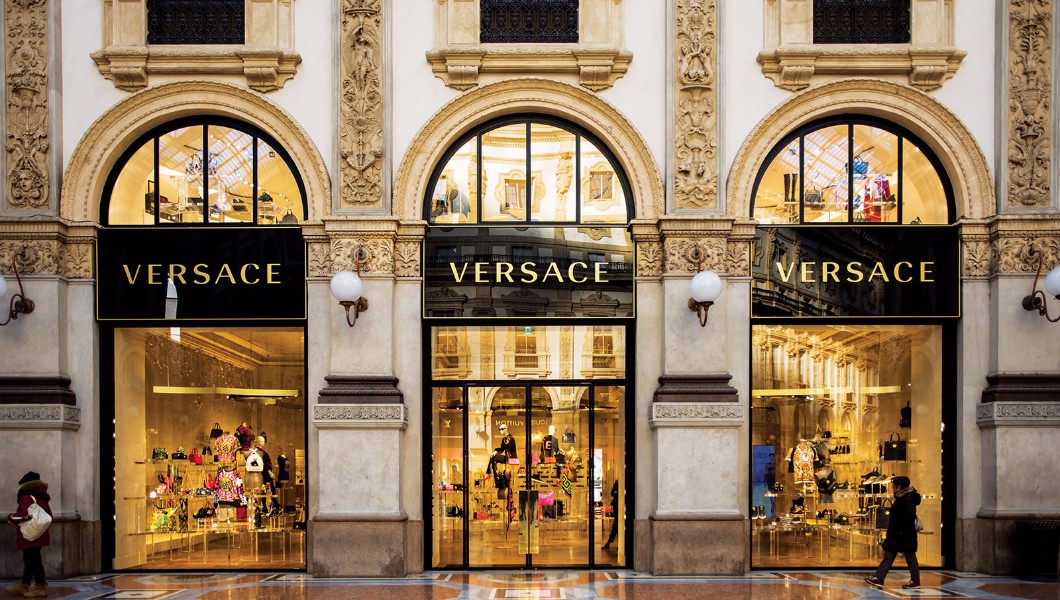 For guests overcome by the lure of the brand, there are boutiques, though it's not just the adults who can clad themselves in all things Versace. There is a Versace boutique just for children, conveniently located opposite the kids' club, where some of the house's designs are even printed onto the soft-play floor mats. At the adjacent Versace Home boutique, there's linen and wallpapers, while owners of fur babies can even buy Versace bowls for their canine companions.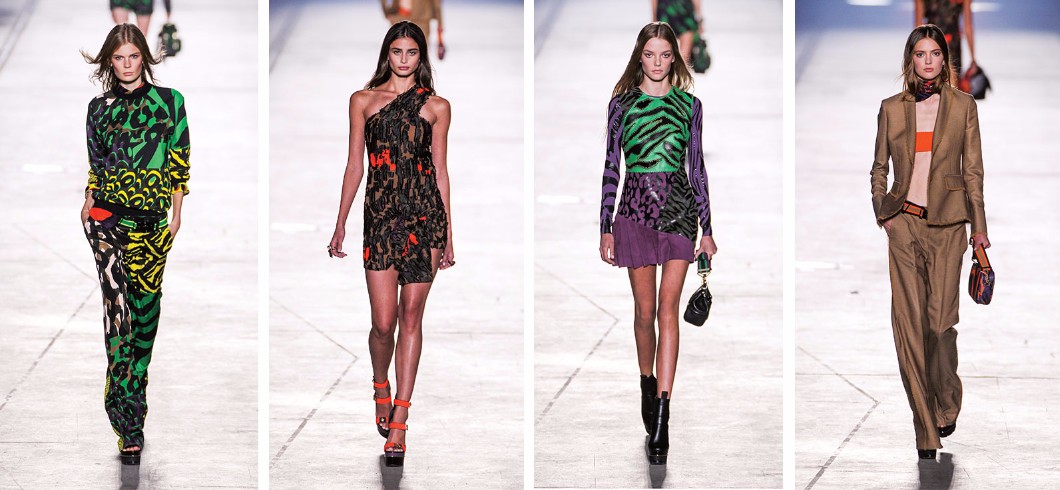 The hotel has 150 rooms and 65 suites, all embodying the DNA of the brand in turquoise, blue, beige and salmon hues, though on the ninth-floor, where many of the premium suites are located, the palette transforms into gold. Gold carpets lead the way to the door of my Signature Suite, which opens to ceilings that soar a good five metres high. With carved boiseries and silk furnishings at every turn, the windows are hung with floor-to-ceiling curtains, while the floors are a mix of polished timber parquetry, marble and plush carpet.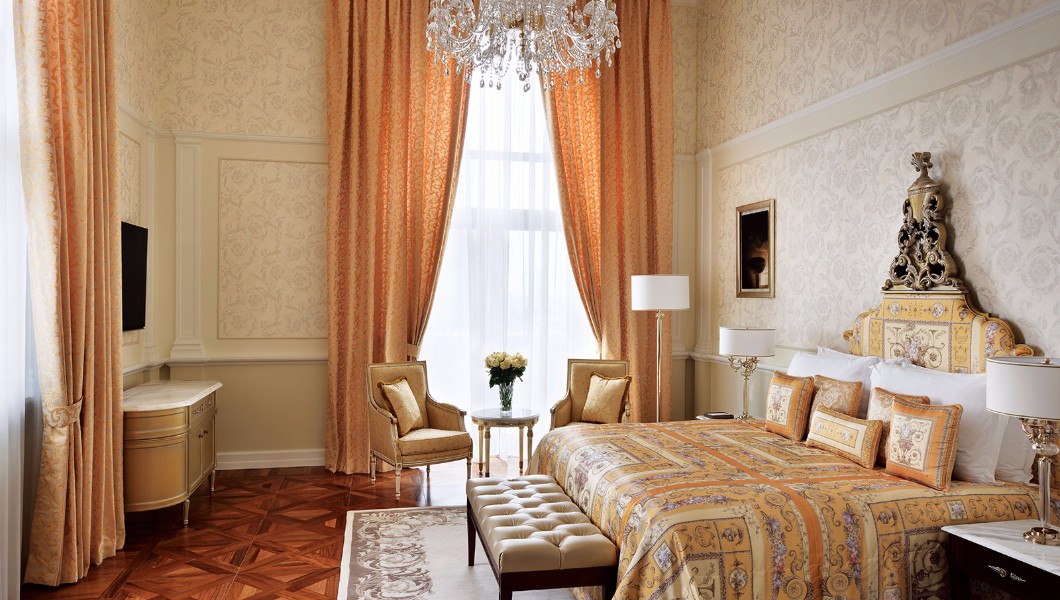 No expense is spared for guests staying in this suite, particularly when it comes to indulgences. Fresh flowers? There are vases of yellow roses and live orchids. Snacks? Delicacies come in the form of platters of nuts, silver trays of Arabic sweets, sliced fresh fruit, and handmade chocolates. At one point, the doorbell rings and the butler delivers fresh doughnuts. Good tech? Even fashion folk appreciate it, and I'm thrilled to find the suite suitably laden with LG televisions, Apple TV and digital consoles at the bedside allowing me to operate the curtains and lights to match the mood.
In the bathroom, Carrara marble and handcrafted mosaics hug the walls above a circular tub, while a terrace allows for a good look at Dubai's rapidly expanding Creek, from Festival City and across to the new Dubai Creek Harbour. You can see all the way to Sharjah from another terrace off the suite's elaborate living room, where bespoke sofas and armchairs create a regal atmosphere beneath a ceiling hung with chandeliers. And should you be gripped, at a whim, to host a party of six for a lavish meal, the table is already set, with crockery featuring brocade gold swirls and glassware embossed with the Greek key. It's one of the more formal breakfasts I've had, eating porridge and organic berries from a Versace bowl. Whether or not they are microwave safe is not something I'm game to test, though the suite also has small kitchenette with concealed Miele appliances. I'm certainly not here to cook, however, as the dining options at Palazzo Versace Dubai are superlative.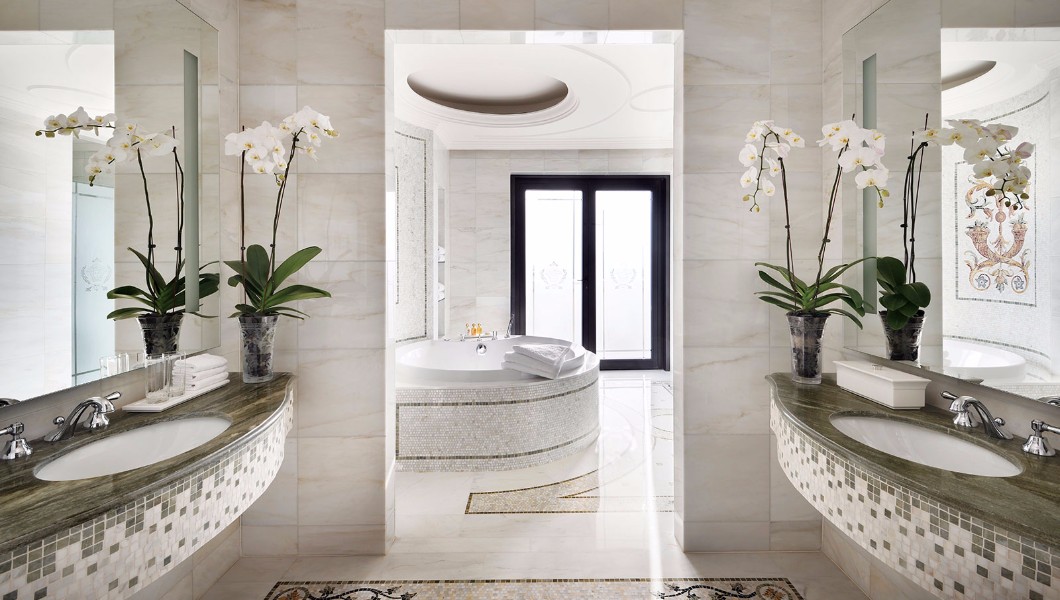 Italy and eating may go hand in hand, but the same can be said of Turkey and the gastronomy at Enigma. It's not my first time dining at the restaurant – in fact, I've visited each time Enigma hosted a new chef gleaned from the World's 50 Best Restaurant list, among them Quique Dacosta and Björn Frantzén. Now presided over by chef de cuisine, Yunus Emre Aydin, both the food, from the Levrek sea bass with Black Sea findik crust or the aged Wagyu pastrami carved at the table, to the standard of service is impeccable. Incidentally, great service ends up being the case throughout my stay. For a hotel inspired by a fashion brand, some may be concerned about snootiness, though on the contrary, the staff – from the butlers to the pool attendants – are as obliging and as effervescent as Italian mineral water. For those less than enamoured with the level of service in Dubai, it comes as a pleasant surprise.
For dinner and a show, there's scarcely 10 steps between Enigma and Q's bar and lounge launched by jazz legend Quincy Jones, the atmospheric den fused with the scent of leather and smoke, and the sounds of gifted bassist-vocalist Katie Thiroux. Flora, the club hostess, is as charismatic as they come, and paired with the music (each artist is hand-picked by Quincy so the calibre is outstanding), the atmosphere (exactly like nothing else in Dubai) and knockout cocktails, named after something the man himself has created (from the negroni-esque Vibe, after his Vibe entertainment magazine giant, to Dude, a mix of aged Chivas Regal whisky, Campari, orgeat and bitters inspired by the 1981 album, The Dude), the evening ends on a high note.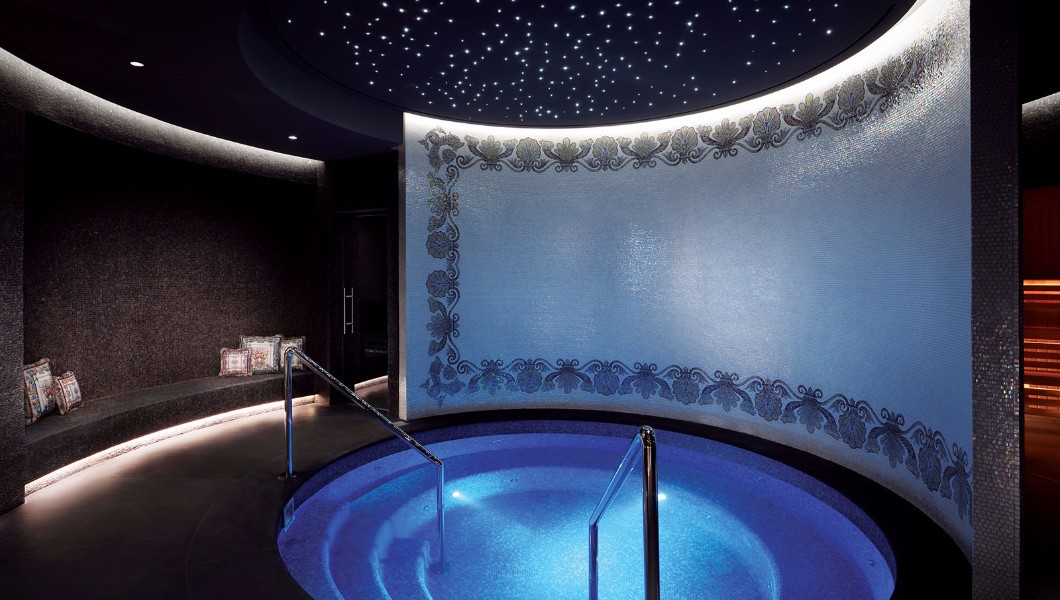 Even after a night of excess, I wake looking forward to the Friday brunch at Giardino, where the green-and-white jungle print walls hark back to the gown worn by Jennifer Lopez to the Grammy Awards in 2000, and the crockery belongs to the exclusive "Rosenthal meets Versace" collection. Along with great plates, whatever your palate desires, Giardino has a station to suit, from roast meats or sashimi and all manner of seafood, to mini prawn or beef tacos, gazpacho in tiny martini glasses, and even a mobile guacamole and nacho station.
Brunching at Giardino also enables access to yet another one of the hotel's expansive swimming pools (there are three in total) – the Ischia pool, with a swim-up bar, sun loungers and pool floats aplenty, which may or may not sink a little lower depending on how heartily you attacked Giardino's decadent dessert station.
There's more gastronomy in store for connoisseurs of Italian cuisine at Vanitas, the restaurant presided over by chef Andrea Gaia, who offsets hefty air miles clocked up from flying in only the finest seafood with a kitchen garden. At dinner that evening, the fine-dining ambiance is ultra-refined, with red-velvet chairs, elegant candelabra, and cuisine that pulls off a rustic-yet-refined direction with aplomb.
While it's true that anything would look and taste delizioso on Versace plates, it truly does at Vanitas, from the starter of scallops with cress, dehydrated apple wafers and fennel to the tortelli di ricotta, drizzled with tomato coulis and basil oil. At dessert, the mandarin mousse with blood-orange sorbet and grapefruit caviar disappears within moments, and even children are spoiled with the Versace touch, as I discover when my son receives a bowl of house-made chocolate gelato, sprinkled with genuine gold flakes.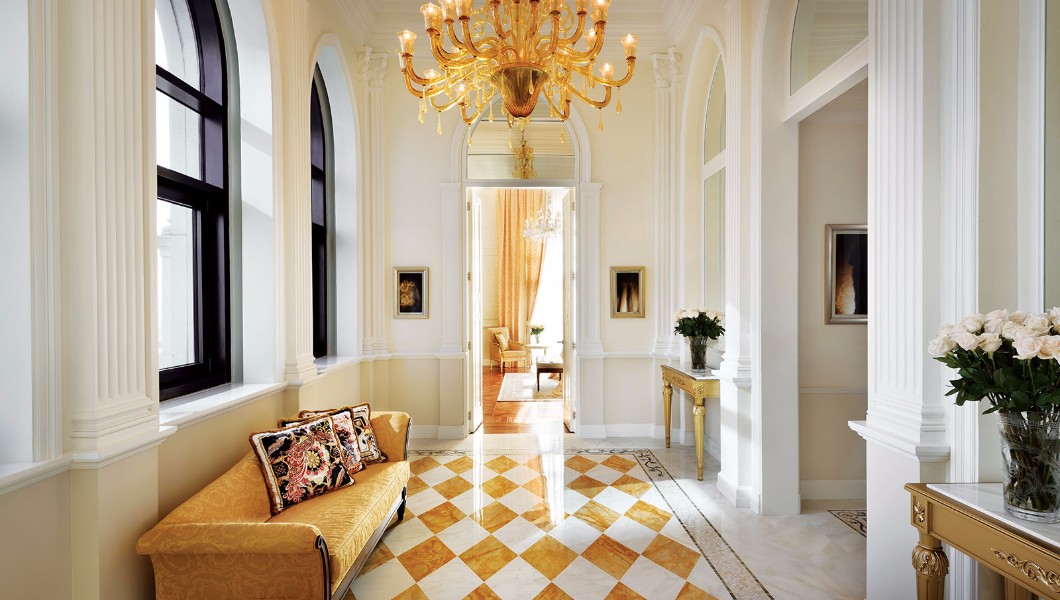 My food-addled body is also given a Versace touch the following day at the hotel's 1,000-square-metre SPA. Laden with marble, mother-of-pearl details and ceilings that seems to twinkle with stars, there's a subtle sea theme with motifs of cornucopias and seashells embellished onto the walls, while the spa's thermal offerings include plunge pools, various saunas, steam rooms and showers that jet to amplified bird sounds.
In the capable hands of my New Zealand therapist, it's clear that no matter which treatment I choose I will experience a forget-the-world-exists level of Zen. Being Versace, there are caviar facials and 24-carat gold dust massages, but in my case, a massage executed with rosehip seed and infused Argan Oil is both relaxing and effective.
After a stint on a heated relaxation bed, I'm hardly in need of any more leisure or extravagance, but seeing as there is one more pool just near the spa, I decide to investigate. Tucked behind the western wing and surrounded by gardens, Portofino is an imtimate, adults-only lagoon pool, though at this hour of the day, it's blissfully free of all ages.
When faced with an empty hotel pool, you really must seize the moment, and I do exactly that, luxuriating like a prima donna on a pool float in seclusion, and in true Italian style, perfecting the art of la dolce far niente – the sweet art of doing nothing.
Stay:
Palazzo Versace Dubai
+971 4 556 8888