Hotels in cities – particularly those in the most densely populated metropolises of the world – are often far too urban to inspire a sense of tranquillity, but not in the case of The PuLi Hotel and Spa. It might only be a few footsteps from the dizzying boutique displays and electric energy of trendy Jing'An, but Shanghai's first luxury urban resort feels like a sanctuary from the chaos, cloistered away from the riffraff and adjacent to the green oasis that is one of the city's havens, Jing'An Park.
A member of The Leading Hotels of the World, the PuLi has netted a slew of awards, which is testament to how exceptional it is – both in terms of service and design. Walking through the discreet entrance, tucked behind a wall of bamboo and grey slate, and into the hotel lobby feels more like entering a spa, with floral arrangements, artwork by artist Li Jing Bin adorning the walls, and a pleasing blend of symmetrical timber, polished stone and light.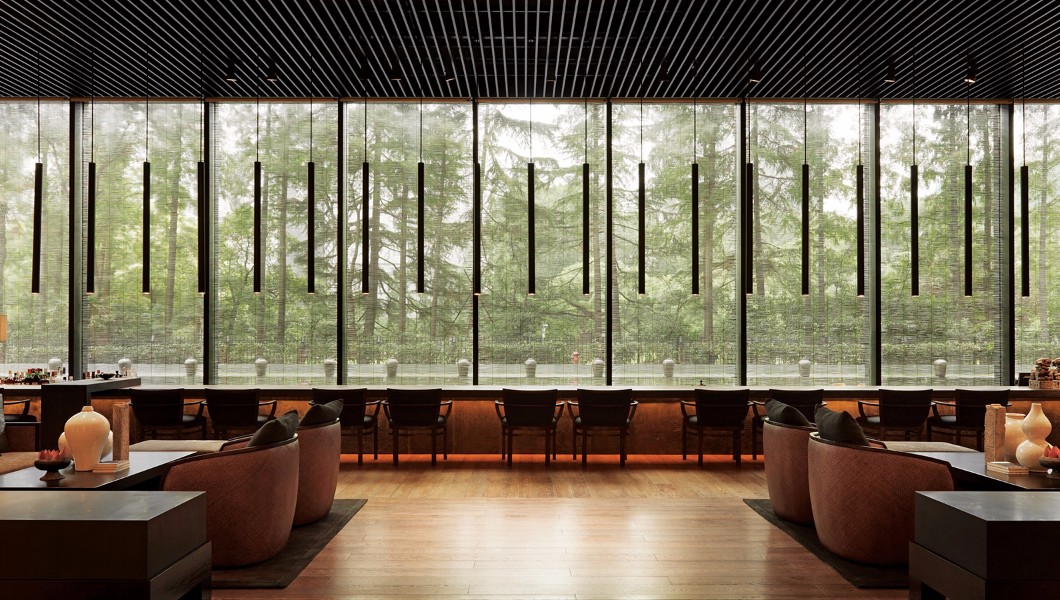 The 32-metre wooden Long Bar acts as a check-in desk in addition to a chic place to imbibe cocktails and champagne; there's a serene library room off to the side, while to the rear, an outdoor terrace called The Garden is lined with bamboo trees and a water feature. It all works together harmoniously to harness a sense of calm, no matter the time of day.
There are 193 rooms and 36 suites spread across the 26-floor hotel, and my Deluxe Suite enjoys lofty views over the skyline and Jing'An Park's treetops. There's always something to see when gazing over the leafy space, whether it's an elderly woman lost in her t'ai chi routine or quaint old men smoking pipes and playing Chinese checkers. Spanning a generous 85 sqft, the suite has sliding screens dividing the bedroom from the living area, a small guest toilet, and a kitchenette to one side where I discover a bottle of People's Cabernet 2012 (produced in Ningxia), plentiful mineral water, jars of sweets and other nibbles. It's all complimentary and refilled daily, along with thoughtful refreshments left at turn down on the dining table, from a bottle of local beer to pastries.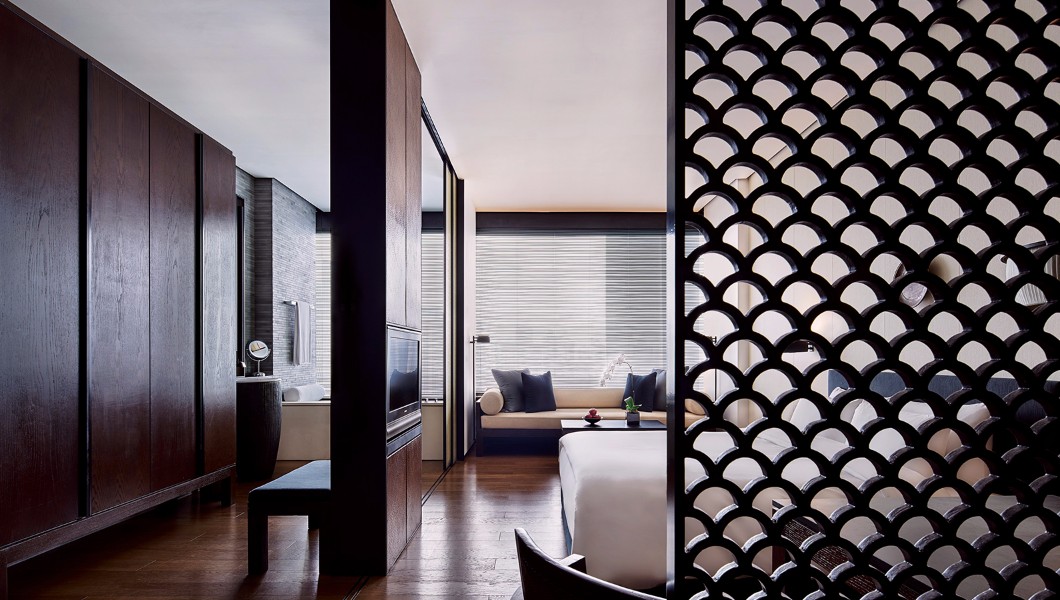 Remote-controlled Venetian blinds envelop the room in darkness or light at the touch of a button, while the bathroom is also a pleasure to ready oneself in, with a deep tub set alongside the window, allowing you to gaze over the park and skyline as you bathe with Urban Concepts amenities, catching up on the news via a flatscreen television. There's also a separate rainshower, and on a shelf in the toilet (also with knockout views) a Sung dynasty stone headrest.
PuLi's service wins me over; from the 24-hour GuanJia (butlers) to the doormen readily on hand to translate directions to taxi drivers and help guests to navigate the area. There's much to explore just footsteps away, from the boutiques of Louis Vuitton and Chanel to Jing'An Temple, while reaching the tree-lined avenues of Shanghai's French Concession area or The Bund is a quick cab ride.
Staying in to dine at the PuLi proves a treat for gourmands, with PHÉNIX Eatery & Bar on level two, which retained its coveted Michelin star this year. With dark timber, hand-spun rattan and silk upholstering, the formal-yet-unobtrusive service and park view also creates a serene setting at breakfast.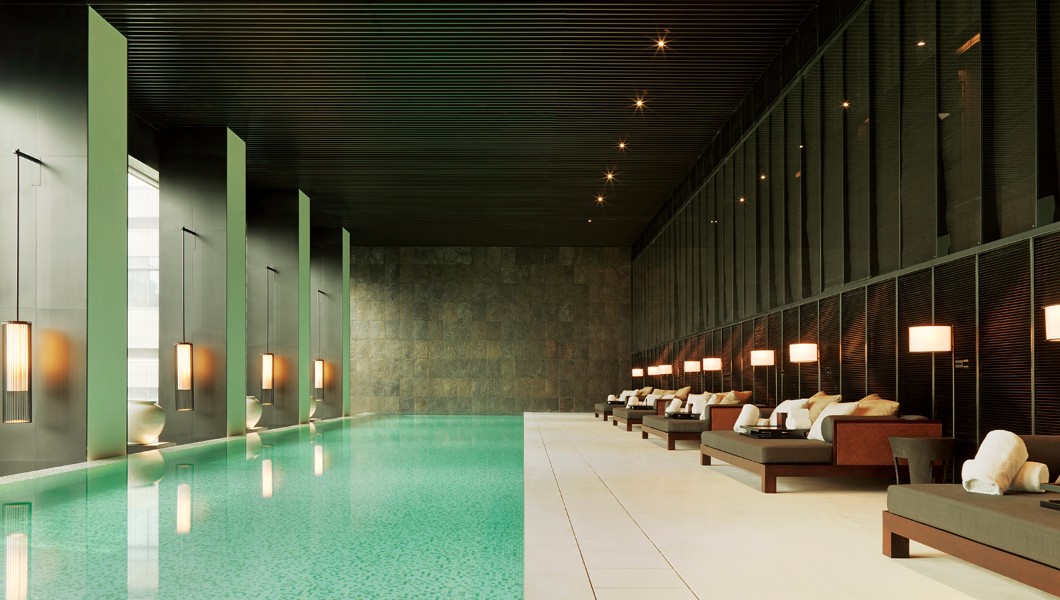 On level three, there's a state-of-the-art health club and a wonderful wet area with experiential showers and jet pools, as well as an adjacent Anantara-run spa offering ancient therapies from China, Thailand and India. Sadly I don't have time to indulge, though I do make use of the indoor pool area before a busy day of meetings, which ends up being a highlight. Whisper quiet, with oversized stone pots and hanging lanterns, the hallowed space houses a 25-metre mosaic-lined pool that also overlooks the park through floor-to-ceiling windows. The other side is lined by daybeds where post swim, you can relax and order from a pool menu (pork and prawn wontons? Oysters? Apple and mint smoothie?), or even book in a 60-minute oriental foot or hand massage.
Creating such a soothing and restful atmosphere in a city of some 24 million people makes the PuLi worthy of praise, and I wouldn't hesitate checking back in on my next visit to Shanghai – though hopefully for more leisure and less business.
---
THE IMPORTANT BIT:
WHAT: The PuLi Hotel and Spa
WHERE: 1 ChangDe Road, Jing'An District, Shanghai
PRICE: RMB10,888 (US$1,640) excluding tax, with daily breakfast for two, one-way airport transfer, minibar and three pieces of laundry daily
TEL: +86 21 3203 9999
www.thepuli.com