I never imagined a hotel would summon up the nostalgia of a relatively forgotten aspect of my youth: parties and get-togethers at bowling alleys in the United States – though admittedly, not a favourite pastime of mine given my incredible lack of skill in the sport. Staying at the W Dubai Al Habtoor City, however, helps me to remember the best parts of a night out at the lanes: a ceaseless atmosphere of energy and life, thumping music, and audacious eye-catching décor. Throughout the hotel glitter-infused floors, metallic marbled panels reminiscent of bowling balls, and striped corridors in Pantone-perfect blue, purple, black and white offer a throwback to the joys of my teenage years, all the while positioning itself firmly in adulthood with an array of cocktails, buffed and bronzed bodies strutting poolside, and dancing late into the night at a glam top-floor club. And the suites' circular beds? A thing of dreams 20 years ago.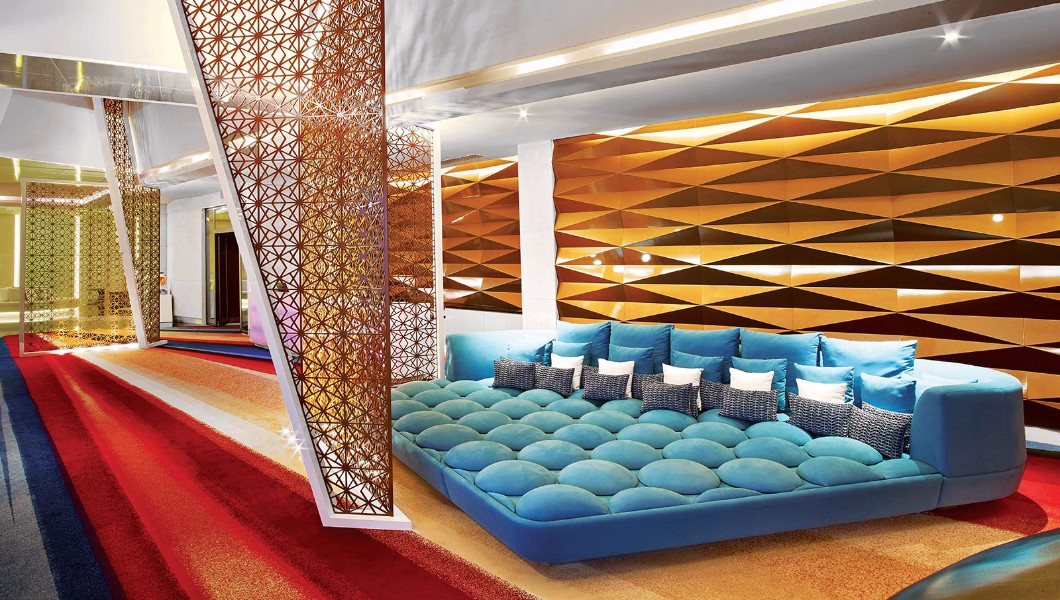 There is little that is laid back about the W brand, and I'm immersed in its distinct atmosphere from check-in on level 30, where the desks are surrounded by vast city views overlooking Sheikh Zayed Road and the new Dubai Canal to the Gulf, and adjacent to the buzzy W/Lounge, which is touted as the hotel's social centre and "living room" for guests. It's somewhere I'll have to check out later on, as in no time I'm escorted to my Fantastic Suite, 117 square metres of retro-futuristic style in a striking black-and-white palette. Taking up one of the hotel's corners with views over Sheikh Zayed Road to the sea and over the hotel's pool terrace towards the Dubai Marina, everything about the suite seems to call for your attention. The open-layout space features a bedroom and living area positioned back to back, with plenty of white sofas fit to entertain a small party. Also fit to entertain that party is a bar area with a glowing, pearlescent frame and a cocktail shaker to accompany a bottle of Grey Goose, and minibar stocked with mixers and Veuve Cliquot.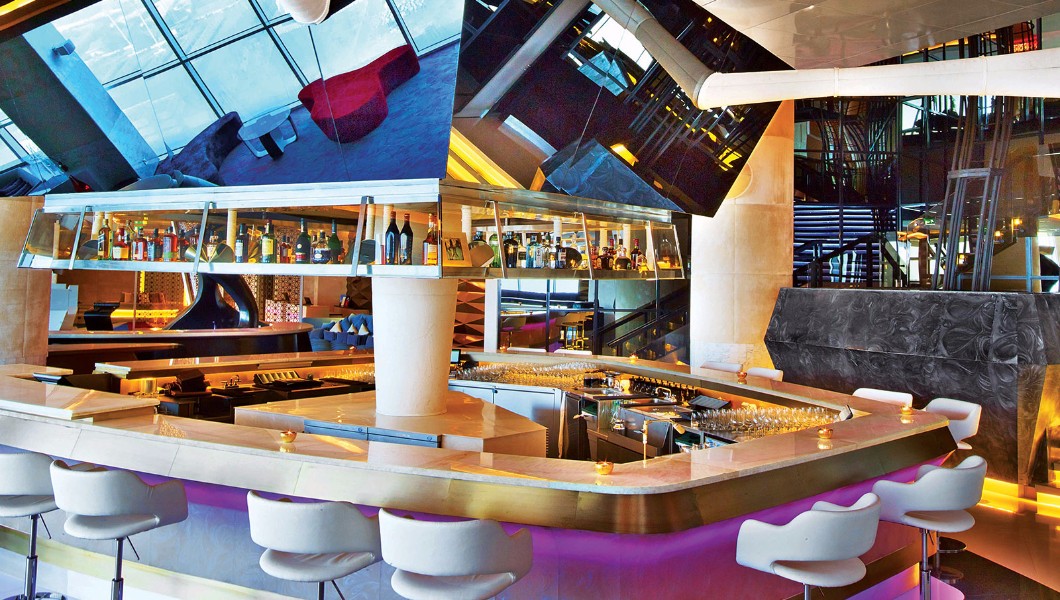 A wall of mirrors make the space feel even more ample, and hide (look for the cute "pull me" stickers) plenty of closet space for all your night-out (BOA Lounge & Club), bottomless-brunch (every Friday afternoon at Level Seven) and pool-party (WET Deck) outfits. I swiftly found myself imagining the possibilities of hosting birthdays or other events in the room – if only it were available to book for just the day. Lucky for me, I'm informed that's definitely within the realm of possibility, and guest room day rates are listed at around a 30 per cent discount from the usual overnight.
The focal point of the bedroom is unquestionably that oversized circular bed (which also happens to be very comfortable), but the en suite bathroom, with its light-up counters, and capacious walk-in rain shower with floor-to-ceiling windows overlooking the Dubai Canal, is difficult to ignore. With its overarching party feel, form overtaking function is most apparent here; I am unable to find somewhere to hang my used towels, and the placement of the standalone bathtub opposite the bathroom on the other side of the bedroom is perhaps a bit puzzling. But after some time in the room, the randomly placed tub and towels tossed insouciantly around the floor seem to suit the vibe of the space: carefree and focused on fun. In any case, I'm quickly distracted by the excellent lemon and sage Bliss toiletries (the body butter is particularly worthy of nicking) from W's signature spa brand – which unfortunately is not a feature at this W property, but sister-hotel Westin's (page 67) Heavenly Spa is within easy reach, connecting to the adjacent property on level seven.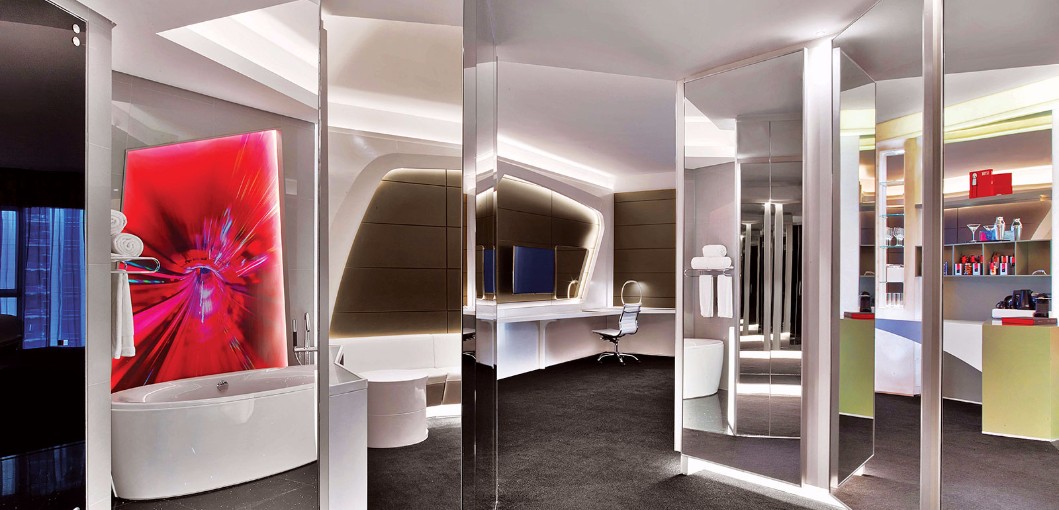 Needless to say, room service is an option, but there's little reason to stay hunkered down in the room when W Dubai is a veritable one-stop-shop of weekend antics thanks to on-site dining and entertainment that take guests from morning to, well… the next morning. Level Seven is the all-day dining venue, and with its chic country-kitchen style, it stands out in a hotel that seems to wish to be the furthest thing from a southern European holiday in some charming village locale. It is, however, a nice change of pace (especially at breakfast when you may not be quite ready for the party atmosphere, or are perhaps still recovering from last night's) with light woods and innumerable jars, pots, pans and other kitchen accoutrements making up lighting fixtures hanging from the ceiling. Bright and airy, it offers a breath of fresh air – not to mention a menu of rustic Mediterranean cuisine loaded with cured meats, creamy burrata, grilled proteins and a crudo bar.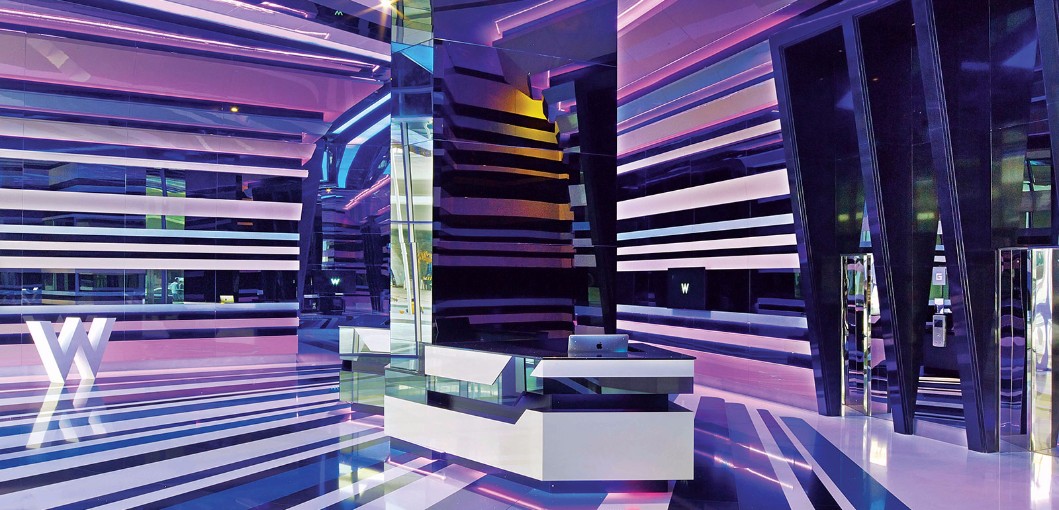 When evening begins to fall, W/Lounge is a good place to start with a cocktail – likely presented with decorative flair to match the surroundings before heading off to dinner. Just upstairs from the 30th-floor lounge, 31st-floor NAMU encourages the property's social atmosphere with a menu of sharing plates boasting Korean and Japanese fusion cuisine – mixing and mingling on the table are dishes such as kimchi and tataki, fried chicken and Japanese vegetables with katsu. And as the evening ramps up, it's time to head one level higher, to the 32nd floor, where the party at BOA Lounge & Club goes into the morning hours.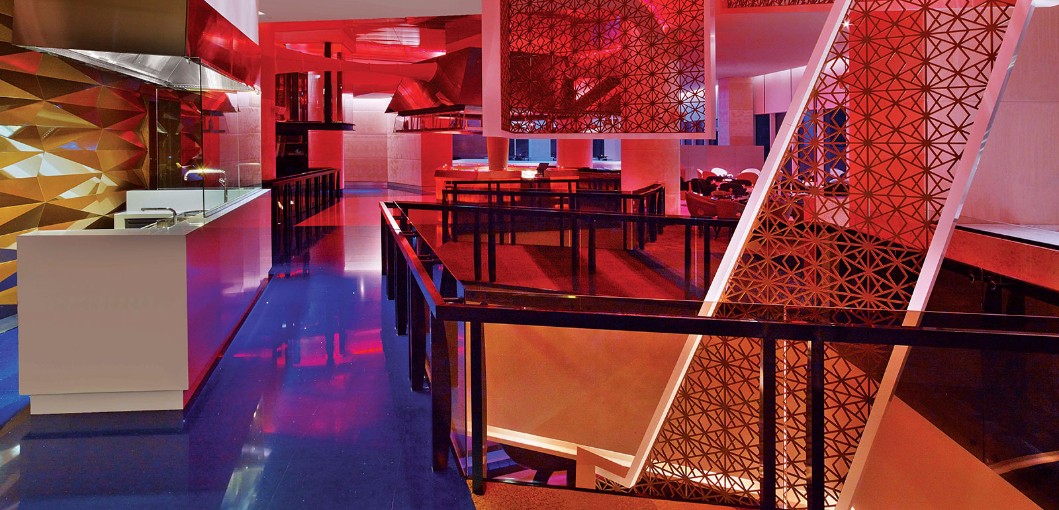 One of W's trademarks is WET Deck – the brand's unique pool areas are found across its properties around the world, and incite pool-party fun from day to night. The Dubai hotel's rendition is no different, although admittedly a bit on the quiet side in the city's mid-summer heat. When the mercury drops in the autumn months, I imagine the scene at W Dubai's WET Deck will, in turn, heat up. It's tailor-made for groups of friends with discrete pool and Jacuzzi areas surrounded by plush sunloungers, banquettes and spacey hive-like cabanas amid a soundtrack of laid-back beats. Add to that two bar areas (one of which is also a café, but is closed in the summer months), a DJ booth and those afore-mentioned buffed and bronzed bodies, and you've got yourself a W pool party.
Slipping into the water, the flooring of brightly coloured pebbles soothing my feet, I'm offered a freshly chilled towel to drape across my neck to combat the afternoon temperatures. It's just the thing to relax before partaking in another night of revelry, which though rehashes some whimsical teenage memories, hits every pin in creating a grown-up playground.
Stay:
W Dubai Al Habtoor City
+971 4 436 6666