Famed for its world-class powder and 12th-century monastery, the central Swiss alpine town of Engelberg now has another feather in its cap – its first 5-star lodgings. Kempinski's (aka Europe's oldest independent hotel company) five-year-long restoration of Europäischer of Europe Hotel has been worth the wait.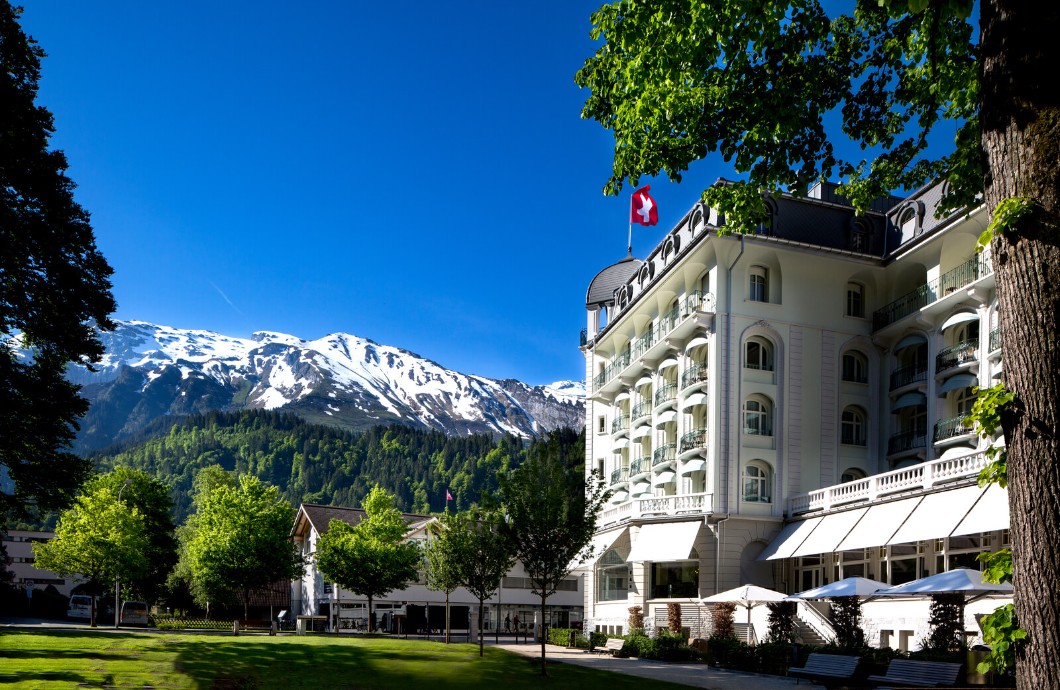 The very definition of old meets new, the property's listed Belle Époque wing has been seamlessly tethered to the contemporary six-storey building via Engelberg's iconic Kursaal. A former concert hall where Swiss composer Stephan Eicher recorded his album Engelberg, its stuccoed walls will now play host to banquets and a busy calendar of cultural events.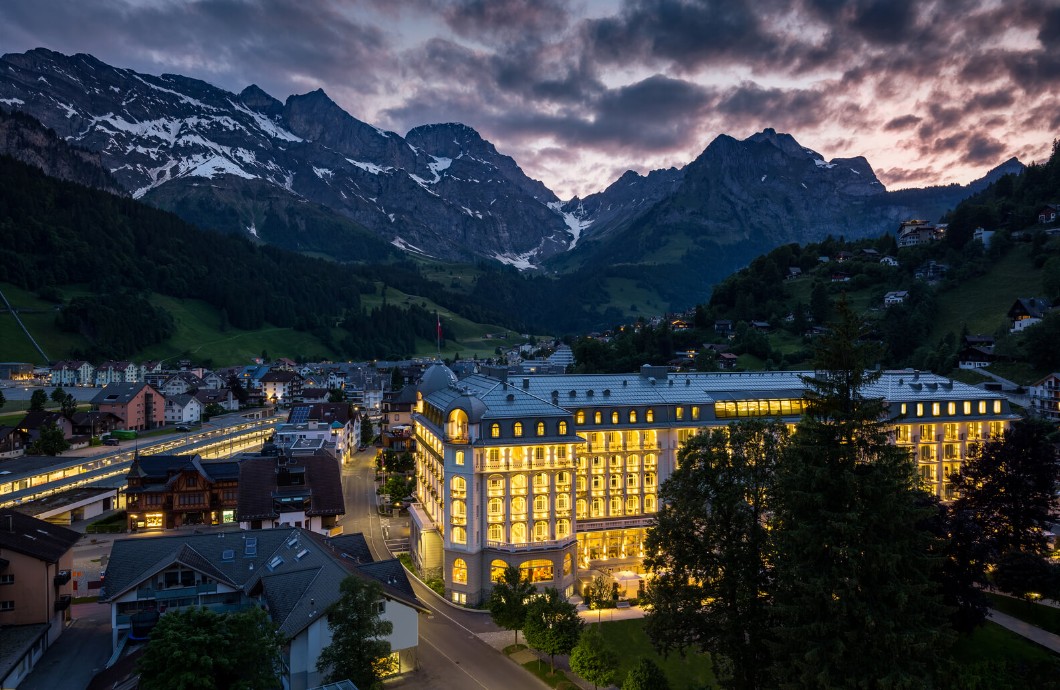 Satisfyingly, the heritage flourishes permeate the hotel. Think coffered ceilings, tile mosaics and original chandeliers, offset with modernist touches and materials like antique copper, wool, wicker and light-coloured hardwoods, that breathe new life into the property's 129 rooms and suites.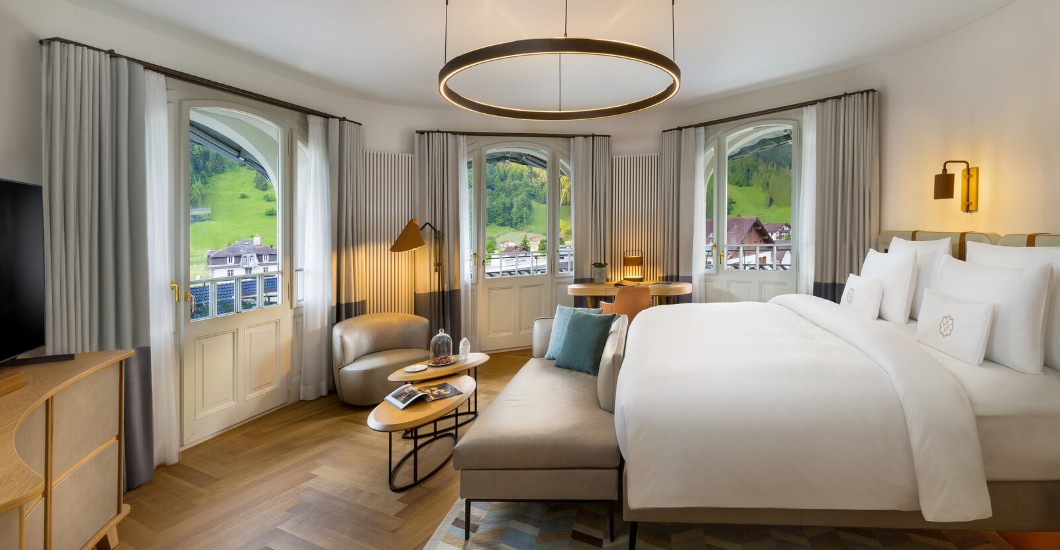 Most luxurious are its balconied 190-sqm Belle Époque suites, furnished by doyennes of Italian design, Minotti and Molteni&C, who've been embellishing embassies since the swinging Sixties. French elegance is also served up thanks to Belle Époque features like the arched glass doors, which frame Engelberg's blindingly white peaks.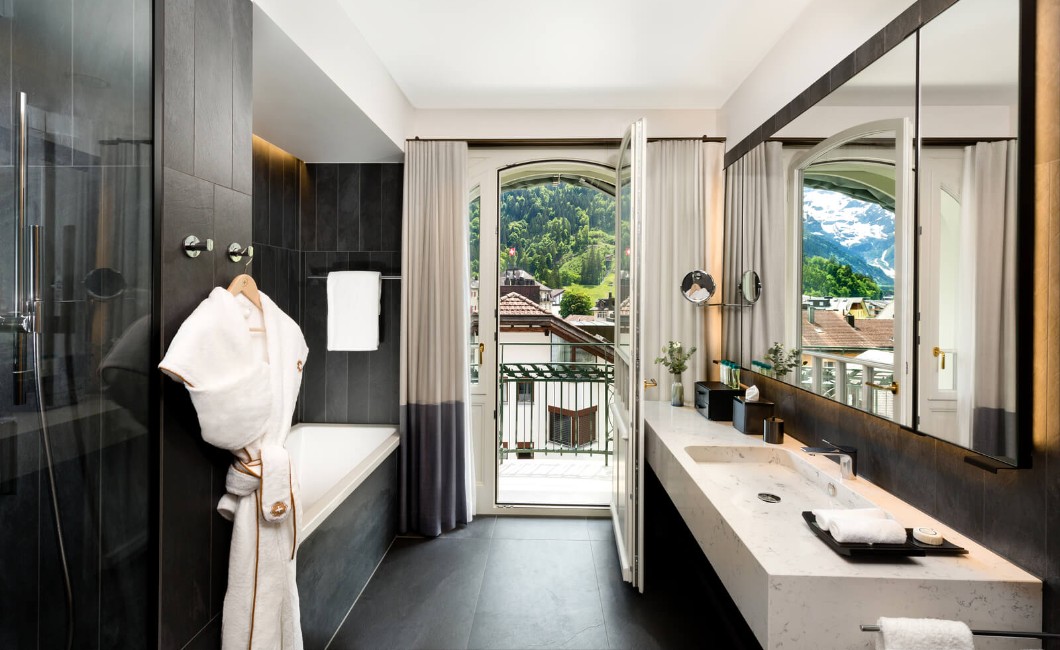 Its no wonder the town is a favourite of ski-starved Zurich weekenders. Wedged into a deep valley just 22-miles south of Lucerne city, and a short hop from Zurich airport, Engelberg lays claim to Central Switzerland's loftiest peak: the perennially snow-caked Mount Titlis. To reach its dizzying 3,238-metre summit in less than five minutes, I join bundled-up sightseers in hopping aboard Rotair. The world's first lift to revolve 360 degrees, it's connected to the town via Titlis cable car.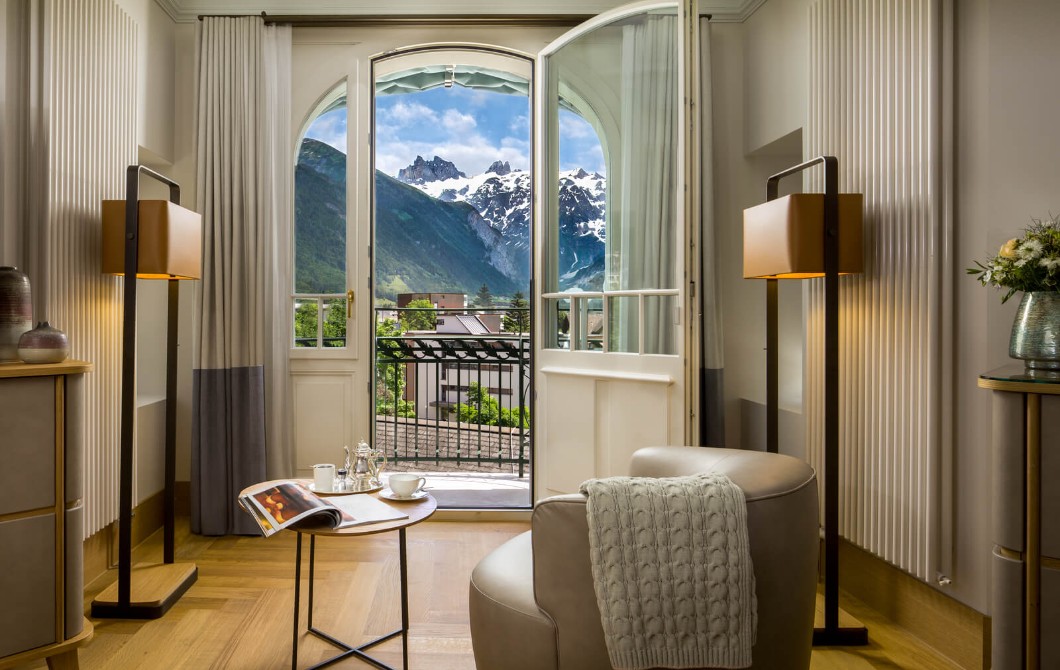 The highlight is crossing Europe's highest suspended bridge, where a magnificent Alpine panorama literally lies at your feet. Silenced by views of the abyss below, I inhale another lung full of crisp alpine air, before retreating to the mountain station's third floor chocolate shop, that's stocked with some 300 varieties of the sweet stuff.
The sugar high continues back at the hotel's light-flooded winter garden, where afternoon tea is in full swing. A master class in ceremony and theatrics, sticky toffee pudding is flambéed at the table, smoked salmon sandwiches hang mid-air from tiered-cake stands, and a veritable orchard of preserves are wheeled in on vintage silver trolleys to smother on warmed scones. Breaking from tradition, I forgo a cup of oolong for the hotel's house blend of marigold, lemon balm, anis, coriander and thyme.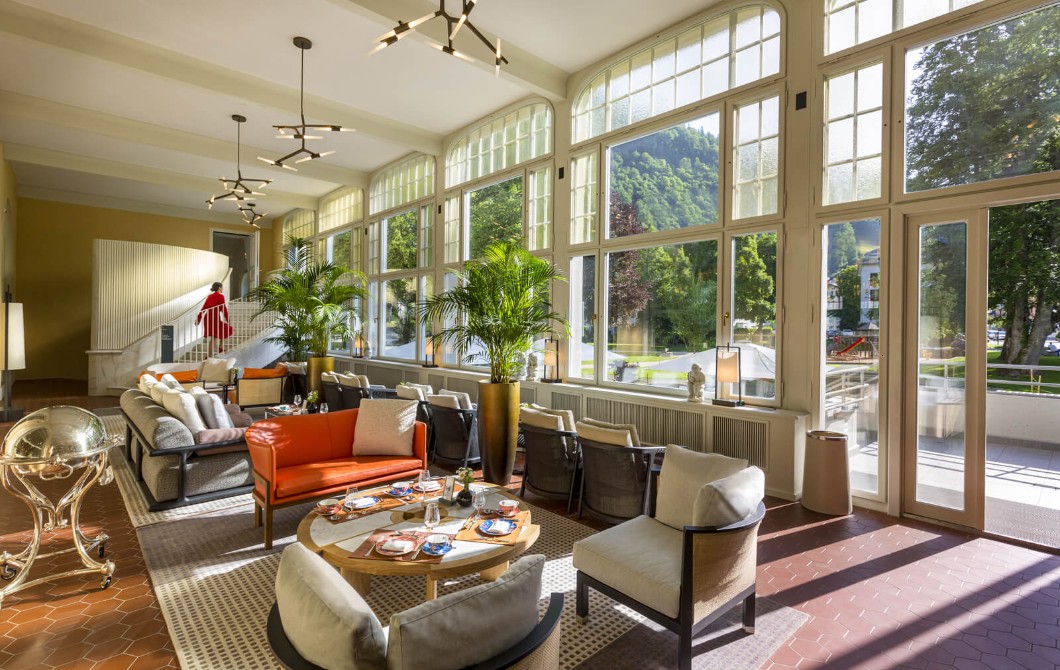 The bold beverage choices don't end there. Slipping through the winter garden's grand doorway to the hotel's 1920s-styled palace bar, I whittle the extensive cocktail menu down to an Amazonian-inspired Northern Class, as the fire crackles and Sinatra plays on vinyl.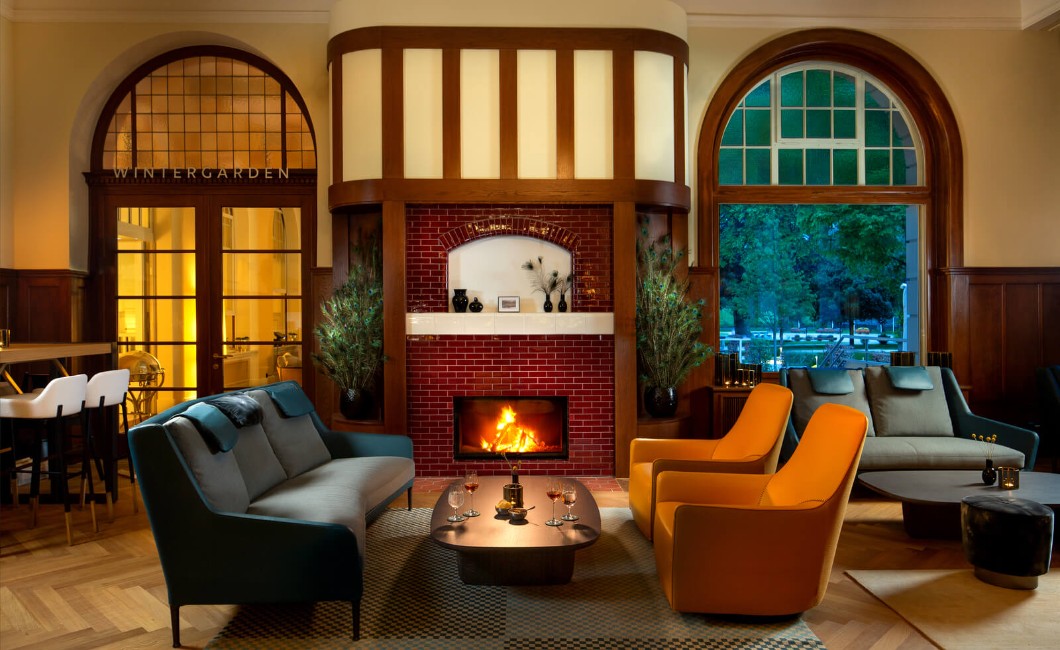 It's the perfect prelude to farm-to-fork fare at the hotel's fine-dining restaurant, named after Eduard Cattani: Engelberg's 20th-century mayor and celebrated hotelier. Living up to its 'made in Switzerland' motto, I devour Lucerne's Marbach factory burrata, premium pours produced in the warmest wine-growing region of German-speaking Switzerland, and veal from cattle reared on Engelberg's gloriously green pastures.
You can soak in views of the same rolling hills from the property's pitched-roof infinity pool, where I find myself daydreaming of a simpler Heidi existence. I gravitate between its hanging egg chairs, cushioned turquoise loungers and frothing whirlpool, where bathers can eyeball Hahnen Mountain. The 880-sqm spa's other amenities include Finnish and bio saunas, a soothing steam bath and bleached wood relaxation room where I stoke the Swiss fantasy besides its Himalayan salt-stone fireplace.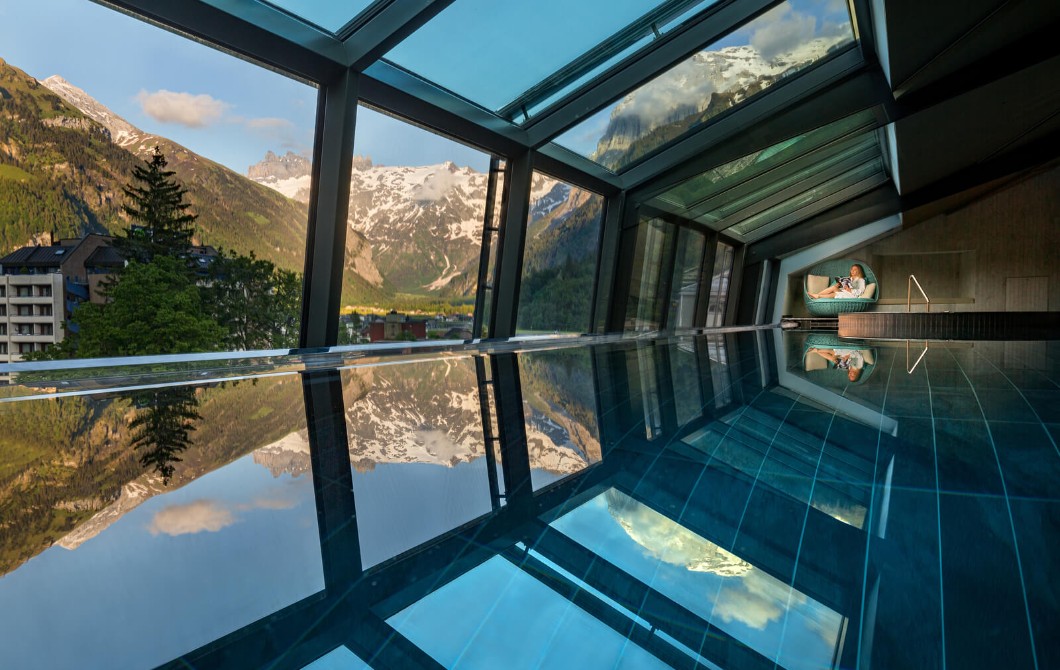 Determined to cheat my way to that 'post-hike' glow, I round out my afternoon of wellness with the spa's Dermalux treatment. Designed to treat everything from sun damage to stubborn spots, Meghan Markle's go-to-facial is satisfyingly minimal contact (a boon in these Covid times) and results-driven. After having 40 minutes of healing LED light beaming towards my face, I emerge with markedly plumper skin and a more radiant complexion.
Dewy-skinned and drunk on all that Alpine air, I bid adieu to my five star digs, making a final pilgrimage to the town's ancient monastery, whose abbot allegedly gave his full blessing to the Kempinski's ambitious overhaul. Spectacularly backdropped by Titlis, the Benedictine beauty is not only home to the country's largest organ, but an onsite dairy, where you can splurge your Swiss Francs on speciality mountain cheeses. Dairy or no dairy, four weeks later and I'm still dreaming of this enchanted Swiss sojourn…
SUITE DREAMS:
WHAT: Belle Époque Suite WHERE: Kempinski Palace Engelberg, Engelberg, Switzerland
TEL: +41 41 639 75 75