Having opened with a bang in December 2017, Dubai's first Renaissance hotel has made a strong impression despite some incredibly stiff five-star competition, offering a beautiful and unique approach to laid-back luxury. On arrival, guests are welcomed by a stylish and contemporary lobby offering an abundance of space where you can unwind before, during and after an effortless check-in process. Unpolished concrete is framed by a backdrop of golden chains from floor to ceiling and the chic Art Deco vibe is immediately set with a captivating piece suspended from the ceiling, alongside some fashionable furniture.
Relieved of my overnight bag, I was whisked up to the Deluxe Suite which continues the Roaring '20s theme with retro lighting and the flourish of a wall-mounted flamingo art piece. The suite itself is spacious with a contrast of greys and refined golds, working in sync with stylish solid wood furnishings. Relaxing in this room is a pleasure – it's open and airy and the floor-to-ceiling windows let in ample light to truly illuminate the space. The suites have everything you would expect from a property of this calibre and laying in the freestanding bathtub with views over Dubai is a fantastic way to appreciate the city while recovering from the stress of the daily grind.
Grabbing a spot of lunch at BHAR – a Middle Eastern style brasserie where Chef Mohanad traditional Syrian roots meet contemporary cooking techniques – we were at the mercy of the chef, who we asked to nominate his recommended plates. The food was delicious, with a special mention having to be given to the beef tartare and the black cod sayadieh. Electing to eat inside at one of the trendy booths was the perfect way to stay cool but the terrace is equally as stunning with views out over Dubai Water Canal.
Following lunch, a trip to Six Senses Spa to experience their new concept of relaxation was a great way to unwind. Six Senses Spa Dubai features six treatment suites that are each dedicated to a different sense – sight, sound, touch, taste, smell and intuition. Swathed in a palate of sand and light naturals, the contemporary décor is enhanced by floor-to-ceiling windows that provide yet more glorious vistas across the city skyline.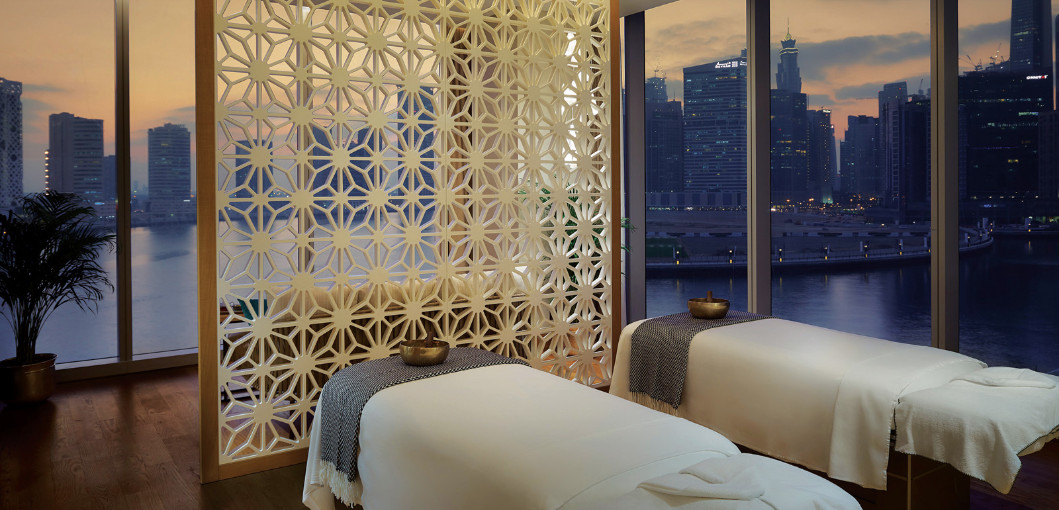 When booking a treatment of at least 60 minutes, guests are entitled to a complimentary 30-minute sensory experience, in which in my case was the scrub. I experienced the room dedicated to scent and enjoyed the steam room followed by a an unforgettable massage. As part of the treatment the therapist invited me to mix a body scrub from scratch with a pestle and mortar and a variety of ingredients, each with a specific purpose – including lavender, rose petals, mint and rock salt to create a completely relaxing concoction.
Later that evening, dinner was booked at the newly opened Morimoto Dubai, spread over the 23rd and 24th floors of the hotel. The venue comprises a bar, sushi counter, a teppanyaki station and a main dining area with yet more views over the canal. Having launched at the end of March with Celebrity Chef Masaharu Morimoto at the helm, it was an eagerly anticipated visit – and it did not disappoint. The trendy vibe is entirely in keeping with what you would expect from a restaurant of such acclaim, and the ambiance was both dynamic and relaxed across the entire venue, including its three exquisite private dining rooms and its terraces, with panoramic views of Downtown Dubai and beyond, including stunning views of the Burj Khalifa. The food itself was exquisite and a special mention must go to the ishi yaki buri bop – Morimoto's signature dish – served and cooked at the table.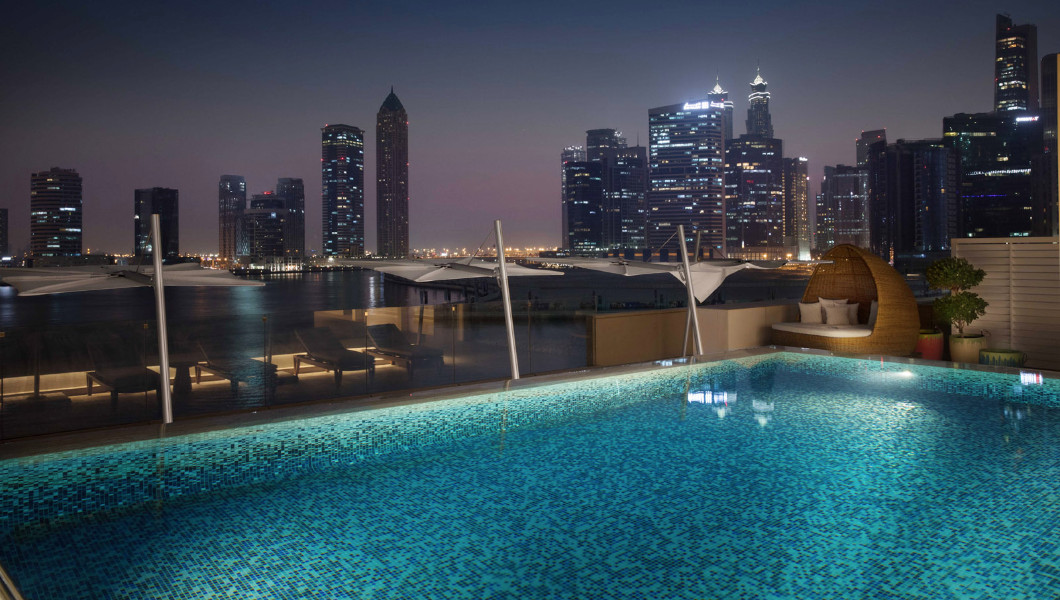 With a full stomach it was time to retire to the suite and enjoy the unrivalled views of the Burj Khalifia, complete with a light show and a sneak peek of the spectacular dancing fountains, all from the cosy vantage point of a plush sofa. For luxury travellers with discerning taste, the Renaissance Downtown Hotel, Dubai will not disappoint. The hotel is ultra-modern, the suites stylish and spacious and the cuisine alone will keep you coming back for more.