Edinburgh's skyline is punctuated with architectural exclamations that tell the story of this ancient capital; a staccato of gothic steeples and neoclassical domes overlooked by the hulking mass of Edinburgh Castle, which stands vigil over the city. From the castle ramparts, 
it is reassuring to spot the mighty clock tower of The Balmoral, which stands tall above its neighbours, pinpointing the location of one of Edinburgh's oldest and most prestigious hotels: my home for two nights during what should be Edinburgh Festival Fringe week.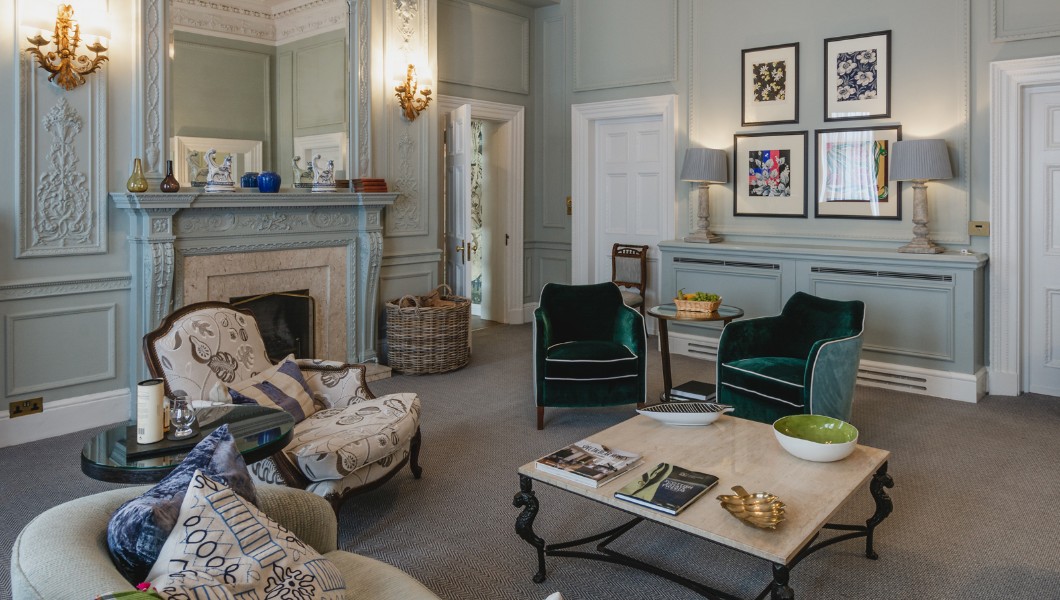 Though the festival, like everything else this year, has been scuppered by Covid-19, Edinburgh retains a sense of occasion. At the far end of Princes Street, the wide boulevard that splits the city in two – the winding alleyways and cobbled streets of Old Town to the south and the Georgian façades of New Town to the north – 
The Balmoral is at the very heart of the action.
Built at the end of the 19th century to accommodate railway passengers visiting the city via Waverley Station, The Balmoral opened in 1902 as the North British Station Hotel, featuring a soaring clock tower intentionally set three minutes fast to help passengers arrive in time for their trains. Purchased by Sir Rocco Forte on March 1, 1997, the hotel became the first member of what is now Rocco Forte Hotels.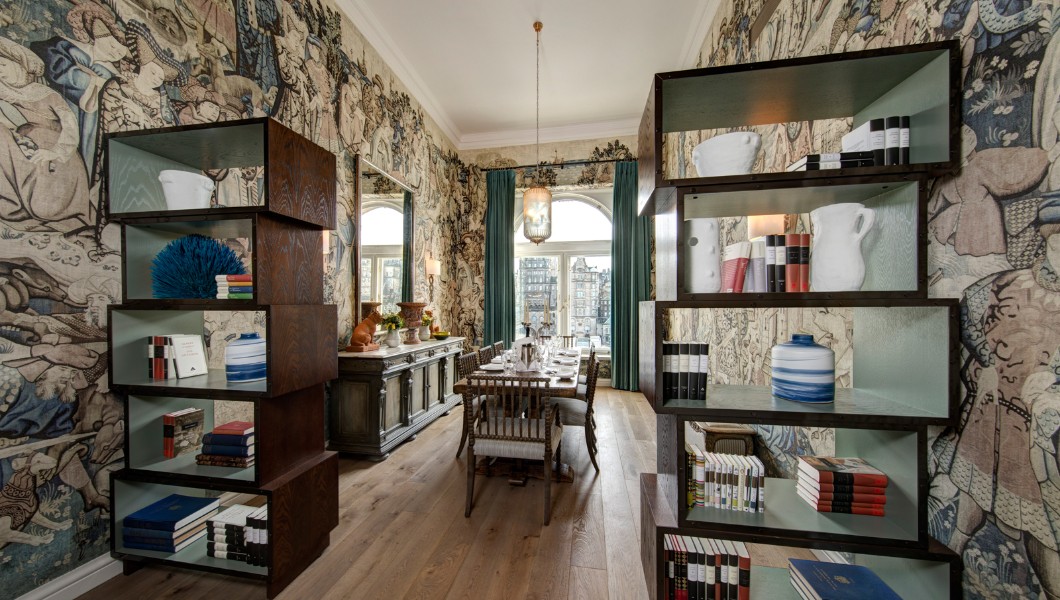 The Balmoral exudes a sense of dignity and gravitas, nowhere more so than in the hallowed surrounds of the Scone & Crombie Suite, a sprawling collection of well-appointed rooms that spans much of the south-facing side of the building. Looking out across the covered roof of Waverley Station towards the steep, blackened walls of the Old Town, the suite is named after Scone Palace in Perthshire, 
a 1,500-year-old monument where Scottish kings were once crowned. Like its namesake, the suite is fit for royalty. American talk show queen Oprah Winfrey interviewed one-time Edinburgh resident J.K. Rowling here in 2010, and through the ages, heads of state, members of royal households and Hollywood doyennes such as Sophia Loren and Elizabeth Taylor have bedded down within its storied walls.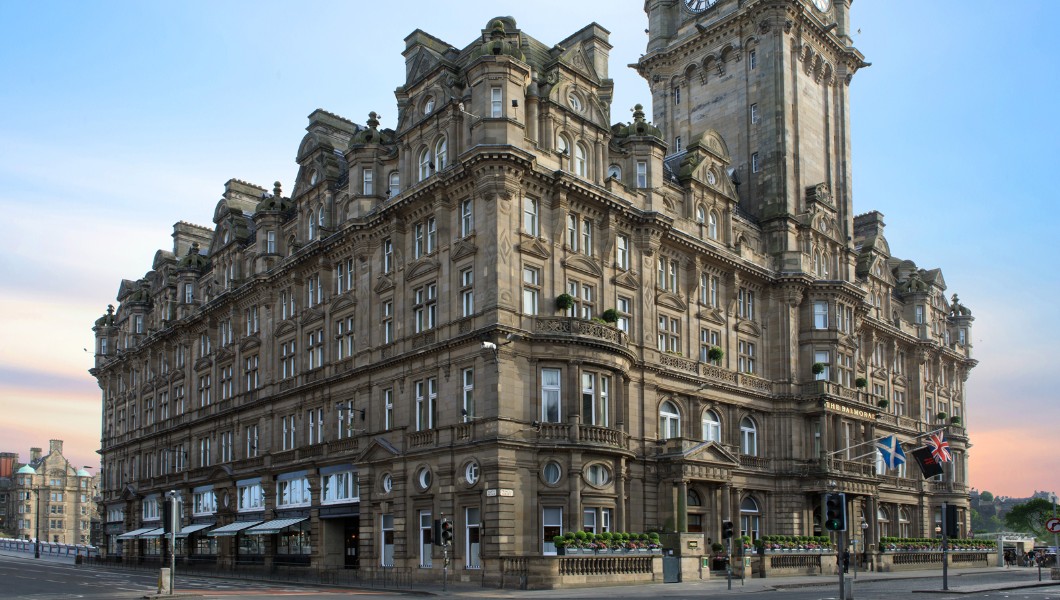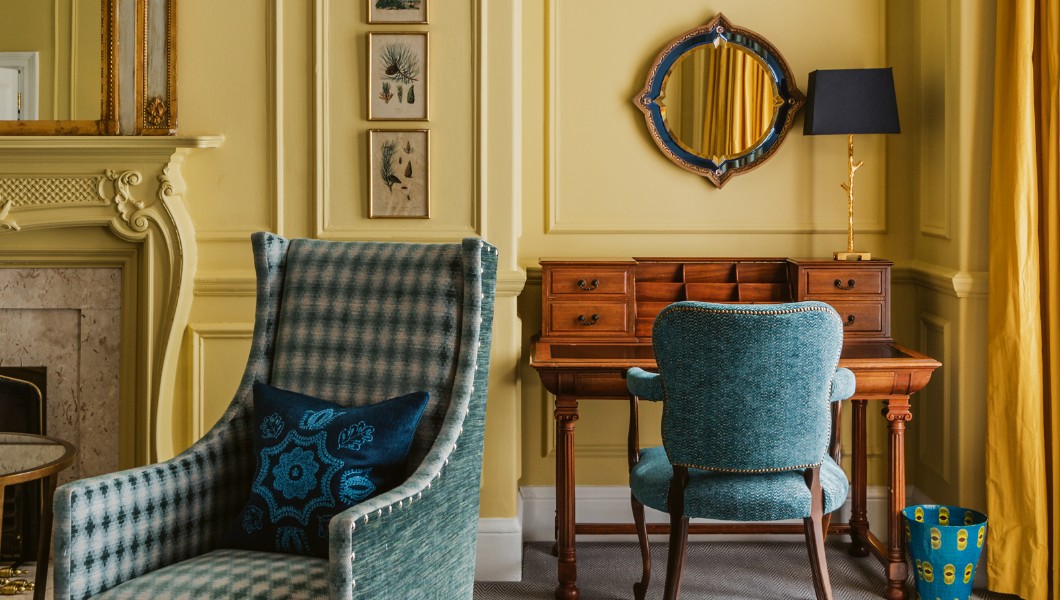 A sumptuous dining room clad in rich, tapestry-style wallpaper welcomes visitors into this presidential abode; soon to be the scene of long, languorous breakfasts set to the backdrop of brooding skies above the castle. Entitled Devonshire Swans, this custom-made wall covering by Watts of Westminster puts one immediately in the mood of a grand country palace or a royal museum; a fitting introduction to this opulent suite. Next door, double-height ceilings with elaborate cornices tower above the main living room, dressed in duck egg blue walls and complementary soft furnishings selected by Rocco Forte Hotels director of design Olga Polizzi – Sir Rocco's sister – whose discerning touch and attentive eye are evident in each of the group's hotels. Mild August weather means there's no need to light a fire in the rather magnificent fireplace during my stay, but a handsome collection of art – Hermès scarf prints that Polizzi bought at the Battersea Art Fair and had framed in Edinburgh – and hardback books on Scottish heritage are sufficient to keep me ensconced in the emerald green brushed velvet armchairs long enough to soak in the regal splendour of the suite.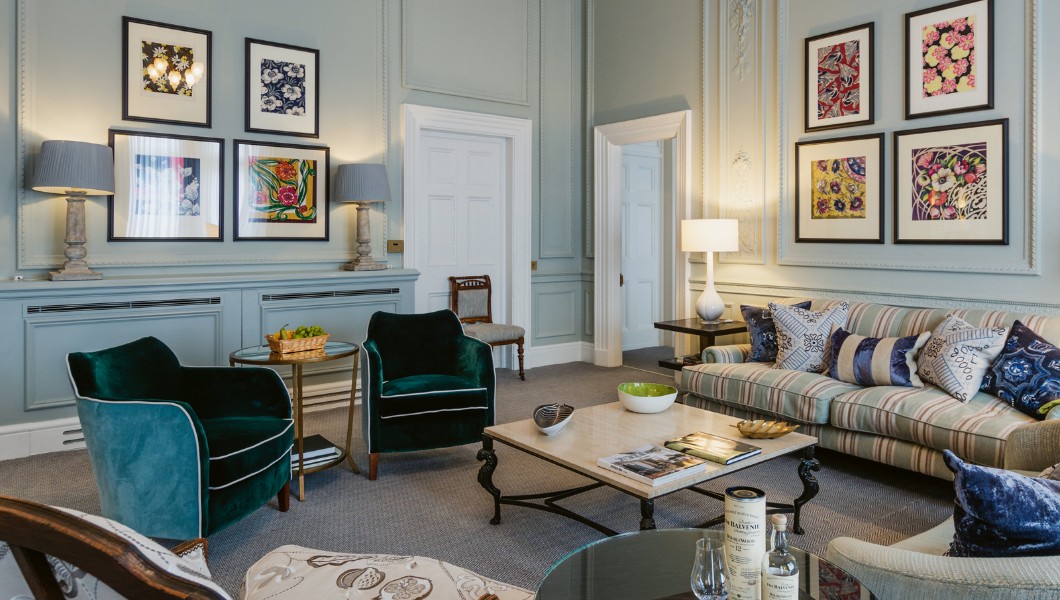 Delving deeper into this lavish abode, one arrives at the master bedroom, where mustard yellow walls frame two windows through which the occasional burst of sunlight pours in. A lavish bed takes centre stage, with colourful embroidered bedding and headboard by Royal Warrant holder GP & J Baker, and a pair of straight-backed armchairs reupholstered in teal and blue patterned fabric by Colefax & Fowler sit in front of another open fireplace. Prints depicting the natural world surround a gilded mirror above the fireplace, and a snug writing desk provides the perfect spot to catch up on postcards when the weather turns foul, which it inevitably will on a typical trip to Edinburgh.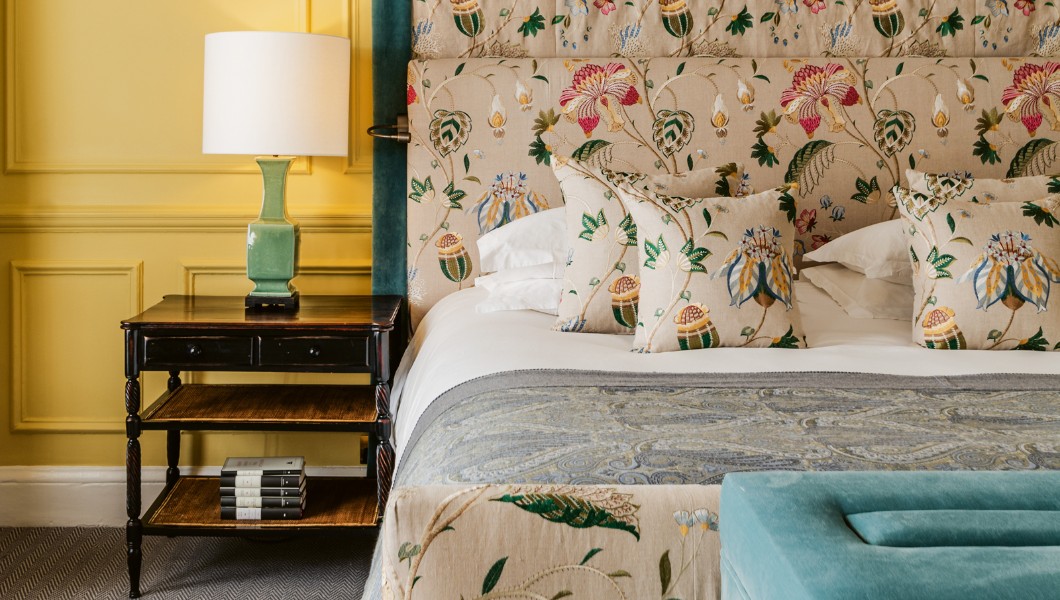 An enormous bathroom bathed in generous quantities of Italian mosaic and marble, with 
a freestanding bathtub and Asprey and Irene Forte Skincare products, completes the suite's collection of formal rooms, though the walk-in wardrobe would count as a room in its own right in a lesser setting. The suite can be extended to include two further bedrooms, one at either end, to create a mighty three-bedroom apartment. But at 120 square metres, it is already the largest one-bedroom abode in Edinburgh.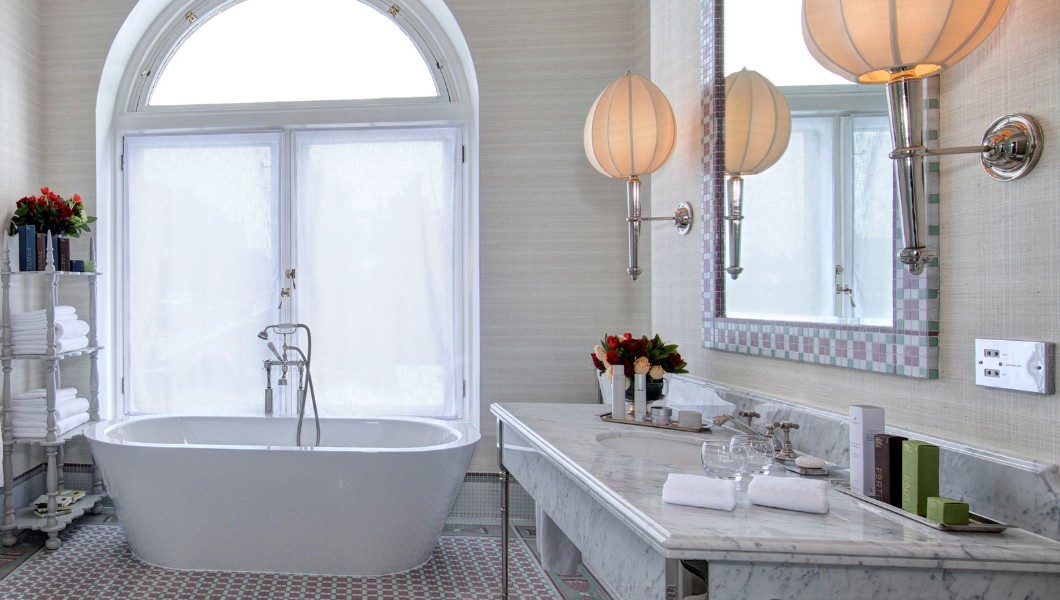 In a hotel like The Balmoral, which means 'majestic dwelling' in Gaelic, it's not just the hardware that makes an impression. The concierge team, smartly dressed in green and purple Balmoral Hotel Tartan – reflecting the heather and gorse of the Scottish countryside – and Hamilton and Inches cufflinks, have ways of opening doors that appear inaccessible to mere mortals. Though tickets to Edinburgh Castle are long sold out when I check-in (visitor numbers have been curbed for social distancing purposes) it takes the team no more than a couple of minutes to produce a ticket and secure me a spot for the following morning.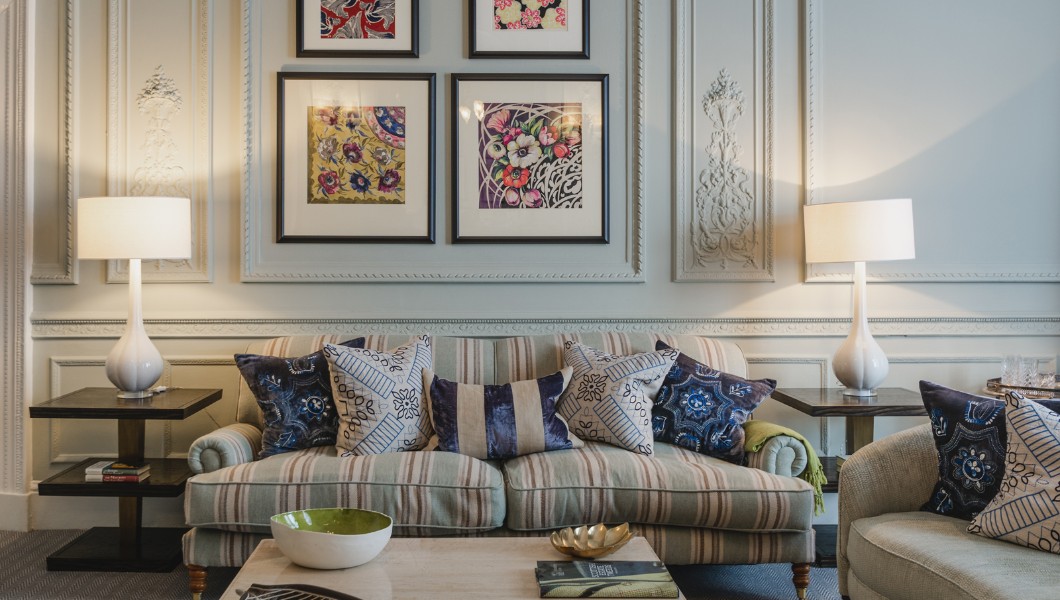 Not that I would encourage anyone to leave this exceedingly comfortable property. Lunchtimes can be whiled away savouring the modern French fare made with Scottish produce at Brasserie Prince, redesigned in partnership with Swedish interior architect Martin Brudnizki in 2018. Overindulgence can be offset with a brisk walk up Calton Hill, which rises up from street level via 
a steep flight of steps a few hundred metres from the hotel entrance, or a more strenuous climb up nearby Arthur's Seat, the remains of an ancient volcano that looms over the city. Come evening, head chef Mark Donald wows diners with modern Scottish fare in Michelin-starred restaurant Number One, and there are more than 500 labels available at Scotch, the hotel's snug whisky bar, where guests and locals alike gather to enjoy a wee dram of Scotland's finest export.
The Scone & Crombie Suite is 
a tribute to Scottish craftsmanship and tradition, but also an homage to the wild landscape that makes Scotland unique. The interplay of lavish furnishings, rich fabrics 
and natural motifs come together to make it a quintessentially Scottish abode, with roots planted firmly 
in its hometown of Edinburgh.
Stay:
What: Scone & Crombie Suite
Where: The Balmoral, A Rocco Forte Hotel
TEL: +44 131 556 2414