The beauty of the Mandarin Oriental Jumeira lies in its unassuming location on Jumeirah Beach Road. The six-floor property gently towers over its neighbours, 
a smattering of low-rise business and villas, complimenting Jumeirah 1's whitewash exteriors and subtle lines.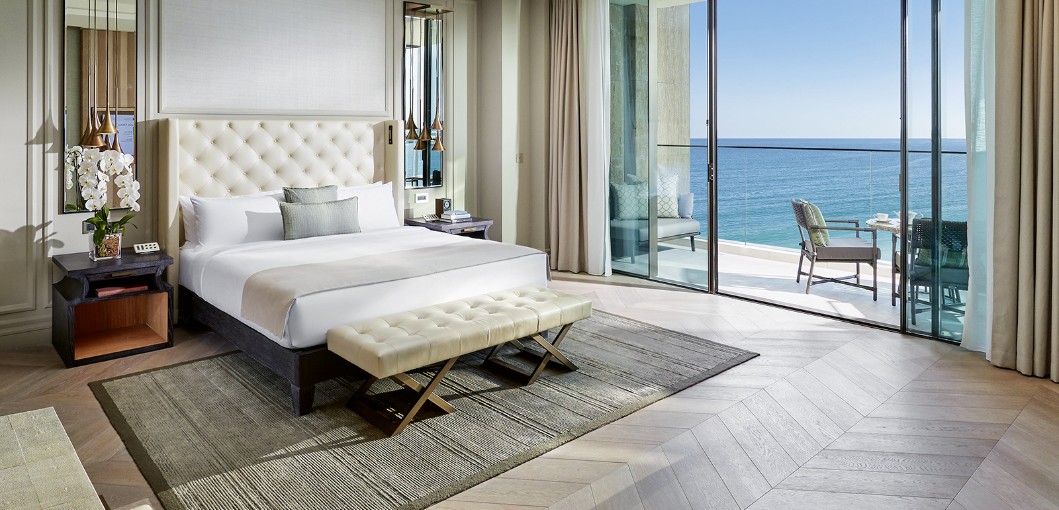 Designed by Jeffrey Wilkes, the property presents an elegant contour that sighs gracefully on arrival. There's no gilded exterior or overtly gaudy façade, just an air of elegance in its chic, understated white exterior.
The lobby, however, is something else entirely. An orchard of illuminated trees invites your arrival, the arbor alive with leaves that dance like fireflies and reflect the sea beyond – 
a showstopping welcome that is utterly mesmerising.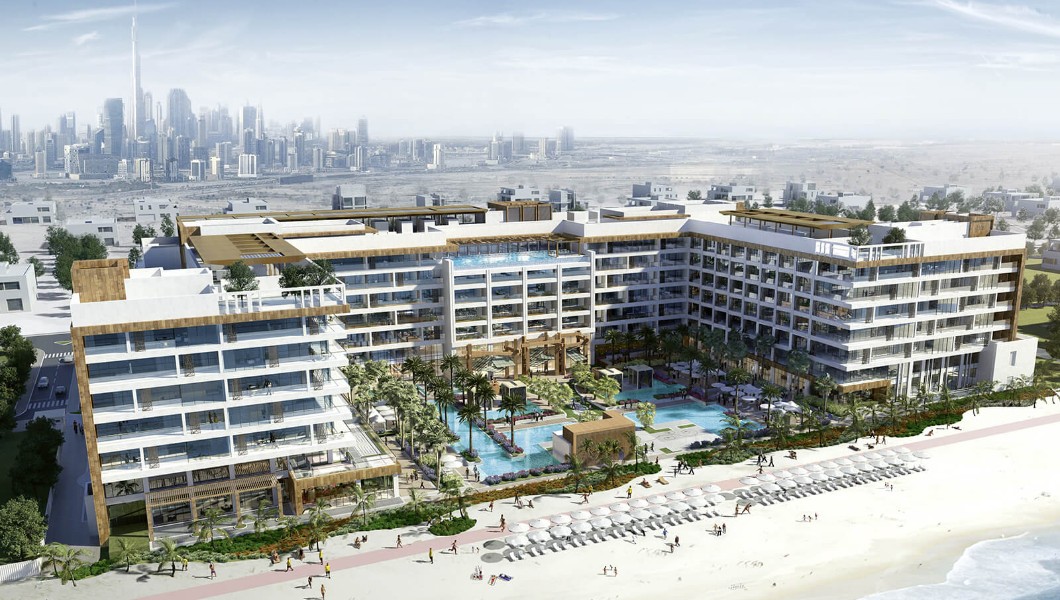 My Premiere Sea View Suite on the fifth floor meets somewhere in the middle – understated with whispers of luxury, oozing elegance and considered luxury. 1,292 square-feet of contemporary, capacious living space, the suite feels both airy and cosy at once, with light filtering in from floor-to-ceiling windows. Its thoughtful, uncluttered design emphasis the sheer size of the suite, and allows the well-appointed design elements in each room to remain a focal point: a beautiful cerulean mother-of-pearl inlaid drinks cabinet, a nest of marble-topped coffee tables, 
a lavish king-size bed with leather tufted headboard, and a vanity desk with a mirror that stretches to both ceiling and floor. The herringbone light-wood flooring intertwines the living room and bedroom, with an uninterrupted flow that enhances the space, divided only by a sliding partition between both rooms. With sunlight bouncing off each mirrored side, the partition is a clever design element that doesn't feel intrusive.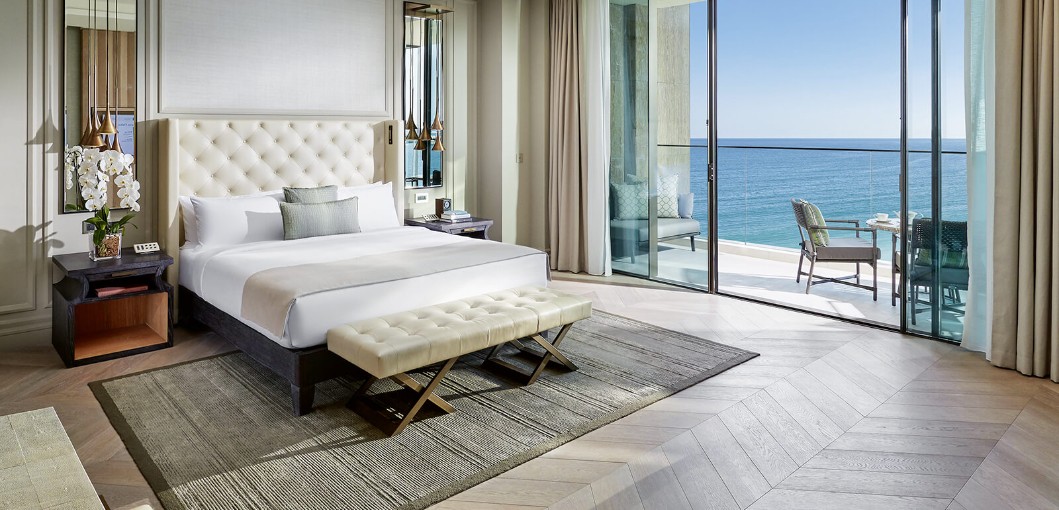 The balcony comes in two parts; a wider one accessed from the living room, where a daybed surveys 180-degree views of the Arabian Gulf; the second a more intimate space off the bedroom set with a table and chairs, that conjures up romantic ideas of a first morning coffee, 
or a late afternoon aperitif.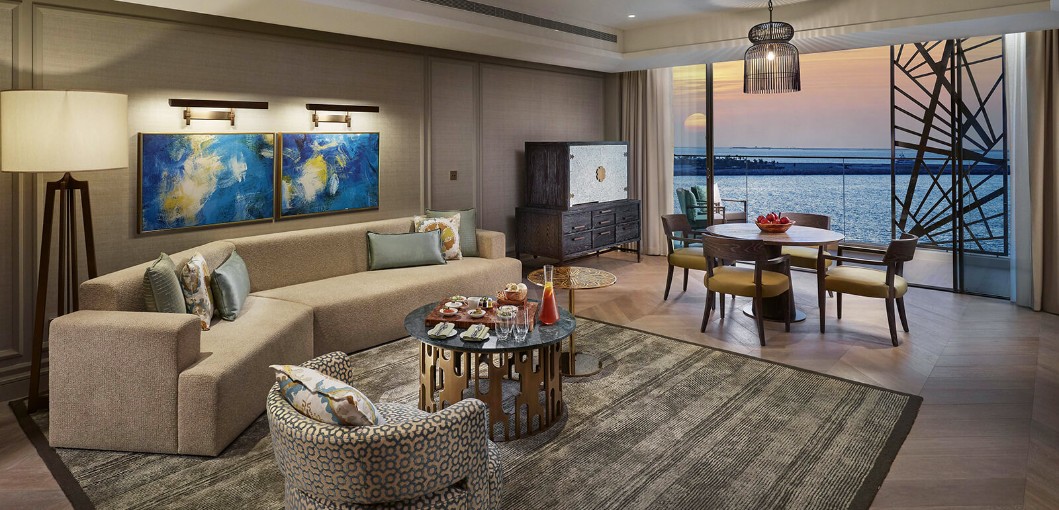 Back inside, and the contemporary design takes on a new life as the sun settles beyond the horizon, with the suite's mood lighting bouncing off the neutral colour scheme to a create an altogether serene ambience.
The bathroom, with its floor-to-ceiling white and grey marble tiles and green onyx Jack 'n' Jill sink countertops, also comes alive after dark, where 
a grand oval standalone tub invites long, leisurely bathtimes, made all the more divine with Natura Bisse's orange and tangerine products. The huge rain shower, with its separate marble-clad cubicle demands anything other than a quick ablution.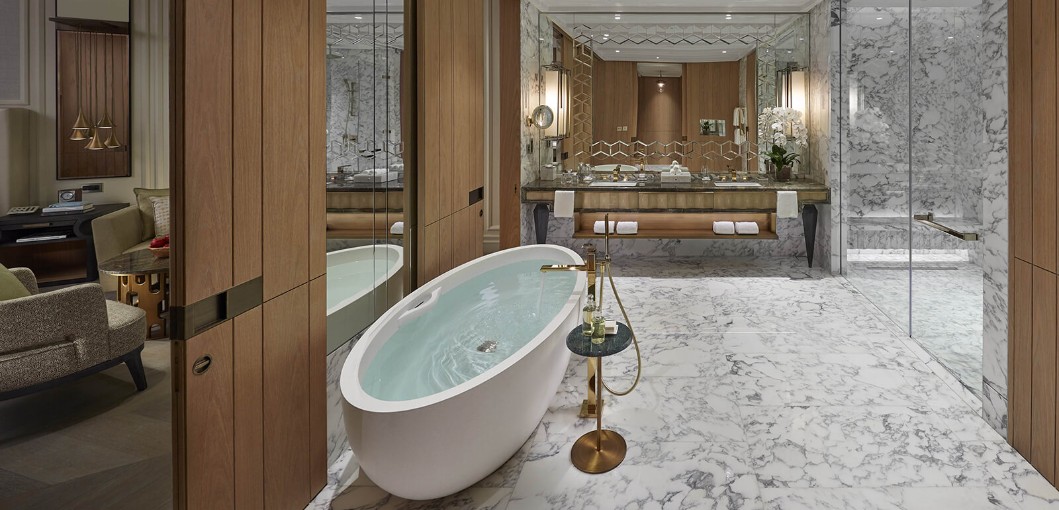 The suite's dressing room also enjoys more space than most. Divided into two sides, one is reserved for hanging long coats and gowns, and the other for suitcases, neatly unpacking clothes, and stowing away valuables. What I love here, is that the dressing room is accessed from both the bathroom and livingroom, ensuring easy access for all guests, and the fact that the lights are motion activated, 
so turn on – and off – when you enter, doing their bit to conserve energy. Another conscious touch is that the room is devoid of any plastic water bottles, replaced by complimentary glass Evian bottles instead.
Viewed from the hotel balcony, the pool does its best to beckon me, and an idle afternoon spent languishing in its shallows is made all the more tranquil thanks to the pool's state-of-the-art under-water music system, that gently infuses soothing tracks into your underwater world. 
It's a unique touch that few hotels offer, and it really elevates the pool experience. Continuing to go the further mile, my afternoon is only interrupted by a gentleman offering me ice-cold towels, refreshing watermelon kebabs and the opportunity to have my sunglasses cleaned – interruptions I welcome.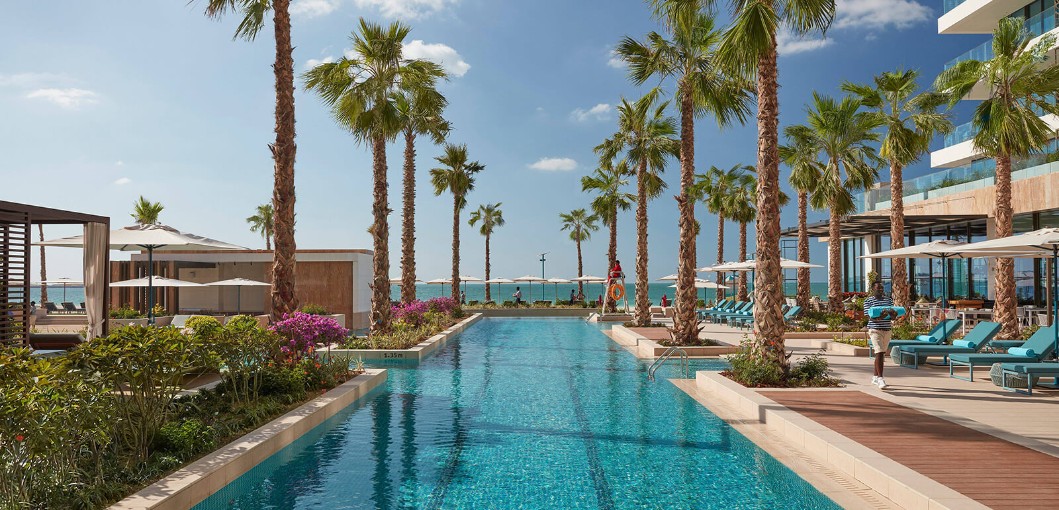 The beautiful relaxed pool ambience is only trumped at the Spa at Mandarin Oriental, a duplex, cocooned sanctuary that immediately envelops you in its holistic hands. Blending Oriental heritage with Arabian influences, an hour or two here is truly blissful – escapism for mind, body and soul. With curved, undulating walls and ceilings throughout the spa that pay homage to the region's rolling dunes, it's also an elegant ode to the Middle East.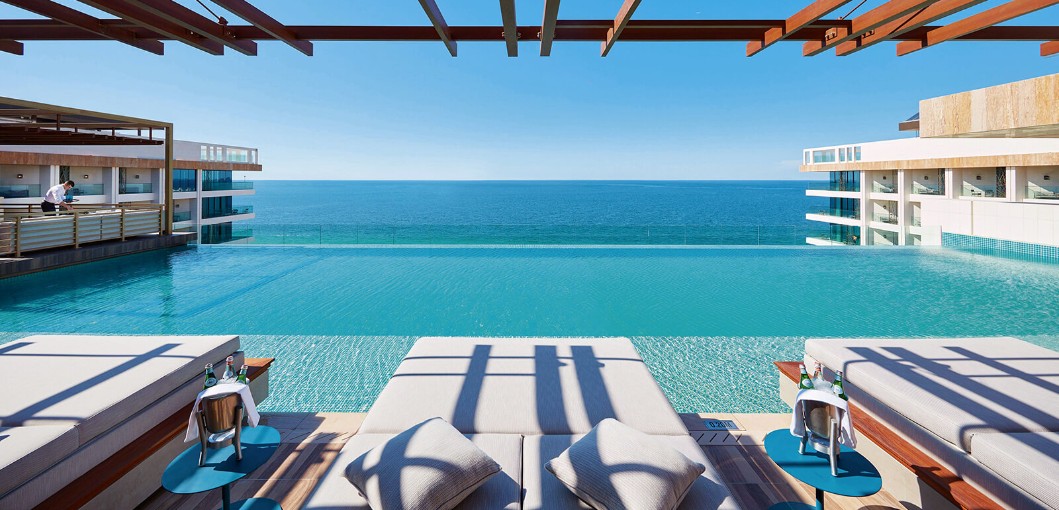 The hotel is renowned for its restaurant offerings, with the rooftop Portuguese restaurant, Tasca by José Avillez, favoured for a menu that bursts with flavour and character. But when dinner calls, my night is spent at Netsu, a Japanese Steakhouse by acclaimed chef Ross Shonhan. Indoors the vibe is lively, but outside on the terrace, with its views of the gardens and trickling water features, it's an altogether more serene story. We feast on miso eggplant, sashimi, cauliflower tempura, Warayaki-style steak and tiger prawn toban. It is a divine menu served in a stunning setting under the stars that mirrors the hotel's beautiful laid-back ambience.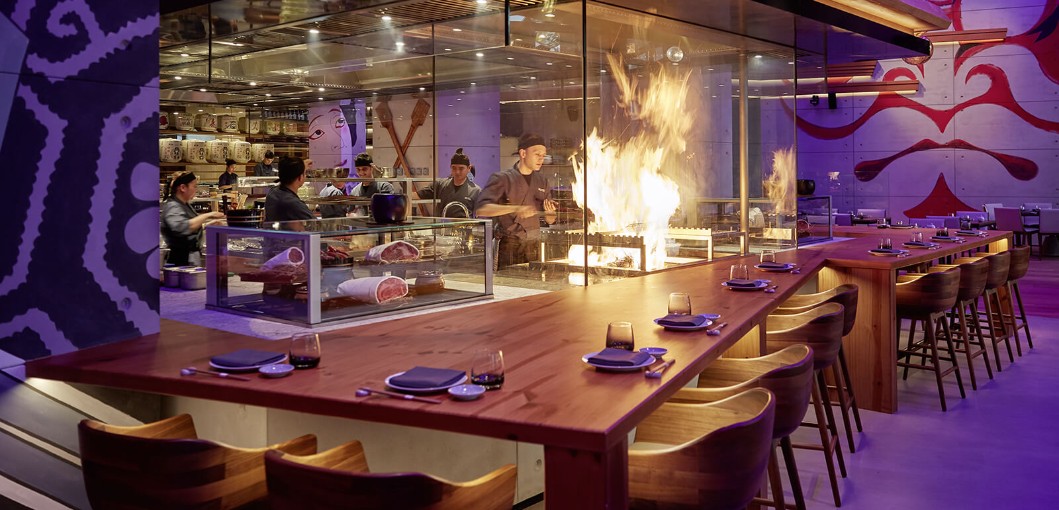 Once back in my suite, I'm almost loathe to turn off the lights, as I wish the day would last a little longer. A stay here ticks so many boxes that while 
I hate to leave, I know I will be back – very soon.
Stay:
WHAT: Premiere Sea View Suite
WHERE: Mandarin Oriental Jumeira, Dubai
TEL: +971 4 777 2222