Master planned by Solidere International and the Government of Ajman, Al Zorah is an area of the UAE to watch – very closely at that. There's already a Nicklaus Design championship 18-hole golf course – the undulating fairways reminiscent of Scotland – with luxury residential projects taking shape, a marina, all surrounded by one million square metres of natural mangrove wetlands home to around 60 species of birds. But of most interest to luxury travellers is the new The Oberoi Beach Resort, Al Zorah.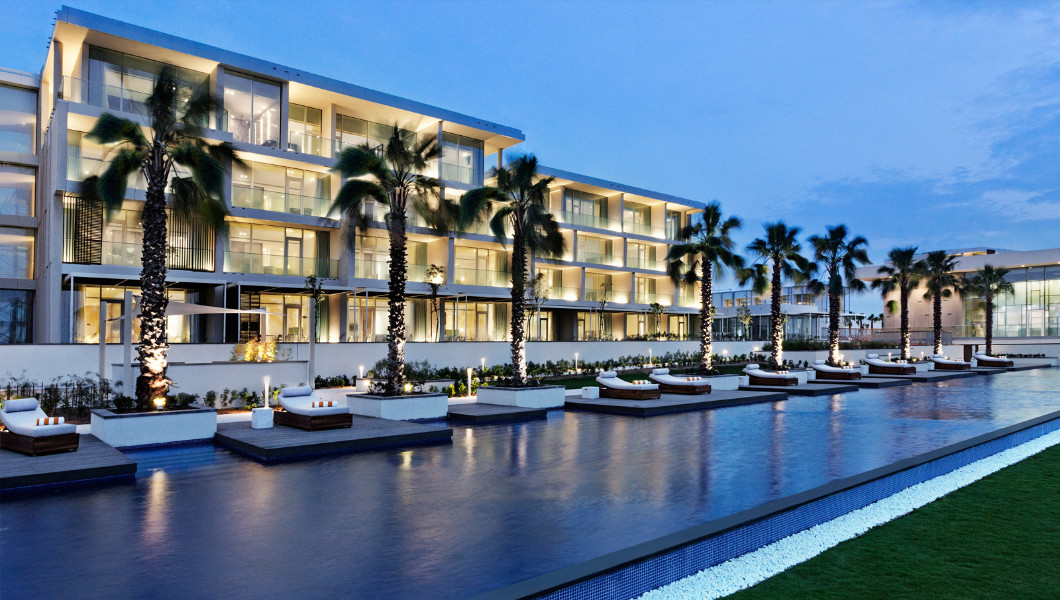 Milan-based architect and designer Piero Lissoni was behind the design and his skills are on show at the main entrance, which has a contemporary aesthetic with light-filled separate buildings, inner courtyards and walkways that lead across shallow water pools to Vinesse, the main restaurant. It melds Japanese serenity and Palm Springs chic with Indian touches – mostly in the form of antique furnishings and artworks – in the lobby.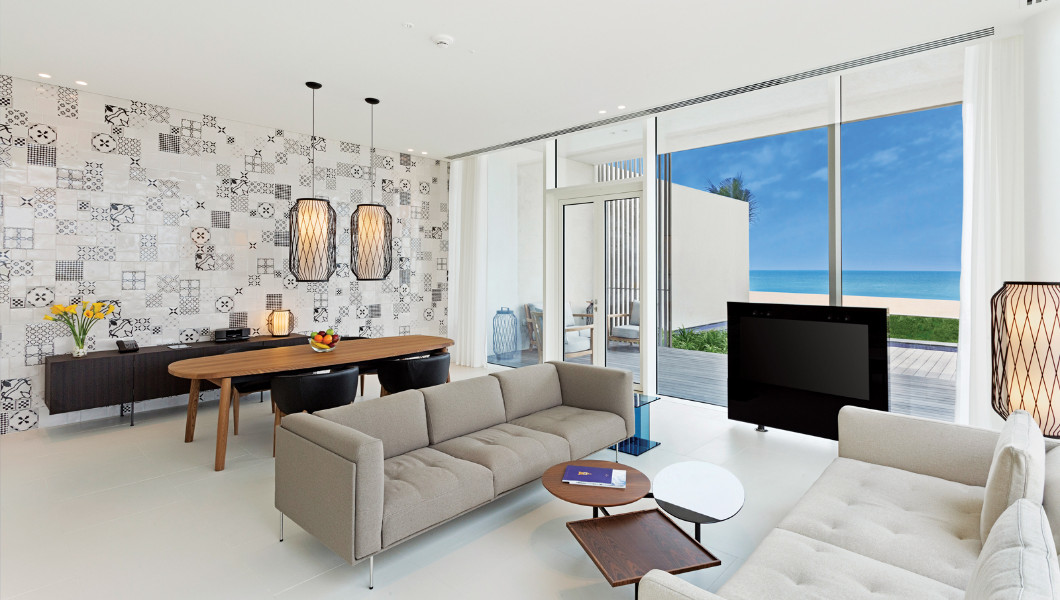 Designed to make the most of the long stretch of near-deserted beachfront – the views unsullied by construction – the resort has a modern aesthetic. Seaview suites face the ocean on the elevated portion, while one-, two- and three-bedroom villas line the beachfront, some with temperature-controlled swimming pools and direct beach access. There's a 24-hour gym and a separate yoga shala for complimentary classes in the morning, but the resort's pièce de résistance is the pool. At 80 metres, it's more than decent to do laps in, with plenty of sun loungers for read-by-the-pool afternoons.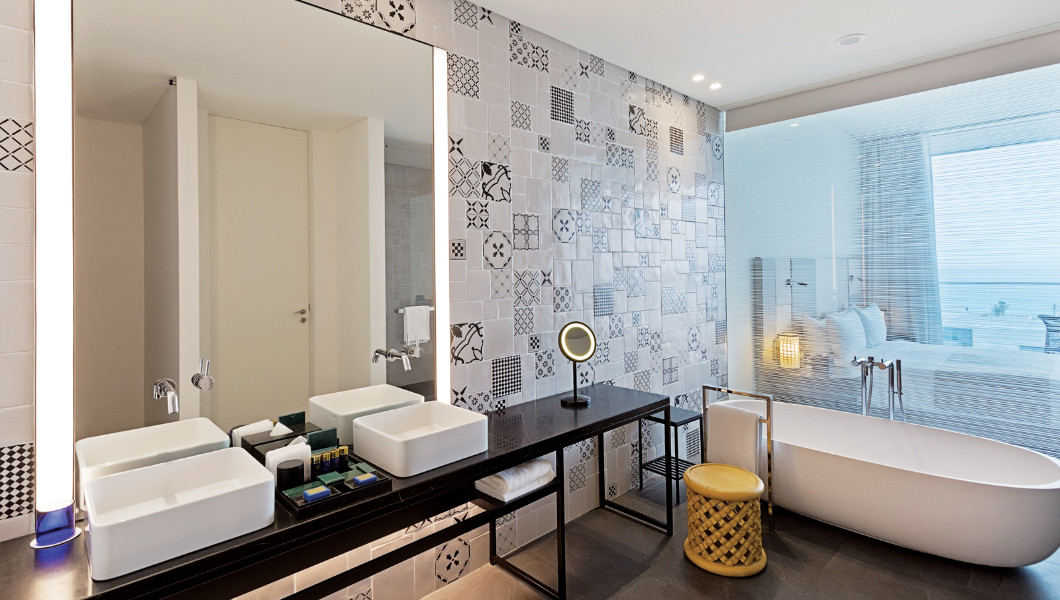 The size of the pool might be considerable, but the enormity of my three-bedroom villa becomes clear when I forget which room I left my sunglasses in and it takes me a good half hour to find them. It doesn't matter, for I enjoy wandering through the sleek, mid-century modern design, with black-and-white patterned tiles on the walls, textured rugs and artfully placed coffee-table books: think The Monocle Guide to Better Living and photography collections by Steve McCurry. All rooms and suites have Wi-Fi and an Oberoi Enhance system, with which you can enable entertainment and order in-room dining.
The dining table in my villa would be a nice setup for an evening meal, as would the table out by the pool, and Oberoi is happy to oblige guests with a private in-room dining service, though there's no shortage of snack potential in the minibars – there's one in each room, in case you wondered – which are filled to the brim with juices, natural crisps, jars of m&ms and even underwater cameras.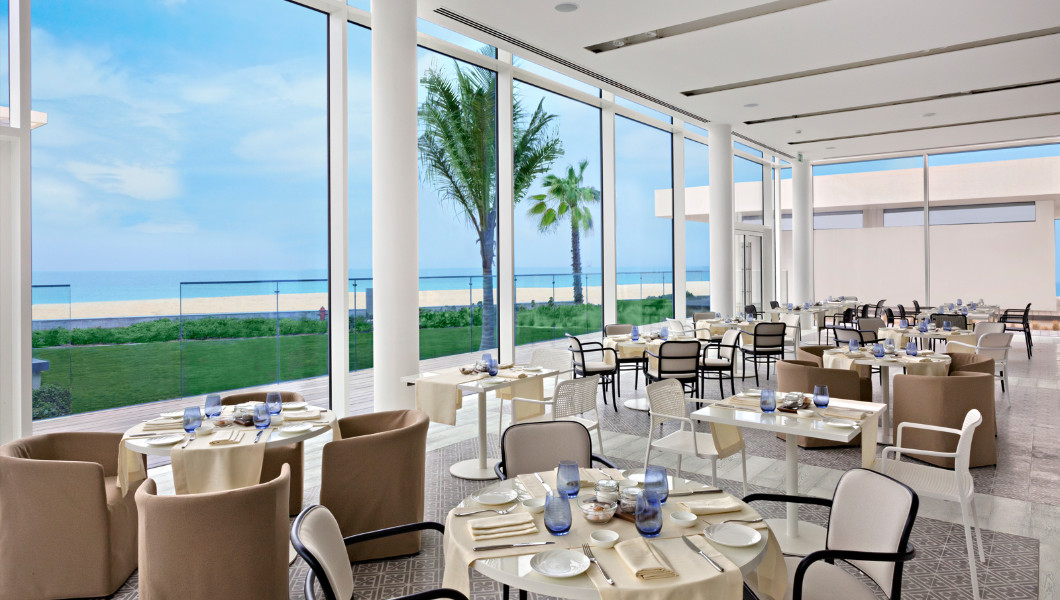 For meals, beachfront grill restaurant Acquario serves fresh seafood from a menu laden with items like ceviche, Canadian lobster, sesame-crusted tuna or black tiger prawns with the option of marinades, from gremolata to ginger basil, and nutrient-rich salads. Breakfast is served at Vinesse, both a buffet and à la carte, from waffle lollipops and pancakes with fruit compote to bircher muesli and cold meats. When the weather is cooler, the plum seating is outside on the terrace, with a view of the Gulf alongside the rippled infinity pool. At lunch and in the evening, Vinesse offers decadent, seven-course tasting menus curated by chef Vishal Khulbe (who was an apprentice at El Bulli before rising to the top role at Oberoi Dubai). Or, diners can order western classics like Angus beef sliders served with slaw and salad, beef brisket and range of pastas.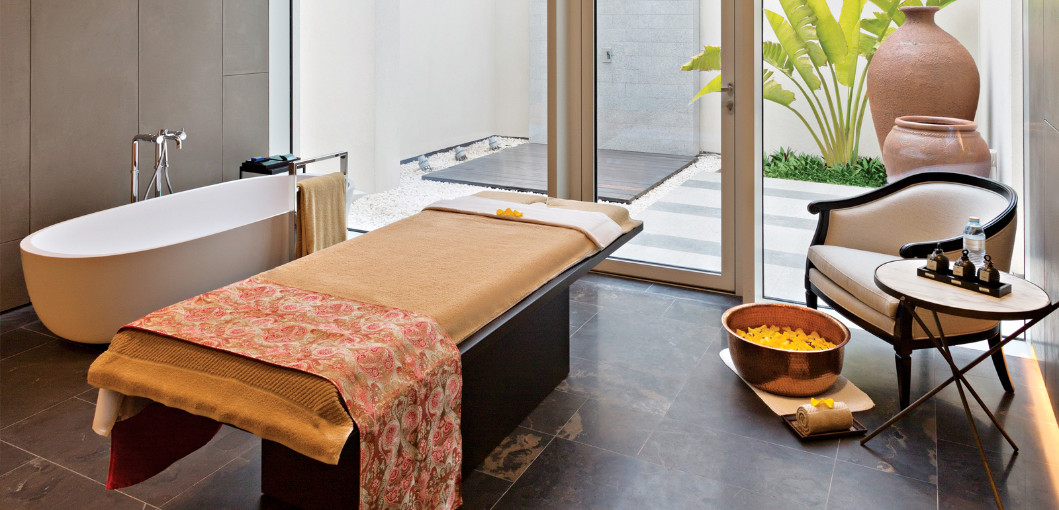 In the soft-opening phase, it's only reasonable to experience some faults that should iron out with time, from a requested New York Times paper delivery that never appeared to slight confusion regarding menus and even a forgotten order here and there. For a resort of this size and grandeur, it's to be expected, though I have zero complaints with my treatment at Sensio Spa by the Oberoi. There were only a handful of massages on offer at the time of my visit (Balinese, Swedish, Spa Aroma or the Oberoi signature), but Spa Aroma is outstanding, beginning with a consultation with therapist Rebecca, and continuing with the inhalation of essential oils and a marvellous head and neck massage.
The spa-treatment suites are calming spaces with high ceilings and private bathrooms with patterned Oberoi robes and amenities, and tranquil courtyards. Soon, the spa will offer a full array of facials, Ayurvedic treatments and even a hammam.
In summary, there's plenty to tempt at Oberoi – and plenty to tempt a return once it finds its groove.
---
The important bit:
WHAT: Three Bedroom Pool Villa
WHERE:The Oberoi Beach Resort, Al Zorah

PRICE: From AED5,500++ (US$1,498) per night
TEL: +971 6 504 4888