Welcome, dear readers, to the in-depth review of an Aston Martin that we promised you at the tail end of last year. I'd also like to apologise that it's not the car that you voted to read about. The DBS Superlegara won the Facebook vote. Aston Martin doesn't actually have one available till later this year – but we promise to get the review to you as soon as we can.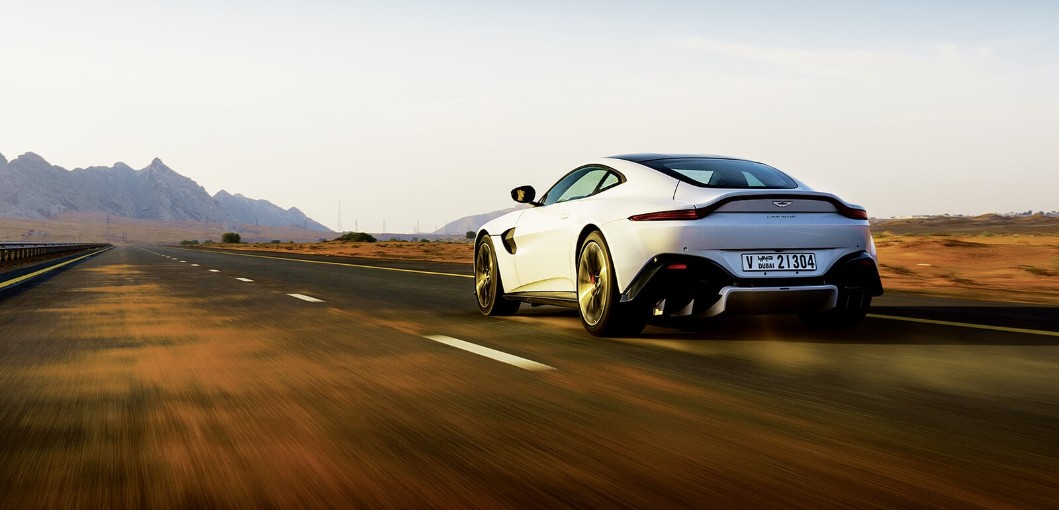 For now, if you're in the market for a new two-seater sports car and are considering a Porsche 911, maybe I could tempt you to have a look at the latest Aston Martin Vantage.
Let us begin with the Aston exterior. I think you'll agree the design team has another winner on their hands. The rear of this car is one of the best I've seen. That large rear diffuser looks fantastic and with the body styling over and around the rear wheels, it look like this Aston has been lifting some big weights at the gym. The grunt from the exhausts match the muscular look, but I'll talk more about that later.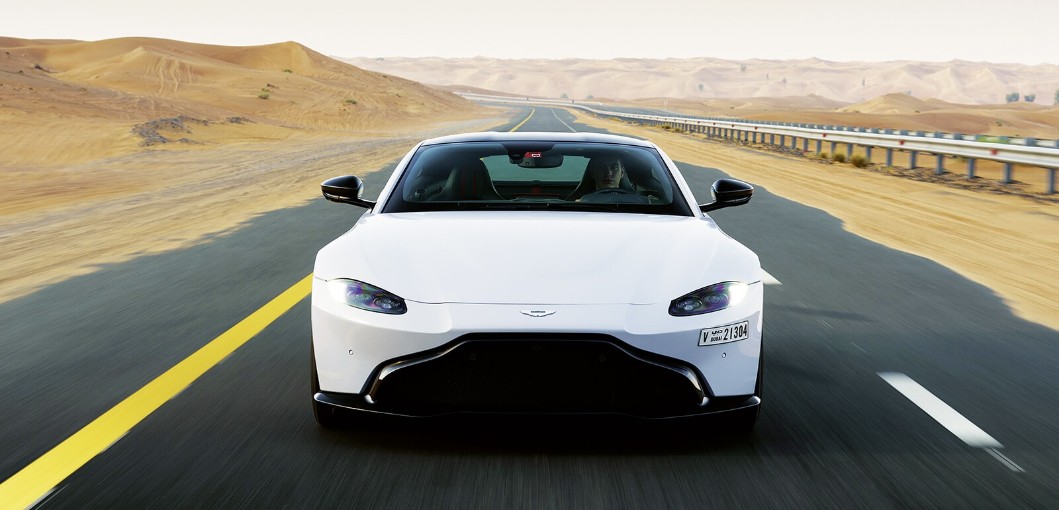 This car is a head turner. After having the honour of driving it around over the course of a weekend, I found myself appearing in far more photos of the Vantage than I anticipated (simply by being in the driver's seat). People even pulled over and got out of their cars to come and have a closer look as I was getting in. Yes, this car really is that attractive in the flesh. Adults want one and children want their photo taken with (or preferably in) it.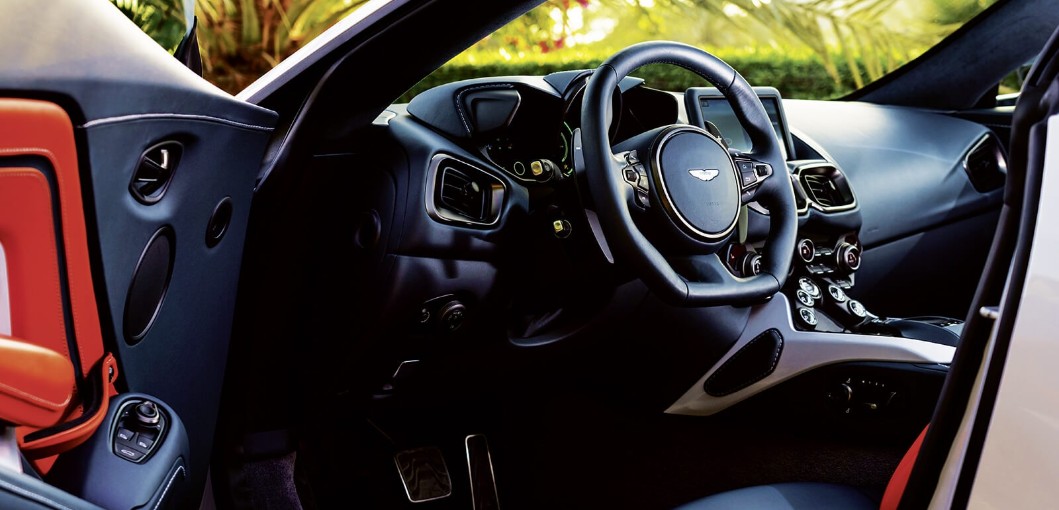 The car looks incredible from almost every angle. Personally I'm not a huge fan of the tiny headlights. They say this is the 'baby' of the current Aston range, but did it really need such tiny 'eyes'? The headlights remind me a bit of the Mazda MX5, which suit that car since it's a very small model. If now every time you look at the new Vantage all you can see is an MX5, I apologise. It's by no means a deal breaker for me. All the other stylings more than make up for the headlight issue. Even if you don't enjoy driving this car, just looking at it parked on your driveway would bring a smile to your face.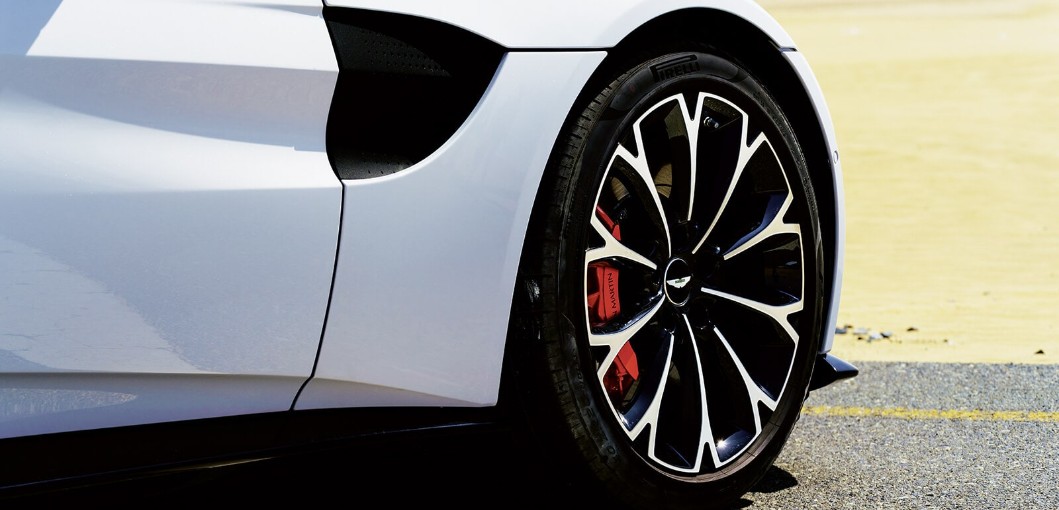 However, if you don't enjoy driving this car then I'd be hard pushed to find a car that you would enjoy driving. It may not be suitable as your daily driver needs since it only has two seats. But this car is a great drive.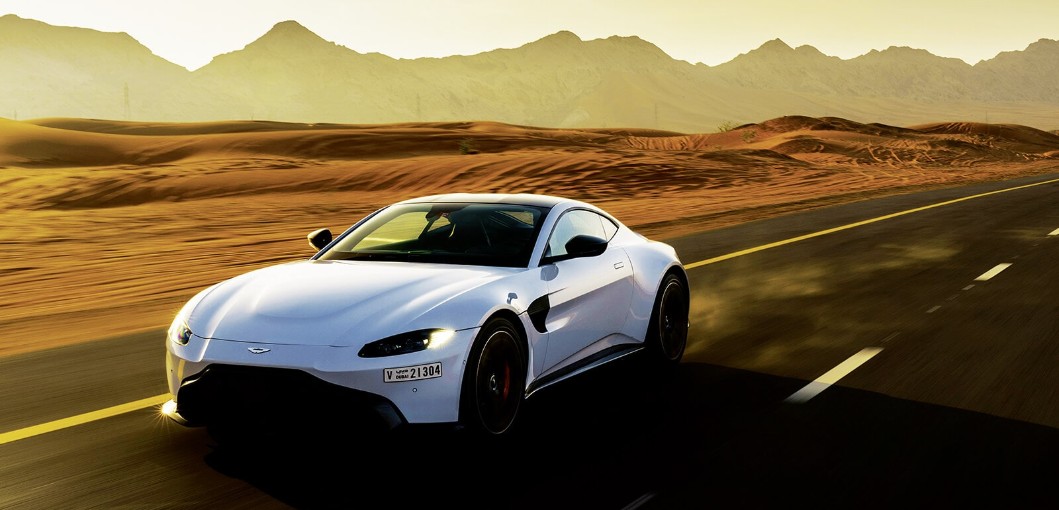 The German-built, English-inspected 4.0-litre twin turbo (AMG) V8 engine puts out around 500 horses and will get you from 0-100km/h in around 3.6 seconds. You can find this engine inside Mercedes AMG cars. It's shipped over to the UK where a clever man at Aston Martin makes sure it's good enough for the Vantage and puts his name on it to assure everyone this engine is good enough. Aston Martin say they tune the engine to give it a unique Aston sound and I do hear a subtle difference. A Mercedes AMG has a deeper burble, but either way, this car sounds great.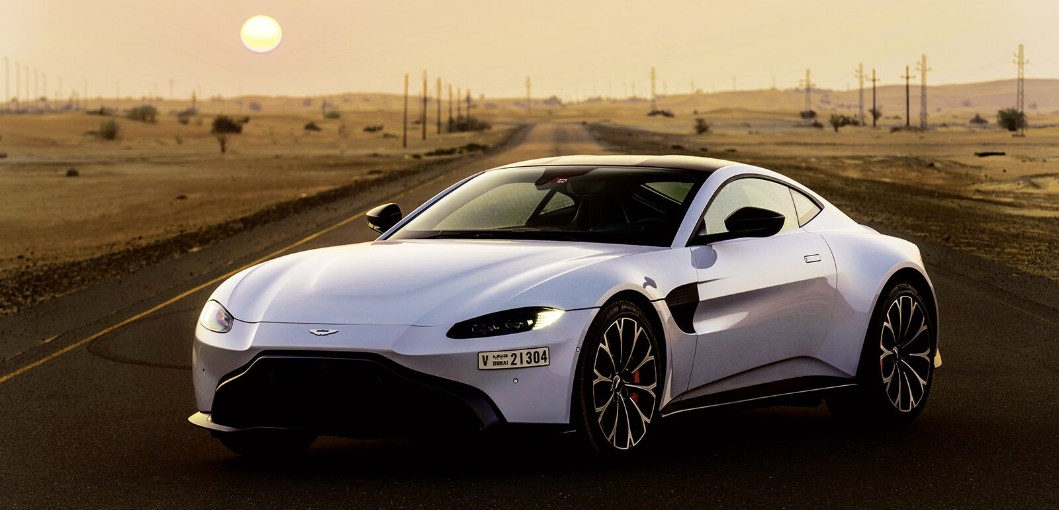 This beautiful engine is mounted in the front of the Vantage while the drivetrain and gear box are all at the back, which helps give this car such fantastic balance. While cornering, the balance reminded me of a Ferrari 488GTB and the car is more than happy to play when you want to. The weight distribution and steering is just sublime. At no point do you feel any part of the car is getting away from you. If you're a driver that has a little hooligan hidden within, or a precision Sunday driver, this Vantage performs excellently for either style. The steering feels great even though I'm not a fan of the square steering wheel, and the gear changes from the eight-speed gear box are exquisite.
At the moment, if I had the money for a new high-end two-seater sports car and was considering this or a Porsche 911 (similarly priced) I think the Aston would be winning. Inside, the Aston is where this car falls a little short. I'm not saying it's horrific but just keep your eyes on the road while driving, because inside the car may cause offence. At the end of the day this is an Aston Martin and their worst interior is still going to be 'nice'. If you've already looked into a few reviews of this car you'll hear Alcantara mentioned. There is a bit too much of it inside this Aston.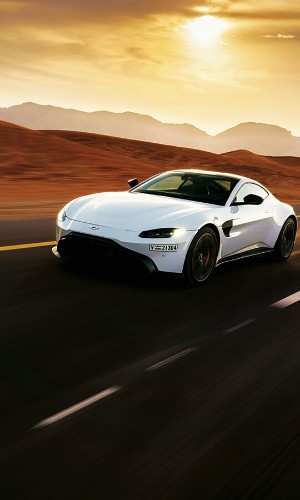 Another small gripe; as with previous Astons that feature the Mercedes infotainment system, I don't like the large touchpad covering the jog dial. The touch pad isn't that innovative or cool these days and just gets in the way. As I mentioned earlier I'm not a fan of the square steering wheel and having the volume control as a dial on the left side was problematic for me. I wouldn't say I have overly large hands, but far too often, while parking or manoeuvring, my palm would catch the volume dial and I'd end up with no music or it being so loud my ears are close to bleeding.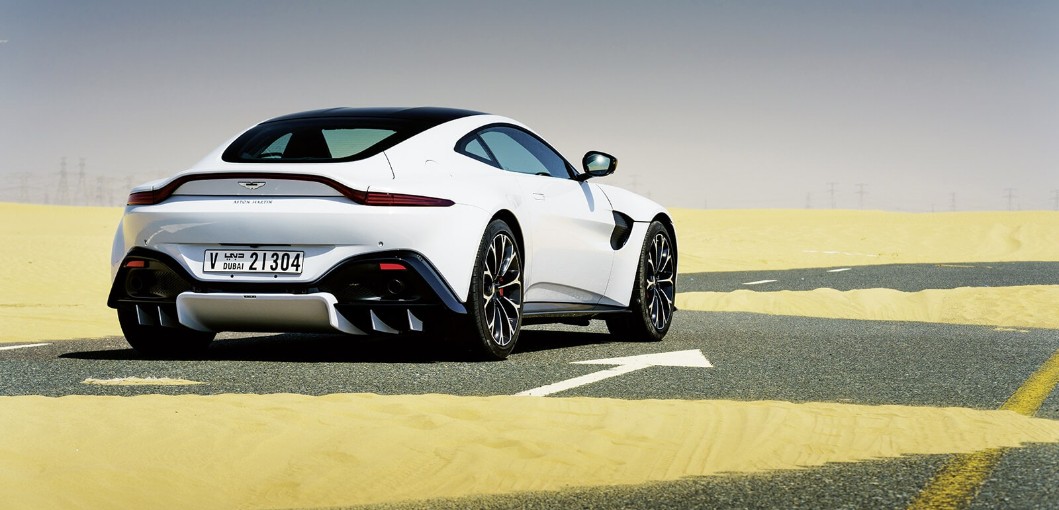 It's not all doom and gloom inside the Vantage, however. The infotainment system may be Mercedes' last gen tech, but the speakers hooked up to it are great and there is a new layout inside. Previous models all had a very familiar look. While all the buttons may not to be to everyones liking I found the styling very appealing and sporty and the seats are comfortable and hug you like a sports seat should. There's plenty of headroom and enough space behind you to put some shopping or a small weekend away bag and the boot is actually large enough to fit a suitcase, much to my surprise.
The fact that this Aston Martin Vantage is even being considered as a rival to the Porsche 911 is a credit to the car. If you've are looking for a new sporty number I'd recommend you seriously consider the Vantage.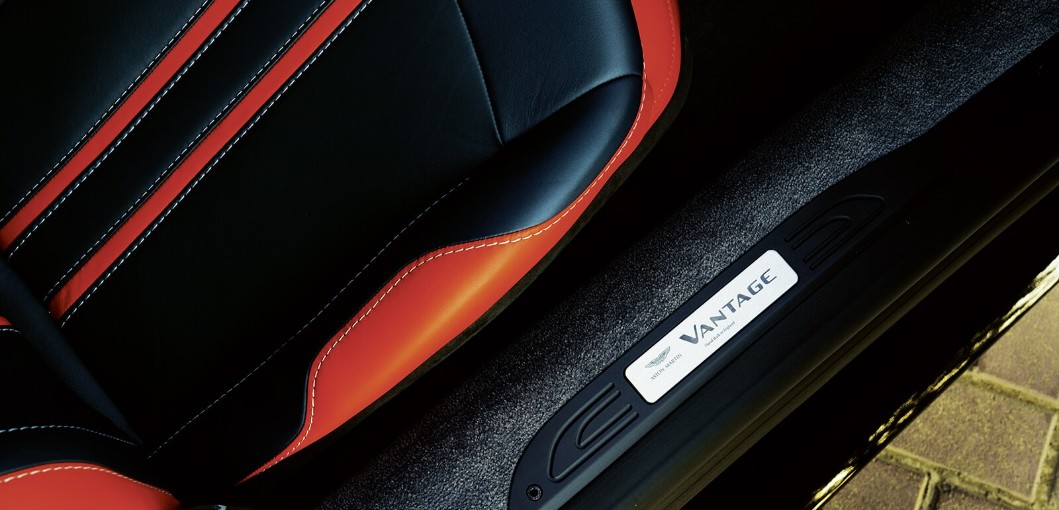 The exterior isn't even a competition for me. A Porsche 911 is a great looking car, it's iconic. But that's also its downfall. There are a lot of Porsches on the road, and when they're flying past at 120km/h a non-car enthusiast would do well to spot the differences. When a Vantage drives past, that rear end is something special to behold. Porsche has spent decades refining its 911 and how it can cope with day to day driving. Call me shallow, but the Aston Martin Vantage's looks win me over. Will the stylings of the Vantage stand the test of time like the Porsche? I think so.
Nuts & Bolts:
Engine 4.0 litre twin turbo V8
Max power: 503BHP
0-100 kph: 3.6 seconds
Top speed: 314 kph
Price: Starting from AED659,000 (US$179,427)