The Cadillac ATS-V puts up some impressive numbers. The twin-turbo V6 pumps out a very respectable 464BHP coupled with 445lb-ft of torque, which will propel you to 100 kph in a shade under four seconds. That V6 will continue pulling you down the road until it maxes out at 304 kph. All that power is kept in check by a fancy racing-derived performance traction management system and some very nice Brembo high-performance brakes.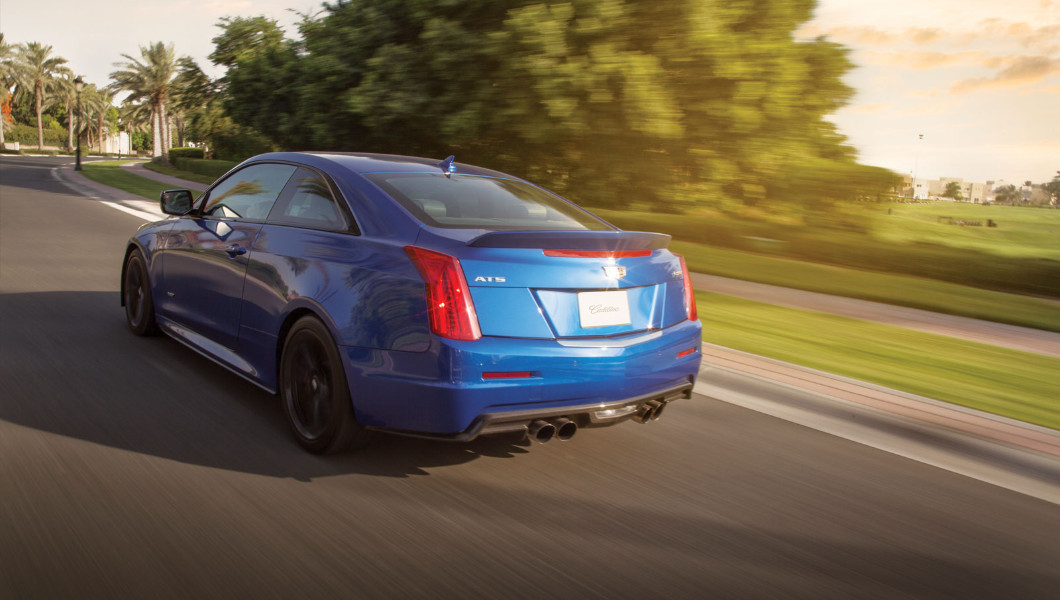 Now I'm sure you're all reading this and thinking, "Yes yes, fantastic stats, looks the bees knees, but in reality it's heavy, sluggish and big, can't do more than 50 kph around a bend without huge body roll or the back end getting very loose." And I can understand why. After all, this car does look big and heavy (but with some seriously aggressive styling). But believe it or not, this is the least "American" American car I've driven. It really does shift when you put your foot down, and it seems to handle any corner or bend I venture around. The quad exhaust at the back gives it a lovely rasp inside the cabin, but for some reason it doesn't seem to translate to passers-by; outside, those large exhausts sound a lot quieter.
The car has multiple modes, all offering slight variances in ride quality and performance as you'd expect from most modern cars, though I spend most of my time in sports mode, and find that power is readily available whenever I need it. I did find the car wasn't too smooth when coming down the gears to a stop, which was less of an issue in comfort mode (though that's nowhere near as much fun to drive).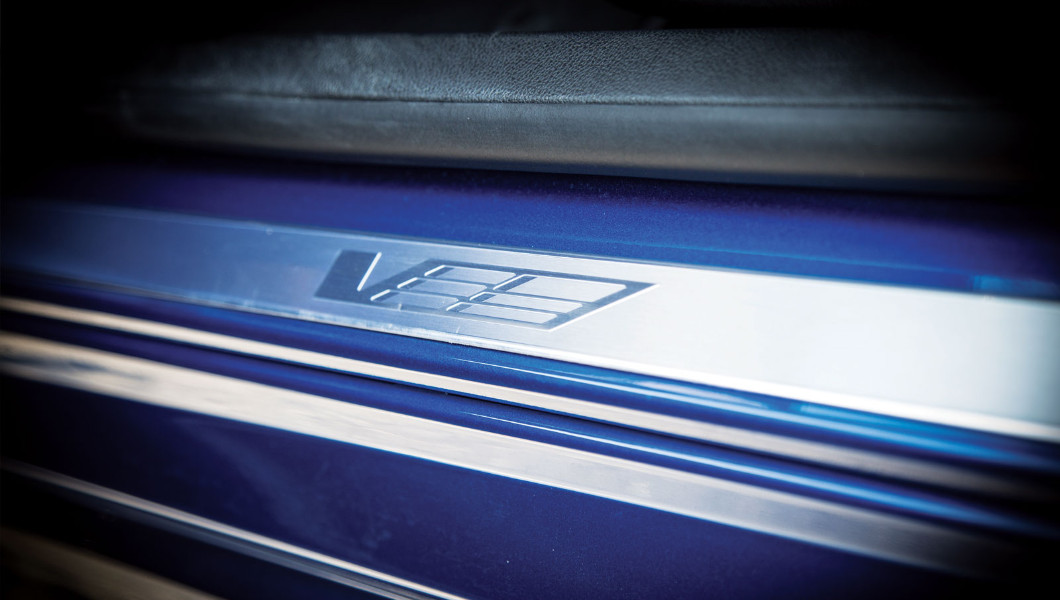 For me, it's inside the cabin where this car really shines. That is, if you can ignore – or get used to – the black plastic, haptic feedback touch central column and the strange choice of gear stick and steering-wheel cover. The rest of the interior is fantastic. The two-tone Recaro leather seats are extremely comfortable – though as they are fully adjustable in 16 ways, I can't see how anyone couldn't be comfortable.

The infotainment system is easy to use, with a responsive touch screen, easy pairing of media devices and a nice-looking sat nav. For the gadget geek, the Cadillac AST-V has a wealth of bells and whistles to enjoy. The elegant dash has a multi-functional digital segment that is fully customisable and once again, very easy to negotiate and set up. You get a nice little HUD display on the windshield (which can be turned off). Then there's lane assist, cruise control, blind-spot indicators, Apple CarPlay, remote car start and distance warning tech. This car can practically drive itself. The Cadillac ATS-V also comes equipped with an outstanding Bose speaker system, meaning you can sit back and get lost in your favourite tunes.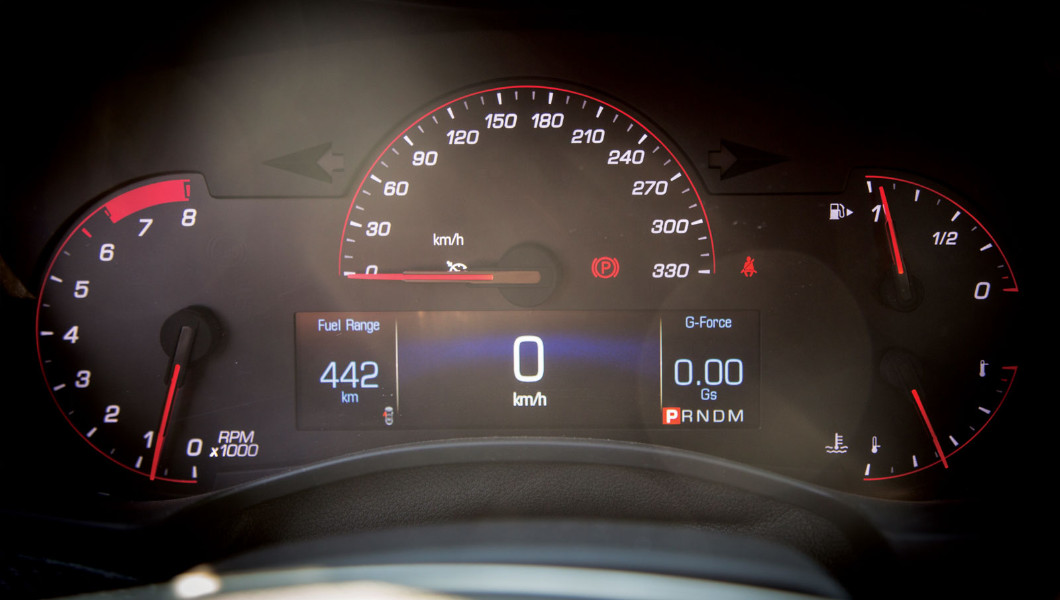 If the car needs to alert you, you'll feel your glutes getting a workout as the seat frantically vibrates. The sensation initially comes as a shock when I'm reverse parking and find my right cheek being alerted to the fact I'm a little too close to a pole at the right rear side of the vehicle. Another tech feature is a notification from Google Maps, which if you've synced your phone with the car, should activate once you park.
The Cadillac AST-V seems to have it all. It may sound odd, but even the place where you rest your arm on the driver's door seems noticeably more comfortable – and my various passengers seemed to equally rate the experience on their side.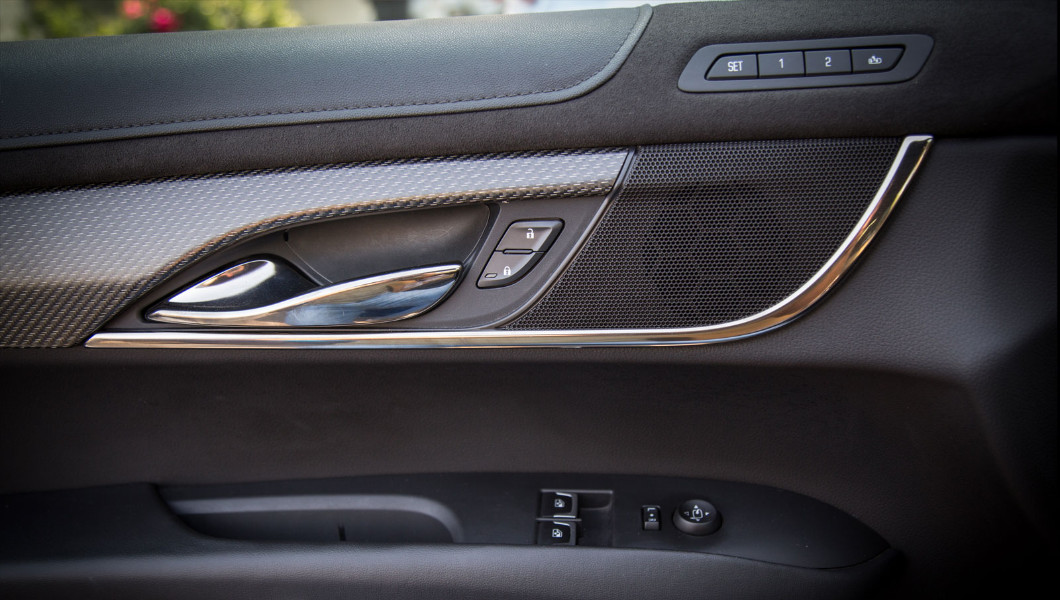 Yet for all the praise this car deserves, I need to be honest and say that while I did enjoy my time with the ATS-V, there's something about it that didn't give me that beaming smile that other cars do. Though it has everything I could ever want in a car, maybe it's too perfect. It's possibly lacking personality, which has made this review one of my most difficult. While the Cadillac ATS-V ticks every box, looks great (it actually looks better in the flesh than in any image I've seen), sounds good, is very comfortable, handles well at speed, is fast and relatively rare, I personally wouldn't have one in my garage. I recommend you take one for a test drive though – it could very well be the perfect car for you.
---
NUTS & BOLTS
Engine: Twin Turbo V6
0-100 kph: 3.8 seconds
Max power: 464 bhp
Transmission: 6-speed manual or 8-speed Auto

Top speed: 304 kph
Price: Starting from AED 175,000 ($47,654).