I've always wondered why a car company would call themselves Dodge. The dictionary definition is to avoid someone or something by 
a sudden, quick movement. Is this car manufacturer being brutally honest and telling potential customers to avoid its vehicles? Probably not.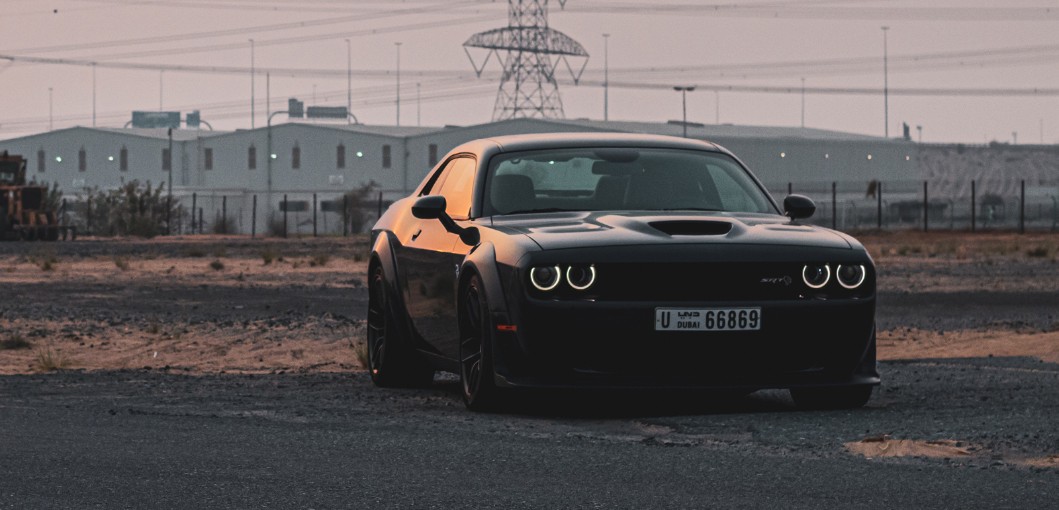 Turns out, the company is named after the brothers that founded it: John Francis Dodge and Horace Elgin Dodge from Michigan, USA. Dodge began with the brothers working on bicycles way back in 1896. It wasn't until 1902, when the brothers began making engines, transmissions and axles, that they started to make their mark on the automobile industry. After 12 profitable years making engines and parts for Ford, the Dodge brothers decided it was time to launch their own car and established the Dodge Brothers Motor Car Company in 1914. By the end of the next year, the company ranked as America's third best-selling automaker.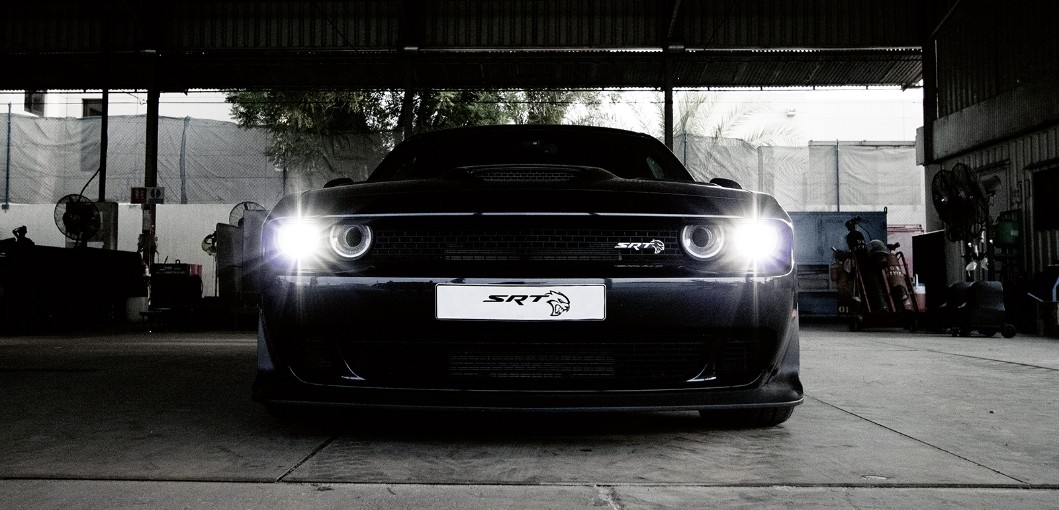 Dodge's success continued and in 1928, 
the Chrysler Corporation acquired the company for $170 million: a lot of money even by today's standards. Unfortunately, John and Elgin didn't get to reap the rewards of their success as they both passed away in 1920.
Fast-forward to 1963 and we can see the earliest incarnations of today's Hellcat. The Wedge Head 426 V8 roared onto the scene and quickly dominated the drag strip, and a year later, the company produced the 426 HEMI (short for Hemispherical Combustion Chamber) track and drag engine exclusively for race teams. Along came 1970, and with it the Challenger, built 
to compete with Mustang and Camaro in the Trans Am racing circuit. In the same year, the company produced the first car to top 200 mph on a closed course.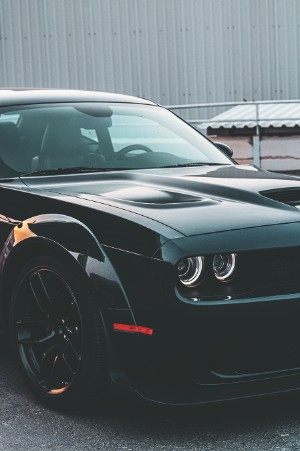 With a 105-year pedigree and a reputation for building engines that'll get you from A to B quickly, it seems that Dodge isn't a car to be avoided at all. I have to admit, I look at a lot 
of American muscle cars and just see overweight, noisy, lumbering buckets of bolts. However, the 2019 Dodge Challenger SRT Hellcat Widebody is different, as I find out.
After being handed the red key to the car, 
I venture outside to take a look. Why mention a 'red key' I hear you ask. Fun fact: while most cars come with two keys (one is a spare) the Dodge Challenger Hellcat Widebody comes with a black and a red key. If you choose to drive using the black key, you'll only have a measly 
500 bhp available. If you choose the red key, you'll have an astonishing 707 bhp. Who doesn't like more power? Would you ever use the black key? I wouldn't.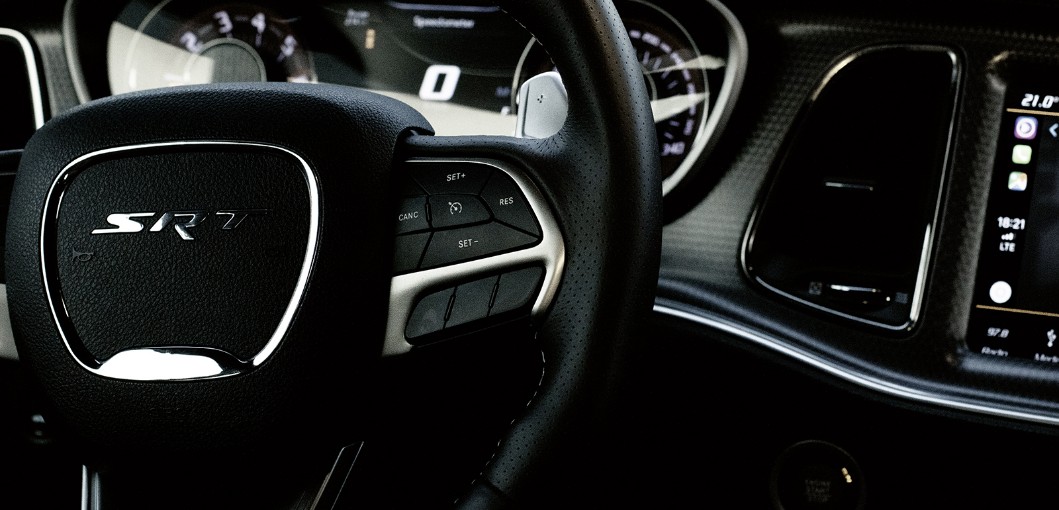 When I first lay eyes on the car, I'm surprised just how large it is. This car barely fits in your typical parking space. Good luck to anyone that attempts to drive it around the small country lanes and towns of rural Europe. Visually, this car demands respect. It's a quintessential muscle car. It looks very aggressive and gives you the feeling it's spent more time in the gym than Arnold Schwarzenegger.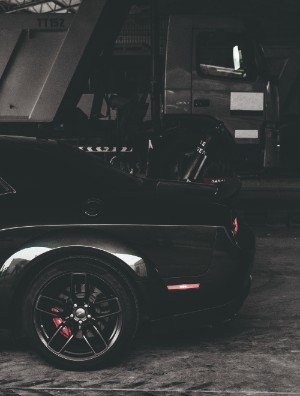 The feeling you get when you climb inside isn't much different. I've been in very few cars that feel as big as the Hellcat, as the enormous hood sprawls out in front of you. And I'm pretty sure that if the gearbox wasn't positioned between the driver and passenger seats, you could comfortably fit a sofa inside.
The interior is nothing too flashy or extravagant. I like the dials that sit either side of the digital display and the infotainment screen is one of the most responsive I've ever used, foregoing fancy graphics and colours for a very fast and snappy digital experience. It is great to tap on icons that load pages instantly. The screen/system functions just as well while using Car Play, which is reassuring since nobody likes waiting for screens or apps to load. I also admire the customisation available via the infotainment screen, which allows you to customise various parts of the driving experience (like engine performance) to suit your preferred driving style. The Alpine speakers are also a nice addition and perform well at high volumes.
I've driven a lot of cars over the years. With most of them, I get in, start them up and drive away. Sitting in the Hellcat, I have to admit, I am a little nervous. This is a serious piece of kit and I am acutely aware that with 707 horses behind me, I will have to focus. I haven't even hit the start/stop button to fire up the supercharged 6.2L HEMI SRT V8 engine.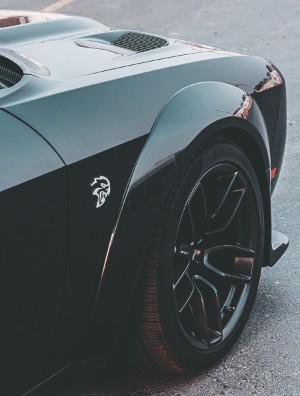 Once I do press that shiny red button, the growl and rumble that follow further underline the thoughts I had moments ago. The beast has awoken. I am no more than 30 seconds into my drive when I encounter my first problem due to the size of this car: I need four or five manoeuvres to get out of the parking area.
Finally out on the road I spend a good 
20 minutes getting used to the size and power of the Hellcat. If you're already a muscle car owner you might feel comfortable from the outset, but I'd say most drivers should be cautious. 
The Hellcat looks big and angry, it sounds like it means business and I can tell you, with no shadow of a doubt, it has the performance to back it all up.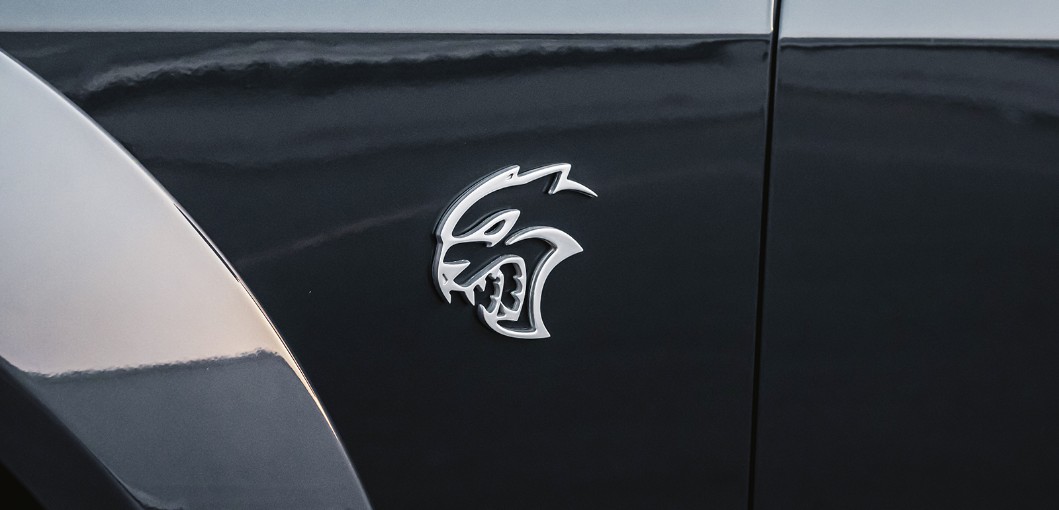 This car could well be the best-named car I've ever driven. When you hit that very, very noisy pedal, the Hellcat wriggles, wails and writhes around just like a cat that doesn't want to be held. Dodge built engines that dominated the drag strip and that pedigree certainly comes through in the Hellcat. It sounds incredible: the wailing of the supercharger allows for almost zero lag in acceleration and the exhausts bellow, letting everyone know you're here. As for the tyres…those poor rear tyres. Even when you don't mean too, they screech and struggle for grip. If you're a confident and competent driver, I guarantee this car will be some of the best fun you've ever had in a straight(ish) line. If you're a nervous driver, this will likely be the scariest straight(ish) line you've ever experienced in a car.
When you keep this cat under control, 
it's comfortable and spacious, but never quiet. You could easily spend hours cruising down Route 66 in this car, travelling cross-country. It's big enough to take friends along with you, even though it's a two-door car. There's plenty of space for two adults in the back, although visibility for rear seat passengers isn't great thanks to a tiny window. Talking to your friends in the front is also an issue, since that loud rumbling exhaust is even louder in the back. 
The boot (or trunk if you prefer the Americanism) also has plenty of room for luggage.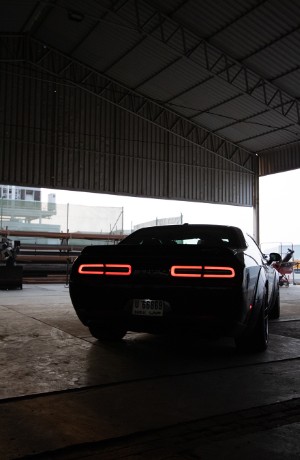 This car does a lot right. It's the first American muscle car I can honestly say I would drive every day. It's full of personality. Is it perfect? No. But that's part of what I love about it. The fact that every time you take a bend you want to accelerate, but know you're going to end up sideways, like 
a scene from The Fast and the Furious. If it rains or the road is wet, again, you'll want to accelerate but don't really know where the car will go if you do. This is not a car you'll probably ever feel completely comfortable or at one with, which for me adds to its attraction. It's a car you'll always be trying to tame where the saying 'It's not the winning, it's the taking part that counts' rings ever true. Will you ever truly tame it? Likely not. But will you enjoy trying, Hell(cat) yeah.
If you're a muscle car lover or in the market to buy one, the Dodge Challenger Hellcat Widebody is everything a muscle car should be: big, loud, fast, fun and a little bit crazy. You may want to set aside a small fortune to replace the tyres you'll likely go through, but it's well worth it. Well done Dodge: this is definitely not a car to avoid.
Nuts & Bolts:
Engine: 6.2L SUPERCHARGED HEMI V8 SRT
Transmission: 8 speed auto
Max power: 707 bhp
Price: AED 339,900 (US $92,547)