How about heading to England for a weekend of cars and castles this September to end the summer on a particularly fabulous note? The Salon Privé Supercar Show is celebrating its 10th consecutive year this September 3-5 with a brand-new location in Woodstock, Oxfordshire – Blenheim Palace, a UNESCO World Heritage Site and the birthplace of Sir Winston Churchill.
In addition to the storied location, high-end tyre-maker Pirelli has come on board as a sponsor for the inaugural "Prestige & Performance" competition, which will be held on September 5. Giving private owners of supercars dating from 1975 to present the chance to display their vehicles on palatial grounds, the competition will coincide with Salon Privé's first-ever public day.
"Pirelli's sponsorship of the 'Prestige & Performance' Competition further underlines the importance of Salon Privé on the automotive events calendar and we are delighted to have yet another premium brand joining our growing list of sponsors, and headlining this competition," says Andrew Bagley, Salon Privé co-founder and managing director.
"This is the first time we've offered a weekend option and public day ticket for visitors and it promises to introduce a whole new generation to the passion and beauty of the world's greatest cars."

Blenheim Palace from the air
The exclusive Chubb Insurance Concours d'Elégance returns on September 3 with classic cars and motorbikes in a number of classes, including pre-war luxury and touring vehicles, celebrating 90 years of the Alfa Romeo C6 and exceptional motorcycles from 1900-1974. An all-VIP event, tickets include a Pommery champagne reception, lobster luncheon and the Concours d'Elégance parade.
Boodles Ladies' Day on September 4 combines fashion with fast cars, and should the shopping bug bite, a luxury retail village is packed with indulgent goods while the EFG Art Fair displays automotive-inspired artwork available to add to your collection.
But the most exciting opportunity for a new purchase is found at the Salon Privé sale on September 4, where cars both super and classic – how about adding a 1954 Bentley R-Type Continental or a 2001 Ferrari 550 Barchetta to your garage? – are available to the highest bidder. But after you win, try not to tear up the lawn of Churchill's ancestral family home too much as you peel away.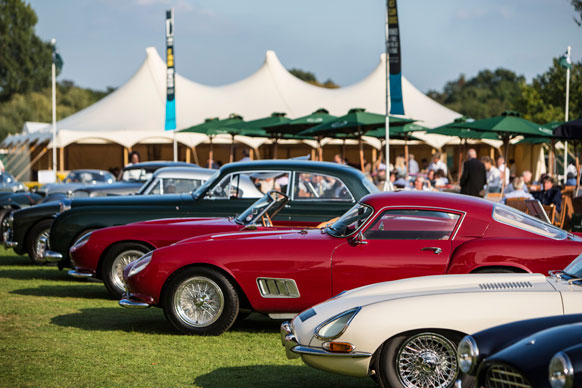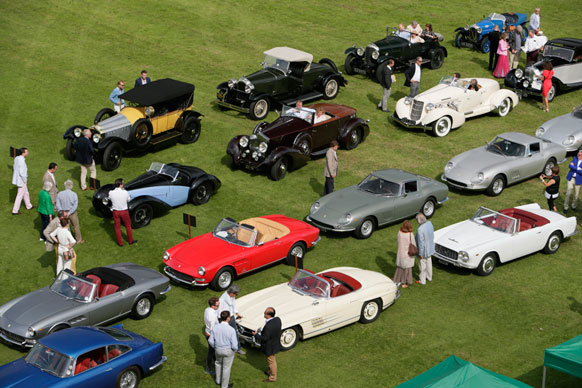 Scenes from Salon Privé 2014