Standing roughly 13 hands high and rumbling along with its unmistakable low burble, powered by a 5.0-litre beast of an engine, the Mustang is a muscle car by every definition. I'm a little ashamed to admit it's my first muscle car experience, but it was worth the wait. Just like the wild horses they are named for, I found the Ford Mustang GT hard to tame.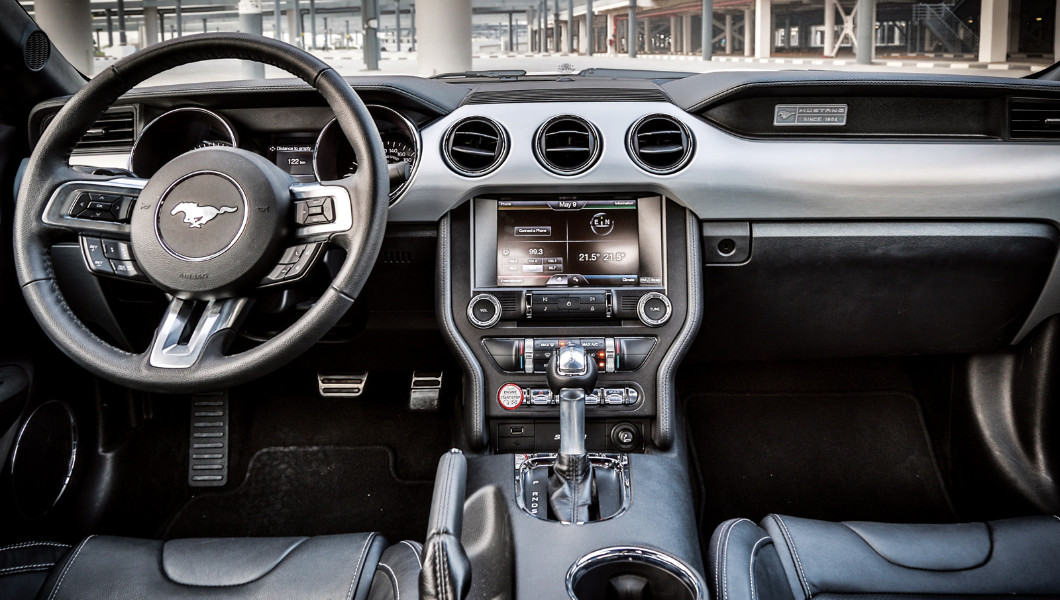 Another first for me was using remote engine startup. Approaching the Mustang, a quick double tap of the key fob fires up the engine, and as the air conditioning cools the cabin I take a minute to explore the car's aggressive exterior (not least because you always need to check what side the petrol cap is on). There's no mistaking that iconic horse on the front grill, but the modern Mustang is a far cry from the original. Climbing inside, I'm greeted by a wealth of lights and dials, while the "classic" style steering wheel has been augmented to incorporate buttons for anything you may need to adjust or know about, from the ambient lighting to displaying how hot the oil is.
There are some fighter pilot-esque switches that allow you to change the steering feedback and the engine performance, while the MyFordTouch infotainment system allows you to augment nearly every aspect of the interior along with other car settings.For such a large car, the cockpit is surprisingly small. The Recaro seats are comfortable and hug in all the right places. Yet I don't quite understand the need for Recaro seats in a grand tour edition, which is meant for the open road and days spent cruising Route 66. I'm not sure I'd like to be hugged for that long. The low driver position also leaves you peeking over the Mustang's large hood, and initially, I'm not quite sure where the end of the car is. Due to the lack of front sensors, this left me feeling a little nervous.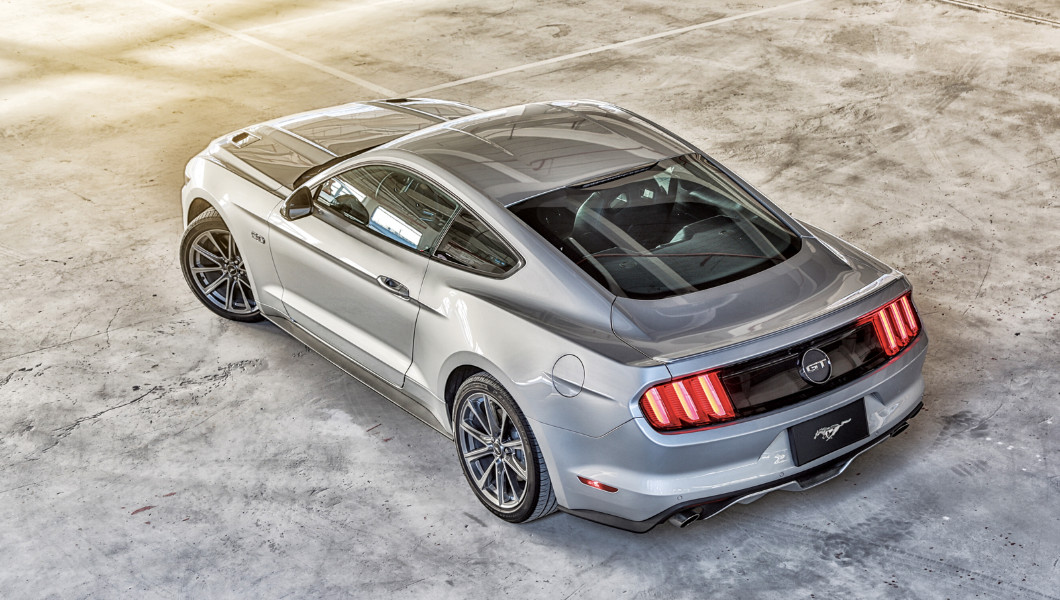 Nerves aside, when I hit the road, the 5.0-litre V8 rumbling easily pulls the 1.7-tonne vehicle, and I soon start to appreciate what a magnificent beast the Mustang is. Like its animal kingdom counterpart, this car wants to be free. A caged beast on city streets, it virtually begs for an open highway where it can run wild. Make no mistake: this car is big, but it shifts. All 435 horses are transferred to the rear wheels, which causes my head to be thrown back, a grin spreading from ear to ear. Easing my foot down, the car accelerates to the speed limit in very little time, rearing up like a horse being spurred on.
The engine roars, and I feel as though I'm holding on to the reins, screaming "Whoa!" and trying not to fall off.The Mustang has a "race" setting, but I'm not sure you'd ever win any races in this animal. Maybe in a straight line. Its handling is a lot better than I expected – more than capable of tackling all the interchange exits and roundabouts city planners can throw at you. However, if you had an open track and no speed limit, you'd be spending most of your time enjoying drifting this muscle machine round every corner.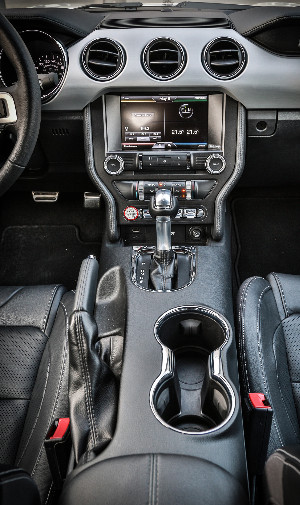 Cruising in the Mustang is a pleasant experience, and the "shaker" sound system is fantastic. If for some reason you ever get tired of listening to that wonderful engine, the 12 speakers can blast out your favourite tunes loud enough to drown out a jet engine. My model also featured adaptive cruise control – which was another first for me. Setting the cruising speed and never having to worry about driving into the car in front is exemplary, and should be a standard feature in any car with cruise control. The worst thing about having a Mustang is not having anywhere to drive it to its full potential. It's a car built for the open road. It wants to roam and explore new pastures – and behind the wheel, so did I. I've never had much interest in experiencing the fabled Route 66 – until I drove the Mustang.
---
NUTS&BOLTS:
Engine: 5.0-litre V8
Power: 435 hp

Torque: 530 @ 4250 (Nm @ rpm)
Fuel Tank Capacity: 60.0 litre
Price: AED165,000 (US$44,924)