It's big. It's magnificent. It's truly unique. It's the Mercedes‑Maybach G 650 Landaulet. And last week, I was among a group of select individuals invited to experience the prototype of this over-the-top off-roader in action. In South Africa. On safari. Because, according to the clever people at Mercedes-Benz, what better place to view and experience such a big, beautiful beast than among other big, beautiful beasts?

According to Gunnar Güthenke, the CEO of Mercedes-Benz G, who was among the development team accompanying us on the trip, it would be "an exciting 24 hours", designed to allow us to experience the spirit and flavour of the car in action alongside Africa's Big 5 – elephant, rhino, lion, buffalo and leopard. Among these animals, the Mercedes‑Maybach G 650 Landaulet would make it the "Big 6". Hats off to Mercedes-Benz's marketing genius.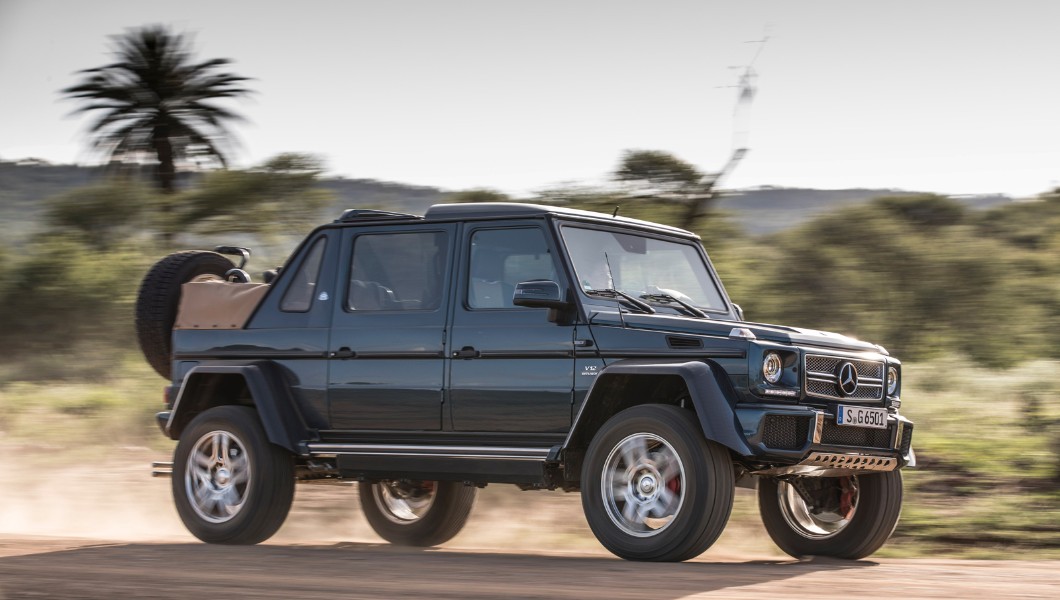 Baby got Maybach

Step aside mere mortals. Sheikhs, oligarchs, tech billionaires – these are the likely owners of this superlative dream car. As to be expected, a car designed for the uber rich has to be uber exclusive – and it is. Production of the Mercedes‑Maybach G 650 Landaulet is strictly limited to 99 and according to Mercedes, it's going to stay at 99, "regardless of interest".

As the first off-roader from the Mercedes-Maybach sub-brand, this prestigious behemoth is tipped to have an equally bulky price tag that won't be disclosed until its world premiere in Geneva on the 7th of March. Even with no specified price, there has been a "considerable amount of interest" from Mercedes-Benz's exclusive customers, who are part of an elite group known as The Circle of Excellence.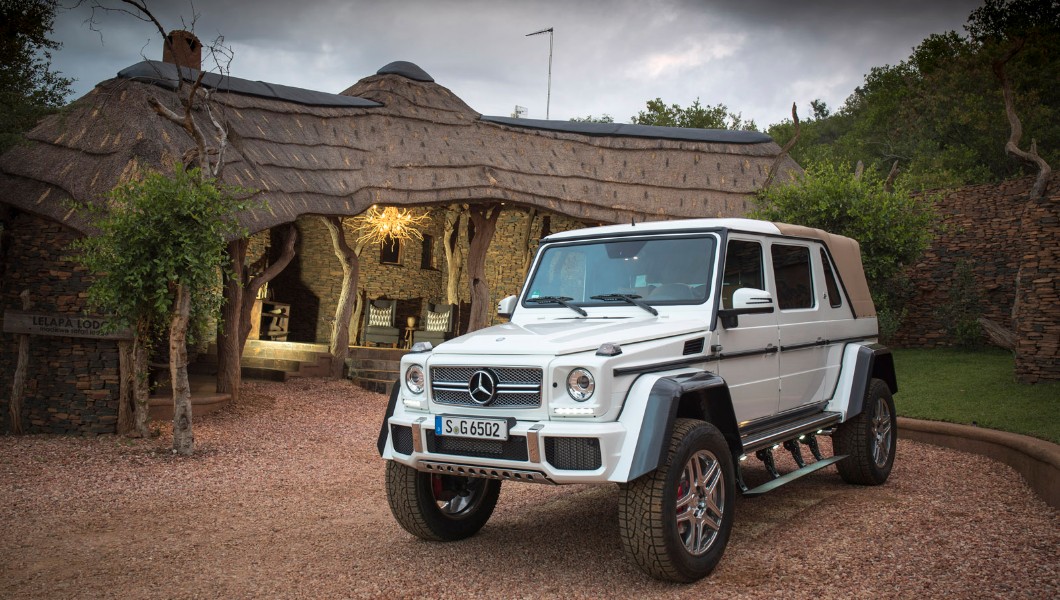 The incredible hulk
Mercedes has been perfecting the G Class, the cult "granddaddy" of off-roaders, for 38 years. In that time, we've seen refinements, special editions and even the Mercedes-G63 AMG 6x6 – which the G Class team refers to as sondermodell eines or "special edition one" – the one that started a new chapter in the story. None can match the might of the Landaulet, which is around 65 centimetres longer and 30 centimetres taller than the standard G-Class. The portal axles provide an outrageous 45 centimetres ground clearance, enabling extreme off-roading ability. It's every inch the true off-roader with a top-grade engine in terms of powertrain, the 6.0 litre twin-turbocharged V12 producing 630 horsepower and 1,000 Nm of torque, with a heavy-duty four-wheel-drive system featuring three separate differential locks. Though speed isn't the point of this beast, it can reportedly reach 100 kph in well under six seconds. Rumbling along South African plains, the Landaulet looks invincible – even when it drives near a herd of elephants.

Sadly, I'm unable to tell you what it's like to drive this car, because the only person permitted to get behind the wheel of the prototype on the Big 6 experience was a German woman named Pamela, an intrinsic member of the Landaulet's development team. Pamela has been on the road with the prototype since it was released from the manufacturing facility at Magna Steyr in December, driving the car through the Salar de Atacama in Chile – where the promotional video was filmed – and now through the wilds of South Africa in the Madikwe Game Reserve, which sits just along the Botswana border. Thrilling as it was to experience the Landaulet in action – crashing through the underbrush to gaze at a snoozing lion, rumbling past a herd of rhino – driving through the reserve gave us only a glimpse of its true potential.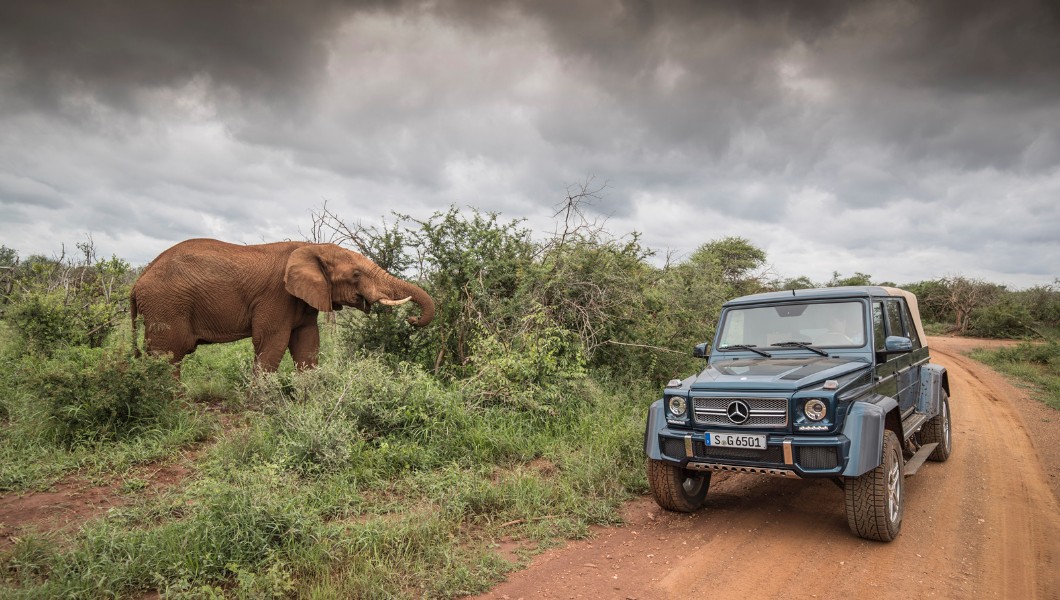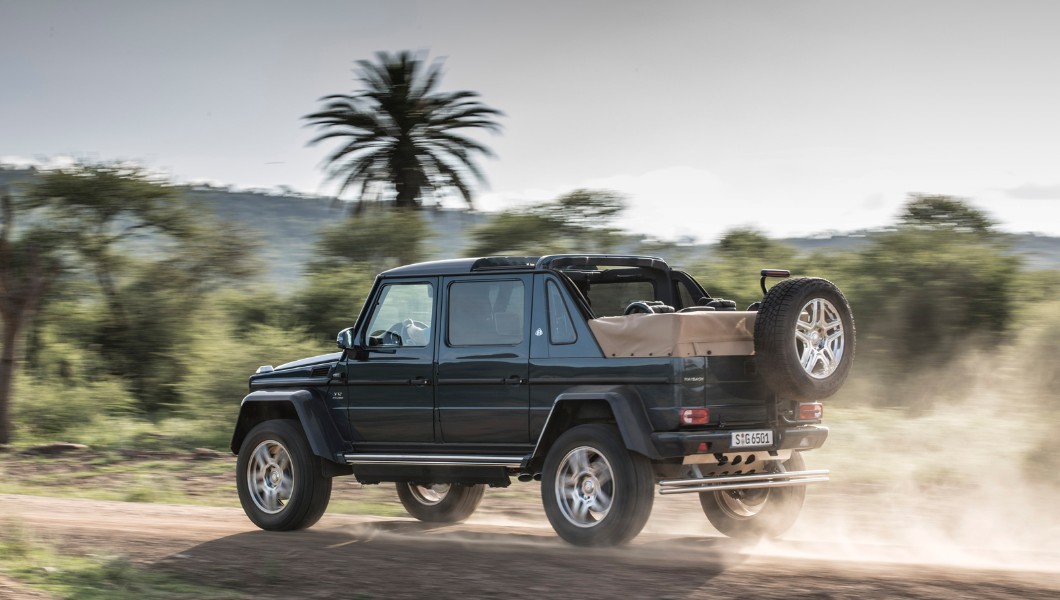 One of those glimpses was navigating a particularly treacherous area of track, which had turned into a nefarious mud pit thanks to recent rains. The reserve's guides had laid a number of logs to aid vehicles across, but it proved challenging for one of the safari lodges's game-viewing vehicles, an open-air Toyota Land Cruiser. I was on board as it struggled for about five minutes, losing a mud guard in the process. The Landaulet, however, simply breezed through. I caught Pamela's eye as she stepped out of the vehicle. "I didn't even really need to use the first lock," she said, shrugging her shoulders and trying to hide a grin. I could only imagine the sensation – though it's fair to say that most of the customers buying this car will find themselves, like me, sitting pretty in the rear compartment, chauffeured around at their pleasure and leisure, revelling in the pinnacle of luxury.

Hot-stone massage? Champagne? Choices, choices
Riding along in the rear of this ultra-luxurious car, enjoying a hot-stone massage while a herd of giraffe loped along mere metres away – let's just say it's an experience I can scarcely believe happened. Pampered doesn't even come close, and the luxury starts before you even enter the car, with running boards that drop down automatically as you open the doors, allowing for an elegant entrance. Inside, it's luxury at its most lavish, with diamond-stitched, two-tone leather Maybach seats – the same "first class" seats you'd find in the S Class. There's even a Maybach-badged pillow for optimum comfort. The seats recline fully and along with cooling systems, they can heat up, should you opt for the aforementioned hot-stone massage. In between the seats, there's a compartment with two folding tabletops with leather inserts, and thermal cup holders that can chill your champagne or warm your macchiato.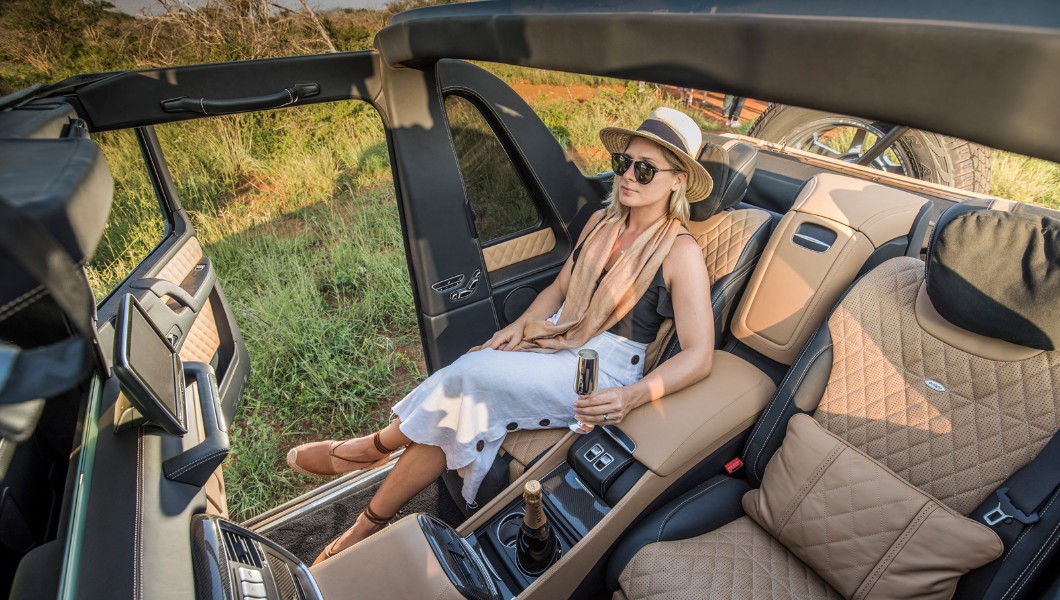 And speaking of champagne, while the 60cm longer wheelbase allows for some impressive interior space and legroom for rear passengers, it also results in an incredibly smooth ride. Even on safari, you could realistically polish off some champagne as you view game, with scant possibility of spillage. Should you wish to imbibe, there are two sterling silver champagne flutes – crafted by German specialists Robbe & Berkingworth and purportedly costing around 3,000 Euros apiece – tucked snugly into another compartment between the rear passenger seats. In between animal spotting on the morning safari, I use the remote to test one of two 10-inch, high-resolution display screens (hot-stone massage? Activating massage? Or classic?), and the buttons on the G Cockpit, which along with twin glove boxes, brings the essence of the front of the G Class to the rear.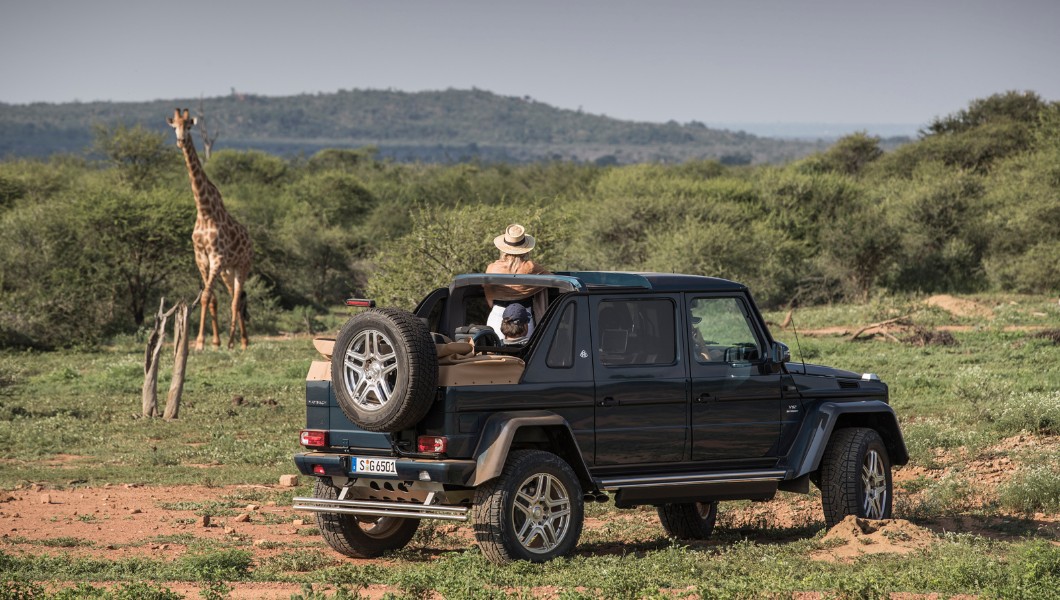 One button on the cockpit opens or closes the electrically operated roof, which takes only a few seconds after two manual levers are disengaged. For passengers requiring a little more privacy, another button initiates a glass partition that emerges to separate the rear compartment from the driver's section. Another touch of a button, and the screen transforms from transparent to opaque. Despite the consummate luxury, passengers will always be reminded that this car is a G Class at it's very heart, with a few off-roader elements brought to the rear such as grab handles, of which there are eight.

True romance
There have been plenty of examples of a landaulet body style throughout automotive history, and indeed some of the most sought-after come from the Stuttgart-based car maker, such as the 1964 600 Pullman Landaulet or the semi-convertible Maybach Landaulet, which launched in 2008. Essentially, reimagining a landaulet – a traditional horse-drawn carriage – in a luxurious automobile of this calibre equates to the ultimate sense of privilege, freedom and even romance. And I can attest, after feeling the wind in my hair and the sunshine on my face, and witnessing wildlife roaming the plains, those are exactly the emotions the "lucky 99" will feel.