It seems appropriate for 007's preferred auto brand to shroud their projects in mystery, and the AM37 speedboat is no exception. The slick speedboat concept was first announced at Aston HQ in April but additional juicy details were recently revealed in Dubai at the appropriately glam Armani Hotel.
This is the first powerboat to bear the wings of the British marque and would make Q Branch proud, considering the number of high tech features on offer. To elaborate, the deck is made of three carbon fibre panels that can encase the deck once activated via the remote control key. The deck can also be raised to gain access to the engine and storage areas.
There's also voice control functionality for the navigation system and a 15-inch touchscreen monitor to display technical information, also offering mastery over the on-board entertainment systems, climate control and other gadgets – including the fridge.
Two versions will be made available. The AM37 will be packed with 520 hp petrol engines and vaunted as a 'gran turismo leisure powerboat', while the AM37S will boast in 600 hp Mercury petrol engines capable of 52 knots. The developers have said more information will be shared in the run-up to the official presentation at September's Monaco Yacht Show.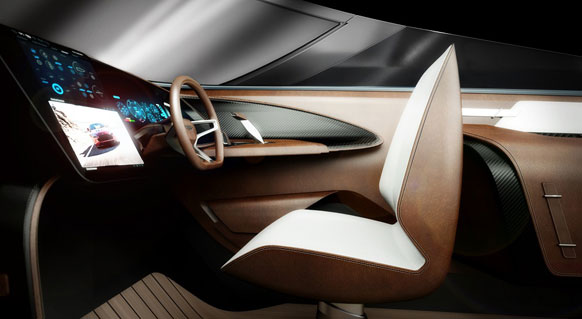 The interior of the AM37 shows a tech-heavy control panel with a stunning screen