Luxury phone brand Vertu has launched its new smartphone model, Aster, with prices ranging up to US $9,490.
Described as 'quintessentially English', makers claim the device mixes hand craftsmanship with bespoke personalisation and the latest Android KitKat operating system.
The 4G capable smartphone boasts an HD, 5.1-inch solid sapphire crystal screen with a titanium and leather casing – though the display itself is 4.7-inches. The 1080p resolution should be perfect to view images from the 13-megapixel camera, which is greater than the iPhone 6, as well as being Hasselblad certified.

Raspberry Ostrich
The phone has launched in a range of six colours across seven product iterations. Options include Onyx Calf, Blush Calf, Lagoon Calf, Caviar Karung, Tangerine Karung, Cognac Ostrich and Raspberry Ostrich.
"There has always been significant consumer desire for Vertu products that make a lifestyle statement," said Vertu CEO Massimiliano Pogliani.
"Many of our consumers not only appreciate rarity and craftsmanship in the goods that they choose to own, but desire products that reflect modern styling and trends in their colour palette and material. They expect a statement piece that not only performs to the utmost standard technically, but is also beautiful as an object as well."
Buyers will also receive six months complimentary access to unlimited Wi-Fi, at over 13 million hotspot locations worldwide. On top of that, ownership includes a complimentary Classic Concierge service from a team of lifestyle managers available 24/7 – also valid for six months.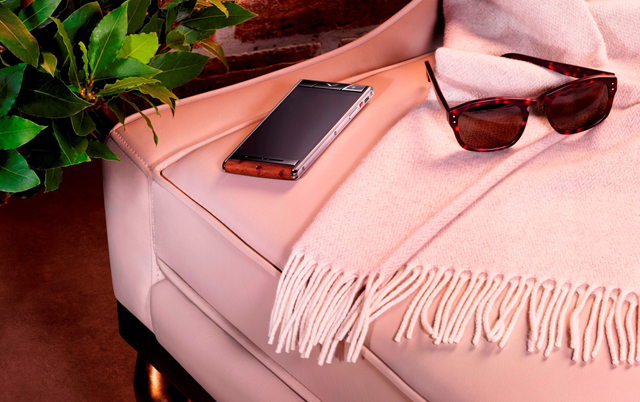 MORE INFO?
Length: 143.4 mm
Width: 69 mm
Depth: 11.2 mm
Weight: 193g
Android™ 4.4 (KitKat)
Qualcomm® Snapdragon™ 801 2.3GHz Quad-core processor
4.7" 1080p, brilliant, high contrast display at 473dpi
13 MP main camera with autofocus and twin LED flash
COST
Onyx Calf - GBP 4,200
Blush Calf - GBP 4,200
Lagoon Calf - GBP 4,200
Caviar Karung - GBP 5,600
Tangerine Karung - GBP 5,600
Cognac Ostrich - GBP 5,900
Raspberry Ostrich - GBP 5,900