The maldives is one of a few destinations on earth that truly transports you to an other-worldly place that feels like paradise on earth. Somewhere you can disconnect from the world, yet reconnect with yourself in the most beautiful natural surrounds.
Jumeirah Vittaveli, in the azure waters of the South Malé Atoll, is one destination deserving the attention of those seeking peaceful pursuits this month, with its own version of luxury and serenity.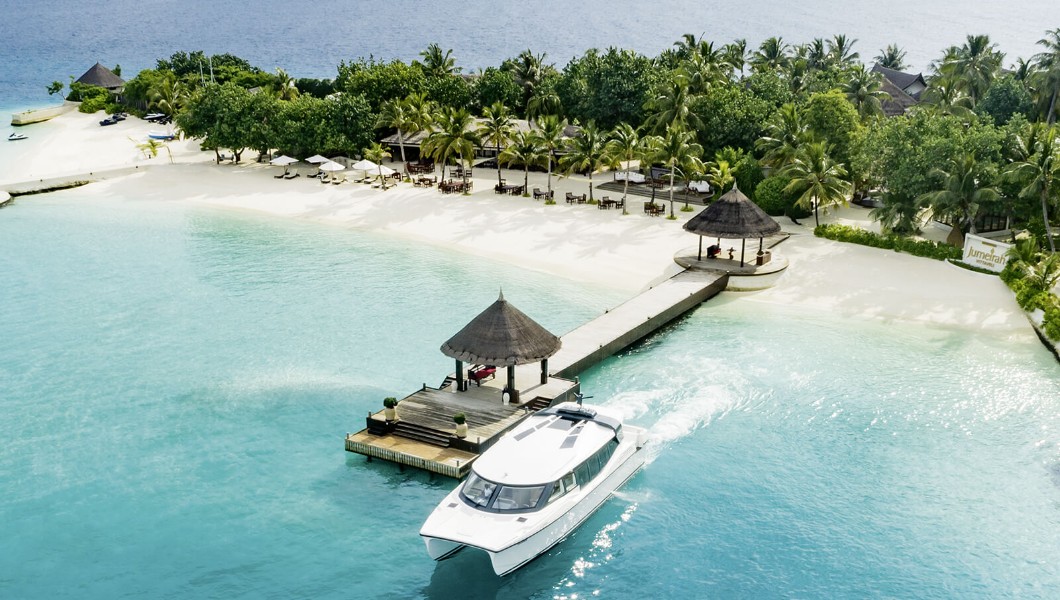 The sense of being whisked away begins the moment you touch down, with the introduction of the hotel's new custom-made Catamarans to transfer you from airport to island in the height of luxury. Jumeirah's dedicated airport team will welcome and guide you to the resort's lounge to freshen up post-flight, where fresh coffee, homemade cookies and free Wi-Fi await, before they accompany you to one of the hotel's new top-of-the-line catamarans for the 20-minute transfer to Jumeirah Vittaveli.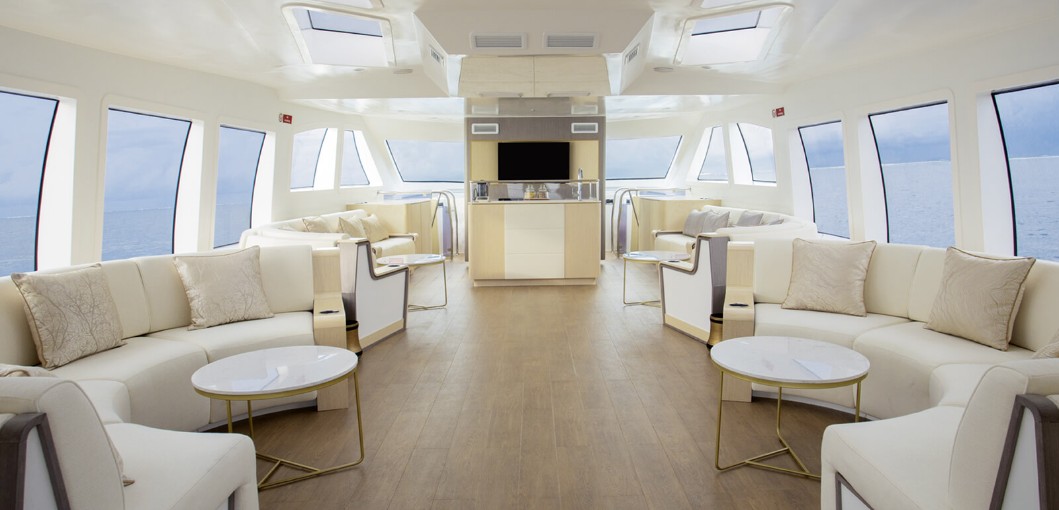 Designed by award-winning iYacht agency, and operated by Jalboot, the catamarans are inspired by the sophistication and elegance of Jumeirah Vittaveli itself, and are available in three models: the Polestar, decked in lush tones of pale gold, cream and grey; 
the Jumeirah, with its darker bronze and turquoise shades to reflect the colours of the Indian Ocean; and the Classic Yacht, which mixes rich wooden features with soft greys and beige. Each model boasts beautiful spacious lounge seating, inviting you to relax the moment you step on-board, as you sail through the Maldives' lush tropical scenery towards your idyllic destination and its traditional Maldivian welcome.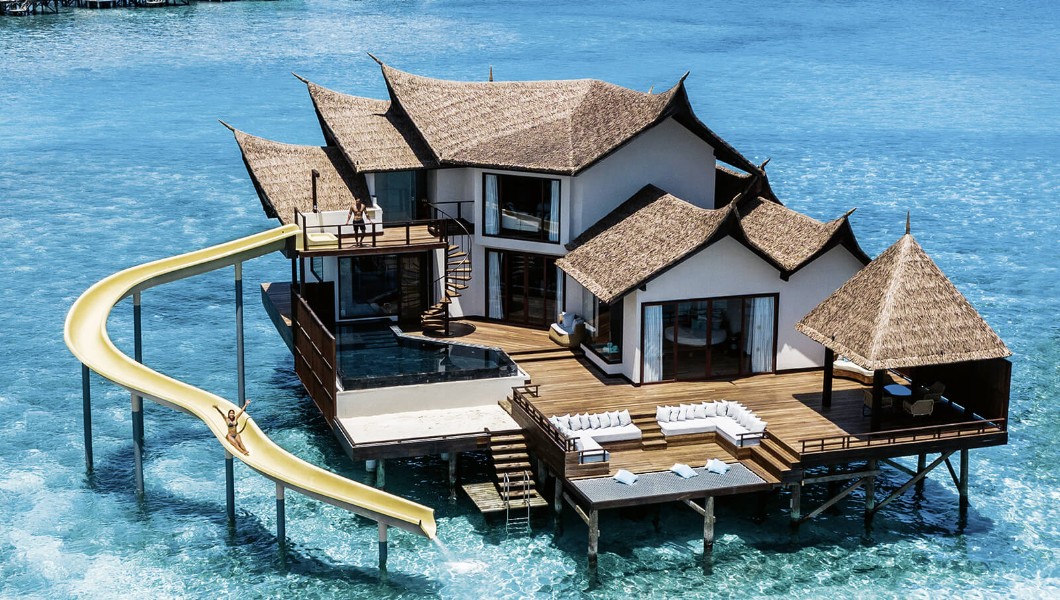 Island life doesn't come much better, more relaxing or more serene than at Jumeirah Vittaveli, with its curation of memorable experiences that allow you to speed things up or slow things down as your heart desires. Land and water activities reign supreme, with myriad opportunities for restful or revved up pursuits. Those seeking adventure will find PADI scuba-diving, snorkelling and ice-skating, with the Maldives' first eco-friendly ice rink. Or, for those wanting to unwind, there's a world-class Talise Spa, sunset yoga, laid-back bicycle rides and, for the indulgent, a chocolate salon, wine library, cigar lounge and underground whisky cellar.
A tropical haven designed to inspire, you're spoiled for choice when choosing your home-away-from-home, with beach suites, overwater villas and a five-bedroom Royal Residence. However, the island's Private Ocean Retreats With Slides and Infinity Ocean Villas that dot the azure waters, are the most idyllic choice for anyone looking for a little yin and yang in their vacation.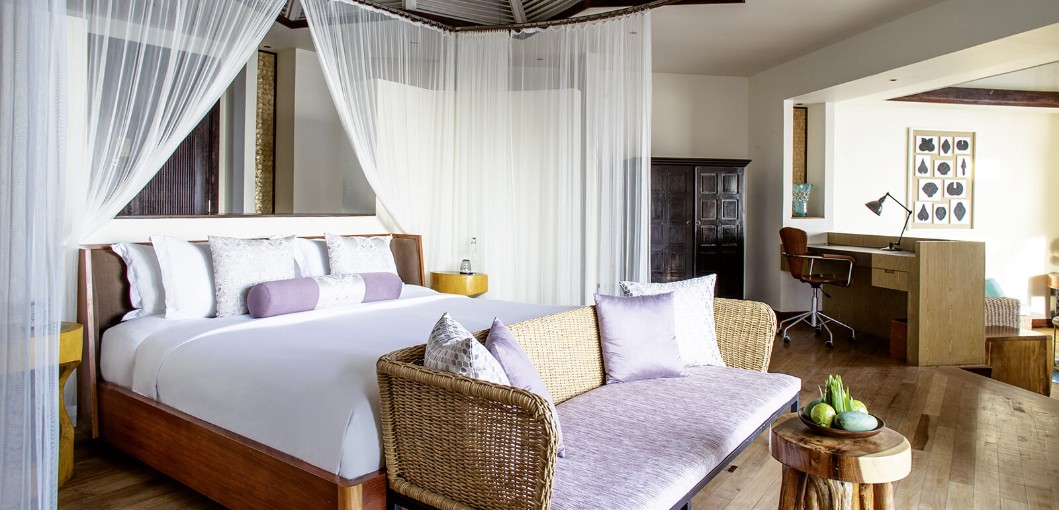 Sublimely combining relaxation with recreation, each 420sqm Private Ocean Retreat features a glass-bottomed sunken lounge, outdoor relaxation beds for sublime star gazing, overwater hammocks, private infinity pool with 180-degree views of the reef, dining area, and both master and guest bedroom, each with separate bathroom.
The beauty of the Private Ocean Retreats is that the space inside can also be transformed into a chic spa for in-villa treatments, or bespoke yoga and personal training sessions can be arranged on your private deck. You'll also find a personal butler on call 24/7, who will cater to your every whim, be it running a romantic flower-petal bath to arranging a deserted sandbank adventure or curating a private seven-course dinner cooked by a personal chef.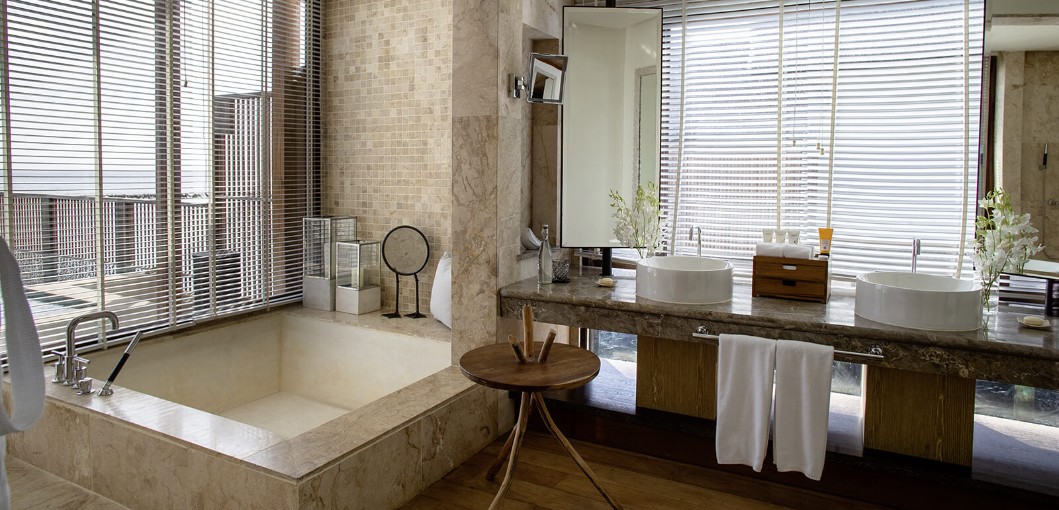 The Infinity Pool Ocean Villas include an extended outdoor seating area, glass bottom floors and overwater hammocks to complete the blissful nature-filled relaxation. Inside, the interiors are fresh, with a colour palette that embraces warm Maldivian sunsets and sparkling turquoise lagoons, to create a tranquil backdrop for your island escape.
Each Private Ocean Retreat and nine of the Infinity Pool Ocean Villas also feature a 23-metre slide – the longest private water slides in the Maldives, we might add – which runs from the top deck into the gentle waters of the crystal clear lagoon below, allowing the young-at-heart to plunge straight from your room into the Indian Ocean below.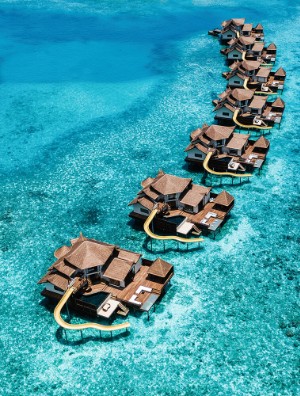 Two spectacular spaces for supreme relaxation, with a dose of fun on the side, here every experience is exceptional. And with the resort's sophisticated approach to comfort and high-living, it enhances the notion of refined luxury all the more.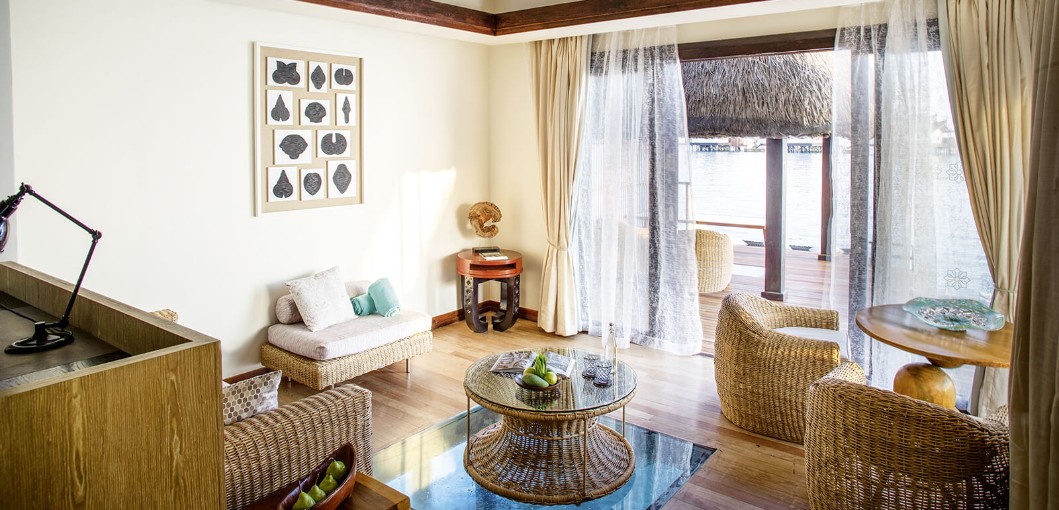 If you're seeking a holistic holiday that allows you to shape your own unique experiences, let Jumeirah Vittaveli make your dreams come true. With paradise on your doorstep, nowhere else so seamlessly allows you to relinquish yourself to the beauty of escapism quite like here. Barefoot luxury at its best.