A small armada of dhows returns from its afternoon catch and 
a group of white-robed men in kufis hurriedly weaves through the crowd as the muezzin prayer call sounds. It's a scene that could have been plucked from the shores of Oman. And yet, it unfolds 2,400 miles away in Zanzibar – the world's foremost spice isle, anchored in the Indian Ocean off Tanzania's coast. There's nothing feigned about this Omani overture. 
The island's evocative, waterfront city of Stone Town was the capital of Oman during the Sultanate era of Zanzibar; a 250-year period of Arabic rule that ended in 1964.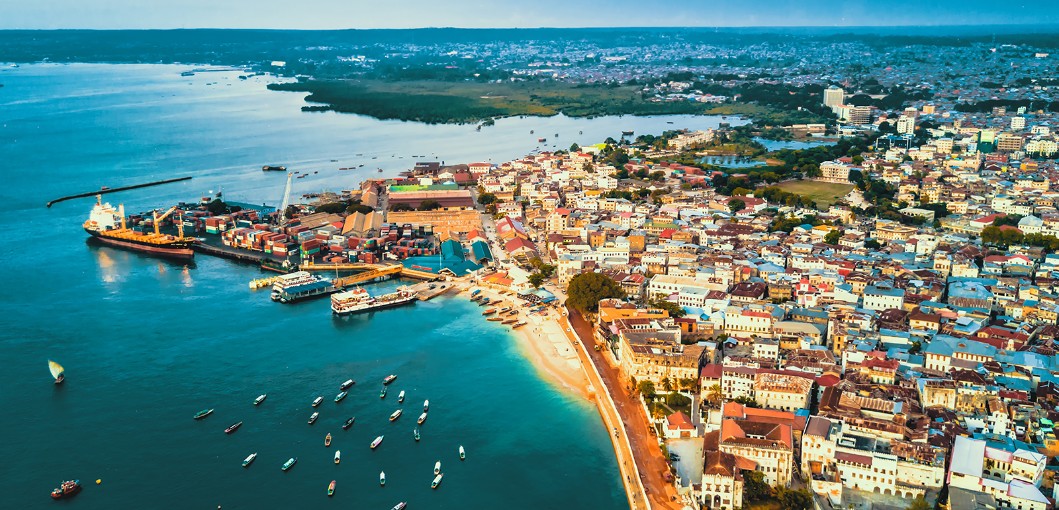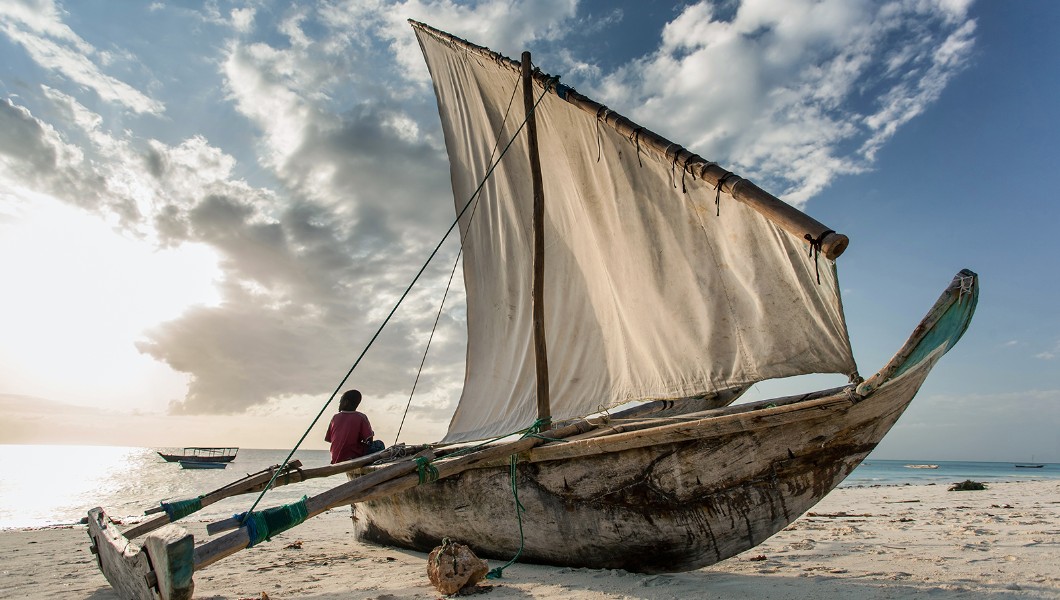 The empire's legacy also lingers in Stone Town's tantalising tangle of bazaars. Leaving the colourful chaos of the harbour behind, I follow my nose to its scented alleyways, intent on getting "purposefully" lost. Freighted with history, the entire town is designated a UNESCO World Heritage site. 
And no wonder… wrapped in crumbling coral stone walls are beautiful filigreed buildings, overhanging rosewood verandas and brass studded teak doors; their carvings once depicting the social standing of the owner.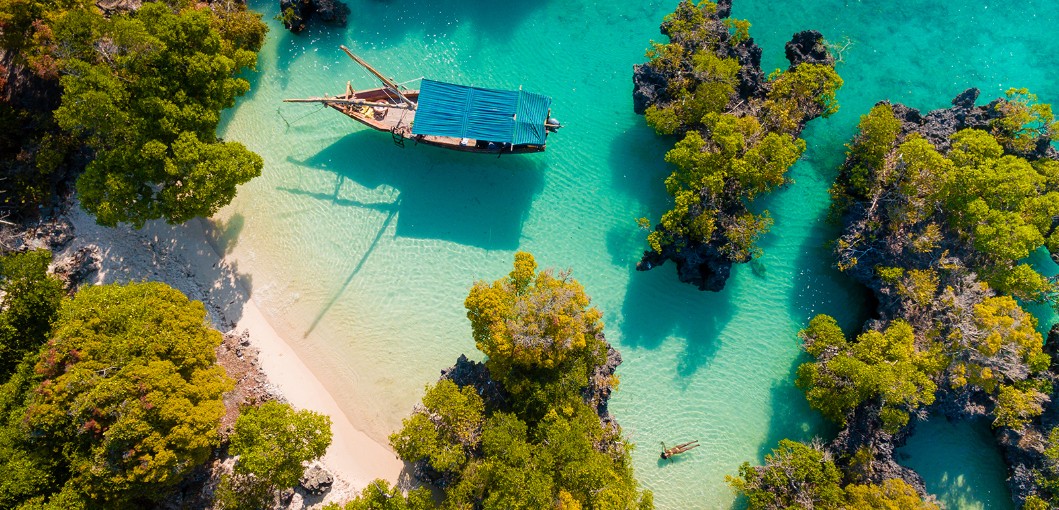 All roads eventually lead to the Old Fort, Stone Town's brooding 17th century fortress on the Kasbah's fringes. Originally built by Omani Arabs to defend against the Portuguese (who washed up here in the 1600s), its amphitheatre now hosts the Zanzibar International Film, Jahazi Literary and Jazz festivals.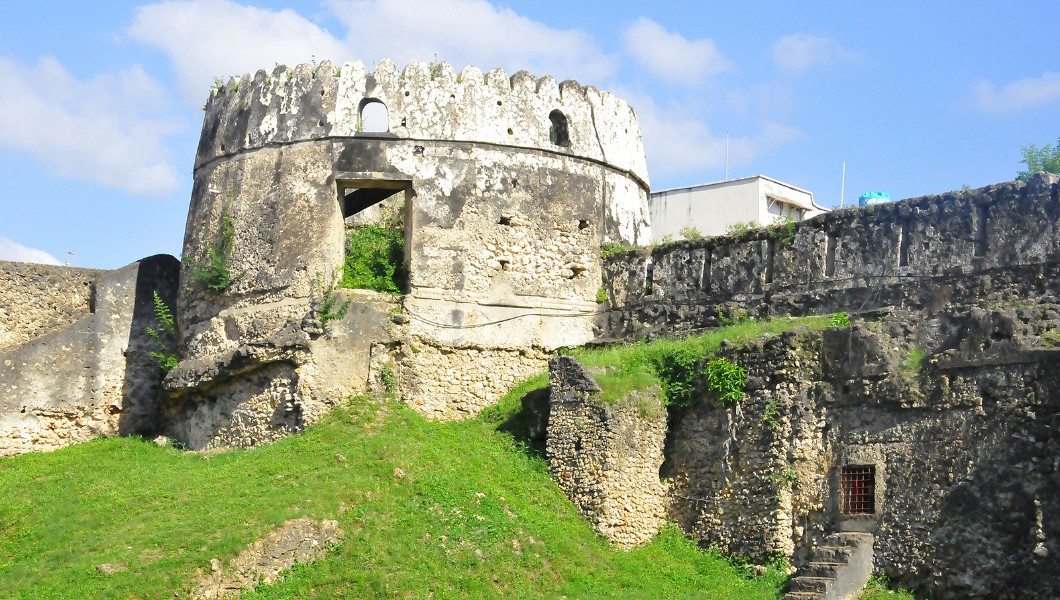 For a deeper dive into the island's Omani heritage, I follow Stone Town's sweeping seafront boulevard as far as The Palace Museum. Formerly the Busaidi sultans "town" house, it's packed to the royal rafters with water closets, Murano glass, ceremonial furniture and grand paintings (including a life-size portrait of Queen Elizabeth II). You can practically feel the sea spray from the museum's breezy first floor terrace, which lords over Forodhani Gardens. This tree-filled Oceanside Park was created in 1936 to mark Sultan Khalifa's silver jubilee.
These days, it's better known for its spirited street food market, where stalls hawk everything from finger-licking good Swahili donuts, 
to barbecued octopus. Under the flickering glow 
of paraffin lamps, my taste buds circumnavigate 
the globe in one fiery bowl of urojo soup, 
a Zanzibar staple.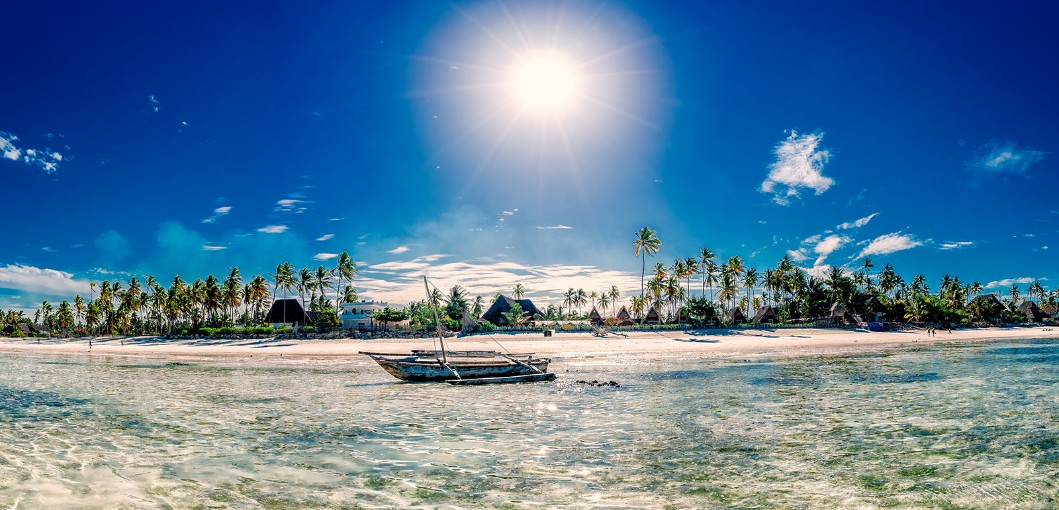 Characterised by bold dishes flavoured with exotic spices, Zanzibar's cuisine elicits the enduring bond between the Indian Ocean and its storied spice trade. It was the archipelago's 18th century Arab rulers who realised the full potential of Zanzibar's fertile soils, trading cloves (which continue to be a major cash crop), like gold, at the industry's zenith.
I drink up more dhow-dotted harbour views from the comforts of my ocean-facing Park King Suite at the Park Hyatt, Stone Town's only fully-fledged five-star address. Bridging old and new in the most literal sense, the property spans two buildings: 
a colonial mansion called Mambo Msiige, and the contemporary, high-ceilinged Zamani Residence.
Built by a Swahili tradesman and friend of the ruling Sultan, 17th-century Mambo Msiige has lived many lives – as a mission house, the British consulate and a WW1 hospital. Its two wings are bound not by blood or mortar, but the roots of 
a 200-year-old mango tree, which towers over 
a tiny courtyard-cum-pop-up-gallery.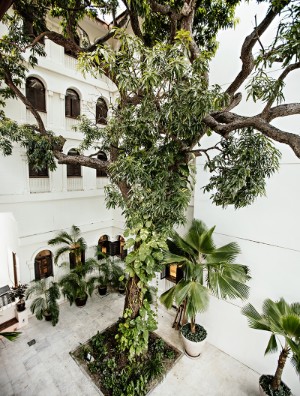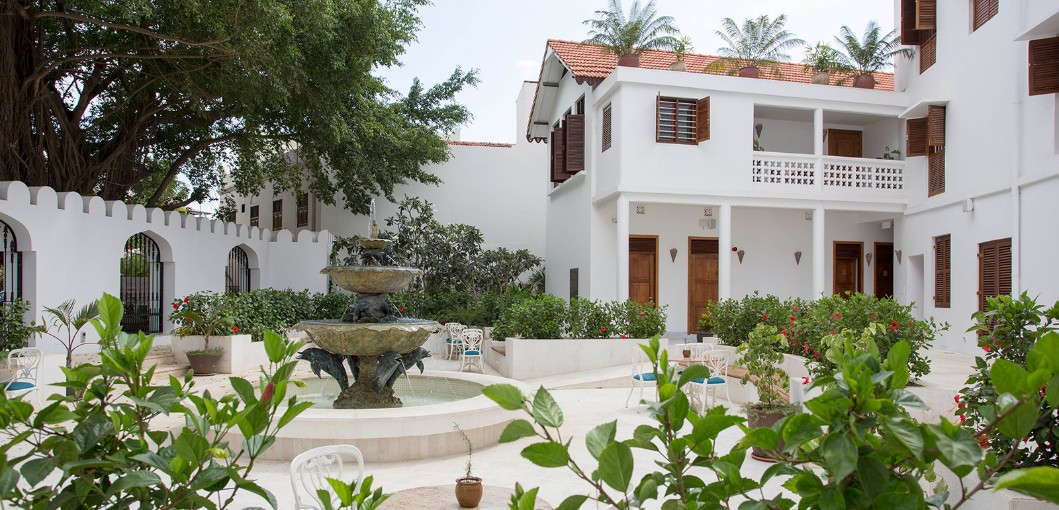 I drink up more dhow-dotted harbour views from the park Hyatt Zanzibar – stone town's only fully-fledged five-star address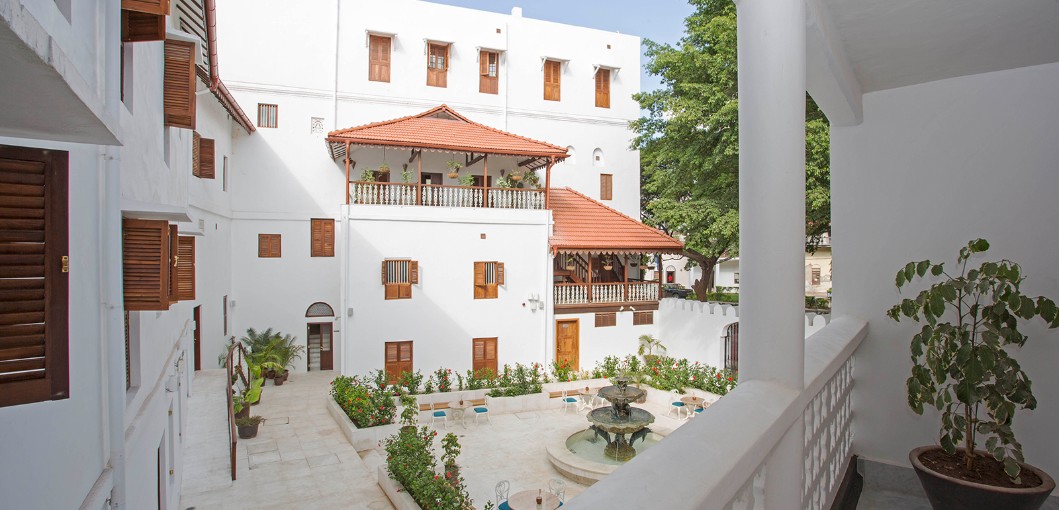 Save for four heritage suites, guest accommodation (67 rooms and seven suites) is housed in the modern wing, along with three dining outlets, which spill out onto a 90-metre-long outdoor terrace, overlooking Zanzibar's very own Venice Beach. Designed with lazy al fresco breakfasts in mind, it's a choice spot to enjoy bottomless fresh mango juice procured from the hotel's life-giving tree, I discover. Shangani is by no means the island's prettiest swathe of sand, but it hums with local life. Here, at its westernmost end, Zanzibaris congregate for impromptu swimming competitions and play soccer alongside fishermen repairing their dhows.
People watching is equally good from the hotel's 18-metre-long oceanfront infinity pool, or Zamani's art-filled Library lounge with a 'Sultan' cocktail in hand. The very definition of plantation-to-pour, 
its turmeric, lime and pineapple ingredients travelled just 15 miles from spice farms in the island's unruly jungle interior.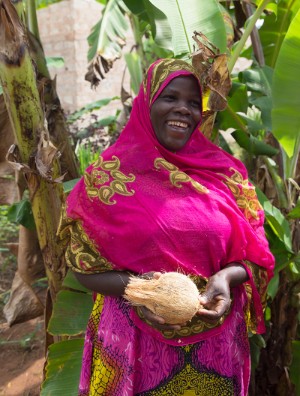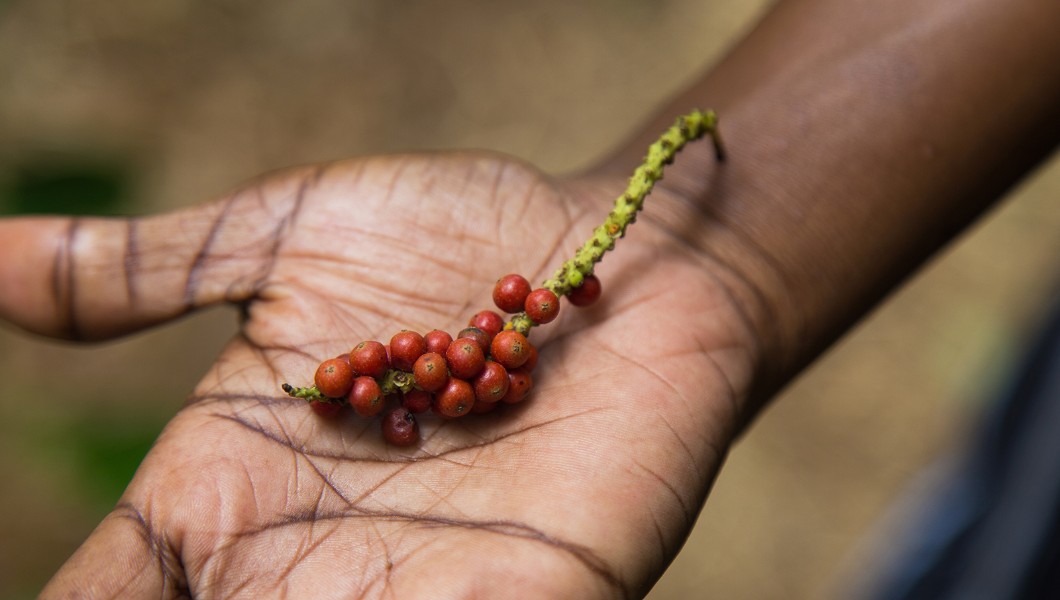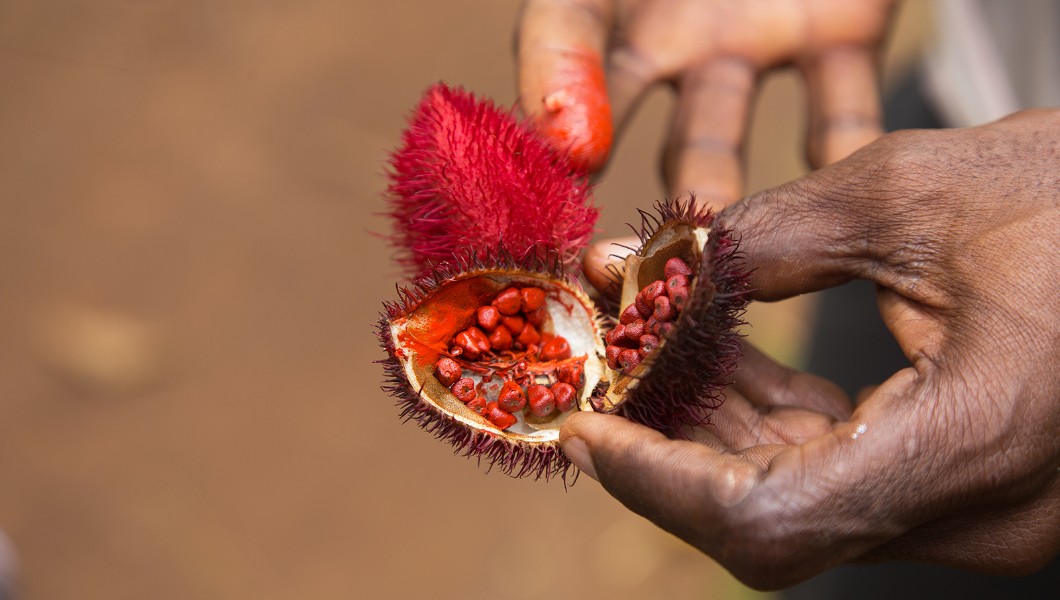 The same bracing, piquant scents I encountered in Stone Town's labyrinth laneways hit me tenfold on a private tour of community-run Maganga plantation (www.colorsofzanzibar.com). Wearing 
a crown of coconut palms and nourished on green oranges and guava plucked straight from the tree, 
I learn how vanilla is pollinated by hand, 
and cloves are used to relieve toothache. I hold my breath as guide Juma scales a coconut palm the size 
of a small skyscraper to deliver on his promise of freshly macheted "Zanzibar Coca-Cola"!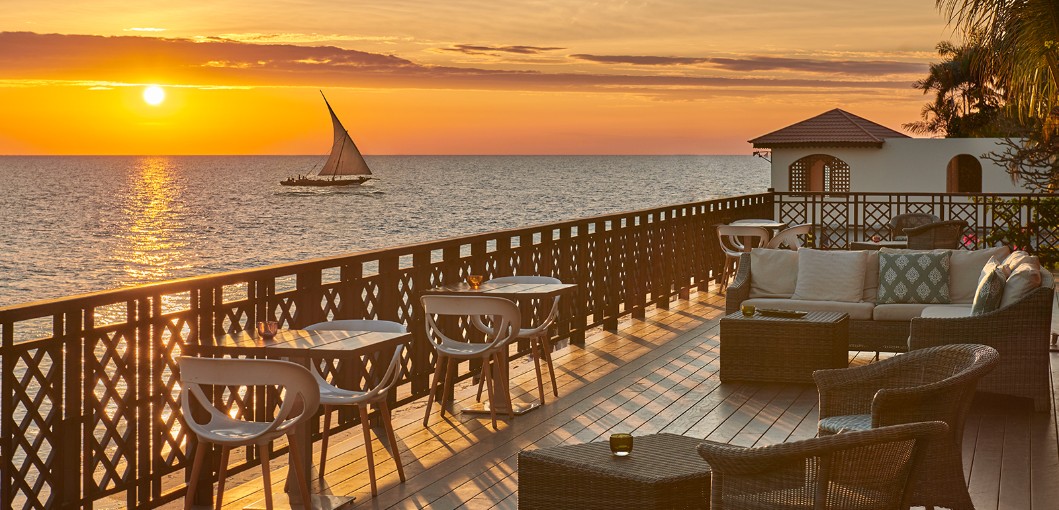 My spice journey continues under the beamed ceiling of Park Hyatt's Anantara Spa, where therapist Renaly steamrollers the knots out of my back with a cardamom-vanilla aromatherapy 
oil blend. The spa itself is a thing of beauty – seemingly floating over the hotel's vast horseshoe-arched lobby, that's strung with arabesque chandeliers and flooded with natural light from 
a glass pyramid roof.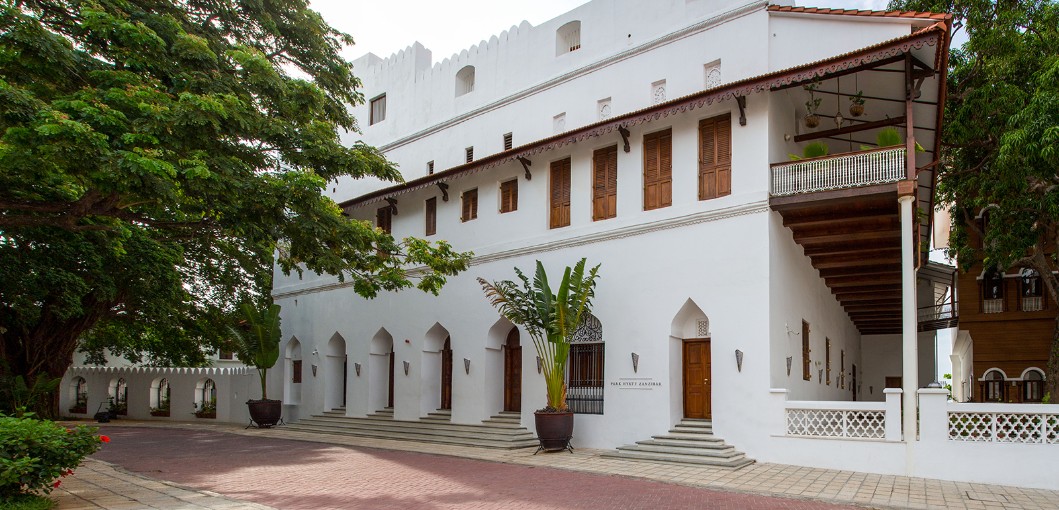 Trying to achieve this state of tranquillity amid the din and dust of Stone Town isn't impossible, if you know where to look. Tucked into a sleepy laneway behind the peppermint-green Old Dispensary is Kholle House. Pronounced "Holy House" in Swahili, the restored boutique hotel conceals a delightful interior courtyard that's open to non-guests. Named after the first Sultan of Zanzibar's daughter, it was built in 1860 to house the princess' prized collection of French ceramics, artwork and antiques. After hydrating with a hibiscus iced tea surrounded by flowering frangipani, I take a peek inside the hotel's sumptuous salon and reading room.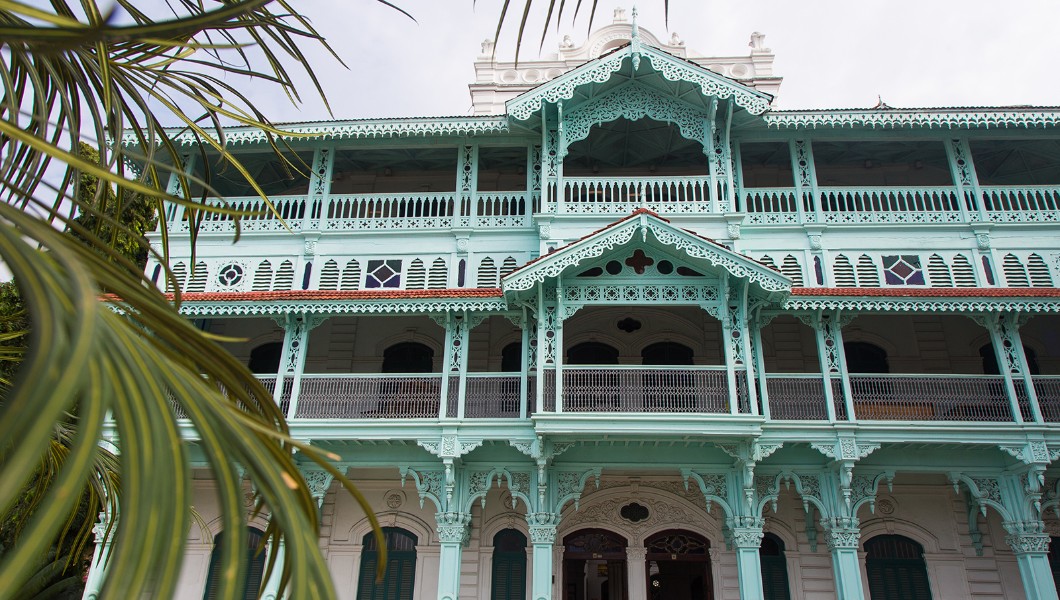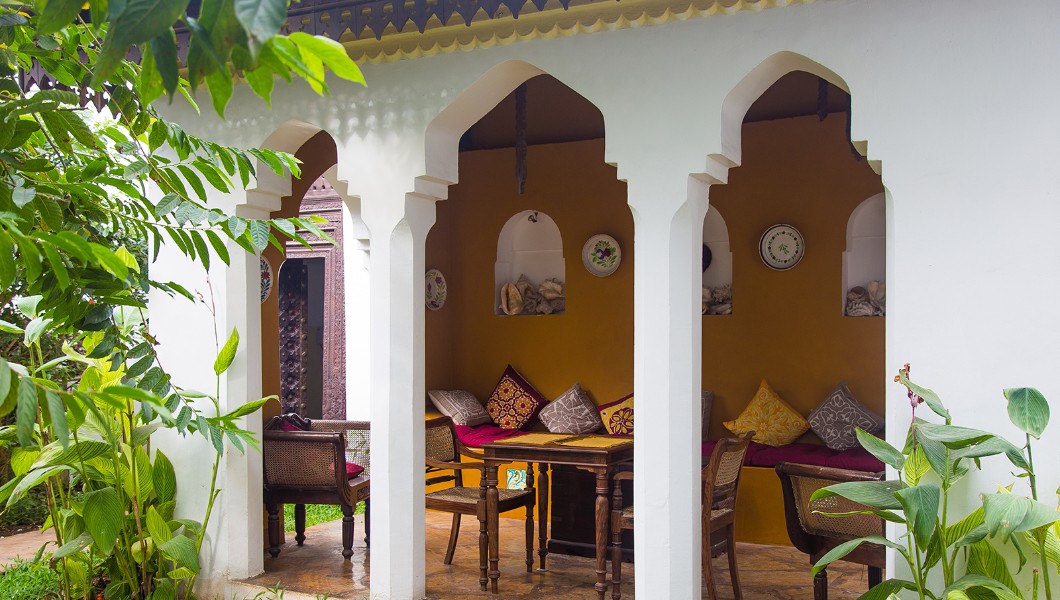 My amble back to Shangani Beach takes an unexpected and sobering turn, via the island's Slave Market Memorial on Mkunazini Street, which recounts Zanzibar's dark history as one of Africa's largest slave trading ports. It's fitting that my final night in Stone Town should be spent on a rooftop where Arab viziers used to take tea.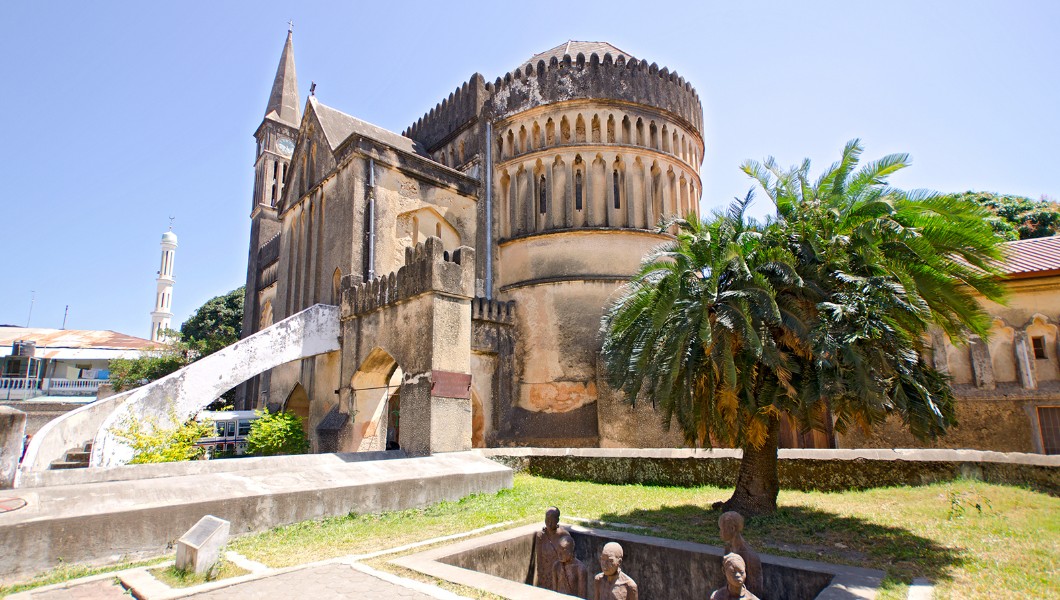 Dining at Emerson on Hurumzi is like stepping into a bygone era of the Arab sultanate. After huffing and puffing my way up eight stories of the 19th century merchant's house-turned-hotel, I sit, shoe-less, on embroidered cushions beneath billowing jewel-toned silks. Fanned out below are the city's higgledy-piggledy rooftops, interspersed with minarets and Hindu temple towers.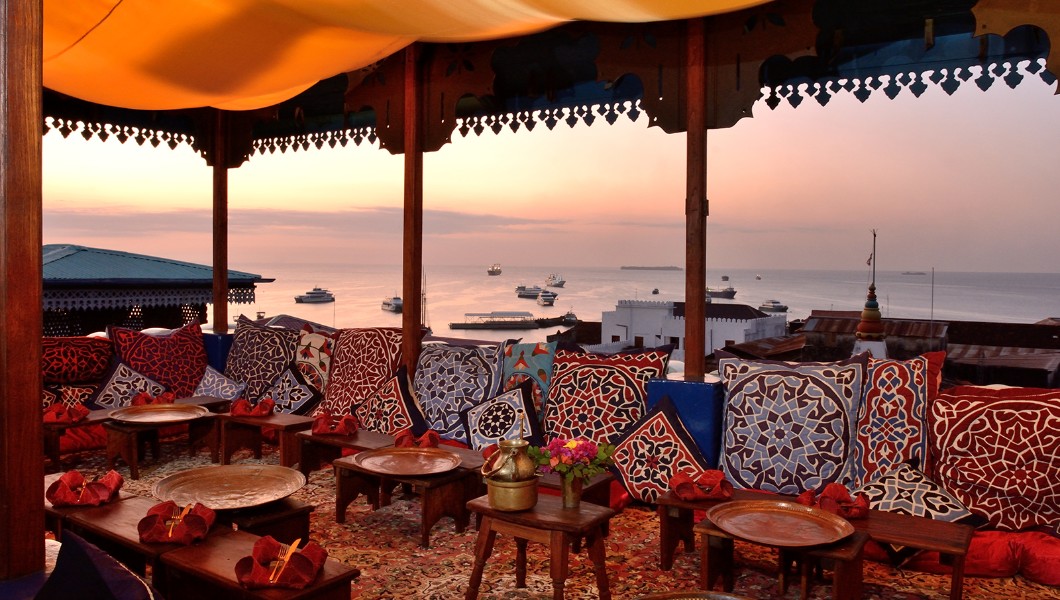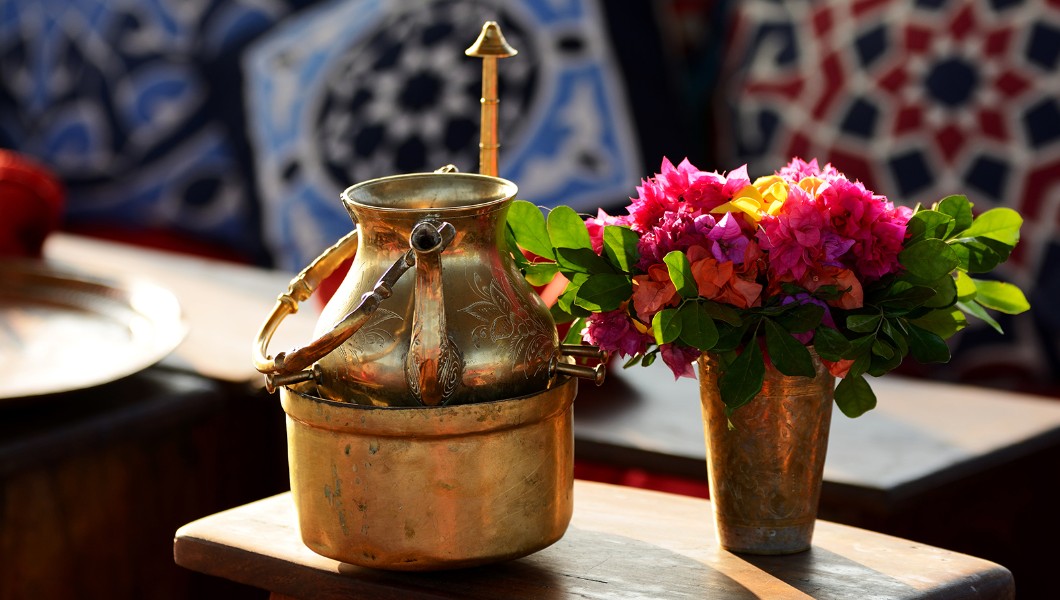 Fleet-footed waiters serve up a Swahili wedding-inspired feast of salted squid, pumpkin tagine, green papaya salad and tender goat curry with Persian pilau. Meanwhile, a musical ensemble plays taarab: the Swahili coast's songs of love and loss. Merging Arabic, Indian and African sounds, it is yet another reminder that this laid-back archipelago was where far-flung corners of the world converged, for millennia.
The strictly 'no shoes policy' continues 30 miles east at Mnemba; a heart-shaped coral atoll cast off Zanzibar's unsullied northeastern shores. With no jetties to speak of, departures and landings involve wading through calf-deep, gin-clear waters for 
a 10-minute speedboat transfer to &Beyond's exclusive resort.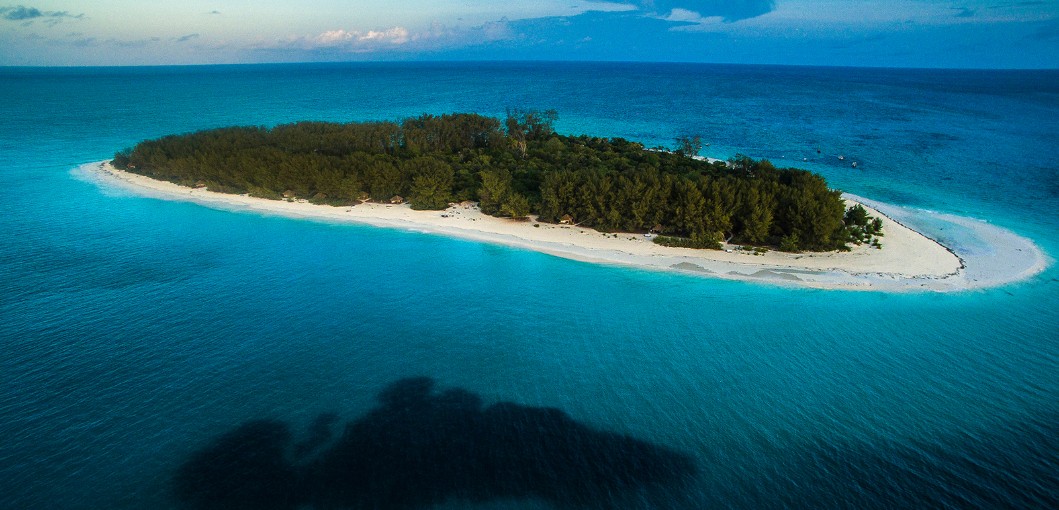 "Jambo!" comes the greeting in Swahili from my barefooted butler Chris, who welcomes me onto powder-soft coral sands that wrap like a halo around Mnemba's emerald green interior.
It's no surprise to discover that tech billionaires and Hollywood heavyweights have chosen this speck in the ocean (which takes all of 20 minutes to walk around at low tide), to escape from it all. With just 12 beachside bandas, a maximum of 24 guests at any one time, and a two-to-one staff-guest ratio, it's as good as your own private island. In fact, there's more chance of running into a spaniel-sized suni foraging in the foliage than a fellow human.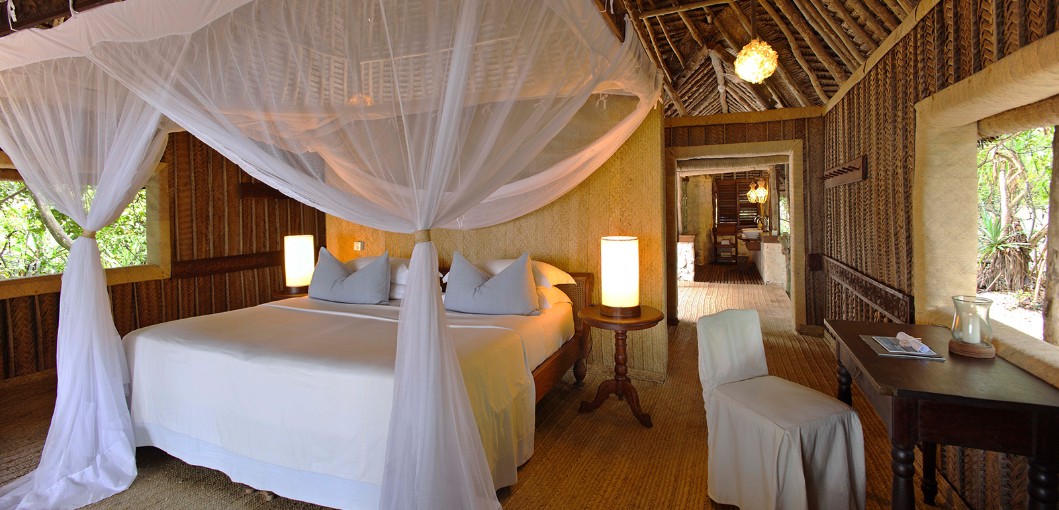 My first encounter with these adorable antelopes is on one of the pine-scented trails that criss-cross the island's casuarina forest, which protects Mnemba from eroding ocean currents. Translocated in a last ditch attempt to save the species from extinction on the mainland, suni have thrived in this predator-free zone, alongside Africa's rarest antelope: the Aders' duiker. Their population has increased seven-fold since being introduced here 15 years ago.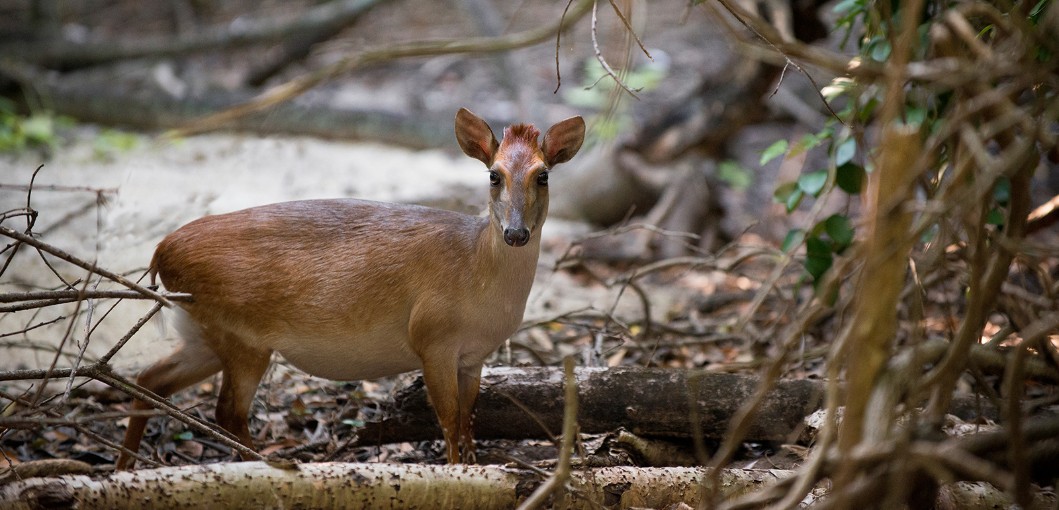 They are just one part of a wider conservation success story, which makes Mnemba as much 
a living laboratory for scientific study, as it is an all-inclusive island idyll.
A coconut's throw from my private beach sala, 
a small sign identifies where and when a turtle has recently excavated her nest in the sand. In around 60 days, up to 200, two-inch long hatchlings will emerge – a sight only a few lucky guests will witness (if they agree to a crack of dawn alarm call that is!). Mnemba is one of just two protected breeding sites for endangered green turtles in the Zanzibar archipelago.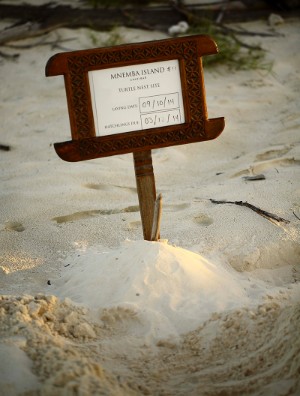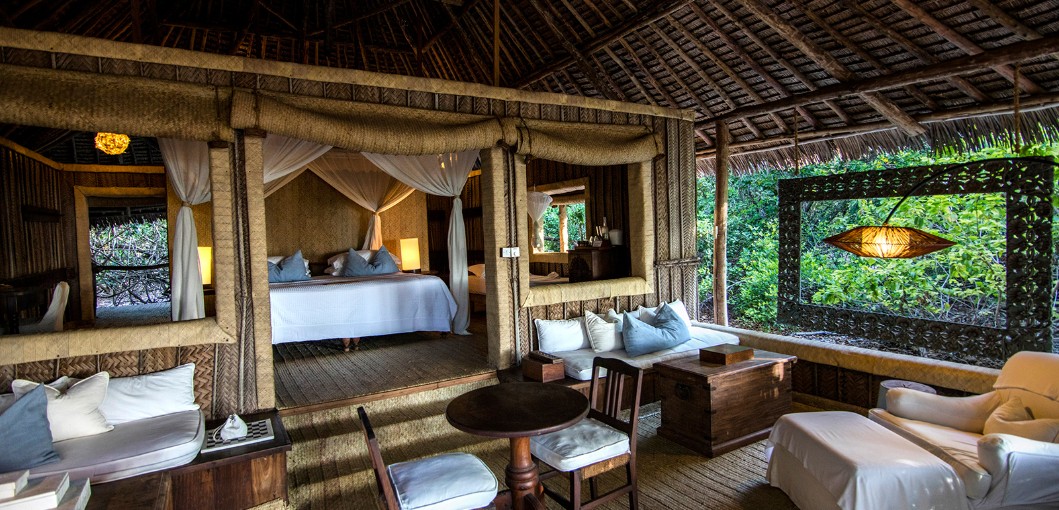 A short, sandy path weaves from the blindingly white beach to my makuti-thatched banda, bordered on three sides by tropical forest, rendering it almost invisible. The epitome of indoor-outdoor living (which Zanzibaris do so well), an open-sided veranda leads straight into my romantic refuge.
The centrepiece is a huge four-poster bed, complete with wooden scrolled headboard, billowing muslin curtains and crisp linens. Indigenous materials abound, with rattan-shade lamps, coconut matting floors (surprisingly comfortable), palm blinds and a log-hewn coffee table stacked with ornithology books. A covered walkway leads to a double-vanity bathroom, where everything from the soap dish to the beaded shower curtain is crafted from recycled glass.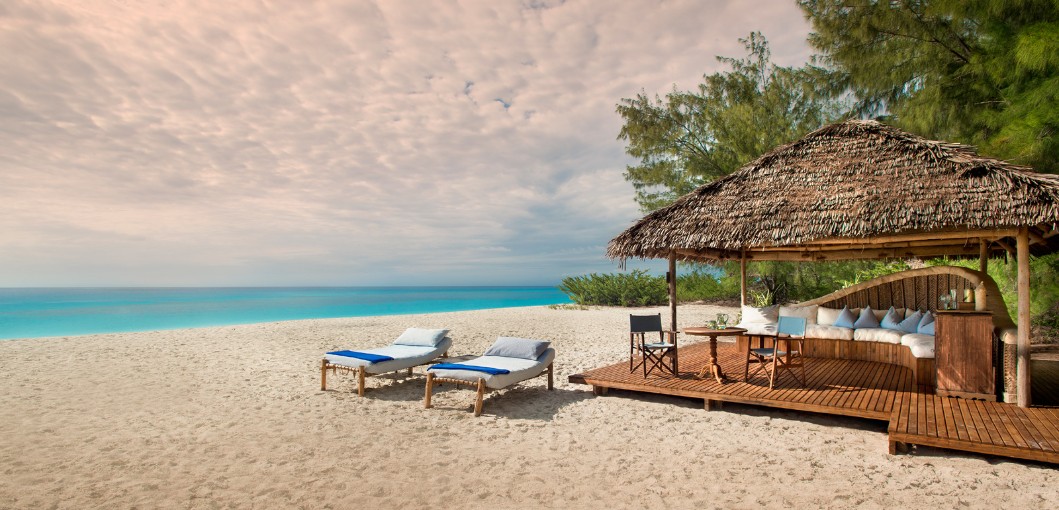 The scuttling of ghost crabs signals its dinnertime, and sure enough, I find the phantom-like critters chasing in and out of the waves as 
I shimmy across the sands to a small forest clearing, lit with storm lanterns.
Beneath a shiny bauble moon, I embark on 
a taste trek through Zanzibar's plantations. First up is a chilled cauliflower, lemongrass and ginger soup, followed by coconut-crusted chicken in red curry sauce, rounded off with a lemongrass brûlée.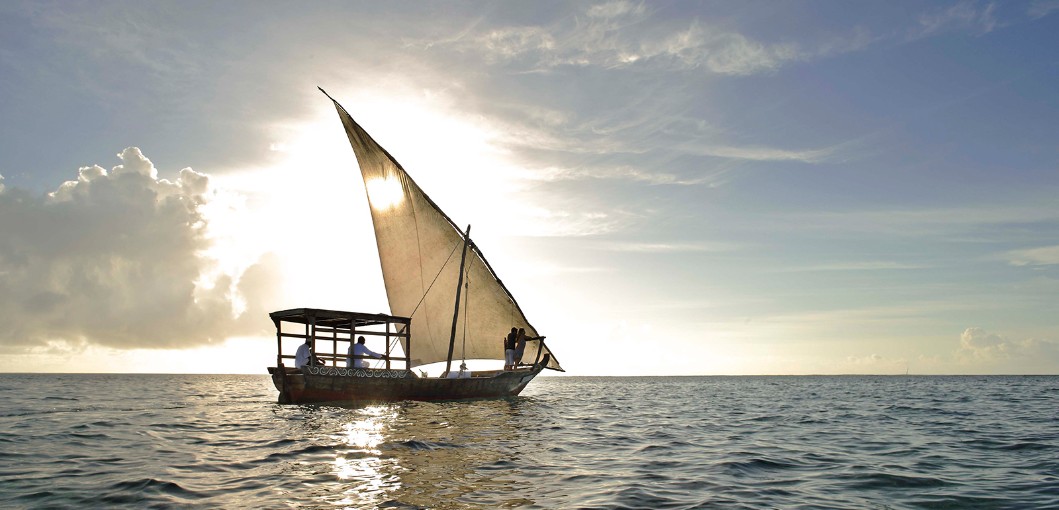 The coming days slip through my fingers with sunset snorkels, fresh-off-the-dhow sashimi lunches, and languorous strolls to the sandbank, which reveals itself at low tide. The beauty of Mnemba is that you can be as active or as sloth-like as you wish.
A highlight is sharing these cerulean blue waters with the island's resident pod of bottlenose dolphins, who make a show of flipping canary-coloured fish in the air for breakfast! Declared 
a marine conservation area, Mnemba's namesake reef is brimming with some 600 species of fish, including whale shark (a seasonal sighting), dubbed the graceful giants of the ocean.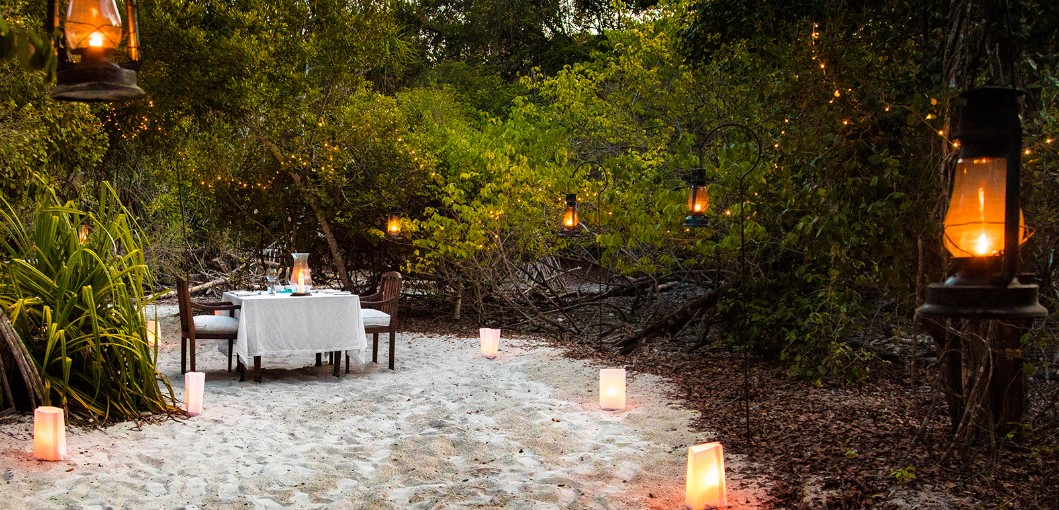 I savour the last few hours of daylight aboard the island's very own dhow – 
a 20-year-old beauty hollowed out 
of a mango tree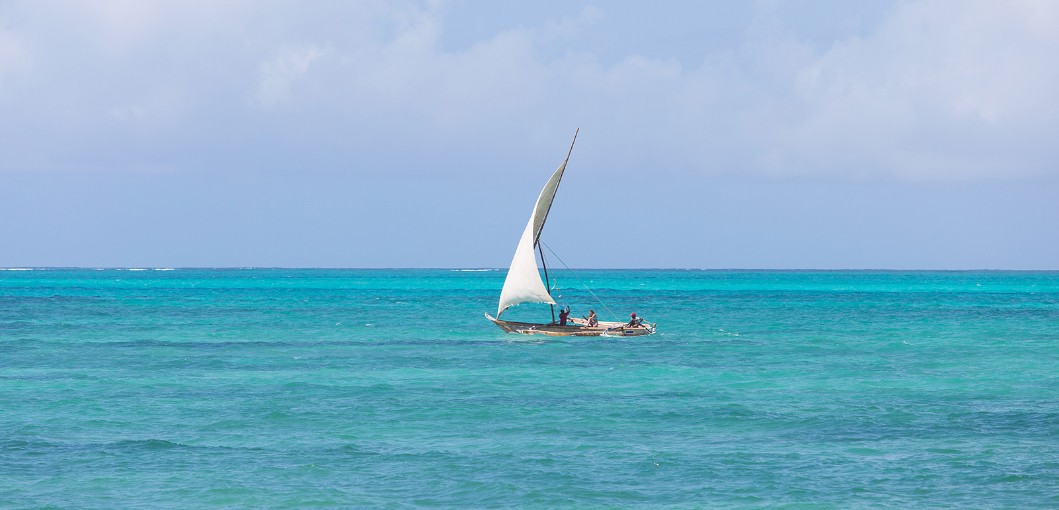 Coming full circle on my Omani-Zanzibar odyssey, I savour the last few hours of daylight aboard the island's very own dhow. Sails hoisted, our skipper Rama steers Aisha (a 20-year-old beauty, hollowed out of a mango tree) with a sure foot on the tiller. We lean into the monsoon wind – the same one that carried merchants across the Indian Ocean from the Arabian Peninsula to Africa. A living piece of history, these wooden-hulled boats have been plying Zanzibar's crystalline waters for centuries – arriving with dates and pearls and departing with precious woods, ivory and spices. Under the tugging triangle of Aisha's cotton sail, 
I sip Prosecco from a frosted glass, willing the sun's flaming yolk to hover above the ocean just a little while longer…
Stay:
Park Hyatt Zanzibar
+255 24 550 1234
&Beyond Mnemba Island
+27 11 809 4300