I polish off the last vine-wrapped grilled sardine before diving into octopus drenched in silky Santorini fava. "Leave room for the [Evia Island] goat cheese!" advises my waiter, with a knowing smile. Bringing these big Greek coastal flavours to the cobbles of downtown Athens' pedestrianised Skouleniou Street is Dopios restaurant. It's one of a growing wave of homegrown, independent businesses breathing new life into the heart of the Greek capital, giving visitors good reason to look beyond its antiquities.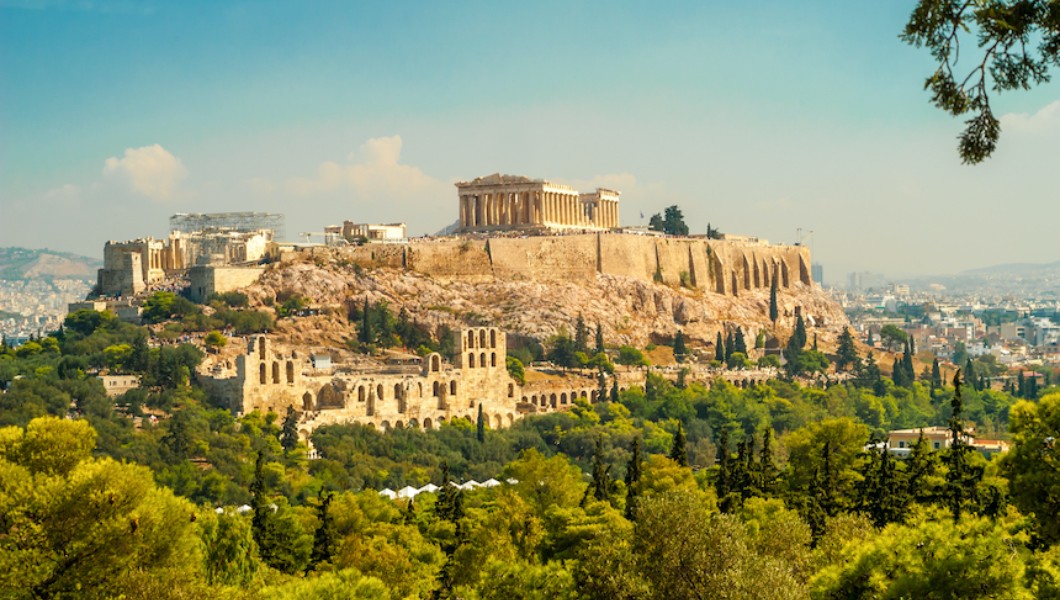 It's hardly surprising that Athens is defined by its wealth of archaeological wonders. The city-state is regarded as the cradle of Western civilisation after all. For some, the capital is merely a gateway to the sun-drenched Greek islands. But with rugged peninsulas and postcard-pretty coves in easy reach, it's perfectly possible to get your city-seaside fix without hopping on another flight or ferry. November time – when the crowds have thinned-out and the still swimmable sea is a pleasant 20 degrees – is a choice time to visit and tick off its alfresco historical hits. Athens' wealth of cultural indoor attractions makes it an equally great summer destination too, especially if you can combine it with a few days up the coast.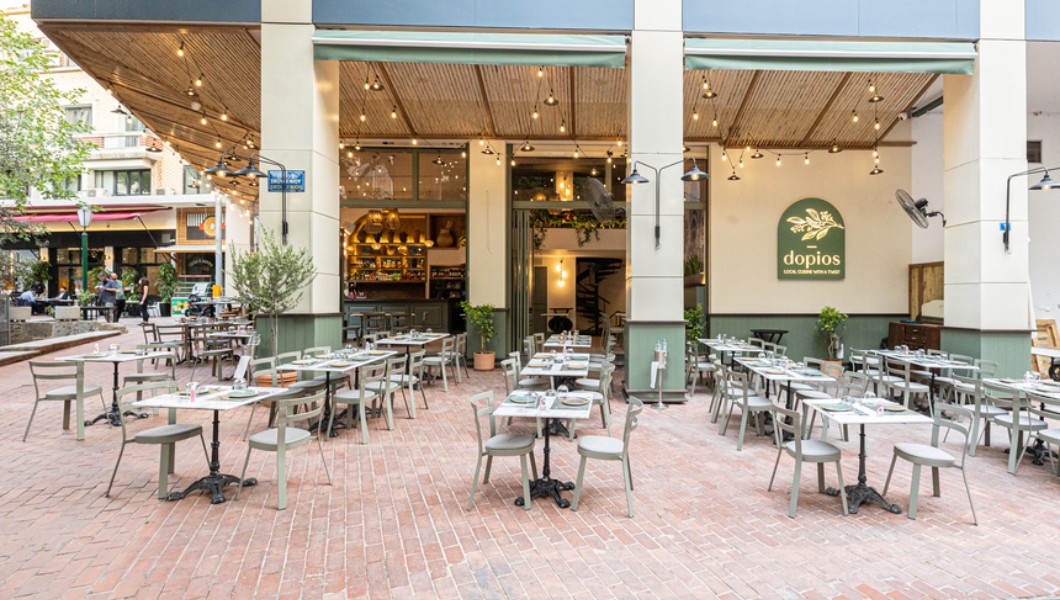 Dopios has its diners island hopping from plate to plate, either surrounded by tiled murals and potted plants inside, or overlooking a beautiful Byzantine church, streetside. Putting provenance front and centre, celebrated chef Christoforos Peskias makes a point of calling out suppliers (from farmers to beekeepers) in his seafood-centric, modern-mezze menu.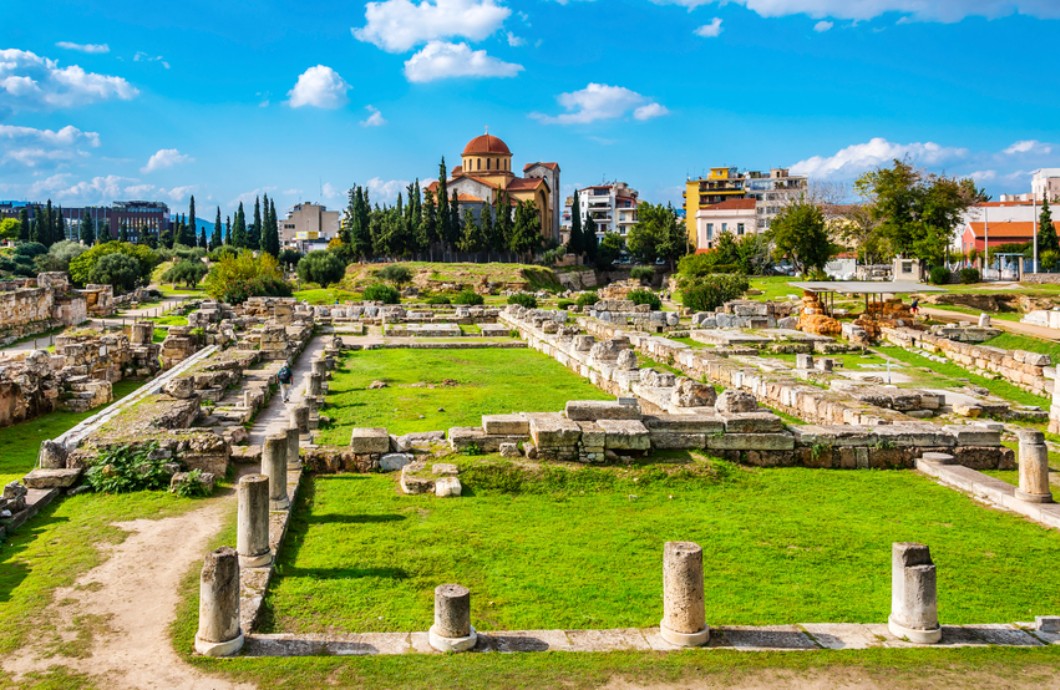 Another unexpected portal to island life is Mon Coin: a Hellenic-blue-and-white gallery-shop tucked into a narrow street in downtown's vibrant Monastiraki neighbourhood. Founded in 2019 by French ceramicist Eléonore Trenado-Finetis, it's a love letter to contemporary Greek ceramics, and located a whisper from 11-acre Keramikos Cemetery, where two-millennia-old pottery workshops once stood.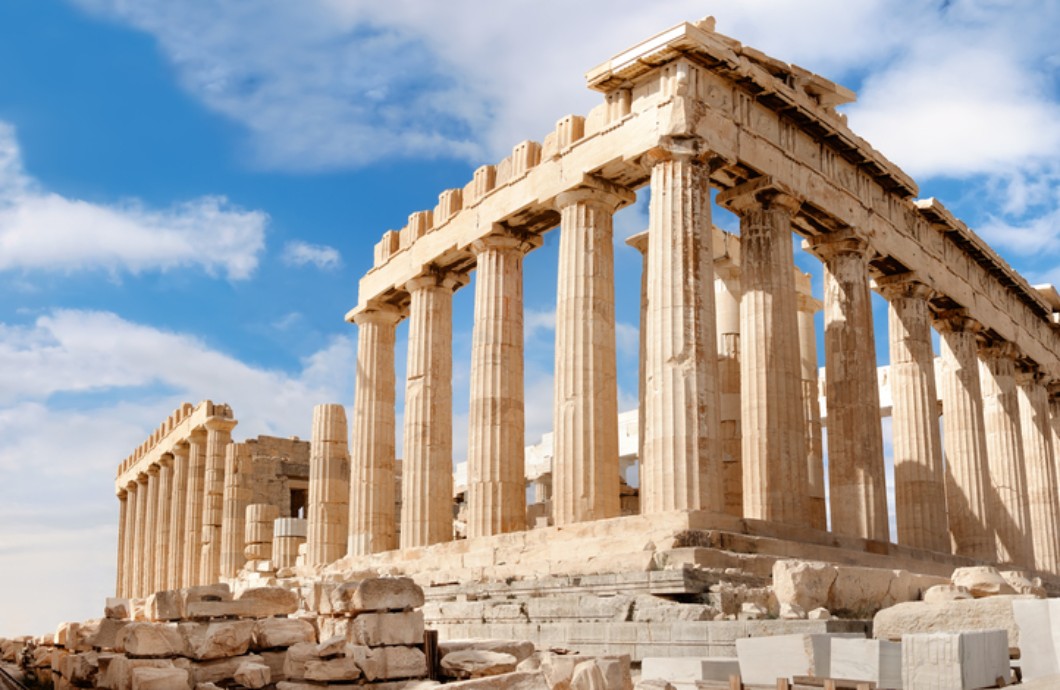 "The whole city is on top of antiquity," American anthropologist and Athens' adoptee Tyler Boersen exclaims as we watch a bulldozer tear down a 19th-century façade just steps from Mon Coin. It's the latest phase of a decades-long excavation of the capital's ruined Stoa Poikile – one of the Athenian Agora's most celebrated buildings – which rests in the shadow of the iconic Acropolis. Inhabited since neolithic times, this part-citadel-part-sanctuary's star attraction is the Parthenon: a marble masterpiece erected without mortar or cement, 2,500 years ago.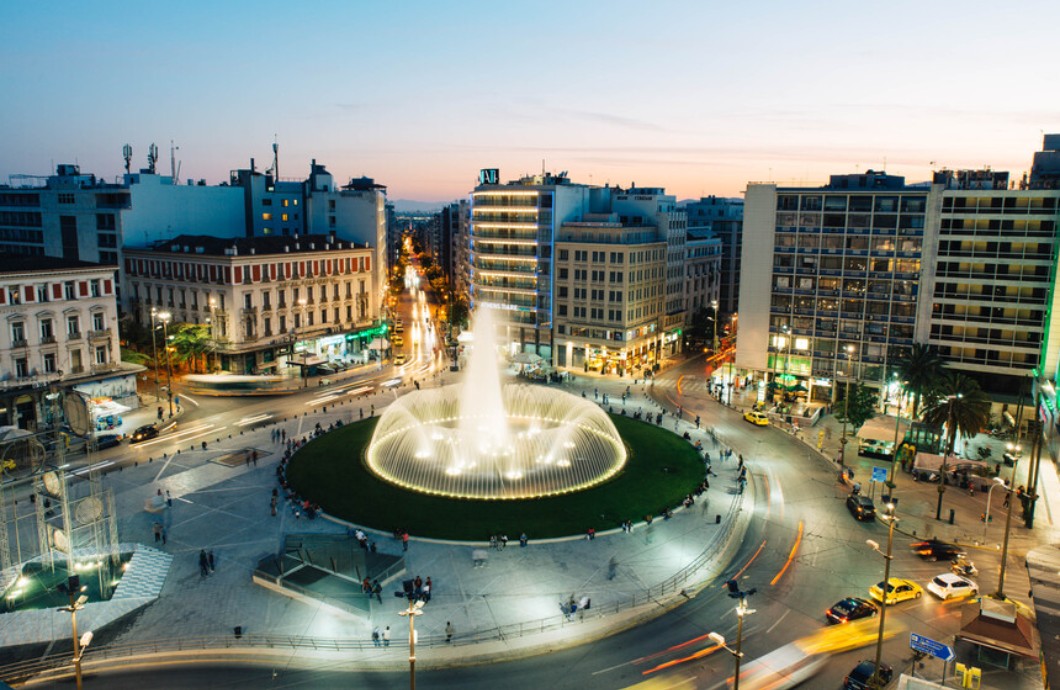 "Everything was designed in the 1800s to have a view of the Acropolis," Boersen remarks as we stride purposefully up Panepistimiou Avenue (one of the city's main arteries) towards Omonia Square. "It's one of the meeting points of the city," Boersen says of the former no-go-zone, which has undergone one of downtown's most dramatic transformations. "Water is really important here. People have a relationship with the sea," Boersen continues, as I'm rooted to the spot by Omonia's dancing fountain, restored to its former glory two years ago.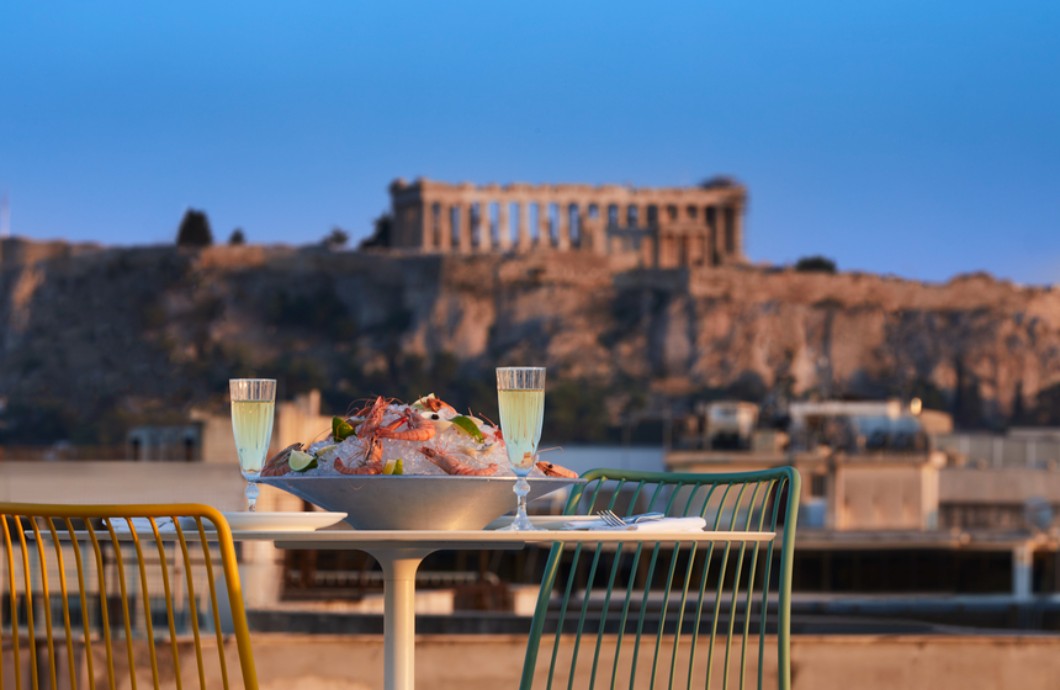 Its 188 jets look even more spectacular nine stories up from the sweeping rooftop terrace of Brown Acropol, which, together with its sister hotel, Brown Lighthouse, has been a driving force behind Omonia's revival. Taking its name from the city's foremost classical icon, Acropol is the flagship property of Tel Aviv-founded hospitality group Brown Hotels, who made their entry into the Greek hotel market last summer.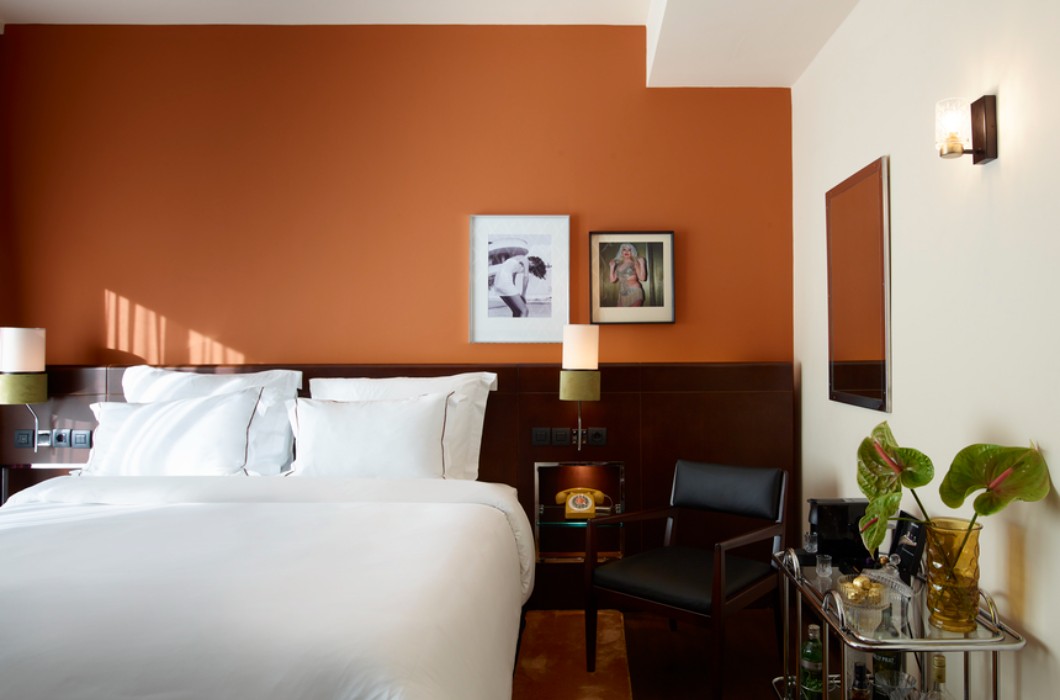 Inside, the 165-room hotel exudes retro sophistication, from its lofty Mad Men-esque lobby bar, to the rusty-hued library snug where Motown sounds from the speakers. The '60s-inspired decor is watered down in its eighth-floor executive suite: a vision of mid-century furniture, brass detailing and no-expense-spared materials like caramel leather and green marble. In the absence of orange slices to whip up an old fashioned, I settle for a glass of chilled bubbly.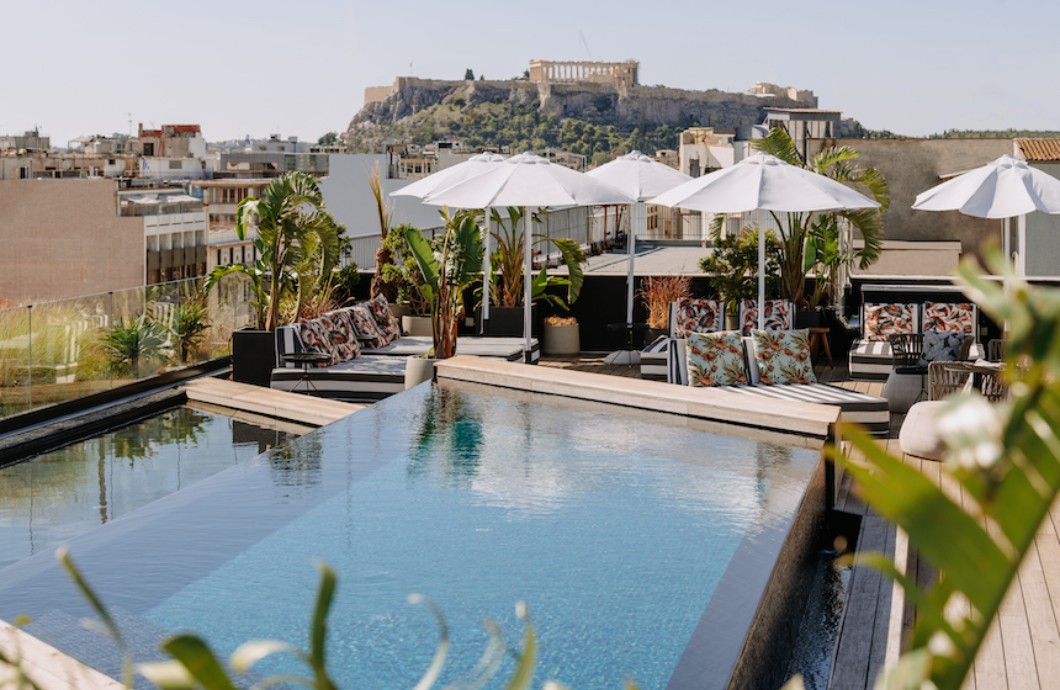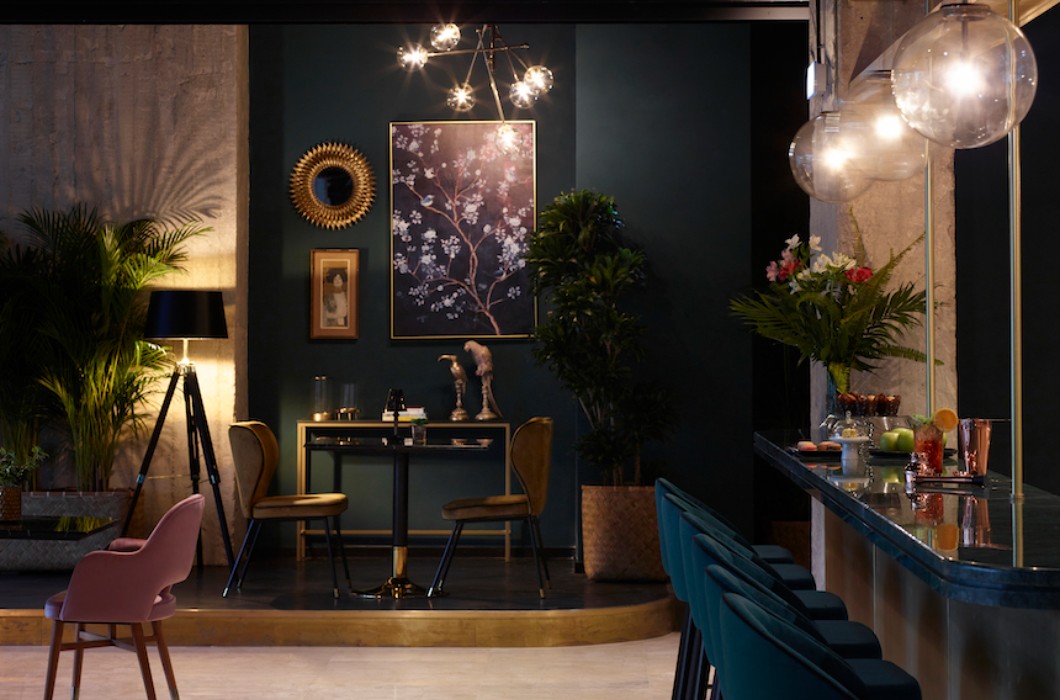 The following morning, I head to the heart of downtown to redeem myself at The Naxos Apothecary. I feel rejuvenated just stepping foot inside the stylish concept-store-cum-herbal-pharmacy, where there's not a whiff of bleach! Rather, a heady herbal bouquet lingers in the air. Everything from the artisanal cocktails (served upstairs in its new tranquil tea-room) to the own-brand fragrances, are made from organic grown on the Cycladic Island of Naxos. Its cofounder is Giorgos Korres of clean beauty brand Korres: a household name in Greece. Downstairs, phytotherapists work from an open state-of-the-art-lab (also visible from the street) and shelves are stacked high with lotions and potions. There's even a skincare bar, where my facial pores, serum levels and elasticity are scrutinised with a smartphone-like device equipped with specialised lenses.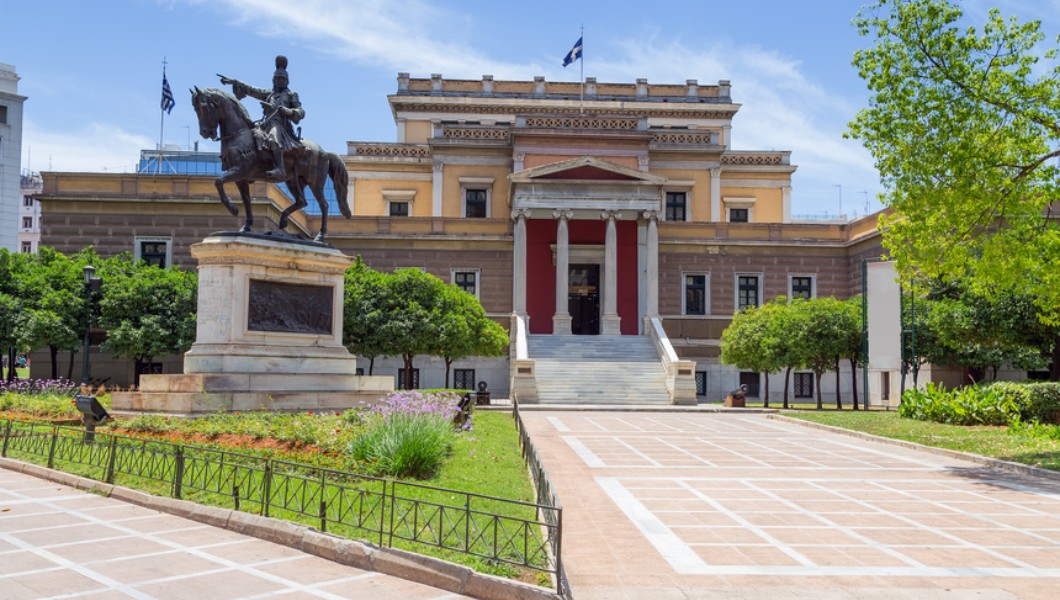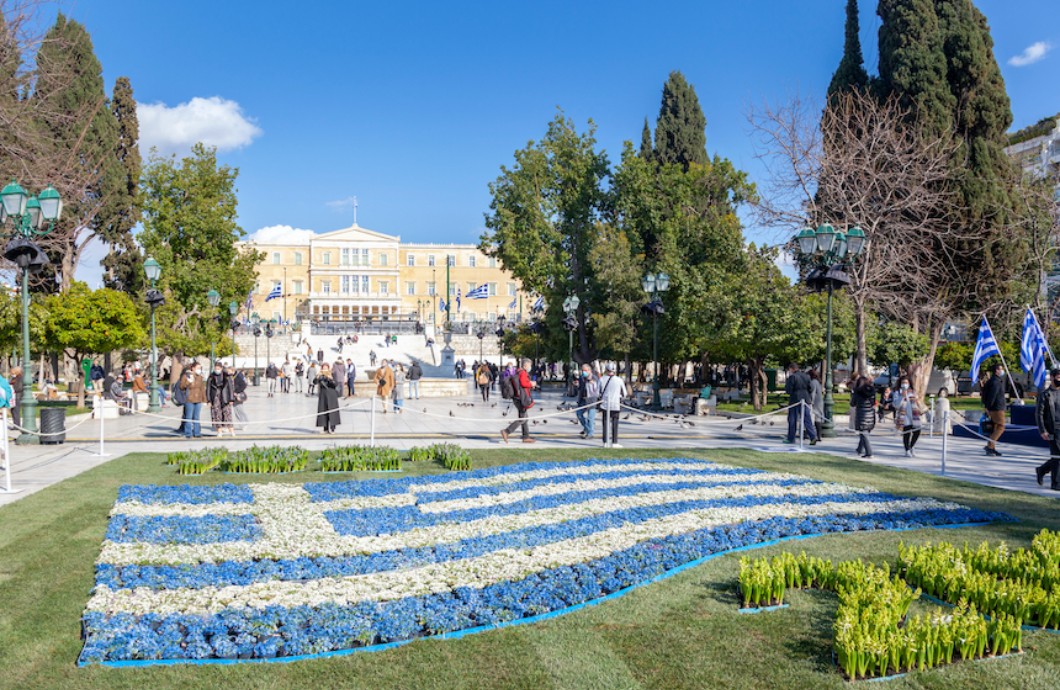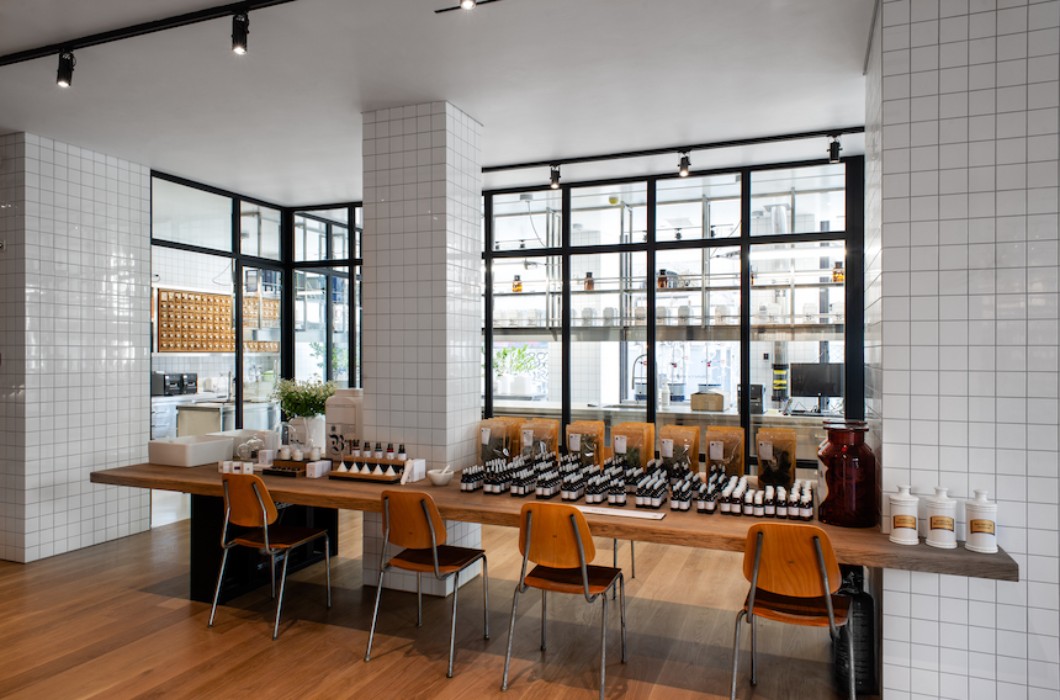 A five-minute stroll away is storied Syntagma Square, where all Athenian roads seem to lead to, including Ermou that's dubbed "The Bond Street of Athens". Crowned by the city's imposing parliament building, Syntagma is another square undergoing a radical facelift, albeit one that's been dragged-out by the discovery of yet more Roman artefacts. Syntagma puts you in striking distance of Athens' new-look National Gallery, which boasts the country's single largest collection of Greek modern art and sculpture. Also known as Alexandros Soutsos Museum, the 20,000-square-metre stunner reopened last March after a 60-million-dollar overhaul. Worth the decades-long wait, its sleek new glass façade casts masterpieces by Goya and the great Greek painter El Greco in a whole new, natural light. Meanwhile, its sculpture-studded courtyard café serves up tall glass cappuccinos with a side of Rodin.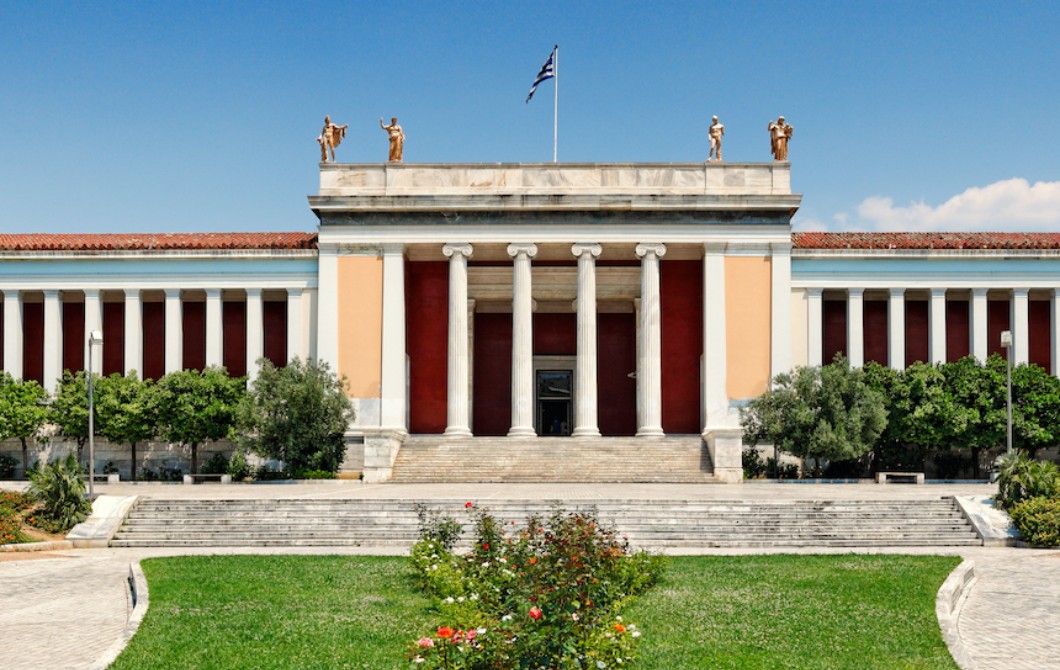 You could say the city is in the midst of a museum makeover. The National Archaeological Museum is being readied for a reboot, whilst the National Museum of Contemporary Art (EMST) is finally hitting its stride after its 2020 relaunch was stalled by covid closures. Housed in Syngrou Avenue's long-abandoned 1950s Beer Brewery, the "horizontal skyscraper" (which displays a 1,300-strong permanent collection) is a work of art in its own right.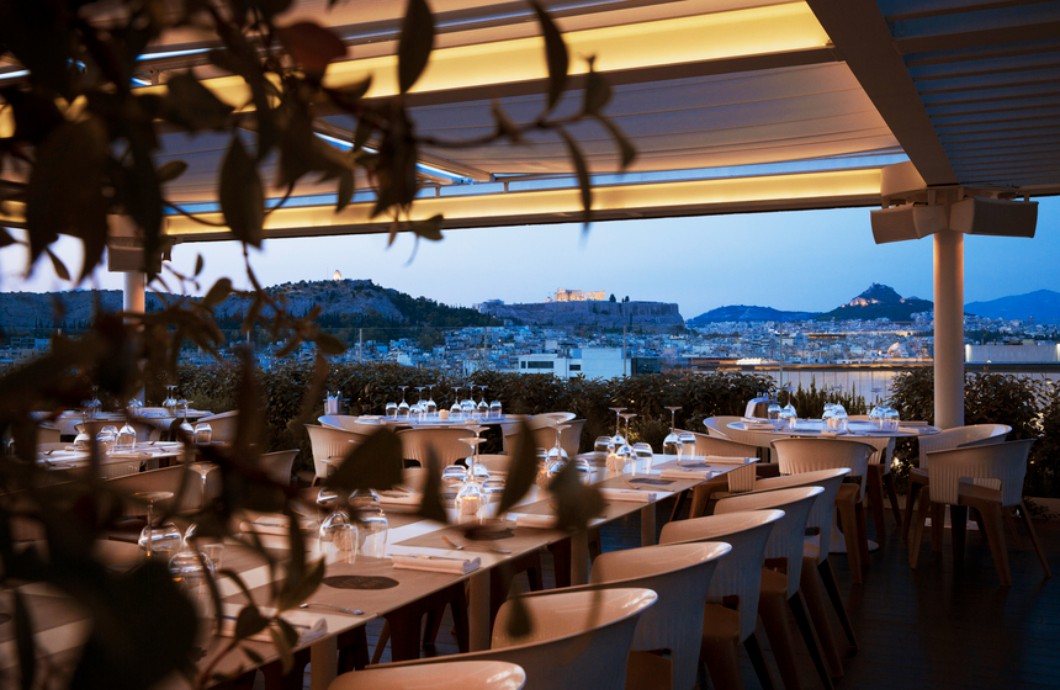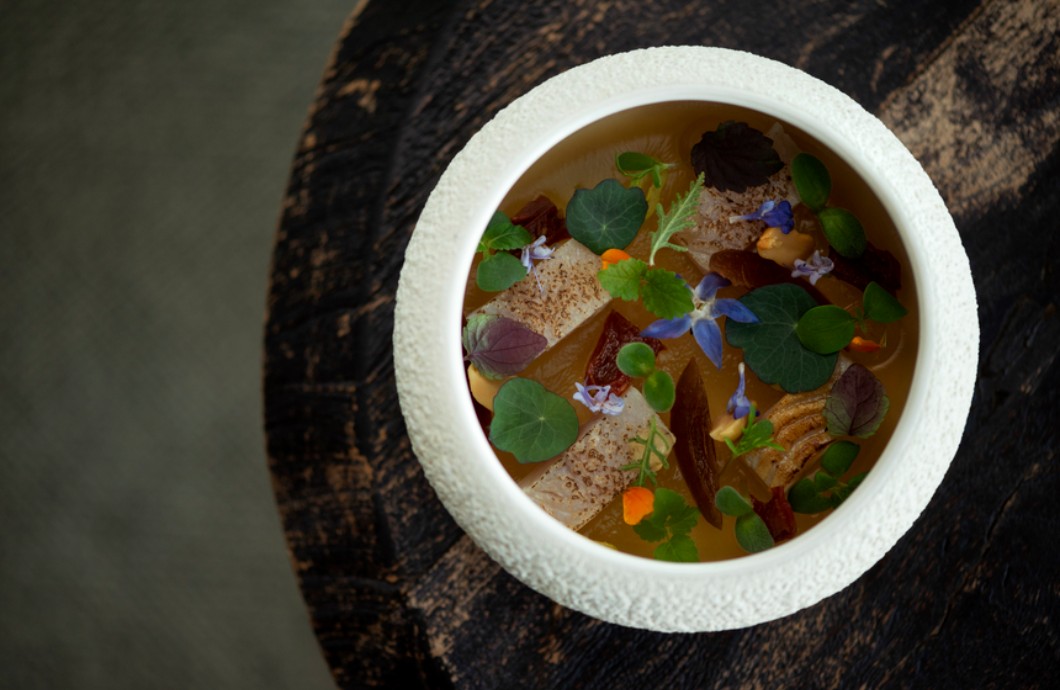 EMST's one of a handful of cultural heavyweights propped up by private foundations like Onassis that's behind the city's Onassis Stegi, which is to Athenians what the Barbican is to Londoners. Spanning an entire block from Leontiou to Galaxia streets, it's also the address of one of Athens' most acclaimed restaurants, which migrates from the building's sixth level to its rooftop terrace, come summertime. Its name may derive from an ancient terracotta cooking vessel, but Michelin-starred Hytra's cuisine and concept are anything but dated. Marble-topped tables flank an illuminated bar inspired by the Greek art of basket weaving, whilst its seasonal tasting menu is artfully-plated by newly-appointed native chef, George Felemegkas. The evening gets off to a smoky start with fermented trout and potato beautified with edible flowers, climaxing with a beef short rib accompanied by chickpea puree, fermented carrot and carob honey. Meanwhile, the wine pairings take my palette on a grand tour of Greece, with a peachy pour hailing from Drama in the mainland's northeast region, and a perfumed dessert number from the Aegean Island of Lemnos.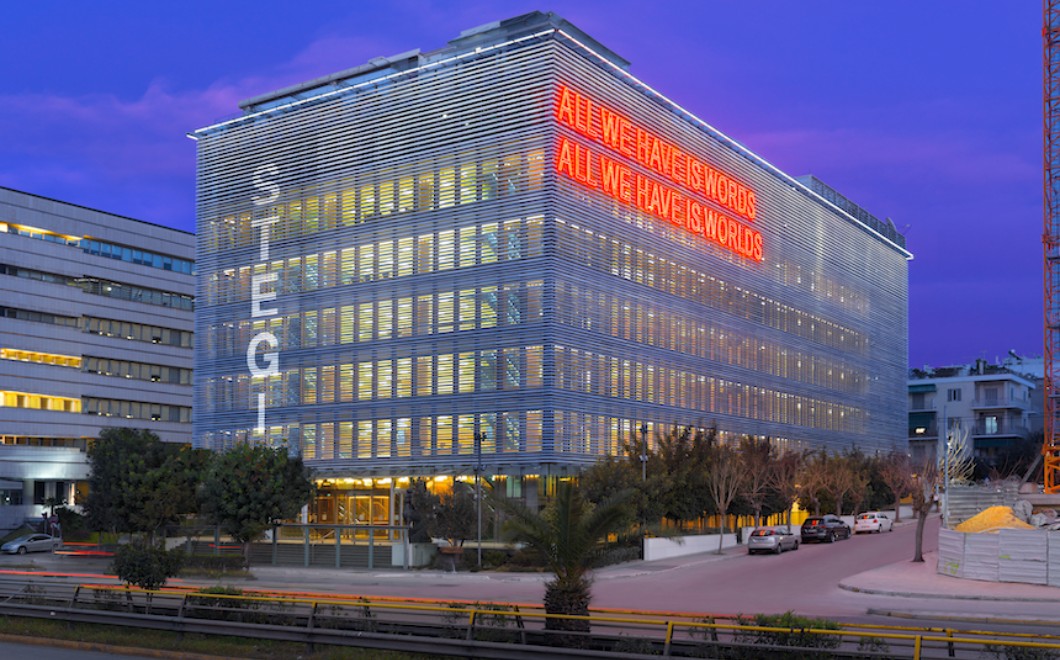 Also boasting knockout views of Lycabettus Hill is Lighthouse Athens: my second stylish check-in. Swaddled in a terrycloth bathrobe, I drink in the city's highest point from a striped cabana beside its rooftop plunge pool; a sweet spot to stave off the summer's blowtorch heat. Opened in 2020, the 220-room-hotel's glam interior recalls the neoclassical edifice's former life as a theatre. Think moody corridors, mirrored walls, vintage wallpaper, baroque detailing and guest rooms dripping in velvet furnishings and deep jewel tones. The extravagances continue the next morning in its chandelier-strewn first floor restaurant overlooking Omonia Square. A bulging breakfast buffet of shakshuka, Greek salads and endless cold cuts is washed down with freshly squeezed orange juice and bottomless mimosas.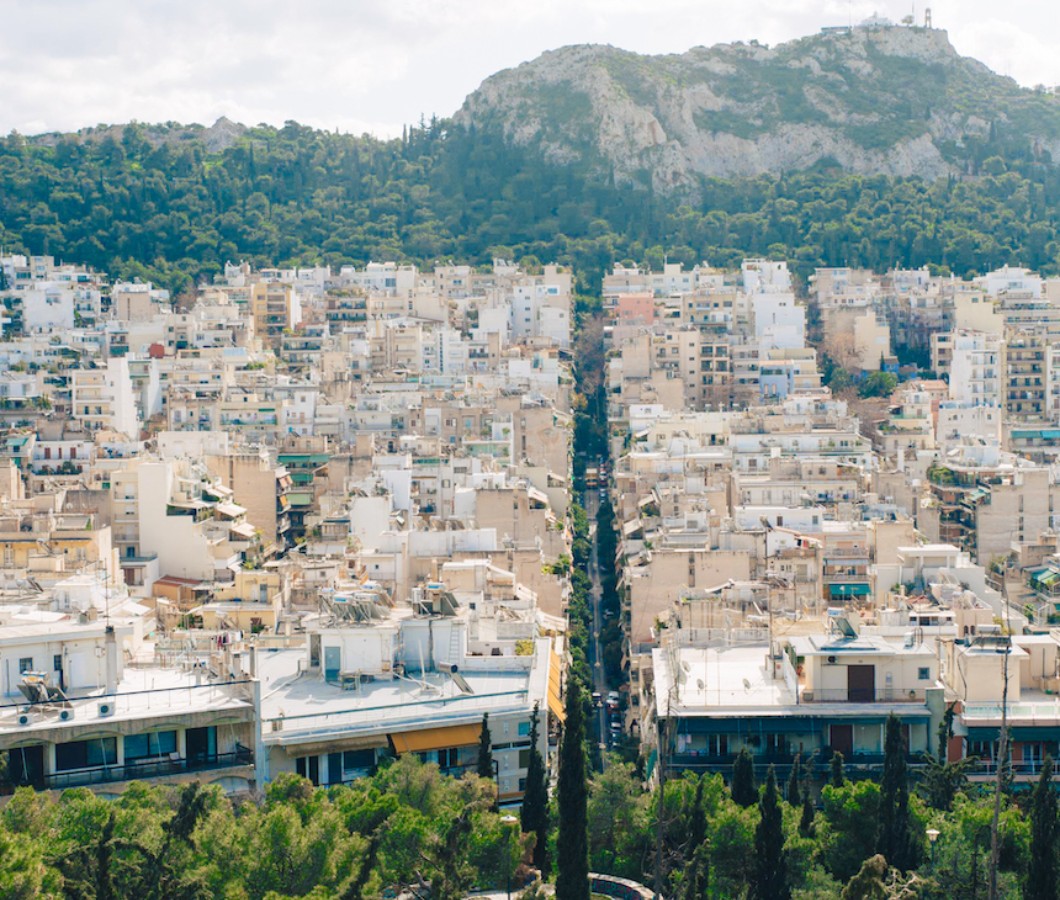 Craving some sea air, I trade my Lighthouse lodgings for the real thing, perched cinematically at the tip of a pine-forested peninsula known as Perachora. I gaze out to the same expanse of blue that followed me all the way here from the capital, located a scenic 90-minute drive west of Loutraki-Perachora-Agioi-Theodoroi region, which juts out into the Corinthian Gulf. Gleaned from the Greek word loutro (or bath), Loutraki town is famous for its healing thermal waters that flow from under Mount Geraneia. It even had its own dedicated deity called Thermia Artemis, back in the day.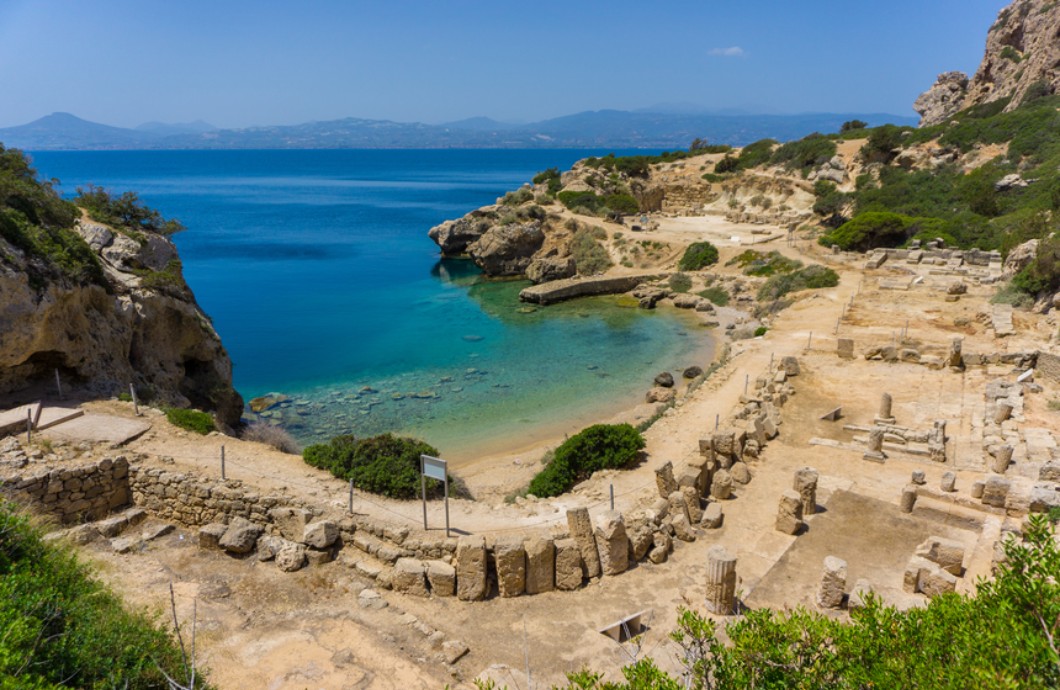 Meanwhile, it was the goddess Hera – wife of Zeus and Queen of the Olympian Gods – who was worshipped 12-miles away in Perachora's classical site of Heraion. Leaving Cape Melangavi lighthouse behind, my guide leads me along a trail that snakes through rocky terrain. After a windswept 30-minutes, we reach a lookout that reveals a pretty cove where ancient ruins are strewn like giant pebbles washed up on a beach. Despite being one of Greece's lesser-known archaeological sites, The Heraion of Perachora was the most important relic of the early Corinthian civilization, founded three centuries before Athens' pillared Parthenon. Descending down the hillside, I check off its sacred rainwater-storing pool and stone dining-couches, before giddily diving into the turquoise waters that lap Heraion's 3,000-year-old shores.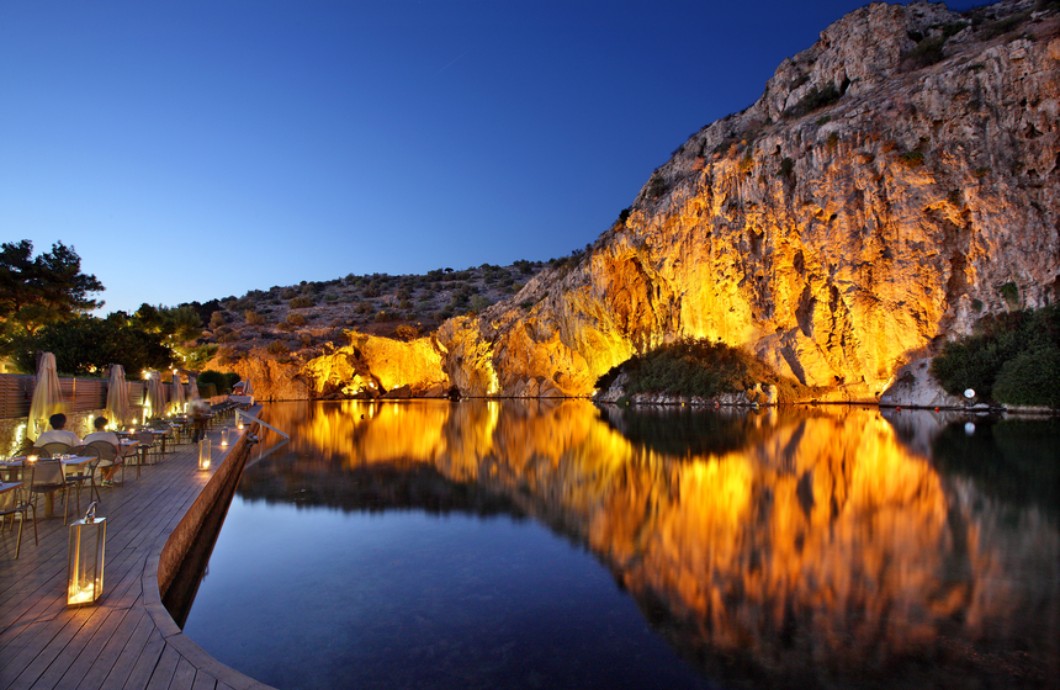 My second swim of the day is reserved for Loutraki's luminous saltwater lagoon. Named 'Eschatiotis' in ancient times (meaning the last or remotest part of the promontory), Lake Vouliagmeni owes its clear, calm waters to a narrow strait which channels water in and out from the Corinthian Gulf, every six hours. After a pre-lunch paddle, I revive myself with a hearty dakos (a salad made with tomatoes, feta, capers, cheese and olive-oil-soaked barley rusk) at Ypanema restaurant, raised on a platform above Vouliagmeni's tree-shaded beach.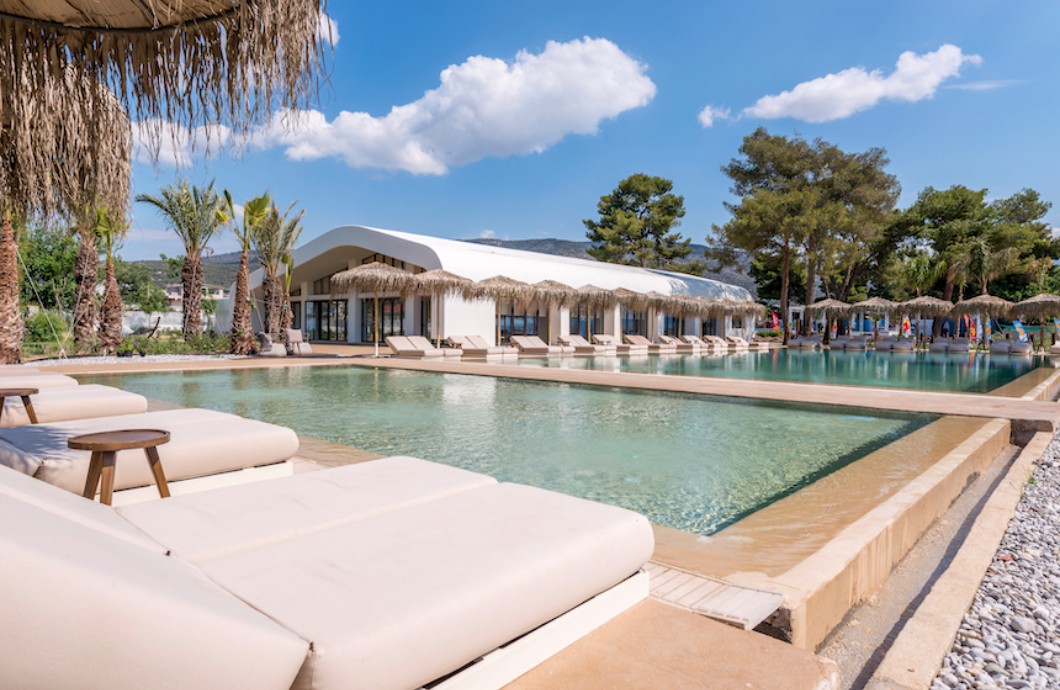 Together, the Corinth and Saronic Gulfs are the gateway to the Peloponnese Peninsula: one of Greece's wealthiest city-states during Roman times. Fittingly, the Saronic's newest attraction belongs to Brown Hotel's new line of ultra-luxury resorts. Set on a private stretch of pristine beach near the coastal town Agioi Theodoroi, Isla Brown Hotel's striking exterior appears to mimic giant smoothed pebbles, stacked one atop each other. The fluid forms continue inside, where everything from the free-standing gold bar to my elegantly understated suite's backlit headboard, celebrate curves. I later learn that the property's design muse was Sousaki: a volcano in North eastern Corinthia. Reassuringly, the sleeping giant hasn't rumbled in 2.7 million or so years!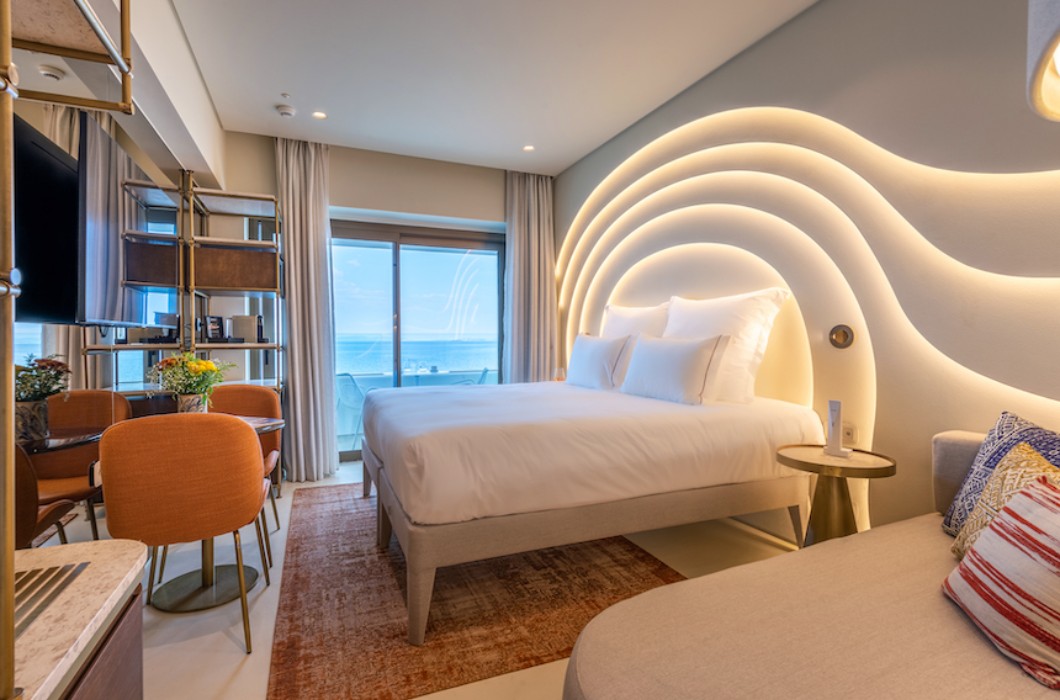 Hidden like a volcanic chamber in the lower ground floor is the hotel's softly-lit spa. The next morning, I indulge in a stress-combating massage in one of its burnt-lava-tiled treatment rooms. It's the yin to the hotel's Mykonos-vibing rooftop, set to fully open next spring. Flaunting an all-day bar and round reclining day-bed sofas, guests can drink in unobstructed 360-degree views, and even make out the hazy outline of the Saronic Islands on a clear day. For now, Isla Brown's greened grounds – strung with tasselled hammocks and a 24.5-metre pool – offer up the perfect R'n'R.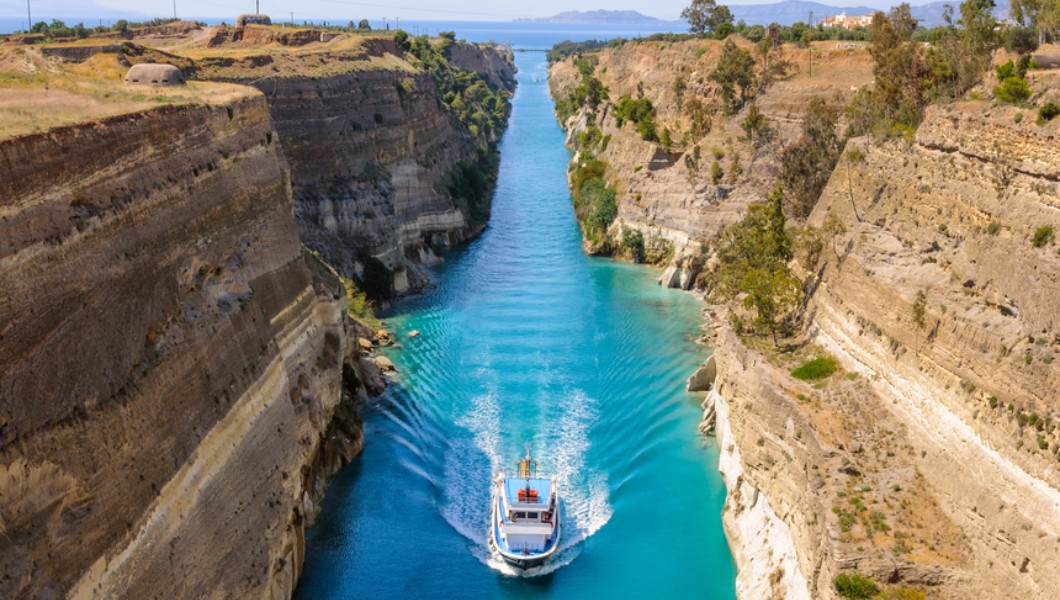 My scenic 40-mile transfer back to Athens throws up one more Corinthian cracker: Greece's very own Suez. Dreamt up by the ancient city of Corinth's ruler, the Corinth Canal tethers the Ionian Sea's Gulf of Corinth to the Aegean Sea's Saronic Gulf: a four-mile "shortcut" that saves ships 130 nautical miles. Peering over the footbridge that spans the 23-metre-wide tidal waterway, I'm rendered speechless by its dizzying dimensions. It's no wonder this engineering marvel – which slices through solid limestone rock rising 90-metres above the water – was 2,500 years in the making. Much like downtown Athens' makeover, it was worth the wait…
Stay:
Brown Hotel Acropol, Brown Hotel Lighthouse & Isla Brown Hotel