Jonny effortlessly picks his way through the uneven rocky terrain on his padded feet, fluttering his long eyelashes as we stop to drink in the shimmering lakeside vista. Located in the central Swiss canton (region) of Bern, Lake Brienz takes its name from the chocolate box village at its eastern end, and owes its turquoise colour to thousands of tiny reflective glacial particles. Fed by meltwater from 4,000-metre-high Jungfrau, it's one of 1,500 lakes that have earned landlocked Switzerland its "Water Castle of Europe" nickname.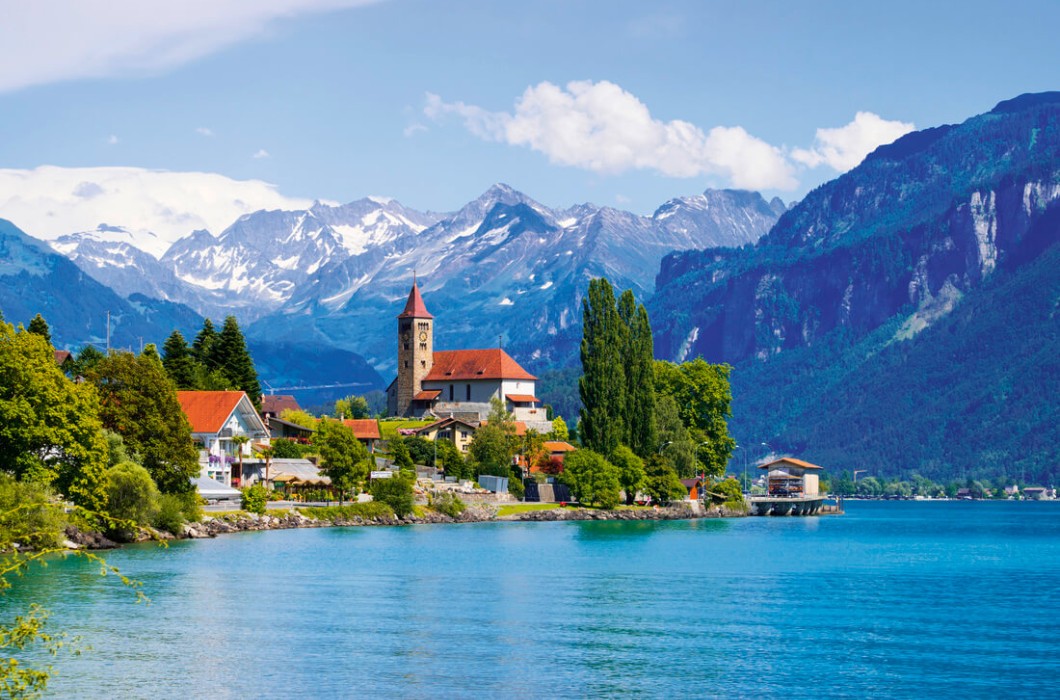 Tumbling right down to the lakeshore, Brienz's undulating meadows are primed for a more unusual trekking experience: with llamas. First domesticated by the Incas on the high Andean plateaus of South America, these smart and sociable camelids are well adapted to life in the Bernese Alps' northern foothills, llama ranch owner Oxi Flück explains. He guides two to six-hour-long hikes that begin with a bonding-grooming session with his eight-strong herd on his charming farm. My nine-year-old niece Aliana excitedly combs through her new furry friend's hypoallergenic woolly topcoat whilst learning fun facts like how these pack animals' have odourless poo! The experience engenders excitement for all ages I might add. Named after legendary guitarist Santana, fawn-white coated Carlos (my sister's llama) is promoted to walk leader, whilst easy-going Jonny snacks voraciously on tree bark and serial seducer Pablo brings up the rear.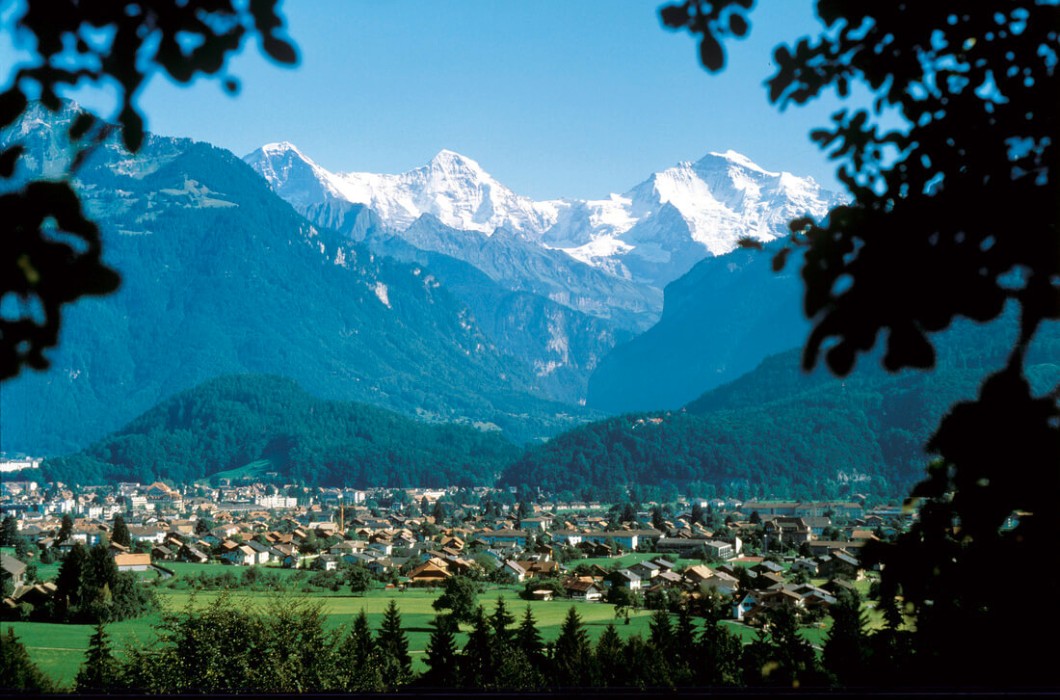 Our luxurious launchpad to llama trekking and other alpine adventures is the Victoria-Jungfrau Grand Hotel & Spa, where the great and the good (including Mark Twain) have bedded down. The dome-capped beauty resides in the resort town of Interlaken, so named for being wedged between two lakes: Brienz and Thun, whose hilly banks are sprinkled with Romanesque churches.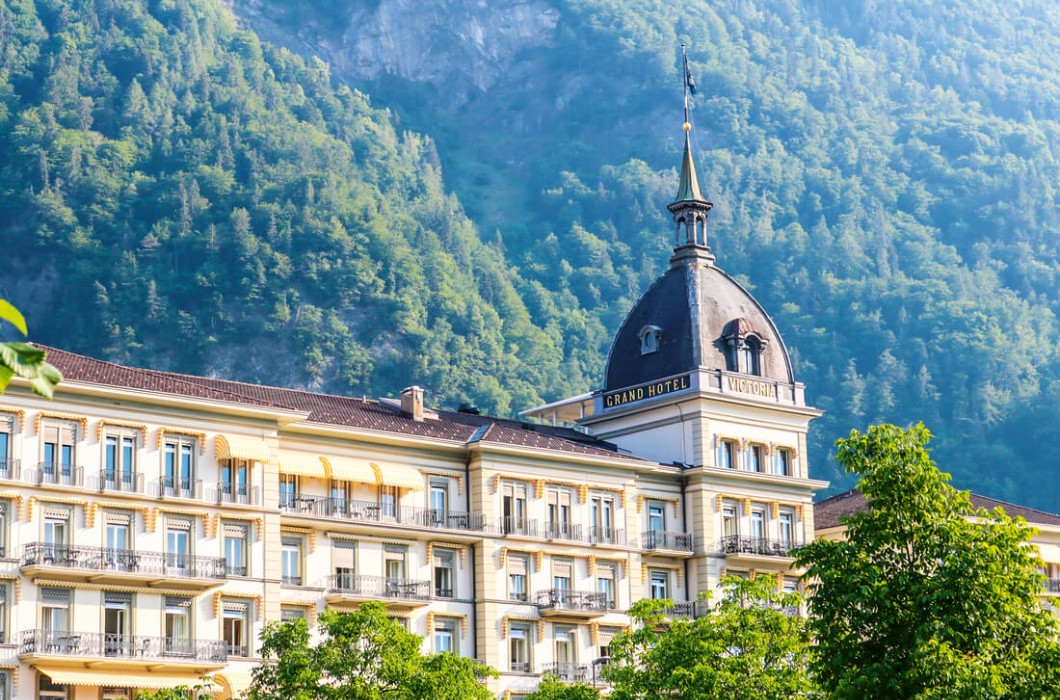 The hotel's original belle époque lobby leads us through a series of salons, including a billiard-room-cum-library and the piano tinkling Victoria Bar, which opens out to a lively terrace come springtime. It may be grand, but the property's anything but stuffy, and children aren't just welcomed, they're given the full A-lister treatment! Last summer the property unveiled its Bienehuus: a sort of life-sized dolls house nestled in its grounds that hosts an ever-changing roster of supervised children's activities. Kids from 3 to 12 years can jam in its music room, learn the art of lantern or beeswax making in its creative studio or simply zen out in its relaxation room.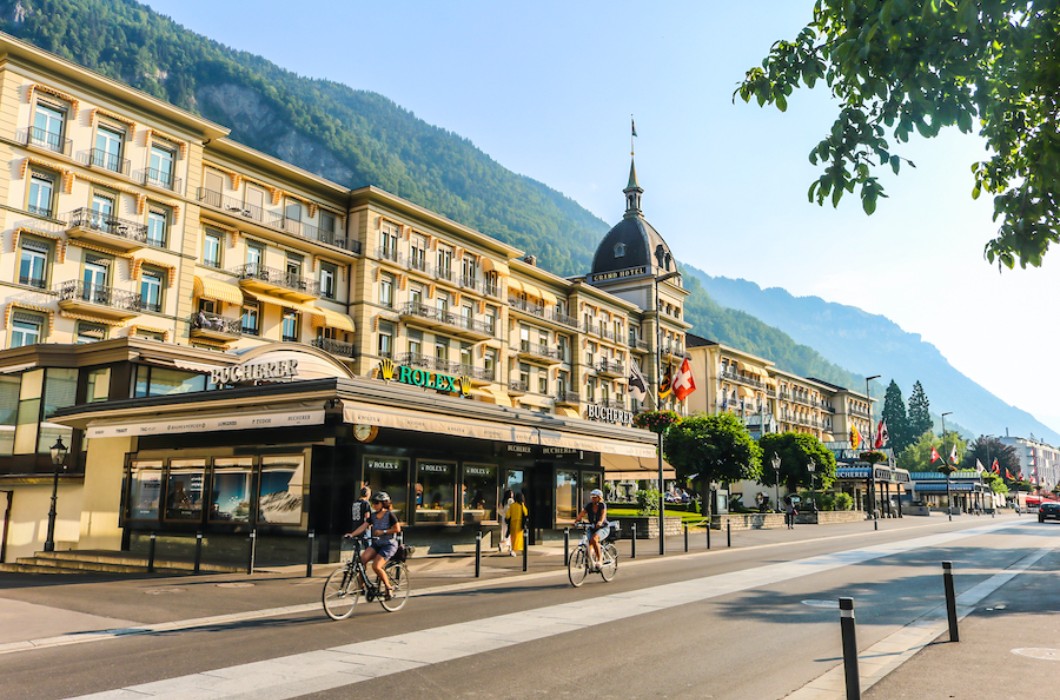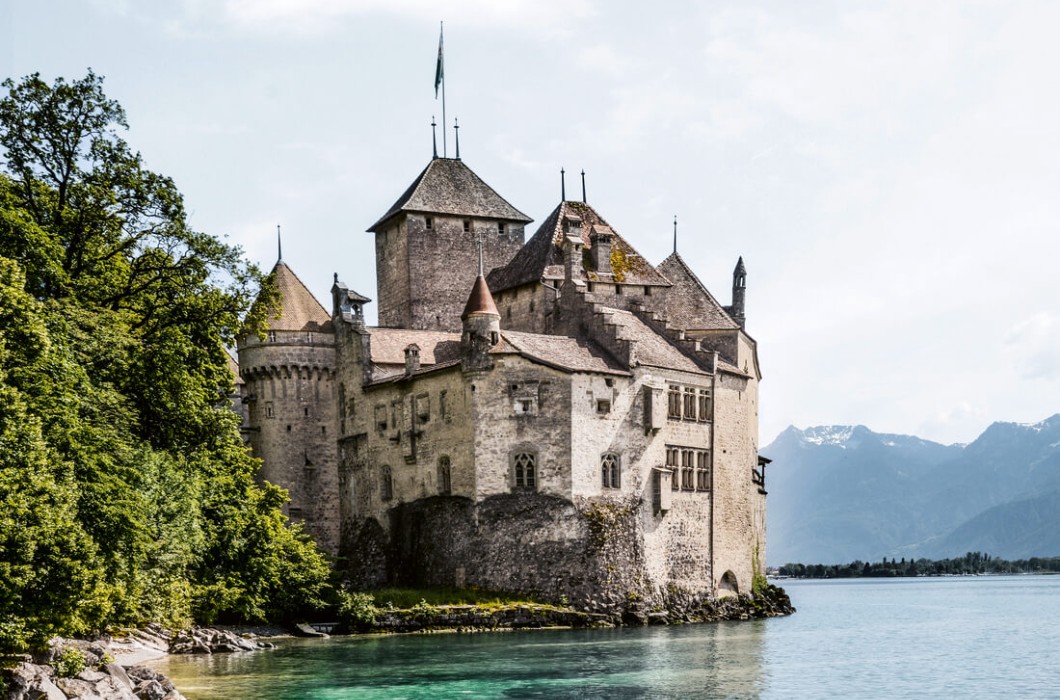 Aliana gets a crash course in wood-fired pizza making in the hotel's stuccoed Italian restaurant: Ristorante e Pizzeria Sapori, devouring the fruits of her labour for lunch. Later that evening we dine on mod Swiss brasserie fare at the hotel's more formal orangery-style restaurant: La Terrasse, which exudes a Palm-Springs-meets-South-of-France vibe.
The fairy-tale turreted castle of Château de Chillon sits on a rocky outcrop overlooking the scintillating waters of Lake Geneva.
The following morning, we find ourselves glued to the balcony of our 70 sqm Superior Duplex Suite, as paragliders spiral down onto Höhematte Park's grassy lawn (an almost daily sighting, I'm told). The park's backdropped by a trio of perennially snow-smothered peaks that reflect in the mirrored surface of Lake Brienz, which we ply in a fleet of Crayola-coloured kayaks after breakfast. Surprisingly meditative, highlights of the three-hour-long excursion with HighTide Kayak include Eskimo kissing our kayaks bow-to-bow, a tea break on a boulder-strewn beach and raptor-watching beneath towering cliffs.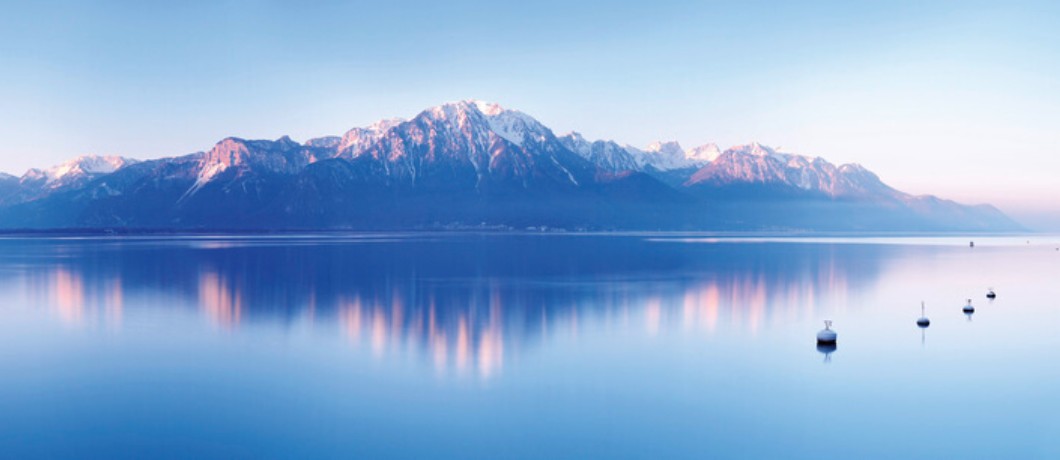 Trading Lake Brienz's too-blue-to-be-true drinkable waters for a Romanesque indoor swimming pool, we enjoy an afternoon of R&R in the hotel's 5,500 sqm state-of-the-art Nescens Spa. It's set at the end of a striking steel-glass atrium; formerly a boulevard separating two nineteenth-century grand dames that were merged into one hotel in 1899. With its Great Gatsby good looks, the 1940s-inspired glass vaulted pool is as bold as it is beautiful, whilst the spa's ryokan-esque treatment rooms are a study in serenity. It's here we indulge in the spa's new 'mini & me experience,' which starts with a 20-minute soak in a deep circular tub that Aliana delights in filling with high-foaming strawberry-scented bubbles! After slurping down bottomless fruit smoothies, we're treated to full body massages (a light coconut oil for my niece and anti-ageing oil for moi), emerging dewy skinned and re-energised 80-minutes later.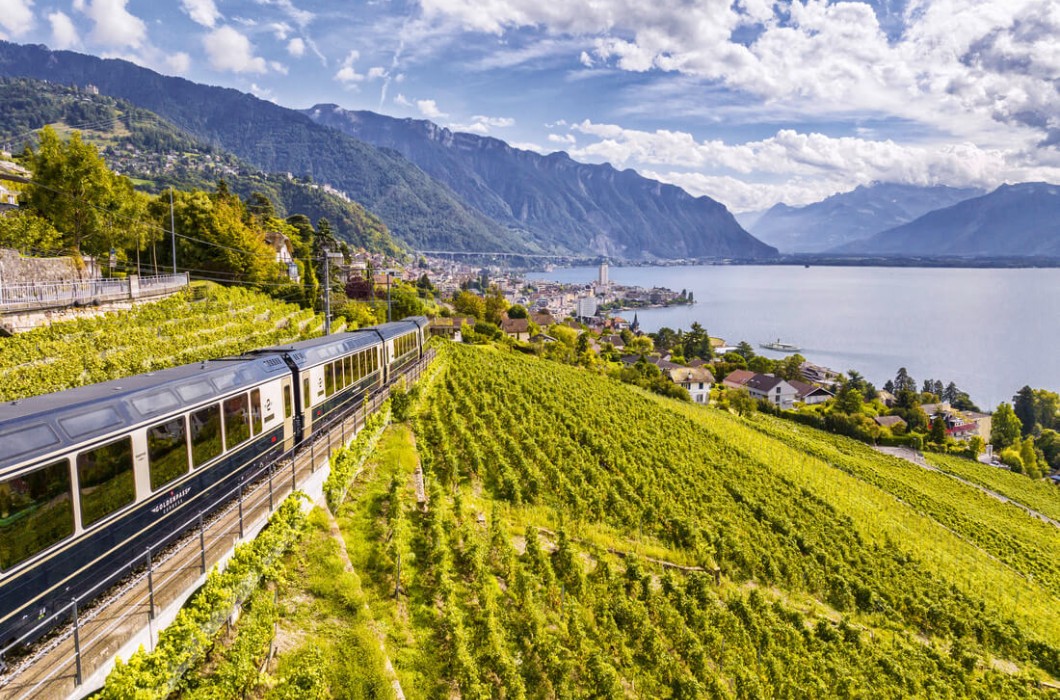 The next day we bid auf wiedersehen to Interlaken's snow-spattered panoramas and twin lakes to journey 100 miles west to French-speaking Montreux, located on Lake Geneva's north eastern shores. For the first time in history, the two resort towns have been seamlessly linked by one single train. 150 years in the making, the $96 million, three-month-old GoldenPass Express "track jumps": a world-first maneouver which enables the train to change the height of its cabins and the gauge of their wheels!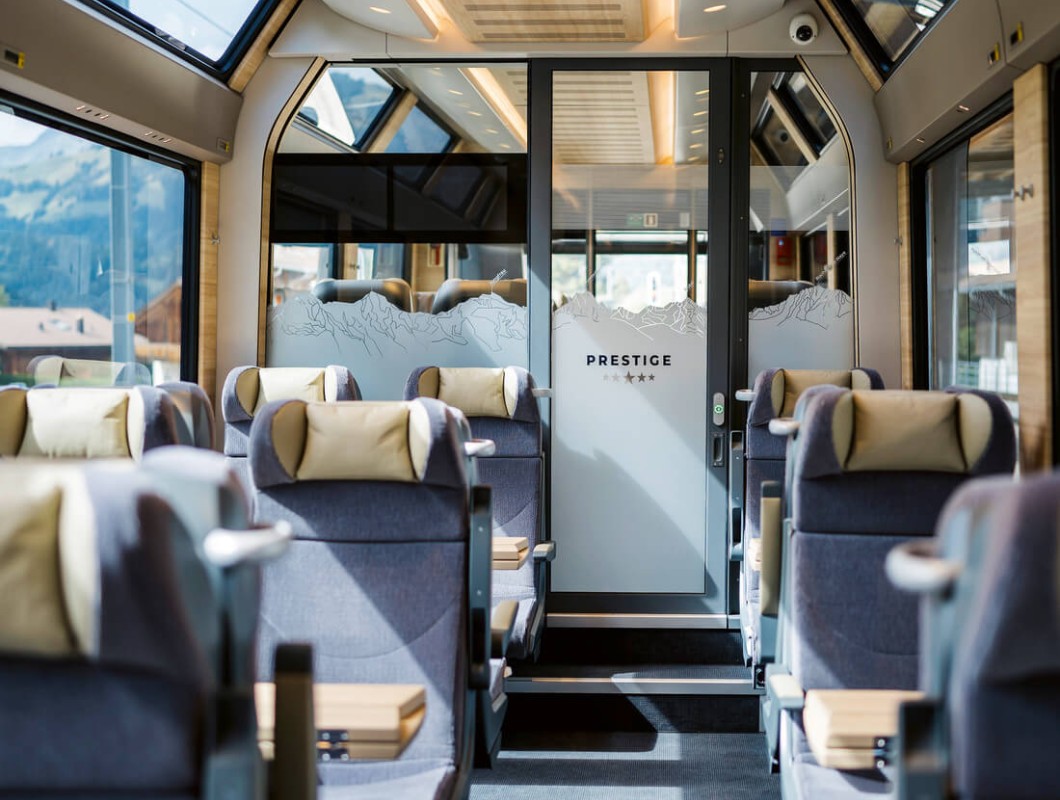 The most exclusive way to travel is in its Prestige Class: a specially elevated nine-seater carriage where we stretch out on heated reclinable seats beneath panoramic skylights that immerse us in the dramatic landscape. Over the course of the three-hour-long ride we contour glassy lake shores, cling to sheer valleys, snake through towering pine forests and traverse rolling meadows studded with ancient timber barns. As we pull into glitzy Gstaad aka Switzerland's most expensive alpine village, a regionally-inspired menu featuring kid-friendly charcuterie platters and Swiss-made caviar is served with a local wine pairing.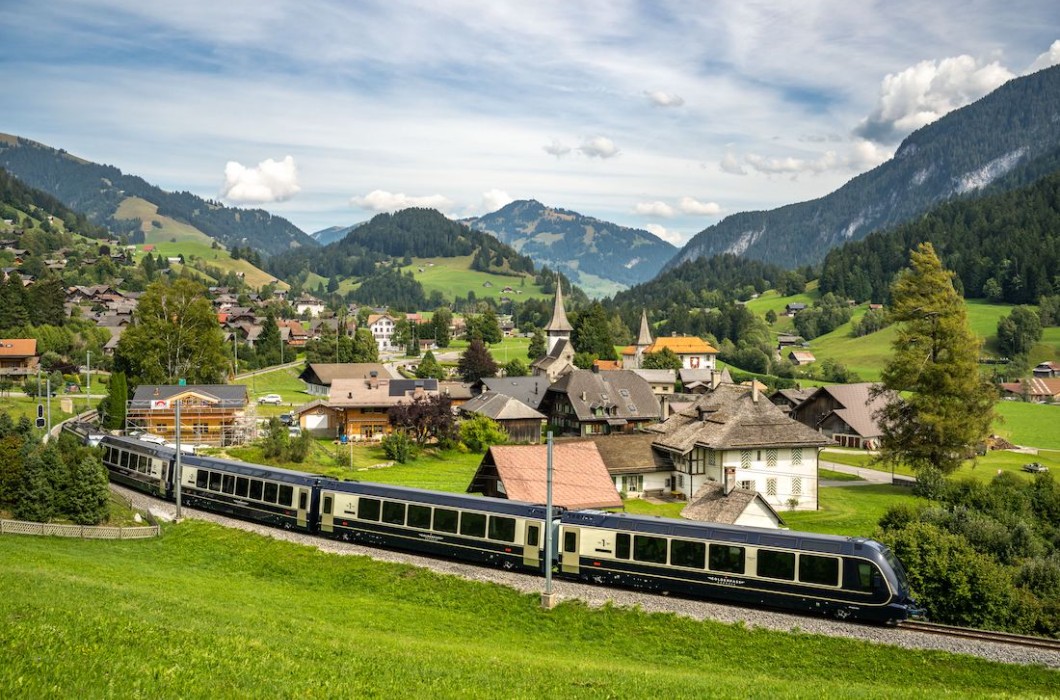 Three thrilling hours later and our destination comes into view, fanning out from the banks of bi-country-straddling Lake Geneva. Criss-crossing Switzerland's largest body of water by vintage belle epoque paddle steamer may be a rite of passage, but navigating a shorter stretch of its eastern shores is just as scenic if you're pushed for time. A stern-side seat aboard the CGN fleet promises a windswept view of 3,000-metre-high Dents du Midis' jagged silhouette and the region's vertiginous vineyards, which practically plunge into the lake's crystal-clear waters. We embark in Mediterranean-like Montreux, sailing to the lake's easternmost point of Villeneuve and looping back as far as Château de Chillon: a fairy-tale turreted castle that rests on a rocky outcrop.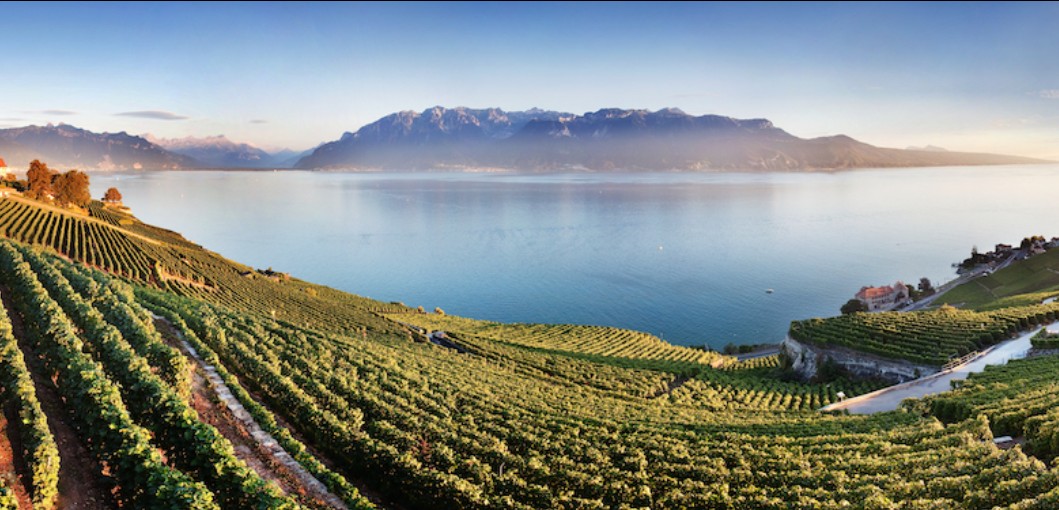 One of only two European medieval castles to have evaded seizure, Chillon's strategic waterside location positioned it on a main trade route to Italy. Bringing the double ramparted stunner's 1,000 years of history to life is guide Christine Hauser, who we meet dressed head-to-toe in medieval garb. She swiftly offers us refuge from the midday sun in the castle's gothic pillared underground vaults. "This was the refrigerator for the Middle Ages," she remarks before guiding us to a grand banquet room where floor-to-ceiling tapestries were hung to conceal secret doors and passageways. Aliana squeals with excitement through one such pitch-black passageway which leads to a bedroom where Hauser pulls out an assortment of scented boxes - one containing dried lavender: a medieval mattress filler. Whilst children are enthralled by the castle's grisly and eccentric past (like the ancient latrines jutting out over swan-strewn Lake Geneva!), grown-ups fall for its gothic romance which famously inspired English poet Lord Byron.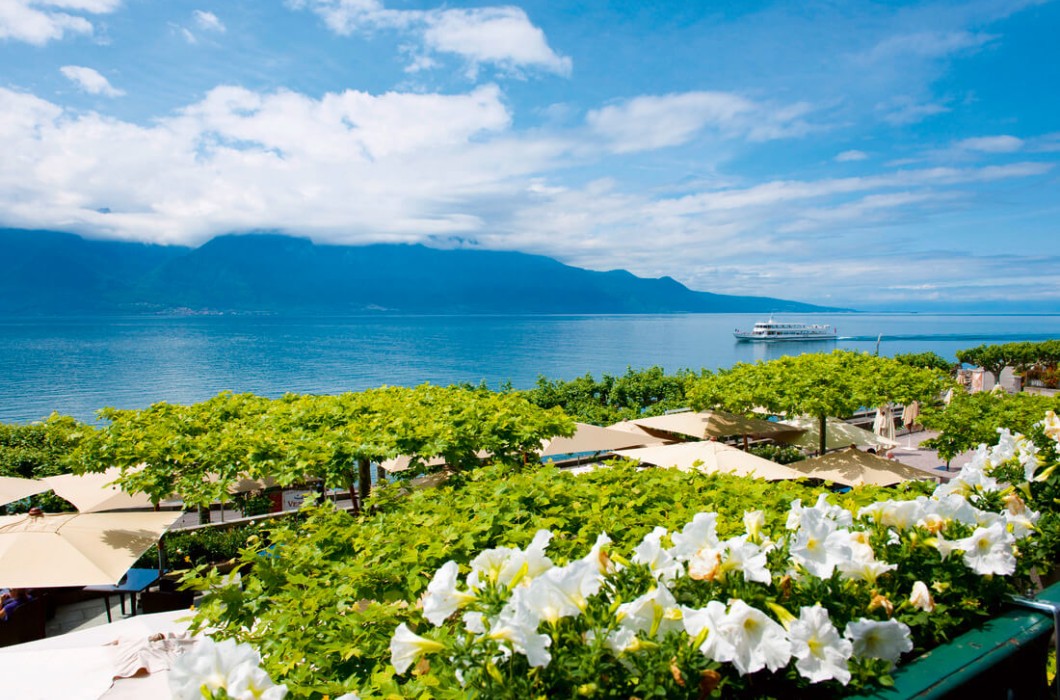 Chillon can also be marvelled from Montreux's eight-mile-long promenade which extends all the way to the town of Vevey: our second stylish lakeside basecamp. One of only two hotels on the Montreux Riviera to command a coveted position on Lake Geneva's shimmering shorefront, Hôtel des Trois Couronnes (French for "three crowns") treats its guests like royalty from the off.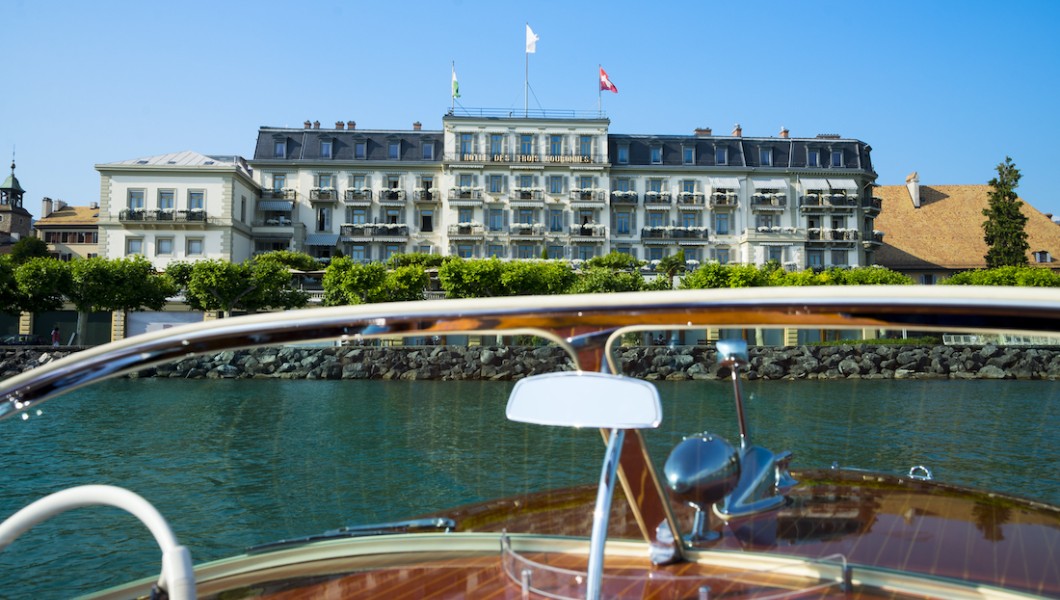 Red carpet stairs escort us from its grand courtyard entrance to a pillared skylit atrium, where sunlight cascades down four wooden banistered floors. A tribute to the crowned heads who have patronised the property over the years, golden coronets inlay its lobby's marble floor, concealed beneath carpets for decades. Whilst its chain-pulled paternoster lift and drapery tassel keys give off Grand Budapest Hotel vibes, the hotel's 71 bright and breezy rooms marry modern with classic elegance. Think striped wallpaper, floor length brocade curtains and antique furniture.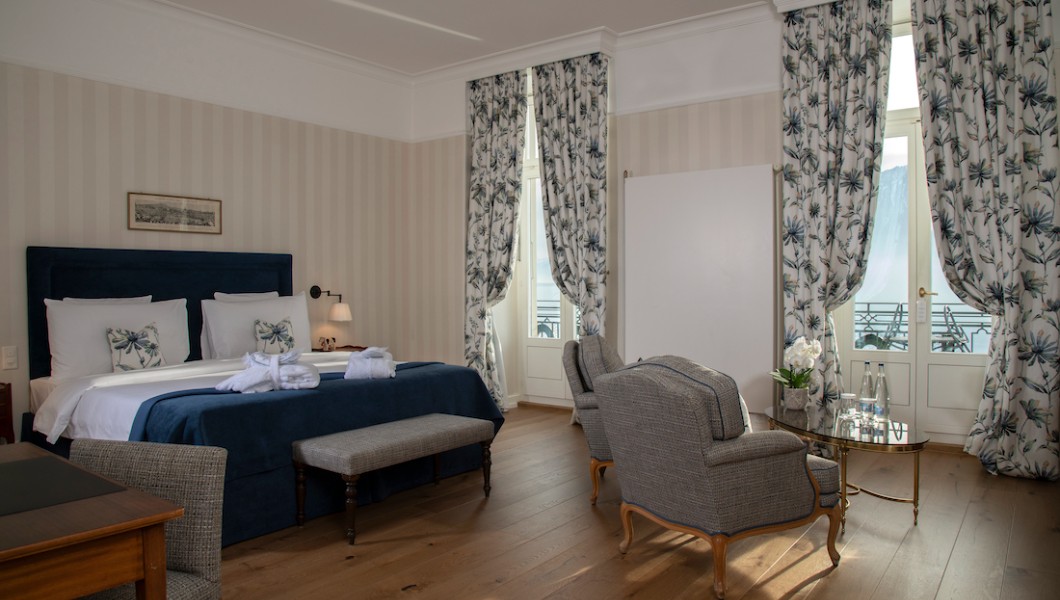 Our own south-facing lake view suite welcomes us with family-friendly touches like monogrammed bamboo toothbrushes, a St. Bernard (aka the genial giants of the Swiss Alps) soft toy and compact binoculars to survey Switzerland's very own Mount Fuji: the conical Le Catogne. Beneath our balcony's candy-striped awning we watch the fiery orange sky gild Vevey's iconic eight-metre-tall stainless steel fork sculpture, which plunges into the lake's mysterious depths.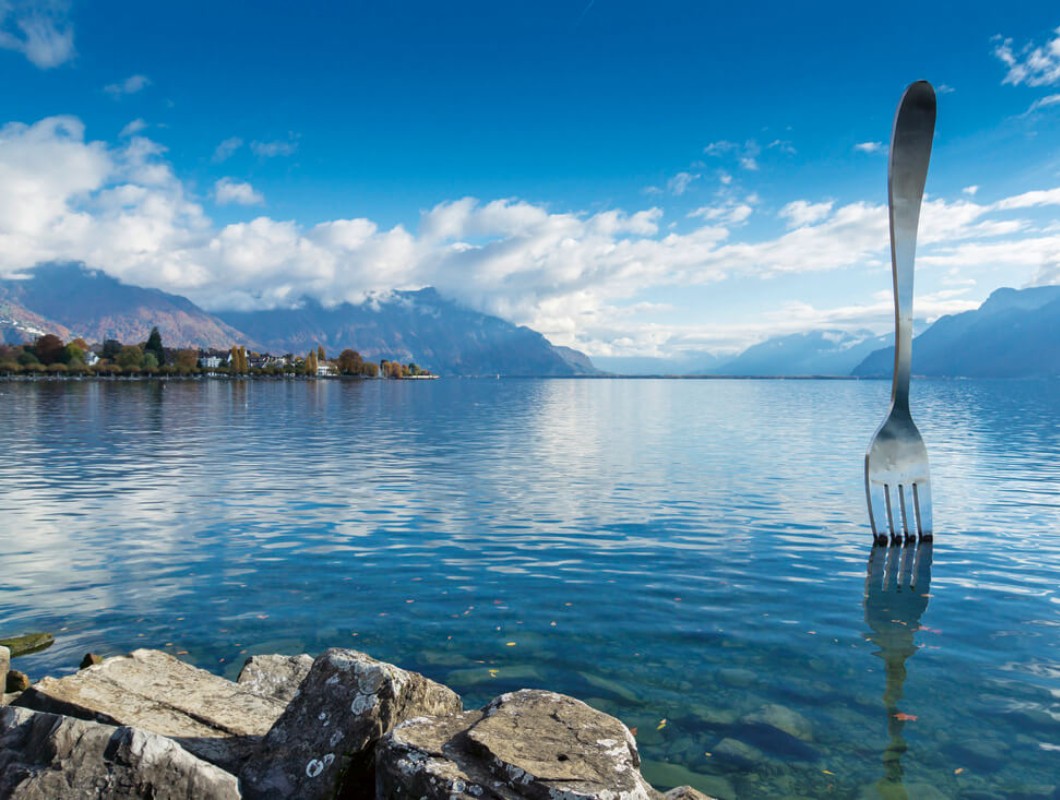 The hotel isn't without its own subterranean secrets. A visit to its sunken spa reveals the vaults of the ruined Belles Truches Castle on which the property was built in 1842. Working out in its chandeliered fitness room works up my appetite for dinner at Le 3C Restaurant, which has perfected child-friendly fine dining. Whilst my sister and I devour dishes that draw on ingredients from the Alpine arc like Mediterranean Sea hake and pigeon cooked two-ways, Aliana tucks into homemade spaghetti bolognese followed by blood orange sorbet.
Over the course of its 180-year history, the likes of Tchaikovsky, playwright Henry Miller and English novelist Graham Greene have patronised the property. For centuries the Montreux Riviera has inspired artistic minds like Freddie Mercury, Gustave Eiffel and Charlie Chaplin, who lived out the last 25 years of his life near Vevey.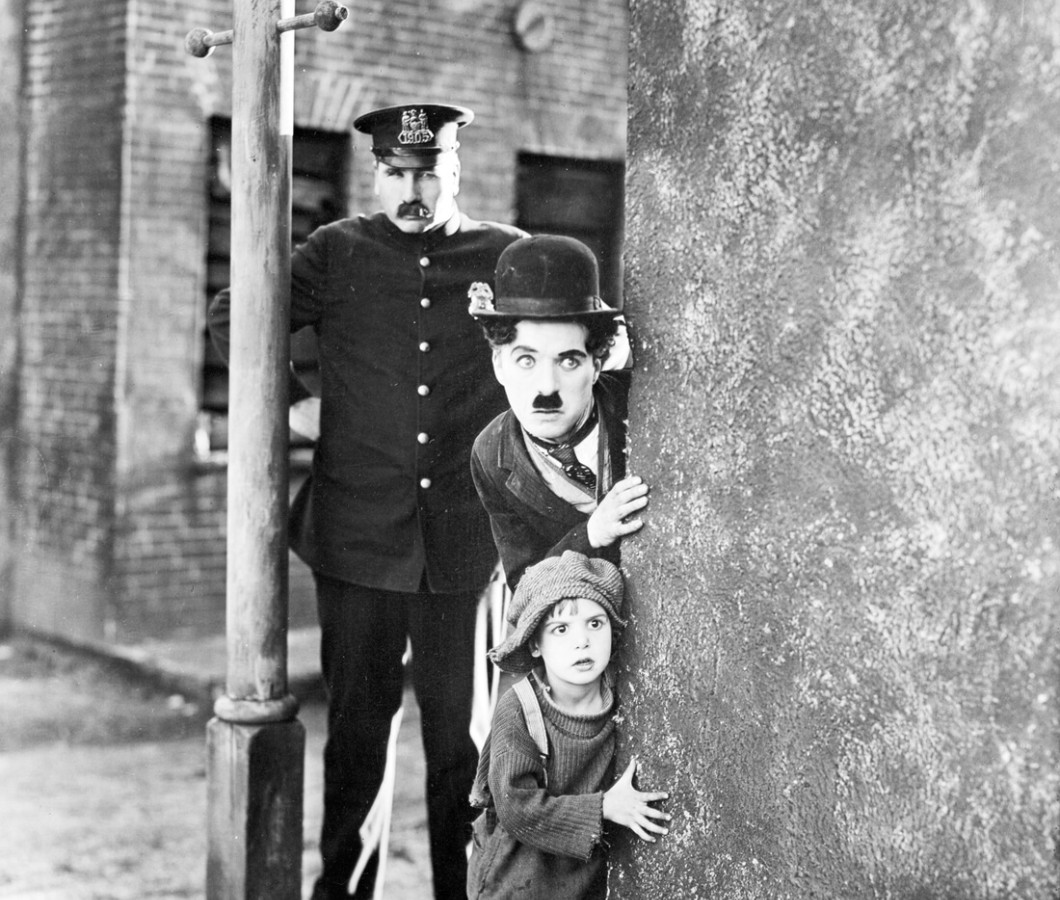 The following morning, we make a short but scenic taxi hop to the screen legend's former home: a neoclassical-mansion-turned-interactive museum. Holographic narrators, multimedia installations and 30 wax figures (crafted by the Parisian Grévin Wax Museum) chart the heel-clicking entertainer's rags-to-riches story. The immersive experience is taken up a notch in next door's purpose-built Hollywood-style studio, where sets from Chaplin's most celebrated films like Easy Street have been recreated. Most crowd-pleasing is a moving floor that simulates the cliff-teetering cabin in 1920s silent comedy The Gold Rush. As for the museum's grounds, they're also satisfyingly cinematic. Set in a cypress and cedar-tree-shaded 70-acre park overlooking Lake Geneva, you can spy the snow-capped Alps from here on a clear day.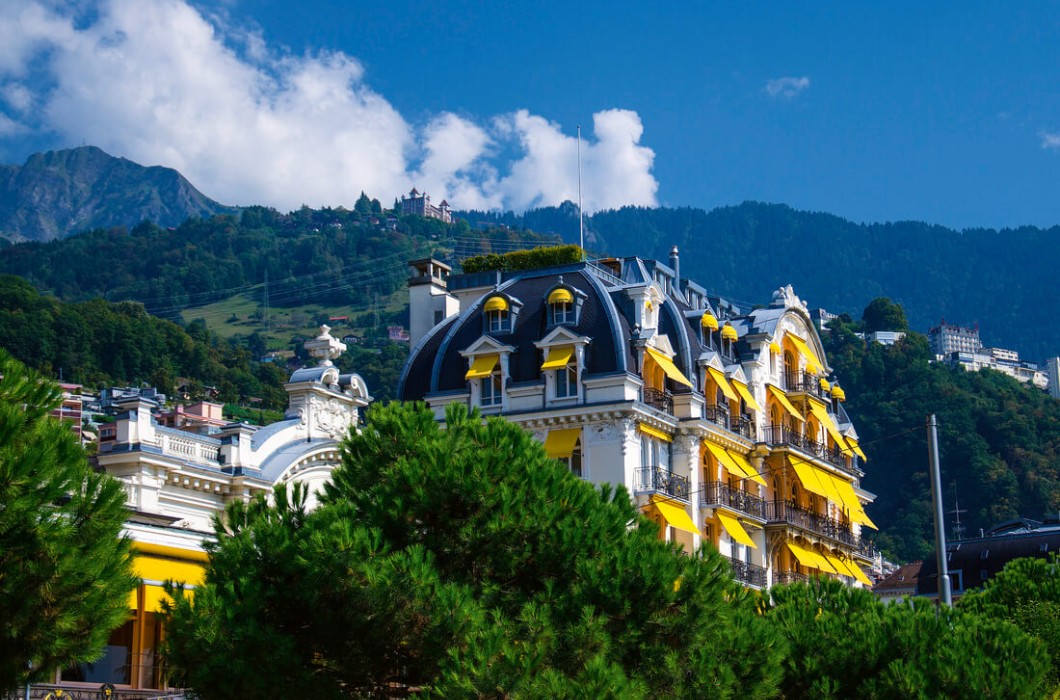 Back at the water's edge, we make time for a mooch in Montreux. One of the Swiss Riviera's (if not the country's) chicest enclaves, its rustling palms and mild microclimate give it a distinctly Mediterranean feel. "If you want peace of mind, come to Montreux," Freddie Mercury famously said – words that still hold true four decades later. Lining its flower-fringed shores are belle epoque balconied mansions and hotels like Fairmont Le Montreux Palace, whose lake-hugging jazz café makes for an élégant lunch date. The vision of Montreux Jazz Festival founder and chef-trained Claude Nobs, the salon-styled café drips in geometric print rugs, jewel tones and sumptuous leathers. We devour "opening acts" such as white asparagus from the Valais with citrus fruits and sobacha gel followed by "main acts" like Swiss perch fillets (plucked from the lake) with foamy butter and French fries, surrounded on all sides by jazz memorabilia.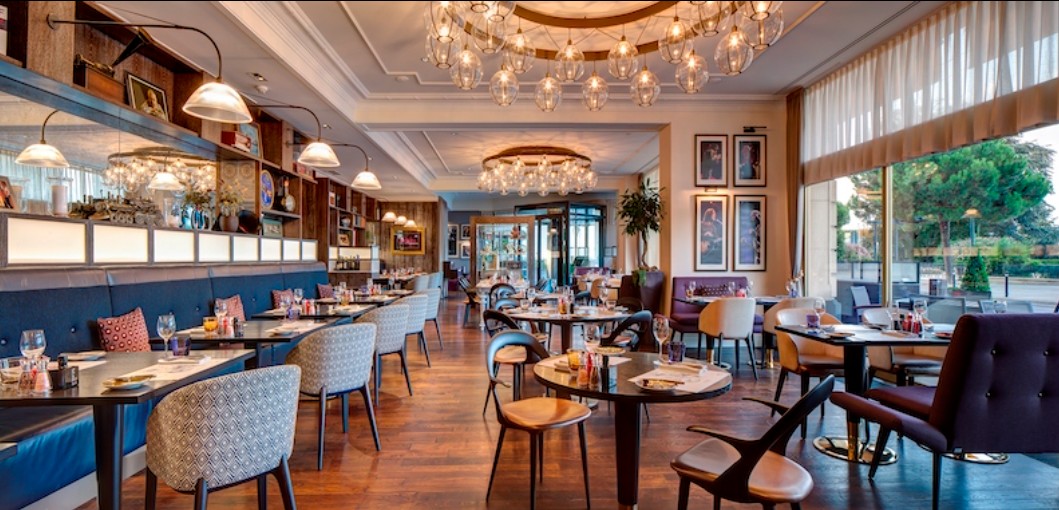 Revived, we walk off our long lunch along a playful part of the 90-minute lakeside path that tethers Montreux to Vevey. My niece flits between whimsical, water-spritzed sculptures (which include a mythical topiary creature) and pint-sized playgrounds. Despite being ambushed by a heavy downpour, we are still smiling from ear to ear, reminding me of one of Chaplin's most famous aphorisms: "You'll never find rainbows if you're looking down…"
Stay:
Victoria-Jungfrau Grand Hotel & spa
+41 33 828 28 28
Hôtel des Trois Couronnes
+41 21 923 32 00