Of all the parts of the world that have suggested luxury over the last 50 years the Caribbean surely tops them all. With the perfect temperature, long strands of sandy beaches, transparent turquoise water in the bays facing inwards and ocean waves coming off the Atlantic, they all conjure up the ideal setting for boating and beach holidays.
As an archipelago of islands, they have very much an individual string of characteristics. Comprising of former British, French, Spanish and Dutch colonies added to the more recent American influences, the area is also rich in its cultural diversity. My favourites are Cuba, Tulum, Antigua and St. Lucia and here I have found the luxurious lifestyle aplenty.
1. CUBA

Cuba has recently broken her own records with over three million visitors; the main tourist spots outside of Havana being Matanzas, Villa Clara, Jardines del Rey and Holguin. People flock to the island typically for the sun and sand, and for the cigars, the salsa and the old colourful cars.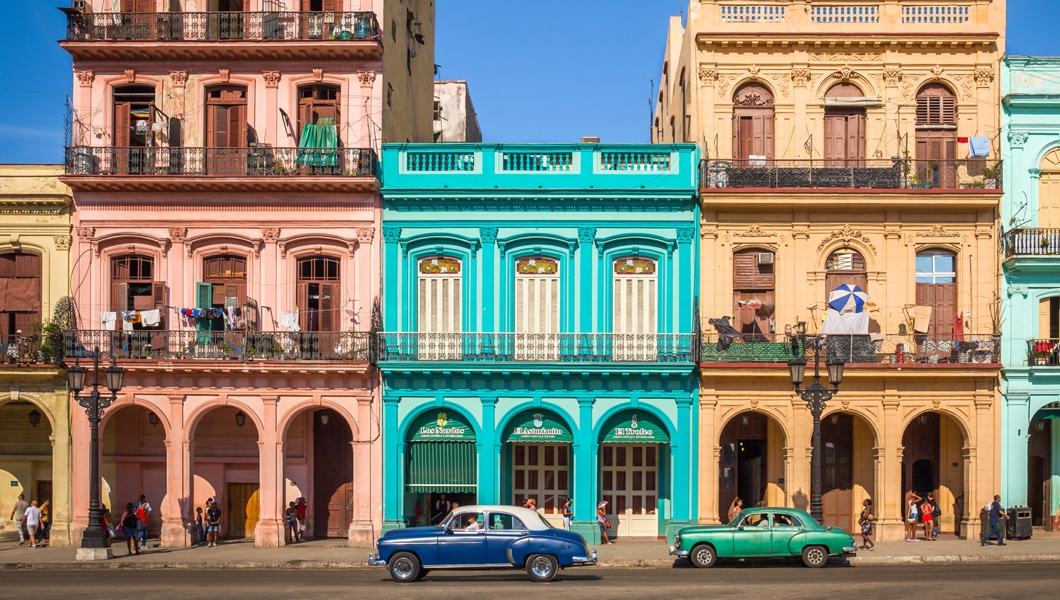 Its charm is in its time lapse. Havana the capital is almost cinematic, certainly scenic. Beautiful old cars from the 1950s hoot and crank around the capital, customised and often with the doors and side-mirrors held together practically with sellotape.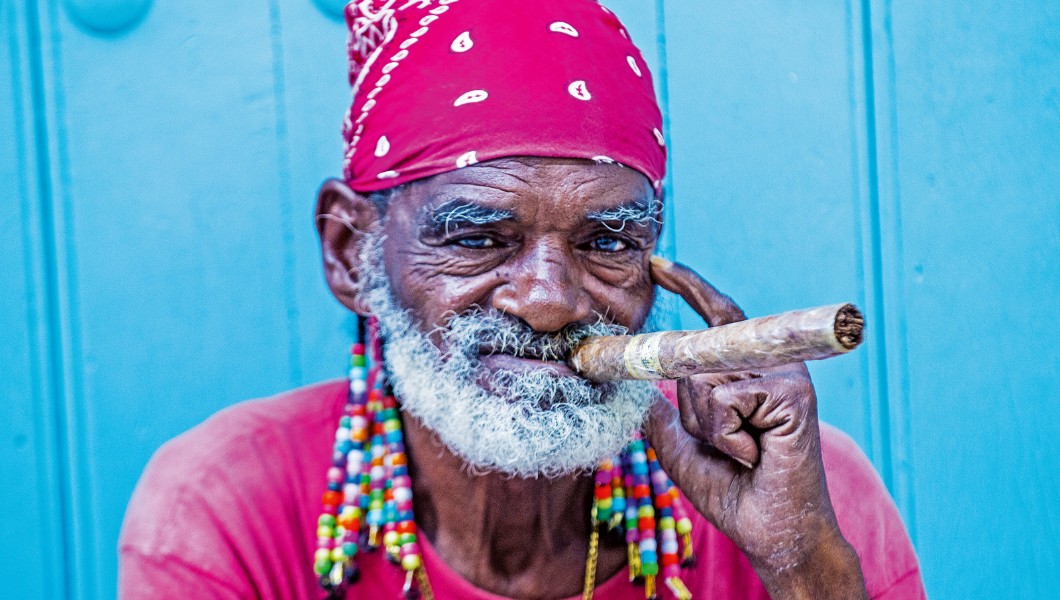 The city has a strong resemblance to Naples in Italy, with her laundry lines and systematic chaos, bustle and deprivation. All steamy. 
All frenzy. Very Tennessee Williams. Better at night and sundown for me even than by daylight, 
for it's then that semi-clad figures emerge from the balconies (that drip with rusty electricity wiring) to express themselves, brandishing food, cigars and drink. There are echoes of the sultry sounds of Buena Vista that got the whole world swaying to Cuban music, and now there's a funky new era of urban soul. I also prefer the fading peeling 
Art Nouveau buildings, with their intricate ironwork, more than the recently repainted touristic area currently backed by an UNESCO initiative.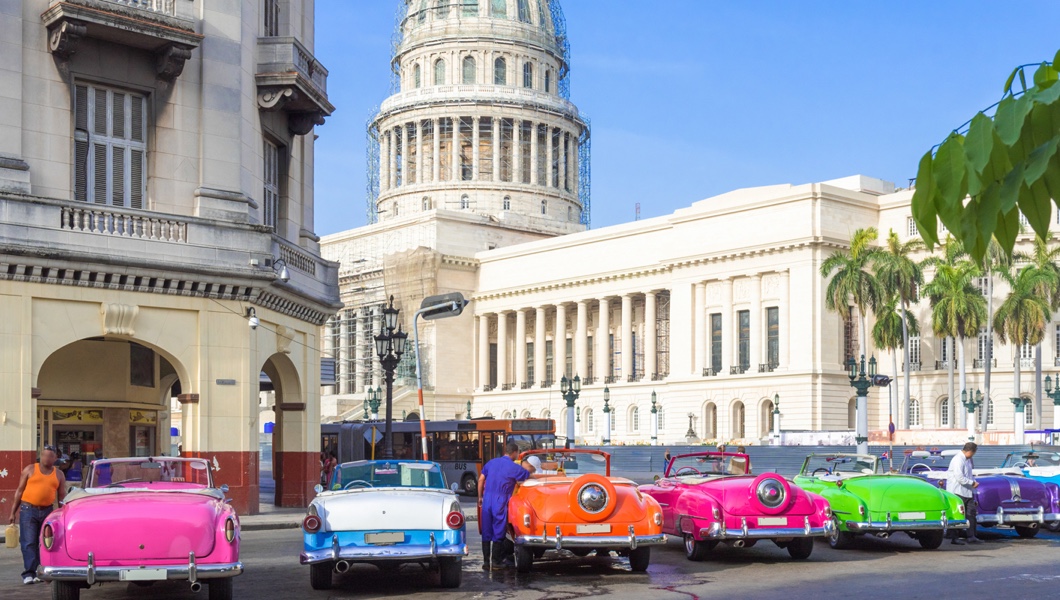 For new concepts coming out of Havana, 
I recommend Nao, one of the new breed of self-owned paladares. These are restaurants set in local homes. The menu offers the likes of octopus and rabbit. Then there's the newly-opened Casa Miglis serving an interesting fusion of Cuban and Swedish cuisine, with dishes such as shrimp skagen (on toast) and saffron seafood casserole. While 
El Figaro offers stroganoff, ceviche and gazpacho, as well as tuna tartare, baby-eel salad or suckling pig – all housed in an 18th-century colonial building, a bastion of Cuba's former sophistication.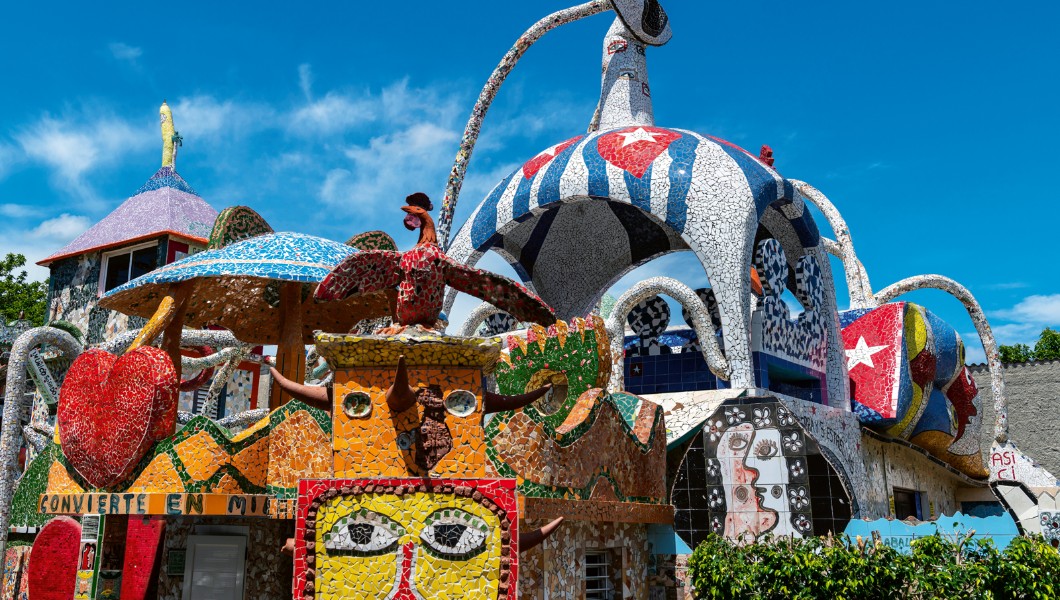 The top spot for luxury is the Hotel Nacional in Vedado, the urban residential neighbourhood of Havana. This imposing 1930s structure is truly redolent of Cuba's glamorous past. Its own museum has a wall of fame boasting Frank Sinatra, Walt Disney, and the Duke and Duchess of Windsor. The stylish music hall and cigar-reeking casino are highly nostalgic. Most memorable are the specific room numbers of the historic guest list. All on the same floor are 218 for Nat King Cole, 214 for Sinatra, 228 for Fred Astaire and 235 for Errol Flynn. The prize restaurant is the 'Comedor de Aguiar', with penguined waiters and beautiful chandeliers. The Cordero lamb dish and the Santa Digna wine are excellent. What ever else you do, try a daiquiri in the Churchill Bar.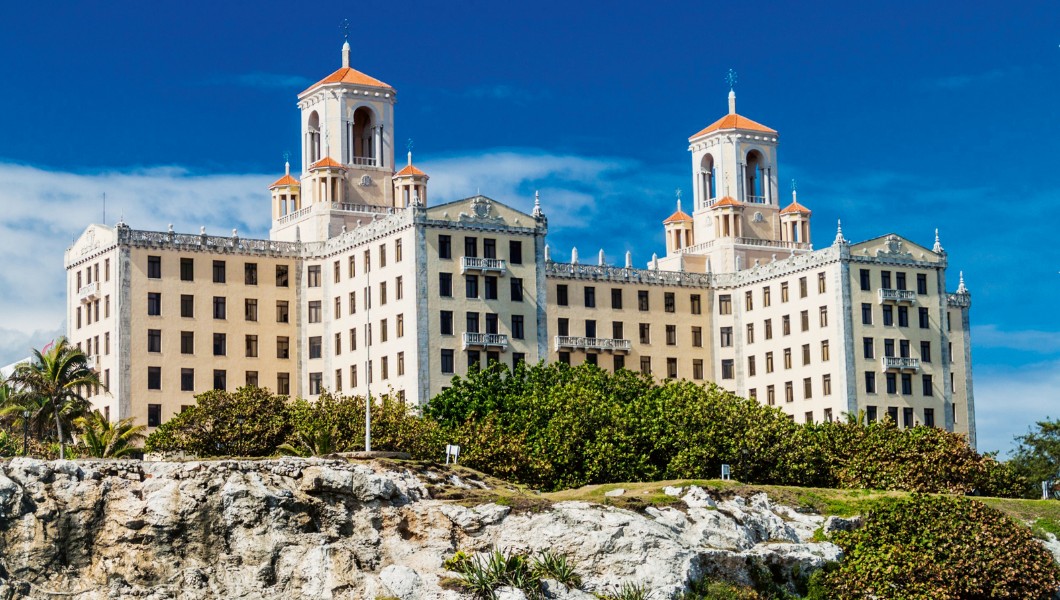 ---
2. TULUM AND THE MEXICAN RIVIERA

With Bali, Goa and Ibiza creating an eastern-to-central continental axis of hedonism and bohemian delight, the Americas have enjoyed a relatively unsung partner in Tulum. In under 20 years this small village has developed from a cheap, chilled-out paradise for backpackers into an über-cool destination, the ultimate in barefoot chic.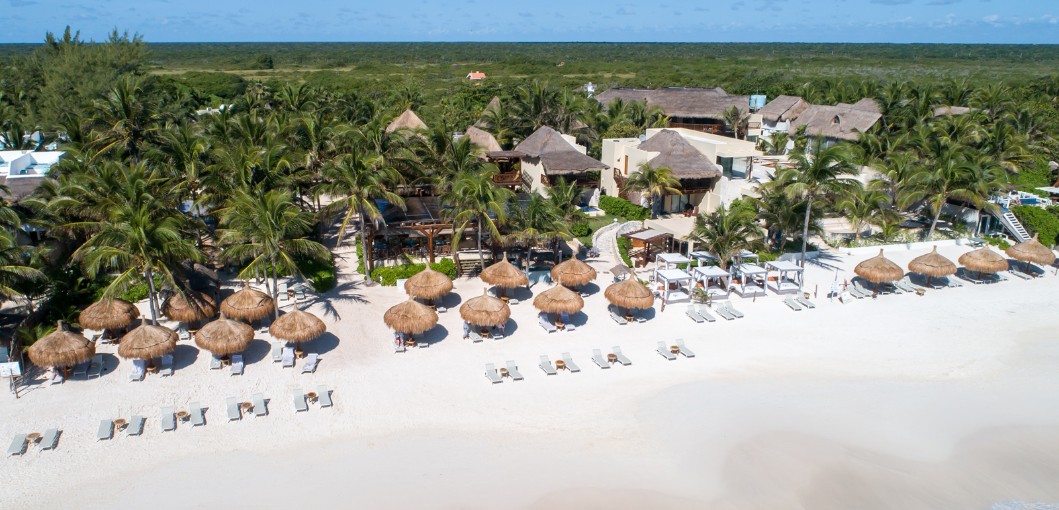 Situated on a long strip of glorious sand it divides the jungle from Mexico's only Caribbean coastline and is 90 minutes along a straight road from Cancun Airport. I witness a shiny smart set hopping from a cab to take them en route to New York fresh from their 'Bikini Bootcamp'. 
This is a resort that attracts many of the A-list including Cara Delevingne, Michelle Rodriguez, Demi Moore, Jared Leto, Reese Witherspoon, Cameron Diaz, Orlando Bloom and Heidi Klum.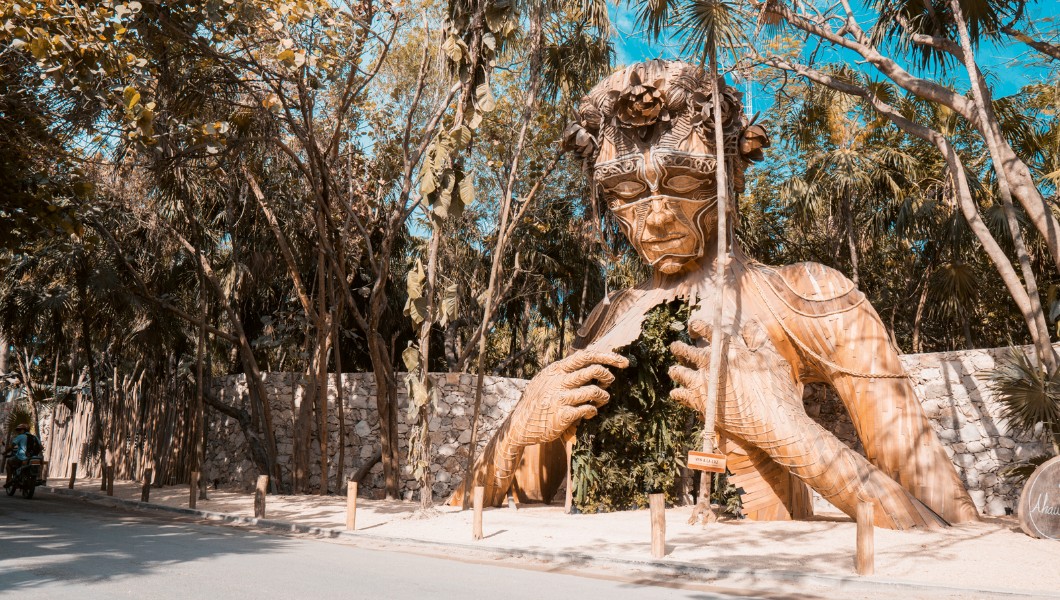 Little has changed thankfully since I was last here seven years ago: a few more boutique hotels have opened up and there are a few more advertising signs. What's remarkable is the lack of fear. The entire resort is protected. Women can even walk safely on their own carrying a moneybag. There's none of the hassle you might expect, say, in Goa. There's only the occasional beach hawker and even then they show a respectful lack of persistence. No noisy jet skis, rubbish, no glass, only seaweed appearing for the first year in many, causing wheelbarrows to be filled by an army of workers in the midday heat in Sisyphus fashion.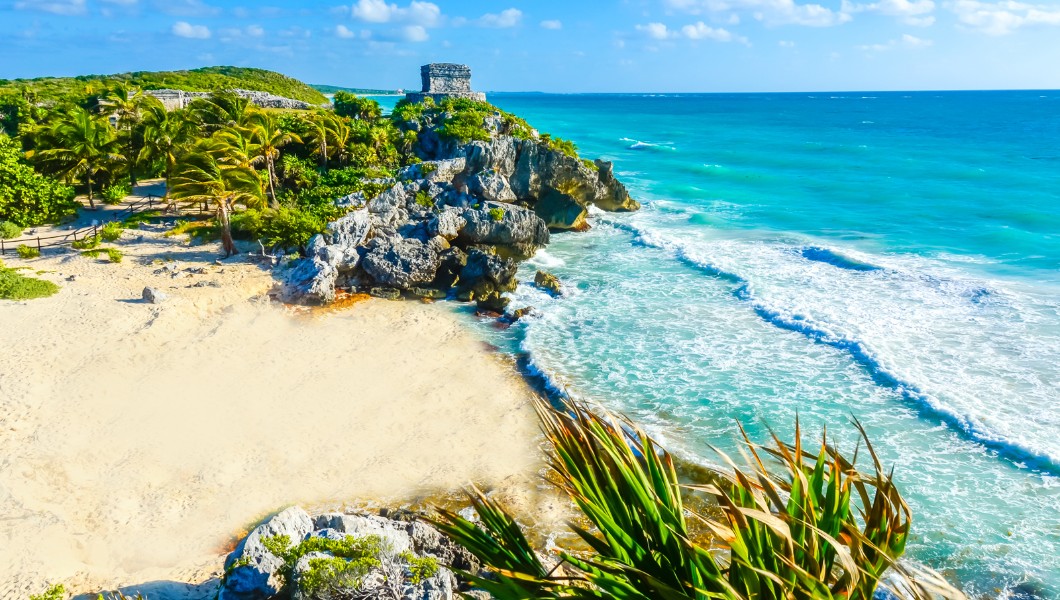 I discover delightful places to stay. Real style hit Tulum since the arrival of the Italian hoteliers and restaurateurs across the Millennium. The classiest hotels, with a special feel, are Be Tulum for its isolation and its translucent purple deck chairs, Ana y José for sheer comfort and The Beach for the glorious decking and stylish swimming pool.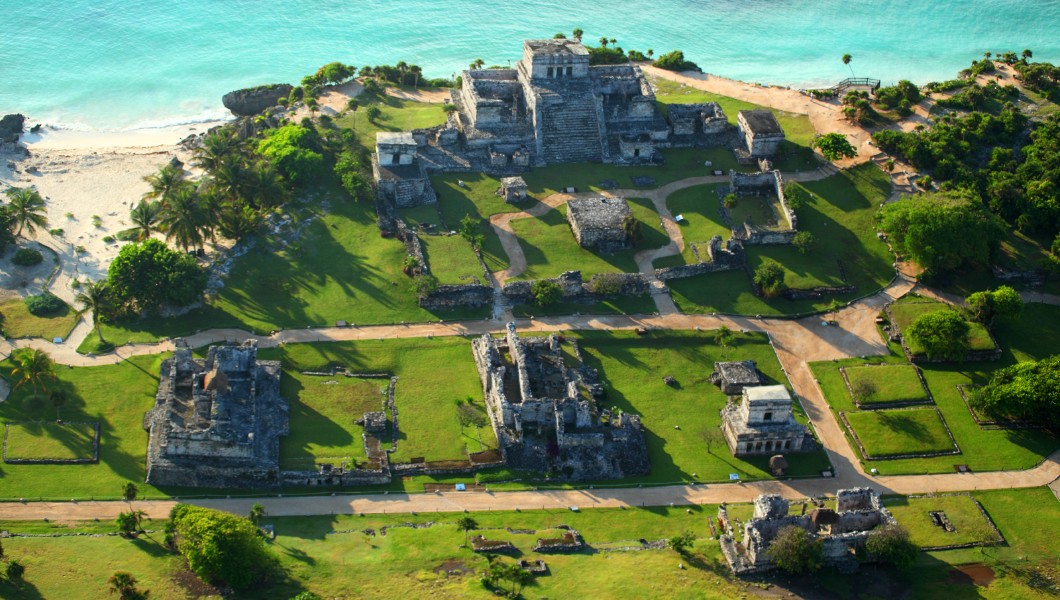 For eating Ziggy's and Casa Violeta are special. Here you'll find the ever-present avocados and limes and tacos. Try a mole with chocolate or camaros a coco (a dish consisting of prawns, coconut, mango and tamarind).
I decide to explore further up the Riviera Maya, to Playa del Carmen. It has an altogether more American feel (but it's not like Cancun where every attempt is made to manicure nature, with trucks raking the beach at dawn). I am driven up a dust road that leads to a discrete sign for Viceroy. 
It's a hotel that is all style and luxury, bang opposite the island Cozumel and tucked between under-developed wasteland plots so while it's still unspoilt it's pretty clear what's to come.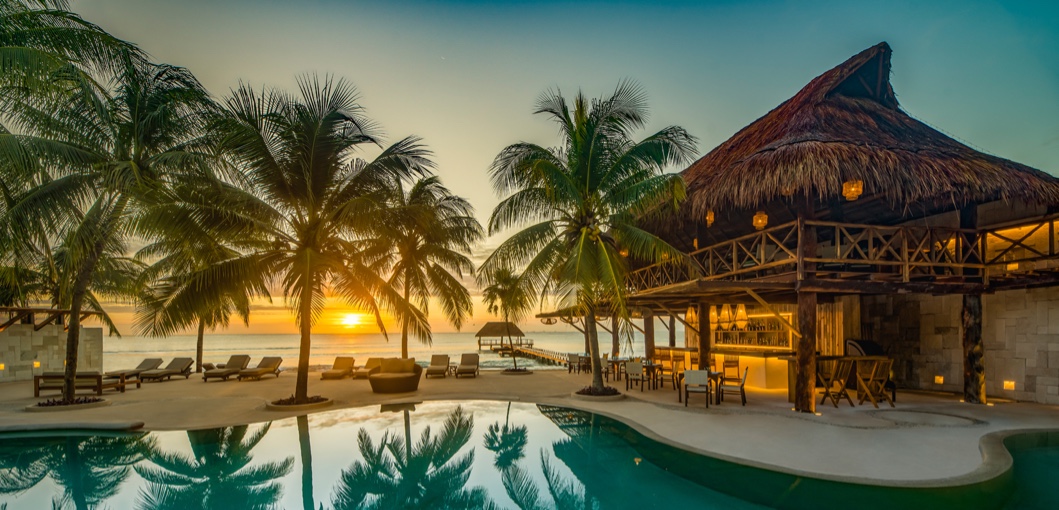 On arrival I am put into the local spiritual dimension with a traditional Mayan blessing. 
All bells and smells. Wherever I wander 
someone is monitoring with a clipboard in an attempt to 'upgrade the stay' and someone even offers to clean my sunglasses! All perhaps to ensure the resident monkeys swinging from above 
don't mar the view, but it's all thoroughly thought through.
---
3. ST. LUCIA

"Drop a pip and it will sprout into a tree in no time", so they proudly say of St. Lucia. This island stands out for her fertility. There's poverty, but no starvation. It's self-sufficient with every kind of vegetation, flora, fauna and crops profiting.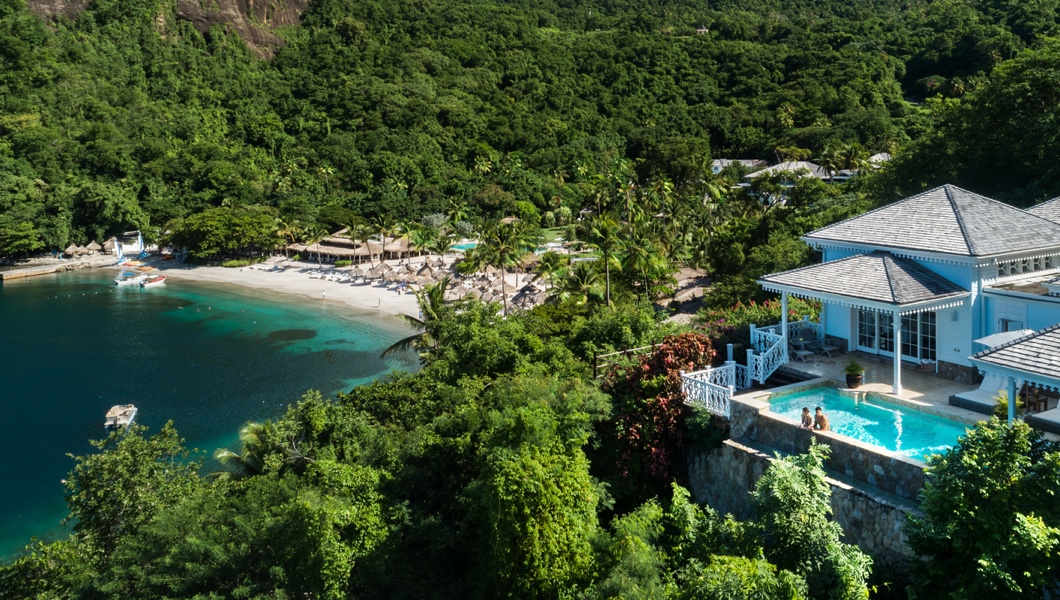 I decide to work my way up the island by road and by boat. More than anywhere St. Lucia is best visited by being on the move. Each cove (which the French called anse) is a hideaway and hotels vie to offer the most romantic setting.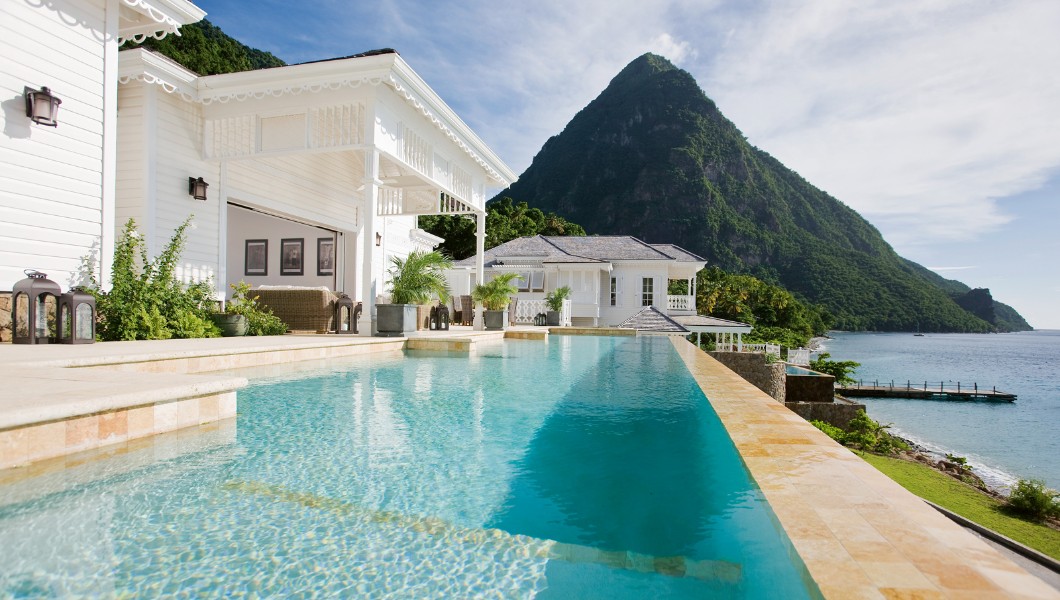 I reach the Viceroy Sugar Beach. This American hotel has surely secured the choice location of the island. It's between the famous twin peaks of Gros and Petit Piton. These upright, precipitous mountains reach over 2,000 feet in height and are the consequence of an historic earthquake balancing its neighbouring sea with equal depth. They give me a sense of being grounded with their majestic presence dwarfing all below. I need to 
see them panoramically – from the sea as well 
as the land. At different angles they alternate between one being a pyramid and the other a multi-faceted shape.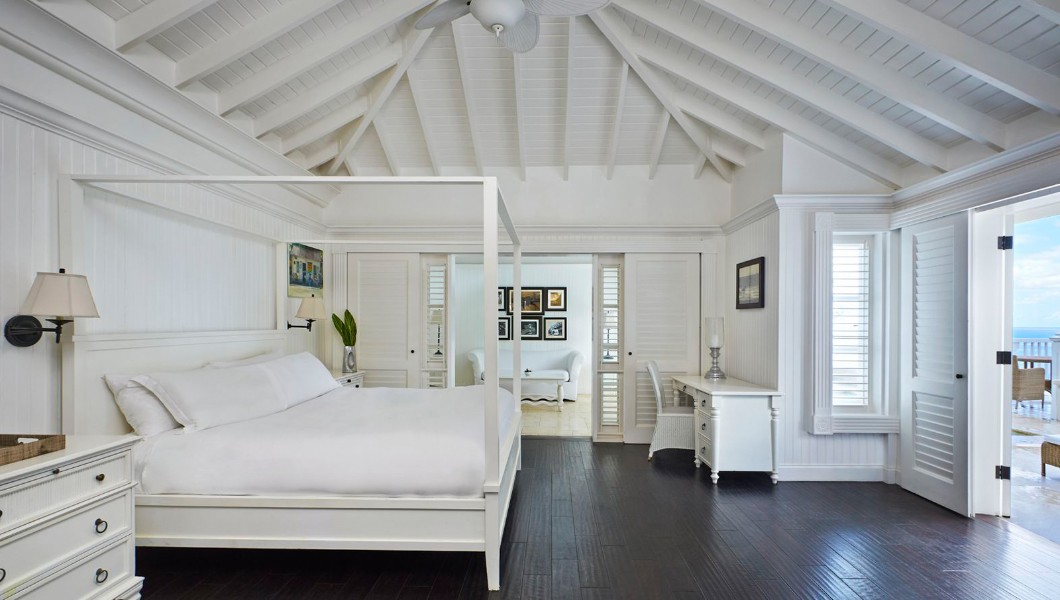 Onto Capella Marigot Bay. This hotel's location couldn't be more idyllic as it overlooks its marina. Here I get a strong sense of the nautical character of St. Lucia as I look around at premier yachts berthed from all over the world. The bay is known as 'hurricane hole' from its position on the west side of the island. It is surrounded by mountains and experiences minimal tidal changes. Yachties tinker with their equipment and there's a serenity in this secluded and secure haven that's reflected in the philosophy of the hotel.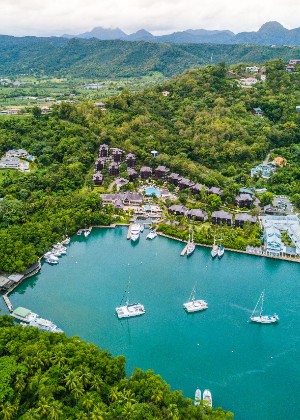 Capella has spacious chalet suites that are presented in a half-colonial, half-ranch style with dark wood and strong linear design. The Grill at 1461 has delicious fresh meat and fish seasoned with herbs and spices that are picked from the hotel's private garden. They are paired with locally sourced ripe fruits and vegetables.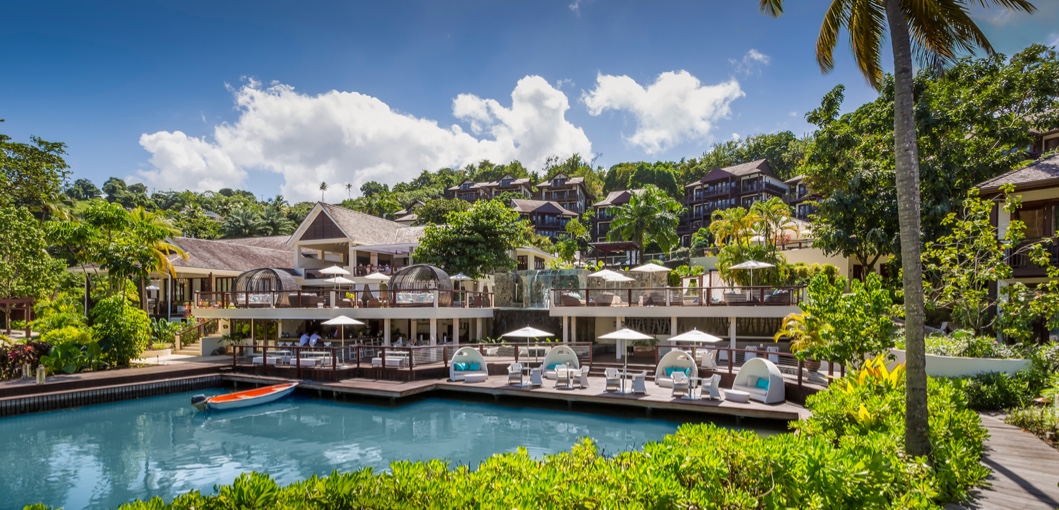 The hotel really lives up to expectation and 
it's the personal, friendly touch of its staff that makes all the difference. The service is telepathic with timely indulgent surprises offered up across the day. A rub down massage at the hotel's Auriga Spa involves a choice of hot stones warming, bamboo pressing and volcanic mud wrapping the body. It sends me blissfully into a deep relaxation.
Next, and past Castries the capital, onto Cap Maison. This classy boutique villa resort has 
a Mediterranean feel. Spanish meets Moroccan. Walking beneath crenellated roofs, past trickling fountains, under vaulted brick corridors and through inner courtyards with birds twittering, 
I half expect to be responding to peeling church bells. Once a private house it has been cleverly extended. It is located on the northernmost tip in Cap Estate, a highly exclusive area.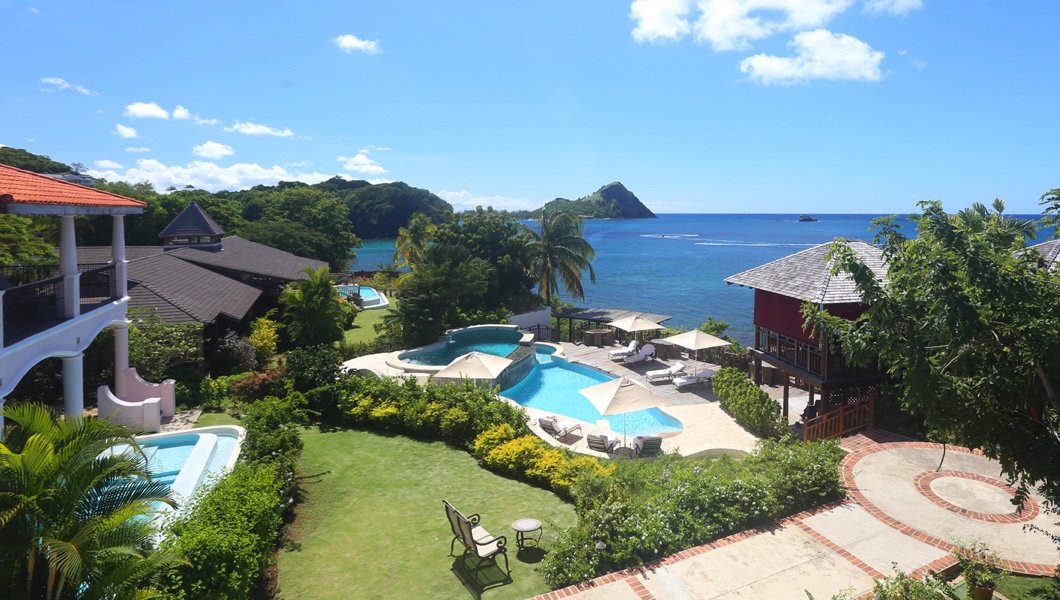 There's dramatic cliff scenery with the tranquil waters of the Caribbean Sea on one side and the brisk Atlantic Ocean to the other. The grounds are tropically landscaped with carpet-mossy grass. The rooms have Manuel Canovas fabric cushions. Chef Nico for the Cliff at Cap restaurant offers 
a delicious seafood chowder. Champagne is delivered in a basket to diners 50 feet 
below via a zipwire. Very James Bond! And with 
zipwire excursions all across the island… 
how very St. Lucia.
I return back down the Atlantic coast to the accompaniment of the brightest rainbow I have ever witnessed. A magnificent send off to such 
a colourful island. The calm after the storm.
---
4. ANTIGUA

Antigua's tourists comprise of 65 per cent Brits and 30 per cent Americans. It is also home to Oprah Winfrey, Eric Clapton, Silvio Berlusconi and Giorgio Armani. The famous Carlisle Bay hotel has played host to George Bush, Roman Abramovich, the Duchess of Cornwall, John Travolta, John Kerry and Michael J Fox.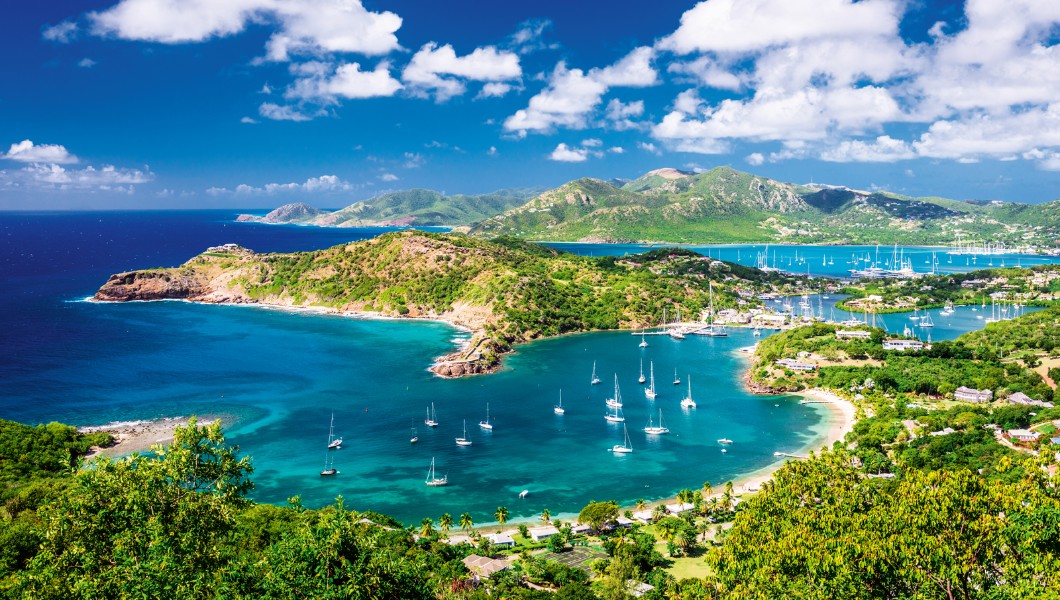 The island has immense beauty and the hills create some wonderful vistas. None more so than the view from Shirley Heights of the English Harbour, a naturally formed series of bays and enclosures that suited Admiral Nelson in his three-year sojourn on the island. Elsewhere, Half Moon Bay and Valley Church Bay delight in different ways. The former for its symmetry but agitated waves. The latter for the calm and endless spread of bright blue water - knee deep out to sea for over two hundred yards!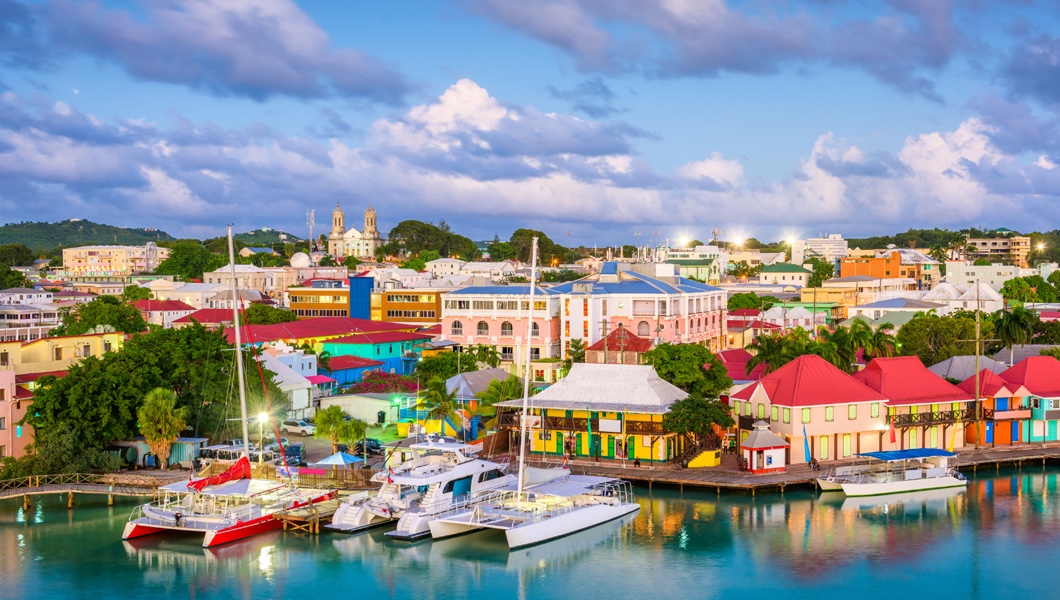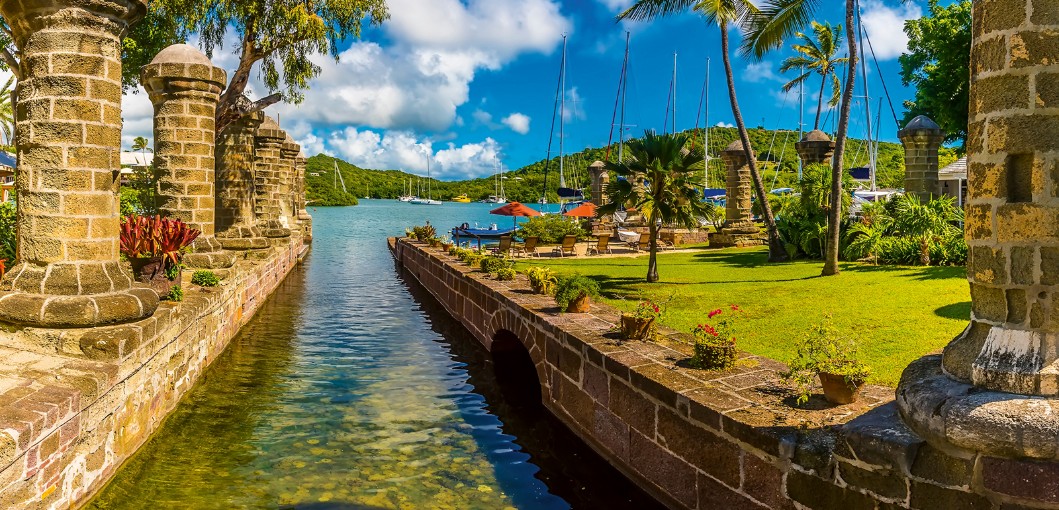 I stay first at Carlisle Bay. The entrance consists of a bridge aligned with ponds decorated with lilies and massive orange goldfish. The foyer is comparatively calm and discreet but welcoming. It's only by looking back at the hotel from out at sea that I can see its perfect setting in a sheltered bay and surrounded by forested hills. The trees virtually cover the architecture to show only the white umbrellas echoed in the crashing white waves. The Garden and Beach apartments are as well-catered for families as they are for couples. I draw my curtains to enjoy the full intimacy and immediacy of the sea that is only yards ahead. The décor is a combination of wicker, wood, cotton and pebbles giving it a fresh and nautical colonial vibe.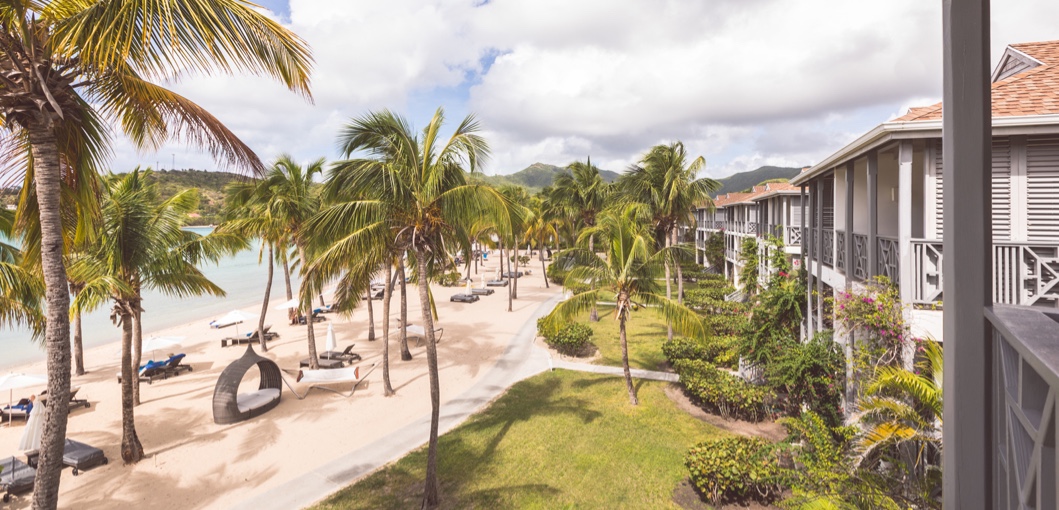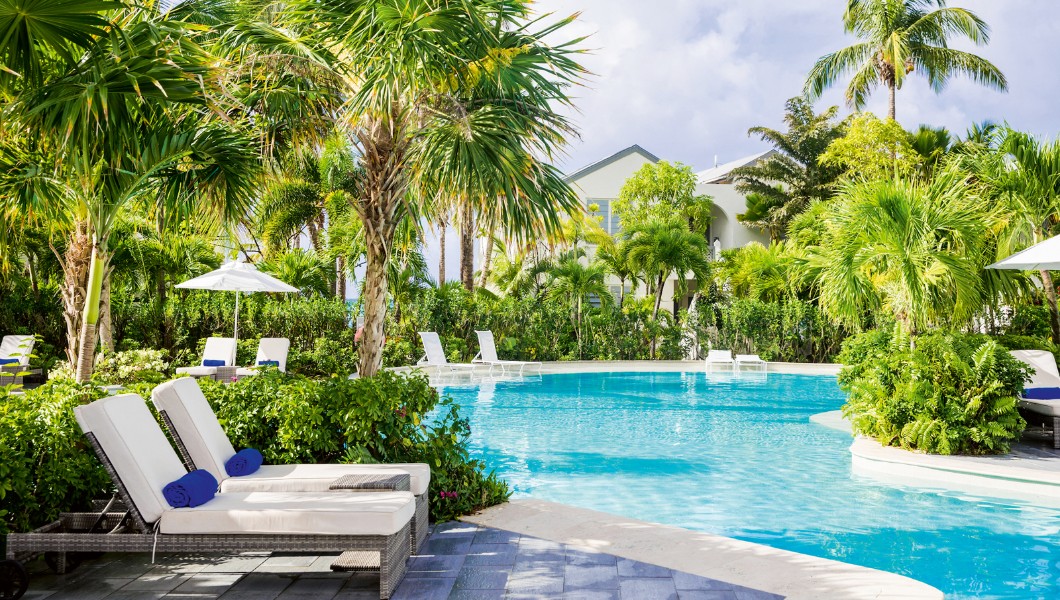 A local car plate simply states "land of sea and sun". The world of boats is soon upon me as I reach my next destination at Nonsuch Bay. This resort has a reassuring familiarity with the Mediterranean, 
as the squeezed communal area perches upon 
a steep rock-face looking out over a Homeric wine-blue sea. The lounge area has an infinity pool that implores me to elbow my weight over the edge and fixate upon the Small Bird Island directly ahead. A dinghy ride to Green Island opposite and I am left alone for the morning to play out the desert island dream and imagine how I might survive on basic food. For the boat then to return to collect me safely for a most delicious lunch!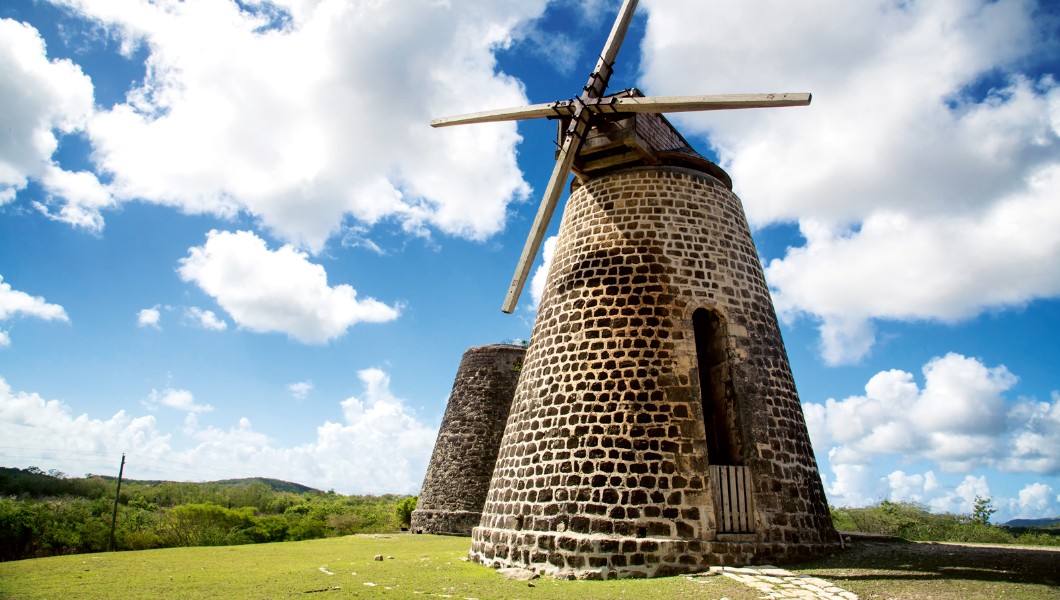 As the famous French writer Hilaire Belloc noted, "I have wandered all my life and I have also travelled; the difference between the two being this, that we wander for distraction, but we travel for fulfilment". By the time I leave the Caribbean 
I feel I have done both.
Adam Jacot de Boinod worked for Stephen Fry on the first series of QI, the BBC programme. Adam is the author of The Meaning of Tingo and Other Extraordinary Words from around the World, published by Penguin Books.