Favoured by Jordan's most elite crowd, Aqaba allows you to escape the kingdom's well-trod tourist trail and explore beaches, marinas, diving wrecks, and the unforgettable beauty of Wadi Rum
Bracing against the cold February wind, I gingerly step as close to the edge of the rock I'm balanced on as I dare. From this great height, I have a full 360-degree view of Wadi Rum: an arid expanse of red-hued sand, dramatic sandstone formations, and towering mountains. There isn't any sign of life to be seen, not even a roaming camel or a 4x4 cruising over the slightly undulating dunes. It is, quite simply, one of the most extraordinary places I have ever seen.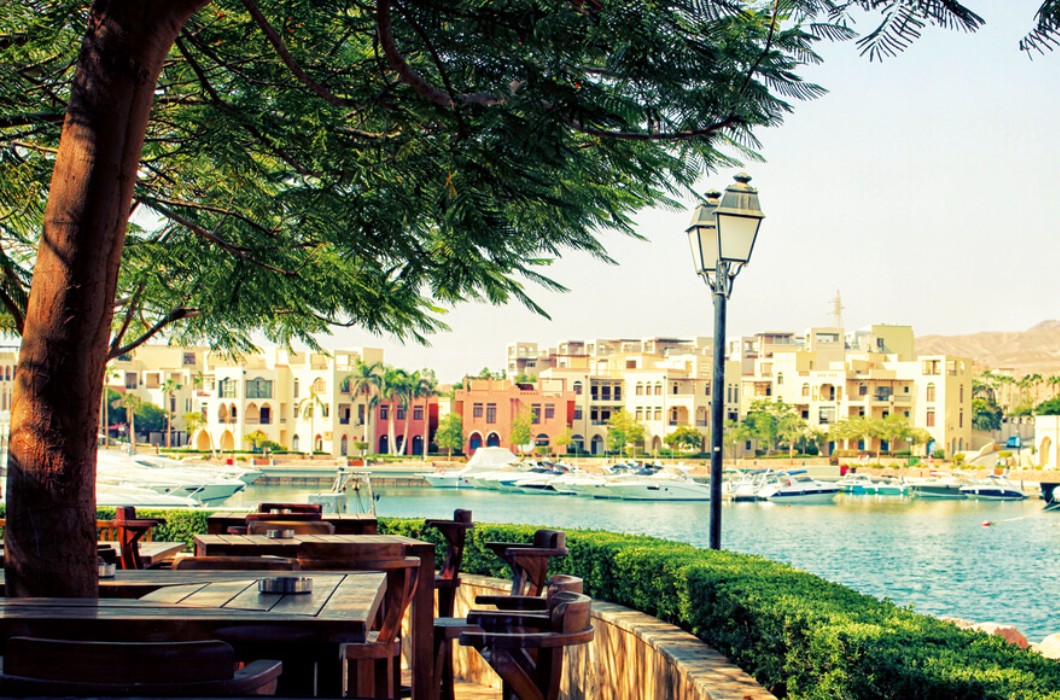 Scuttling back to where the rest of my group is sheltering from the wind, I admit that I never expected to be so amazed by this ethereal desert known as 'The Valley of the Moon'. Supremely different to the smooth rippled dunes of the UAE's 'Empty Quarter', the strange natural rock bridges and wide flat plains make made it feel like a distant planet. However, Wadi Rum is just an hour east from Aqaba, Jordan's only coastal city and the base for my sensational whirlwind trip around the kingdom.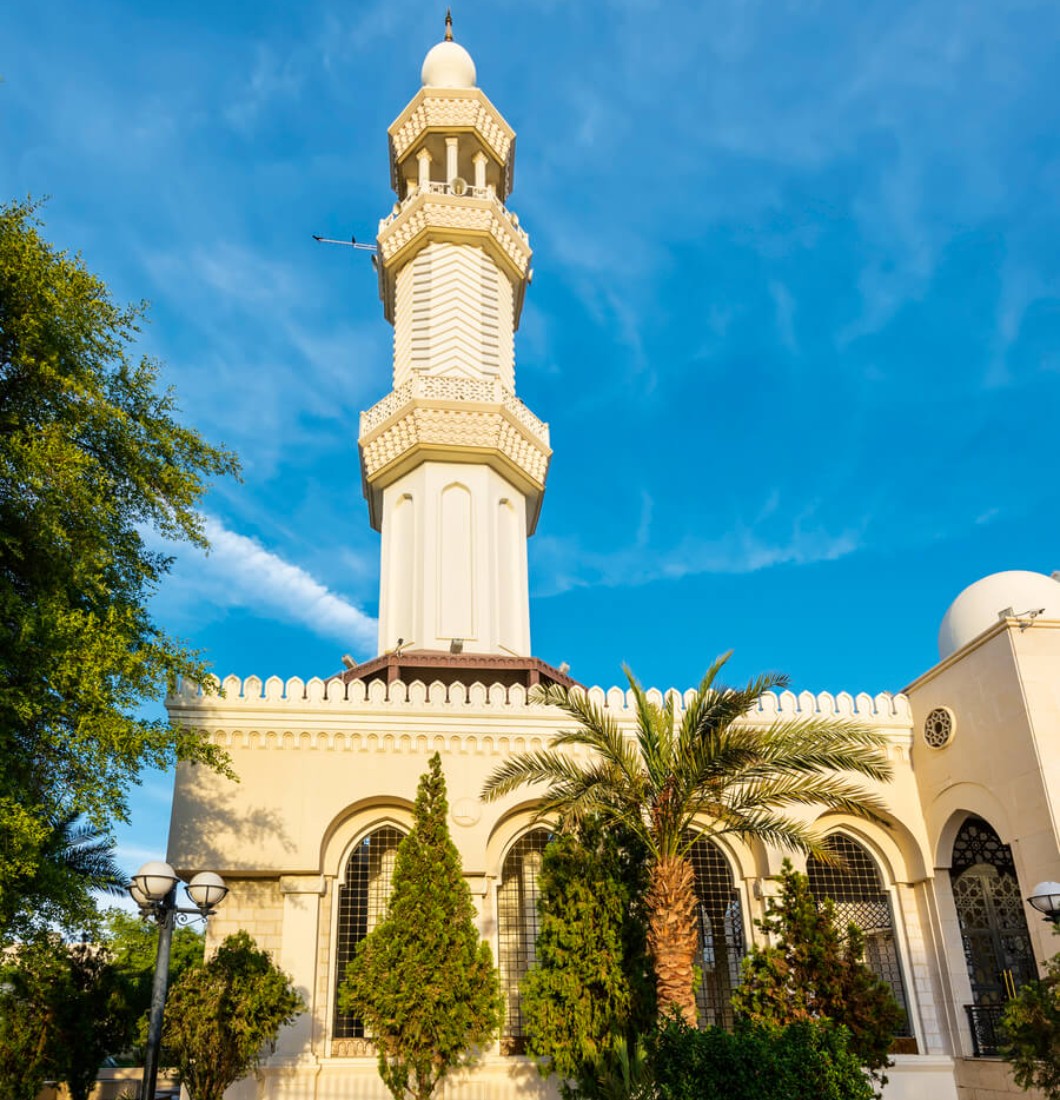 First finding fame in British epic Lawrence of Arabia in the 1960s, Wadi Rum has provided stunning backdrops for Dune, Star Wars, The Martian, Aladdin and other major movies. It's not hard to work out why this fairy-tale place continues to capture the imaginations of the creative arts. Like most who visit this famous landscape, we book an overnight stay in a desert camp, that also includes a tour in a 4x4. Clearly relishing his job taking visitors around where his family has lived and farmed for thousands of years, our fun and personable Bedouin guide keeps us well entertained with his skilful dune bashing techniques and amazing knowledge of every rock and corner of Wadi Rum, which is roughly the same size as New York City. Walking through narrow cracks in the mountains to find 12,000-year-old inscriptions feels incredibly surreal, and the entire day is just a constant stream of one breath-taking scene after another. Perhaps the most memorable moment is stopping for a break inside a traditional goat-hair tent. Here, we are able to defrost our icy limbs by a large fire, and enjoy some sweet traditional Jordanian tea and dates as the guides regale us with more stories.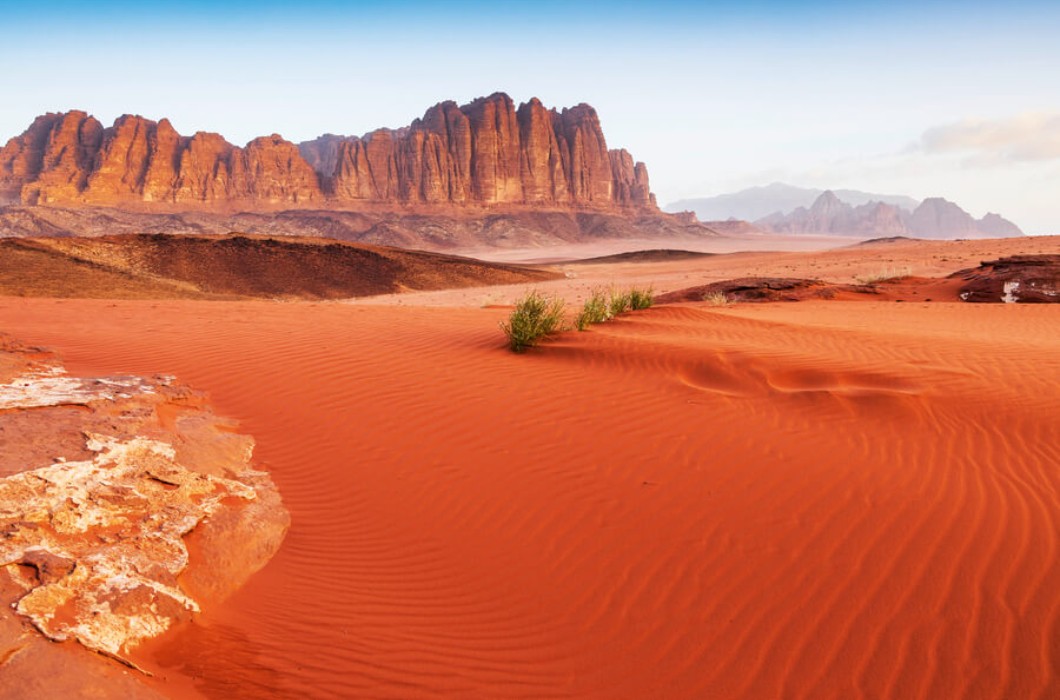 Then, after watching the magical golden sunset from the top of one of the largest dunes, we head back to Captain's Desert Camp (our rather rustic home for the night), for a traditional Bedouin Zarb dinner. This iconic Jordanian meal features tender and juicy cuts of lamb and chicken that have been carefully grilled for hours underground, served with an array of creamy dips, crunchy salads, and fresh breads. It is just what we need after such an active day, and it all tastes superb. Perhaps it is this hearty feast, combined with the fresh air of the desert, that means I sleep so soundly in our authentic, Arabian-style tent.
Many luxury glamping spots have popped up in Wadi Rum in recent years. While Captain's Camp is comfortable, friendly and close to the boundary (meaning you don't need a 4x4 to reach it), the plush sky domes of Memories Aicha Luxury Camp are certainly more picturesque with an eye on style. Plus, if you wake up not quite ready to head back to civilisation just yet, most camps can arrange sunrise hot air balloon rides over the glowing landscape.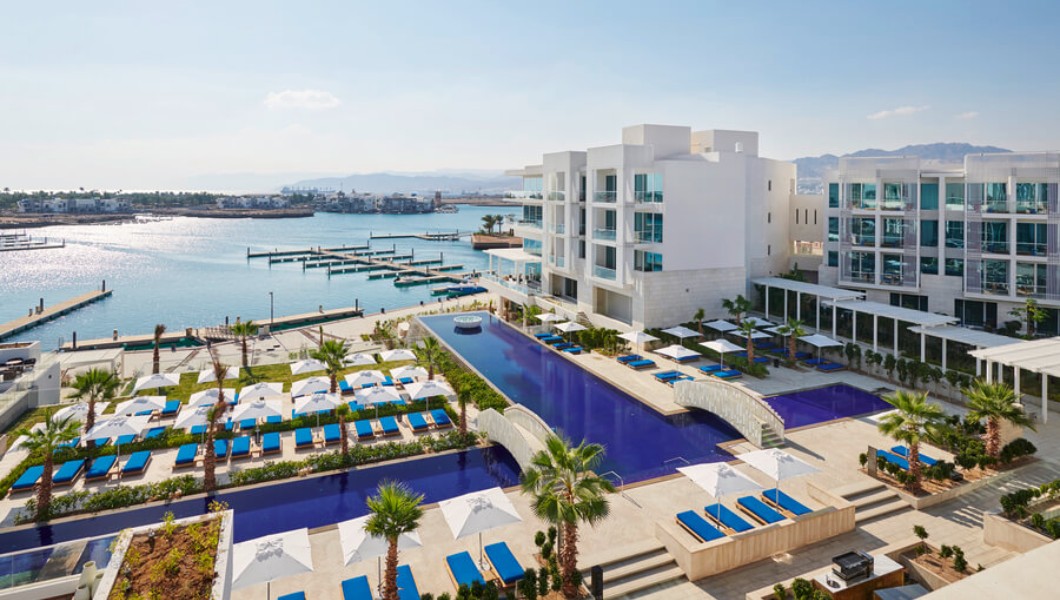 However, as much as we have loved every moment of our desert journey, we are very happy to swap it for the contemporary elegance of the Hyatt Regency Aqaba Ayla. The opulence of our terraced suite seems even more rewarding after our night in the wild, and we are entranced by its views of the sparkling Red Sea, with the hills of Israel clearly visible in the distance. The sun-kissed terrace and elegant living area only enhances our experience. Boasting pristine beaches and year-round sunshine, Aqaba is extremely popular with Jordan's most fashionable socialites. However, its yacht-littered coastline remains relatively undiscovered by tourists.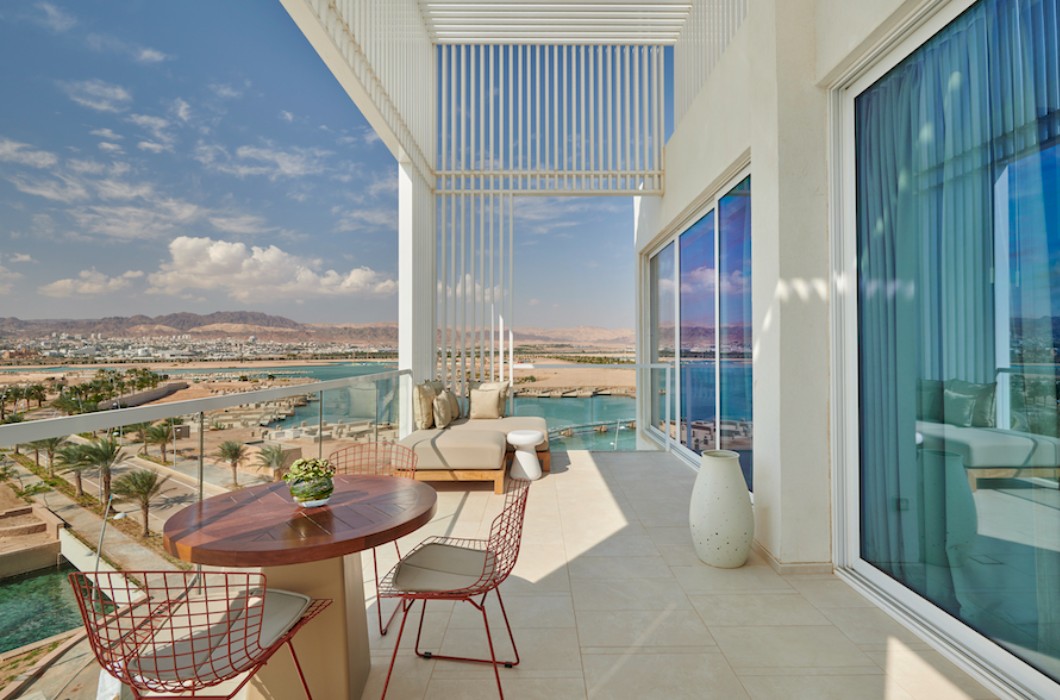 Offering the perfect way of escaping the usual visitor trail of Amman, Petra and the Dead Sea, this southern city invites you to discover a whole new world of relaxation, culture, and adventure that few other foreigners seem to know about. While Jordan isn't often thought of as a beach destination, you'll be hard pushed to find a better place to sun worship than Aqaba between the months of April and November. The temperatures are much warmer than in the north of the county, but even in July and August they don't reach the sweltering peaks of summer in the UAE. Surrounded by dramatic mountains, there are many reasons why it's known as the playground for Jordan's rich and famous.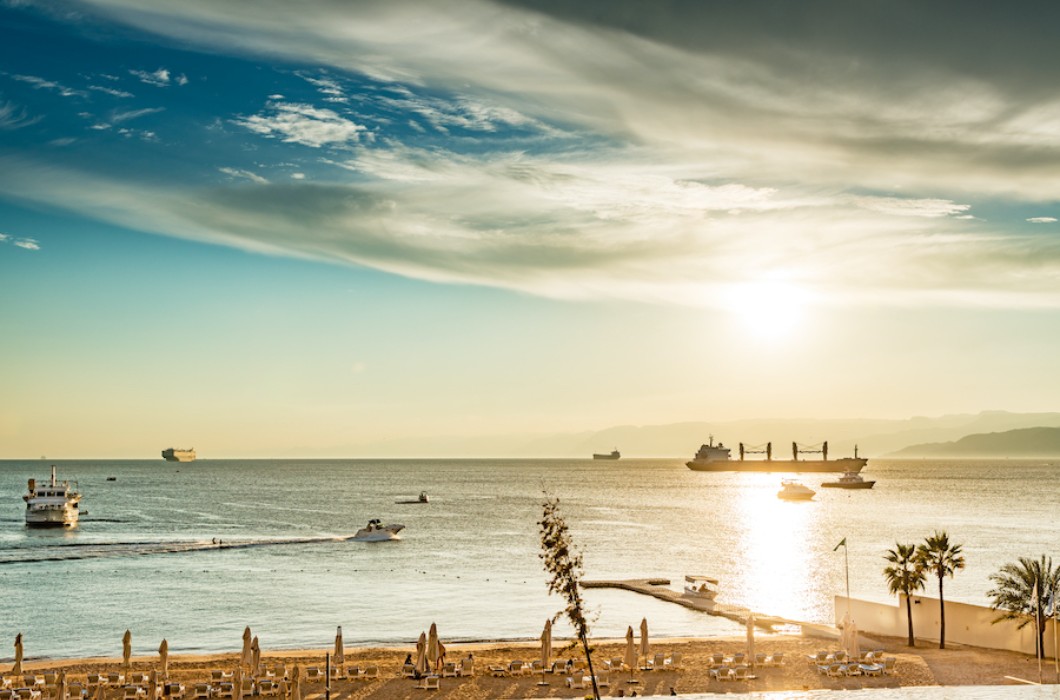 The compound of Ayla (where we are based), contains many of the city's key attractions, including the ultra-hip B12 beach club. With the restaurant located right on the golden sands, it's a beautiful place for a laid-back lunch in the winter, while in the summer you can try stand-up paddleboarding, kayaking and various other water sports, or simply enjoy a snooze on one of the comfy bean bags or hammocks.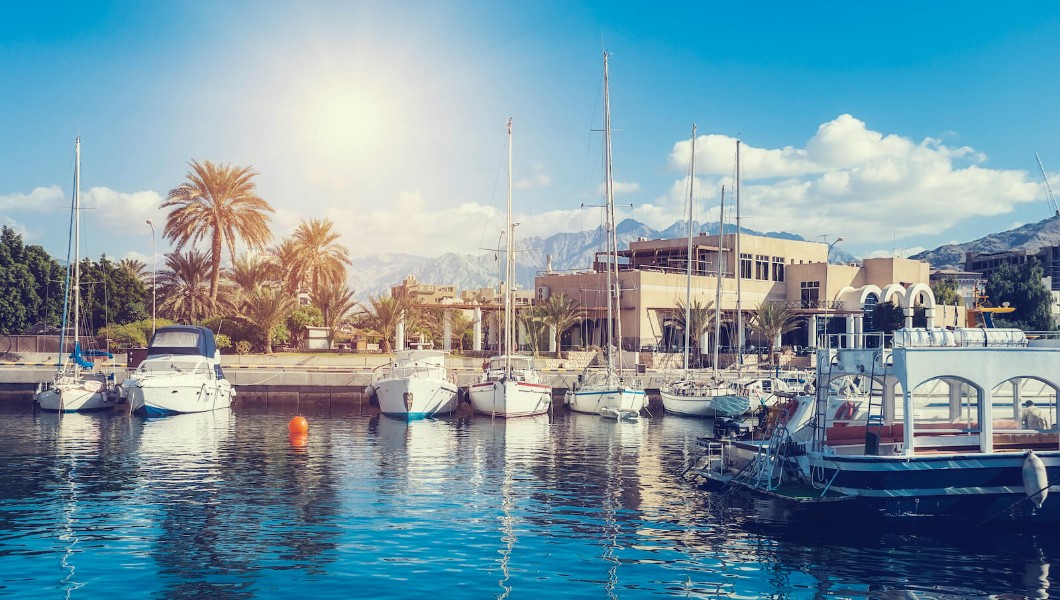 Ask any Jordanian what to do in Aqaba and they'll tell you that a boat trip is essential. Ayla Marina is one of the most prestigious docks on the Red Sea, and here you'll find many luxury vessels to hire. Although I find being out on the water of the Gulf of Aqaba incredibly relaxing, it makes me want to return in the warmer months so that I can experience some of the area's famous wreck dives, including submerged tanks, planes, helicopters, and boats.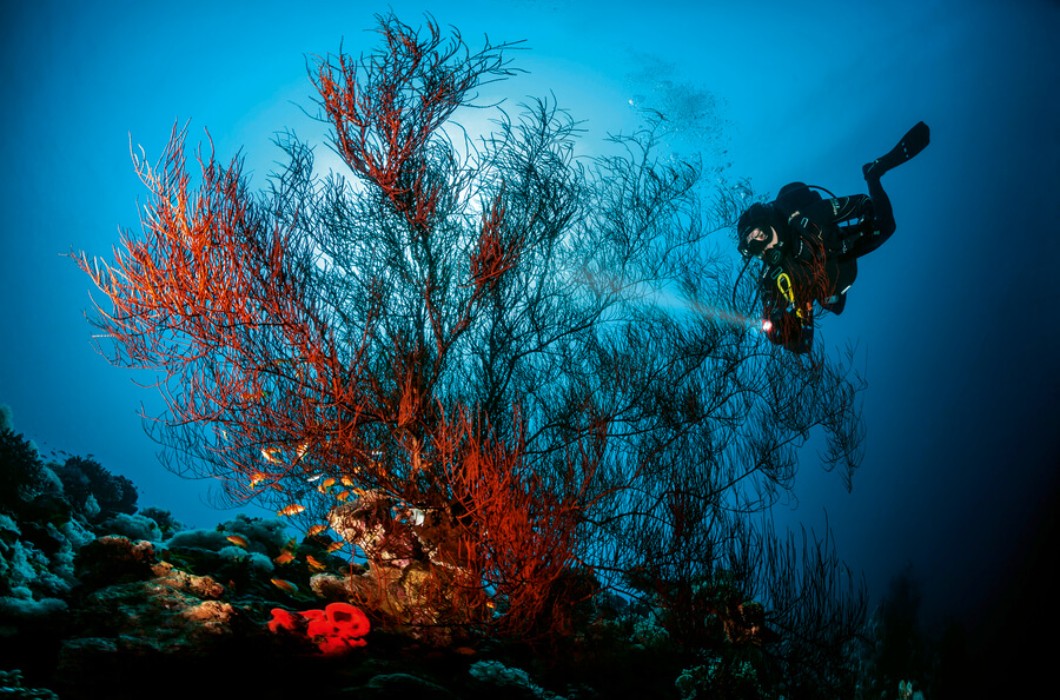 Aqaba is known for its almost permanently clear waters, colourful coral, and exotic fish, while dolphins and even whale sharks can also be spotted from time-to-time.
Back on land, we wander happily around the bars, restaurants, cafés, ice cream parlours and artisan craft shops of the Ayla's Marina Village. Laid-back, lively, and full of groups of families and friends, we embrace the upbeat vibe of the place. Although we could easily have had a Zarb barbecue every night, the paella at Ayla's popular Latin hotspot, La Mesa, is one of the best we've ever had.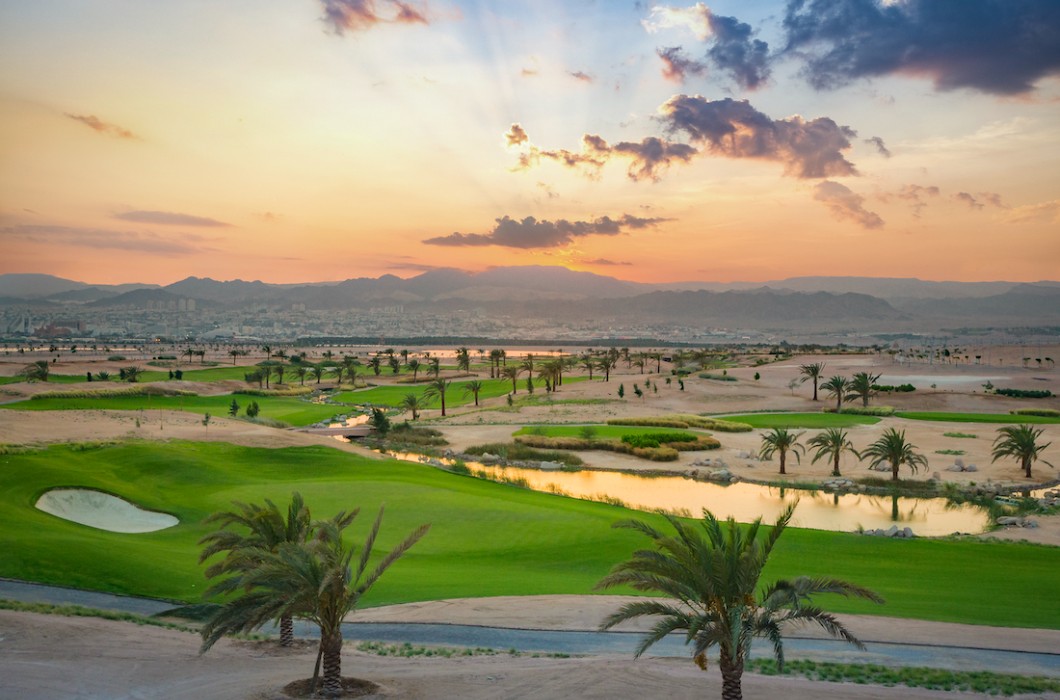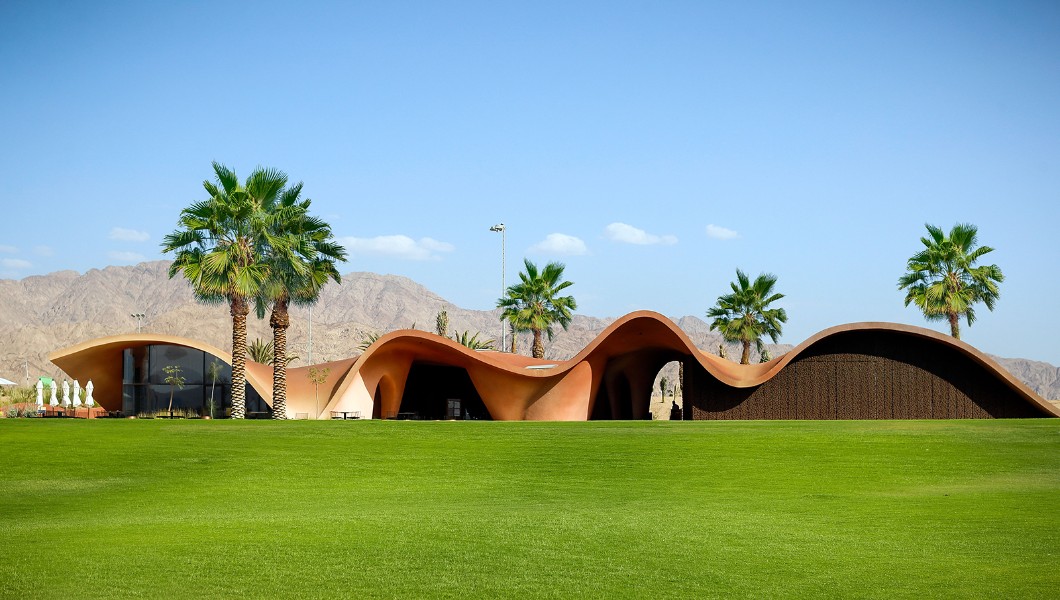 Sicilia, the sophisticated Italian restaurant at Ayla Golf Club is equally excellent, while our pre-dinner drinks at the Hyatt Regency's very Instagrammable Vista Lounge are arguably the highlight of every day. Thankfully, we can counteract our indulgences with private outdoor yoga lessons by the incredibly long hotel pool, and by hiring bikes to explore the local area. Our day covering the charming old town and bustling waterfront racks up a considerable step count as well.
Walking in the footsteps of the Ottomans at the imposing Aqaba Fort is a fascinating experience (although the execution chambers make for quite dark viewing), and we enjoy the 'real' and authentic feel of the public City Beach. The vibrant and slightly chaotic souk is another highlight. Filled with the enticing aromas of spices and perfumes and scattered with bright cushions and scarves, we are glad to find that the stall holders are more chatty than pushy.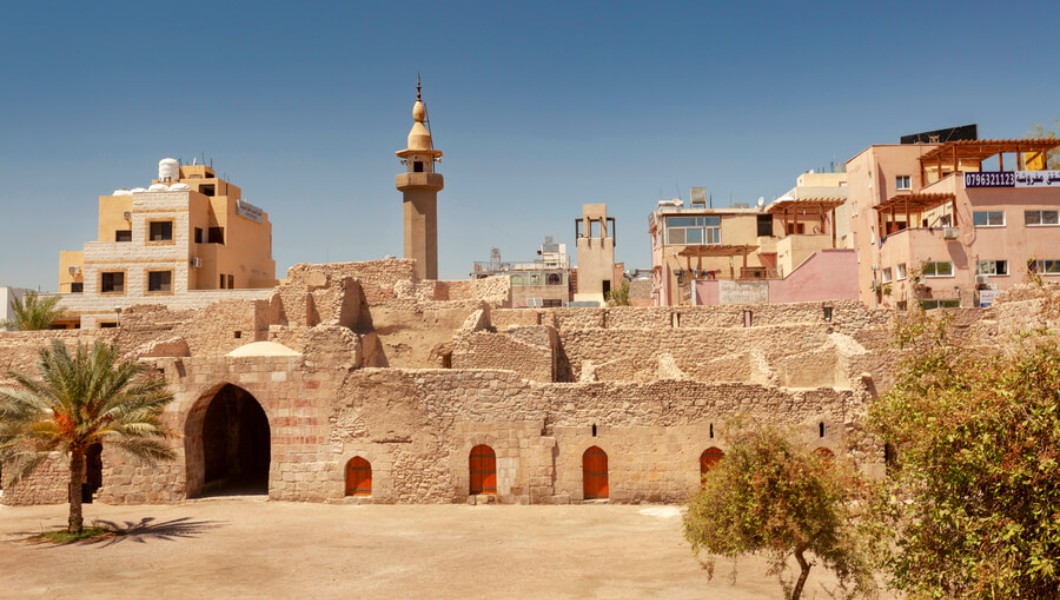 The Aqaba Traditional Arts Festival, held for two weeks every February, provides more chances to purchase locally made gifts and products. During this time the streets become filled with food stalls, crafty workshops and free musical performances, and crowds descend upon the city to join in the celebrations. If you have more than a few days to play with, it goes without saying that driving two hours to Petra, one of the New Seven Wonders of the World, is essential. While some spend several days exploring the huge site, you can tick off the Treasury, Monastery, and other most famous sights in around five to six hours.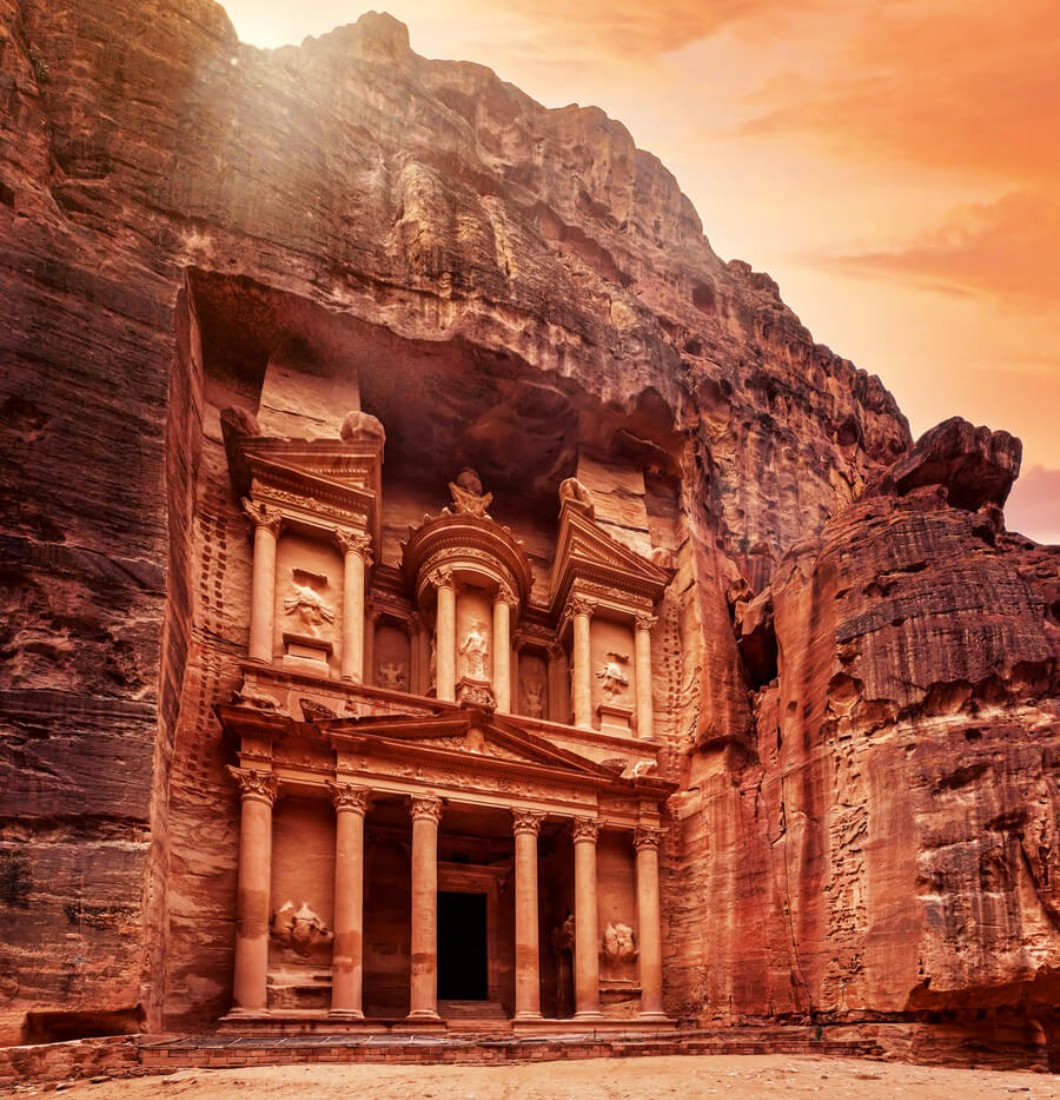 To capture the Treasury as its most picturesque, just ask one of the Bedouin guides to take you up the steep canyon cliffs to the coveted hidden photo spot. The angles from up high are unbeatable but be aware that you need a certain amount of flexibility and fitness to manage the climb, and that your guides will expect a decent tip in return. From Petra, we travel on to Amman (four hours' drive from Aqaba), where another full day is spent exploring the enormous Roman theatre and the impressive Amman Citadel, both found right in the centre of Downtown.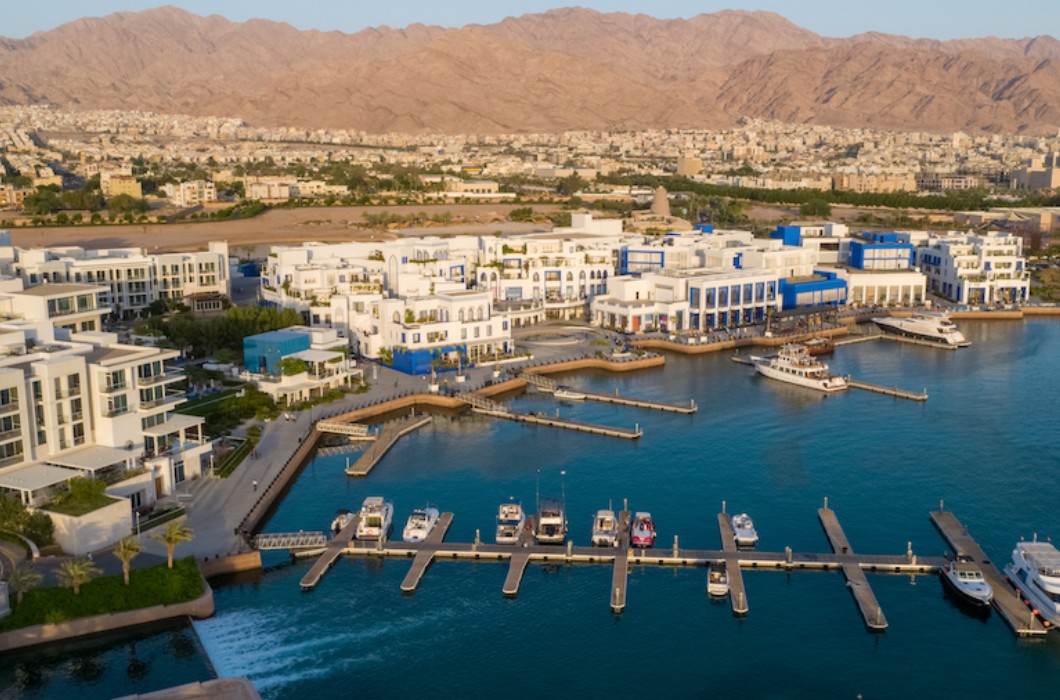 Visiting Amman's legendary Hashem falafel shop then provides one of my fondest memories of Jordan. Tucked away down an ancient crumbling alley, it is absolutely packed with locals, and we have to wait a while before grabbing a spot on one of the plastic tables. Exclusively serving falafel, hummus, foul, fries and mint tea, we quickly realise that this charming hole-in-the-wall views menus as an unnecessary formality. So, we follow the crowd, order a bit of everything, and enjoy one of the cheapest, and most delicious, lunches we could ever remember. We are left in no doubt about why the internet hails it as one the top places in Amman to sample authentic Jordanian cuisine.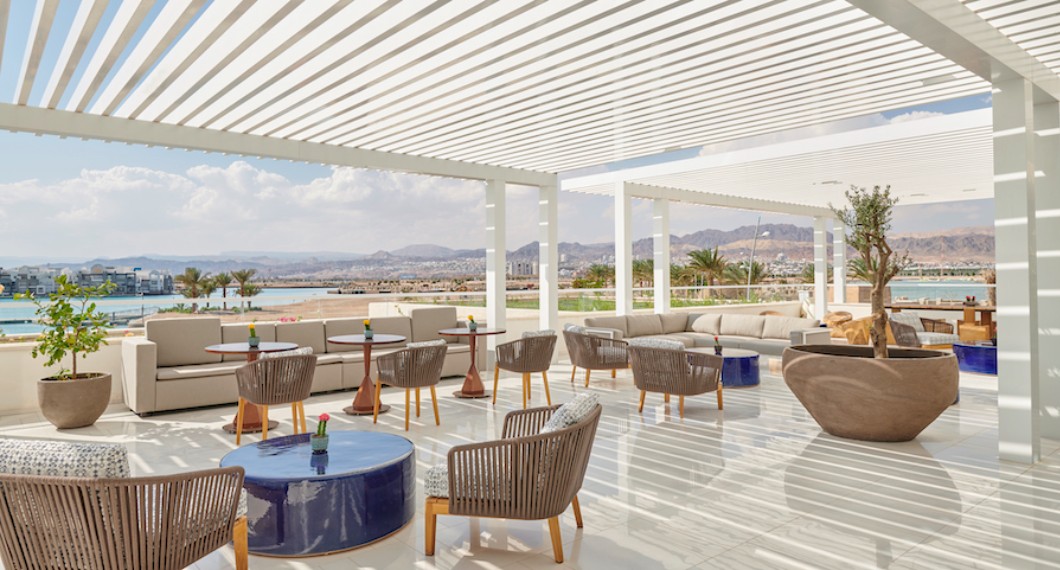 Finally, one of my most powerful lasting impressions is of how friendly and welcoming Jordan is as a place to visit. One Amman resident insists on stopping to give us a lift back down the hill from the citadel (despite us declaring that we didn't mind the walk), and any checkpoint guards we encounter along the roads only wants to ask where we are from and (upon finding out we are British) what football team we supported.
Aqaba really is a city that has it all – relaxing beach breaks, desert adventures, eye-opening heritage sites, all on its doorstep… Fascinating, unique and full of the unexpected, it's impossible not to fall in love with both Aqaba and the endearing kingdom of Jordan. Out of the 54 countries I've visited in my lifetime, it's very close to number one.
DESTINATION:
Hyatt Regency Aqaba Ayla
+962 3 204 1234