Panama City may be best known for its canal, but the tropical capital is far more than a convenient passageway between the Americas. Sitting at the crossroads of two oceans and two continents, the steamy city in the jungle is a living paradox. With hints of Hong Kong and Costa Rica seasoned with plenty of Latin American flavour, in the space of one afternoon you can stroll the cobblestoned streets of the tastefully restored 16th-century Casco Viejo, admire the city's Singapore-like skyline, and visit its Metropolitan Natural Park (Ave. Juan Pablo II final; +507 232 5552) – a wildlife haven, and the only protected tropical forest in Central America located within a city's boundaries, where you can spot toucans and sloths in their natural habitat.
Despite being founded in 1519, Panamanians like to think of the city as being more youthful – 17 years old to be exact. This is because it wasn't until 1999 that the United States gave the Panama Canal and the surrounding land back to its people. Since then, the tiny isthmus of a country has enjoyed the fastest-growing economy in Latin America, with a multi-billion-dollar canal-expansion plan (set for completion in April this year) bringing a flood of foreign investors and a brand-spanking-new US$2-billion subway that has the city racing to become a world-class metropolis. And with Emirates airline launching the world's longest non-stop flight between Dubai and Panama City (a back-stiffening 17 hours and 35 minutes), it's right on track to become one of the world's hot luxury-travel destinations for 2016.
CULTURAL IMMERSION
One of Panama City's greatest assets is its proximity to preserved virgin rainforest, found only an hour from the urban centre. To participate in a culturally enriching experience, join a community tourism project to visit the Embera tribe, one of the country's seven living Indian cultures. The tribe continues to reside in traditional villages deep in the dense Chagres jungle, trying to preserve a lifestyle that has changed little since Christopher Columbus came to the Americas.
The Gamboa Tour (+507 269 1262) begins with a traditional canoe ride up the Chagres River – once used by Spanish conquistadors to transport their treasure from Peru to the Spanish Main – followed by a meeting with the Embera people where you can learn about medicinal plants, watch ancient dance rituals and eat a traditional lunch of fresh fish and plantains. Here, a young Embera man plays a bamboo flute on the Chagres River.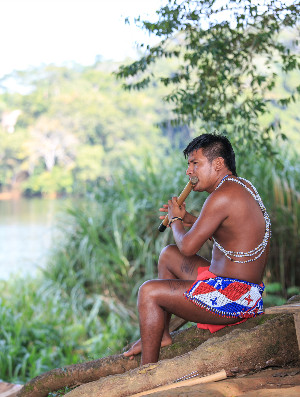 PANAMA PLAYS ITS WILD CARD
The jungle waters of Gatun Lake – an oasis in the middle of the Panama Canal zone – is where nature lovers can glimpse Panama's astonishing biodiversity. Swathed in rainforest and scattered with islets, the area is best appreciated on board an expedition boat with a naturalist guide who will seek out sloths, colourful toucans and alligators while gliding past hilltop islands – not to mention the occasional cargo ship. A highlight of the voyage is a visit to Monkey Island, a natural refuge of primates where you can spot tamarin, mantled howlers, lemurine owl monkeys and the white-faced capuchin. On dry land, at the Gamboa Rainforest Resort (Corregimiento de Cristobal; +507 314 5000), you can walk between a flurry of butterflies at the butterfly farm, which houses some 200 migratory and 20 native species, including the distinctive owl butterfly.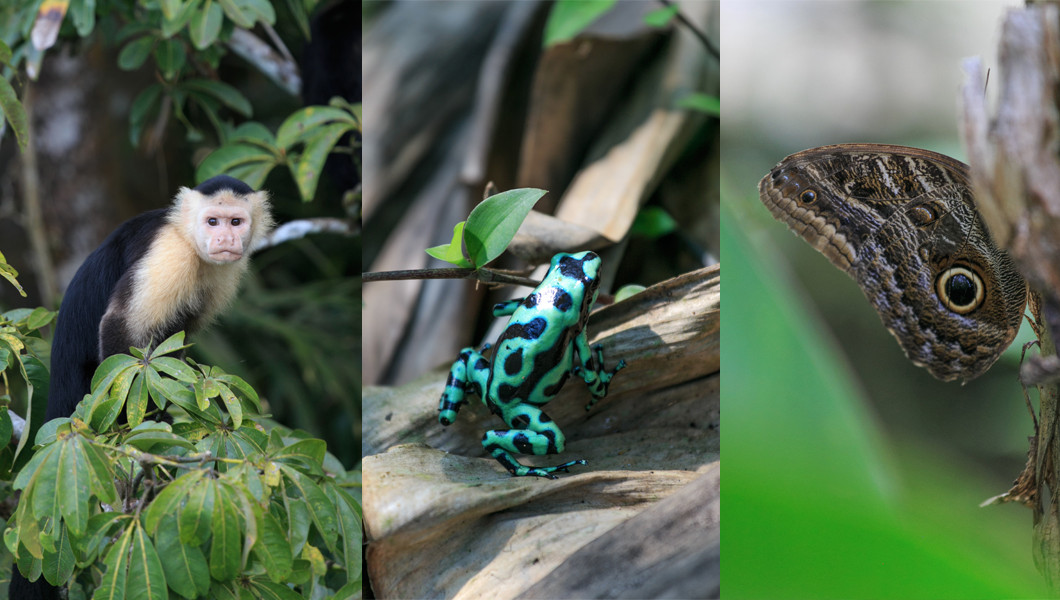 One of the region's more infamous inhabitants is the tiny – but very toxic – green and black poison dart frog, which can be spotted (from a comfortable distance with a macro lens) at the resort's open-air frog garden. Also known as poison arrow frogs, indigenous tribes, including the Embera, would dip their hunting arrows and darts in the frog's poison, which would remain potent for up to a year. Also diminutive, but thankfully non-toxic, are the colourful orchids that can be admired in the nearby orchid nursery (opposite, bottom left), some of which measure just a few millimetres in diameter – they're best seen in bloom during the months of March and April. To put all this flora and fauna into perspective, you'll need to take the resort's aerial tram, which glides peacefully through the rainforest canopy, followed by a climb to the top of the observation tower for a breathtaking 360-degree view over the Chagres River and Panama Canal.

FROM GRITTY TO GLAMOROUS
Surrounded on three sides by the Pacific, Casco Viejo is a formerly dilapidated colonial quarter that has been transformed into a designated UNESCO World Heritage site where crumbling pastel façades and ruined churches sit alongside grand old mansions (above). Built as a fortified city in the early 16th century, the quarter is a melange of neoclassical, Caribbean, Spanish and French architecture, densely packed with historic glories, from grand cathedrals to fountain-filled plazas. The main square (Plaza Independencia) trumps them all with architecture reminiscent of the old towns in Quito or Lima. The colourful Plaza Bolivar, meanwhile, is the place to sink a cold Panama beer while overlooking the grand Palacio Bolivar, which is built on the grounds of a former Franciscan monastery.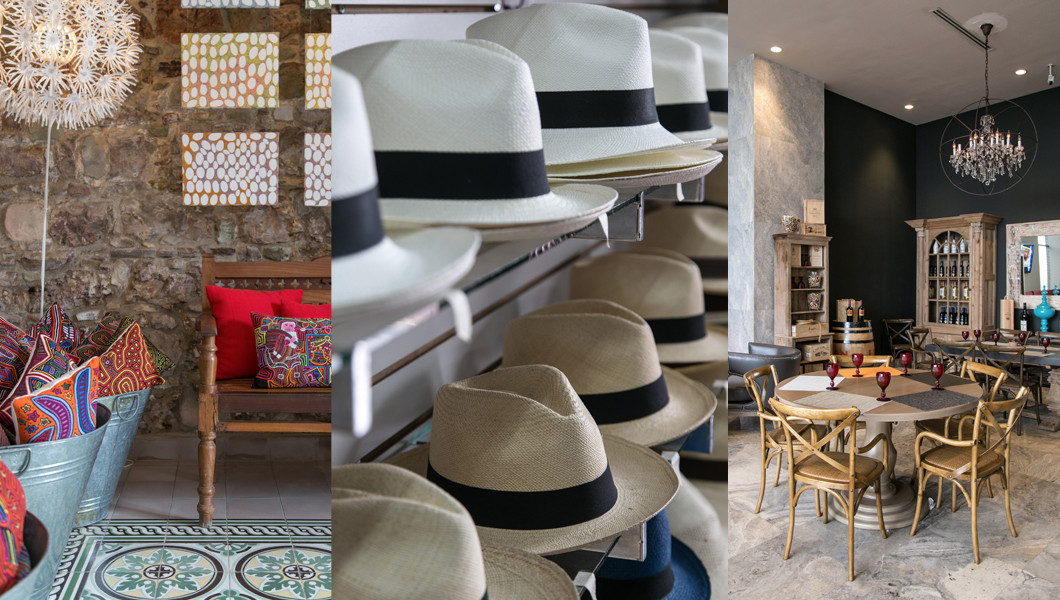 Wherever you walk in the Casco Viejo, you can't miss the shop windows crammed with Panama hats (opposite, top right), tied with the country ever since President Roosevelt was photographed wearing one on his visit to the canal in 1904. Its name is actually a misnomer: The original hats, known as el sombrero de paja toquillas are crafted in neighbouring Ecuador. A far more authentic Panamanian purchase would be one of the unique mola textile cushions made by the indigenous Kuna women on-site at the quirky Karavan Gallery, which sells ethical and stylish handicrafts, artisan jewellery and home accessories (Calle Tercera, Lateral Arco Chato; +507 228 7177; www.karavan-gallery.com).

ART MEETS SCIENCE
Helping to define the city's modern profile is the vividly coloured, Frank Gehry-designed Biomuseo (Edificio 136, Calzada de Amador; +507 830 6700), which is a cultural and eco-tourism destination in its own right. Designed in the starchitect's signature fragmented and twisted style, the sprawling complex, which is ensconced in a 2.4-hectare botanical park, commands the Amador Causeway. A celebration of Panama's richly diverse flora and fauna, its main permanent exhibition, Panama: Bridge of Life, unfolds over eight galleries that incorporate acoustics, arts and digital projections. The highlight is a three-level, 12-screen projection space, which gives visitors an immersive rainforest experience (although this is no excuse to not visit the real thing). Gehry, whose wife happens to be Panamanian, waited an astonishing 15 years for the origami-like structure to be completed – five more than it took to complete the canal.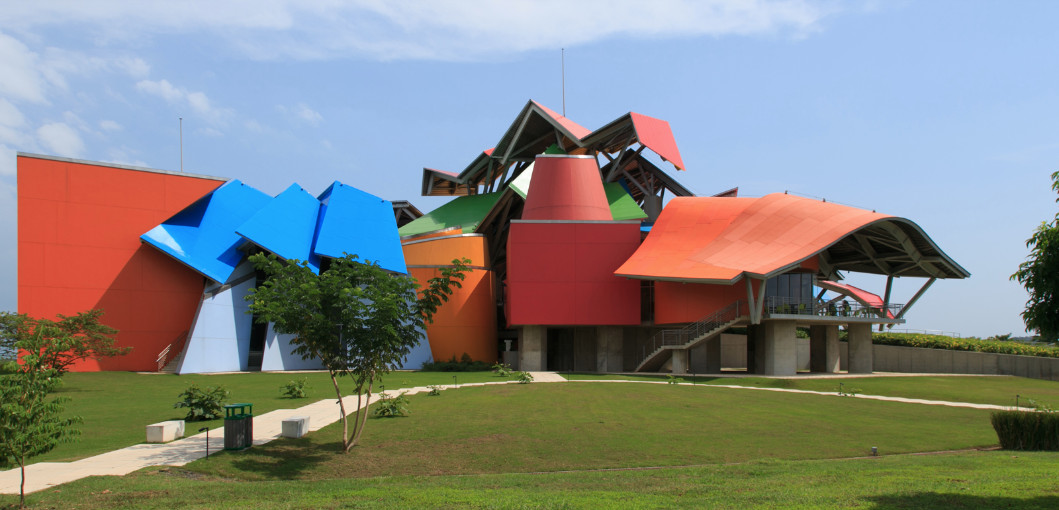 WHERE OCEANS ARE NOT APART
The Panama Canal – arguably the world's greatest shortcut – links the planet's two mightiest oceans, connects 160 countries and 1,700 ports with between 13,000 and 14,000 ships passing through every year. Every vessel pays a toll to use this man-made marvel – which can reach as high as $450,000. This figure is set to triple with the canal's $5-billion expansion project that involves installing a new, larger set of docks and widening and deepening the channels to accommodate megaships that will carry up to three times as many containers. It's astonishing to think that this feat of engineering almost didn't happen – America originally wanted to build a canal in Nicaragua, but the proximity of a volcano to the site put Panama back in the frame.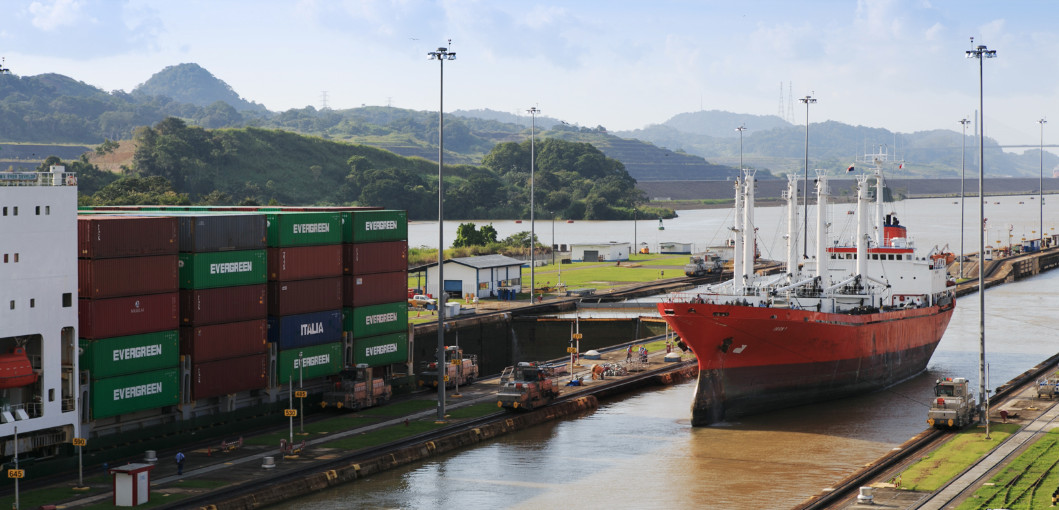 SISTER ACT
The Hilton Panama doesn't just do rooms with a view. Whether you're working out in its expansive gym (complete with floor-to-ceiling windows), soaking in one of the free-standing tubs or taking a dip in its rooftop pool, you can be assured a sweeping panorama that takes in both the coast and soaring skyline. Its location, between the beach and booming financial district, makes it a sweet spot for exploring, and gourmands won't be disappointed with six dining outlets that include Central America's only Ruth's Chris Steak House, and cosy-chic Italian haunt Saquella.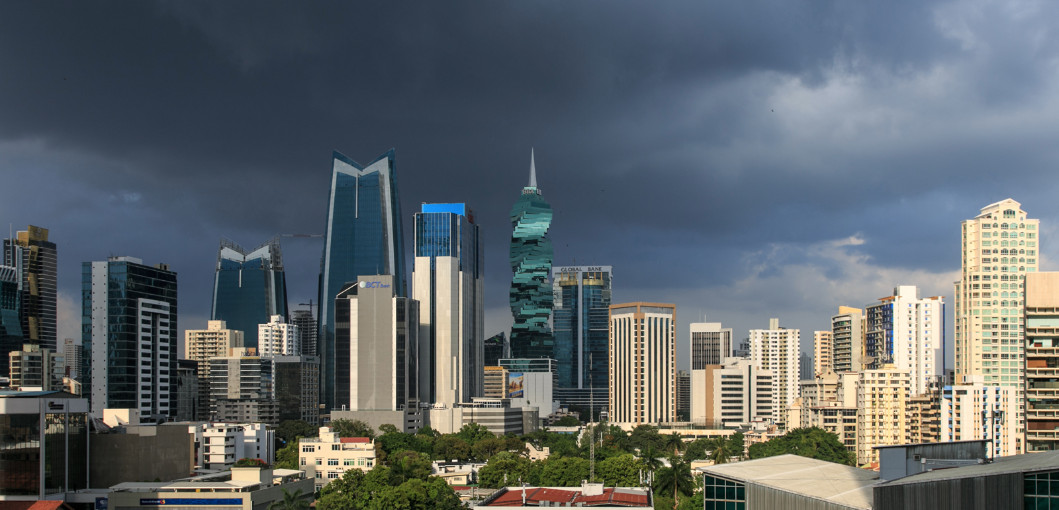 As a welcome addition to the city's continuing upscale-hotel boom, the 16-storey Hilton marks the brand's first foray into Latin America, which also includes its glossier sister, Waldorf Astoria, located just a five-minute walk away on Calle Uruguay, also known as "Restaurant Row". Shimmering with metallic, glass and crystal décor that includes metallic corks and mirrored tiles, the Waldorf oozes luxury, and also boasts a pretty impressive city view.