For many, the Maldives represent paradise. The island chain's pristine beaches, unrivalled solitude and 'no-shoes' ethos has built the small Indian Ocean archipelago into an aspirational holiday giant; but this is all under threat.

With increasing sea levels, the Maldivian government is concerned that climate change could lead to the permanent submergence of its islands, many of which sit no more than four feet above sea level. In anticipation, the country is turning to increasingly innovative solutions to protect its thriving tourism industry.

One such solution is the Solar Floating Island by Italian designer Michele Puzzolante of MPD Designs. The five-star concept comprises a number of luxury villas, entertainment areas and living spaces that can be tethered together, creating a waterborne hotel constructed entirely of floating pontoons.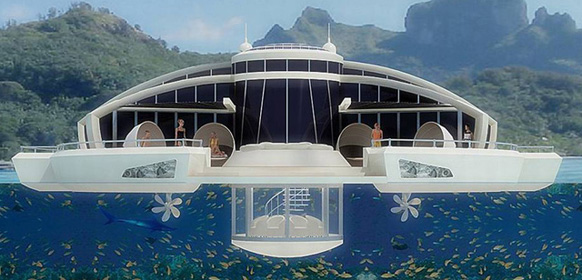 Among other attributes, the central hub of the resort would feature conference rooms, restaurants and a spa boutique, while individual villa suites would boast outdoor decking, private dining facilities and an underwater 'observation bulb' – allowing visitors to watch the diverse marine life of the Maldives from the comfort of their villa. Additionally, each floating accommodation has a built-in motor and steering wheel, specially added for guests who like a change of scenery.

If it comes to fruition, the solar powered development will cost around US $145 million to construct, something that will be decided by the archipelago's government. Despite this eye-watering figure, Puzzolante has stated that Maldivian officials are supportive of his proposal, The Telegraph reports.