Hermès of Paris has made its foray into home fragrances with this debut collection of scents.
The purveyor of luxury goods has launched the new home fragrance collection with five colour-coordinated perfumes.
Le Parfum de la Maison is comprised of Des Pas sur la Neige (taupe), Temps de Pluie (celadon), Fenêtre Ouverte (lagoon), Champ Libre (sulphur) and A Cheval (pumpkin).
The five scents are available in three different forms that Hermès describes as "objets d'art". The primary objects are candles set within ceramic faceted bowls.
Each scent corresponds to a coloured glaze inside the white bowls, which can also rest tilted when not functioning as a candle holder. There are also stylised ceramic "pebbles" and small origami horses, which can be flattened for travel.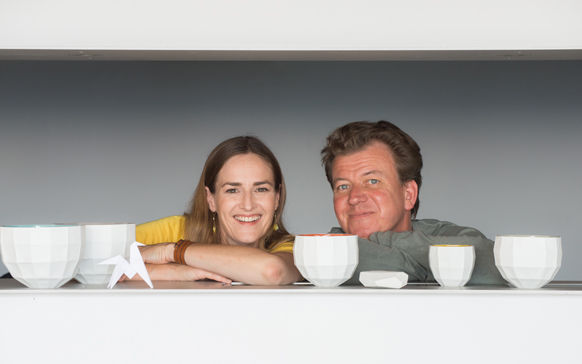 Céline Ellena with Guillaume Bardet and the range of objets d'art
The inaugural collection was designed by Céline Ellena, the daughter of Hermès' head of fragrance, and the ornamental objects were made in partnership with designer Guillaume Bardet.
---
The fragrances, with their associated ornaments, are available from today in Hermès boutiques and other outlets. Prices range between EUR 62 for a set of four horses and EUR 350 for larger candles.