Teeing off your stay
Closing your eyes and picturing Dubai typically conjures one of two scenes. The emirate's marketing overdrive has etched our minds with visions of glistening cloud piercing towers, along with impossibly serene desert vistas, dotted with Instagram-worthy camel rides. Hidden in plain sight, however, is a blanket of lush, landscaped greenery, tucked inland from Dubai Marina, where hobbyists and pros alike have been golfing since the late '80s. Back then, the Marina neighbourhood wasn't even a proverbial twinkle in the eye and the original golf complex was essentially a man-made oasis, surrounded by a sea of sand.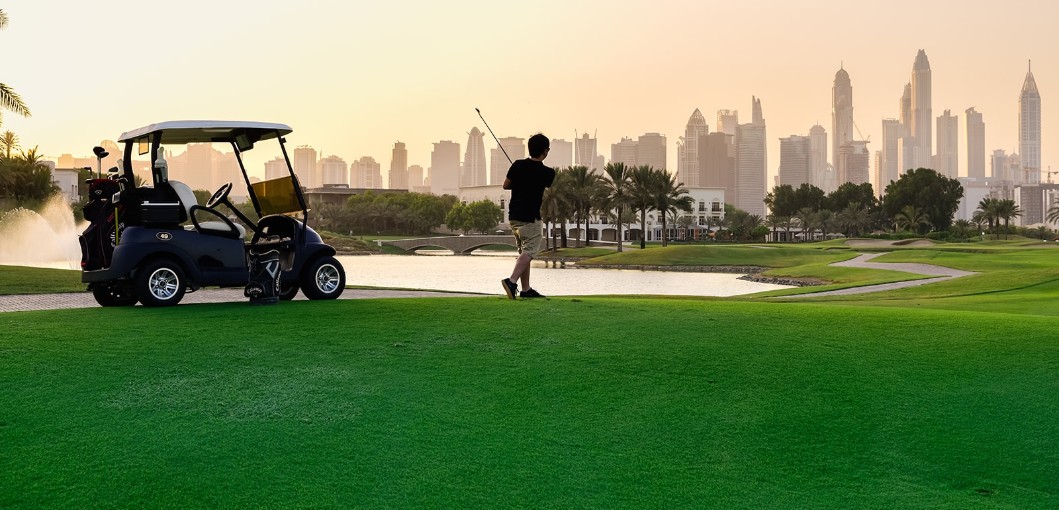 A dozen or so years ago, in January 2006, the Address Montgomerie Clubhouse was unveiled to the public, evolving Dubai's golfing oasis into a world-class resort. The namesake himself, six-time PGA Tour Championship winner Colin Montgomerie, was on hand to launch the venture, and the course that he designed in collaboration with Desmond Muirhead. To this day, "Monty" still frequents the hotel and the course – encompassing over 200 acres and featuring 14 lakes and 81 bunkers which challenge and intrigue all levels of players. Apart from myself… but we'll get to that.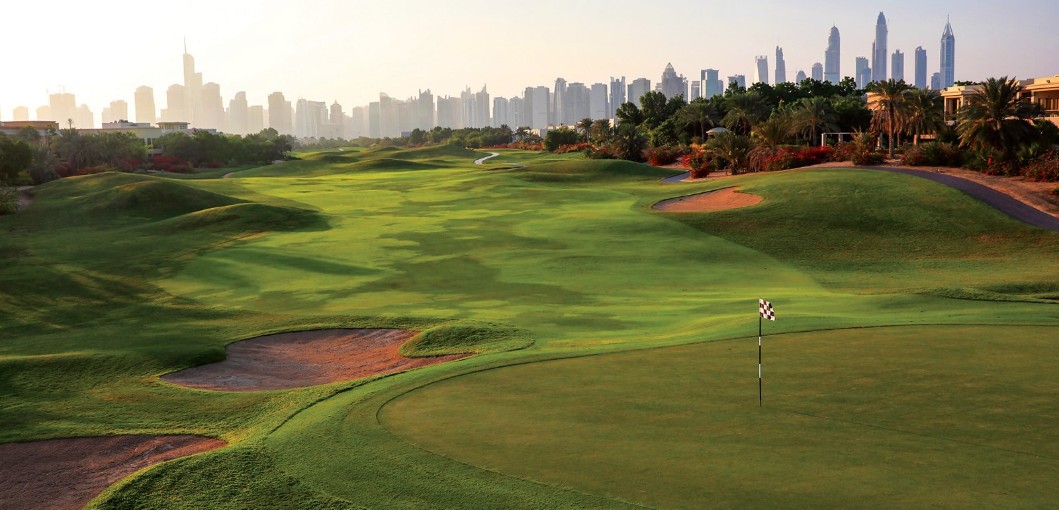 The history of golf in Dubai is both unique and fascinating, with courses carved out of the desert by Dubai's ambitious and creative rulers, with a scene that has never been better – and neither has the hotel. The Emaar hotel is a only a few nine iron swings away from its sister property at Dubai Marina Mall, yet the two destinations look and feel nothing alike. The Montgomerie is a true boutique, boasting a beautifully minimal 22 rooms that make the city's mega-hotels seem impersonal and daunting by comparison. The arrival experience alone sets this hotel apart, with a leisurely drive through a tree-lined suburbia that's somewhat reminiscent of a coastal Californian experience.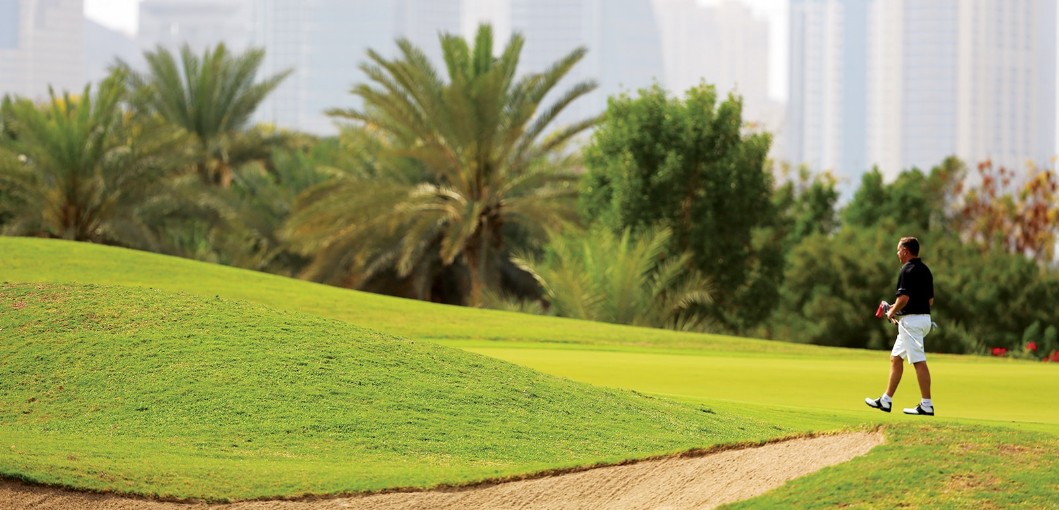 Driving for perfection
The game of golf seems to have a divisive effect. Millions are obsessed and equal numbers are utterly baffled at the appeal, but even absolute golfing amateurs, such as myself, can get a taste for why the sport is so gripping. The driving range is probably your best starting point for a simple swing, and the options for improving your game are numerous, with professional coaching opportunities, kid's camps, long-term development plans and The Academy by Troon Golf, which helps you make the most of the indoor and outdoor practice facilities; including a state-of-the-art swing studio, nine-hole par 3 Academy course, short game area, practice putting greens and practice fairway – all of which are fully floodlit.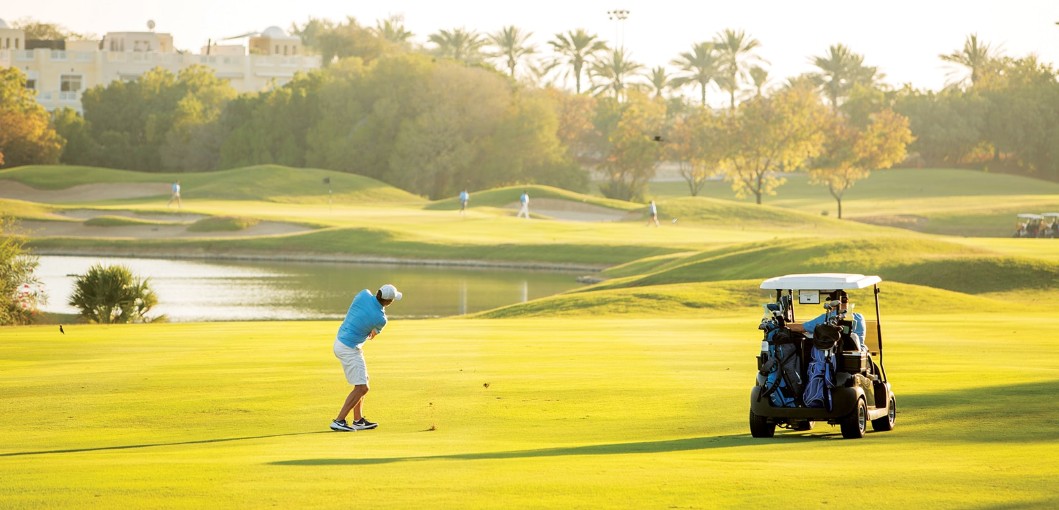 That said, you could be simply ambivalent to the game of golf and still have a remarkable hotel experience at Address Montgomerie. The hidden gem somehow manages to maintain a peaceful ambience while buzzing with activity all through the week. While foodies brunch in Links, businessmen huddle together over laptops refreshments in Monty's and golfers of all ages, shapes and sizes mill around, to-ing and fro-ing between the golf club and the course. It really is a dynamic scene, made captivating by the seemingly endless views of green, with pops of colour consisting of the flora and birdlife dotted around the club. Throughout the week, ladies congregate for "Ladies Night at Links" on Wednesdays, with "Oysters Galore" offered at Nineteen on selected days and unlimited paella and free-flowing sangria available on Mondays. There's always a reason to visit.
The 22 rooms have been refurbished with contemporary interiors and lighter hues of green to complement the lush fairways of the golf course
A chip off the old block
It was just a few short months ago that the luxury boutique golf retreat unveiled its newly renovated premium rooms, elevating its appeal to "connoisseurs of fine living". The revamped accommodations are said to be inspired by the hotel's verdant surroundings and mesmerising landscape. The 22 rooms have been refurbished with contemporary interiors and lighter hues of green to complement the lush fairways of the golf course, and are classified under three categories. The Golf View, Courtyard View, Junior Suite and the Montgomerie Suite ensure a range of options are available, providing panoramic vistas of the championship golf course, accentuated by its fountains and bridges.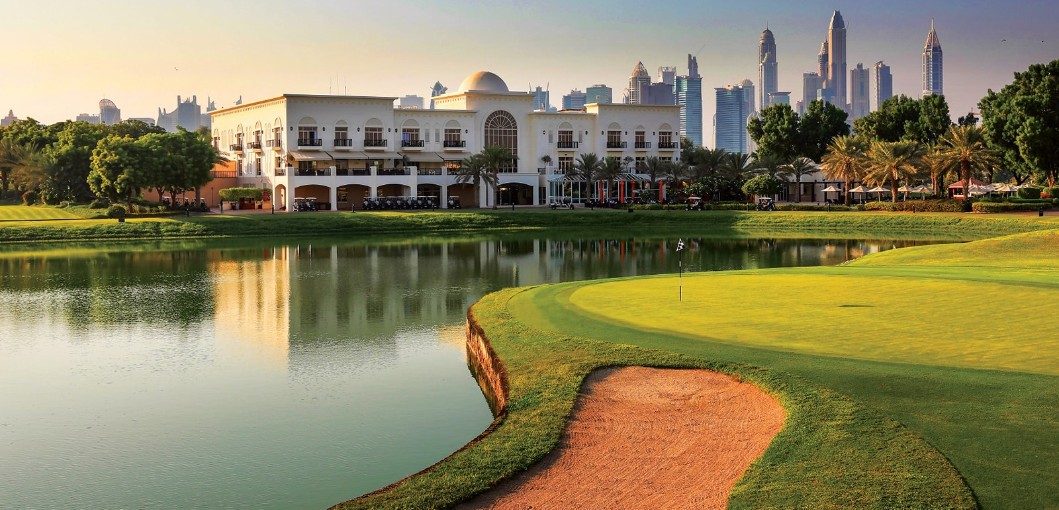 Each room has its own appeal with black and white retro vintage golfing images reflecting the retreat's association with the sport. It's also worth noting the artistic use of brass to balance the green overtones while accents of velvets are cleverly detailed in the upholstery to lend a soft touch to the furnishings. The sophisticated new look of the rooms at Address Montgomerie perfectly blend with the resort's serene surroundings; the phenomenal championship golf course and The Academy by Troon Golf. Colin Montgomerie is quoted as saying the new room renovation is "spectacular" and "reflects the five-star luxury resort experience".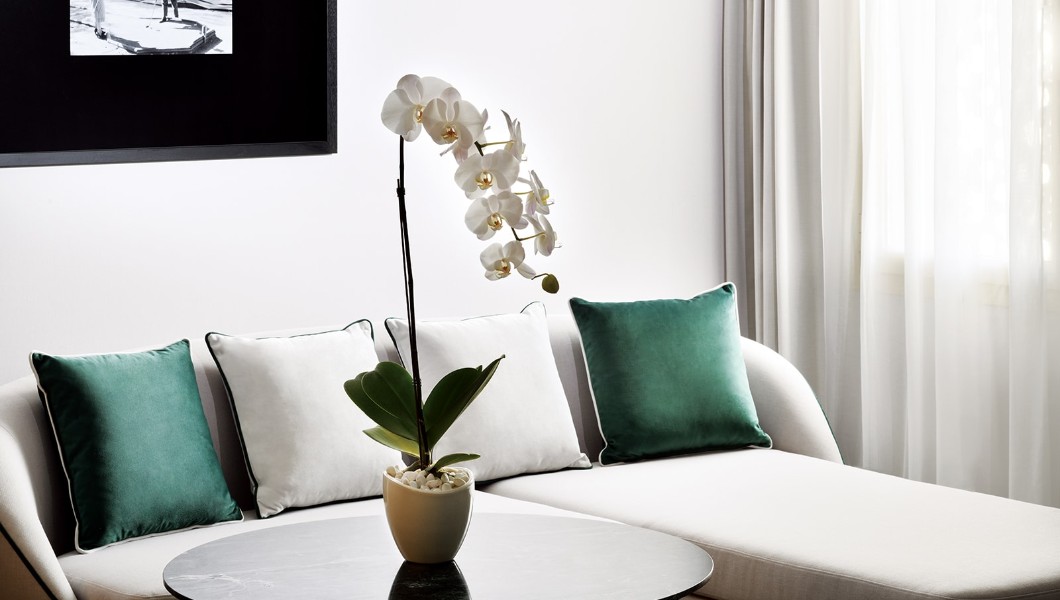 Each of the boutique guest hotel rooms at Address Montgomerie have been artfully designed with rich fabrics and contemporary touches. Expect to find handcrafted leather details, ample bathrooms and 24-hour room service. Every hotel room comes equipped with a gourmet coffee and tea station, fully stocked mini-bar, complimentary high-speed WiFi and an LCD TV complete with access to an in-house movie and music library. The premier option – The Montgomerie Suite – includes a spacious lounge with a dining area and a large bedroom with inspiring views over the course. Overall, the suite includes a bedroom and separate living room that span 112sqm and includes furnishings such as a sofa with two armchairs and footstools around a large coffee table.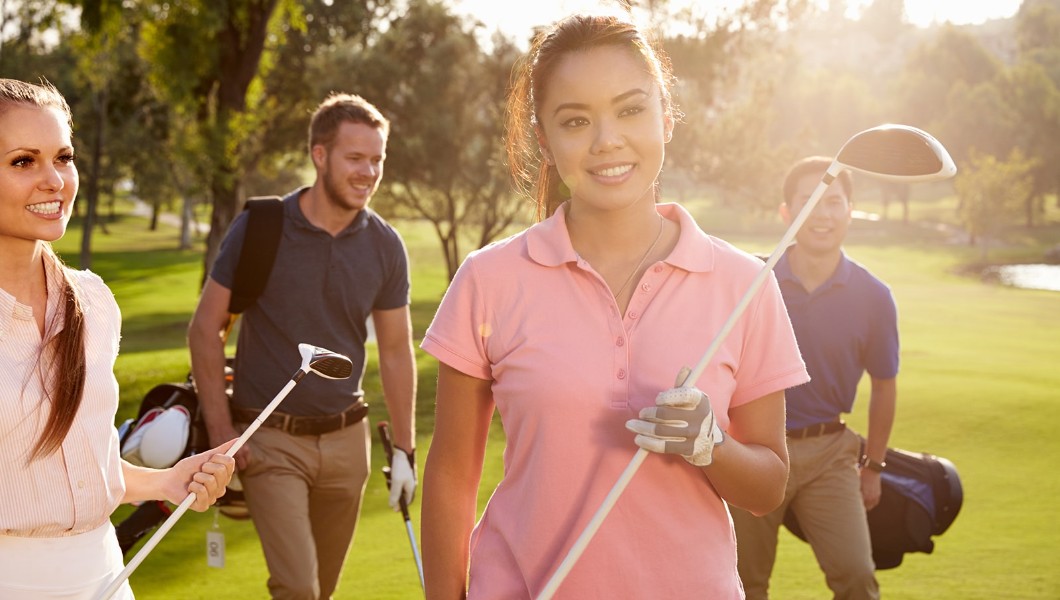 Putting in some pampering
Aside from the opportunities for indulgence, guests and visitors are encouraged to make the most of The Spa at Address Montgomerie. The lavish wellness facility may not be as expansive as some of Emaar's other spa offerings, but it fits the scale of the hotel perfectly, providing a harmonious nook where you can balance body and mind. Whether your shoulders are tired from swinging clubs or you're just passing by for some weekend R&R, The Spa pledges utmost relaxation with pampering signature treatments for the face and body using natural, aromatherapy-based essential oils and products.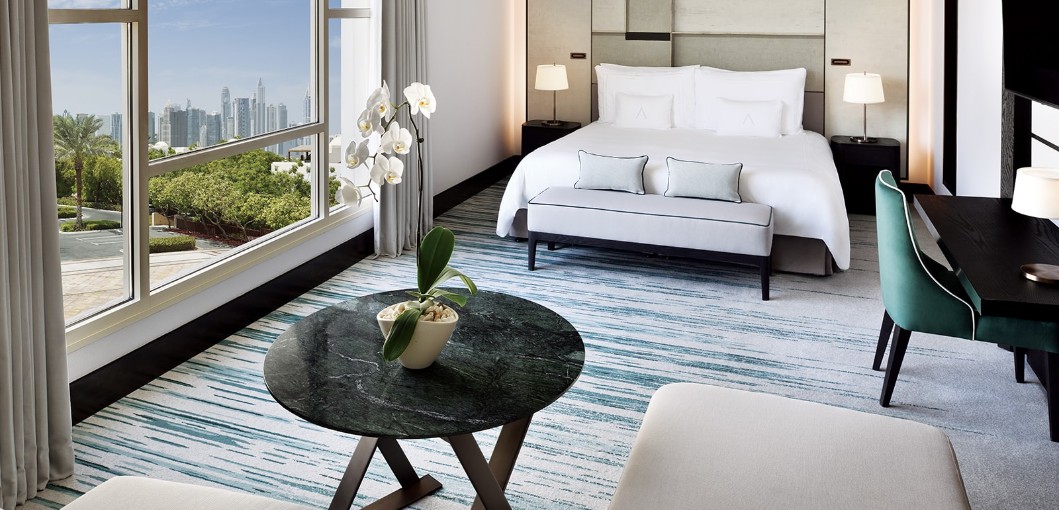 If the idea of a deep tissue massage in one of the six treatment rooms is whetting your appetite for some pampering, then now would be a good time to book. Address Montgomerie currently has a "Special Luxury Offer" that ensures a complimentary spa treatment for anyone staying three nights in a suite. There are actually a host of offers worth uncovering, which are typically uniform across Emaar's hotels. Our favourite is the pool access promotion for those who aren't actually staying in the hotel, which means you can flop by the water over your weekend of day off and enjoy the verdant surrounds and views of the 18th green and clubhouse as you let your stresses slip away.
Par for the course
It takes a golf lover to obsess over the course, but most of us will be mulling over our main courses, and there are a range of restaurants to suit any taste or occasion. The newly renovated Nineteen is your first choice for fine dining with a huge terrace that provides exquisite views over the course – skyscrapers et al. Interiors are inspired by the sun-kissed shores of the Mediterranean while the menu boasts wholesome and bold flavours that range from hefty sharing steaks to lighter dishes such as fresh salads and ceviche. There's an optional social component with sharing platters and a new menu that boasts dishes with bold wholesome flavours, colours and garden picked ingredients. Families will also be delighted, as kids up to five eat free, with little ones aged between six and 11 given 50% off.
Avid golfers, leisure seekers and connoisseurs of the finer things in life will find a range of services and facilities to meet their individual desires
Anyone staying over at the hotel will no doubt experience breakfast at Monty's, but the venue transforms a fantastic restaurant to relax by the 18th hole while having some delicious international cuisine and hand-crafted beverages on the lower level and in the new conservatory. Alternatively, the aforementioned Links is a lively family bistro with a range of inviting theme nights and à la carte menus with dishes that you can enjoy indoors or on the terrace overlooking the blossoming greens of the golf course. If you fancy an evening of live sports and fun with friends, this could be your best option. There's a brand new menu, affordable business lunches and a new pizza oven that rivals anything else you'll sample in the emirate.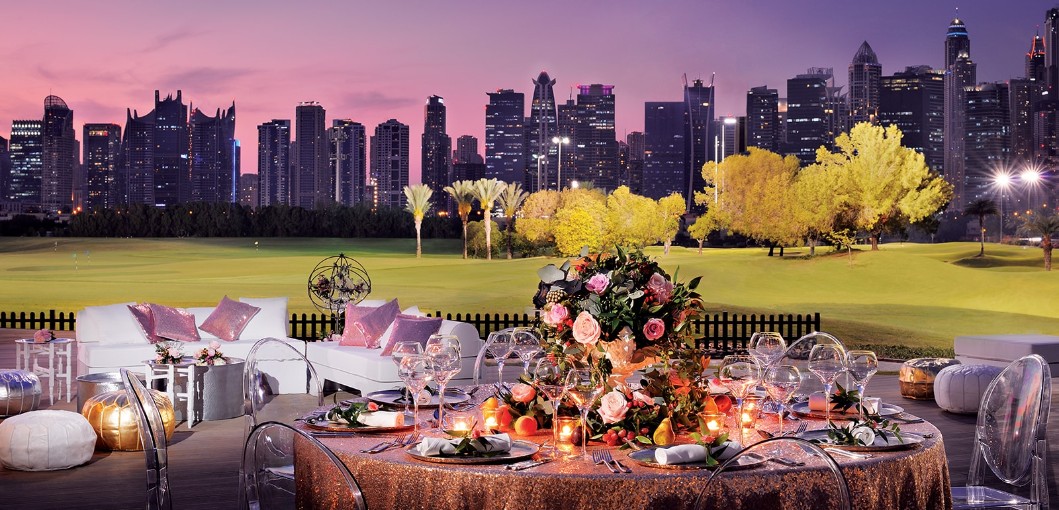 Address Montgomie's General Manager, Timothy Stanhope, sums it up quite neatly. "Avid golfers, leisure seekers and connoisseurs of the finer things in life will find a range of services and facilities to meet their individual desires," he says. "Indulgent, lush green surroundings, set against a backdrop of uptown Dubai and Dubai Marina, await you. At Address Montgomerie, we deliver an oasis of relaxation and an experience like no other."
Stay:
Address Montgomerie
Dubai, UAE
+971 4 363 1276