Was there a pivotal moment when you knew your calling as a designer?

I returned [to the UK] from living and working in New York at the end of the '80s and couldn't find the clothes I wanted to wear. Recognising a gap in the market and having made clothes all of my life I decided to create a small capsule collection of pieces that I loved in 1990.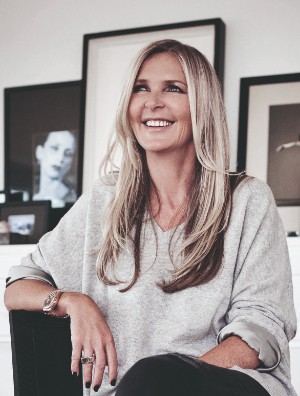 "One sold every second" – 'The Carter' bag has been a sensation. But in your opinion what is the most quintessentially 'Amanda Wakeley' item?

Yes that was an incredible statistic! Quintessential Wakeley would be an iconic bias satin dress or a cashmere boyfriend sweater with the sleeves lined in satin.
Can you describe the feeling you get when you see someone sporting your products on the high street, or at an event?

I always love spotting someone #wearingwakeley as generally I can see the elevating effect it has as women gain confidence and ease when they are feeling the best version of themselves and that is my mission.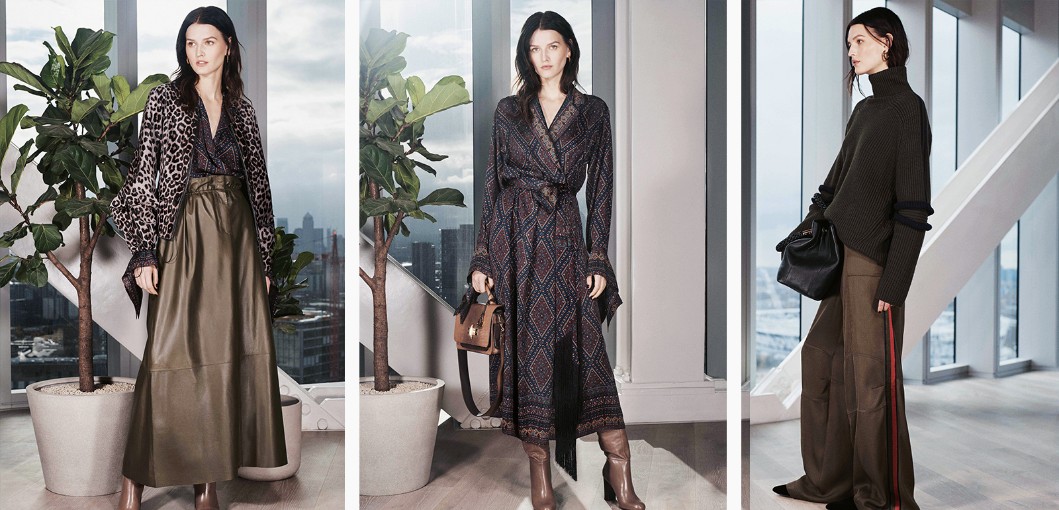 Where did you find inspiration for your upcoming Fall 2019 range?

For Fall 2019, the Wakeley woman is a world traveller. She is inspired by the eclecticism and craftsmanship of the cultures she encounters. She looks fondly back on her time spent in East Africa in the '90s. She draws influence from Maasai Mara references, interpreting their cheque shukas into rich contemporary checks and prints in an eclectic mix of artworks and scales.
Her coating has become cocooning and relaxed whilst her tailoring has draped shawl details, each harking back to the Maasai's blanket style dressing. The rich texture and drape is mixed back with utilitarian safari style references fused with an element of '90s sports luxe. For evening her passion for craftsmanship and texture continues. She wears rich textured embroideries, iconic '90s inspired slip dresses and ornate embellishments.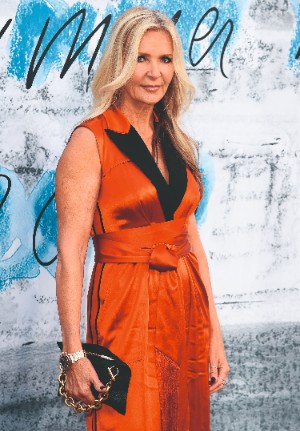 A Google search for "Amanda Wakeley" currently brings up a lot of hits for Meghan Markle's white coat. Can you elaborate on the royal relationship between yourself and the Duchess?

It is always an honour and a great endorsement when anyone high profile chooses to wear Wakeley.
For your Women Series you collaborated with photographer Laura Bailey and stylist Cathy Kasterine to beautifully capture their strength and individuality. What has inspired you about these ladies?

I wanted the casting to be a wonderful diverse mix of women. Each one of these women has their own story and their own voice.
There has also been a spotlight on modest fashion. What was your process and did you travel to gain insights?

Modest fashion is a huge trend right now, an not just for our Middle Eastern customers. A sleeve and extra skirt length feels cool and modern.
Who or what else has fuelled your creativity over the years?

It is completely innate and stems from a passion to empower women through the knowledge that their clothes make them feel the best version of themselves whether they are on the school run, running through an airport, about to walk into an important meeting or are going to a memorable event. It is a collection designed by a woman for women.
Can you describe your perfect luxury travel experience?

Dinner on board our yacht 'SY Savannah' at anchor in a beautiful bay followed by star gazing on the aft deck with my partner Hugh.