The sound of grinding teeth and heavy breathing is followed by a huge splash as a muddy pool is transformed into a day spa filled with centenarian tortoises! Narrowly escaping extinction in the 19th century, these grass-eating giants are one of the flagship species of the Galapagos, aka the 19-island archipelago cast 600 miles off Ecuador's coast. Dubbed nature's greatest science laboratory on account of its staggering 9,000 species, this isolated haven of biodiversity is primed for an ecological adventure like no other.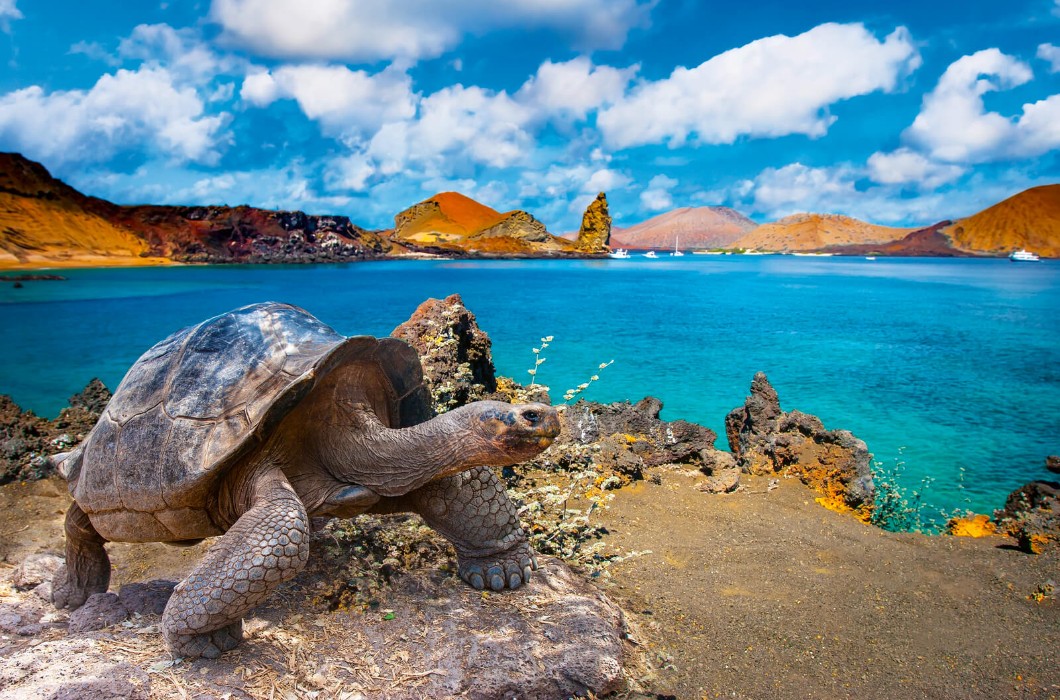 It was Charles Darwin who put these remote volcanic promontories in the Pacific on the map when he famously conceived the ground-breaking theory of evolution by natural selection. And thanks to 97 per cent of the 3,000-square-mile archipelago being a strictly-regulated national park, visitors can observe wildlife here in much the same way the English naturalist and geologist did, two centuries ago.
Within an hour of touching down at the world's first ecologically-friendly airport, I find myself walking among giants (prehistoric-like Galapagos tortoises that is) in Santa Cruz's mist-wreathed highlands.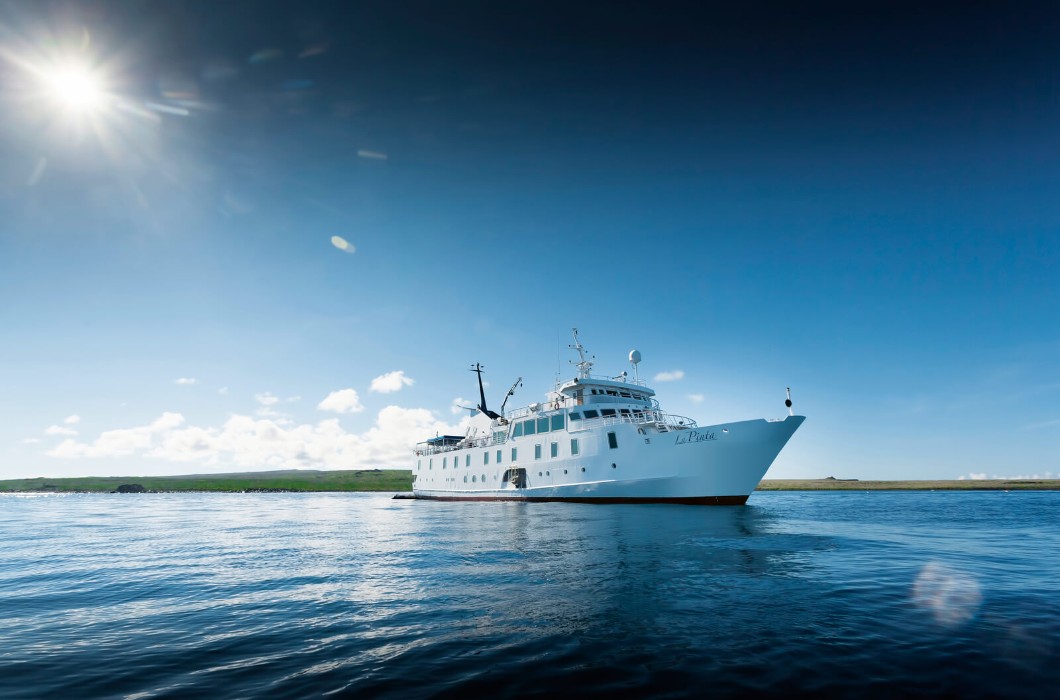 A bumpy bus ride and quick hop across the water from Puerto Ayora port delivers our forty-strong-group to La Pinta: my floating home among the islands for the next five days. Larger than most small ships in the archipelago, the top-of-the-line, 24-cabin expedition yacht strikes a perceptive balance between the intimacy of boutique vessels and extensive facilities of larger yachts. She's owned by environmentally and socially responsible Metropolitan Touring: a long-established Ecuadorian travel company and early pioneers of Galapagos cruising. Its founder is passionate conservationist Roque Sevilla, the former director of WWF Ecuador and ex-mayor of Quito.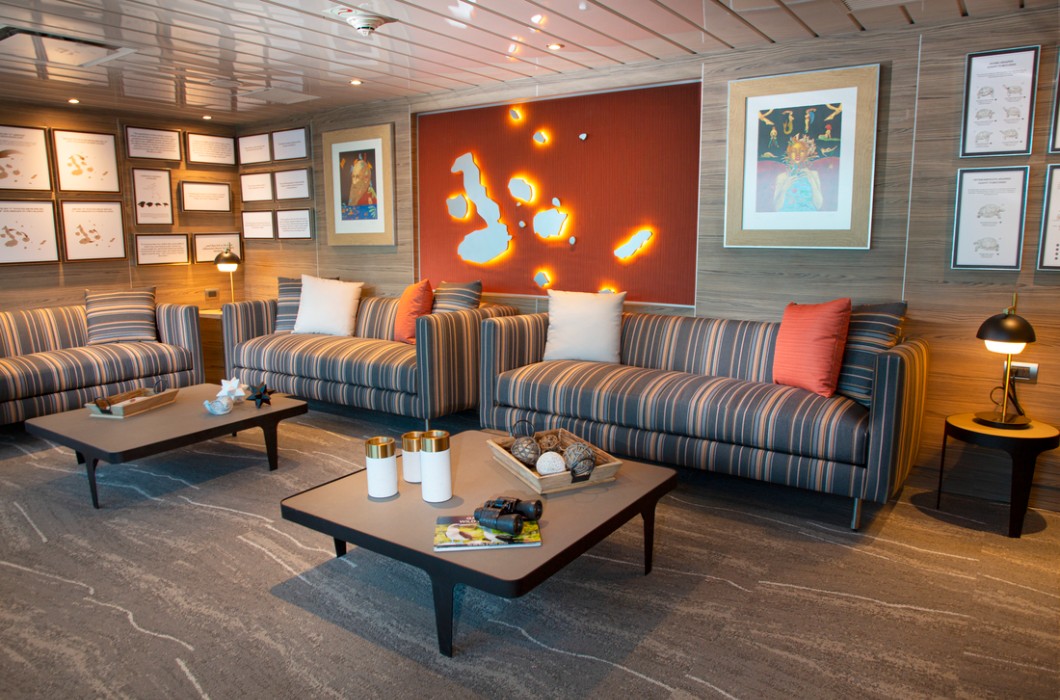 Elegant from bow to stern, La Pinta is said to have the largest cabins and windows of any ship sailing in the archipelago. Judging by my 75sqm room and its picture windows (designed to frame the Galapagos' ever-changing scenery from turquoise bays to petrified lava plains), I can quite believe it.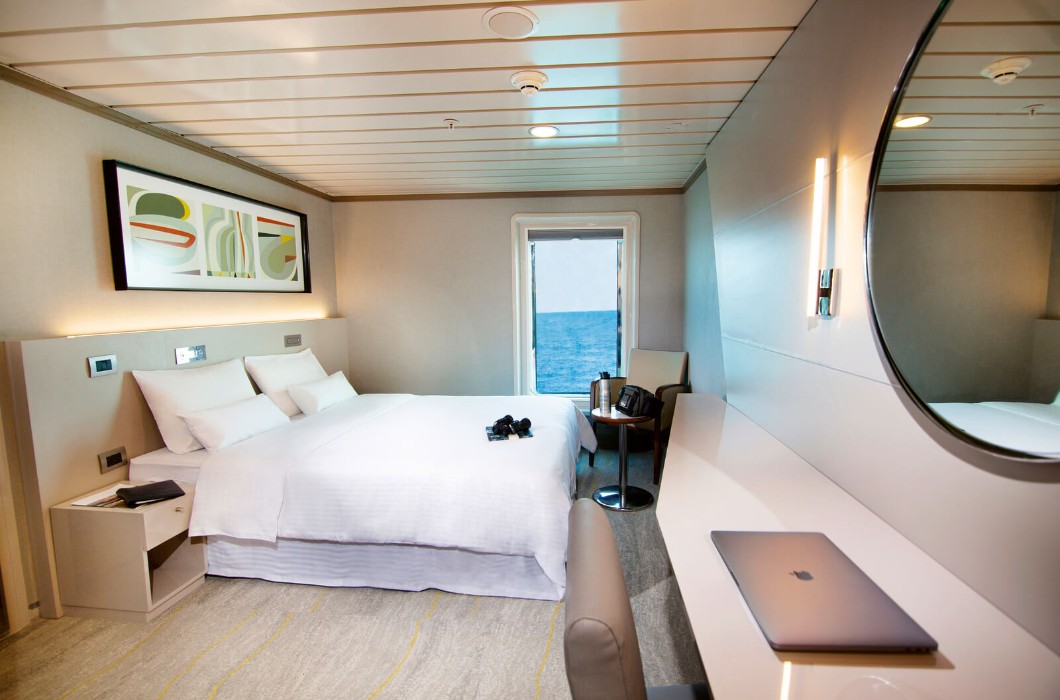 Travelling 160 nautical miles from Santa Cruz to Baltra, our journey will navigate around the Galapagos' northern islands. That evening, we're briefed on the coming day's agenda from La Pinta's chic observation lounge and bar that's annexed to an explorer's-snug-cum-library, filled with travelogues and natural history tomes.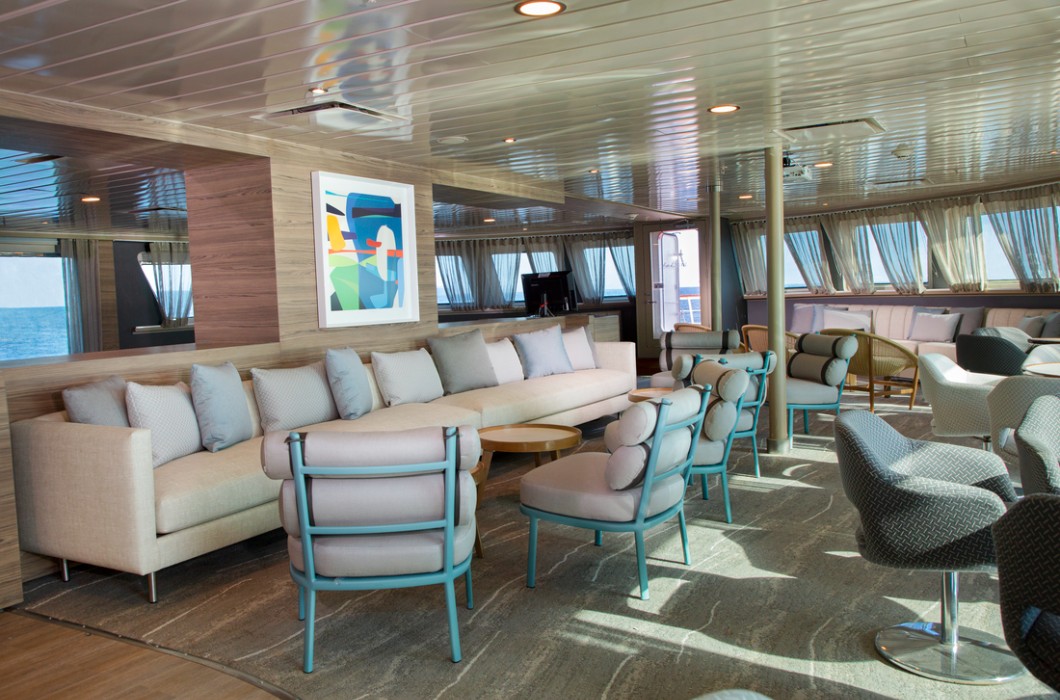 The next morning, our camera-toting group piles into pangas (motorised dinghies designed for eight passengers) to circumnavigate the tuff cone islet of Eden. Located just off Santa Cruz's north-western coast, its jagged blackened shorelines are painted red with scurrying Sally Lightfoot crabs, so named for their agility to jump from rock to rock. Meanwhile, haloing its headland are a flock of Magnificent Frigatebirds, identified by their deeply-forked tails. To see these 'condors of the oceans' inflating their spectacular scarlet air sacs, you should schedule your trip for June. Whilst there's no bad time to visit the Galapagos, sunny spells and smooth sailing typify the period from December to May. Every month sees a different wildlife highlight: seawater-snorting marine iguanas' courtship is a highlight in January, whilst August welcomes the islands' first sea lion pups.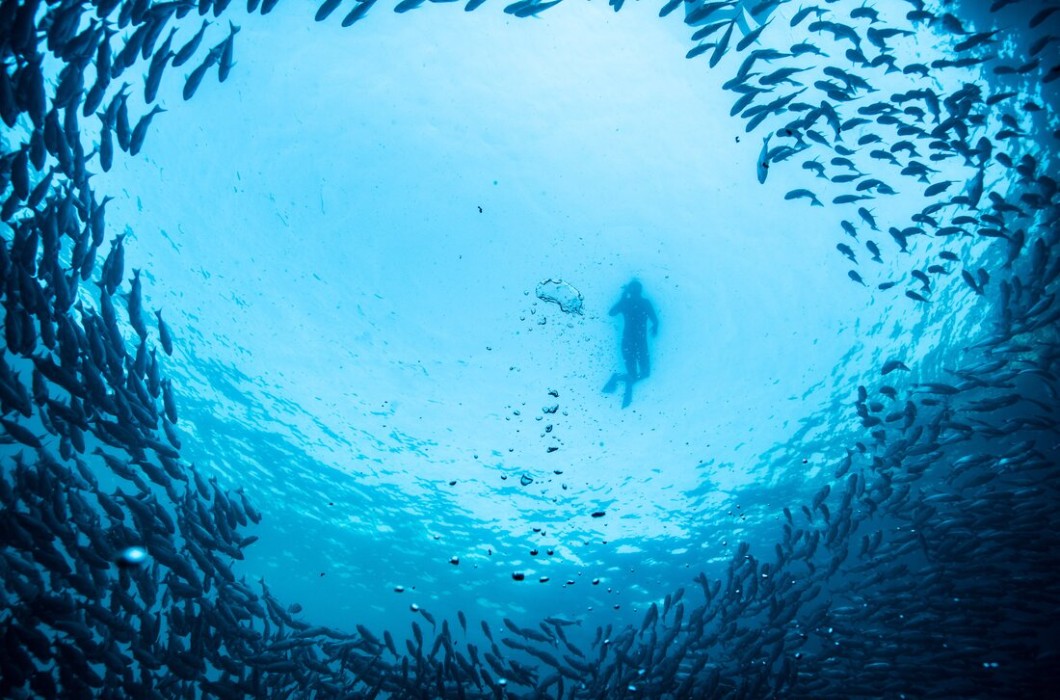 Before refuelling with a Mexican-themed buffet lunch, I take the plunge into invigorating twenty-degree waters that are charged with life; from diamond stingrays to endangered Pacific Green turtles. This is largely thanks to the Humboldt Current "which brings lots of cold water and nutrients," naturalist guide Edwin Germanico explained during our group's first evening lecture. We also learned of the pivotal role parrotfish play, with one pooping out 450kg of the Galapagos' coralline sands every year! It's a statistic even better appreciated from Chinese Hat island's chalk-white cove, where I pick my way through a hareem of snoozing female sea lions, transformed into aquatic ballet dancers in the water. I'm lucky enough to snorkel with two juveniles later that afternoon, who scatter schools of Yellowtail surgeonfish as they pirouette around me: an experience seared forever into my memory.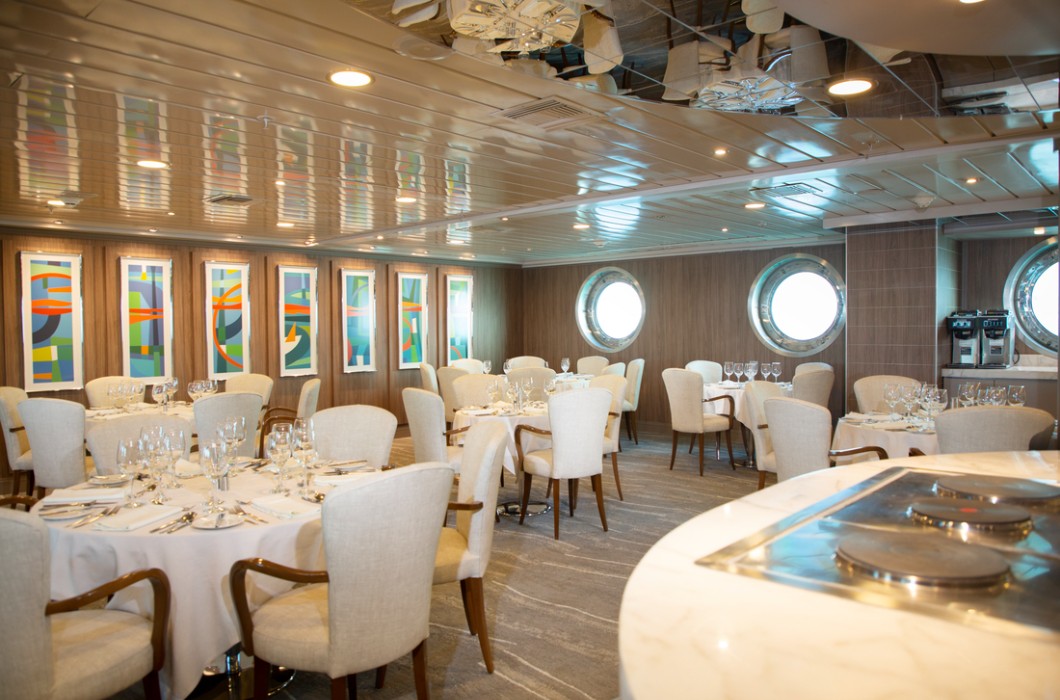 Day three promises more "pinch me" moments (this time above water) as La Pinta closes in on the centre of the archipelago, washing up on Bartolomé's rugged shores. The island is home to the world's only equatorial penguin, which spends 80 per cent of its life in the water, occasionally torpedoing past unsuspecting snorkellers like myself. "For any species to be endemic you need isolation," guide Henry Alberto explains as our group huffed and puffed our way up a 600-metre-long trail towards Bartolomé's 114-metre summit. The jewel in the sweeping panorama's crown is Pinnacle: a shark-tooth-like rock rising from the water, backdropped by the surreal lunar landscape of Santiago: our next port-of-call. A haven for turtle-eating pirates in the 1600s, Darwin made landfall here in 1835 during his five-year-long-expedition to the islands, carting some 500 specimens back to England on the HMS Beagle.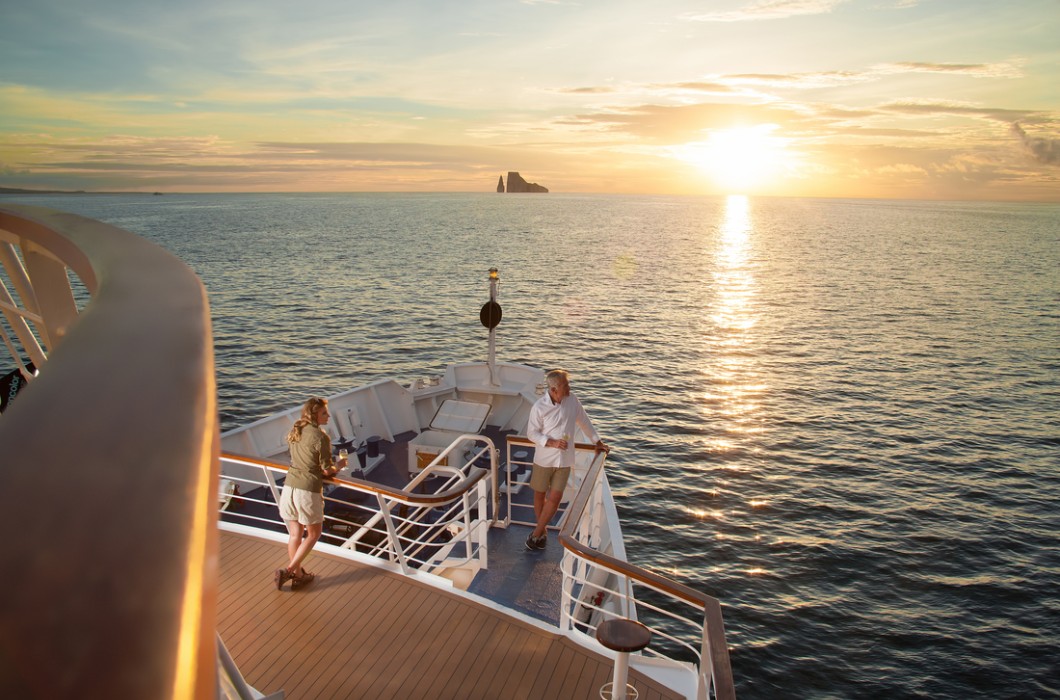 The naturalist's namesake bay is found on doughnut-shaped Genovesa. Our final anchorage, it's reached via an overnight navigation which has us crossing the equator once more. A veritable birders paradise, Great Frigatebirds nest along a mangrove-threaded trail, whilst Blue-footed boobies divebomb for sardines in a perfectly streamlined arrow shape.
Meanwhile, at Darwin Bay's southern end, our welcoming committee is the world's biggest breeding colony of Red-footed boobies! These clownish-looking-birds nest on a Palo Santo tree-strewn plateau, accessed by a staircase carved into 25-metre-high guano-painted cliffs. "They use their prehensile feet to incubate eggs at a constant temperature of 38 degrees," guide Germanico shouts, struggling to make himself heard over the deafening cries of boobies.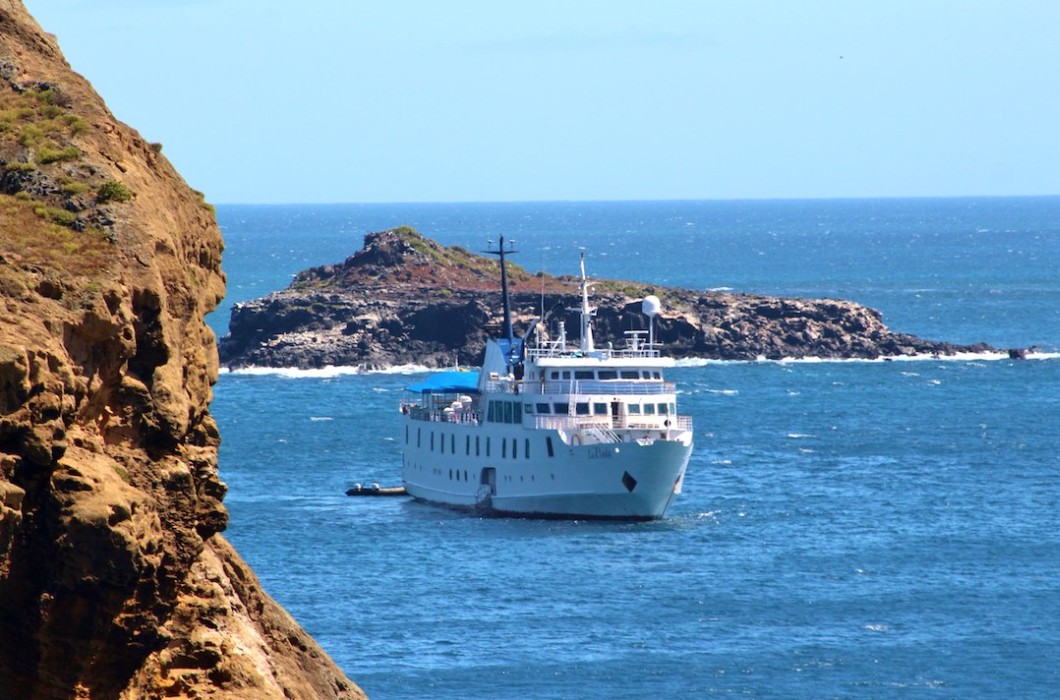 Back on board La Pinta, I drink in the last of the sunset with a margarita from her stern-facing sky bar, saving a dip in the heated whirlpool for later. Our last supper of octopus tartar and Ecuadorian chicken stew unfolds in the yacht's port-hole-windowed dining room, where conversations circle back around to "the big 15", aka the archipelago's most iconic species.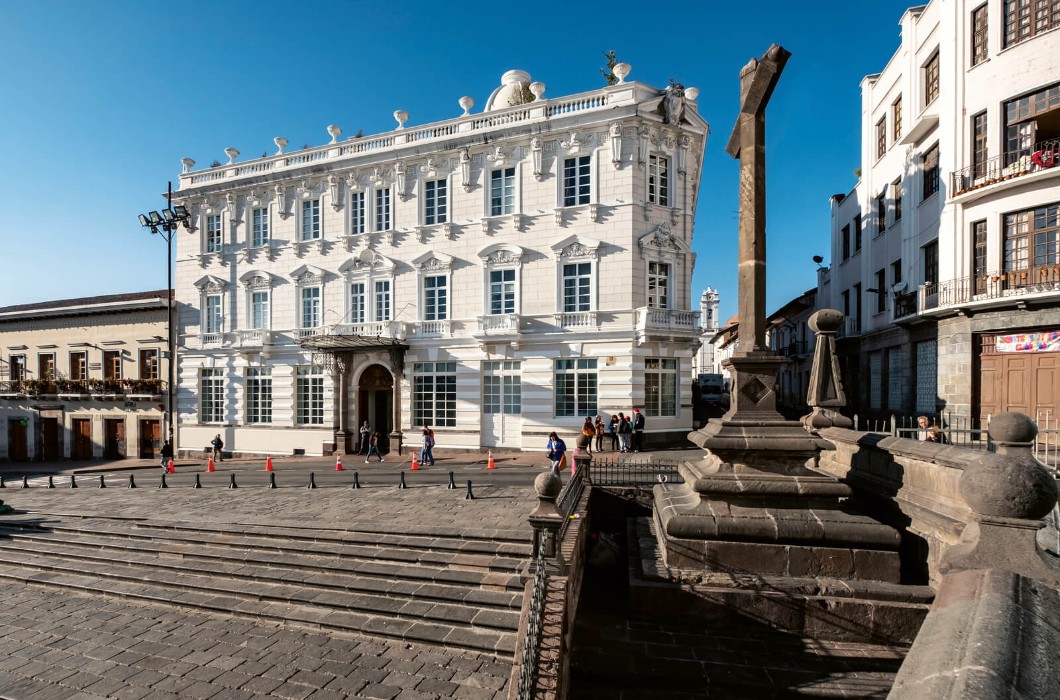 Back on the mainland, I embark on part two of my 'Golden Triangle Tour' of Ecuador with Metropolitan Touring (www.metropolitan-touring.com), which comprises The Galapagos, Quito and Chocó cloud forest. Gateway to the Galapagos islands and a stepping-stone to adventurous forays into the Amazon, Ecuador's 2,850-metre-high capital nestles at the foot of snow-capped Pichincha volcano. My elegant basecamp in the Andean metropolis is Casa Gangotena, part-owned by Metropolitan Touring's Roque Sevilla, who fell for the aristocratic mansion's charms as a boy.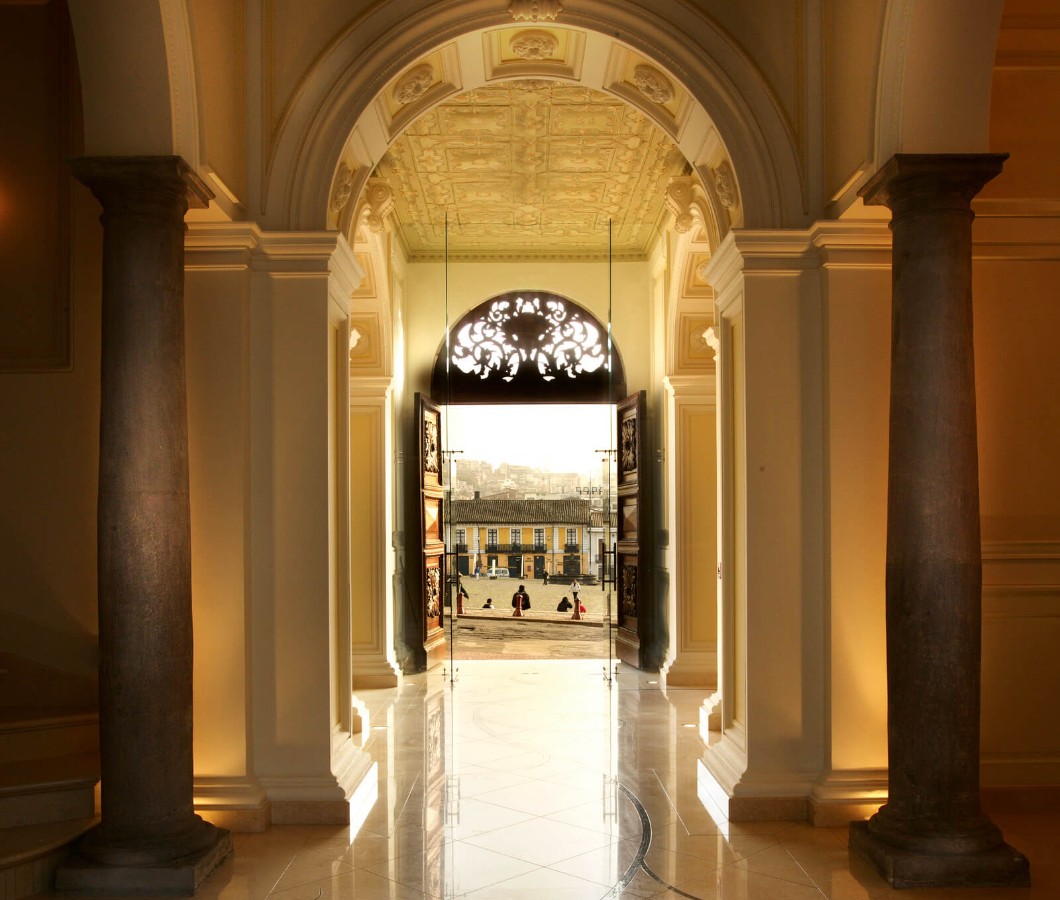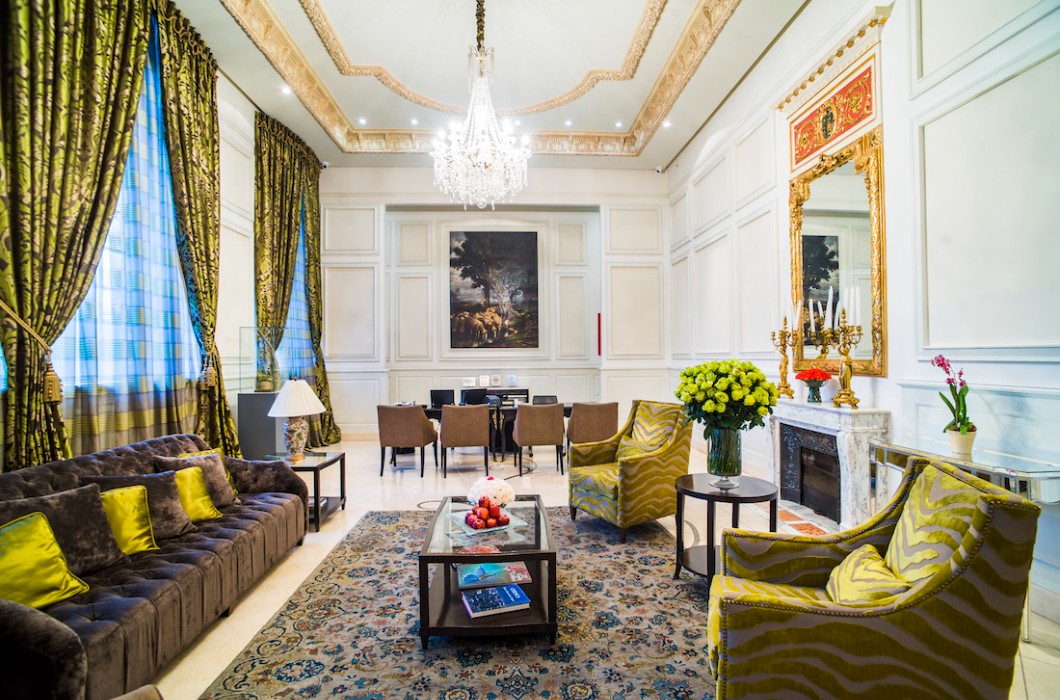 Overlooking cobblestoned San Francisco Square in the heart of Quito's 16th-century old town, the Relais & Châteaux property was the former home of one of the capital's most powerful families, whose crest still graces its entrance. Being whisked through the arched lobby – ornamented with painted tin ceilings and hung with priceless art – is like stepping into a bygone era. I soon come to realise that the 31-room hotel's small size belies its grandness, which extends from the wood panelled ground floor library to its frescoed suites.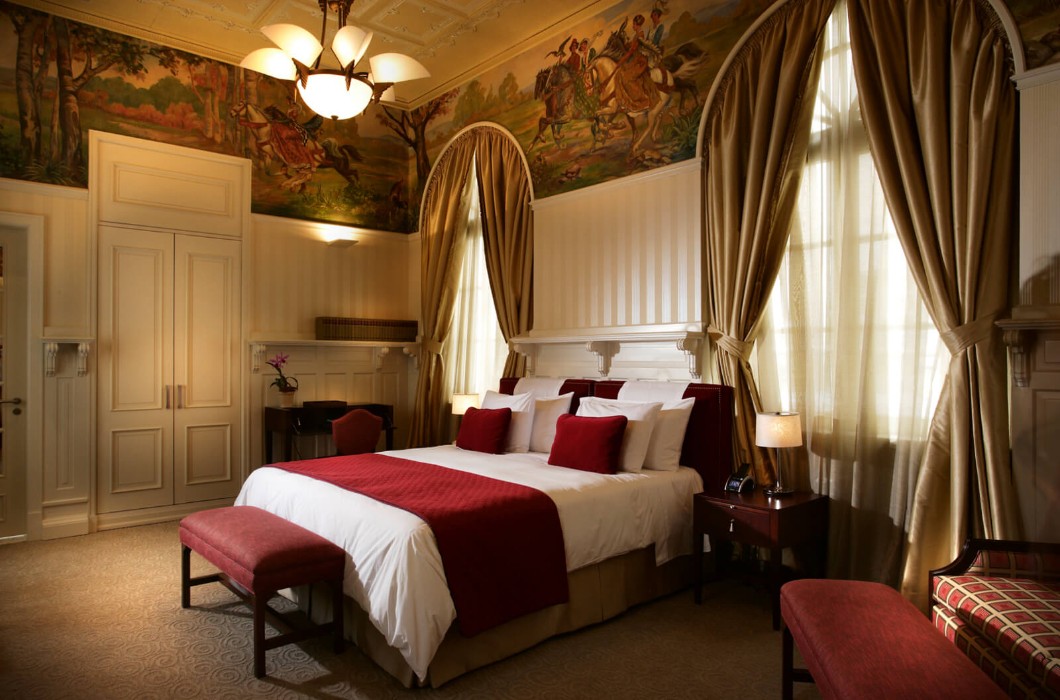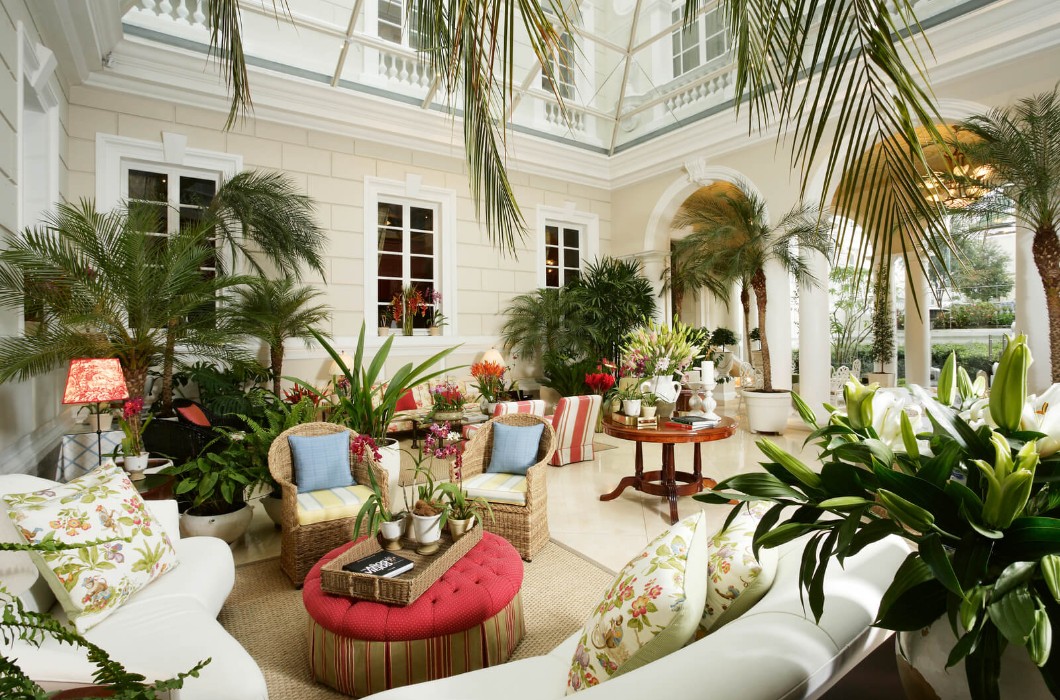 The property's pièce-de-résistance is its rooftop terrace and bar, which affords unparalleled views of Quito's UNESCO-heritage spires and belfries. It's also the backdrop for one of Casa Gangotena's guest-exclusive evening experiences, which include after-hours access to San Francisco Monastery and an Ecuadorian chocolate tasting. Tonight, I've signed up to 'The Wonders of Quito', hosted by chief concierge, Daniela Orbe. "She's standing on top of a snake, not a dragon!" Orbe reveals, gesturing to the giant-winged Virgin Mary statue that crowns Quito's Panecillo hill. Warmed by goblets of canezalo (a traditional spiced alcoholic drink), we listen to more fascinating stories of the city's resplendently floodlit historic landmarks.
Rested and rejuvenated, I take breakfast in the hotel's glassed-in courtyard, swapping its ornamental orchids for orchid hunting in the clouds for the final chapter of my triptych tour. Set in its own namesake 3,200-acre reserve, Mashpi Lodge is a pioneering luxury expedition-hotel-cum-research-centre, nestled in one of the world's least studied, yet most threatened ecosystems: cloud forests. Closer to Quito than the Amazon Rainforest, Mashpi's located a three-hour-long zigzagging drive from the capital, in a journey that takes travellers right across the equator.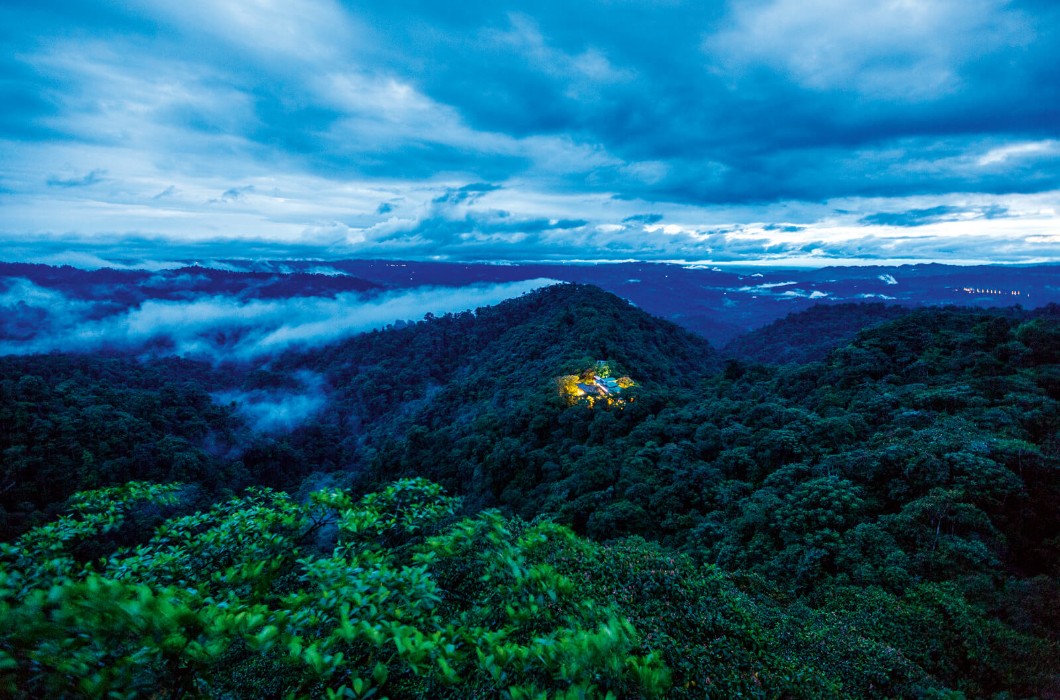 The triplex eco-lodge – a sort of supersized glass treehouse perched on recycled steel legs – appears to have sprouted from the forest itself! Remarkably, not a single tree was razed in its construction, such was Roque Sevilla's dogged commitment to sustainability and conservation. The hotel was built to scale in Quito and reassembled onsite to minimise disturbance to the forest and its inhabitants, which were almost extinguished by deforestation and gold mining. In a desperate bid to preserve this fragile wilderness (that's part of the globally-important Chocó Bioregion), Sevilla purchased the land from loggers in 2001. Holding true to its green credentials, Mashpi has been 100 per cent carbon neutral since 2017 and runs on solar and hydroelectric that's powered by a small creek.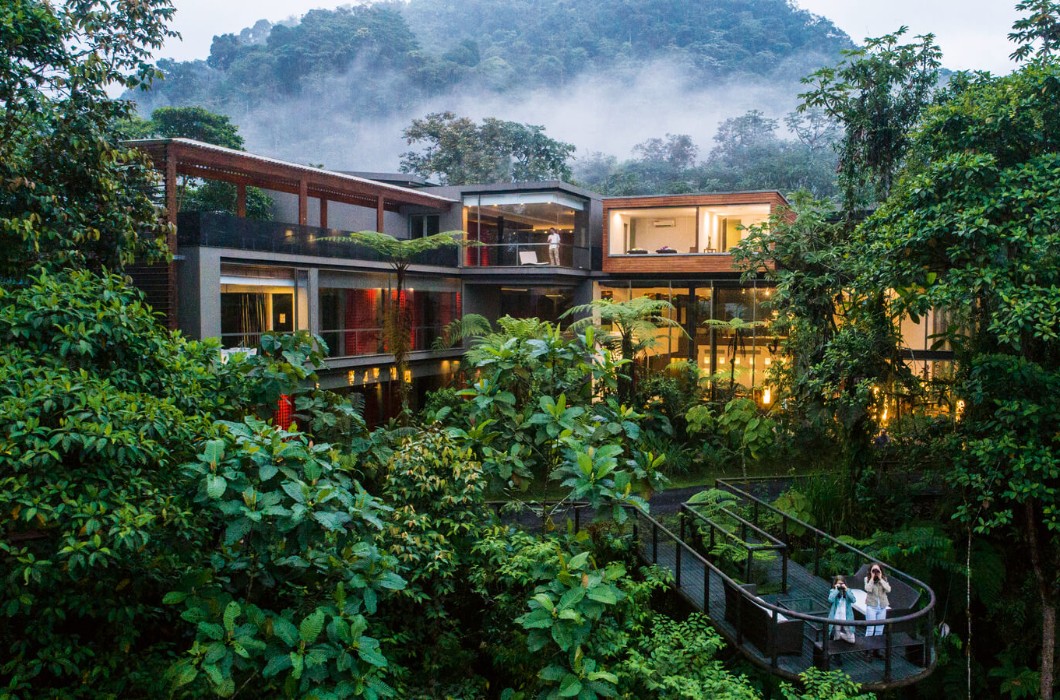 After a delicious lunch of amaranth-crusted chicken breast in white cocoa pulp sauce and mashua (a local tuber), our rubber-booted group of four tackle one of the reserve's 11 labyrinth trails. Whilst the Galapagos brings visitors nose-to-nose with curious wildlife, Mashpi's magic lies in the thrill of discovery, steered by naturalist guides like Anderson Orosco. Raised on a cattle farm near Mashpi community, he's attuned to every smell and sound of the forest, which seem to intensify as darkness unfolds. On a pre-dinner night walk that has us wading through a shallow stream, our group uncover thumbnail-sized frogs that call out like a plop of water and glow-in-the-dark scorpions. Whilst pumas, and oncillas (an endangered spotted cat) lurk in the forest shadows, these nocturnal predators are notoriously elusive, and far more likely to be seen in one of Mashpi's camera traps.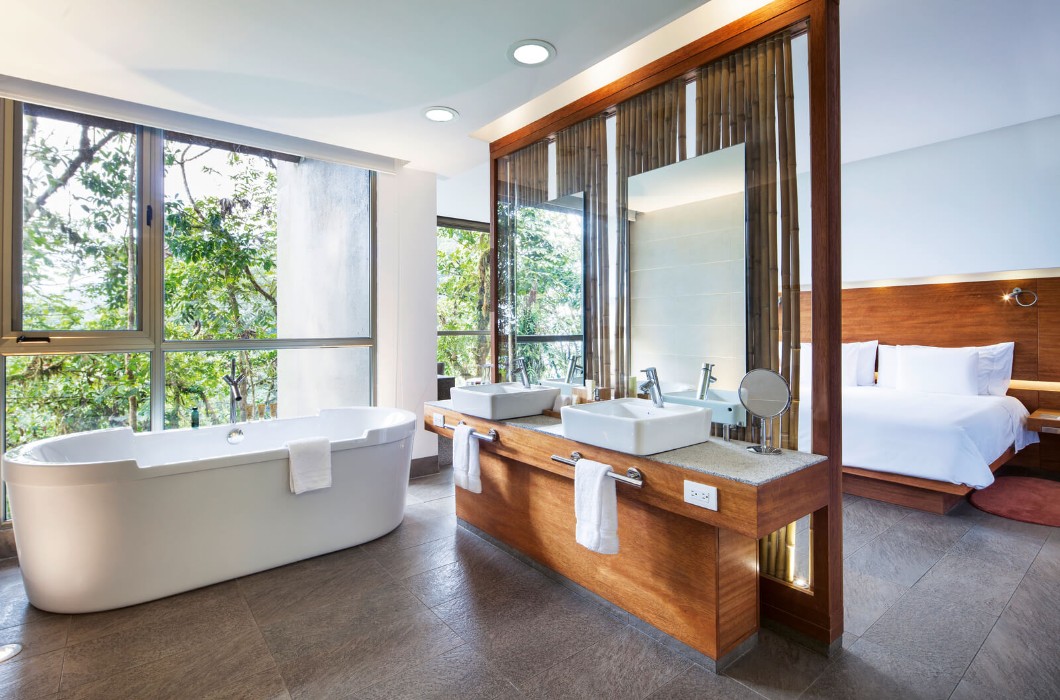 Luckily, birdwatching is more or less guaranteed thanks to the lodge's 24 forest-facing rooms' picture windows, through which I stalk a Glistening-green tanager, which more than lives up to its moniker. Most luxurious and peering into the canopy's loftier reaches is the slate-floored Yaku corner suite, vaunting a freestanding Philippe Starck tub and sapele wood furnishings. More cloud-cloaked serenity awaits at Mashpi's glass-fronted spa, where I indulge in their signature massage, which blends indigenous ingredients with forest-foraged herbs.
The following morning, barking howler monkeys and iridescent Blue Morpho butterflies accompany us on a hike that's bookended by a cooling waterfall and 60-metre-high gondola. Christened "dragonfly" for its 360-degree views, it's been designed to glide silently at a megalobulimus snail's pace, so as not to stress the wildlife in the canopy top, where 40 per cent of the forest life lives. This includes the three-toed sloth, who likes to snack on the Magnolia Mashpi. Nicknamed "the cucharrillo" after its spoon-like petals, the new-to-science tree was uncovered with the help of the dragonfly.
It joins an ever-expanding inventory of endemic species (including a two-centimetre transparent frog!) that botanists and wildlife biologists have discovered in the Mashpi Reserve over the last decade. The nerve centre of this trailblazing scientific research is the lodge's onsite laboratory. Here, guests are invited to learn more about the role the likes of stingless honeybees and Dracula orchids play in this unique, cloud-veiled environment.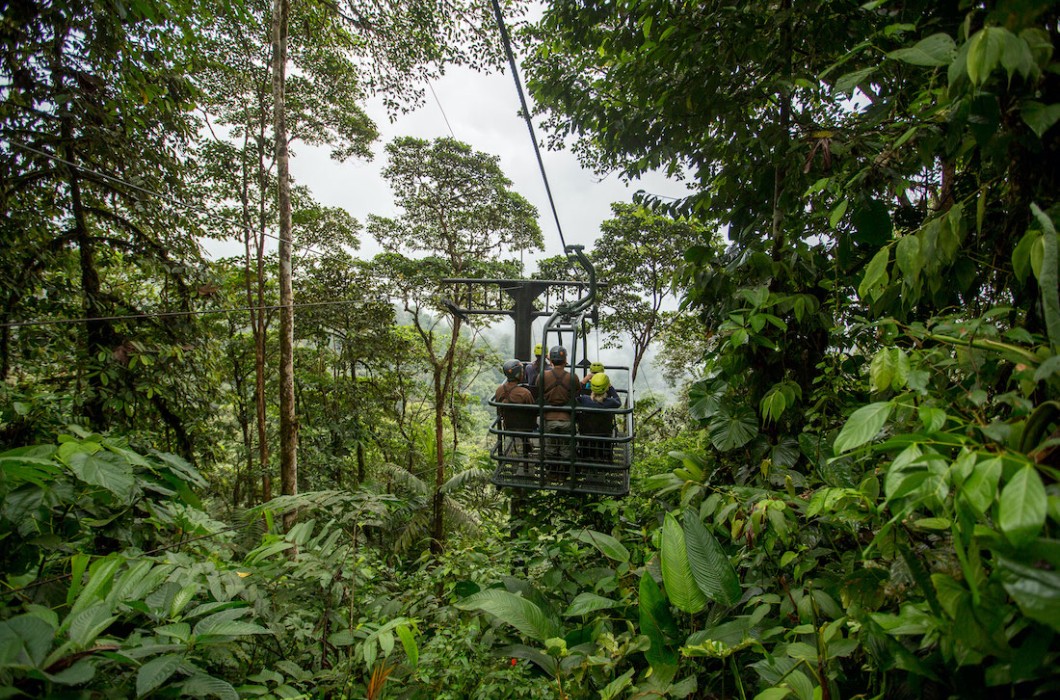 My own orchid hunt begins and ends with a specimen the size of a pencil eraser. Just one more fascinating organism in Ecuador's rich tapestry of living things…
Stay:
Mashpi Lodge
Casa Gangotena