It's not your everyday vacation activity… Clad in a hairnet and awkward food handling gloves in a commodious industrial kitchen, I earnestly make sandwiches. I stand beside Michelin-starred Chef Jose Andres at work. Under the tutelage of his World Central Kitchen organisation, and at the behest of a friend, I've joined a clutch of other eager volunteers at this temporary outpost on Paradise Island in The Bahamas. We chop lettuce, scoop chicken salad and arrange cheese on a parade of bread that fills a table stretching some forty feet through a brightly lit room. "Keep working," says Chef Andres, hugging some of my comrades, thanking them. "We'll make our millionth meal since Hurricane Dorian today. You're all doing great. Keep up the good work. Together, we are making a difference."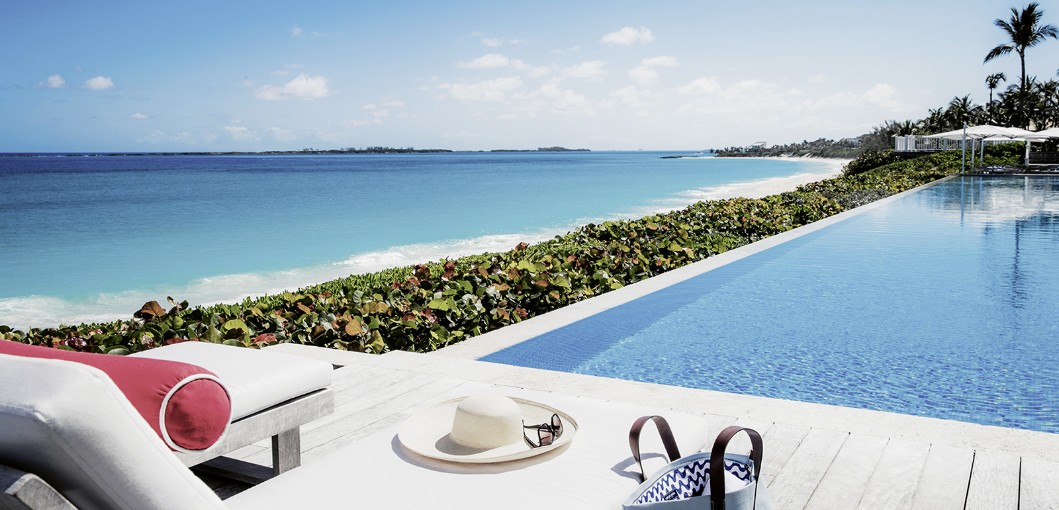 My feet hurt, but the camaraderie and the desire to help feed those displaced by Hurricane Dorian (which devastated some of The Bahamas' islands in September) fuels me – as do the stories of survivors, many of whom work beside me. Though sugary white sands and Van Gogh-sky blue waters, a sun-dappling day beckons, and I refuse to leave the kitchen until we've completed our goal – 5,000 sandwiches, not to mention reams of hot meals. When I finally step outside, exchange my hair net for a wide-brimmed straw hat, take a glance at the profusion of pink bougainvillea and hear the pounding of the waves calling, I feel I've earned my repose.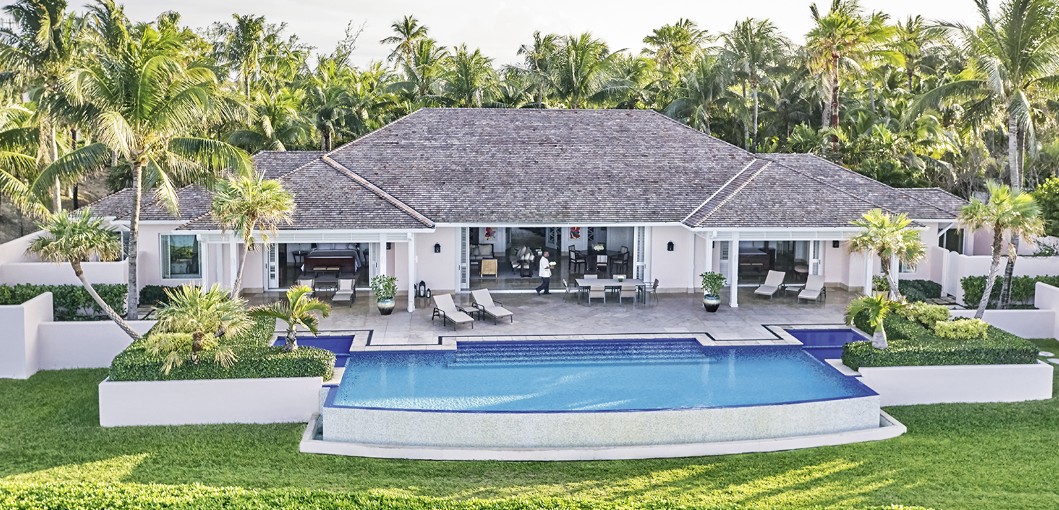 This isn't how I had imagined my vacation at Four Seasons Ocean Club, which was booked originally for the very days the Hurricane Dorian hit. But, when I finally take my rescheduled trip a month later, it feels good to do something to help. Paradise Island, home to the iconic Ocean Club, lucked out. One of some 700 islands that comprise The Bahamas, it was not in the path of Hurricane Dorian's havoc in September. Nevertheless, the island, connected by a bridge to New Providence Island, where capital city Nassau lies, felt the storm's sting. "We are all Bahamians," one employee tells me as he delivers a frosty Sky Juice (a welcome libation consisting of gin, coconut water and a hint of condensed milk). Another staff member, attempting to describe the solidarity of the Bahamian people, put it this way: "Our weather is good, but the air – and our hearts – are heavy." Doing their part, the hotel has established a fund in collaboration with International Medical Corps, and many workers have volunteered in various capacities since the hurricane. "Bahamas Strong," says a waiter when I tell him about my day in the sandwich kitchen.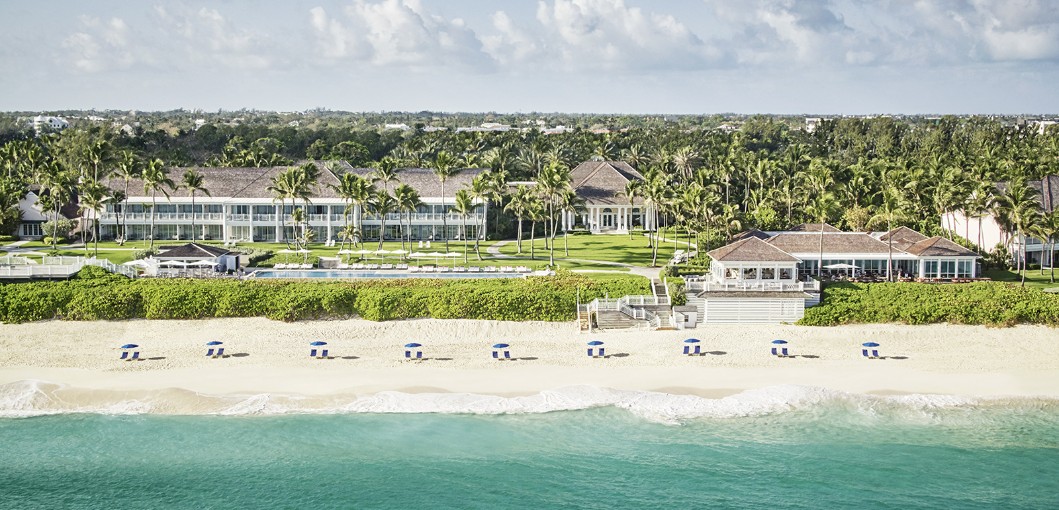 At first glance, Ocean Club seems familiar. That's because it evokes just what you always imagined a Caribbean hideaway would be. This storybook enclave has plush, carpet-like lawns and pale-pink painted, low-rise buildings, which bafflingly match the afternoon light's rose glow. Splotched with pools, festooned with flowers, edged by an idyllic beach, the retreat gets rave reviews for such attributes as its Jean-Georges Vongerichten-led restaurant, Dune, and its sumptuous beachfront suites and villas. But it is Ocean Club's dreamy reality that sets it apart from all the world's other resorts. It seems conjured from vintage films, spy stories, whispered secrets and perfume advertisements. It's a place so romantic that it might be an alternate universe. There's even a 12th-century cloister, imported from Europe, and reconstructed piece-by-piece to ensure a fanciful mood. The folly-like ruins anchor a garden, peppered with flowering plants, fountains and weathered, centuries-old statues. Known as the Versailles Garden, this showpiece unfolds to the sea.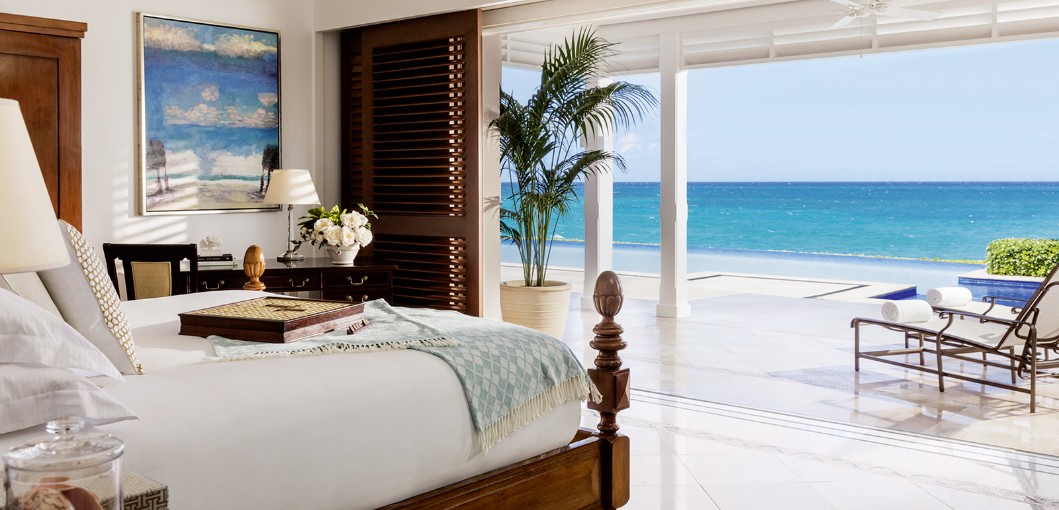 But the Ocean Club isn't just about indulgence, fantasy, relaxation or celebration. Even in its surreal loveliness, clear opulence and otherworldly splendour, the resort emits a marked soulfulness. It feels like a place where something more important than mere fun might happen. Partly, that gravitas comes from the employees, many of them loyally in service for decades. Tennis Pro Leo Rolle, recently replaced by his son, just retired after some 50 years on Ocean Club's courts. During his tenure, he tutored luminaries as varied as Bill Gates, the Shah of Iran, Richard Nixon and Robert De Niro. "I've played with them all," he quips, smiling warmly, yet keeping the details to himself. Bartender Keith Cash has been making drinks for 32 years at Ocean Club venues. Now lording over The Martini Bar, he serves up his signature Chocolate Martini, but also mixes the 007-perfect Vesper, an ode to Daniel Craig, James Bond, and the time the Ocean Club became the setting for the 2006 remake of Casino Royale. "I've got some stories to tell," he says laughing, as he shakes, not stirs, our libations. Across the resort, The Ocean Club crew brings something unique to their workplace; it's down to how they interact with the guests. "This isn't just my job – it's my heart," explains concierge Bridgette Poitier. And it shows.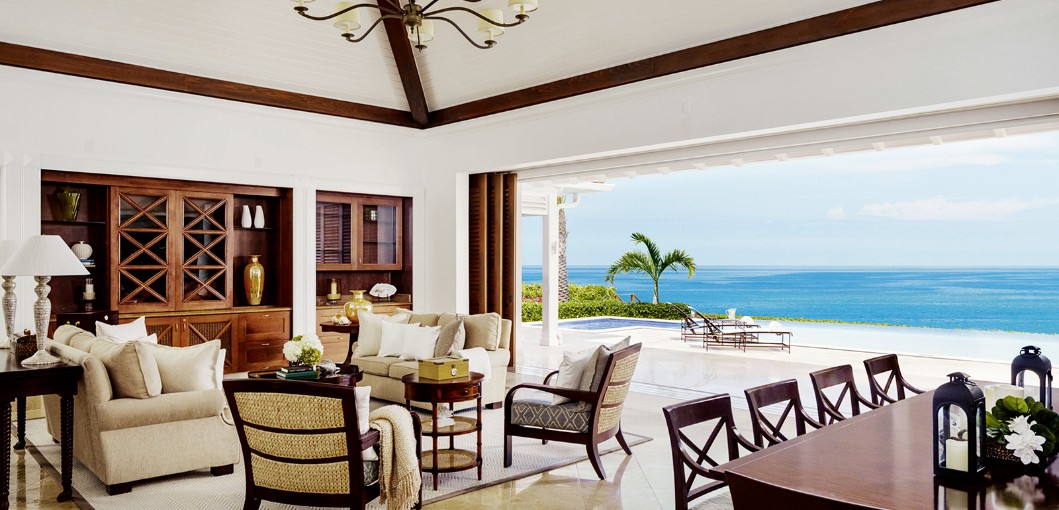 During my stay, I witness numerous instances of newly arrived guests running to a butler, waiter or pool attendant, throwing their arms around them as if they were family, and exclaiming how happy they are to be back. It's like being at an airport and people-watching the reunions. Ocean Club boasts scores of repeat guests, many of whom started coming as children. Today, they bring their own children – and grandchildren, too. For their part, employees greet well-loved, returning guests with a proffered cocktail, a small welcome gift, kind words and inquiries – and, of course, the key to their "usual" room or villa. "We've been waiting for you," says Nelson, my butler, when I arrive – as if I am a much anticipated, long-lost friend. Not every resort has Ocean Club's capability to instil that "love at first sight" effect. Now, inducted into the Ocean Club 'clique', I vow to be back someday, even before I've stayed awhile.
We've been waiting for you', says Nelson, my butler, when I arrive – as if I am a much-anticipated long-lost friend
Like many Bahamian islands, Paradise Island, once called Hog Island, was a haven for bygone pirates, including Blackbeard. By the time handsome Huntington Hartford II, the A & P grocery scion, art aficionado, society playboy and entrepreneur bought it in 1959 for $11 million, 
it already had historic cachet. Hartford envisioned adding to the allure by building a tropical retreat that would attract the global creme-de-la-creme. He planned it to be the embodiment of elegance and opulence, a place of class beneath the palms. Spending another $20 million, Hartford opened Ocean Club in 1962, complete with 52 rooms, tennis courts, the Versailles Garden and a golf course. For the opening party, he flew two thousand of the world's elite and illustrious – movie stars, royalty, musicians and billionaires – to the island. They arrived in private jets – even a charted Pan Am airplane. Upon landing, the noblesse was whisked to the resort by a fleet of white Cadillacs. The lionized, such as Zsa Zsa Gabor, Benny Goodman and William Randolph Hearst, would have seen the sky aflame with fireworks, lit up by specialists Hartford had brought in from Monaco. Newspapers at the time reported the rooms of the hotel brimming with white roses, the drinks flowing, the soiree an eye-popping success.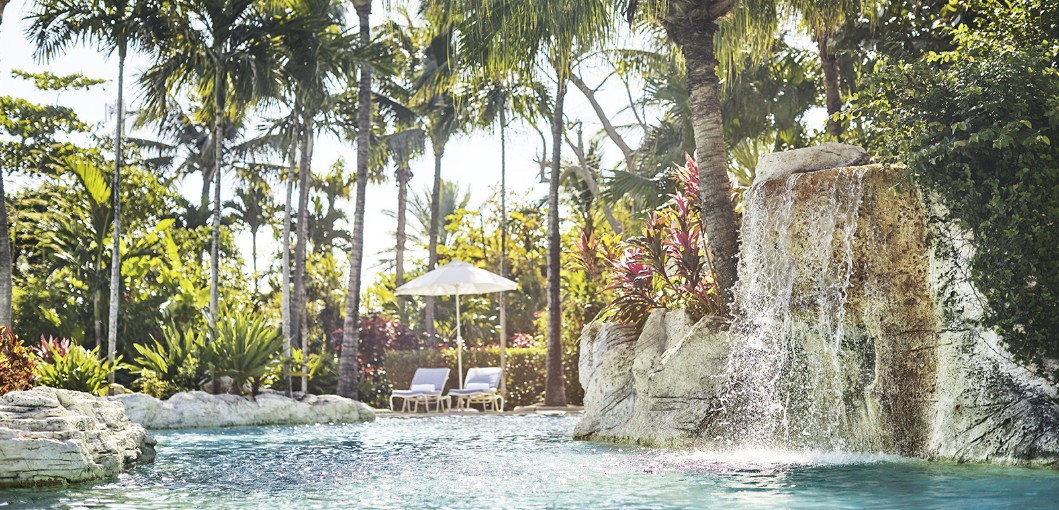 Today, lounging by the 125-foot long pool that fronts the ocean (one of three pools for guests, not including villa pools), I don't see a heyday Hollywood star. But here, everybody is made to feel like somebody, no matter how normal the vacationer. You'll notice them taking Instagram photos beside the infinity pool's edge, chasing errant children with cocktails in hand and smiles on their faces, lounging in hammocks on the lawn, or sating themselves on beautiful Caribbean lobster or conch. Famed guests are so common at Ocean Club, they blend in. Could that be a legendary rock and roller recovering from surgery in one of the capacious villas beside the sea? Isn't that Shaquille O'Neal playfully wrestling with some kids? It doesn't matter who you are here. Nobody will intrude – not even for an autograph. "Discretion is key," says General Manager John Conway. "We understand that here."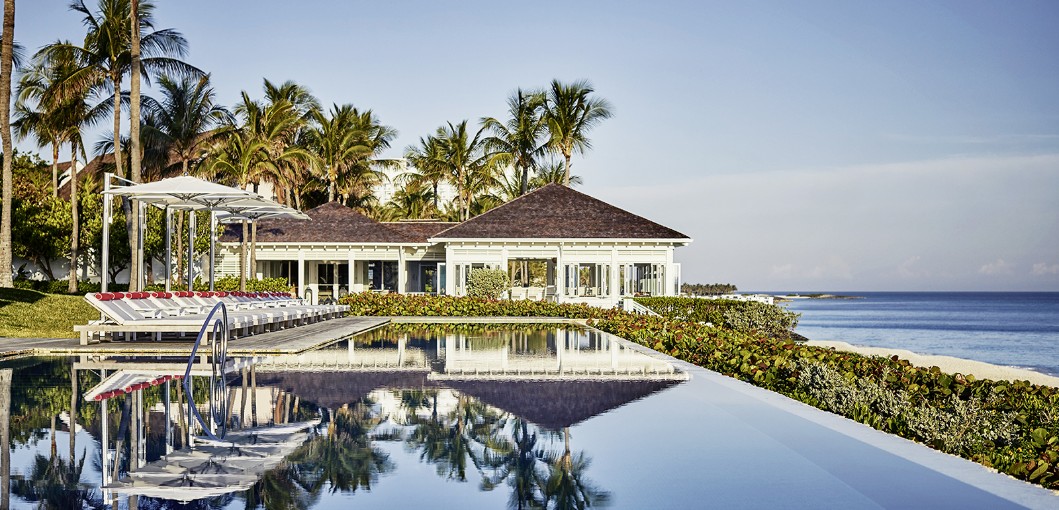 I fill my days at Ocean Club in a restorative equilibrium of activity and repose. I loaf on the beach just enough to feel deliriously restored, then mix it up with some of Four Seasons' customised activities, meant to immerse guests in local culture. They offer adventures that range from fishing expeditions to a meet-and-greet with their artist-in-residence at her home. One afternoon I learn about Bahamian rum on an outing which takes me to downtown Nassau for a private tour of the John Watling's Distillery, ensconced on an atmospheric estate. A highlight is the chance to chat with renowned local mixologist Wilfred Sands, inventor of the Rum Dum cocktail. Both the man and the drink are Bahamian national treasure. Another evening, I delve into the sounds and colours of The Bahamas, learning about Junkanoo, a costumed parade, music and dance festival, which takes place on Boxing Day and New Year's Day. It involves serious yearlong practice and preparation. I'm lucky enough to join a rehearsal. I'm sorry to say that I fail miserably in my attempts to mimic the rhythmic techniques required for playing the cow bells. I won't be joining the band anytime soon.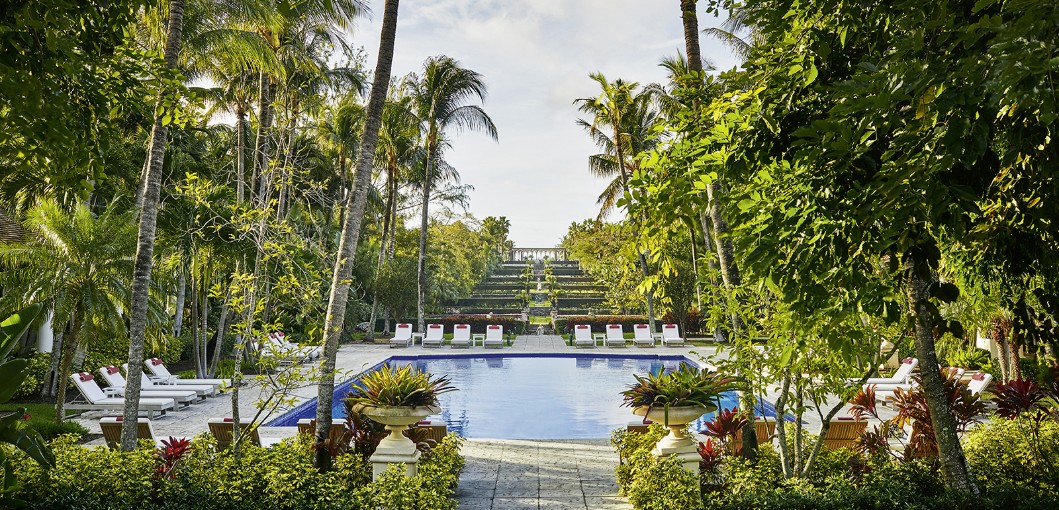 When it's time to leave The Bahamas, I realise how important it is for people to know that not every island was damaged by Hurricane Dorian and that most Bahamian destinations, like Paradise Island, are vibrant and operational. Besides the passion and empathy of the people when recalling the storm, guests might not otherwise know that a hurricane wreaked havoc anywhere nearby. It remains essential for the island nation that tourists continue to visit. That helps ensure this world treasure – a place that pilots say is one of the most beautiful from the sky, and that sea lovers have long touted for its shallow waters and reefs – stays an option for the future. For its part, the Four Seasons Ocean Club is up and running, continuing to do what it has done best for decades: make guests feel like they've come home.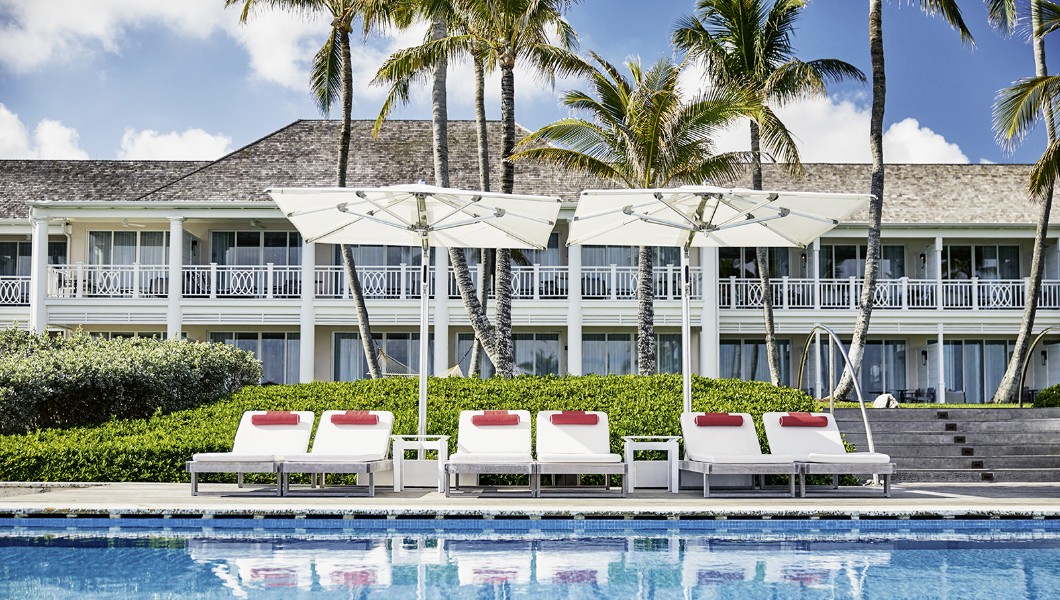 POINTERS:

No Luggage Required

Short, direct flights from New York make speedy, short getaways to the Bahamas immensely appealing – even for international travellers visiting – while direct flights from London easily open 
up the destination to Europe.
While many guests pack heavy suitcases for their tenure at Ocean Club, numerous regulars have learned that the hotel's casual chic atmosphere means just a few simple outfits will do. In fact, some repeat guests store a suitcase of resortwear at Ocean Club, bearing only essentials in their carry-on when they travel. With that in mind, Ocean Club has instituted a No Luggage Required package. In collaboration with its stylish Carlo Milano boutique, Ocean Club metaphorically pack for guests by offering three curated, themed wardrobe collections – each bespoke and personalised. Based on their own style and preferences, en vogue guests can choose from tiers of designer wear in three price ranges: $15,000, $30,000 and $100,000 per couple, exclusive of room state. Customised collections (categorised as Beachgoer, Weekender or Jetsetter) include everything, from jewellery to 
shoes to swimsuits to eveningwear. Participants can store their personal 
Ocean Club collection at the hotel – 
or take it home.
The Facts

107 rooms, suites and villas set beachside in a variety of low-rise buildings across 35 acres (14 hectares). The Hartford Wing, the original portion of the hotel, has recently been updated with contemporary panache. The rooms sport sea and pool views. The Crescent Wing, less central, nestled between a jungle and an ample lawn, invokes a more classic Caribbean decor and has unobstructed sea views.
Room To Book

The spacious and private Hibiscus Villa for its four bedrooms overlooking the sea –not to mention for its role as a setting for Casino Royale.
What We Love

This resort is ideal for families, honeymooners, even solo travellers. 
It makes a fast break from New York or Miami. A den of tranquility, the storied retreat also offers complimentary access to nearby Atlantis, a busy resort known for its pools, casinos and restaurants.