A regular on both Asia's 50 Best Restaurants and the World's 50 Best Restaurants lists, Michelin-starred Nahm has notched up the accolades in its eight years of enterprise. The man behind the spice is chef-author David Thompson, who cut his teeth in the kitchens of Sydney's high-end French restaurants before honing his skills as a Thai food maestro. Despite living in his adopted Southeastern home for over 30 years (and speaking the lingo fluently), being a non-Thai at the helm of a Thai restaurant has been an inconvenient truth for Thompson.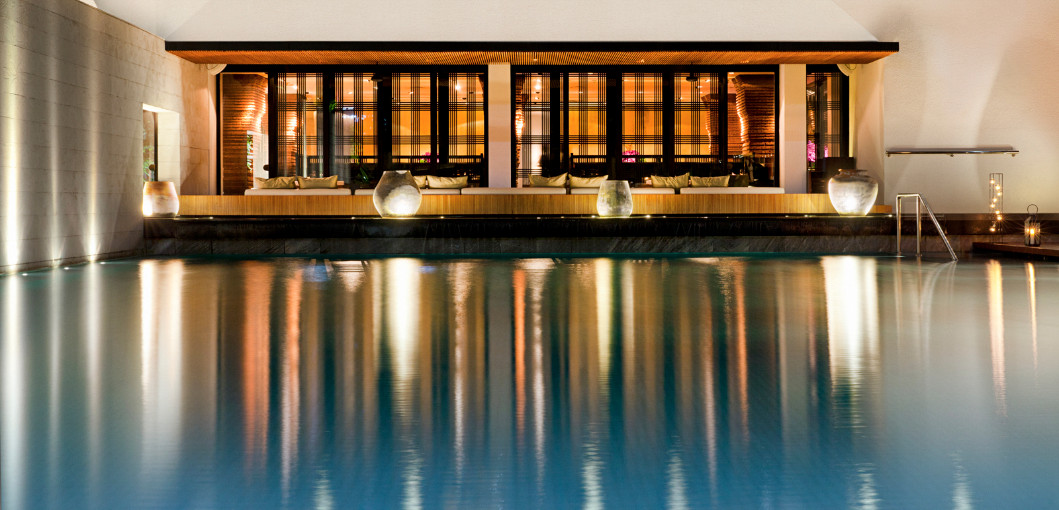 But Nahm's plates of big, bold flavours, inspired by Bangkok's street stalls, have slowly but surely silenced the chef's early critics. In what has to be the ultimate gesture of acceptance, the Aussie chef was invited by the Thai Government to school locals on native dishes at the prestigious Suan Dusit College. It's perhaps this respect for tradition that has been the linchpin to Thompson's success. Nahm's flavours are gleaned from century-old recipe books and the royal court's archives (which Thompson has been granted exclusive access to). Feasting on modern renditions of dishes that may have otherwise been lost to dusty shelves is what sets Nahm apart from the competition.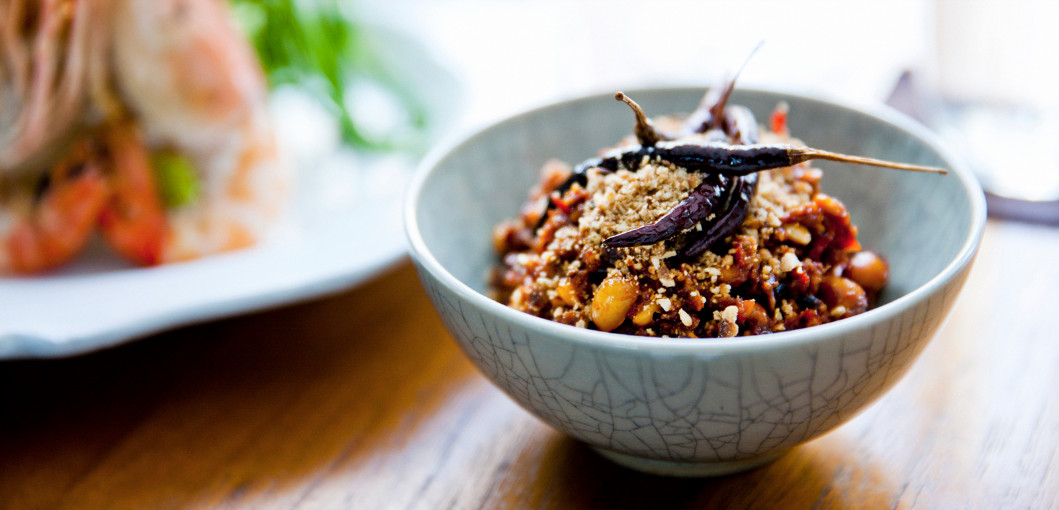 Being an in-house guest doesn't necessarily fast track you to the top of the restaurant's waiting list, so I'm counting my Thai blessings at snagging a table. Beautiful columns inspired by Ayutthaya temples anchor Nahm's sultry space, which is divided by lattice wooden silk screens and bathed in subtle gold and blue hues. As a palate opener to the seasonal à la carte menu, I'm presented with the curiously named "Mar Hor" (or galloping horses). This old-school Thai snack-turned-amuse-bouche is a melt-in-your mouth crumble of sticky sautéed pork, shrimp and peanuts.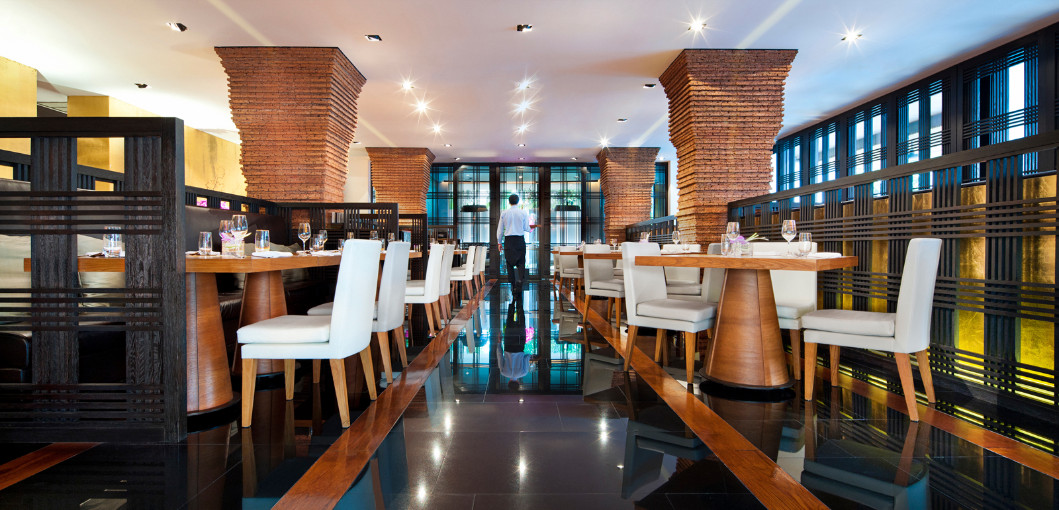 Before I can even utter khàawp-khun (thank-you in Thai), a quartet of canapés arrives. As advised, I devour them in ascending order of spiciness; from light Crab wafers (the mildest) to a steamed red curry of scallops, guaranteed to fire up your taste buds! Taking Michelin-starred hand food to new levels is the Pork and lobster salad, which I clumsily scoop up into a cone-shaped Bai Cha-plu leaf. In authentic Thai family-style, several dishes pile onto table at once – a salad of grilled corn and prawns with lemongrass and wild almond, and a squid, pork and prawn soup, which delivers a great depth of flavor. The unsuspecting culinary star, however, is the relish of grilled river prawns with citrus and sour fruits in the memoriam Bob Halliday, which masterfully binds all the market fresh flavours together.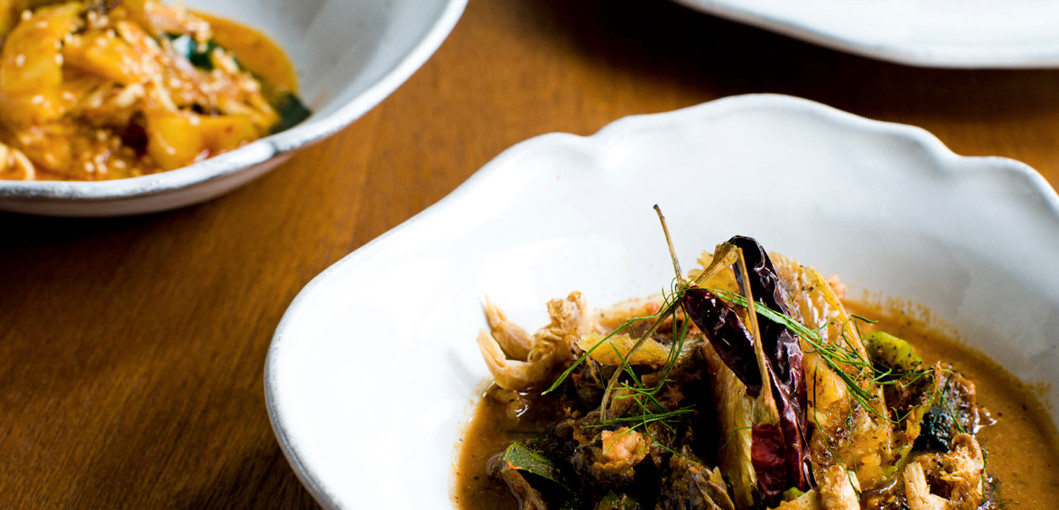 Nahm's culinary team don't shy away from using obscure ingredients like water mimosa (an aquatic plant), which rarely gets a look in on mainstream Thai menus. And far from being a humble sideshow, the jasmine-scented rice happens to be some of the highest quality in Asia, hailing from Thailand's northeastern province of Surin. Behind the deceivingly simple dishes is a complex myriad of authentic flavours that manages to strike a perfect balance between sweet, heat and sourness. In one final act of gluttony, I indulge in the Pandanus noodles with black sticky rice, buried beneath a mountain of shaved ice and coconut milk. The Thai-street-food-inspired dessert is a sweet interplay of crunchy, fleshy and hard textures – a fitting tribute to this multifaceted dining experience.
---