"Look, there's number 10, and over there, look, look, 11 and 12..." And so the conversation goes as my six-year-old peacock-spots from atop a horse called Maya. We're out for an early morning equine amble around the grounds of JA The Resort, on a mission to track down as many of the 100-plus water-coloured peacocks that call the one-million-acre property home. We clock up an impressive 14 before breakfast, including the lesser-spotted white peacock, who gave birth to a baby during the summer. It's our lucky day though, as a post-breakfast stroll back to our suite crosses paths with the 'unicorn', its majestic ivory feathers all the more striking against Palm Tree Court's grassy landscape.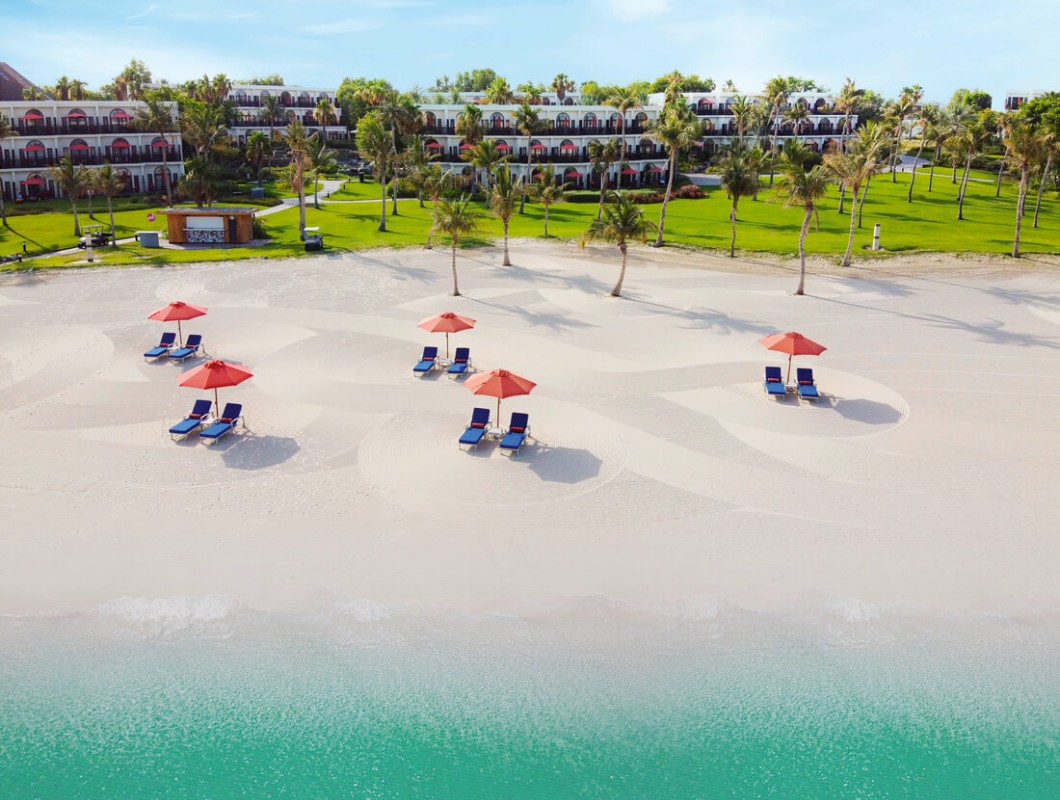 Beyond the beauty of these majestic birds, is the fact that this resort, swathed as it is in nature, is just a 15-minute drive from Dubai, on the beach at Jebel Ali. You'd never think it though, because once you turn off Sheikh Zayed Road and wind yourself seaward, JA The Resort envelops you in a sort of soothing, Mother Nature embrace, inviting you to leave any urban attachment at the door.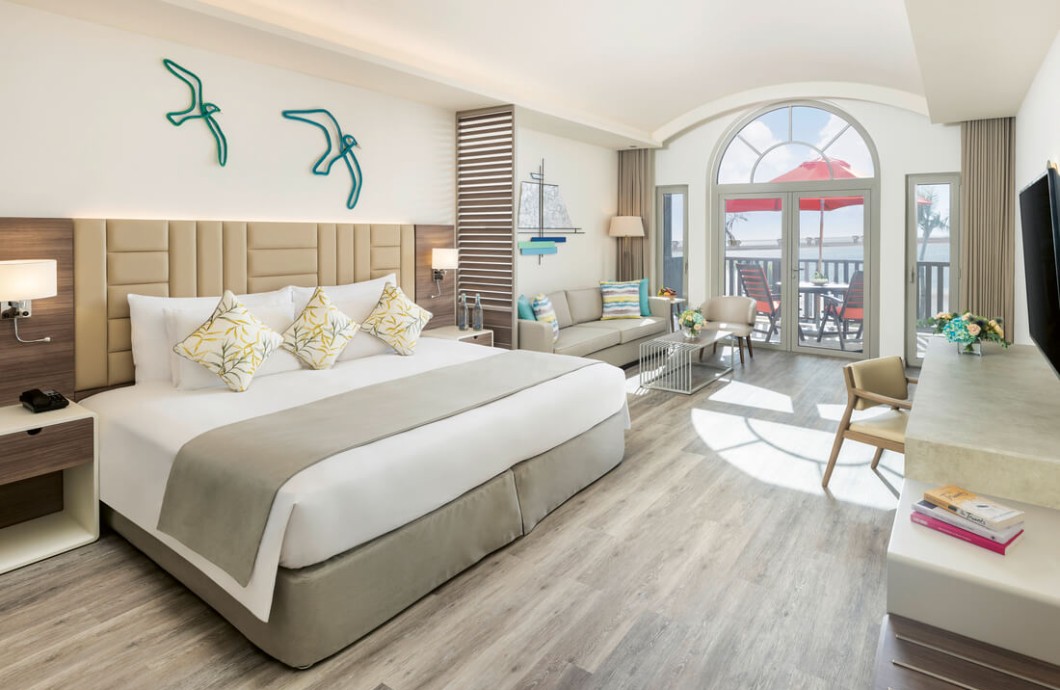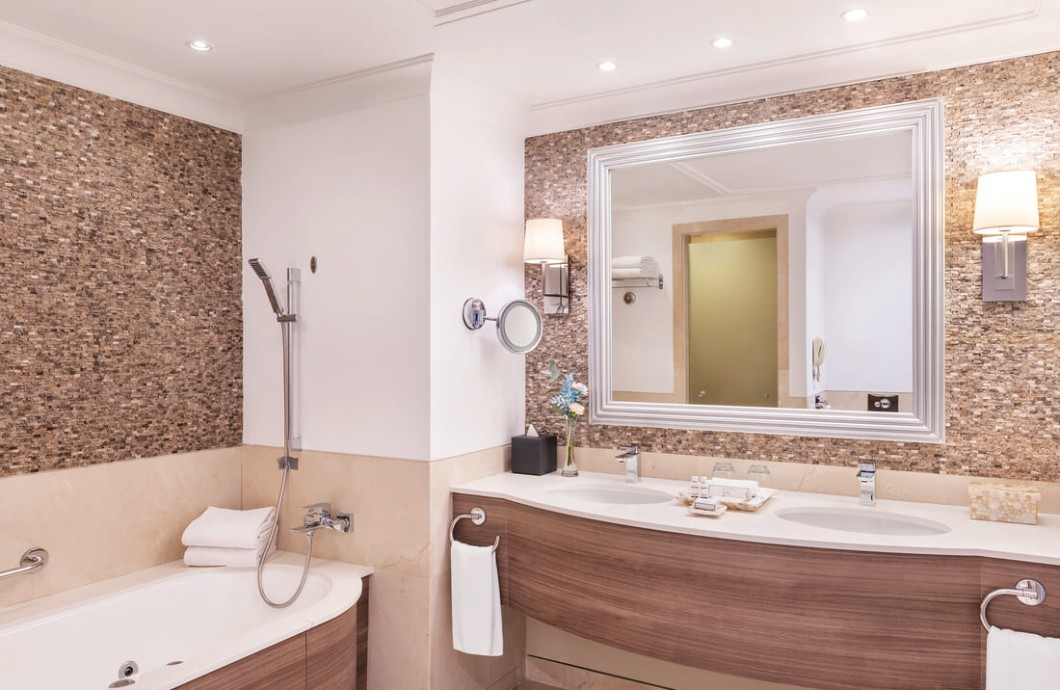 Part of a cluster of three hotels – including JA Beach Hotel and JA Lake View Hotel – it's JA Palm Tree Court that holds my attention this trip, following the unveiling of its all-suite refurbishments. Having opened back in 1997, its dark wood suite interiors were ready for an update, swapping rich hues for lighter, more contemporary tones. The suites splay out over a three-tiered Mediterranean-style villa complex, and if you manage to book the ground floor, you'll be the smug owner of a private terrace with direct access to the gardens and beach. Oh, and a pride of peacocks that comes pecking early the next morning, as we sit admiring sunrise.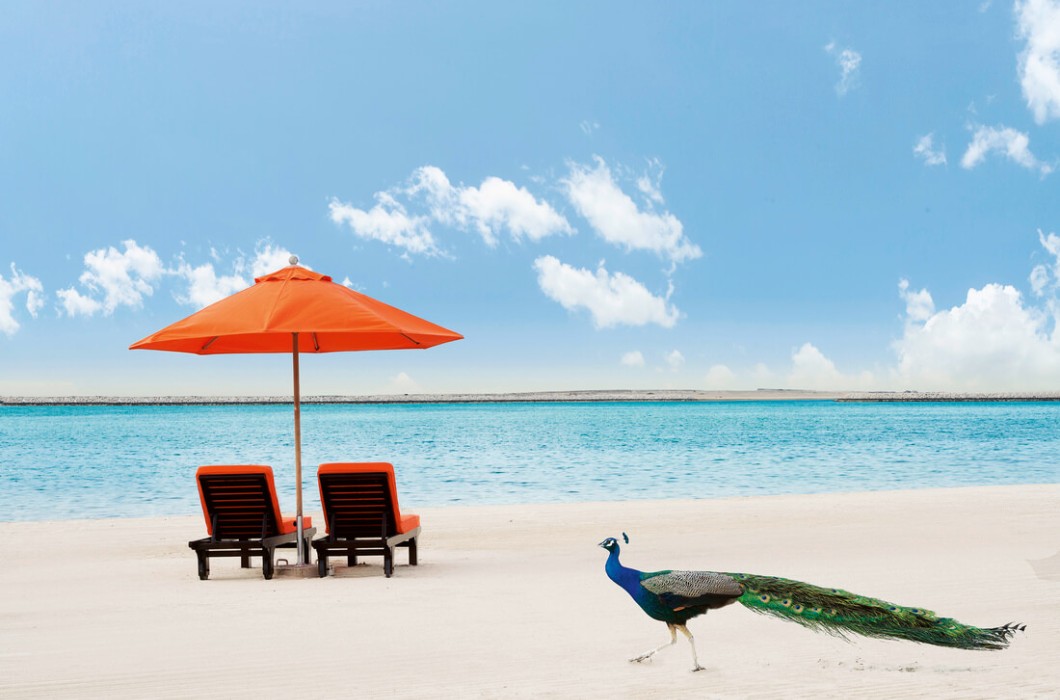 Sunlit from the moment dawn breaks, the light wooden floors, seaside-blue bed valance and cushions, and cream and earthy beige accents all work together to create a modern base for these new suites to riff off. At night, the soft lights create a cosy space, but by day, with the garden doors thrown open, the suite subconsciously becomes part of the outdoors – the sea beyond informing nautical-inspired artworks by a local artist, and hand-picked Bougainvillea flowers from the grounds deftly worked into some decorative 'welcome' artistry on the bed.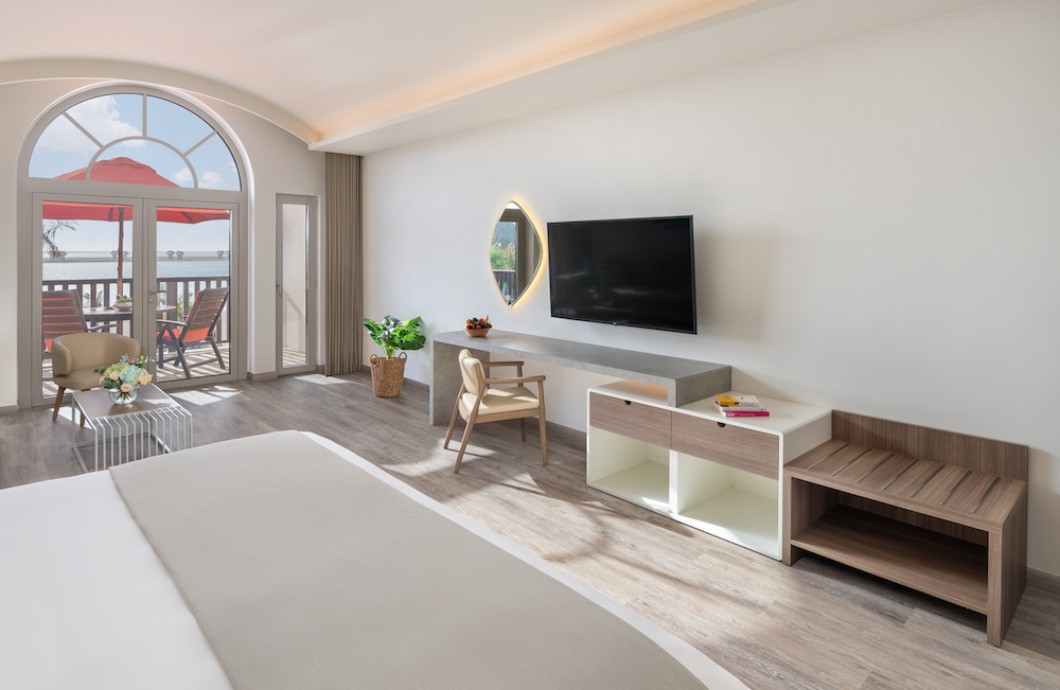 The new-design suites are all part of a wider property facelift, with new life being breathed into JA Palm Tree Court's F&B and entertainment offerings, too. But first, before anything else when you have a six-year-old in tow, we must swim. You won't go short of a pool or two at the resort, with four alone at Palm Tree Court, and more spread out across JA Beach Hotel and JA Lake View Hotel. There's something else up Palm Tree Court's seemingly endless sleeve though, with the opening of its brand new Tamr Pool. Specifically for guests of the property, it brings a sense of exclusivity to Palm Tree Court with a slightly more grown-up vibe. Its sister F&B outlet, Tamr Terrace will open early December too, for casual poolside dining.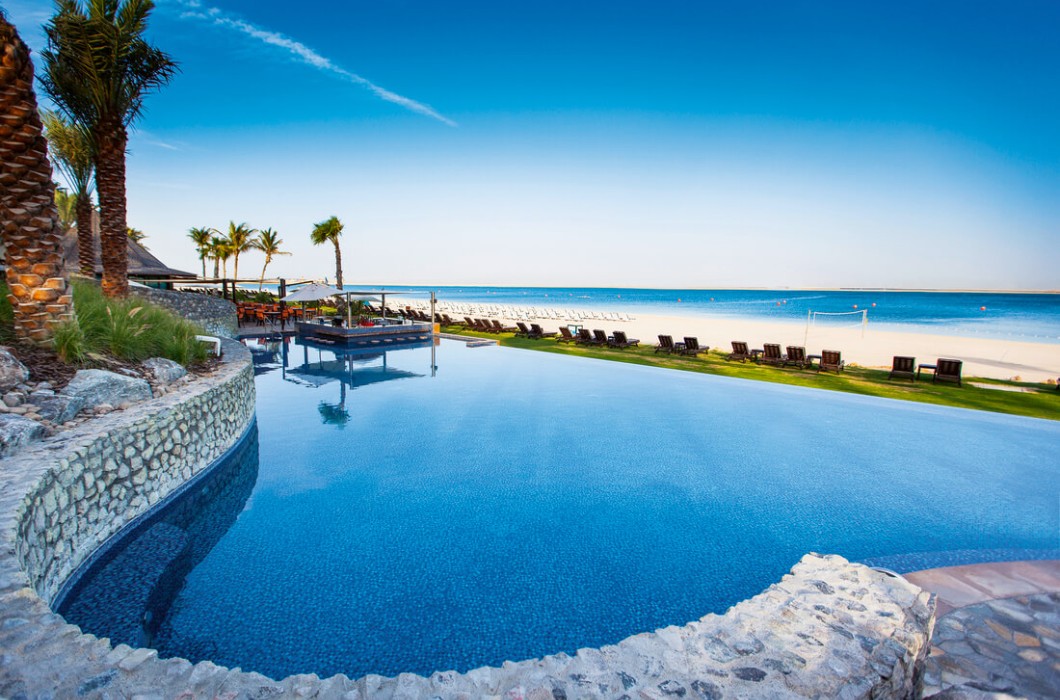 Naturally my daughter is drawn to Palmito Pool, with its cascading archways of water a neverending source of entertainment, while the swim-up Anchor Pool Bar rewards me for my parenting. For lunch, we barely bother to dry off and join other families here for an easy, breezy burger and salad. On Saturdays the tables are cleared away for the We Be Brunchin' picnic-style brunch, where bean bags and picnic blankets are strewn across the grass and sand, and live cooking stations serve up salads, grilled meats, tacos and fish 'n' chips. My highlight is the live band that brings classic Eagles and Dire Straits back to life. My daughter's highlight, however, is far more sugar-centric, making more than one trip to the 'confectionery corner' for tubs of sweets, ice-cream, popcorn and candyfloss. I'm sure she'll have burnt it off by bedtime, right?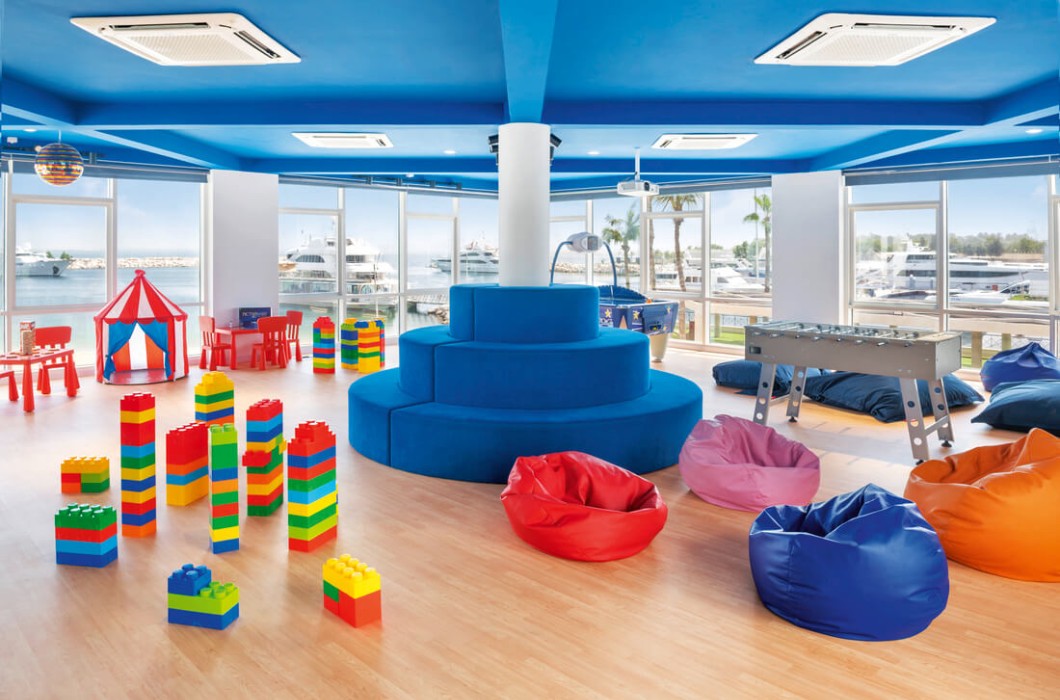 In the afternoon, I pat myself on the back for delegating childcare to the professionals at Pirates & Mermaids kids club. Spread over two floors and inspired, as one might have guessed, by maritime adventures, there is more than enough to keep her entertained for a good few hours. Downstairs it's all arts, crafts and soft-play activities suited to younger kids clubbers, while upstairs it's a teen-haven, with movies, air-hockey and computer games, and plenty of space for the odd game of The Floor is Lava, as my daughter merrily informs me.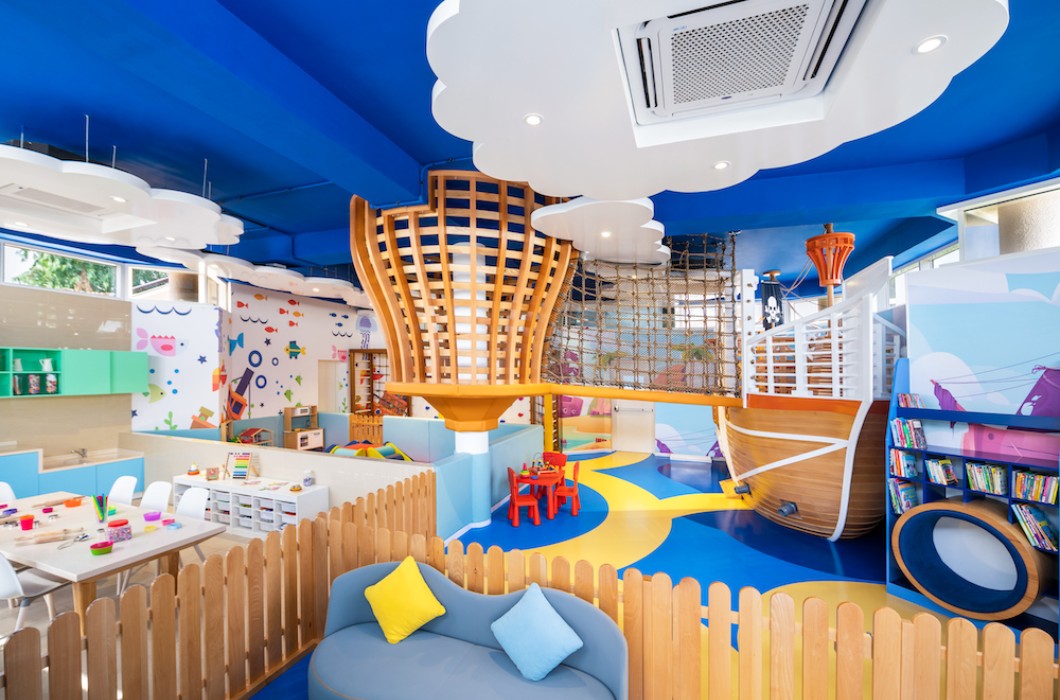 Never one to rest on its laurels, the kids club has also been joined by Just Splash, an all-new outside area dedicated to water play. There's Splash Pad for younger water babies, and Splash Park for older ones, with various slides and tipping buckets. It's also newly joined by Sandbar – a casual cocktail beach bar where parents can put their feet up while the kids play. A gift that keeps on giving!
Not one to waste precious child-free time, I hasten back to the hotel and stake my claim on a sunbed on the beach, tearing through my book for two heavenly uninterrupted hours. The beach stretches in both directions, covering 800 square metres. Accessed only by JA The Resort guests, it never feels even close to crowded. In the morning, we notice the beach has been meticulously raked creating the prettiest of sand patterns, which goes to show the lengths the team will go to in order to impress their guests.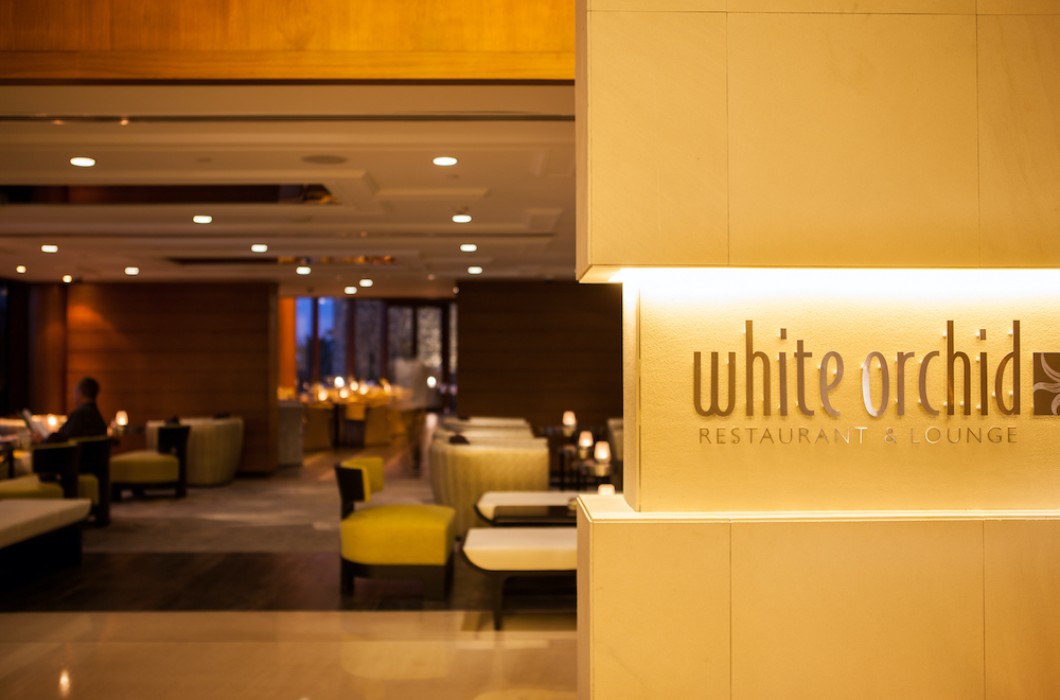 Once I've dragged my daughter away from Pirates & Mermaids (under the pretence – sorry, promise – that we'll go back later), we grab a drink and head down to the shore for sunset. Half washed-away sandcastles linger in the waves, children soak up the last dips of the day, and we shell collect on a gentle stroll back to our suite before dinner. We eat at White Orchid, JA Palm Tree Court's South-East Asian restaurant. It has such a warm and welcoming atmosphere, with its vaulted ceilings softened by mood lighting and accents of gold. A jazz singer melodies the evening, as we feast on spring rolls, pomelo salad, red curry and, yes, more ice cream.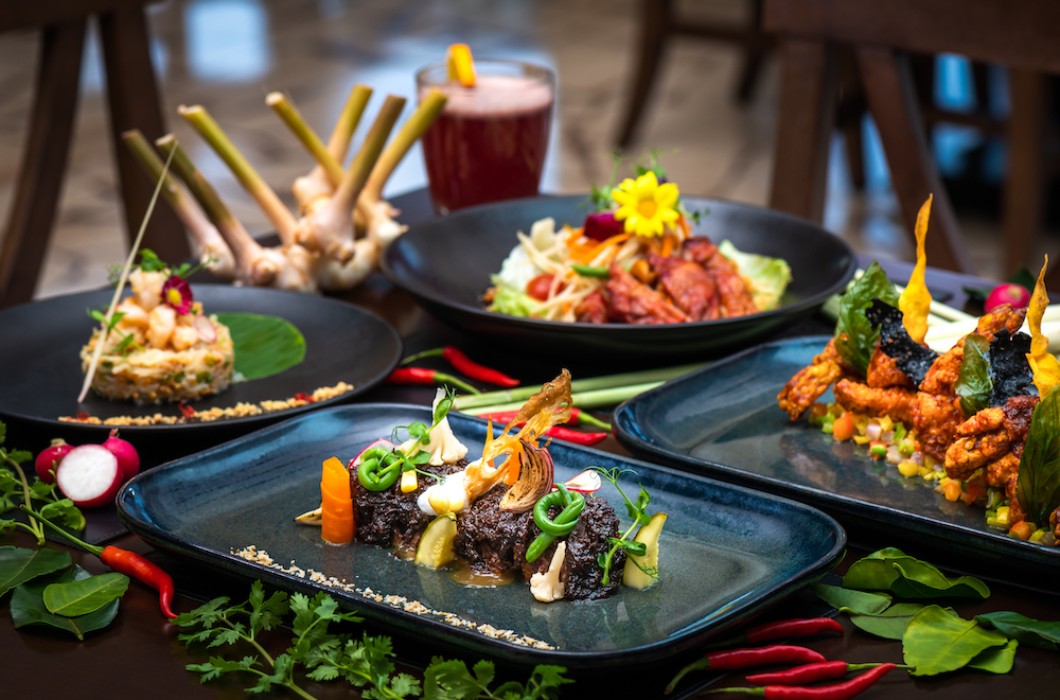 We forgo the buggy back for a moonlit stroll instead – across the bridges, passed the waterfall features, under the palm trees back to our suite. We hear the peacocks serenading each other with one last moonlight sonata as our heads hit the pillow. We counted 29 between breakfast and bedtime, so just a little shy of our centenary target. I guess that calls for another visit? That's one promise to my daughter I know I will keep.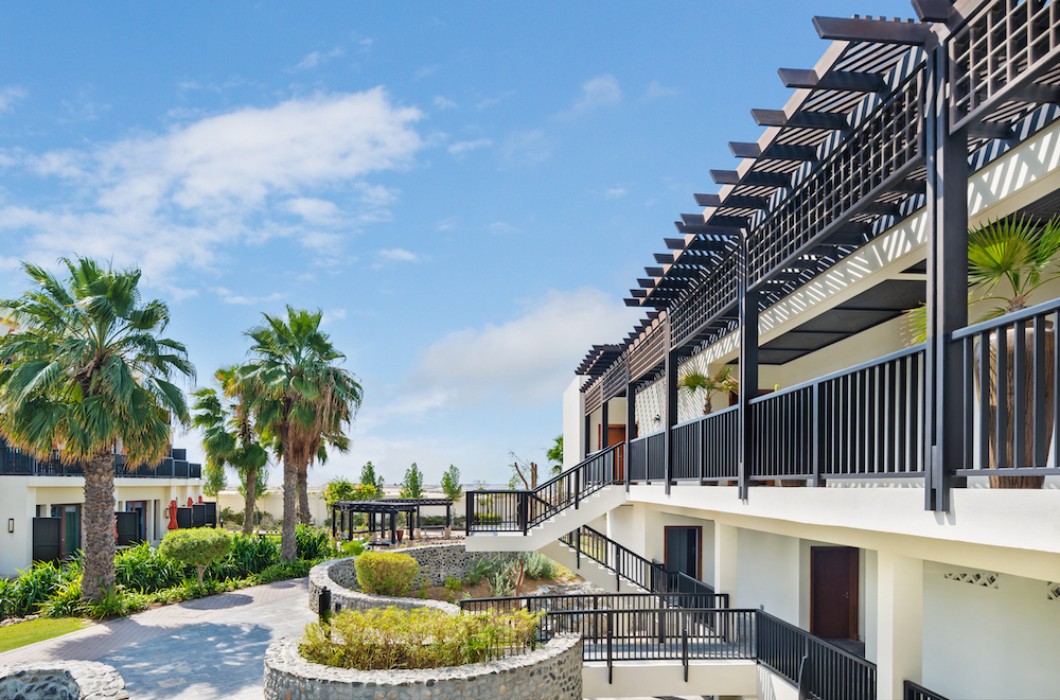 Stay:
WHAT: Seaview Junior Suite
WHERE: JA Palm Tree Court, Dubai
TEL: +971 4 814 5500