Not many hotel openings come with a Moët & Chandon vending machine, gold toothbrushes, Kendall Jenner's 818 Tequila on tap and earth-shattering performance from global superstar Beyoncé. But then again, not every hotel is Atlantis The Royal. As the latest vision of ultra-luxury hospitality in the Middle East, Kerzner pulled together the design industry's visionary elite to create a futuristic architectural silhouette of 'balancing blocks' that seem to defy gravity with their Jenga-bending balancing act.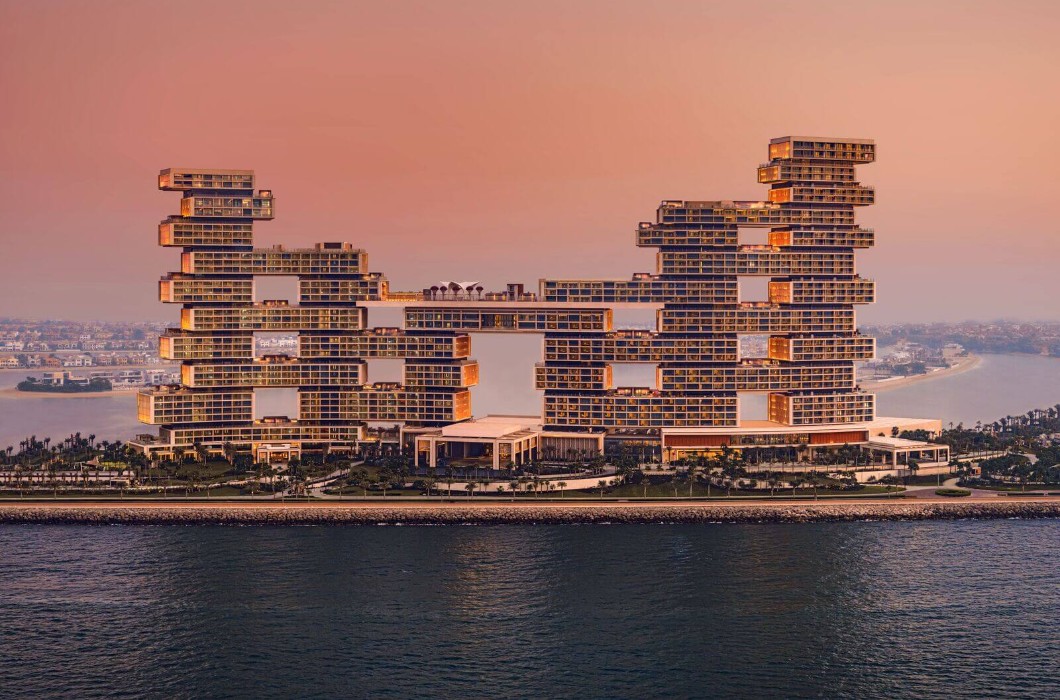 Kohn Pedersen Fox Associates (KPF) – of New York's Hudson Yards and London's Covent Garden fame – spearheaded the design, creating six towers (which are adjoined by sky bridge) that draw on arches and arcades of Roman aqueducts. Striking by day, it's during Golden Hour that building really finds the light, the soft evening sun creating an auburn halo around the 43-storey façade.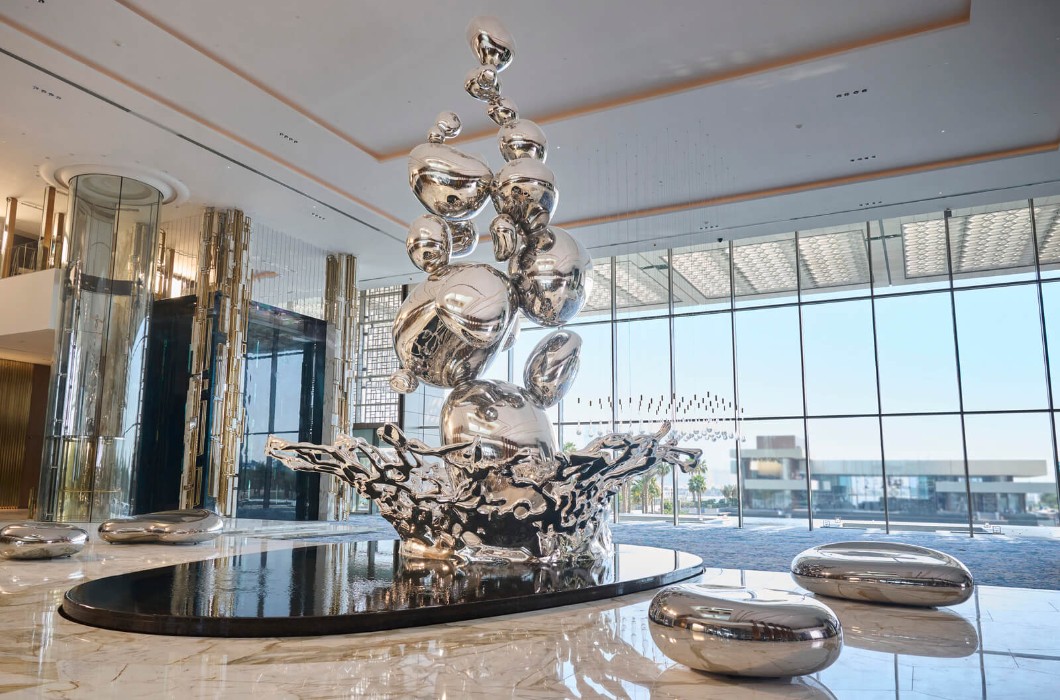 Inside, leading interior design firm G.A Group took the reins, looking to the oldest inhabitants of the Arabian desert, the Bedouins, for inspiration, who would trek thousands of miles across desert dunes using water wells to navigate. The precious commodity of water is also the lifeblood of the hotel, from soft blue touches across furnishings to the 11.5-metre Droplets sculpture in the lobby, symbolising the first drop of rain in a desert, to the Deluge water elevators that invite guests to 'walk through water' to reach different parts of the resort.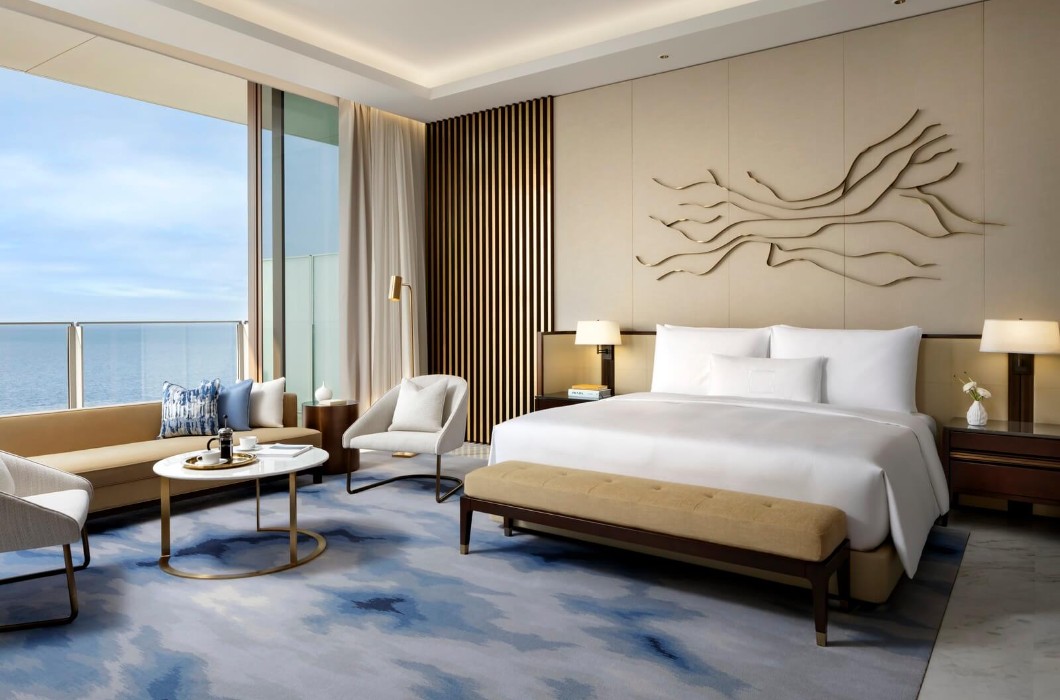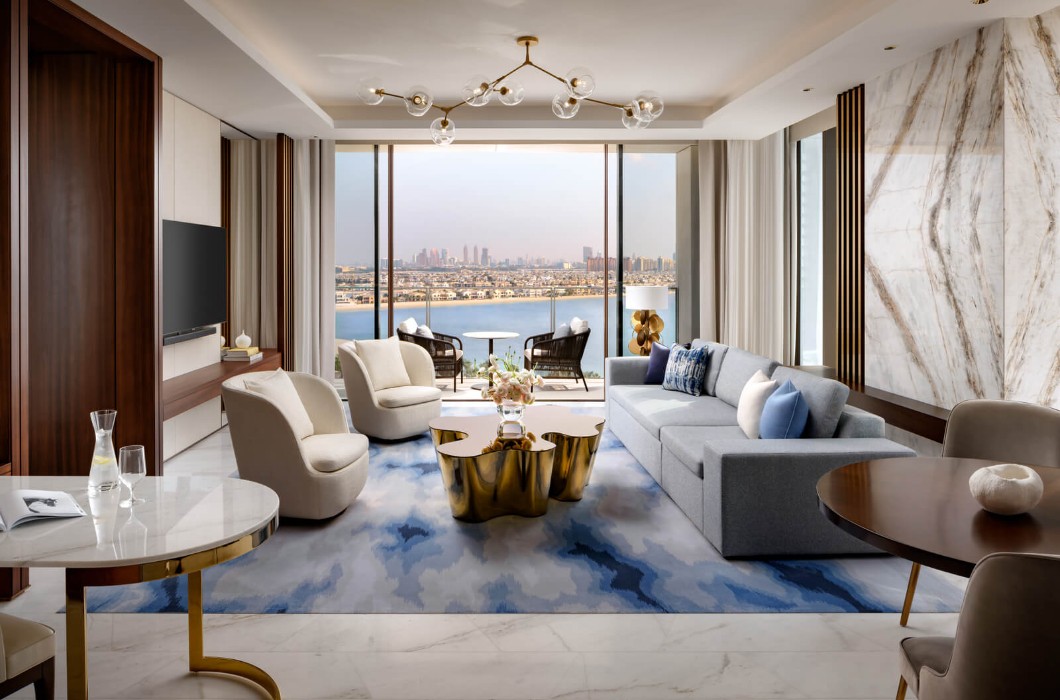 It's not the only element in play, however, with WET, the world's leading water feature design firm, creating the Firefalls feature at the hotel's entrance – two walls of glass clad in rippling water with programmable plumes of fire – and the Skyblaze fountains – a 28-metre high fire and water fountain.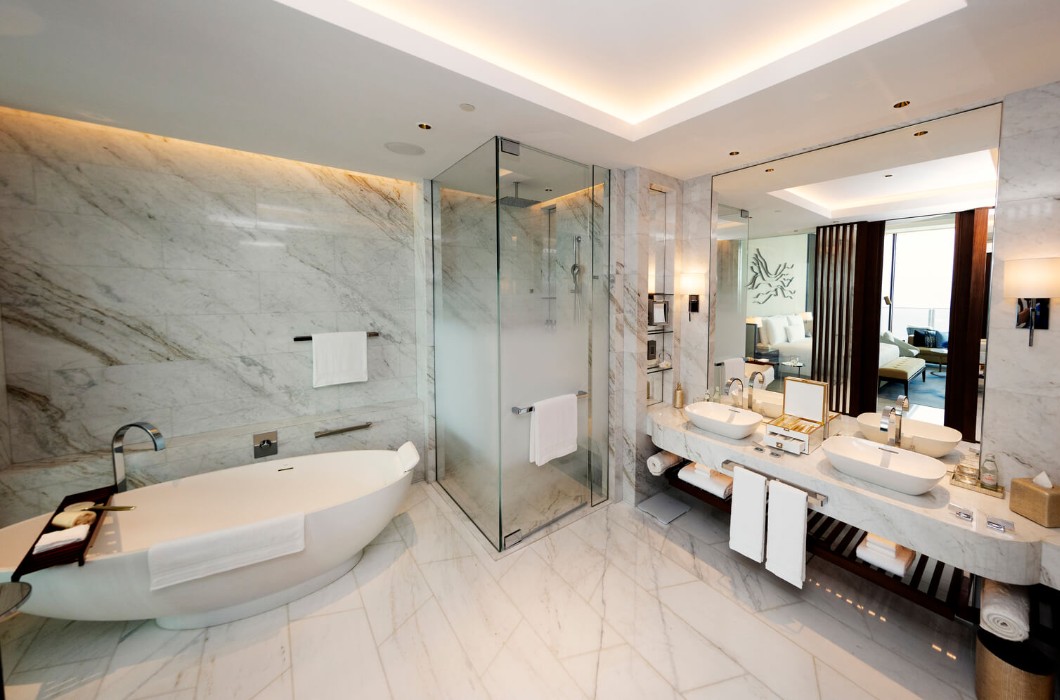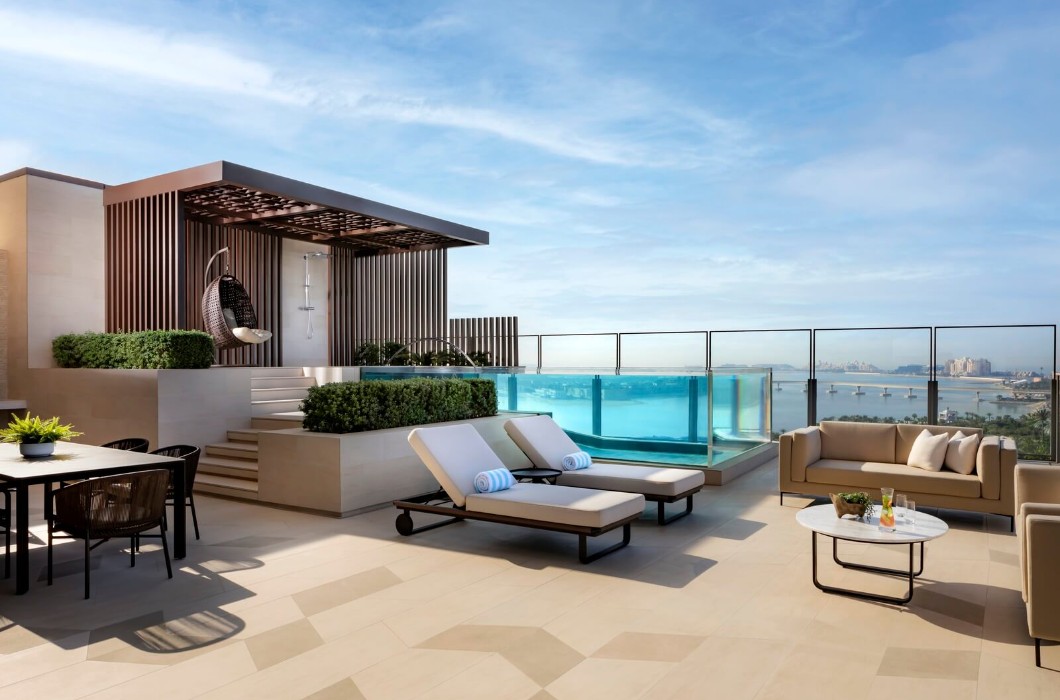 All this fire and water makes for quite an entrance. Split into three towers – Sunrise, Sunlight and Sunset – your journey will take you to one of 795 rooms, suites or penthouses. The Palmscape and Seascape rooms are perfectly roomy at 55 square metres, but it's the 118-square-metre Sky Pool Villa that earns the best bragging rights if you can't quite pitch in for a Penthouse. Like all the accommodation, the Sky Pool Villas are gorgeously light and airy, with views cast either over the Arabian Sea's uninterrupted horizon or over the more picture-worthy Palm island. The true beauty of these suites lies in the outside space, with French windows in the bedroom and lounge that let the outside in, and a terrace replete with a private infinity pool that is calling out for a champagne sundowner. A marble bathroom, gold toothbrushes, combs and loofahs, bespoke Graff amenities created for Atlantis The Royal (a world-first, as it turns out) and butler who will be at your service at the polite click of a finger – or even a tap of your high-tech interactive TV system – make for a contemporary and stylish stay.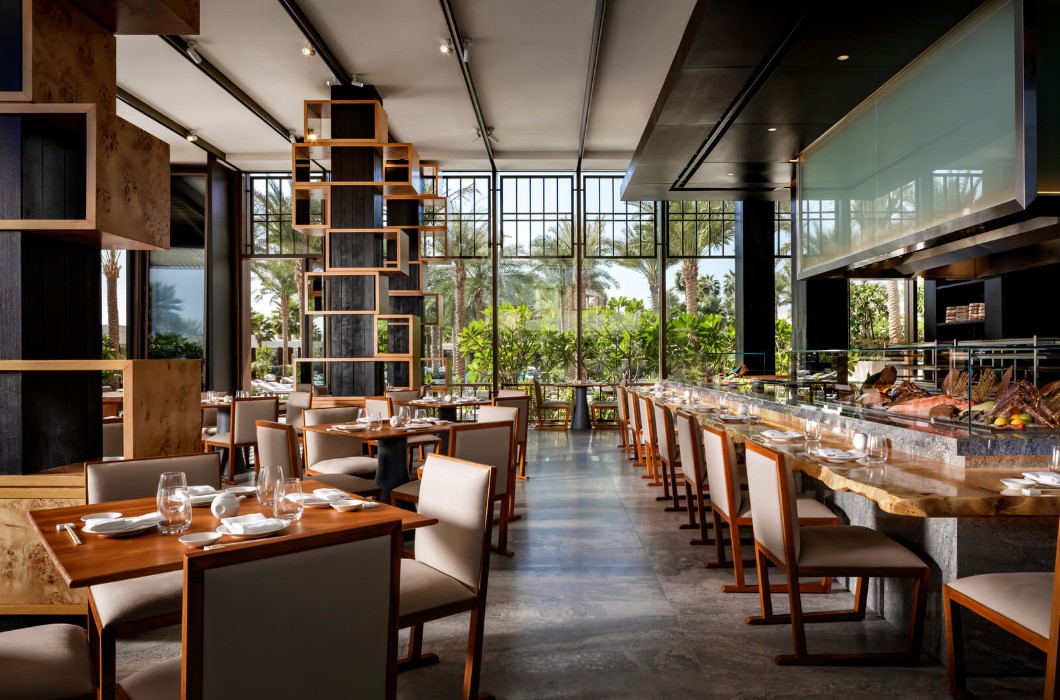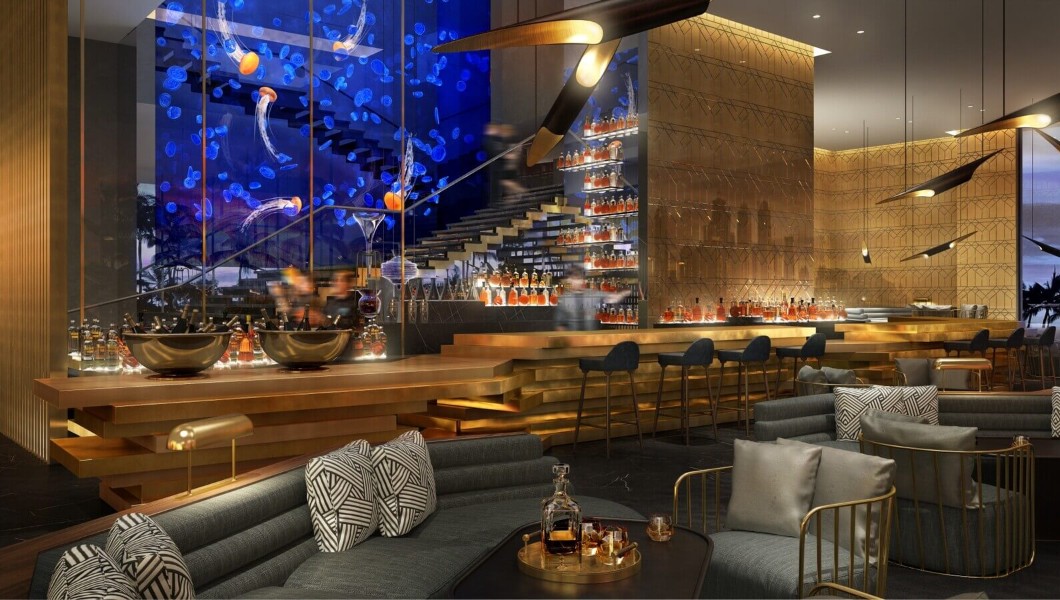 While the resort doesn't officially open for guests until February 10th, its 'Royal Reveal' event saw the doors of several restaurants open amidst the fireworks and fanfare. Celebrity chefs galore, Atlantis The Royal houses seven star-studded restaurants, including Dinner by Heston Blumenthal, Nobu by the Beach, Estiatorio Milos by Costas Spiliadis, La Mar by Gastón Acurio, Ling Ling by Hakkasan and Jaleo by José Andrés. Each undeniably exciting in their own right, Ling Ling certainly serves up some of the best views from the 23rd floor along with its contemporary Asian cuisine, Dinner by Heston Blumenthal offers a cutting-edge take on historic British cuisine dating back to the 1300s, and Nobu by the Beach debuts the brand's first pool and beach club in Dubai, with its palm-fringed waters, private cabanas and Japanese-Peruvian food par excellence.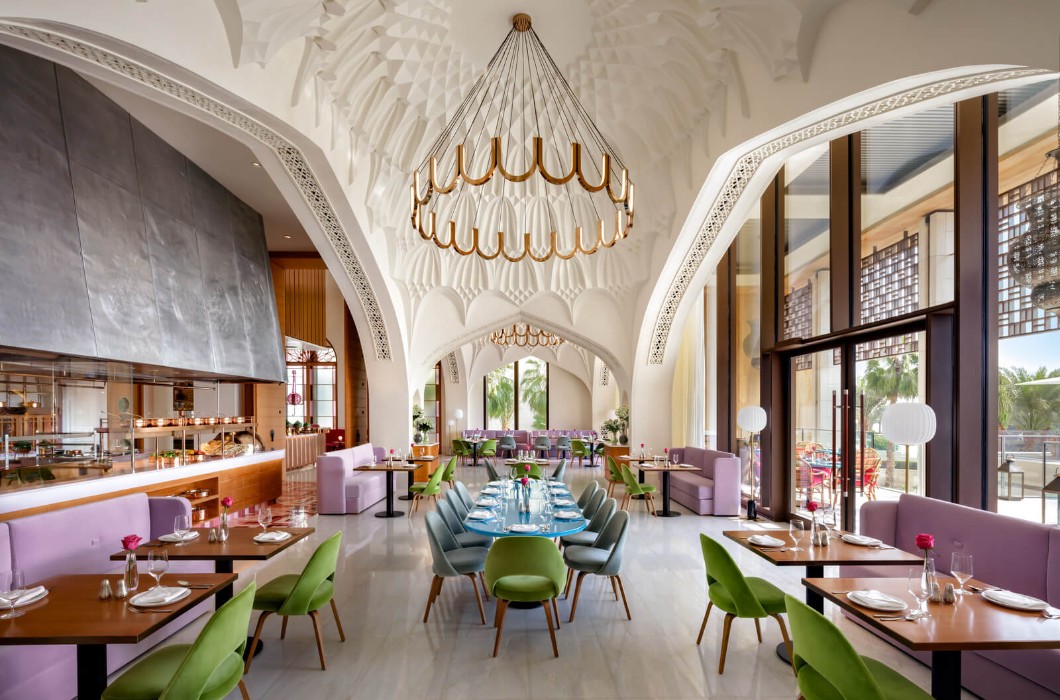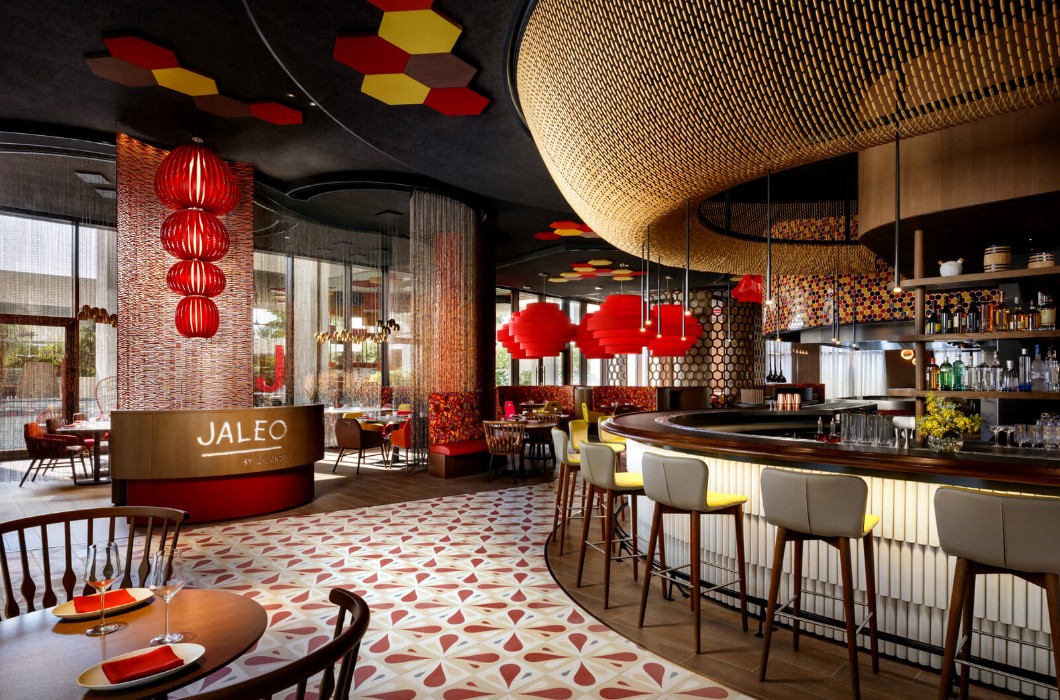 If you over-indulge at night, you'll be grateful for the breakfast at Gastronomy the next day. Presented like a charming food market, it meanders through impeccably baked and presented breads and pastries, to a vegan cheese counter, on to a lavish seafood display, via a dim sum and noodle section, culminating in the 'healthy room' where only goodness resides, and juices are blended, beautiful salads are presented and dressings are mixed in over-sized test tubes attached to the wall that bubble away infusing olive oil with things like raspberries and lemon. Once your plate is piled high, take it to the terrace to feast on both breakfast and views.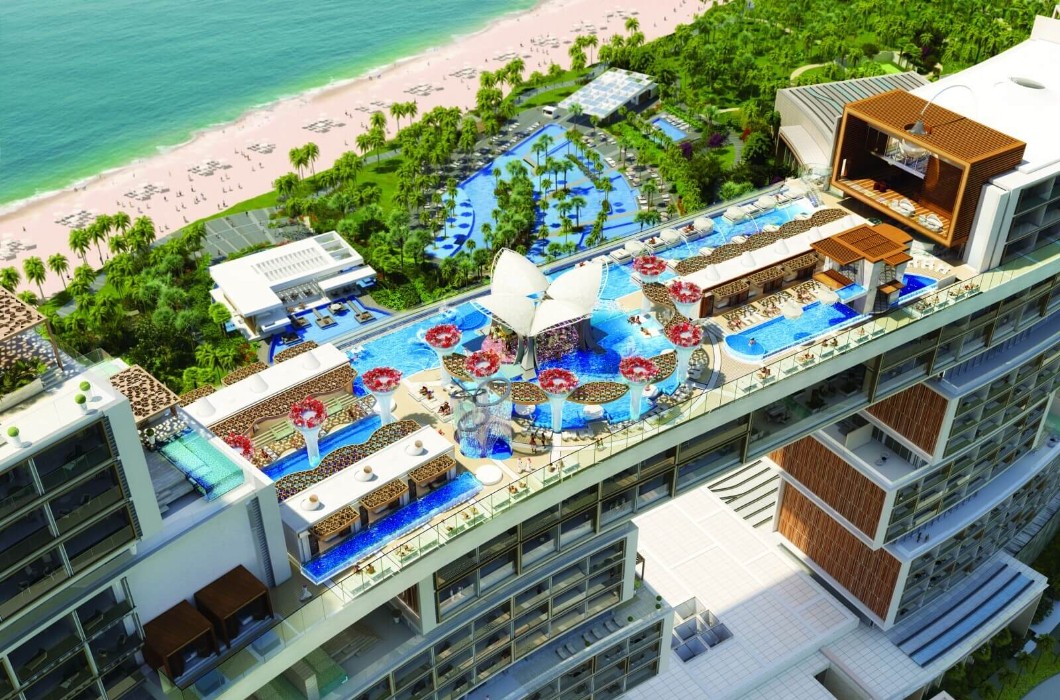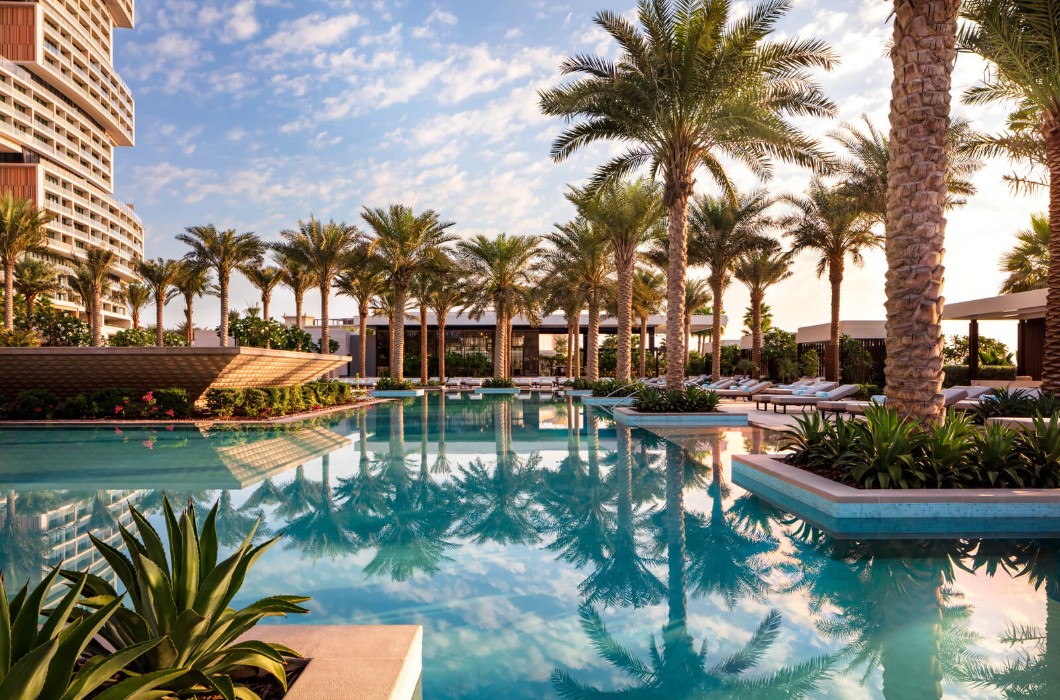 When Atlantis The Palm opened in 2008, it invited Kylie Minogue to perform. 15 years on and Dubai brings another diva, with Beyoncé the legend of choice for Atlantis The Royal's grand reveal – her first return to the stage in four years. Starting with a rendition of Etta James' At Last – the catchphrase of the weekend – she segued through crowd-favourites XO, Halo, Naughty Girl, Brown Skin Girl and Crazy in Love amidst costume changes that ran the gamut of regional designers, from Atelier Zuhra and Nicolas Jebran to Rayan Al Sulaimani. Lebanese dance group – and winner's of America's Got Talent – The Mayyas brought extra theatrics to the stage, as did the electrifying fireworks display that started at Atlantis The Palm before exploding in surround sound around Atlantis The Royal. A spectacular display for a spectacular debut.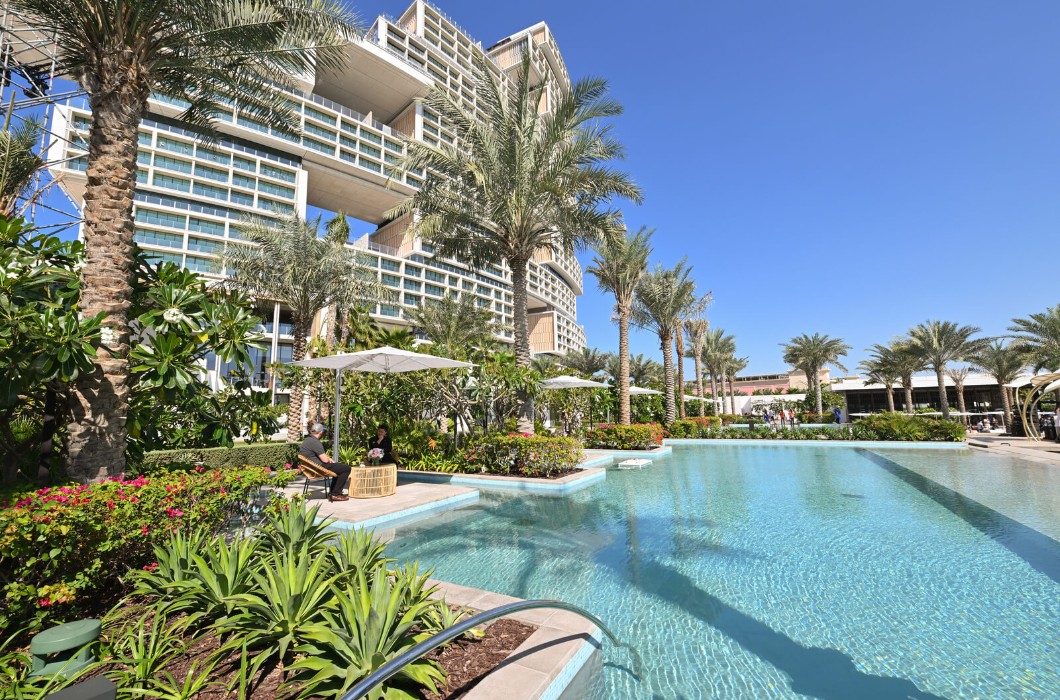 HOTEL:
WHAT: Atlantis The Royal
WHERE: Dubai, UAE