For those craving an exclusive destination on the iconic Palm Jumeirah, the Taj Exotica Resort & Spa, The Palm, Dubai offers ample privacy and relaxation. Surrounded by white sands and the warm waters of the Arabian Sea, with over 250 rooms and 60 suites, there's every opportunity to explore stunning surroundings, experience holistic wellness treatments, sample exceptional dining outlets, and share exciting family activities.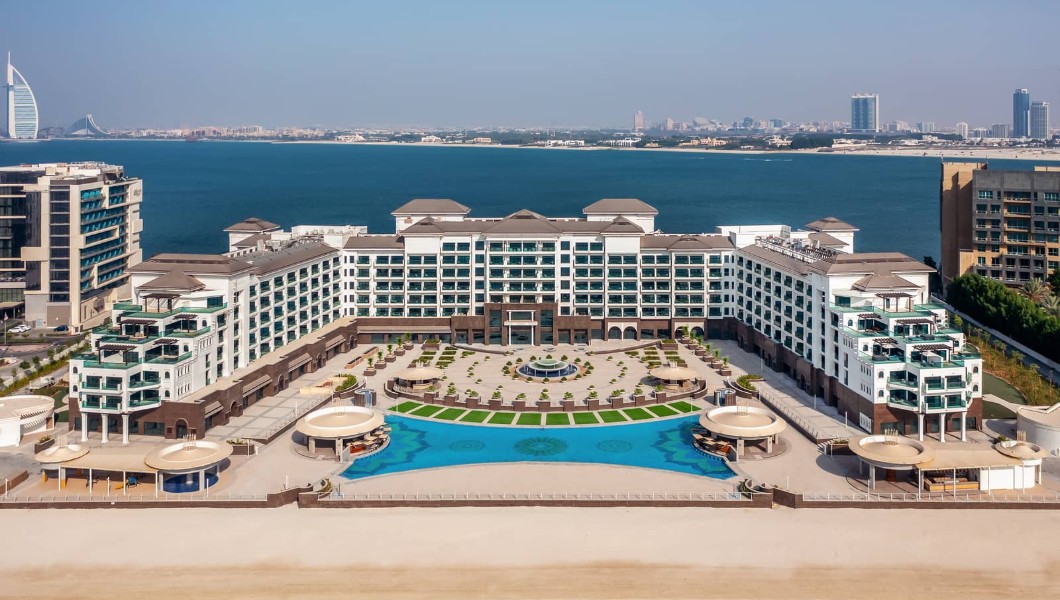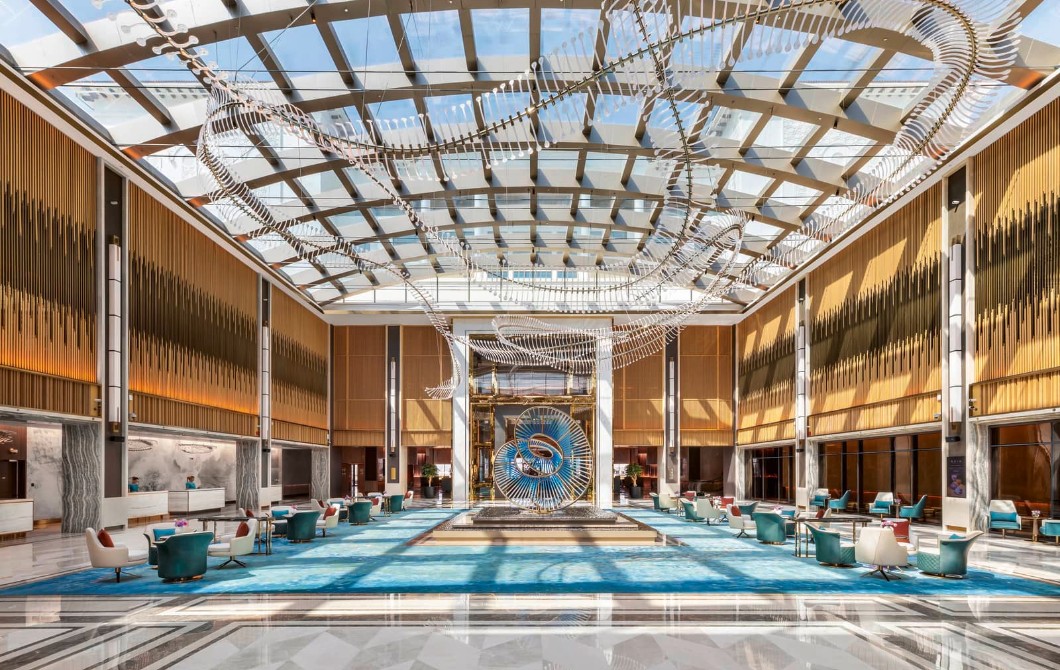 Upon arrival, the grand, sun-drenched lobby makes a brilliant first impression. The design pays subtle homage to the sun, sand, and sea, with high glass ceilings to filter the sunlight, bringing the outdoors in. With an eye for detail, even the carpets have been meticulously chosen to evoke waves lapping the shore.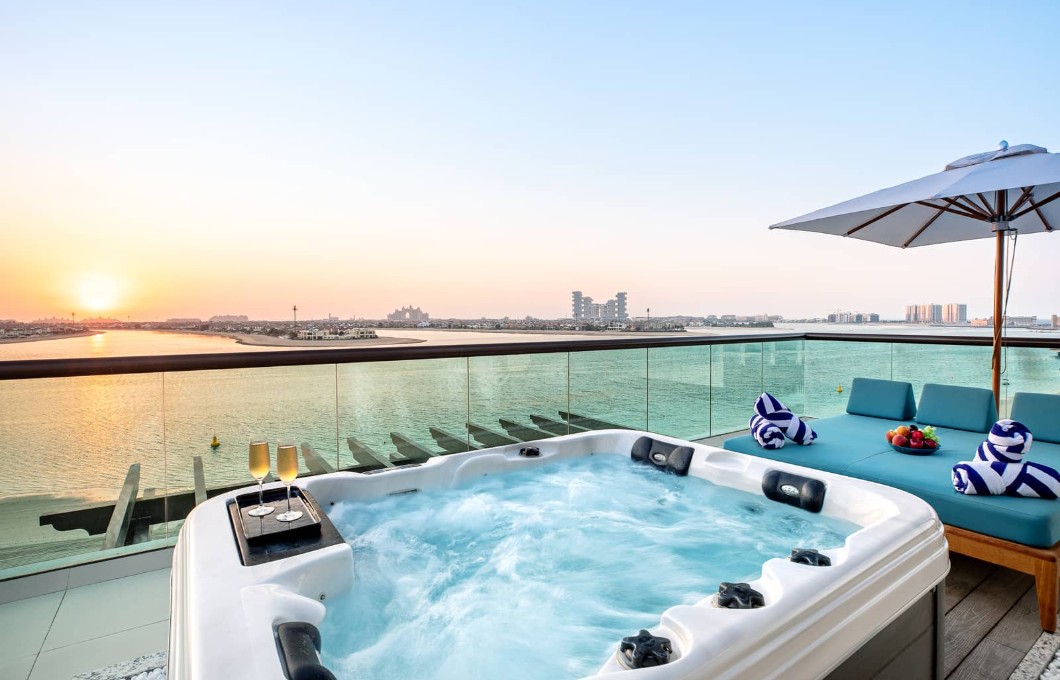 After a warm reception, we're personally escorted to our Exotica Suite Sea View with Open Jacuzzi, a unique offer in a city that thrives on over-the-top moments. Once inside the suite, we wander through the spacious and contemporary living area, featuring soothing ocean tones which echo across the resort. At 165 square metres, there is plenty of room to spread out and relax. While there is more to explore, first, we step through the large doors onto a showstopping private terrace with a Jacuzzi and uninterrupted views of the Arabian Sea. With suites located on higher floors to take advantage of vistas looking back onto Palm Jumeirah, this is the perfect setting for a memorable sunset. There is comfortable seating, including a sumptuous sunbed, so hours pass quickly with a drink and book in hand.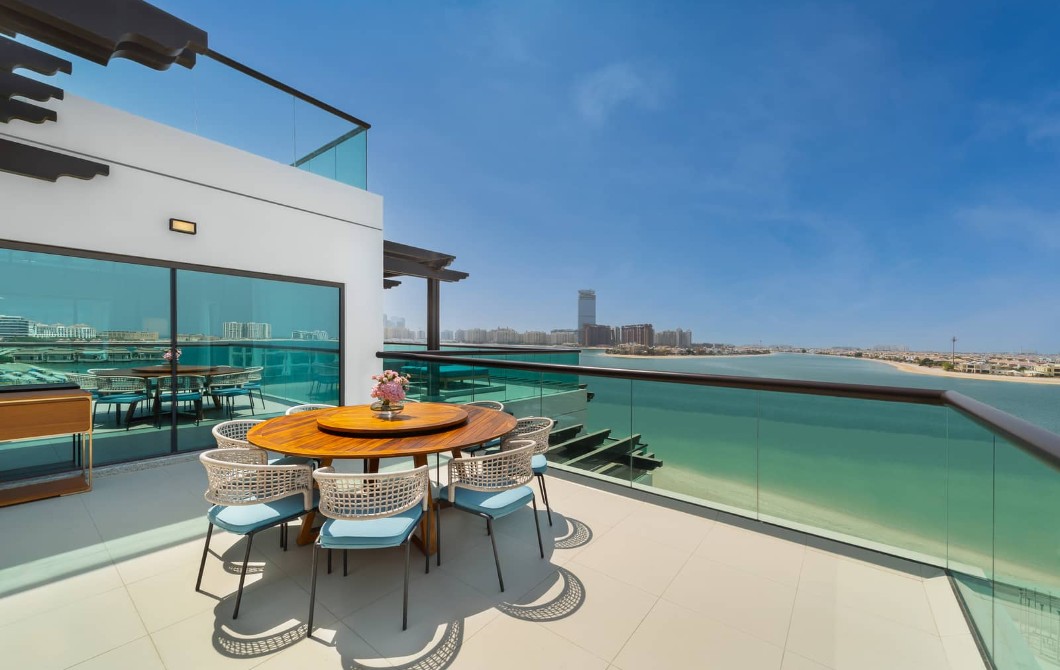 Back inside, we continue our tour. We have to believe that no suite is complete without a kitchen, and this hotel features full-size appliances, including a fully-stocked refrigerator, glasses, plates, and other necessary accoutrements, tucked discreetly away in the modern design of the space. There's an additional terrace with outdoor seating for dining, best utilised in the cooler months. Our exploration is not quite complete, as we find the living area with a large sofa and a chic dining table with seating for eight.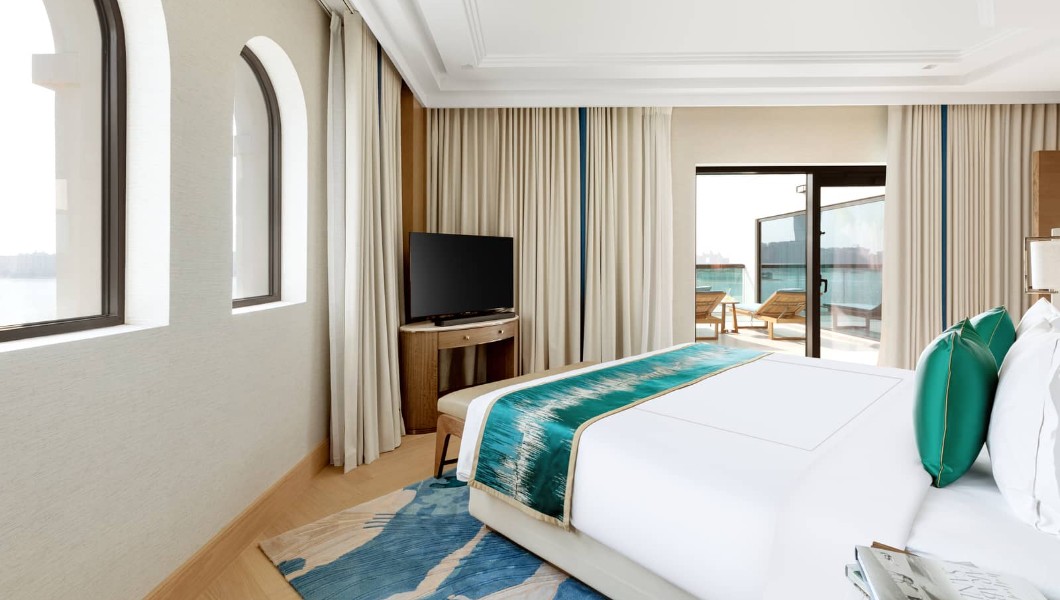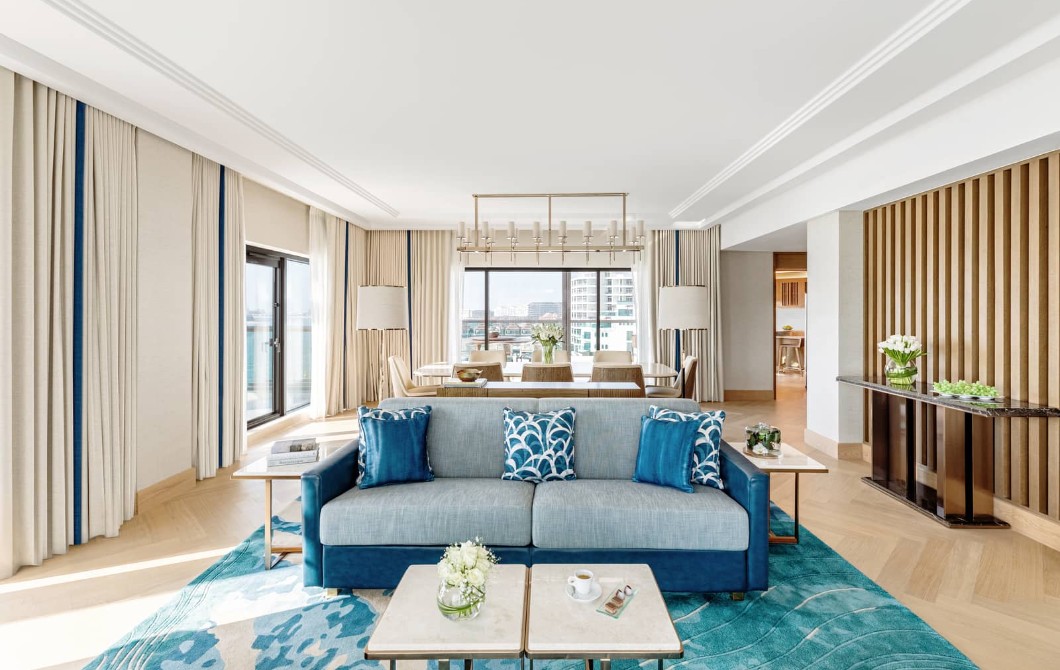 The modern bedroom can be closed off, but the thoughtful desk area and dream walk-in closet that we'd love to add to our villa at home. Finally, we enter what can only be described as the most enormous bathroom we've ever seen in a suite, with a separate rain head shower area, a deep set bathtub, and luxurious bathroom amenities from Hermès. To complete our stay, we're pleased with the small touches – a pillow menu, bath menu, and bath salts available on request.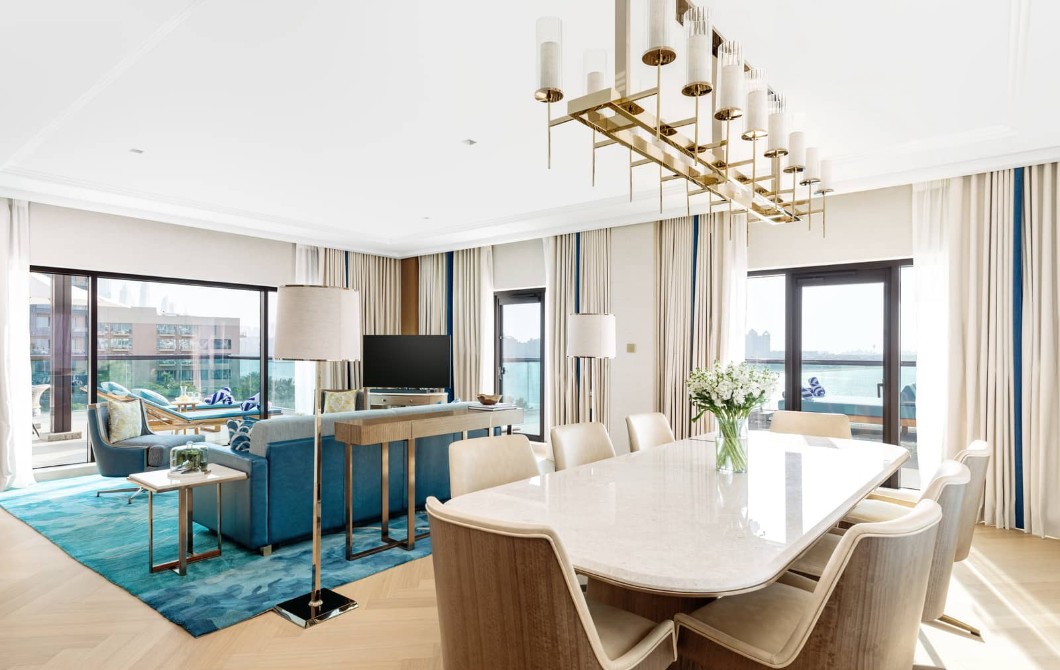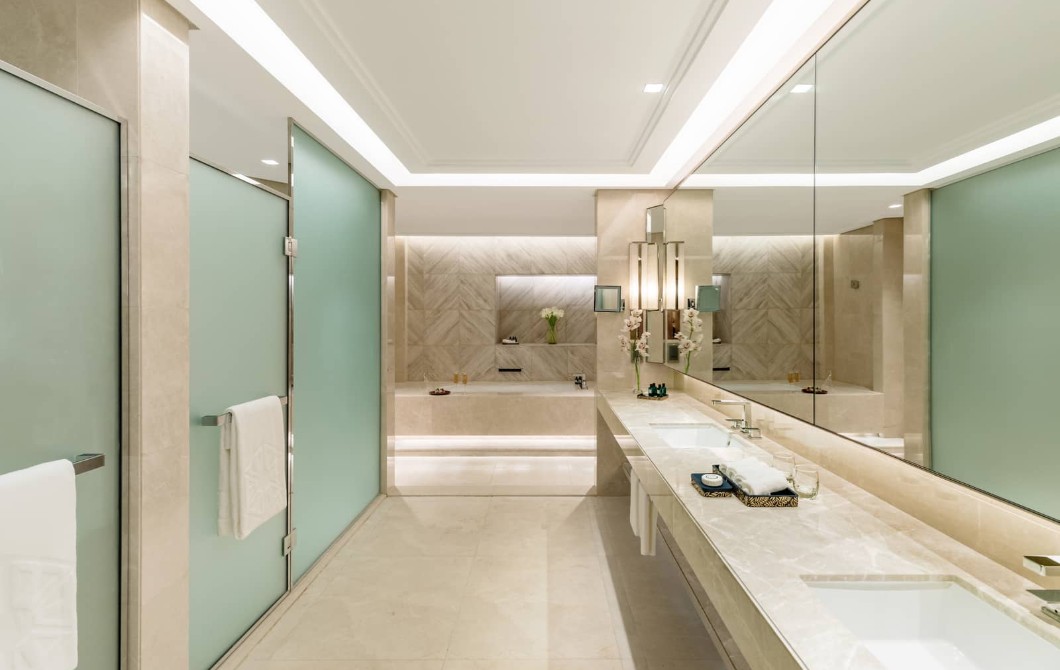 We're tempted out of our suite by the promise of culinary delights. Foodies like myself have several offers to choose from, as gastronomy has been carefully curated in signature restaurants across the property. There is unique Indian cuisine at Varq, and the glamorous rooftop restaurant and bar, Raia, offers Andalusian vibes and scenic views of the Palm's horizon, a perfect location for creative sundowners. For a cosy atmosphere, there is Roaring Rabbit, an eaterie with plenty of innovative gastropub grub, including a selection of authentic savoury pies, which are difficult to come by in the city. However, leave room for the sticky chocolate and date pudding, which you (might) want to consider sharing with others. Palm Kitchen is available for international favourites throughout the day, as is a full room service menu.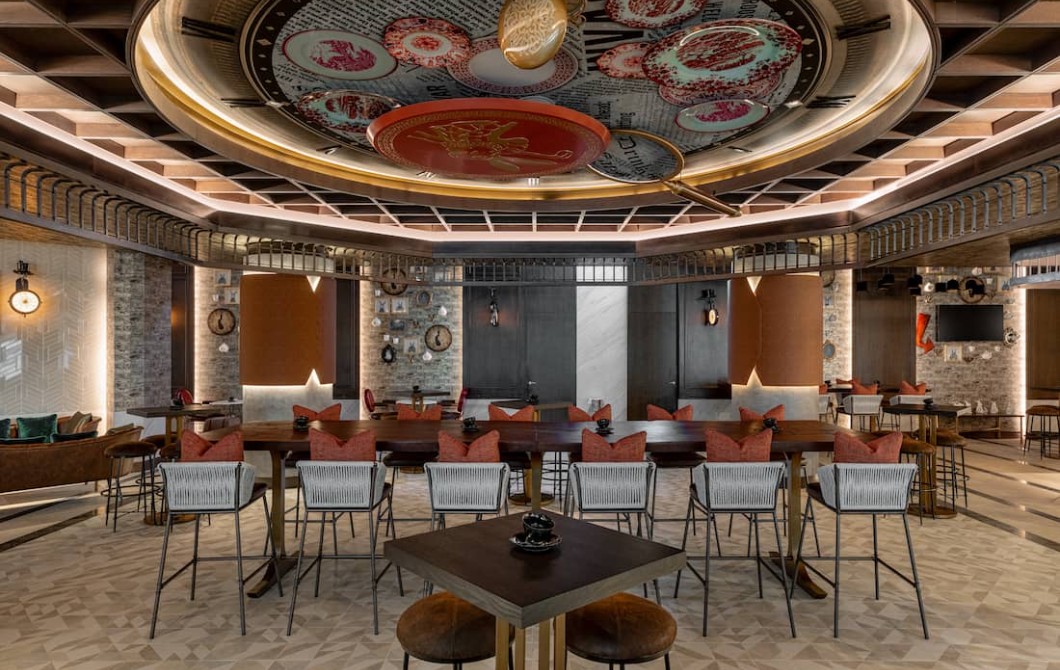 Tucked away near the end of the Palm Jumeirah, we find there is no need to leave the resort, as activities are available for all types of guests. In the morning, there's a balance to be found with energising yoga and tempting swim-up drinks at the Lime Pool Bar next to the Palm's longest pool. The hotel's gym is open 24 hours for fitness enthusiasts, allowing us to schedule workouts on our own time. The state-of-the-art Jiva Spa is an ideal space to soothe the senses. This award-winning wellness space offers options of Ayurvedic treatments, invigorating massages, and perhaps the most tempting of all, a couple's therapy enhanced by gold-infused oils and eco-friendly herb-dyed linen. The treatment list also highlights healing rituals, which promise to de-stress the mind and body.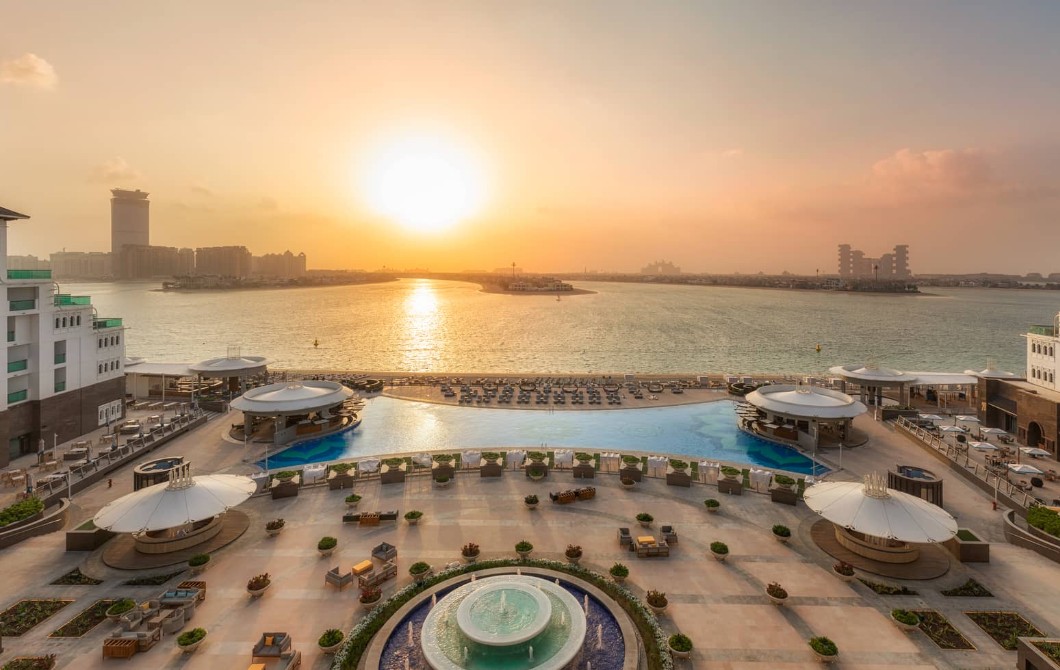 For outdoor enthusiasts, the 230 metres of private beach dotted with airy cabanas make relaxation a refreshing experience. Families can find plenty to keep active within exclusive zones designed for their favourite pursuits, from video games and soft play areas to sporting activities at purpose-built facilities, including a tennis court and mini golf. Luxury boutiques and salons for men and women are a welcome indulgence, while a direct shuttle transfer to Palm Jumeirah's Nakheel Mall opens up various lifestyle opportunities too. In a nutshell, Taj Exotica Resort & Spa, The Palm, Dubai provides a necessary escape for busy individuals and families needing time to unwind, allowing you take off to somewhere special without leaving the city.
HOTEL:
WHAT: Exotica Suite Sea View with Open Jacuzzi
WHERE: Taj Exotica Resort & Spa, The Palm, Dubai
TEL: +971 4 275 4444